MUSIC
IN BRIEF
SONIC YOUTH, "NYC GHOSTS & FLOWERS"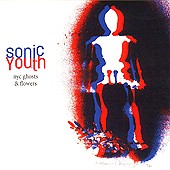 Perhaps there was a time that Geffen was pressuring Sonic Youth to make more hit singles, as it looks now, thankfully they have hopefully given up. Gone are the whiny rock chick antics of the early 90s Kim Gordon and the chord banging Thurston Moore. There's much more care and delicacy to the noise banged out, this could be the result of Jim O'Rourke's production and occasional playing on the record. Spoken and sung bits through the last part of the disc echo of Slint stuff. On the back is displayed the total time as 42:22. Perfect! We don't get to hear 15 minute long drones in a pop context. Sonic Youth are no longer trying to sneak noise in, they're using carefully constructed dissonance in an album which is arguably their best pop record (Musical Perspectives 1-4 aside) since Daydream Nation. - Jon Whitney with Andrew Shires
samples:
KU-LING BROTHERS, "CREACH"
Ku-ling Bros. is Stephen Mallinder and Shane Norton. The music is far more accessible than Richard Kirk's recent output, however it is easy to hear the late Cabaret Voltaire influence (see 'Plasticity'). Originally designed as a remix alias, Ku-ling Bros. now have two EPs available in addition to the new CD; 'Systematic Hipster' 12" vinyl (forthcoming) and 'Evolution Of A Dope Fiend' (OFFWORLD2).
Off World Sounds has some screwy catalogue numbers. For instance, Sassi & Loco's 'Bibleopoly' CDS (the label's first release) is catalogue number OFF1, while the various artists compilation, 'Cooking With Gas' on 12" vinyl is catalogue number OFFWORLD1. Furthermore, the CD version of 'Cooking With Gas' is catalogue number OFFCD3.
By the way, for those of you into Fila Brazillia you'll find the track 'Speewah' on 'Cooking With Gas'. Also worth mentioning is the various artist compilation 'Heat Electric'; available on 12" vinyl (OFFWORLD4) and CD (OFFCD5).
There is hope for all you mad trainspotters who have been attempting to round up all of the compilations that feature one of the four or five odd Sassi & Loco tracks. Rumour has it that Stephen Mallinder is planning to release a retrospective of the duo's 18 month studio output. The retrospective should feature 'Bibleopoly' and 'Orange Street' from the 'Bibleopoly' EP, 'Away Away', 'Tommy Roberts', 'Lost Loco' from the 'Trans Pacific Express' compilation, as well as other exclusive mixes. - Ross Owen Katz
samples:
BELLE AND SEBASTIAN, "FOLD YOUR HANDS CHILD, YOU WALK LIKE A PEASANT"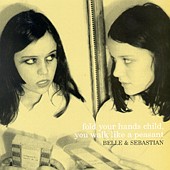 This ever-growing Britpop legend has come through once again, though with a few weak spots. After having heard the teaser single, "Legal Man," which is not available on this album, I was surprised at such a new sound and was curious to hear more of their new material. The single does not have the same feeling - that classic Belle and Sebastian mood - that the album does. The opening tracks, "I Fought in a War" and "The Model" show lots of promise, retaining the band's older styles and Stuart Murdoch's wonderfully emotional voice, but still moving forward. However, the third track, "Beyond the Sunrise," completely breaks the flow of the album with mellow acoustics and deep, funny sounding vocals. The album picks up again after this, with wonderful tracks like "Don't Leave the Light on, Baby," and "Family Tree." Some of the lyrics on this release seem a little sillier than previous albums, but for the most part they are still fairly classic B&S. There is an even mix of male and female vocals, and also a balance of dancey and sulky numbers. For the most part, this album, despite those few "flaws," is a really nice listen: quaint. - Daniel McKernan
samples:
WILD PLANET


The new subConscious compilation featuring (as the last one, "Paradigm Shift") an array of unreleased or revised tracks from cEvin Key and related artists. Download's "Toooly Hooof" is a remix from III, nice and danceable with Key's stylistic touch. A Duck, D.R. Goettel's solo project, delivers "Quakerz (Revision)," an awesome tune light years ahead of its time insofar as techno sounds go. The platEAU track is quiet and makes a nice ambient break in the beats. The Doubting Thomas track has their classic dancey, hard-hitting beats with wavery synths in the background. The compilation stops to beat the dead horse that once was Skinny Puppy by including "Rodent (Remix)," seemingly stuck in here merely to have the name dropped (an "exclusive, unreleased" track). Next is a new Tear Garden track ? a bouncy and touching tale of abuse, from "To Be An Angel Blind" sessions. Ryan Moore donated a somewhat predictable Twilight Circus tune. Philth's track, "Sanity Shovel," is a bit boring at first, though later picks up and is reminiscent of his last album, The Escapist. Floatpoint is Philth and D. Handrabur ? who together create a wonderful electronic sounding track, "Foundflap," heavy on the Eastern influence. "I Still Ate Here," from cEvin Key sounds like an outtake from the 'Music for Cats' album which didn't make the cut. Lustmord's "Infinite Domain" is an alternate version from an upcoming album, 'Metavoid,' which has me convinced enough to look forward to it. Off and Gone consists of the same people as Floatpoint, but thri contribution is a faster A Duck-style beat-driven track. While "Fate's Faithful Punchline," from Legendary Pink Dots is beautiful, this 'version' is all too much like the original ? with very little differences. Dead Voices on Air meets Dropstar for album's closer, "Rijn" -- it's a minimal soundscape with quiet, processed vocals ? much like other DVOA stuff of this nature. This compilation is really a great disc overall, as expected when dealing with 14 exclusive tracks from some really wonderful artists. - Daniel McKernan
samples:
LEGENDARY PINK DOTS, "FAREWELL, MILKY WAY"
A lovely recording of the Dots show from 1994 in Amsterdam's Milky Way Club. Not the best quality, but surely not the worst for it being a live show. There is a nice blend of songs on here ? mostly their fav's from their live line up, from "Space Captain" to "A Crack in Melancholy Time." Edward and the band jam together and, even though heard on a stereosystem, bring forth an array of sinister tunes that can truly bring you back to their captivating live performances. This version of "9 Shades to the Circle," like their current tour's encore, strays lyrically from the Nine Lives to Wonder original, and at this show includes very haunting percussion effects and startling crashes that literally made me jump and rush to turn the volume down. "Premonition 13" gives chills with its bitter edged bite of captivating words and changing melodies. The version of "Belladonna" is acceptable, despite barely being able to hear Edward's voice. The original version of "Needles" appears here as well, and eerily comes and goes, fading into an quiet, awesome and completely awe-inspiring extended version of "Space Captain," which is a definite highlight of the show. The Milky Way was the first club they played in Holland and this concert was their final show before the club closed its doors. - Daniel McKernan with Jon Whitney
samples:
RUMAH SAKIT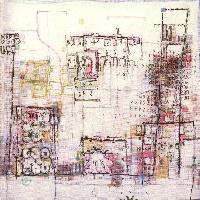 The San Francisco-based group pronounced "Room Uh Sock Eeet!" reminds me of one of the best characteristics of some of my favorite bands' early days. They're tight and solid, have excellent melodies, energetic as all hell and recorded the album almost completely live. You have to when you're just starting out, living in an expensive city and short on cash. There's no tricks and gimmicks on this disc, you're getting a sound from the best live concert you could experience, with a minimal amount of correcting (if any) going on in post-production. Lots of melody, a tight knit with the rhythm section, bits of distortion and feedback and no vocals, this disc is a great release from the seeminly endless train of minimal electronica driving through your living room right now. For those who know who Tarentel is, the bassist used to be in them. Rumah Sakit has been brought to us by our charming and sexy friends at Temporary Residence. - Jon Whitney and Andrew Shires
samples:
TWILIGHT CIRCUS, "DUB VOYAGE"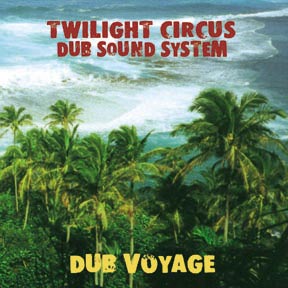 Ryan Moore makes it sound so easy. He's really become a natural at the Dub Soundystem project. Over the last five years, his progress has moved into utilizing more electronic and organic instruments while staying true to the ideals of old school dubmasters. Organs and pianos echo, sub atomic bass lines swirl mesmerizing any listener caught in its path, new chimes ring in (almost never heard before), drum beats remain simple and reverberate in loops which end perfectly. The feelings are still there of a desolate scene in a hot western ghost town, or driving for hours in the desert. Listening to this sometimes makes me wish I enjoyed pot smoking as I can picture this would be a great soundtrack to chilling out with meaningless conversation, passing the coochie on the left hand side. Gosh that sounds tacky! - Jon Whitney
samples:
THE THE, "SHRUNKENMAN INTERPRETATIONS"
What a grand idea. As opposed to the usual, overly done idea of having other bands remix songs, Matt Johnson's clever self has decided to have other bands cover (or "interpret") his songs. Even though it's not much different from a remix (now the interpreting artist sings as well), it's a refreshing idea. This single for ShrunkenMan starts with The The's original version. The first interpretation is by Daau, beginning with strings and some wind instrument playing the familiar tune from the original. In comes a piano, playing the recognizable hip melody. More beautiful piano follows as the song builds. Suddenly the song goes off with a new style. Cool drums and vocals take over, which are amusing. This half of the song hardly resembles anything of the original. I love it. The next interpretation is by John Parish. This version is all acoustic, much simpler and slower than the original. The final version is a dark, spooky interpretation by Foetus. I recognize this version as it was played as a prelude to their live concert I caught last month -- remembering that I didn't even recognize it until noticing some vaguely familiar lyrics. I like this interpretations concept, all the versions are great and very different from each other. If anything, the EP was a wee bit too short. Other than that, it was perfect and I'm very much looking forward to the next set of interpretations, which I believe will be for December Sunlight. - Scott Lundquist
samples:
TOMMY GUERRERO, "A LITTLE BIT OF SOMETHIN"


From Mo Wax comes the second full-lengther from Tommy Guerrero, featuring a little bit of samba and spice tossed into an acoustic blend. It's pretty yet rather sleepy in parts. The drum machines are primitive but the guitar playing is nice. The overall impression I get from this album is that it's very elemental, with songs that could easily be used as a starting point for more exciting or evolving pop tunes. For the most part, it's a simple downbeat album, which could stand to be deeper and less repetitious. On the other hand it would make an excellent album for havng guests over for dinner when you want to impress them with something more atmospheric than a Portishead record where everybody's singing through their soup course. - Jon Whitney
samples:
OMD, "PEEL SESSIONS 1979-1983"
Listening to a peel session with songs you have known by heart for nearly 20 years gives you an insightful view of the band recording live in a contained environment. There's no time for corrections in post-production so the abilities to play really shine through. That said, these collections are really only very good for the fans of the bands. There's nothing new or 'non-released in a previous form before' on the collection. While it's great for a couple listens, I'm not sure how often I'll reach for this as opposed to the studio recordings. I do dearly love these songs, so I would rather recommend anybody to pick up the first 4 albums from Orchestral Manoeuvres instead. - Jon Whitney
samples:
We know that sometimes these CDs are somewhat challenging to find, which is why we have a RECOMMENDED STORES section which can be used to obtain nearly everything available on the site.
CONCERT
REPORT
THE CLIENTELE / FLARE / SCIENCE PARK
Headliners The Clientele from London returned to the USA for two small shows, here in Boston and NYC. It's always a treat to see them live, as they're excellent players. On record, their music can sometimes sound flat and two-dimensional. This is a result most likely of the choice to keep sounds and processes simple, almost remeniscent of music from the 60s. Watching them play, however is like watching a band from that era play, as there was no faking going on - musicians on the whole had to be good as there wasn't much room for noise, distortion or other clouds and smoke. Alasdair's lyrics are simple and pretty, drifting and contradictory what he's playing on guitar, a feat of talent for these guys, fresh off the airplane, playing at 6:30 am their time! Flare preceeded them as the second on the bill, featuring members LD Begtol and others from the revolving camp of Magnetic Fields. The music would have been much better if the sound man bothered to mic the cello, violin, ukelele or anything else LD would play. The tunes were gentle and I'm sure the musicians were playing interesting parts as they looked fairly involved. I wish I could comment more. Science Park opened the night. They keep getting more bouncy and more queer every time I see them, I'm not going to comment much more on that since Myke's a decent guy and the comments wouldn't be pretty. I did like the acoustic shows years ago, but Myke is afraid of being compared to the Goo Goo Dolls. Oh well. - Jon Whitney
MACHA / CALEXIO
Perhaps it's becoming too much of a recipe for "post rock" by including the vibrophones, but Macha pulled it off well, cleverly escaping any comparisons to other bands. Their music is vocal, song-based and rock oriented, the instrumentation varies from song to song, incorporating lots of malleted instruments including steel drums and marimbas (I'm guessing at that since I could barely see the stage). On hand that night was special guest Matt Kedane, former singer from Bedhead, who told me later that evening, "I've been playing with these guys for 20 years!" The renditions of tracks from the most recent "Macha Loved Bedhead" EP were amazing. What separates them from the rest of the pack is their songs are fantastic, taking steps and progressions where many have not ventured. The songs start with clear objectives, yet frequently end up as improvisational interplays that actually sound great to listen to. This is talent. Calexico on the other hand exhibit the skill. While they have wonderful playing techniques and bounce all over the place in their various Spanish folk influenced rock kitch, their songs are somewhat lacking in originality and allure. I found my attention wandering quite a bit whereas my face barely left the stage for Macha. - Jon Whitney
HRVATSKI / ?-ZIQ
I worked, I napped, I showed up just in time to catch the set from Reckankreuzungsklankewerzeuge recording artist Hrvatski. Sadly enough I missed the opening set from Electro Organic Sound System, a local incarnate featuring overlap from the Tone Burst Collective. Listening from the website - www.electroorganic.com, the sounds are nice and I want to catch this guy some time... Hrvatski's set started out rather quiet, somewhat minimal, the beats weren't particularly loud and the bass seemed absent. Drones from the guitar and fx were pretty, however. It was indeed a slow start, but bit by bit things started to fall into place. At the start the audience was growing itchy and restless, by the end the crowd was cheering to Hrvatski's mix of 606's "My Kitten," along with his "Mouldy Old Dough" and other faves. I wasn't prepared for the headliner however. Here I was dissing this guy at every single chance I get, all ready to record my own hit single, "Mike Paradinas Is An Overrated Talentless Lame Knob Twiddler," when he took to the decks and effects and blasted us all. Mu-Ziq's albums I have always found to be dull and boring, with loads of presets and no soul. Tonight's display of aggressive flooring drum and bass was punchy, fresh and exciting. The word from the experts was that it basically wasn't any Mu-Ziq stuff but bits and pieces from his side projects like Kid Spatula. I stand corrected on my former assessments of Mike Paradinas and now plan to sell all my Mu-Ziq material with the intentions of getting his other projects. - Jon Whitney
FEEDBACK
SHOWING UP
Subject: Re: WIRE review

I have to agree with every word you wrote regarding the recent WIRE show, Volume 3 Issue 17 -- I was screaming my lungs out at the NYC show, I just wish they would have played more from 154 but I probably would have just died right there; I too was reminded by the two other reasons why I'm glad I didn't kill myself yet, namely: seeing KRAFTWERK (which was GOD) and also the magnificent Current 93 show on Halloween. All of these events were of the greatest significance to me. Hopefully we'll live to see the *next* WIRE show, the next KRAFTWERK show -- we live in hope? Yes, I'd like to see COIL, but to this category I must also add DOME, Joy Division, etc., etc.

Don't rule Coil out of the realm of possibilities.
---
Subject: Gas "Pop" response to review.

I read the review to the Gas album "pop" a week or two ago. I have been listening to Gas for a while now...but I didn't want to write a response until I had heard the actual album. So I bought it yesterday.

I really have to strongly disagree with Mark Weddle's comments on the disc. Now, I will admit that I am a great fan of the previous 3 Gas albums, but I really think this disc deserves another review from a person who finds this "excessive and pointless repetition" appealing!

I believe Brainwashed readers to be well aquainted with minimalist structures in their music. Certainly fans of Panasonic, Steve Reich, Oval, and -especially- Porter Ricks early stuff will find much to enjoy in "Pop". This new album is far more organic and densely layered than the previous Gas albums. I also think it is more beautiful than the previous releases. You have drones, and what appears to sound like source recordings of forest noises, and most certainly NOT new age fare! I really think this type of music lends itself to total immersion with headphones in a dark room and repeated listenings at loud and soft volumes. Voigt has a lot of talent to be able to provide a series of ambient drones that don't grate on you over time!

I was rather surprised to see such a narrow viewpoint from a reviewer on an experimental music website! Of course, not everything pleases everybody, hence war. I know fans of the above groups will really enjoy Gas if they give it a fair chance!

I'll stop gibbering now! Thanks again, for a great website...the first thing I visit each week!

I wrote the Gas "Pop" review for the Brain. I'm a big fan of minimalist/electronic music such as Oval, Senking, the Chain Reaction family, Coil, etc. and, in fact, I'm the owner and moderator of the 'minimalism' mailing list at egroups. It's not the minimalism of "Pop" that bugs me, it's the non- development. I prefer stuff like this that gradually unfolds and/or changes such as Vladislav Delay's "Entain", Monolake's "Gobi. the Desert EP", etc. These seem much more evocative and interesting to me than Pop. But hey ... that's just my opinion. I hope that my reviews describe them enough for readers to figure out on their own if it's for them or not ... - Mark Weddle
---
Subject: Thank you!

I would just like to thank you so much for your page. It is handled wonderfully. My friend was telling me about Coil one day, and I was like who the hell are they. I went to the site, downloaded some audio and was hooked. I would just like to let you know that Coil has saved my view of music and I thank you ever so much for introducing them to me. Thank you.

Be careful of the other music pages at brainwashed.com - they can prove very damaging to your wallet.
---
Subject: looking for "red Letters"

I am trying to find "Red Letters" by Edward Ka-Spell whether to order over the internet or over the phone, or by mail. I am anxious to hear what comes from the mind of this genius nowadays. Thank you.

Most places, including their label should have it by now.
---
Subject: Tortoise discography

I was wondering if you could please answer a question for me about a couple of Tortoise songs.

Is "The Match Incident" (from Rhythms, Resolutions & Clusters) the same song as "Ry Cooder (The Beer Incident)" (from Digest Compendium of the Tortoise's World)? I appreciate any help you can give me on this.

Thanks

They're almost the same, the one on the Japanese CD includes all of the one on the Rhythms, Resolutions CD with a little more "bonus" material.
---
Subject: Need your expertise

Dear Madam/ Sir,

I am currently working on a project were we are investigating the future for Music stores online. Referring to our task, I would be really grateful if you could help me with a query regarding this subject. I would like to know how many On-line music stores there are. If you do not have access to such information an estimated number will do.

Thank you for your time as I am looking forward to hearing from you.

I read somewhere that Carl Sagan claimed to never have said "Billions and Billions."
---
Subject: john's email

Would you happen to have John Balance's email handy? I haven't received MTPITD2 yet and normally, I'm content to just wait. But as I've had major catastrophes with international mailing recently, I'm waiting for the worse. The worse case scenario is that my coworker in london is a total asshole and pocketed the money I gave him inside of a really nice envelope with a letter to Coil, which he promised and confirmed that he hand delivered it to their PO Box since it is 2 blocks from our London office. I'd like to write John and hope that he will have the time to check their records to confirm whether or not I need to fly out to London to beat a former coworker to a bloody pulp for screwing my housemates and I over.

Please don't harass them or us about this. Many people have not got their order yet so it's not time to worry. Be patient and if you don't see anything by August, perhaps you should then complain to the band. But please, not anybody at the web site.
---
Subject: gybe

hello,

I was looking at your site. Very nice indeed. I was also told I could find an email address for godspeed you black emperor. I didn't see one. is it available? I would appreciate any assistance. thanks!

I don't think it's public, but you can always email their label if you have important business to discuss with them.