MUSIC
IN BRIEF
JAY-JAY JOHANSON, "POISON"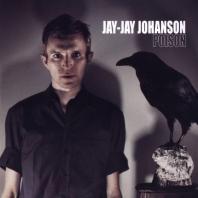 While I hate dropping other bands' names in reviews (especially of things I love), I must mention this fact while reviewing this CD: the only time I drive through Bridgeport is heading down to New York. That out of the way, this is the third full-lengther for Scandinavian Jay-Jay Johanson, a singer/songwriter/musician who has found fame in France - but not many other places. I was riding in my car listening to the local college station I spin for when I heard one of his tracks, "Poison." I had to pull over and call to find out what it was that was being played. The DJ told me that he had to order these CDs from FNAC (a French chain) as he's big in France but not exported much. Lucky for me, there was a FNAC in the center of Barcelona, where I purchased all three of his releases. For all of the albums, the formula stays pretty constant. While it's hard to get away from the highly derivative sound from his albums, his voice does bleed with much more heart and emotion than is usually heard in similar trip-hop beatbox style music. Guests on this third album like Robin Guthrie on guitars has helped it only slightly as the groove, feel and spirit pick up where the second album left off. This as well as his other two CDs, "Whiskey" and "Tattoo" have not left my CD player since I've got them and come with high recommendations to seek them out wherever you may find them... - Jon Whitney
samples:
SCOTT WALKER, "POLA X"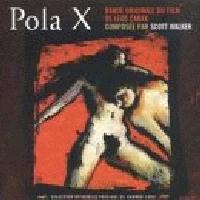 How ironic is it that Scott Walker, the man best known for his voice and reclusive nature, has of recent written primarily instrumental work and made several appearances? Walker has been busy the past year with "Only Myself to Blame" on the latest Bond movie soundtrack, two songs for the latest Ute Lemper album "Punishing Kiss" and curator of this year's Meltdown Festival at the Royal Festival Hall in London, as well as a 'Dance Project' score for said event. And now this soundtrack, the first major new release from Walker since 1995's rather difficult masterpiece "Tilt". "Pola X" is a French film (with English subtitles) based upon the Herman Melville novel "Pierre", directed and co-written by Leos Carax. The basic story is a young author meets his long lost sister and they begin an incestuous relationship. The soundtrack is composed and produced by Walker, a serious cinemaphile, with 5 tracks by others, and is peppered with dialogue and sounds from the film. Of Walker's 11 tracks, 34 minutes total, about half feature the Paris Philharmonic as orchestrated by longtime Walker keyboardist / arranger Brian Gascoigne. Most of these are brief string compositions, beautiful and foreboding. The remaining Walker tracks are short sound effects / dialogue / sample collages (Walker even samples his own "The Cockfighter" in the opening track) or similar to those found on "Tilt": bizarre barrages of guitar and percussion. "The Church of the Apostles" in particular builds a frenzied attack for nearly six minutes. "Never Again" is a minute of swirling noise slabs interspersed with a heavy duty beat and ragga rap ... possibly the oddest thing Walker has ever done. This material really whets the appetite for the always on the horizon, new 'album in progress' by Walker. And now for the rest of the disc. "Extra Blues" by SMOG is just plain tedious with inane lyrics and dreadful half spoken / half-sung vocals. "Iza Kana Zanbi" by Fairuz is nearly 9 minutes of swooping strings, hand percussion, chanting and female / male wailing all with a bit of a gypsy vibe, very cinematic and entertaining. Tracks 8 and 9 are throwaway bits of Vietnamese karaoke. "Blink" by Sonic Youth is a wonderful surprise as I'm not normally a SY fan. Kim speak-sings seductively over an ambient mix of drone, light percussion and guitar taps and pluckings. Unfortunately, I'm unable to experience this soundtrack within the intended context of the film as I've never seen it (and probably never will) but overall most of it does hold up well on it's own. Though, the $24 import price will likely keep most away, save for Walker and Sonic Youth fanatics. Walker is currently at Meltdown through July 2nd and the film is due out in the fall ... - Mark Weddle
samples:
SYSTEMWIDE MEETS MUSLIMGAUZE, "NOMMOS' RETURN"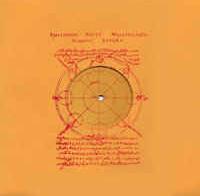 This 10", limited to 1000 copies, is the third and final installment of the Systemwide Meets Muslimgauze remix series begun last year (see also "at the City of the Dead" 12" and "Lo-Fi India Abuse"). It features 2 more tracks from the sessions, 're-mixs' of "Nommos" from Systemwide's 1997 dub album "Sirius". "Nommos' Ark" is very fractured with many sudden stops and starts as fast drum 'n bass rhythms dominate and bits of the original's keyboard gurgles churn up here and there. It's a headache inducing 5 minutes if listened to at the wrong time. "Nommos' Ghosts" is about a minute longer, also quite fractured but much slower paced with a delayed dub groove, heavy vinyl static noise and electro bleeps that give way to and eerie, fading keyboard melody and intermittent percussion loop. The vocals from the original song are either obliterated or gone altogether, thankfully I might add. "Ghosts" alone makes this worth the $9 (postage paid in the U.S.) direct from BSI Records (http://www.bsi-records.com/). The record is thick black vinyl and comes in a yellow-orange sleeve with the title and arabic inscriptions around the center hole. It's rather dull in comparison to the much more complex artwork that graces the other two releases. Just another little piece of the enormous and ever expanding Muslimgauze puzzle to add to your collection. The next release due out is the two track Bass Communion v Muslimgauze CDEP. Never mind the fact that both the Nommos tracks found here could have fit on the "Lo-Fi India Abuse" CD and the two new BC v M tracks could have fit on the first BC v M CD. They sure know how to milk it for all it's worth, don't they? Oh well. I'll be buying them all like all the other addicts ... - Mark Weddle
samples:
MARTY WILLSON-PIPER, "HANGING OUT IN HEAVEN"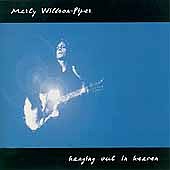 If I weren't such an incurable Church fan, I might not have given this CD a listen. I have always felt that Marty Willson-Piper's solo albums to be a bit weaker than his Church bandmate Steve Kilbey's stuff. Something for the Church collector in me, between proper Church albums. After picking this CD up, I am happy to say all of my previous reservations were totally blown away. This stuff is a welcome change to the work done on recent Church albums, and certainly Willson-Piper's strongest album since "In Reflection". The tracks run from slow atmospheric to upbeat Church-like rock from the "Heyday" era.
I've never felt Willson-Piper's lyrics to be his strong point. However, most of the words on the songs here are clever and charming without any pretense (which I certainly can't say about Steve Kilbey's solo stuff). And his guitar work is as stunning and beautiful as it has always been. I'm not even going to get into the harmonies on some of the tracks like "Sanctuary"...I'll just get gushy which is really rather disgusting. I really can't recommend this CD enough to people who just want some music to bliss out to on a rainy afternoon with a lover. - Brian Bieniowski
samples:
MELTED MEN, "HAIR IT IS"
A brilliant new 10" LP from this wonderfully surreal and demented act. Each song is a new hilarious tune, consisting of a slieu of bizzarre samples, put together and working remarkably. Absurdities and strangeness galore - think cut-ups like Negativland, People Like Us and Nurse with Wound with the humor of V/Vm tossed in. The record clocks in at around a half an hour, with 23 songs total, though some are just small snippets of crazy samples. This is definitely a band well worth checking out. And for those of you who ever get the chance to see their stage performance, go: costumes, miming, dancing, and Irene Moon, who gives lectures on science and sings songs about tapeworms. They recently toured Europe, though their last show was the Beer and Sausage Festival in NYC, with Pansonic, People Like Us, Speedranch, and others. For more information, go to their website, or contact them for releases at Nerve Rust, PO Box 211, Athens, GA 30603, USA. - Daniel McKernan
samples:
ROBERT RICH, "HUMIDITY"
I've got to give Robert Rich credit. More power to the guy for being able to release a big three CD live set for only 23 dollars! That's one hell of a price for three hours of music. This set is worth it too. It's a series of concerts in California from 1998 in the typical Rich style. Long expansive drones, dark ambient textures, tribal percussion, everything you could ask for if you're a fan of Rapoon's "Fires of the Borderlands" or Lustmord. Lustmord fans should also take note because some of the tracks' source materials are culled from the Rich/Lustmord collaboration Fathom records put out a few years ago. That CD ranks alongside classics like "Heresy," and these three CDs are just as interesting. Slowly developing, and never boring, longtime Rich fans will enjoy this, as well as those who don't have all that much cash to throw around. Like I said, it's a great deal of music for very little money. Rich's lap steel is in heavy evidence here, just like on the rest of his discs. Think some of the better Michael Brook work, like on "Hybrid". I think Rich is in danger of overusing this effect, but I didn't find it out of place on these CDs. I really like this new label Hypnos, too. The rest of their catalog is just as interesting, releasing some great stuff from Jeff Greinke and Vidna Obmana. I really can't recommend a better Ambient release that I've heard so far this year. I even like the packaging, with gorgeous photography by Brad Cole. This release was tailored for those with the 3CD changer and a nice big book on transubstantiation. - Brian Bieniowski
samples:
POLE, "3"


Maybe I just don't get it. German minimal glitch dub artist Stefan Betke has always been getting high praises for his brand of easily digestible electro noise, yet I find it quite boring and tedious. While electronic dub or minimalism can be inviting and attractive at times, Pole has failed on his third album to present anything of interest. Clicks sound like somebody's playing with 1/4 inch plugs in rhythm while the intentional tape hiss sound is downright obnoxious. Is this a joke? I'm honestly surprised people pay money for this! Perhaps I need to be coming down from a really heavy trip to enjoy it... Pole 3 is simply an overrated underachieved reissue of both 1 and 2. - Jon Whitney
samples:
"CHICAGO 2018: IT'S GONNA CHANGE"

I was fortunate to also find this in Barcelona at a reasonable rate. It's a German 2xCD release of exclusive tracks from Tortoise, Isotope 217, Mick Turner, Bobby Conn, Pullman, Bundy K. Brown, Ken Vandermark 5, Chicago Underground Duo, Freakwater and many many more. While it's an excellent collection of some of these bands finer songs and a must-have for any fan of these bands, I'm left wondering what's the point? Did this German 'discover' these bands? It's not as if they haven't been touring all around Europe for the last 5 years or more, really. I haven't seen it on this side of the water yet but I have heard word that it is avaialble through various mail order outlets. Full with a big booklet with words in German (translated into English) and loads of pictures of bulls, it's a great bargain! - Jon Whitney
samples:
We know that sometimes these CDs are somewhat challenging to find, which is why we have a RECOMMENDED STORES section which can be used to obtain nearly everything available on the site.
NEW
RELEASES
MONDAY
LTJ Bukem - Sunrain 12"/CDEP (Good Looking, UK)
CiM - Reference CD/LP (deFocus, UK)
Current 93 - Sleep Has His House 2xLP [ltd edition on amethyst coloured vinyl; features slightly different versions of tracks from the CD of the same name] (World Serpent, UK)
* Coil - Musick To Play In The Dark Volume 2 CD/2xLP [will differ in some way from the previously available mail order edition; vinyl edition ltd to 1000 copies] (World Serpent, UK)
Deejay Punk-Roc - One More Bump 12"/two CDEPs (Epic, UK)
Einsturzende Neubauten - Silence is Sexy 2xLP [ltd to 3000 copies with non-CD bonus track] (Mute, UK)
Fout Tet/Pole - Four Tet v Pole 12" (Leaf, UK)
Funkstorung - Grammy Winners 12"/CDEP (Studio K7, Germany)
Lackluster - R U Oho? 12" (deFocus, UK)
Live Human - Elefish Jellyphant CD (Matador, US)
Nurse With Wound - Alice the Goon 12"/CDEP [vinyl is single sided with etched artwork on the flipside] (World Serpent, UK)
Primal Scream - Accelerator 7"/12"/CDEP (Creation, UK)
Slipper - Invisible Movies CD/LP (Rephlex, UK)
Two Lone Swordsmen - Tiny Reminders 1 12" [first in a series of three 12" EPs, to be collected on a single CD later this year] (Warp, UK)
Various - emre [dark matter] CD [with Coil, COH, Cyclobe, Andrew Poppy, souRce research, Leif Elggren and Ovum] (souRce research, UK)

TUESDAY
Oval - Ovalprocess CD/LP (Thrill Jockey, US)
Various - Daft Electro CD (Instinct, US)
Various - Electropolis II CD (Metropolis, US)
Various - This Is Krautrock 3xCD (Cleopatra, US)

LAST WEEK
Mucho Macho - Death on Wild Onion Drive CD (Wiiija, UK)
Susumu Yokota - Mix 12" (Leaf, UK)
Bass Communion vs. Muslimgauze - t.b.a. CDEP (Soleilmoon, US)
Black Faction - Internal Dissident Vol. 1 CD (Soleilmoon, US)
Blectum from Blechdom - The Messy Jesse Fiesta CD (Deluxe, US)
Blemish - Vatacushi-Va CD (Falçata-Galia Recordings, US)
D.J. Soul Slinger/Burner Bros - Zulu Transform/Spitfire 12" (Jungle Sky, US)
Einsturzende Neubauten - Silence Is Sexy CD (Mute, US/Canada)
Frode Gjerstad Trio - Last First CD (Falçata-Galia Recordings, US)
Hank and Slim - The World Turned Gingham CD (Soleilmoon/Caciocavallo, US)
I-Cue - Next Level $#it 12" (Jungle Sky, US)
Ice Desert - Ice Desert CD (Falçata-Galia Recordings, US)
Jeffrey Kinart - Swimming in Amniotic CD (Falçata-Galia Recordings, US)
Ming & FS - God's Plan 12" (Jungle Sky, US)
Mort du Pop - Grayscale CD (Falçata-Galia Recordings, US)
Muslimgauze - t.b.a. CD (Soleilmoon, US)
Not Breathing - Itchy Tingles CD (Invisible, US)
Pastlife: Mind Machine - Mourn of Angels CD (Falçata-Galia Recordings, US)
Pole - 3 CD/2xLP (Matador, US)
Various - Projekt: The Early Years 1985-1995 CD (Projekt, US)
Zorn - Tower Park 12" (Lux Nigra, Germany)

For a more comprehensive release schedule stretching far into the future, please check out the NEW RELEASES brought to you by Greg and Feedback Monitor.
CONCERT
REPORT
DRAINAGE FOR ANGELS, SEAN DRINKWATER, NEPTUNE
This show took place at the Milky Way in Boston on June 14, 2000. Drainage for Angels is the project of Ben Palmer (whom has done the covers for Brainwashed Recordings 001-003) and friends. Together, they created a nice, thick wall of noise from behind a white curtain with nice eye candy films/images being projected unto it. The noise was quite nice, and we could see hints of keyboards and guitars back there, though what we heard was distorted beyond recognition of whatever the original sources were. It lasted a little under an hour - just enough time to drive out those people in the club who were not there for the show. Next up was Sean Drinkwater, who were not quite as impressive. This was two guys: keyboards and keys/vocals, playing mostly dark pop-sounding stuff. After this was Neptune, who I looked forward to after hearing that their previous shows consisted of all hand-made instruments and some robots playing harps. Unfortunately, there were no robots. However, there was not a single instrument that was not welded by the band: two guitars, a drumset, and a nice percussive ensemble made of saw blades. Their set was very entertaining and the sound, though college rock-oriented, was quite new. Afterwards they had 12"s for sale with beautiful covers made of sheet metal with b/w photos attatched. - Daniel McKernan
ROGER WATERS
I literally grew up on Pink Floyd as their songs continually flowed through the wall between my older brother's room and my room all through the '70s. I've always considered that the greatest gift from my brother, now deceased, a general love of music and a strong emotional attachment to these songs in particular. So, this show was a really big one for me on a very personal level. I've never seen Pink Floyd or Waters live and I doubt Floyd will ever tour again, so this is probably my last chance. The show started a little after 8 pm and ended over 3 hours later. The first set was nothing but classic Floyd: In the Flesh?, The Happiest Days of Our Lives, Another Brick in the Wall (Part 2), Mother, Get Your Filthy Hands off My Desert, Southampton Dock, Pigs on the Wing (Part 1), Dogs, Welcome to the Machine, Wish You Were Here and Shine On You Crazy Diamond. A dream come true let me tell you. The second set included at least 1/2 of Water's last solo record "Amused to Death" with more classic Floyd: Set the Controls for the Heart of the Sun, Breathe, Time, Money, Every Stranger's Eyes, What God Wants (Part 1), Perfect Sense (Part 1), Perfect Sense (Part 2), The Bravery of Being out of Range, It's a Miracle, Amused to Death, Brain Damage, Eclipse and Comfortably Numb. The encore was the really good new song Each Small Candle, ending the show with the lights being killed and Water's holding a lit lighter overhead. The band is a 9 piece: Waters on vocals, bass and electric and acoustic guitars, 2 guitarists, 2 keyboard players, drummer and 3 backing singers. Doyle Bramhall II essentially took the place of Dave Gilmour on lead electric guitar and vocals and Jon Carin (also on Floyd's "Pulse" tour) was all purpose man on keyboards, lap steel, guitar and vocals. He essentially did "Dogs" by himself. They were great ... I really feel like I saw Pink Floyd. The visual side of the show was no where near as complex as Floyd's "Pulse" tour but was still really good with projections for each song on the back wall. I especially appreciated Waters dedication to Syd Barret before Shine On You Crazy Diamond and the various shots of Syd that accompanied the song.
The sound was incredible for an open air theater thanks to the Quadraphonic Sound with extra speakers installed at the back of the theater to create a full surround sound stereo and 3D effect. I love Water's sense of humor ... a table, lamp and TV set were set up at the back of the stage and various band members congregated there to play cards, drink and watch TV when not needed during songs. Waters himself sounded fine despite his 56 years and not being on tour in 12 years. All together, it was quite an experience and I'll never forget it. I'll be at the Denver show on July 3rd too. Waters is on tour in the U.S. through mid-July ... - Mark Weddle
WEEN
I was unsure of what to expect from Ween having never seen them live before and aware of their fondness for various substances, especially while on tour. Their latest album "White Pepper" was the incentive to finally get my ass on the road to witness a show. And now I wish I'd gone to all the other area shows the past 10 years. I guess the Flaming Lips were supposed to open but they weren't there for whatever reason. Ween started promptly at 8 pm and played 15-20 minutes over 3 hours. It's not often I get to say that about a live show: '3 hours'. Ween were a 5 piece with Gene on vocals and some electric and acoustic guitar, Dean on electric guitars, a bass player, a keyboard / piano player and drummer. They were really solid and I was especially blown away by Dean's skill on the guitar. And they sounded great in the open air of downtown Kansas City's City Market. The set drew heaviest from "Chocolate and Cheese" and "White Pepper" but touched on everything they've done. Songs included: Freedom of '76, Spinal Meningitis (Got Me Down), Mister Would You Please Help My Pony?, Voodoo Lady (with long jam in the middle), Buenas Tardes Amigo, The HIV Song, Piss Up a Rope, Mister Richard Smoker, Doctor Rock, The Mollusk, Even if You Don't, Bananas and Blow, Stroker Ace, Back to Basom, The Grobe, Pandy Fackler and many others I'm either forgetting or don't know. The encore was 5 or 6 songs, the highlight being an absolutely smokin' cover of Van Halen's "Hot for Teacher" with the drummer on vocals. The final song (which I don't know but the central theme was a certain part of a woman's anatomy) was somewhere between 15 and 20 minutes long as the band thoroughly jammed it out with solos by everyone. I don't think I've ever seen a band smile and enjoy themselves so much on stage as Ween did. They had a great time and so did we! Ween are currently on tour worldwide throughout the rest of the summer ... - Mark Weddle
FEEDBACK
COIL ABDUCTED BY ALIENS
Subject: A Review of Musick Coil Hasn't Made Yet

I must say, I have seen Coil and I do not see meat. I see an egg, waiting to rot into feces and mud blueberry pie. I must say, I have seen Coil and think they are not men, but aliens sent to make many music listening mammals penis' hard. They make my penis hard and I see inside a jar, wherein I do keep my Coil. Coil is in my jar but they think they are in England with other jam flavored music men they I keep in a jar in my basement. Easily fooled are those with treacle for brains, i.e., too much they consumed with sloppy little girls trapped at the bottom of wells with them. They are naughty and I spank them mentally with an iron wenches tart. I feel them. I must say, I have eaten Coil and they do not taste good. Rusty pennies is what they do taste of. Coil and Lioc. Can it be a coincidence? I say yes, but my testicles say no. Who to believe? I feel one lobe and one nut are correct. Always trapped in the middle. I never know which is true, my ass or a velvet vein that runs up my phallic symbol. (Mother used a broom to sweep the floor, and it was eternally Coil's phallic symbol of power.) Mother, sweeping floor, with velvet veined phallic sweeping symbol. Imagine. My mother. Now you know how we connected. I must say, I have seen and eaten Coil, and I know the secrets of them because we are one. Forever through cock symbol. This is half eaten, dusty beauty. I live forever in reptile turfs.

Perhaps you've confused their time machines with alien spacecraft...
---
Subject: (no subject)

hi, i do not mean to be annoying, but the font that most of your wed site is very hard to read. i am on a mac.
it is usually when the text is reversed.
i am a graphic designer so i don't know.
i just thought that you might want to know that.
i live your site though.
good day

Which font? Which pages? Have you tried to increase the resolution on your computer?Good thing you're not a copy writer.
---
Subject: News about Brainwashed

Can you say to me if you have a mailing-list?
Can you keep me informed of your activities for my web site +5dB?
Thank you.

Read www.brainwashed.com/brain every week or go to www.onelist.com and look for brainwashed!
---
Subject: hello from brazil!!

hello. I present an alternative-psychedelik-postrock-electronic radio show... i'm writing to you because i've tried to find your records of bands such Isotope 217, Labradford, Godspeed you Black Emperor, Coil...and other releases, but they don`t seem to be available on the Brazilian market, which makes it impossible for me to buy all the new releases, because they are imported and would be too expensive for me.
therefore, i'm hoping you could kindly send me some cds, the show has a large audience, and i believe it would be good for both parts: you would get your music played and spread around as I would have more variety in my show (and also the privilege of hearing them).

Brainwashed isn't a record company.
---
Subject: LPD Live tape trading

Hullo,
I'm just about to start getting involved in this off of the site, and I was wondering if officially released by OOP live recordings are frowned upon, like Dot-To-Dot.
No biggie if they are, but I figured I'd might as well check, since I've got it!

I personally would not do it or advertise it.
---
Subject: TG Question

I have a question - In your opinion, how rare is the TG CD1 put out in 1986 on Mute? Is it worth anything more than standard CD prices?

No, it should still be in print.
---
Subject: LPD show

I see that the band is coming to a town near me. I am writing to find out the band's taping policy (?)
I am a DAT taper and I would like to record the show. I would gladly make a clone for the Archive (band).
This tape will be for personal use only and anyone that I may know that would be interested in getting a copy would trade me on a tape for tape basis w/ NO money changing hands.
The show is coming up soon, so I hope to hear back from you.
Have a great tour!
I REALLY enjoyed the show. Who do I send the tape to, so that the band has a copy? Thanx!

The Pink Dots' mailing address is: Postbus 38253, 6503 AG Nijmegen, Holland, and the online mailing list info can be found at cloud-zero.org.
---
Subject: pretentious

do you know by chance why pretentious.net keep silence for 2 days?
or it works for you?

No idea.
---
Subject: alice the goon

have a question that maybe you can answer - has 'alice the goon' been reissued on any of nww's lps/cds ?
hope you have time to reply

It will be out in July.
---
Subject: maureen walsh

hi there,
I'm hoping you can help me! i,m trying to get hold of a record by Maureen Walsh (the female vocalist on Say a little prayer). The song is called You Mesmorised Me and it was released in the UK in 1991. I've been trying for years but to no avail ( the single was discontinued years ago). I was hoping you could point me in the right direction on the net to help me find this song. I've tried all the usual places, napster, cuteMX, UB list with no luck. I hope you don't mind me contacting you but as she had connections with bomb the bass , I thought you might be able to help

thanks very much

I don't mind questions like this, but I personally have no clues, sorry.