a weekly digest from the staff of brainwashed
V04I12 - 04012001
Click here for other issues
SITE
BRAINWASHED CLOSING ITS DOORS
After five years of not making any money, Brainwashed dot com is closing down. We have unfortunately become the latest fatality in the dot-com death of 2001. The domain will be sold to Miramax Pictures, who are filming a remake of the German film, "Brainwashed" featuring Parker Posey, Philip Seymour Hoffman and Nell Carter. The web site will cease operations on April 16th, five years to the day of its opening. Band websites will be farmed out to corporate sites which will not feature any of our archives, pictures, discographies and clips. Thanks to everybody who made it work so long, so well, but in the end nobody we liked wanted to advertise with us and we just couldn't keep up with the expenses.
DON'T CALL IT A COMEBACK
After years of silence, Bomb the Bass is finally re-emerging. A brand new collaboration with Lali Puna surfaces this week on Morr Music from Germany. The song, "Clearcut" appears in an original version along with mixes by folks like Arovane, Christian Kleine and Opiate. More info on the Bomb the Bass site.
CEX IN THE URB
TB6's own Cex is featured in April's issue of The Urb. The magazine, which is on sale now features Mr. Kidwell in their "Next 100" article, ranking in at number 2. He's being recognized for his culture-clashing baiting gimmickry and electronic wizardry, along with his editorial contributions to local weekly, the Baltimore Weekly. Of course being a skinny cute 20 yr old helps too.
FRIDGE / JAH WOBBLE FREE LIVE SHOW ANNOUNCED
Jah Wobble, Evan Parker and Fridge will be pefrorming on Thursday the 26th of April at the Ocean in Hackney, London. Tickets are free!!! and available thru BBC Radio 3. The show will be broadcast on the "Mixing it" show which plays on Saturday nights. The number to call is 08700 100300. Look for a new Four Tet album due on May 21st!
V/VM CELEBRATES APRIL FOULS WITH MORE NEW RELEASES
Just when you thought it was safe to stop wasting your money on V/Vm releases, the Stockport pig farmers have just announced all the releases in store for April. Included are two new HAT (HelpAphexTwin) 3" CD singles, a snooker tribute 7" issued in 147 copies of each snooker color, and the Dr. Fred Plays 3" CD single. So where the hell are the March releases like the Guru Josh, Alien Porno Midgets and Millennium Dome CD???
MUSIC IN BRIEF
PENUMBRA, "SKANDINAVIEN"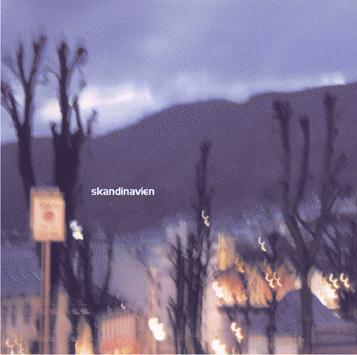 Penumbra is Mark Warren, one half of UK ambient pioneers Zoviet France, and this album on Iris Light is the follow-up to last years solo debut "Anoraks" on Universal Egg. "Skandinavien" explores - for exactly 74 minutes - similar dark ambient terrain with the aid of repetitive beats and natural and not so natural field recordings from the region. "Welcome to Skandinavien" quietly drifts for awhile then adds in flight instructions from a flight to Copenhagen. "Deep Listening" churns with steady layers of electronic drone wave, reversed audio bits, rattles, bells and a deep percussive thud, a lovely female voice loop being introduced by the 10th minute. "Another Rainy Day" features a constant cascading beat pattern and, of course, trickling water by the end. "Input from Origin" builds upon a never ending beat with synth swirl and mildly annoying sporadic notes. Ditto the never ending beat, only more frantic and heavy, on "A Week in the Black Box" as steam hisses and sine waves drone incessantly. "Living on the Borderlines" calms things down again ... static sea waves, bird calls, a simple hi-hat rhythm, native bellowing and the gentle hum of an engine (plus 6 minutes or so of hidden track - field recording of people conversing, traffic and construction). Relaxing. "Penumbra" is pleasant and sits in the upper middle of my quality scale for these type of albums ... - Mark Weddle
samples:
current 93, "the great in the small"

You've all read the story by now. In a dream, David Tibet was instructed to release all his material together in one collection before he died, echoing the old wives' tale that when you die your life flashes before you. Prior to its release, there was much speculation from fans on various email lists, would it be MP3 files? Could it manifest as another greatest hits? No, the secret is finally out. 'The Great in the Small' is one long track of everything playing at the same time, from 1984's 'Lashtal' single through 2000's 'Sleep Has His House' album. At the helm mixing the balances between everything was Stapleton and Tibet, who according to Tibet had a methodical mathematical system of doing things. While they may have carefully and meticulously decided where to begin and end tracks, equilizing the amount of sources played at one single time, the gimmick of this release wears rather thin going into the 10th minute. To its credit, the mix is carefully constructed and is truly an adventure either in a properly setup room with loud speakers or with headphones, listening and picking out popular favorites as they fade in and out in a tapestry of noise. In total, it stretches over 61 minutes: which can be a true test in patience. And what happens at the end of the journey? Sorry, I can't give that one away. Thankfully the release is mid-priced, as it probably won't get heavy rotation in most players. - Jon Whitney
samples:
NO-MAN, "RETURNING JESUS"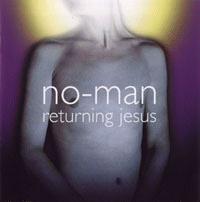 Something I've learned over the past few years is to get anything with Steven Wilson's name attached to it - Bass Communion, Porcupine Tree, IEM and now No-Man. No-Man is the UK based duo of Wilson (instruments) and Tim Bowness (vocals, also of Samuel Smiles, Henry Fool) and this is their 4th album in a decade. Here they are aided by 8 other players including Colin Edwin of Porcupine Tree on bass and Steve Jansen (David Sylvian) on drums and percussion on several tracks. The focal point is Bowness' warm voice and poetic words, soft and heavy with a quintessential singer songwriter melancholy and yearning. This is adorned with piano, synth, saxophone, trumpet, flugelhorn, acoustic and electric guitars and percussion, which is more of an accessory than a driving force. The result is a lush organic balladry with an ambient sheen, crossbred between acoustic and electronic sounds, and blessed with perfect production. The songs are essentially pop but draw upon light jazz, classical, psuedo-tribal and experimental influences. I'm especially enamored with "Carolina Skeletons" (also title track of a 1998 EP). It's utterly emotive with forlorn piano, crumpled sound loop, Floydian guitar and Bowness relaying the sad story of 'Cowboy Kate' (Kate Carpenter perhaps?) ... "it's carolina skeletons that make her stranger when she eats". "All That You Are" is another crowning jewel, ending the album on a note of romantic resolution ... "let me take your hand and love all that you are". "Returning Jesus" is gorgeous, addictive and timeless. It's like a shared bed you never want to get out of ... - Mark Weddle
samples:
Jean-Michel, "New Medium Softpack"


Jean-Michel's second CD release is an excellent follow-up to Marshmallow Rooms (see the brain vol 3 issue 17), containing some pretty ambience mixed with electro-crunchiness, whacked breakbeats, and old-school techno, providing a an aurally stimulating experience. Like most of my favorite intelligent-techno bands, Jean-Michel expertly oscillates his effects and adds and subtracts sounds to keep things evolving, as if a story is being told. But what sets him apart is his excellent use of acoustic guitar to set the elegent mood, juxtoposed with a seasoning of brief splashes of highly-processed, other-worldly noise, guaranteed to grab your attention.
On the recording side, there is one gripe - his CD tracks frequently are at a level which is a tad too high and the overloading, while perhaps adding character to some of the songs, is sometimes obviously unintentional. Perhaps his many vinyl releases do not share this problem? His very obscure German record label, Eleganz, seems to be primarily a vinyl shop, always releasing his songs first on the esteemed 12" format. Good luck finding his stuff on this side of the atlantic. - Alan Ezust
samples:
CHRISTOPHER PENROSE, "AMERICAN JINGO"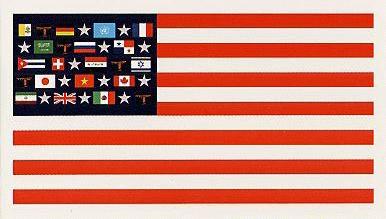 Christopher Penrose is a thirty something Californian who has received degrees in music composition at UC San Diego and Princeton University. He currently resides in Japan and works as a researcher, composer and developer of audio software for Apple's Rhapsody operating system. The two 20 and 24 minute tracks on this disc are likely products of that software, possibly his image to sound program. Penrose is obviously making a statement on the Americanization of the world as the digipack features clever artwork by him of Stars and Stripes flags with the stars replaced by other nations flags and corporate logos. The title refers to 'one who vociferously supports one's country, especially one who supports a belligerent foreign policy', no doubt a phenomenon he has experienced firsthand in Japan. The title track churns through countless processed samples and passages, far too many to detail or even identify, but most are seemingly random snippets of sound and music interspersed with several spoken statements: "here is what you think", "be a winner at losing", "I love my body", "she is America", etc. "MK/Ultra" features an 8 minute wavering synthetic drone, a panicked phone call to a radio station from a recently discharged soldier who believes aliens are among us, and a numbered list of unusual life lessons and suggestions delivered in a digitized voice, culminating with "walk slowly, but kill that motherfucker if he tries to take your money" repeated ad nauseam. Penrose's compositions are just plain odd, both in content and juxtaposition, but also interesting with a well balanced mix of ambient, noisy, serious and humorous moments. Though, without the artwork I'd be somewhat puzzled as to what it's all about ... - Mark Weddle
samples:
AERON BERGMAN, "THE TALE OF THE UNHAPPY AMERICAN"


Aeron Bergman is a founding member of NYC based label Lucky Kitchen Records and this CD is his first for Germany's Tom. "The Tale of the Unhappy American" is a science fiction fairy tale told with words and sounds. Eleven short spoken word tracks are followed by corresponding musical tracks, all less than four minutes, often to interpret the action of each scene. The story follows the narrator's journey from the surroundings of home to a futuristic battlefield and beyond via a hover bike. There doesn't seem to be any sort of moral really, just a brief adventure then back home. The music is predominantly pretty ambient electronic twinkles, waves, drones, static and gurgles, with the occasional noisier passage. These sounds, despite being electronic and/or computer generated as I believe they are, feel very natural almost as if they are field recordings of the sounds of insects, power lines, flight, water, battle, machines, different times of day/night, etc. There's a child-like naivet■ to everything here: the concept, story, the music and the packaging. And it works. It's simply cute, fun, warm and relaxing. Next up for Bergman, as 1/2 of Alejandra and Aeron, are "Kitchen" a split 12" on Fat Cat and "The Tale of Pip" full length on Autobus/LK in April and May ... - Mark Weddle
samples:
4AD RETRO: HEIDI BERRY, LUSH, PIXIES, MODERN ENGLISH


This year, 4AD's UK office has been reintroducing the public to the catalogue of some of their former brightest stars. Heidi Berry's anthology "Pomegranate" gathers 14 songs from her three 4AD albums and adds a few extra bits. 4AD fans might not know her name but they sure know her voice, as it's all over the final This Mortal Coil album, 'Blood'. Her first album was released in 1989 but her first record for 4AD, 'Love' was released in 1991 shortly after This Mortal Coil's 'Blood'. 'Pomegranate' jumbles up her tracks in a non-chronological order, with the basic folk-inspired acoustic songs interwoven with songs with lush string arrangements and captivating swirling piano melodies. There's something magical about that voice which shines in various spots but can also get quite improperly placed when accompanied by the Lost Girls in the collection's closer, "Needle's Eye".


"Life in the Gladhouse" collects 16 album and single tracks from Modern English between the years 1980 and 1984. While most people in the world will only credit them for the mega retro feel-good 80s anthem "I Melt With You," the group had a much darker, angry and artful repertoire stretching over the course of three notable albums. Program the CD to play the songs in chronological order and you can see how the group came into existence during the punk movement and exited during the early 80s wave of new romantics. While I don't usually agree to "best of" compilations from groups who only have three albums represented, a collection like this or Heidi Berry's will be helpful to people who are familiar with the small slice, but interested in hearing more. In Modern English's case it's the big hit, only popularized long after its inception, Heidi Berry's case being the voice of 'Blood.'


"Ciao!," on the other hand makes less sense. The group's popularity was much stronger and to release a best of from a group also with a three-album career like this is rather unnecesary. Unlike the past two collections, there is a chronological order executed here, in reverse however. The disc only grabs a few hits and some popular album tracks, heavy on the catty most recent stuff (including the gratuitous Javis Crocker duet from 'Lushlife') and light on the beautiful two-girl harmonies on layers upon layers of guitar wash, which captured everybody's attention and love of the group in the first place. I fell in love with Lush's music over a decade ago and still hold much of their music dear to my heart, yet I'm not endorsing this collection. If they really wanted to release a worthy retrospective, a collection of b-sides and compilation tracks would be wonderful. Over their short career, the group has accumulated an impressive non-album repertoire which couldn't fit on anything less than two lengthy compact discs.


The Pixies were arguably one of the most influential bands of the late 80s and also arguably the last truly alternative band to gain recognition on a large scale. They intelligently and almost accidentally combined smart riffs with surf-punk and abstract lyrics with hooks catchy enough to make Lennon and McCartney jealous. In 1991, following the band's final album, Nirvana fucked everything up, thrusting recycled Pixies riffs repackaged as 'grunge' into the mainstream, merging 'alternative' and top 40 radio, forcing them all to cater to the new incarnation of pop music. Thankfully it also surpressed hair bands, until the following year when Pearl Jam surfaced as a repackaged Winger. I could go on for hours on the subsequent decline in individuality and extinction of daring record companies whose risk-taking was high and rewards were somewhat honorable, but that's another essay. That aside this collection, 'The Complete B-Sides' doesn't do much more than it claims, collecting all the singles tracks which didn't appear on the albums, in chronological order from the start. Absent however are a couple lingering other tracks which appeared on compilations like 'Rubyat' and 'I'm Your Fan: Songs of Leonard Cohen.' As a bonus a couple of their music videos are included - their breathrough hit, "Here Comes Your Man" and "Alison," which sadly enough omits the entire first part of the music video, "Dig for Fire." The commentary by Charlie Thompson (currently known as Frank Black, formerly known as Black Francis) is short and direct, not surprisingly so as he's always seemed to be more enthusiastic about current projects than reflective of his glory days in the Pixies. - Jon Whitney
samples:
We know that sometimes these CDs are somewhat challenging to find, which is why we have a community section which can be used to obtain nearly everything available on this site.
NEW RELEASES
MONDAY
Bomb The Bass & Lali Puna - Clear Cut 12"/CDEP [mixes by Herrmann & Kleine, Opiate, Arovane and Christian Kleine] (Morr Music, Germany)
Chris Clark - Clarence Park CD/LP (Warp, UK/US)
Joseph Nothing - Just One Fix 7" (Planet Á, UK)
Panacea & Cativo - The Hardest Tour on Planet Earth CD/4xLP (Position Chrome, Germany)
Rufige Crew [Goldie] - Stormtroopa VIP 12" (Metalheadz/London, UK)
Roni Size/Reprazent - Dirty Beats (remixes) two 12"s (Talkin' Loud, UK)
Various - The Braindance Coincidence CD/2xLP [10th anniversary collection of previously released tracks from the Rephlex back-catalogue] (Rephlex, UK)
Various - The Death of Cool: Part 2 2xLP (Leaf/Noodles, UK)

TUESDAY
Beneath Autumn Sky - Enki-Du 12" (Hefty, US)
Loquate - Miracles 12" (Ubiquity, US)
Mira - t.b.a. CD (Projekt, US)
Rajna - t.b.a. CD (Projekt, US)
* Spacer - Cursory 12" [mixes by Nexus and Palm Skin Productions] (Pussyfoot, UK)
Sylk 130 - Re-Members Only 2xLP (Six Degrees, US/Canada)
James Taylor Quartet - Tough Chicken 7" (Ubiquity, US)
Various - autumnature CD [Colongib, Jet Jaguar, Lackluster, Hrvatski, Fizzarum, Bauri, I Am Robot and Proud, Kettel, Cex, Zammuto, ml, Asterisk, Marumari and Lexaunculpt] (Autumn, US)
Various - No Categories 4 CD/LP (Ubiquity, US)
* Andy Votel - Styles of the Unexpected CD (XL/Beggars Banquet, US/Canada)

THURSDAY
Zorn - The City's Collapsing (But Not Tonight) CD/2xLP (Lux Nigra, Germany)

SATURDAY
Mental Destruction - t.b.a. 7" (Ant-Zen, Germany)

This is simply this week's highlights from the NEW RELEASES provided by Greg and Feedback Monitor.
For a more detailed schedule stretching into the future, please check out the site,
since release dates can and will often change.
CONCERT REPORT
COIL LIVE IN NANTES, FRANCE
On Sunday, March 25th, Coil played to about 600 people at the Lieu Unique in Nantes, France. We sat right in the middle of the room under the mixing board for the first performance, Charles Hayward. This incredible drummer surprised everyone when he fell onto the stage in a big clash and slowly started creeping towards his drums. I had never heard the Coil and Bill Laswell collaborator before, but his impressive drumming on backing tapes will remain in my memory.
The audience was then asked to leave briefly after Hayward's performance in order for the stage to be prepared for Coil, allowed to return 30 minutes later. On stage, technicians were setting up the gear and dispensing a row of lights, each one hanging from a long rope coming from the ceilings. A big screen was floating high on the wall behind the stage. Someone brought a white chalice and lit the incense inside it. The incense smelled like the kind used in churches, and it slowly started filling the concert hall. On stage were two Dutch-built Fenix modular systems, an EMS vintage synth, an analogue synth, and a digital Kurzweil keyboard.
Right on schedule, a uniformed four-member incarnation of Coil entered the stage, greeted by an appreciative audience. John Balance was on vocals, Thighpaulsandra on synthesizers, Peter "Sleazy" Christopherson performing 'manipulations', and Ossian Sex/Shop (Simon Norris?) was on keyboards. Balance addressed the crowd with a "bonjour", and immediately the opening mantra on Music to Play in the Dark 2 started: something, something, something, something,... The light accompaniment produced a tranquil visual rhythm.
The video show held the audience's interest, perfectly matching the music for the entire night, despite an alleged disappointment from Coil, due to the lack of a professional beta machine at the venue. The graphics evolved in captivating paths, including the proverbial sloth slide show which premiered in September at the Royal Festival Hall. Balance questioned the audience with: "What kind of animal are you?". Later, he informed us at that he was personally a dog!
The set continued with the same songs reported from the London show, including the much appreciated classics "Titan Arch" and "Blood From the Air." Classical percussionist Tom Edwards briefly joined Coil onstage to play marimba and various other percussive instruments, then slipped away just as quietly as he had entered when he finished.
Balance, Thighpaulsandra and Ossian Sex/Shop kept the audience entertained with their stage movements, by either dancing or walking to the row of lights to make them go on. Thighpaulsandra frequently visited the chalice between songs to re-light the incense. When he wasn't singing, John was either dancing, taking prayer poses, moving his hands around his body, or playing with the lights. I feared he would end up burning himself at some point, as their movements were quite unpredictable. Later in the show, Thighpaulsandra jumped on Balance's back, and the two rolled onto the floor, playfully fighting like puppies, strangely reminiscent of John's earlier self-identification with dogs.
An impressive rendition of "I Am The Green Child" was prefaced by John announcing that he was going to assume another personality. Indeed, his voice became decidedly lower as he adopted the 'Green Child' persona. After this finished, "CONSTANT SHALLOWNESS LEADS TO EVIL" flashed on the screen, noise blared, and the lights intensified, creating new patterns. Coil began flashing us with big strobe lights that were dispersed all around the back of the stage. Balance shouted a couple times that he needed it louder. Phrases pulsated one after the other on the screen, such as "GOD PLEASE FUCK MY MIND FOR GOOD," "PERSISTENCE IS ALL," "RESIST THE THINGS YOU CAN NOT FIGHT," and a looped repetition of "COLOR, SOUND, OBLIVION." Around the end of "Constant Shallowness Leads To Evil", John seemed to be experiencing a lot of agitation, smashing his microphone support to the ground and re-positioning it. At one point, the white chalice was struck and fell, the incense spilled out of it into a pretty line of powder on the stage floor. The chalice rolled towards the front of the stage, precariously approaching the edge when John Balance stopped it with his foot. He stood there for a moment, striking a memorable pose.
As the end was approaching, the bright lights dimmed. I wondered how my vision would readjust to the normal lighting of the room. Waves of applause and shouts burst out. The musicians came to the front of the stage and John took their hands. They briefly saluted us and then quickly vanished, visibly happy. - Bruno Henlé
THE SOFT BOYS/YOUNG FRESH FELLOWS
I spent the filler time before the show engaged in an intersting activity atop my perch on the balcony: counting bald heads. I totalled six by the time the Young Fresh Fellows hit the stage. Indeed, nostalgia was in the air. The fans who showed up were exactly the ones you'd expect: aging freaks and nerds who were into this music in the late seventies and the freaks and nerds who have come to know them through Robyn Hitchcock.
The Young Fresh Fellows were, well, not so young (and not so fresh)... I felt like I was really missing out on something not having known the band in their prime. They resembled a band that might play a friendly, drunken wedding. The lead singer sported a semi-mullet and proudly bore small pins on the lapel of his sportscoat. The drummer displayed prowess hitting a special cymbal that was mounted on a springy stick attached to the ground. The fans seemd to love them. I enjoyed watching them bop up and down to songs they recognised.
I would have brought any friend of mine who had never heard of the Soft Boys (or Robyn Hitchcock, for that matter) to see what happened next. They had no designs on riding on recognisability: this band fucking rocked from beginning to end whether or not you knew the material. I've never been much of a Soft Boys fan - compared to Robyn's solo stuff I always found them a bit too....seventies. I finally saw the light at this show. Robyn's unbelievable lyric artistry and ability to match seeming nonsense to an endless supply of catchy music creates a place I dscover every time I see him play: Robynland. Where all is vegetables and disease and god rules spaceship earth. The band was incredibly tight, and seemed to be honestly thrilled about digging out these old tunes. Robyn tiraded and bantered a bit between songs in his usual hilarious and stream of consiousness manner; including a special introdution to "I wanna destroy you" dedicating the song to George W. Bush. The versions of all the songs they played were (as far as I could tell) completely faithful to the originals. Some of it was, well...seventies sounding (the tullish old school version of math rock with accompanying vocal harmonies), but for the most part I was convinced, once and for all, that Robyn Hitchcock's songs are timeless, attached to no era and no human form of life.
Robyn and the lead guitarist (whose name escapes me, but I was told he penned the "walking on sunshine"song) had a brilliant relationship on stage and played off of each other with knawing ease. The band came out for three (3) encores to the delight of all, staying consistantly high-energy til the last drop. Every time I see Robyn Hitchcock play I leave thinking "I must change the way I make everything completely": this night was no exception. - Amanda Palmer
MOGWAI
By now the group has returned to their quiet Scottish countryside homes, no doubt suffering some hearing loss after this most recent US tour. Tuesday night's stop was their second to last on this brief tour, the band played at the classical-style balcony-equipped Somerville Theatre in Boston to a nearly sold-out crowd. The performance began as most of their music does: calm, quiet, melodic and pretty. Selections included music off their recent EP and LP and their forthcoming "Rock: Action" album, due for imminent release. But be warned, since their last visit the group has gained weight, lost hair and collected distortion pedals along the way. Yes, they're fucking angry this time with a wall of sound lounder than anything I've heard in years. Exercising their volume muscles half way through the show every song began to end on a very loud note, with humming feedback dragging on while the members stood in front of amplifiers just to get -that- much more umph. But wait, just when you thought it was loud enough, the keyboardist emerges towards the front of the stage, guitar in hand, he clicks it on slams a floor pedal and BOOM! The noise suddenly becomes even more multi-dimensional. Much like many of these songs, the show itself ended with a long barrage of distortion stretching at least twenty minutes. Now, while many fans in attendance there were entirely blown away by the experience, I found it rather excessive. People were leaving the show with only one thing on their mind "that was loud!" Indeed it was, but it sort of masked the musical portion of the show. Nobody at this point could remember the keyboardist's flute-playing bits or delicate piano playing, unfamiliar melodies of a forthcoming album or a beautiful cellist that sat on stage right adding a charming color nearly half the night. It was indeed Rock Action - a bunch of teenagers nodding and agreeing with their buddies about how much that show "kicked ass." Are Mogwai to become the Motley Crue of this decade? - Jon Whitney
PERFOMANCE
Cole I. Bernstien presents "Time"
On March 30th at Le Chat Noir, New Orleans, LA, Cole I. Bernstien delivered the last of four evenings centered around the concept of (you guessed it) time. An eclectic grouping of music, performance art, dramatic performance, and video, "TIME" was, at it's weakest moment, still very interesting. Excellent musical choices (Stravinski's "The Rite of Spring," and Coil's "Time Machines") and a highly original set design courtesy of Daniel McKernan added a great deal to the atmosphere, which was generally pretty eerie and tense. The original music peices by Eric Laws (including the stunning "The Pendulum") and Earl Vallery were definite high points. Daniel McKernan stole the show in drag with his (her) sleazy, slinky rendition of Cyndi Lauper's "Time After Time" and a sinister, upsetting interpretation of Shel Silverstien's "25 Minutes To Go." Compelling performances by Rose Fortner and Cole I. Bernstien in the segment "Day/ A Universe in Process" provided a lovely finale. Over all, "TIME" was a jittery and pleasantly nerve-wracking event. - Sam Houston
LINK OF THE WEEK
SHOW ME HOW TO DANCE
Don't feel left behind when you show up at the next taping of Dance Fever and you've got moves older than your mother. Somebody from the Hog Pit (whatever that might be) has made a nice page with eight examples of How to Dance Properly. And it's informative too!!! With a brief description of the origins from your most trustworthy instructor.
THE WEEKLY CHART
musicians in movies
Some of the least noted silver screen performances of some of our favorite musicians:
Everybody's Baby: The Rescue of Jessica McClure (made for tv) - Will Oldham as Chip
The Book of Life - PJ Harvey as Magdalena
Space is the Place - Sun Ra as himself
Sleepless in Seatle - M. Gira as Harold Reed
Saving Private Ryan - Chris Brokaw as Captain Fred Hamill
Crouching Tiger, Hidden Dragon - Ozzy Osbourne as Wei Fong-Hung
Superman III - Masaki Batoh as Jimmy Olsen
Indiana Jones and the Temple of Doom - Suzanne Thorpe as Chinese Co-Pilot
Breakin' 2: Electric Boogaloo - Edward Ka'Spell as Ozone
Dungeons and Dragons(2000) - Naomi Yang as Damodar
FEEDBACK
membership or dismembership?
Subject: Fly Pan Am correction...
... to let you guys know, Fly Pan Am only features one of the guys from Godspeed, Roger Tellier-Craig, rather than the two mentioned in this week's Brain.
Au contraire, mon fr˙re. Their bassist is godspeed's touring projectionist!

Subject: Novy Svet

Dear Brainwashed,

I've been perusing/surfing the net for some time in the attempt to figure out just when Novy Svet are slated to release their new album. I believe that it's going to be called "Venezia" (based on some interviews that I've read from various webpages, but for all I know this could be completely false). I'm sad to say that rumors of a possible release sometime during the winter or early spring are complete fabrications, or can you prove me wrong?

Sorry, but you might find the new message board helpful!

Subject: tortoise films

Hi. going out on a limb here but was wondering if you would know whether or not the film backdrops tortoise frequently uses to accompany their live shows are available for purchase to the general public?

looking for mpeg, dvd or vhs.

is it even possible to find out who the people are that create these films?
they're really something else and tortoise tours far too infrequently in my neck of the woods to view. appreciate any guidance you can offer.

Too infrequently? They're on tour right now! You should either approach the band or write to their P.O. Box, sorry.

Subject: HELP.

Hello, i would like to know where I can purchase any of the Thighpaulsandra releases on eskaton.
Is there a mail order..?
Also how can I email/send demos to Thighpaulsandra/Coil as I am into Synthesizer experiments and would like to get some creative feedback/ interest.

Can you help?
Thanks for your time.

Subject: discog correction

hello

first of all - wonderful site! best tortoise site i've seen. ha ha.
shamefully, the only one that exists as far as i know.

i believe that "the source of uncertainty" is actually a revisit from a section in "cliff dweller society". at least the marimba part. actually i don't know what they are clanging on. it's not a marimba...

i know that cliff dweller is on gamera so it doesn't really matter. i just know there are plenty of anal people out there.

Well, it first appeared as "Why We Fight" in a full, complete song, the part you're referring to (played on vibrophones) is rather an incomplete thought, like most of the parts on Cliff Dweller Society. Thanks for the note, but why is it shamefull we're the only site? Would you rather see something on Geo-shities with loads of ads, bad graphics, oversized pictures and broken links?
WHAT'S IN YOUR CD PLAYER?
no purpose, no design
Matmos' "A Chance to Cut..."
Debris' "Static Disposal"
Aphex Twin "Richard D. James"
Matmos' "Quasi Objects"
Wire "Chairs Missing"
Herb Alpert and his Tijuana Brass "Whipped Cream and other Delights"
Johnny Cash "Rock Island Line"
The Mummies "Fuck CD's it's the Mummies!" (sic)

Joseph Choo, who hasn't claimed anything with his list.
He's just sharing. =)

feedback and submissions:
Brainwashed Digital Mobile Telecommunications
PO Box 7 / Arlington MA 02476 / USA

© 2001 Brainwashed, all rights reserved.
Click here for other issues