surface of eceon, "the king beneath the mountain"


Don't let the unpronouncable band name or low-tech cover put you off, this here's one of the best space-rock drone-pop records of the year. The five member group of D&D players includes Adam from Yume Bitsu and three members of Landing. It's patient, emotional, climactic and intense. Don't expect quietness however, as the barrage of guitars envelopes you like a cloud of the most potent marijuana smoke imaginable. You can get a contact high from this smoke however without direct contact with the bong. Get comfortable on the livingroom couch in your rattiest flannel with a comfortable old blanket, turn the music up really loud, stare up at the ceiling and daze for a few minutes. Minutes turn to hours, nightfall comes early and the lights go down all throughout the house. Staring through glazed eyes the LED on your clock shows a time you can't figure which is AM or PM. Suddenly visions of walking through 4-foot drifts of neopolitan shaving cream enter your head. A plaid talking yak leads the way under the orange sky of an Indonesian sunset. Bubbles form and fail to burst, you stumble on Laura Dern action figures and fall through a stitch in an oriental rug. You wake with your mouth open, completely clothed, drool on the pillow and two fuzzy cats on your belly. The phone rang. Goddamnit. - Jon Whitney
samples:
ANTENNE, "#1"

Antenne is the new solo project of Copenhagen's Kim G. Hansen, formerly of Danish group Amstrong, for the long-lived Dutch label Korm Plastics. Hansen mixes up electronic and acoustic sounds - analogue synth wash, gentle guitar strums and notes, minimal bass and beats - for the desired effect, a sort of slow motion, desolate, ambient pop that makes me think of Locust run through molasses. "Here to Go" sets the mood immediately with a submerged brushed snare groove. The celestial voice of Marie-Louise Munch, also of Amstrong, closes the sale. Note to self - seek out the EP for this song featuring remixes by Stephan Mathieau, Zammuto, Accelera Deck, Metamatics and Geiom. For the remaining 7 tracks on this disc, Munch lends more lovely, light vocals to 4, and though they're all good, they're also disappointing after track #1. The near ten minutes of "Whispering" would be runner-up, a steam bath dirge obscuring the gorgeous guitar chords and vocals in time. Program this disc in reverse to save the best for last and you're set. - Mark Weddle
samples:
maximillian hecker, "infinite love songs"


There's something undeniably irresistable about Maximilian Hecker's sugary sweet breathy falsetto and captivating pop melodies. The love for his music is a vice, like cigarette smoking or alcoholism: your first exposure feels rather disgusting but at some point, it becomes quite addictive. Soon, you're not allowed to be around your friends who don't indulge while you feel the need to indulge. It's embarassing. You begin only indulging in certain places like the car or at home alone, late at night. Luckily, Max Hecker won't rot your liver or give you lung cancer. You will inevitably feel guilty. Hecker was discovered as a street singer in Germany doing Brit pop covers, played every instrument on his 12-song debut, but makes the big bucks modeling, or so the legend goes. Many of the songs are lyricially repetitious but are endearing enough to be thoroughly enjoyed. The pretty piano, acoustic guitar, and vocally overprocessed melodies are something pop radio needs more of. Don't bother playing this around your über-macho jock friends as they'll surely laugh at you. Fuck it, I'd rather be a sissy and enjoy fun music. - Jon Whitney
samples:
z.e.l.l.e., "nth"


The most striking feature of z.e.l.l.e.?s debut CD is not its exceedingly low volume (barely audible music has become its own genre, so we should all have gotten past that shock by now), but its magnificent use of stereo seperation. Digital pings are placed very carefully in space, while crackling static, not unlike the runout grooves of records, swirls underneath. As one listens deep into the music, sharp digital percussion dances in skitish cyclic patterns from all sides and lilting melodic fragments overlap and fall away into silence. Despite the air of sterile distance suggested by the grey and white package, a sense of playfullness pervades the music, as if the artists are truly enjoying their sound materials and aiming to continually surprise the active listener. This is the most overtly musical Line release so far, with recognizable song-like structures and dub-like delay effects making it more approachable and accessible than, say, Immedia. I imagine that nth would be even better as a four or five speaker installation in an art gallery, so that a listener could sit in the middle of an isolated room and hear the clicks swirl around? - Howard Stelzer
samples:
papa m, "whatever, mortal"


One thing nobody will ever accuse Dave Pajo of is recording the same album twice. Fans of the polished, sparkling instrumental melodic songs will be a little taken aback with his latest full-lengther. Unlike the 'Shark Cage' or 'Aerial M' albums, this one is much less a continuous concept, with variations in both musical and production styles throughout the course of the 50+ minutes. Pajo picks up where he left off from the recent 'Papa M Sings' EP, singing on many tracks in a style not completely foreign to fans of his close friend and often collaborator, Will Oldham. A trucking anthem, "Over Jordan" opens the disc, charming, yet shabbily produced songs like "Tamu" could have easily been recorded on a tape recorded in the kitchen. Intoxicating Middle Eastern and electronic elements come into play (via tablas and sitar) on the stellar "Sabotage." By the time this song is reached, I'm honestly thinking Pajo's probably the most fearless man in indie rock—unafraid to pick up new instruments and do whatever he wishes with them. The disc ends with "Northwest Passage," which echoes last album's "Arundel." This variation, however is alternately colored with acoustic guitar, harmonica, piano and drums. Guest musicians like Tara Jane O'Neil and Will Oldham add to the complex tapestry, but at the end of the day, this is clearly more Pajo than anybody else. To top it off, the deluxe 24-page CD booklet features various appealing original photos from the man himself with a thick stock and glossy finish. The first few listens may be uneasy but give it time to settle in. - Jon Whitney
samples:
BABLICON, "THE CAT THAT WAS A DOG, A FLAT INSIDE THE FOG"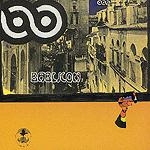 Bablicon are a Chicago-based trio of curiously monikerd multi-instrumentalists: 'Blue Hawaii', Marta Tennae and 'the diminisher'. This is their 3rd album, apparently conceived as a double album, tracks 1-6 under the "The Cat That Was a Dog" title and tracks 7-15 under "a Flat Inside the Fog". Most songs are rooted in piano composition, which all 3 members play, but vary widely in style and additional tone coloration: voices, various basses and saxes, electronics and all sorts of percussion and other odds and ends like theremin, melodica, 'friendly bird tinkles' and 'electric ghetto duck'. It's an avante-everything sort of music that takes in jazz, rock, symphonic and experimental, where playful melodies are as common as just plain weird melodies. The vocabulary that comes to mind when listening to these pieces - quirky, odd, surreal, beautiful, noisy, etc. - is much the same as that for the work of their Misra labelmates Volcano the Bear. Regarding some of the more compelling numbers: "Travelling" builds up a gypsy like dance of piano, upright bass and horns; "Mary" psychedelically grooves an organ, theremin and cymbal assault; "Arcdurvish" manipulates sax a la Terry Riley with electronics and percussive knickknacks; and the finale "An Odd Pear" eventually delivers the most outright attack of sound then settles down into a pretty (normal) jazz coda. "The Cat.." is definitely for the more adventurous listeners out there like you and me. - Mark Weddle
samples:
lpd reissues: "the lovers" & "island of jewels"

'The Lovers' first appeared on LP in 1984, side one was recorded at a concert earlier that year while side two were all new tracks recorded live for VPRO Radio in Holland. When the CD was first manufactured in 1991, both tracks from the "Curious Guy" 12" single were included. While the disc is often not considered to be a truly bonafide LPD album, it contains some of my favorite LPD songs. The four songs from side one had only ever appeared on compilation cassettes (if anywhere else). The excitement about the band's current lineup can be observed simply by the volume of material that surfaced in that year (which included both 'The Tower' and 'Faces in the Fire') and here they wanted to treat the older tunes to a newer live arrangement. Side two starts and ends with the timeless emotional, violin and piano heavy classics "The Lovers" parts one and two. It also features the entertaining classic, "Flowers for the Silverman" right in the middle. The feverishly catchy "Curious Guy" is cute and always a crowd-pleaser and the disc ends appropriately with the complex 11½ minute opus "Premonition 16". Bonus bits for the new reissue include a restored cover (which includes all five faces through the flowers), printed lyrics and a thumbnail for the 'Curious Guy' 12" release inside the tray.

samples:
'Island of Jewels' on the other hand is one of my least favorite LPD albums. Recorded and released in 1986, it was the first full-length album recorded with Edward living in Holland and the rest of the group living in England. Incidentally, the album seems fragmented and unconnected, while the production seems rather sterile and thin. The band sounds like a group of musicians not paying attention to each other, all clamoring for attention without letting each other's instruments have a life of their own. It's somewhat painful to listen to as the songwriting really isn't bad at all. Songs like "The Shock of Contact" and "Jewel in the Crown" would probably have benefitted from a completely different recording approach. This reissue is probably one of my favorite improvements on the other hand. The back cover has been adopted from black and white images from inside the original gatefold LP issue, photos have been included as well as lyrics—none of which were on the original PIAS CD release. - Jon Whitney
samples:
Steve Beresford, Tristan Honsinger, David Toop, Toshinori Kondo, "Imitation of Life/Double Indemnity"


This disc is the latest in Atavistic's "Unheard Music Series" of CD reissues of rare and otherwise unavailable improvised music LPs. It purports to be a reissue of two LPs from 1980 and 1981, originally published on the Y Records label, which was better known for its records by punk/dub groups like the Slits and the Pop Group. In reality, the disc contains not even a full side of the "Double Indemnity" LP (a total of twelve minutes, to be precise), all the music from the "Imitation of Life" LP, and twenty minutes of previously unreleased piano and cello duos by Beresford and Honsinger, respectively.
The best stuff on here is the first two duo tracks, quite tasteful if typical for free improvisation, but I can't say any of it is good enough to recommend purchasing the disc. The duo's tendency towards silly clowning overshadows otherwise inventive improvisation and mars most of the tracks, leaving lots of great moments but no great complete pieces. The short tracks taken from "Double Indemnity" are a cacaphonous flurry of notes, crashing fists of piano, and dramatic shifts in mood and texture. However, Honsinger's ridiculious speeches about salad dressing and declarations like "Do you think it's all right?" and "What does it mean, anyway?" seem to be apologetic at times when the music finds an uncomfortable space which would have been stronger if left alone. Why he makes animal sounds, or references musical styles like film music and military marches, or lapses into jokey yelping right when an improvisation is getting good is beyond me.
Nowhere is this more distracting than on the tracks taken from the quartet LP, which I was excited to hear because of the inclusion of Kondo from before he added that wretched delay-pedal effect to his trumpet. Aside from the sections in which someone (hard to tell who is to blame for this) beats out a galloping 4/4 beat (why??) or when the musicians do the obvious and lazy gimmick of trading a melodic line back and forth (surely the players are better than that), there are intense sections here that work for minutes at a time. Then someone makes opaque quacking noises through his fluegelhorn, or plays "Revelie" or scales, or recites film dialogue, and the music becomes so grounded that it cannot get back up. - Howard Stelzer
samples:
CHARLY MCLION, "THE NATURE OF THE UNIVERSE"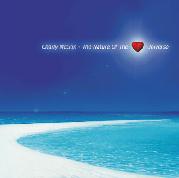 Charly McLion's musical career has extended over three decades and many genres including rock and blues bands, Algerian Rai, commercial work and most recently, electronic. "The Nature of the Universe" is his solo debut and the 2nd release from Aachen, Germany based Kingfisher Records. McLion, born B?hel, composed these eleven 5 to 7 minute instrumental tracks with samples, guitars and keyboards. His music is of a Hearts of Space, electronic new age flavor that at times recalls "A Momentary Lapse of Reason"-era Pink Floyd and the solo work of fellow German Michael Rother (ex-Kraftwerk, Neu!). Pretty piano and keyboard melodies, mellow guitar soloing and accompaniment, light programmed bass and beats and dramatic, sweeping waves of synth resonance are the primary modes of relaxation. Everything is intentionally easy on the ears and unobtrusive, just simply happy to slowly soothe. "Eye In The Sky" introduces a bit of EBM funkiness to the rhythm while "Sunshine" drops a female vocal sample and bit of Spanish styled acoustic guitar. Nice. With the sometimes staggering amount of experimental music I listen to, it's good to put on something as straightforward yet enjoyable as this every now and then. - Mark Weddle
samples:
Her Space Holiday, "Manic Expressive"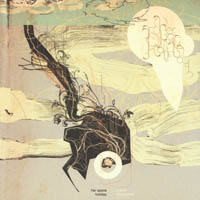 The title of the seventh cut, "Hassle Free Harmony", serves as an excellent summation of the album in its entirety. Marc Bianchi returns under his HSH moniker with 'Manic Expressive', a release that is elegant, yet mellow and uncomplicated. From the three-minute string arrangement of the opening track to the sweet and wispy vocals on "The Ringing in My Ears", the album blends an extensive assortment of musical sources, both organic and electronic. Melodically, the songs are aural decoupage: it's as if Bianchi gives the listener a sonic slide show, displaying bits and pieces of his favorite tunes by other artists ("Dear Prudence" immediately springs to mind). The result, however, does not give the impression that these outside sources have been plundered, but rather form a charming homage. The juxtaposition of an orchestral ebb and flow with subtle mechanical beats, hypnotic ambient atmospherics and glistening guitar is handled with dexterity. Even when the otherwise humble songs surge with drama, Bianchi never allows them to run amok. The orchestra pit warm-up that opens the first track signals what is to come: the artistic and stylistic development of HSH since the previous effort, 'Home Is Where You Hang Yourself'. Break out the electric blankets; 'Manic Expressive' is perfect listening for curling up in a warm bed on a snowy morning. - Jessica Tibbits
samples:
BATTERY OPERATED, "CHASES THROUGH NON-PLACE"


Stichting Mixer is a 2-year-old foundation for minimal electronic/acoustic music, it's goal "to start and stimulate initiatives which encourage the encounter between sound and other media". Its recorded output, from knowns and unknowns alike, is released through the Mixer label. This disc is the first release on CD, limited to 500 copies. Battery Operated, apparently the duo of TomKz and Wade Walker, "chase" (i.e. DAT record) sound signals in 8 architectural non places, those modern structures of repetition such as airports, rail stations, hotels and shopping centers. Thus, they use the spaces themselves to construct soundtracks for them. The 8 tracks are roughly 5 to 6 minutes apiece and the digipack offers only the abstruse clue of a greyscale texture for each location. All sorts of unidentifiable sound tidbits are churned up and around, molded into quasi-rhythmic patterns and ambient-ish soundscapes. Tracks 3 and 8 are the real standouts though, simply because they're the most musically dynamic. The former in particular perfectly segues between cluttered and calm moments. Good stuff. Future Mixer releases I'll be keeping an ear out for include a split LP by Pimmon and K?n and a double 7" by Kaffe Matthews. - Mark Weddle
samples:
cex, "oops I did it again" (CD version)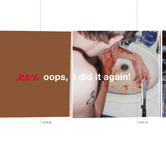 This full-length CD shares only a tiny amount from the 12" released earlier this year which bears the same name. (For my praise of those four songs from the first side, see issue 31 from this year.) This version opens with something so far beyond politically incorrectness but then breaks into a charming acoustic guitar bit. Of course it moves quickly on to of Cex's more well-developed electronic cut-up fuckery, with the occasional scatterings of kitchy sketch comedy (which Tigerbeat6 artists seemingly are becoming more known for), and only a subliminal hint of rap. Not what I was expecting from a guy whose live shows have had some fierce freestyle rapping lately. It's strange, that at first I was kinda set off by his rapping and comedy, but now I'm kinda wishing there was more of it on this disc. This is a truly fulfilling disc, however. Mr. Kidwell has got a keen mastery of mixing the elements just right for each song—low grooves, fun breaks, enough glitchery to make it interesting and not too much to make it laborious. A brilliant bit ends the disc on the theme of a high school crush shining through a mix tape. It may lead some to wonder "Is it real? Is it staged?" The pretentious European electronic music critics might not get all the jokes but Cex is surely more entertaining than nearly all of the critically acclaimed noodly drivel littering the shops. - Jon Whitney
samples:
We know that sometimes these CDs are somewhat challenging to find, which is why we have a community section which can be used to obtain nearly everything available on this site.
happy belated galloween

Subject: winny gallo
Thanks for writing a review that will put a few hundred nails in this fucks coffin. I absolutely hate him and when I heard he was putting out an album for Warp I knew that Warp had officially achieved suck shit status.
It happens to the best of them.

Subject: Jon watch your blood pressure
You're pretty pissed at the Warp camp. I have to admit that I was hoping for alot from the Gallo release and thought it was not Warp material. Maybe UNI?
I want more Blue Jam. Morris is a gas!
I'm not pissed, I just think they have now made a tradition of making bad business decisions.

Subject: damn, you kicked Gallo's ass
I just listened to the samples, it does suck, is that the right speed?
Unfortunately.

Subject: The Brain
Wow! Loved your Vincent Gallo review. I haven't heard it myself but that's a great piece of polemic.
Thanks, we aim to entertain. Reviews like this always show us who's really reading this e-rag.

Subject: (no subject)
You guys are serious assholes...it's a shame that so many good bands out there having anything to do with you!
The only people who ever complain if an album gets slammed in a review are freako psycho fans. After dissing the Bjork movie, Brainwashed was faced with piles of insulting emails from suicidal mental patients. In all honesty, most bands and record labels have much thicker skins than the fans (which I must remind you is short for the word "fanatic" - defined by one dictionary as 'extravagant in opinions; ultra; unreasonable; excessively enthusiastic'). The only way labels and bands get pissed off in a review is when somebody completely gets something wrong. Example: Rockpile just reviewed the Fridge album, and while they loved it they claim Kieran from Fridge started Brainwashed when he got pissed off at Universal! That's kinda uncool given the magazine has been printed and distributed and will be forever on those pieces of paper completely incorrect,... Anyhow, point being: chill out or start your own fucking website.

Subject: cat power review
Hi, read the review of Cat Power and it sounded like a bit of a disappointing performance...
Just wanted to say that when i saw her in Leicester (UK) a couple of months ago she was brilliant... So in the interest of balance, though she is charmingly clumsy she can play really well.
xxx
Thanks for reading somebody else's review!

Subject: one click leads to another
I happend into your resume off of brainwashed.com after happening into a Tortoise show here in Tokyo last night. Wow. Where can I get more of that? One click lead to another and here I am saying to you: judging by your "memoirs" I think you might enjoy the Electric Monkey - http://soupshack.slammo.com/quotebook.php.
Keep up the work.
PS I'm eating egg drop soup as I write this. No shit.
You mean "cum-snot soup"?

Subject: brainspotting
Hey, we saw Panacea spin last week and lo and behold he was sportin' a brainwashed shirt. I got a kick out of that, anyway.
Neat, we always knew he had great fashion sense.

Subject: Ozymandias
You think you'll ever get around to doing the sound samples for that album in your review a couple weeks back?
Sorry, was away, they should be there now.

Subject: kranky.net link is a porn site
Woooah Nelly!
I went to http://www.kranky.net and hit Artists
Then clicked on Mark Spybey to go to the dvoa.com site
dvoa.com is now a porn site.
Thought you might want to know...
Thanks!
Whoops, we'll have to update that to www.spybey.net. Thanks.