"musique concr?te soundtracks to experimental short films 1956-1978"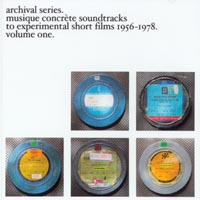 In the 21st century, audio preservation and restoration will become a hot topic. I believe it's going to be a struggle as copyright owners (both private and corporate) will be the main factors of letting musical works die. I fear history will only be recorded for the most popular icons of the most popular western music genres. Thankfully, there's a small number out there who aren't willing to accept that. These first three CDs in this series exemplify what I consider 'guerilla preservation'. The music that appears on these compilations has been mastered from both 16mm prints and first-generation videotapes, illegally, with a host of mysterious credits. First of all, whoever's been doing them has been physically just dropping them off at the local Cambridge store, Twisted Village. Next, the music is credited to being mastered by Theaddeus Cahill at the New England Electronic Music Company in Holyoke, MA. Cahill actually invented what many consider to be the first electronic instrument, the Telharmonium (click here) and had worked on creating these huge beasts at the factory in Holyoke around the last turn of the century. It's an ominous reference to preservation of electronic music as no sounds from the Telharmonium have survived. (Sadly, the last existing Telharmonium was sold for scrap by his brother when nobody was willing to buy it.) Finally, special thanks go out to people like Alan Smithee (a non-existant man who film directors choose to go as when a film company decides to destroy their film beyond the director's intent).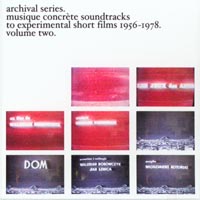 The music on the first disc is pulled from five shorts, opening with the music from 1958's 'Glas' by Tom Dissevelt which is easily a blueprint for early Cabaret Voltaire music with tape manipulation, found sounds and hypnotic vocal loops. The music from 'Pixillation' is from 1971 and uses a healthy balance of rhythmic analogue synths, lead organ and various percussion. It's by Gershon Kingsley, composer of the theme to TV game show "The Joker's Wild"! The spacey drones on 'Free Music' by Perry Grainger accompanies dialogue about space exploration which could easily pop up on a Jack Dangers 'Sounds of the 20th Century' series while Pierre Boulez' 'Symphonic Mechanique' from 1956 is full of Stockhausen-esque audio manipulations, accented with piano, bass, and xylophone sounds. Volume One concludes with, "Dance Frame" with music by Joan LaBarbara, using nightmarish vocals and an equally creepy bed of noise.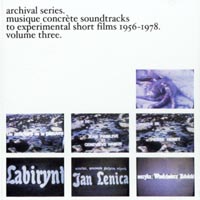 The second and third volumes only feature two pieces each. With these tracks stretching to about 10 minutes on average, the music is arguably more thematic and compositional in nature than the shorter tracks on volume one. Pierre Henry's music to 'Les Amours de la Pleuvre' is remeniscent of church music with the occasional vocal loop while Wlodzimierz Kotonski's music for Jan Lenica's 'Labyrinthe' is a playful cartoon-esque pitch-twisting dementia of percussives, pianos and unrecognizables with calliope. Kotonski appears on volume three with twisted piece, this time a morse code and noises-enhanced gloomy bit from the 1957 animated short by Jan Lenica with Walerian Borowczyk, 'Dom'. The other piece on volume three is music from the 1964 film 'Jeux des Angels' with French dialogue, audio manipulations, xylophones, and various other noisemakers that would probably make any fan of Nurse With Wound's 'Sylvie and Babs' quiver. These collections are truly fascinating and eye-opening and I'm anxious to find more volumes. I hope the real Thaddeus Cahill (who died in 1934) is proud that his name and company are being name-checked so respectfully and whoever's putting these things out keep it going. Twisted Village's website is www.twistedvillage.com. - Jon Whitney
samples:
"In The Beginning, There Was Rhythm"


The first sentence of the 40-page booklet that accompanies this disc reads "This record features the groups that grew out of punk in the UK and embraced Dance music." Yeah, right, that's exactly how I'd [not] describe Throbbing Gristle and This Heat. Souljazz Records, self-proclaimed re-releaser of hard-to-find dance music, has expanded their dub-and-reggae filled catalog by compiling 11 songs from 9 late 70s UK bands, including the two bands mentioned above, Gang of Four, early Human League, Cabaret Voltaire, 23 Skidoo, A Certain Ratio, the Slits, and the Pop Group. The music is great, there's no doubt about it, but at the price this disc is going for ($18 in New York) it's really not worth buying, especially since the tracks are mostly available on other discs (I think This Heat's first album, which contains "24 Track Loop," is still out of print, but you can find it used for $10 if you try). Maybe this is an OK comp for someone who's never heard of any these bands, but I wouldn't recommend "20 Jazz Funk Greats" as quintessential Throbbing Gristle or "To Hell With Poverty" as a good start to your Gang of Four collection. The most infuriating elements of this release, though, are the ridiculous liner notes, in which everything is talked about in terms of its relation to "Punk," which is always capitalized for some reason, and its treatment of John Lydon as some sort of musical god. Example: "Whilst appearing to celebrate chaos, or rather because of it, [the Sex Pistols] inspire groups to form wherever they play." That doesn't even make grammatical sense, and it's an absurd statement to make. Incidentally, the word "whilst" is used about 20 times throughout the booklet, and the writer (Stuart Baker) changes tense from past to present every few sentences. From the section about Throbbing Gristle: "Although Throbbing Gristle come into existence at the same time as many Punk bands such as The Sex Pistols and The Clash, and indeed share some of their values, the music is a million miles away from them. Often described as anti-music, Throbbing Gristle experimented with sound like no one else before them." It's quite frustrating. You can get better ideas about the bands from allmusic.com, and if you gave me an hour and the internet I could make a better, more thorough intro to the "second wave of Punk." The only good thing that might come out of this release is if people who buy it actually follow through and buy these bands' actual records. But if you are curious about any of these bands, forget this disc, pick one or two of the bands you're really interested in and go buy their albums. It will be time and money better spent. - Nate Smith
samples:
The Wake, "Harmony & Singles"


In an act of altruism, LTM Records has begun to remaster and reissue The Wake's albums, starting with this early record, a smattering of early singles and a peel session. It's easy to dismiss The Wake, too easy. At a cursory listen one might be tempted to shrug them off as a Joy Division clone (of which they've been accused), or as a pop-like hybrid of Joy Division and the Cure. But like I said, that's too easy. The Wake may share similarities with these bands, especially since they signed to Factory Records and therefore were label mates with Joy Division, Section 25, and Cabaret Voltaire. But infusing all of the tracks on "Harmony & Singles" is a jangly post-punk, almost synthpop, sensibility that the other bands, thanks to their emergence in the midst of first-wave punk, lack. While some of the lyrics may fall a little flat, such as laments against god ("a fear of god / the god of love") in "Judas" there are plenty of more powerful moments that allow you to overlook these small missteps, such as the immediate punch of "Testament", whose strong bass line and catchy riff will get anyone's, even the most forlorn cooler-than-thou goth's, head bopping. Then, there are times, such as in "Patrol" or "Something Outside" that the synth elements may dominate and yet still keep those beguiling beats and melodies fresh and fun enough to make you smile. And that's what separates The Wake from their more famous label mates: infectious songs that are anything but oppressive, songs that strip away the melancholy, songs that border on love songs, to create strong post-punk pop. One of the best forgotten bands of the 80s, and we're lucky to have them back. More reissues are on the way. - Richard SanFilippo
samples:
shalabi effect, "the trial of st-orange"


Possibly one of the most anticipated follow-ups is finally available. If you thought the eponymous debut double CD was mindblowing, you ain't heard nothin' yet. 'The Trial' once again sees the four core members playing songs together with strong improvisational origins, but this time it seems the emphasis has gone from astral exploration to an almost surrealistic horrific earthly adventure. The same instrumental lineup forms the sounds (bozouki, guitar, tablas, electronics) but everything builds from an opening with field recordings into a maniac frenzy of electronic low bass rumbles, mad tablas and post drum-n-bass electronic whackery by the third track, "Mr. Titz (The Revelator)" (picture a call back to "First Dark Ride" with bozouki and tablas). With the accompanying visuals, the mental imagery I'm faced with is one of a surrealistic futuristic chase scene through a haunted rainforest. Things calm down immediately after and the quartet return to more organic sounds with outdoor rain sounds, scraped violins and sparse guitars. Long, delayed guitars, electronic and acoustic noises follow in the beat-absent subsequent tracks. A crackling fire, guitar loops, bozouki and whispers through what's most likely a guitar pickup permeate the disc's last song, the colossal "A Glow in the Dark". After a miniature half-lullaby motive, some drone and bozouki interplays and about 17 minutes, silence falls. A minute later a brief but sweet guitar melody closes the disc. I still don't understand why bands choose to do "hidden" songs like this separated by a silence, but whatever. The rest of this incredible second album more than makes up for that. - Jon Whitney
samples:
boards of canada, "Geogaddi"


Finally, the album that's had the electronic music community on the edge of its ergonomically designed chair for over three years is out - and it sounds like...Boards of Canada. The reaction to this record can go one of two routes: you can be annoyed that Boards of Canada are stuck in their public television-esque world and that their music sounds the same as it did four years ago, or you can accept Boards of Canada as being very specific in the kind of music they make, and enjoy it for what it is. The second option makes for a more pleasurable listen. It's true that there are no real surprises here, though the Boards of Canada sound has been tweaked - if only slightly. The most noticeable difference between Geogaddi and Music Has The Right To Children is that Geogaddi is more organic and a little more abrasive in sound, things aren't quite as produced and sleek as Music Has The Right.... This is a good thing, almost a harkening back to their early self-released records Twoism and Boc Maxima, arguably their best work. One thing I particularly like about Boards of Canada is their ability to find the beauty in sounds that are not quite in tune, like a slightly warped record, and this is evident on tracks like "Gyroscope" and "Dawn Chorus." There's an even greater use of words and voice samples than before, especially on "1969," which contains the clearest bit of "lyrics" on the album ("1969 in the sunshine"). One thing I was worried about was that they were going to recycle some of the old tracks from their early days on the assumption that the majority of people had never heard them (Music Has The Right... was nearly half previously released songs), but luckily the album appears to almost completely new material. Again, there's a good ratio of minute-long abstract tracks in between the longer beats, and like Music Has The Right... it makes for a more varied, interesting album. It's no lie that Boards of Canada are largely responsible for the ridiculous number of awful "IDM" tracks floating around the world on CD and/or mp3 that contain one or more of the following elements: the sound of children laughing/playing, random voices spouting words or numbers, happy melodies over jagged electronic drumbeats, etc. Which makes it all the more impressive that Boards of Canada didn't retreat from these elements on Geogaddi; instead, they've embraced their nostalgic childhood aesthetic shamelessly: samples of a 4-H public service announcement about energy, song titles like "The Beach at Redpoint," kaleidoscopic images of smiling kids. But you also get the sense that they are poking fun at their image a little bit - there are so many instances on the record of people counting up from zero that it has to be joke, not to mention the female voice that says "yellow" in the middle of "Alpha and Omega" - both references to "Aquarius," arguably their most popular (and influential) track. The bottom line is, if you like Boards of Canada then you're probably going to like Geogaddi, and if you've been waiting for them to fuck up so you can say "Ha!" then you'll probably find something to pick on, but what's the point of that? Warp should be glad they have at least one artist left who still has a little bit of taste and restraint. - Nate Smith
samples:
45 SELF, "Aztec Gameshow Death Ritual"


I find it hard to choose the proper words to describe this album as the more I listen to it the more I like it. There is a wide variety of sounds balanced by a strong conceptual theme. This provides an ongoing steady flow which makes it easy to concentrate on nearly anything besides questioning the soundtrack-ish qualities of the album. Packed in a c-shell case, the design leaves one with only a few hints but the song titles. The web site provides more information about the musicians and instruments, however. A sparse, relaxed atmosphere opens this album. Live drums merge with synthesizers, a W.S. Burroughs quote gets thrown in, analog sounds and an old drum machine jump into action as an interesting (yet undistracting) sound wall evolves. The album proceeds in a slightly morbid mood—not really unexpected with the title this album bears. 45 Self offers a well-crafted variety settled somewhere between the joyful use of any available sound source (somewhat remeniscent of older Severed Heads) and an overall distant attitude (not unlike early Factory bands like A Certain Ratio or Section 25). What I especially like is the way they use vocals as integral parts of the pieces—never placed in the foreground but working as an effective subliminal addition.
'Atzec Gameshow Death Ritual' is an original piece of work I recommend wholeheartedly. The duo consits of Matt Nevomanta (drums, percussion, bells, beats, loops, Moog, analog synths, sound effects, guitars, bass, voices, piano, and samples) and Mike Sullivan (Analog synths, Theremin, sound effects, Moog, airwave, samples, bells, percussion, and voices). It's (up to now) only available via www.45self.8m.com. - carsten s.
samples:
Cybernetic:Fuckheadz


Cybernetic:Fuckheadz is the bastard step-child of Raoul Rotation of Noisex and Patrick Stevens of Sona Eact?/Hypnoskull notoriety. Take the harshest elements of both: Noisex's hardcore techno stylings, and Hypnoskull's heavily distorted, at times undanceable, beats, and add liberal amounts of drum n' bass, and you have the most fucked up dnb record of the year—and it's not even on the Hands label, imagine that. While most Hands bands tend to get lost among each other and feel somewhat homogenous (Winterkalt? excluded), Cybernetic:Fuckheadz manages to stay fresh, thanks to the seemingly never ending assault of this album. It lets up only for a vocal sample here or there, and pounds away for fifteen tracks at nearly seventy minutes. In a genre perilously on the edge of staleness, if not already over it, Cybernetic:Fuckheadz has found a way to keep it interesting, as the beats press on, yet varying the tempo and style on each track, the levels of surface noise and distortion constantly fluctuating, and the more typical techno sounds, when they do appear, become so altered as to be barely recognizable and always keep you interested. Every beat, every noise is important and clearly discernable. Unlike some similar projects, you don't gloss over anything because you've heard it before. This is industrial strength techno as it always should have been. To think anything else is to be stuck somewhere in the mid-nineties. - Richard SanFilippo
samples:
slicker, "frustrache"

Generally, most US released EPs make a reasonable amount of sense whereas a number of UK-issued EPs (with two parts, each for $10 and rarely featuring more than one exclusive track) leave me feeling pissy. Thankfully this release follows that convention more closely. The latest from Slicker is a follow-up to last year's 'The Latest' with the original LP version of the title cut plus five other tracks of remixes and other songs. Like a number of Slicker tunes, "Frustrache" is a very thick, fluid, cool sounding electro jam with more emphasis on making a good sounding tune rather than making awkward adventurous beats. It's contrasted by the second track (a mix of something I'm not familiar with) "Mother Fuckin' Yeah," which punches back with dirty broken beats and a heavy hip-hop vibe. Co-owner of the Shitkatapult label T.Raumschmiere contributes a pumpin' click'n dubby house version of the title track while Plug Research artist Safety Scissors' version is a beefy bottom-heavy dance mix. The high point on this disc is most definitely from Joshua Eustis (of Telefon Tel Aviv) as his mix of an unrelease Slicker tune, "Keep On" is a kind of futuristic sleazy slow jam, sliced and diced with an added Telefon Tel Aviv spice - eardrum-rumbling bass freqencies, serene synths and a healthy portion of drum sounds and organic piano playing. The EP's closer "Ride the Ride" is an unreleased Slicker tune which could have easily been recorded during 'The Latest' sessions but didn't quite make it. While the sounds and beats are familiar sounding to most Slicker tunes, the music stays unusually constant throughout the track with very little variation involved. Picture a long, drrawwwwwwn oouuuuut houuuuse tune. Instruments are added and subtracted to the generally driving loop over the course of this lengthy 12+ minute closer, ending in nearly three minutes of electro hiss and twinkling. If I could make one wish for 2002, it would be for more cutting and less clicking and hissing. - Jon Whitney
samples:
Secret Chiefs 3, "Book M"


Trey Spruance, probably best known for his work with Mr. Bungle, has released another album under the name Secret Chiefs 3. Originally a side project of Mr. Bungle known as the Secret Chiefs Trio—they released a b-side to a 7" included with Bungle's "Disco Volante" vinyl—they had to change their name when a surf guitar band from the 1950's popped up with the same name and have since released four albums as Secret Chiefs 3. Although the group started out as solely Spruance, Bungle drummer Danny Heifitz and bassist Trevor Dunn, it has expanded (especially live, where multi-instrumentalists Spruance, Heifitz and Dunn can only play one role at a time,) to include violinist Eyvind Kang, percusionist Willian Winant, Bungle saxophonist Bar McKinnon and various others. But enough background, what do they sound like? Middle-eastern-techno-surf-guitar is probably the most honest answer. Their earliest material was comic book noises you might expect from a Mr. Bungle side project, but SC3 quickly progressed into it's own; a combination of spiritualy-tinged eastern melodies, surf guitar, death metal and electronic techno. "Book M" is their most recent album, it's liner notes filled with notes more apropos to conspiracy theory manifestos, with it's talk of the holy grail, hints of the crusades of the middle ages, knights templar and illustrations of some sort of hermetic crypto-calligraphy. Whatever all that stuff means, the music itself is excellent and well worth seeking out. Plaintive melodies by soaring violins and quiet hand drums followed by electronic breakbeats, followed by surf-rock drums, stuttering bombastic rock blastbeats segue into melodic breaks that sound orchestrated; often in the same song. I know this fusion sounds kind of unlikely to sound good, but I swear it not only works, it works well. "Book M" (and SC3 in general,) is very much about spirituality and religion, and the album is divided into three sections: Hearing Fire, Seeing Fire and Being Fire. Included in "Book M" is 'Zulfiqar III' a remix previously only available on a briefly-limited-and-then-very-out-of-print 7", as well as (reworked) studio versions of some of the material ("Combat for the Angel") from their previous album, the excellent live "Eyes of Flesh, Eyes of Flame". It strikes me that this would be a good way to introduce those who are not into world music into it; there's a foreign-ness to this record, but it's electronic and rock facets might make it more palatable to those unused to something purely non-western. This is ax record of high quality instrumental fusion (of really disparate elements, true,) which should not be missed. - David Piniella
samples:
Folkstorm "Noisient"


Folkstorm is one of the seemingly infinite projects of Nordvargr Kremator from the Cold Meat Industry band and former black metalers MZ 412 (luckily the corpse paint and spiky gauntlets seem to have gone the way of the original black metal bands). Their brand of dark, cold and often Satanic electronics have scared the crap out of people for years now, but Folkstorm is pure and simple European power electronics. The previous album sleeves are adorned with runes and the records often deal with themes of power and war. "Noisient" isn't much different, except that, almost surprisingly, it's not about the Second World War and it's impact on Europe, but the relatively unexplored (60s hippie bands excluded) Viet Nam war. The first side of this ten inch slab of white vinyl from Old Europa Caf?, "Noisient 1", begins with a distorted and delayed sample of a soldier recounting his experience in Southeast Asian jungles, and moves into a wet grind of sputtering analog sounds and repeated loops. Compared to most Folkstorm tracks it's slow and quiet, lacking some of the frenetic and discordant moments of the cds. "Noisient 2" also begins quietly, with rumbling dark drones, and pale infrequent beats covered with surges of static and a repeated, indecipherable vocal sample. Throughout "Noisient 2" you're waiting for the inevitable payoff: the climax of a pure wall of noise, and of course, you get it. The drones give way to analog vibrations that hide vocal samples and shift toward the logjam of noise and growled vocals. But again, it's almost quiet, lacking the impact of earlier Folkstorm material, and not quite what you expect from an album dealing with war. Nordvargr stopped recording as Folkstorm fairly recently, so this record is the beginning of the end of this project. In the meantime he's moved on to his own 205 Recordings and the Toroidh dark ambient project, of which "Noisient" seems to be the perfect precursor. - Richard SanFilippo
samples:
hefner, "dead media"

I want to start off by stating that I wanted to like this record. I really, truly wanted to be able to say that Hefner have really bounced back after their woefully unimpressive last album, 'We Love the City'. Sadly, it was not to be. 'Dead Media' suffers from the same lackluster, drippy songwriting as its predecessor. Frontman Darren Hayman includes on the inner sleeve an extensively detailed list of all the equipment the band used on the album, and you'd think with the pride they take in their capable equipment, they'd at least be able to pull off some decent songs. All those well-documented vintage analog synths only end up sounding awkward, out of place and handled in an amateur manner. In fairness, the band does some interesting things electronically, and to their credit, seem to be making a sincere attempt to move in a new direction and avoid lapsing into hashing out the same type of material over and over again. But songs like "Trouble Kid", which is so unbelievably banal lyrically (yet somehow oddly catchy musically, despite a frightening hard rock guitar riff) I find it shocking that this comes from the same man who wrote "A Hymn to the Postal Service" (although Hayman himself admits on the band's website in regards to the song: "This is pretty shameless"). Did I actually hear: "I'm gonna squash him flat like a bug / With my new Timberlands" or am I trapped in some warped parallel universe?? "Peppermint Taste" and "Half a Life" are equally awful, but without a redeeming pop hook. The band's enthusiasm for their new sound is evident, and thus it makes it even more difficult to write such a negative review, but unfortunately, in this case there seems to something to be said for sticking to something that works well. - Jessica Tibbits
samples:
Brighter Death Now "1890"


After straying into realms of harsh noise and power electronics on albums like 'Obsessis', BDN returns to darker territory. The allegedly limited vinyl-only '1890' is a good example of a minimal record—how less is more. The songs are called "I", "II", "III", and "IV", the sleeve is grey on black, and the record is heavyweight black vinyl. There is nothing to indicate how you should think, leaving the music to its own devices. "I" builds slowly and steadily with stiflingly slow beats, under a wash of subtle analog vibrations that flicker around an appropriately eerie vocal sample, creating an intensely alien mood. "II" continues to drown you in the same vein, although a bit noisier as the sound sources feel increasingly found, such as a metal chair dragged across a concrete floor. Analog frequencies sputter in and out, but they're always cold, until it all coagulates into a miasma of noise, deliberate beats, and muted cries of anguish. By the end of the side, you're broken. If you're brave enough to flip the record, "III" starts the attack all over again. Whispers and growls from the murky shadows return over the slow pounding and drone, increasing you're sense of anxiety. Like all great artists, Brighter Death Now excels at creating internal tension, so as the music progresses, it heightens and builds upon the sense of paranoia, fear, and oppressiveness it's already instilled. The last track, "IV" rumbles on, seemingly incorporating bits of all the previous tracks into itself, a harbinger of the end. It's the death knell, as even the volume grows, and the low frequency bass grips you and begins to crush-the semblance of order breaks down as it echoes and pulses chaos. This record is damn good. Go out and find it. Play it, just not in the dark. - Richard SanFilippo
samples:
stephin merritt, "eban & charly"


If you've always wondered what it would be like for the madman behind Magnetic Fields to score a dramatic gay independent feature film, here's your answer. However, if you're looking for the new Magnetic Fields album, this isn't it. Of the 16 tracks here, most of them are short themes which are only meant to take a backseat to the film. Merritt's creative usage of toy instruments and low-fi noisemakers is amazingly resourceful, but without the film to accompany, the thematic pieces simply sound rather unfinished. Only six songs here have vocals, and even those ones sound rather incomplete too. Track 5, 'Poppyland' is probably the first proper song, after a number of instrumental loops and noisesm, I'm almost completely in love with "Maria Maria Maria" but it's a tease when the song "Tiny Flying Player Pianos" starts up, it hooks you in from the get-go but starts fading right before the one-minute mark. I hope he decides to use these in future full-length albums in complete forms,... In all honesty, it's decent and quite an accomplishment for a man without his band, despite being rather short (36 minutes). However, for a man who has the power to completely blow me away, I guess I may have been expecting more. - Jon Whitney
samples:
The Aesthetics, "Off"


What are the Aesthetics? Tech rock? Noise punk? Overly distorted garbage? I'd lean towards the latter, though there are some worthwhile moments to speak of. First off, this is NOT the Aesthetics that you might find by searching at Ubl.com or Allmusic.com. These are the Aesthetics from New Zealand. These are the noisy Aesthetics. Their music is mostly an instrumental or vocals-garbled wall of distorted noise that occasionally contains a melody. This, their second full-length, features a line-up change with the only original mamber remaining being Matthew Middleton on guitars and vocals. All the performances on the record are recorded with so much distortion, that it is virtually unlistenable. That, and undecipherable. Basically, unenjoyable. It's like Dick Dale meets the Revillos and the Archers of Loaf with Trans Am and Mogwai trading off on the mixing duties. Vocals are double-tracked here and there, but neither are understandable, and it's all so extremely lo-fi and warped that it's laughable and pointless on virtually every track. Vocals and sounds are actually broken up, too, so the whole is often uneven. When you hear the horns on "Sufi," you're hoping for a way out. Sadly, there is none. The vocal histrionics ("OH YEAH!," "UHHH!" and "OWWW!" are common) and sonic confusion are here to stay. And stay. And annoy. There are some good melodies here, on occasion, and a few good uses of effects, but nothing to write home about. Try the sound samples and listen for yourself, but I say stay away. You'll learn nothing, and you'll want the time back you spent listening. - Rob Devlin
samples:
Teenage Fanclub, "Howdy!"


Few bands have faced as tumultuous a career as Scotland's Teenage Fanclub. Roster changes, label changes and arguments (Gerard Cosloy is still peeved about the band's submission of the fully instrumental "The King" as their final effort for Matador), and sound changes make for a very rough career. Now on their fourth label in the US, Thirsty Ear, Teenage Fanclub return with the Byrds/Beatles/Big Star influenced sound that has remained their staple for close to a decade, two years after Sony UK released the album across the pond. And how is it? Very much the same, actually. Which is both a blessing and a curse. If you like the Fanclub, you'll probably like this set as much as any recent one. However, if you miss "A Catholic Education," you'll still be missing it. These are straightforward, middled tempo, well-produced power pop songs dealing with relationships. There is no real "rocking out," and the sonic palette is pretty much the same on every track. It's not amazing. It's not original. It's classic Teenage Fanclub, and it's pretty good. But that's about it. The album opens strong with "I Need Direction" and "I Can't Find My Way Home," but then you realize it's all going to be like this and it settles into mediocrity. The album title doesn't help. Nor does a song title like "Dumb Dumb Dumb." Again, though, the writing talents of Norman Blake, Gerard Love, and Raymond McGinley are in full display. It's to be expected. The song remains the same, and the tradition remains, as member Paul Quinn reportedly left in the midst of recording "Howdy!" They've had a long run, and they're not ready to cash it in yet. But like Del Amitri, the glory fades and fades with each release. - Rob Devlin
samples:
We know that sometimes these CDs are somewhat challenging to find, which is why we have a community section which can be used to obtain nearly everything available on this site.