a weekly digest from the staff and contributors of brainwashed
V05I37 - 09292002
Click here for other issues
SITE
gershman: hnas: cooler than us
Brain defector Gil Gershman can't find it in his heart to tell us that he did a story on HNAS over at Fakejazz last month called "Cooler Than You: Hirsche Nicht Aufs Sofa." However, the article did catch the attention of Achim P. Li Khan, who offered corrections to the article along with information for all those HNAS bonus tracks on the DOM reissues. You can see all that in the article, "Cooler Than You: Hirsche Nicht Aufs Sofa Redux."
all wound up
There's a mess of new updates for Nurse With Wound available at the site, including information on some upcoming new NWW and United Dairies releases as well as remix projects in the works or imminently due.
!!! new dates and upcoming release info
!!! will be playing in NYC at CMJ this October as well as a few other east coast dates. The next release has an estimated time of arrival now too. Check the site for new playlists too!
MUSIC IN REVIEW
Savath + Savalas, "The Rolls and Waves EP"
Hefty


The direction of the latest five-song EP from Scott Herren as Savath + Savalas is in keeping with 2000's 'Folk Songs for Trains, Trees and Honey' in that the groundwork of electronica, sampling and live performance bleeds perfectly into each other and still gives off somewhat of an organic feel. "Rolls and Waves of Ignorance" opens the disc with a nice wash of swelling minor chords and percussion under climbing upright bass lines and melodic tenor saxophone, which weave throughout. The mood is tranquil yet somber and somewhat meditative, and, as the title may suggest, with an almost freejazz-type statement to it. "Paths in Soft Focus" grooves along nicely with some quirky keyboard and guitar arpeggiation and long bass tones which are all anchored by the solid drumming of Johnny Herndon (Tortoise, Isotope 217, A Grape Dope). One of the more splendid pieces of music I've heard lately would be "Folk Song for Cello," thanks in part to its brilliant arrangement and orchestration. Building from a plucked cello progression, acoustic guitar harmonics, accordion chords and a hammer dulcimer (!), the tune settles in to a laid-back groove of synth bass, tight drums and playful keyboard and vibe flourishes. "Decatur Queen" goes from repetitive acoustic guitar, upright bass and quietly squelching percussion to a ripping snare line that drives the tune into a full-sounding romp of rhythmic keyboards and wah guitar, complete with layers of horns while closing off the disc, "Rolls and Waves of Acknowledgement" brings the EP full-circle. This track follows the same compositional style as the opener, only more sparsely arranged and with the instrumentation of fuzz guitar, bowed strings and a fuller bass sound. Ironically enough, "Acknowledgement" sounds quite dark in comparison to "Ignorance." Way too short at just over seventeen minutes, this highly recommended EP may have you checking out the various other projects Mr. Herren has on the go at the moment (Prefuse 73, Delarosa + Asora) until another full length disc makes its way out there. - Gord Fynes
samples:
t.raumschmiere, "the great rock 'n' roll swindle"
Shitkatapult / Kompakt


Is there too much I in your DM? Leading innovators in fun electronic dance music, Kompakt, has teamed up with the Berlin-based Shitkatapult label to release this full-lengther from Marco Haas (owner/operator of the Shitkatapult label). While it might not have the Coil-sample based tune or noise-based numbers from the recent live shows with Telefon Tel Aviv, it certainly has the fiery, raw energy that made the night F-U-N. Many readers might recognize the name from Hefty remixes or Kompakt compilations, but this release is far more deep, dark and sweaty than what might be expected from those tunes. Fuzzy digital bass and insanely punchy beats line a number of the tunes, the others are equally as fat-sounding; all are built of the stuff that makes the ass want to shake uncontrollably. (I can still even picture Marco's head bopping up and down just like Flat Eric.) Ripping the album title from an obvious punk reference, the artwork also clearly makes a stab at the punk days of stenciling. Heed the signs on the wall: this isn't a "pretty" or cute album. This is the stuff that can turn any dance floor into a seedy, sweaty meat market. Listening to songs like "Ravemusik," it seems painfully obvious that people like Chicks on Speed need to hire this German boy to make them some new beats. At only eight tracks, the album is a mighty fine treat and it's only the first of two full-length releases by Haas under the guise of T.Raumshmiere this year ('Anti' is due out in October through Hefty). Beg your local shops for this one or threaten the closest DJ shop with stink bombs if they look at you with the puppy-style cocked head. - Jon Whitney
samples:
Jonathan Coleclough, "Cake (alternate version)"
Siren/Robot


The Alternate Version of "Cake" is a reworking of Coleclough's original release: a single, 41-minute piece built mostly from processed field recordings, carefully controlled feedback, and bowed metal. It's an emotive and highly atmospheric work (if a bit linear), that spans a much wider dynamic range than his other compositions. The disc begins with recordings of birds and insects above a barely audible low-frequency rumble. This persists for several minutes at the edge of perception, occasionally augmented by footsteps, wind, and other noises captured in a peaceful landscape. Just as listening to the sounds of the forest begins to grow slightly tiresome, the piece starts moving forward, with layers of glistening, high-pitched feedback slowly emerging from the mix. The bird songs become bathed in gradually increasing amounts of reverb and effects-processing, and the rumble builds in volume and texture into a deep, ominous, metallic drone. All of the sounds used are detailed, and the resulting sum is quite interesting.
I particularly like the manipulation in which the natural sounds are merged with the artificial—the birds take on a strange resonance, and the buzzing of insects sounds vaguely like the clicking and clanging of metal. The piece grows in intensity during its middle section as the feedback is amplified and digitally timestretched, and it is further embellished by what might be prepared piano and backward cymbals. After building into and persisting for a few moments in a crescendo of metallic tones and insect-like noises, during which the textures exhibit more evidence of digital treatment than in the usual Coleclough composition, things begin to get predictably and progressively calmer. The effect is absolutely hypnotic as the layers of ringing high-pitched tones slowly shift and change; the piece gradually moves back into the lower frequencies in which it began, and the bird calls re-emerge. A few repeating icy feedback tones establish a faint melody, evoking a reflective and somber mood. Just like his other releases, here Coleclough arranges ordinary sounds perfectly to create an environment that is sonically rich and definitely captivating. Due to its range of volume and sonic variety, this disc is probably his easiest listening so far; regardless, it is certainly a rewarding one. - Steve Smith
samples:
Vance Orchestra, "The E Emission"
EE Tapes


Vance Orchestra releases are hard to find, spread over obscure and very small lables, beautiful designed and highly original. The orchestra are in fact a duo of Dutch musicians, who record a kind of deep listening music one can search for an eternity without a clue where to begin. This is the first full-length album I could get hold of. Packed in a fold-out miniature album sleeve (with an additional booklet full of illustrations and details), the CD clocks in at over 70 minutes with only six tracks. All of the pieces share a similar sound development and compositional evolution, mainly produced by electronics but with some added vocal snippets and bass lines. As the artwork and the titles suggest, the songs are soundtracks for time and space travel or a fictious mission in an alternative reality. Vance Orchestra are aural landscape shapers in a league of their own, only vaguely comparable to Zoviet France. The mood setting is mainly calm and atmospheric, with the exception of "Trying To Stop The Pain," which has a disturbing quality that seems to go on for too long. When everything's shut down late at night or in the early morning hours, whenever a concentrated listening is possible, 'The E Emission' is most mind-altering. Waves of memories and impressions pass on by, making it quite easy to get lost in thoughts while this music permanently feeds the subconscious. There is a love for details and a constructive force behind the music which makes this CDR both a pleasure and a timeless treasure. - carsten s.
samples:
Asmus Tietchens / David Lee Myers, "Flussdichte"
Disco-Bruit


Here is a beautiful work by two artists who have different approaches to working with sound, but collaborate well. David Myers works with feedback-based sounds through various devices he has built, including a "feedback machine" I've seen him wear during live performances. (Suspended in front of his belly from a strap around his neck, he looked much like a cigarette girl from the 1930s.) Asmus Tietchens is not known to perform live, unless he's simply playing a recording of something composed in the studio. It seems his style is to take a sonic idea or source material, and go into the studio and work it for the length of an album (or double album). So you can pick up most any Tietchens CD or record, and hear a similarity between the pieces as he explores the many possibilities of his initial concept.
'Flussdichte' is the third Tietchens / Myers collaboration. In this case, Myers sent Tietchens some material, and Tietchens went in the studio and built the pieces from this material. The result definitely has Tietchens' stamp on it — you could play it for any Tietchens fan and we'd guess it was his. (That's especially apparent to me when I hear sound that makes me think I'm in a submarine. No, I haven't been in one, but you may know this sound from movies, where the submarine is deep below the surface, and has its own ambient sounds coming from outside.) There are also some lovely melodic bits on the CD, including cut 6 ("T31:M5/10"), which sounds like amusement-park organ music, possibly emanating from an ancient merry-go-round. I won't try to describe any more — you will enjoy your own sound pictures when your allow you mind to drift with this CD playing.
Highly recommended. - ampersandy
samples:
Thomas Köner / Asmus Tietchens, "Kontakt der Jünglinge 1"
Die Stadt


According to Asmus Tietchens' web site (http://www.tietchens.de), "Kontakt Der Jünglinge 1" was recorded in the '"Lagerhaus" in Bremen, Germany in 1999. I've witnessed a number of live improvisations with sound and noise in which some unexpected event outside the performance space occurred, such as an ambulance passing by with a loud siren. The performers would typically accept the additional source material and work it into their piece. In this case it's not a siren, but rather a distant throbbing beat of what must be a band performing or a disco upstairs or next door. I can only guess that the "Lagerhaus" is a nightclub, or adjacent to one, although it's also possible that this sound is a sample brought to the performance by one of the artists. That's part of the charm of listening to a quality recording of a live performance: you don't quite know whether the whole thing was done on a laptop with digitally-stored sounds, or whether the artists were collecting ambient sounds from the performance space, treating them, then releasing them back into the space as part of the performance. This recording definitely sounds like the latter. The deep throb of a distant disco drifts into the piece several times, and sounds so natural. But the beat appears only in small sections, while the overall 45-minute piece is mostly dense with wind and whooshing sounds. If you like your sound a bit more sparse, listen first to Kontakt der Jünglinge 0 (see below). - ampersandy
samples:
Thomas Köner / Asmus Tietchens, "Kontakt der Jünglinge 0"
Die Stadt


Recorded inside of a ship in Germany in 2001, this 42-minute piece is sometimes very quiet, with bursts of static and sounds like gurgling water. Elsewhere it has many layers of distinct sounds from drones to gently crackling static. There's a nice range from low to high frequencies and from droning to beeping/chirping sounds, with the overall feeling of something building in intensity, gently subsiding, then regaining strength in several waves. I knew nothing of Thomas Köner before hearing these two Kontakt der Jünglinge CDs, so by checking his web site (http://www.koener.de) I was not surprised to learn he started as a composer for film. From what I know of Asmus Tietchens, he does not often perform live, as he's primarily a studio-based composer. I would have been curious to learn what equipment he used in this performance, if any. Or did he just play prerecorded bits? - ampersandy
samples:
Trans Am, "Extremixxx"
Thrill Jockey


I don't know about you, but my first thought when listening to the new Trans Am opus "TA" was not "Hey, this song really could use the remix treatment!" Sadly, that is what has transpired on this, a brief EP of reconstructions of three tracks from that album. The personnel involved are interestingly enough: John Herndon, here as A Grape Dope; Dan the Automator, he of Gorillaz, Deltron 3030 and Lovage fame; underground hip-hop flavorists Prefuse 73 and Dabrye; and Trans Am's own recording engineer Jonathan Kreinik contributing a remix of his own. Really, though, there is no improvement for these songs. The source material is somewhat doomed from the start, so the remix of it can only improve upon the original or add something to it on a marginal level, which these remixes do (kind of). An added problem is also that the tracks that were chosen for remix are a few of the most static on the disc. "Cold War," "Infinite Wavelength," and "Different Kind of Love" are perhaps conducive to this process, but that doesn't make for interesting remixes, just variations. This is certainly the case with the "Cold War" mixes. Herndon does his best to add interesting textures, but we're still left with the lame keyboards and a similar beat, both of which were the main detractors from the original. Jonathan K's remix, coincidentally, focuses more on the other main detractor: the lyrics. It's a valiant effort to ghettoize the track with bizarre keyboards and higher-pitched "It's automatic" jabs, plus a funky beat to underline it. It ultimately goes nowhere, and we're left with those awful words. Dabrye succeeds in altering their material enough to elevate it, but it's still missing something. Maybe a rap from a talented underground MC? Dan the Automator and Prefuse 73 don't so much remix 'Different' - they 'resex' it, bringing the booty-shaking back in full effect. All in all, though, this is not the "perfect companion" to 'TA,' but it's the best you could expect. - Rob Devlin
samples:
kevin blechdom, "i heart presets"
Tigerbeat 6


Girl Power gets knocked back back a few steps with Blechdom's latest EP release on TB6. The horrible vocals, detuned music and equally painful subject matter have undoubtedly plunged Miss Kevin's career into unbelievable new lows. The strange thing is that it's all intentional and I love it. While I make no psychological claims, I'm guessing she has probably struggled with but accepted the fact that she will never be an angry (but cute), mousey girl with an acoustic guitar, an anorexic sex kitten, nor a post-punk lipstick lesbian-on-the-four-year-plan fronting a rock quartet who chooses to spell girl with two r's and no i. Her chosen career path is faced with critical obstacles only tightwads like NPR reporters would discuss in depth. First and foremost, she's an entertainer, and until you accept her as such, you're setting yourself up to be soured by the sound. Consider that she's also immersed in a scene dominated by very, very serious men who wear two or three names like they think they're some composer or something. This short but sassy disc compliments her recent live shows with a souvenir of said entertainment. Listening, I recall the fond memories of when I first asked myself, "did she just say 'my pussy getting wetter'," or slipped her some cash during a super-classy rendition of that 1980s hit "Private Dancer," once popularized by Tina Turner (I love that imitation harmonica sound solo). Love it or hate it, it's impossible to take your eyes off of it when it's right in front of you. That, my friends is power. At under 15 minutes, the entertainment is short and sweet and without any fart humor the critics have accused her of playing up in the past. What else are you going to spend your $8 on? Two beers and a bag of chips? - Jon Whitney
samples:
Greg Kelley / Jason Lescalleet, "Forlorn Green"
Erstwhile


ET is hip again. I'm not really sure why but I'm assuming that it's just being rediscovered yet again by a new generation of creative musicians. But since Extended Technique is in fact old hat I find it hard to get interested in ET per se. Take the woodwind for instance — what's the point, after Bartolozzi, Zorn and the rest have done it all? While ET used to make me think, "Gosh, that's very strange way to play an xyz, how interesting and novel," now I don't. I got over it. It's not that I don't approve of ET. I do. I approve of any effectively deployed technique. But a musicians over-valuation of ET's intrinsic value can be tiresome. Perhaps we all go through that phase, musicians included, so let's charitably ascribe any ET excesses to a passing phase. Meanwhile, Subotnick and Stockhausen, among others, have shown that a tape machine or record player is as much a musical instrument as any other so it's reasonable to think of Jason's approach to tape loops as no less ET than Greg's trumpet playing. But now let's consider the additional aspect of the lamentable challenges faced by the improviser, in particular that editorial judgment cannot be used and the inevitable requirement for novelty, and I think it becomes clear that we really have to cut the brave extended technique improviser a lot of slack. We cannot realistically hope for the extraordinary brilliant results that improvisation can bless us with without expecting some of the rest to be served along side. So I'm very pleased that this CD has much more of the former than of the latter. It's mostly laid back, a bit spooky, film-esque in parts. The brilliance of Jason's sounds lies in his good taste; he concentrates only those that are genuinely good to listen to and works them all the way out without hopping restlessly from one bewildering ET trick to another. In that way it is like Robert Rutman — it's in the finesse, the commitment to beauty. I thought of that because some of the music here sounds a bit like Rutman's. Greg's contribution is sometimes ornamental and at other times it is right in the middle of the generative process. It's at those moments that this CD really impresses. My biggest criticism is that at times the sound of the room it was recorded in is unhelpful and rather distracting but that's an aspect of the paltry budgets these brave adventurers are given to work with. Incidentally, the cover art from Jason's three-year-old Audrey is very attractive. - Tom Worster
samples:
Wauvenfold, "3fold: a compilation of three eps"
Tiger Style


One unfortunate by-product of exciting new music is that it generates a rumbling amongst its most ardent fans for a continued envelope push. With all the clamoring for newness and heretofore unheard sounds and effects from IDM's most avid glitch aficionados, the scene as a whole tends to skip over the here-and-now, focusing instead on whatever is next. While there's a glut of Boards of Canada cloning happening on mp3.com, there are also some really great examples available elsewhere of people who are stopping to smell Autechre's roses a bit while the boys themselves are time stretching digital flatulence ad infinitum. Wauvenfold's 3fold is a compilation of their earlier ep's, and it's certainly not going to excite people who are chasing the newest carrot. But I've been looking for more music like this; music that grooves, (albeit in a very digital way,) and that has just enough stuttering beats, filter-passed melodies, and time-warped textures to stay interesting. While this record doesn't congeal the way a singular album by the group might, it does offer an experience of their progression from stark, clicking beats where the focus is on rhythm to later, more multi-textured works that play more with space and depth. Wauvenfold work within a framework that has been established by others, but they hold their own. Song titles like 'Pixel Stitched' and 'Obliq Itch' should give you a rough idea of what to expect here: tweaked beats, simple non-linear melodies, and a dash of chaotic interruption that is typical of music composed in a digital environment; but it's all handled rather well. 3fold isn't the newest sound, but it's more of a good sound, and more of good is always welcome at my house. - Matthew Jeanes
samples:
We know that sometimes these CDs are somewhat challenging to find, which is why we have a community section which can be used to obtain nearly everything available on this site.
NEW RELEASES
WEEK OF SEPTEMBER 29 - OCTOBER 5
Acid Casuals - Filthy Pitch/Code 12" (Novamute, UK)
Akida & JoLynn - Kill the Man with the Ball CD (ghettoglitch.com, US)
John Beltran - Dashiki 12" [with Jimpster mix] (Ubiquity, US)
* Blue States - Man Mountain CD (ESL Music, US)
Cassius - Au Reve CD/2xLP (Astralwerks, US)
* Cerberus Shoal - And Farewell To Hightide 2xCD [reissue with bonus tracks and new artwork] (Temporary Residence, US)
* Cerberus Shoal - Elements of Structure/Permanence CD [reissue with bonus tracks and new artwork] (Temporary Residence, US)
Cex - Tall Dark & Handcuffed CD (Tigerbeat6, US)
D'Arcangelo - Broken Toys Corner CD/2xLP (Rephlex, UK)
Thomas Dimuzio - Mono.Poly 2xCD [anthology of compilation contributions and live collaborations] (Asphodel/Gench Recordings, US)
DJ Vadim - USSR: The Art of Listening CD/2xLP (Ninja Tune, Canada/US)
* Julie Doiron - Will You Still Love Me? CDEP [reissue] (Jagjaguwar, US)
* Julie Doiron - Julie Doiron And The Wooden Stars CD [reissue] (Jagjaguwar, US)
dZihan & Kamien - Gran Riserva CD (Six Degrees, US)
El-P - Fantastic Damage: Instrumentals & Remixes 2xCD (Def Jux, US)
El-P - Fantastic Damage: Instrumentals 3xLP (Def Jux, US)
El-P - Fantastic Damage: Remixes 12" (Def Jux, US)
Flaming Lips - The Day They Shot A Hole in the Jesus Egg 2xCD [box set of In A Priest Driven Ambulance plus demos, live tracks and rarities] (Rykodisc, US)
G.I. Joe Killaz - t.b.a. CD (Substractif, Canada)
Hrvatski - Insect Digestion Melancholy 7" (Planet µ, UK)
Kid606 vs. Dälek - Ruin It 12"/CDEP (Tigerbeat6, US)
Landing - Fade In/Fade Out CD (Strange Attractors Audio House, US)
Low Res - Blue Ramen CD/LP (Plug Research, US)
Mago - Definition of Raw Moments from a Different Perspective CD (Ad Noiseam, Germany)
Magwheels - Evebuildingbomb CD (Ad Noiseam, Germany)
naw - the resounding sound of a foggy autumn dawn CD (Noise Factory, Canada)
New Order/Various - Back To Mine CD/3xLP (DMC, UK)
Onedia - Each One Teach One 2xCD (Jagjaguwar, US)
Saint Etienne - Finisterre CD/LP (Mantra, UK/Canada)
* Simple Minds - Empires & Dance CD [remastered reissue] (Virgin, UK)
* Simple Minds - Life In A Day CD [remastered reissue] (Virgin, UK)
* Simple Minds - New Gold Dream CD [remastered reissue] (Virgin, UK)
* Simple Minds - Real To Real Cacophony CD [remastered reissue] (Virgin, UK)
* Simple Minds - Sons & Fascination CD [remastered reissue] (Virgin, UK)
* Simple Minds - Sparkle In The Rain CD [remastered reissue] (Virgin, UK)
Sofa Surfers - Encounters CD/LP (Leaf, UK)
Soft Cell - Cruelty Without Beauty CD/LP (Cooking Vinyl, UK)
Squarepusher - Do You Know Squarepusher/Alive in Japan 2xCD (Warp, UK)
Siemers - Siemers Inter Pares CDR (Push The Button, Sweden)
Squarepusher - Do You Know Squarepusher/Alive in Japan 2xCD (Warp, US)
T. Raumschmiere - Anti CD/LP (Hefty, US)
Thievery Corporation - The Richest Man In Babylon CD (ESL Music, US)
Tino [Jack Dangers] - Tino's Breaks Vol. 6: Hallowe'en Dub CD/2xLP (TinoCorp, US)
Amon Tobin - Verbal 12"/CDEP (Ninja Tune, UK)
The User - Symphony #2 for Dot Matrix Printers CD/LP (Asphodel, US)
Various - Gemeinsam CD (Bpitch Control, Germany)
Various - Surrealism Reviewed 1929-1963 CD (LTM, UK)
Various - Twisted Nerve Zoo CD/LP [with Andy Votel, Little Miss Trinitron, Badly Drawn Boy and more] (Twisted Nerve/XL, UK)
Various - The State Of E:Motion Vol. 10 3xCD (E:Motion, Germany)
Various - The Arbitrary Width of Shadows CD [available exclusively at Borders] (Projekt, US)
Various - Suffer/Enjoy CD [with Francisco Lopez, Zbigniew Karkowski, Kim Cascone and more] (Antifrost, Greece)


This is simply this week's highlights from the NEW RELEASES provided by Greg and Feedback Monitor.
For a more detailed schedule stretching into the future, please check out the site,
since release dates can and will often change.
CONCERT REPORT
Emil Beaulieau / Sudden Infant / Stelzer & Talbot (with other guests)
Lowell & Boston, MA.
Noise is off to a good start this season. On Tuesday 9/24 an intimate but highly entertaining show was put on at EVOS in Lowell. This is a fine venue with a bar at the back, some lounge chairs in addition to the benches and chairs and a really good quality sound system. The value of this was demonstrated by Sper Parts who opened the evening with some very attractive abstract turntablism. It had that dusty, airy quality I associate with the first Portishead album. Not bombastic or really driving you anywhere in particular, this is the kind of background music I would like to listen to in a cabaret lounge with dark red velvet furniture and low lighting with cocktails and friends while waiting for the first act — pleasant and sufficiently interesting to draw one in but not shrill enough to compel one to listen. Now, at this hypothetical cabaret lounge the first stage act would have been up Emil Beaulieu. He is, apart from being the world's greatest living noise artist (a claim I wouldn't want to dispute), a brilliant entertainer. His Tuesday set was a selection of intimate and wistfully deranged songs improvised on topics very close to hand; actually most were in the audience. For example, Ed and Heather, who were in the first row, clearly enjoyed the "Ed is the most annoying person in the world" song he dedicated to them. And the "My cock is Howie Stelzer" number was rousing indeed. As I said, intimate. Jon Whitney's R project continues to improve and his "Four strings for one note" was far and away the prettiest set of the evening. Not being as laid back as the first act this wouldn't quite make it as background music for my hypothetical lounge but it was plenty good enough to merit the attention it was demanding. I particularly liked the beginning, a truly massive but clean bass guitar drone (that sound system again), big enough to modulate the sound of punter's speech in your ear, enveloped and massaged light sort of crackling mid-to-high range noises. It was quite special for a moment there. Stelzer and Talbot did their thing which I find I'm enjoying more this season after which Sudden Infant hit the stage with the last cabaret set of the evening. Like Emil's set it was a collection of short pieces each dedicated to someone or -thing, many of them in the room. Their music is remarkably varied and inventive, witty and precisely controlled. Their impersonation of Stelzer and Talbot was adept both musically and visually. During this I was waiting for Howie's trademark "thank you" (the one he uses to delineate the end of each piece) and Joke Lanz delivered it with perfect tone and timing. It was, as they say, a hoot. Their lovable perversion of the Simpson's theme, played on a real live saxumaphone, was equally memorable.
Then on Friday 9/27, the show at the Berwick Research Institute in Boston just blew me away. Once again, Emil was there in the form of Due Process with Jason Lescalleet, as were Stelzer/Talbot and Sudden Infant, supplemented this time by Jessica Rylan and the remarkable new trio Heathen Shame. While the Tuesday show was comedic, intimate and laid back the Friday show was violent, overdriven and powerfully cathartic. Only Stelzer/Talbot came across at all thoughtful or abstract, the rest being highly expressionist, powerful and mostly very loud. The opener was Jessica's psychotic vocalising-with-microphone-and-feedback-dance but this time in front of tasteful Vainioesque backdrop of intermodulated tones. The result was rather theatrical and it set the tone for much of what followed by suggesting the yearning potential neurosis that lurks under one's hatred for our culture's received values. Due Process was excessive and intoxicating. Emil recokns they've never been louder. Perhaps half the audience moved to cover at some point or other. I was standing fairly close to one of the low grade but effective loudspeakers and the physiological and psychological effects were novel for me: I had an awareness of resonance in different internal parts of my head and body and at times there were interesting waves of panic. I was vaguely aware that I was being irresponsible with my hearing but I toughed it out anyway. When it was over, I was appalled at the extent of my hearing's distortion and loss and I commented on this to Joke Lanz who said "but it was really good," which was true. Huxley would have seen this as downward self transcendence but I don't care; I love it. Heathen Shame were spectacular, constructing an exquisite and enormous amorphous crystal of guitar distortion and feedback. I adore this kind of music and have done for years. Wayne was the guitar hero, lavishly spazzing-out in 60s a kind of way. Kate was the heathen guitar priestess striking fluid gothic poses and pagan gestures. Greg, the trio's trumpeter stampeded the audience sending chairs and people flying. Sudden Infant's set was one long piece and was masterful. Covering a tremendous amount of territory, it used the collagist's pallet to striking effect — violent, enthralling and thoroughly convincing.
So there we are: two first-rate noise shows in four days: mostly the same performers but totally different from each other in character. And all for a total of $12. What a fine thing our noise scene is. - Tom Worster
MOVIE REVIEWS
Secretary


At a first glance, the plot may seem like hardly more than a fetishist's b-film delight: a young woman takes a job as a secretary for a domineering lawyer, and their relationship quickly morphs into sexual sadomasochism. However, Shainberg, who liberally adapted 'Secretary' for the screen from a Mary Gaitskill short story, manages to create a panoply of dysfunction and depth in his characters that transcends the surface overtones of B&D and S&M.
Lee Holloway (played by Maggie Gyllenhaal), the title character, is an emotionally unstable young woman fresh out of a mental institution. On her first day out, her father's alcoholic outburst at her statuesque older sister's wedding proves to be too much for her, and she immediately lapses back into her private rituals of self-mutilation.
In an attempt at a "normal" life, she seeks a her first job as a secretary in the small law office of E. Edward Grey (played by none other than the quintessential '80s wasp, James Spader). After a hilariously awkward interview (Shainberg punctuates the film with consistently brilliant touches of darkly comedic moments), Lee is offered the position. Grey himself is uneasily coming to terms with his divorce from a tyrannical ex-wife, whose photograph he still keeps in his desk. His constant humiliation of his new secretary as a result of her typing errors, slightly unkempt appearance, and meek mannerisms turns into a calculated spanking one morning, after he has ordered her to bend over his desk and read aloud the letter she has just typed for him, riddled with mistakes. Despite her initial shock, Lee enjoys the experience, which comes across through a subtlety in direction that is skillfully managed in such a powerful scene.
The relationship between Lee and Grey quickly intensifies in kink as well as psychological complexity, building up to a frantic (ahem) climax. Gyllenhaal's performance is masterful; her charming smile only halfway masks her deep emotional (and physical) scars. Meanwhile, she effortlessly brings a comic spark to Lee as she throws herself wholeheartedly into her newfound passion for being a sexual submissive. Spader hasn't given this sophisticated a performance since 'Sex, Lies & Videotape', and has truly bounced back after a decade of largely forgettable films. His E. Edward Grey is all-at-once disgusting, endearing and pathetic. Both actors bring a frustrated passion to their roles that would be nearly impossible to duplicate. There are several good turns from the supporting cast as well, including Lesley Ann Warren as Lee's loving yet clingy mother, and Jeremy Davies as her befuddled boyfriend.
Steven Shainberg's approach to his subject matter is refreshing, and his treatment of bondage, discipline and master/servant relationships is even-handed. The film is complimented by an appropriately quirky score by David Lynch favorite, Angelo Badalamenti. Any hopeless romantic jaded by theaters full of 'Autumn in New York's and 'Sweet Home Alabama's will doubtlessly find 'Secretary' a welcome breath of fresh air. - Jessica Tibbits
POLL
Results from last week's poll: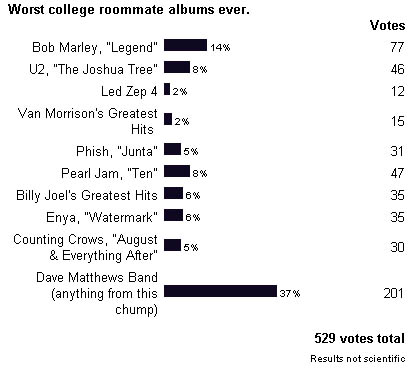 LINKS OF THE WEEK
leader of the free world?
There's nothing more fun than a good Flash jab at the worst president in history, right? Flash boy Andy Foulds made this fun waste of time: www.foulds2000.freeserve.co.uk/bushv6.htm Make sure you press all the grey buttons at the bottom!
biker death accessories
What better way to give a biker a final ride than in a motorcycle hearse? Thanks to www.motorcyclefunerals.com, all this is now possible! (Maybe the concept is funnier than the site itself...)
FEEDBACK
voulez vous douche avec moi, ces soir?

Subject: feedback section
Do you honestly believe the fucker actually bought the godspeed CD? The douche probably just downloaded off of KaZaapheustellaster.
KaZaapheustellaster sucks, you should try GnuterizoulseekaZaa.

Subject: stupid question
do you know of anyone who wants to sell/trade We Hate You - A Small Tribute to TG?
There's no such thing as a stupid question - only stupid people.

Subject: Ahr, matey... this poll of yers...
I not even be votin' in it this week, but ahhhhr... I actually *like* Enya's "Watermark".
It's always Talk Like a Pirate Day at my house.
Walk the plank, ye scurvy wench.

Subject: worst college roommate albums
do you have Prefab Sprout in your part of the world?
ugh... i need a drink
Thankfully they never amounted to much over in the USA.
There is some justice in the world.

Subject: chemical playschool #903, 4, 5
Did the dots ever get around to releasing those later 3 cps?
11, 12, 13 were released yes. 5, 6, 7 were never released.

Subject: Bowery Electric
Do you know if Bowery Electric are still making music?
Not as Bowery Electric, but they are making music. We'll let you know when something gets released.

Subject: Low review
Nice review of the new LOW record. You got some facts wrong. Mr. Blake only mixed the record and didn't do any tracking on the record. Tracking was done at Sacred Heart Studio in Duluth by Tom Herbers and Eric Swanson.
Picky, picky, picky. Okay, it's changed. That's the beauty of publishing in the digital age.

Subject: Greetings
Hello, I'm from Mexico city and next wensday I would be walking in the streets of Paris. I want to know if there´s any good record store over there. I like bands like NURSE WITH WOUND, VOLCANO THE BEAR, etc.
HELP, theres got to be a nice record sotre!
I'll appreciate your answer.
Thanks
This looks like a note for those experts on the message board...

Subject: feedback feedback
that angsty reader is right, viceland got you beat... can you really top articles like this?
http://www.viceland.com/issues/v8n3/htdocs/outlaws.php
Whatever. I nearly puked when I heard that shitty "The Streets." Once again, I stand by my claim Brits should never rap.

Subject: the brain
thank you for a most wonderful issue of the Brain. Every album reviewed I'm getting, especially the Tyrondai Braxton...simply amazing. The samples help tremendously.
Shouldn't you save -some- money?
WHAT'S IN YOUR PLAYER?
Moon Over Cooloorta
Nina Simone
Roberta Flack
Stooges Box set ('Funhouse' is the ultimate minimalist album)
Anja Gabarek (Jan Gabarek's daughter)
International Harvester

Steven Stapleton