Charlene, S/T
SharkAttack!


After releasing three singles on SharkAttack! and providing very little information about themselves, Charlene release their eponymous debut full-length. While the singles were simple, sparse, and often brief, these recordings feature a denser sound, with more instruments and a clear evolution in production. These songs also feature a burbling energy, kept just beneath the surface, that often breaks through and shows itself off. On the first track, "Ripoff," Charlene seem to be on a crusade to change perceptions and preconceptions about their previous output, as they groove their way through a fairly uptempo shuffle with competance. Here is a Charlene that is neither spacey nor droney. The vocals are still a bit drowned in the mix, but Charlene seem more confident this time around, and the harmonies on several tracks are gorgeous, as always. Electronic instruments flourish throughout the entire album, which add a sincerity and depth that was hinted at before but never quite achieved. Charlene have come a long way from their early recordings to this fine display. There are longer tracks here, as well, that blister and crack as well as introduce a playful side to the band with xylophones and coquettish lyrics that name check Mazzy Star. The untitled fifth track is noise rock beauty, charming throughout until it buzzes away. Ultimately, Charlene prove all over this release that they are making brave, vital, original music that few can touch or even approach. Their grasp of melody is uncanny, their growth to this point apparent, and their success imminent. - Rob Devlin
samples:
The Streets, "Original Pirate Material"
Vice Records


Let me just say this one thing to our entire British audience before I get started with this review: Just because you guys import our urban music by the barrel doesn't mean we Americans should have to put up with any quantity of yours. Sure, we'll take the occasional Craig David track and play the video on M2, but we have no interest in your "So Solid" UK Garage (save for the R&B-like MJ Cole and Artful Dodger). That being said, my heart is filled with nothing but the purest of pity for the poor A&R over at Vice Records who's going to lose his or her job in the crash and burn effort to attain some level of crossover success with The Streets. Sole member Mike Skinner may speak directly to the British youth in the same way that Eminem speaks to suburban white teenagers, but he's speaking an entirely different language than what this market speaks. The lyric sheet that came with this promo CD is essential for any attempt to understand the heavy slang here, although some translations would be even more useful (birds = bitches; geezers = UK garage wiggers). While I could waste far too much of my time slagging The Streets' total lack of lyrical flow, I'll just say that it really takes away from the mediocre tracks underneath. The peppy single "Has It Come To This?" sounds like a radio spot where the hyper-caffeinated disc jockey babbles on, unable to oblige the listeners by shutting the fuck up and go back to the music they actually tuned in for. Sadly, this song stands among the few-and-far-between decent moments of the album. Tracks like "Sharp Darts," "Don't Mug Yourself," and "Too Much Brandy" are so ridiculously bad that I am stunned that a reputable music magazine like NME praised 'Original Pirate Material' as a "landmark record." Still, a handful of the songs would have worked as instrumentals, namely the moody two-step lurch of "Geezers Need Excitement" and the string washes of "It's Too Late." Though I'll take another twelve Damon Albarn side-projects before I listen to anything like this again, 'Original Pirate Material' does manage to come out sounding better than that last Vincent Gallo compilation, destined to be the worst CD of the year no matter how many more British MCs release albums in 2002. - Gary Suarez
samples:
Pavement, "Slanted and Enchanted: Luxe and Reduxe"
Matador


The peculiarity of Pavement's music to me has always been its indifference. A song like "Loretta's Scars" is at once dreary as well as rousing. Stephen Malkmus's slackeristic vocals contribute to the indifference, but I think it has more to do with the unconventional composition of Pavement's songs. On the one hand, at the time 'Slanted and Enchanted' was recorded, you had a bunch of fellows who, at best, had moderate skill with their instruments, yet a fairly intimate connection with them. On the other hand, part of the band was living outside NYC, while the other part was back in Stockton, California, and so the result is a sort of bicoastal composition which successfully hybridized a bunch of antagonistic pairs: Malkmus's melody craft with Kannberg's explosiveness; menacing snarls with mournful croons; an East Coast melancholy with a west coast optimism. The bridge straddling these poles is Malkmus's lyrics, a literal glue holding together the music which is constantly threatening to disintegrate. I always felt that the comparison between Pavement and the Fall was most pertinent in terms of the lyrics of the two bands. I can no more pierce the meaning of "Conduit For Sale!" than I can "Prole Art Threat." No two bands have ever made a better case for incoherent musical ramblings to equal great literature, mostly because no two bands have ever created such poignant verbal formulations with their lyrics and titles.
Matador has just released a tenth year anniversary edition of Pavement's first album, called 'Slanted and Enchanted: Luxe and Reduxe.' It is a two-disc set with forty tracks comprising: the original songs, remastered; two Peel sessions; a live set recorded at Brixton Academy (originally released on a bootleg entitled 'Stray Slack'); the 'Watery, Domestic' EP; nine B-sides and unreleased takes from both the 'Slanted' and 'Watery' sessions. Inside the embossed slipcase is a booklet which contains liner notes, detailed thoughts from Malkmus, Spiral Stairs (a.k.a. Scott Kannberg), and others, and archives some of Malkmus's personal lyric notes. The entire package is handsome. Some of the high points on Matador's reissue are the Peel sessions, which feature a furious rendition of "Here," as well as a thoughtfully meandering song "Secret Knowledge of Backroads," which would later turn up in a different version on the Silver Jews's 'Arizona Record.' On the second disc, 'Watery, Domestic' sessions songs "So Stark (You're a Skyscraper)" and "Greenlander" are two tracks which are simply indispensable. The first starts with a lull and slowly builds to a howl and then relapses, only to crescendo again in a screech which sounds like it is tearing Malkmus's left lung into thirty-four ravaged pieces. The second is a soft, mossy exploration which vitally bounces up and down, intermittently dipping into a paralytic ice-encrusted pond for three brief moments where the music's pulse simply halts. Both songs are gems, and similar jewels populate the rest of the selections. The re-release of 'Slanted and Enchanted' validates Pavement as one of those seminal bands to which they were compared ten years ago. And if their election into the aristocracy of the indie rock empire was already tacitly accepted by many, then you can consider this reissue the official coronation ceremony. - Joshua David Mann
samples:
SubArachnoid Space, "Play Nice" / "These Things Take Time"
Release / Subarachnoid Space


Terrastock 5 was an outrageous weekend-long nostalgia fest. By the evening of Sunday I'd really had enough of musty old psychedelic rock. The day had been disappointing. I was mostly hanging out at the bar, happy for any distraction from the music that came my way when suddenly, in the middle of it all, SubArachnoid Space made my day. They punched through all the dross, chatter, space and bodies and captivated my attention. At last, here was the prog rock aesthetic demonstrating its superior durability by sweeping away all the psych cobwebs of the weekend. Despite some technical issues, their sound was excellent—very loud but tight, punchy and clear. The first rate drumming, which reminded me of Police-era Stuart Copeland and of Trans Am's second album, combined with massive wedges of bass (sufficient to cause a perceptible draft) to lay down the groove while ingenious guitar figures and washes filled out the well delineated compositions. This was so good that, in a guilty, devil-may-care frame of mind, I broke the terms of my unemployment and bought a couple of their CDs. The first, "These Things Take Time" on Release was recorded live at KFJC in Silicon Valley in 1999 and the second "Play Nice" is a self-released 2002 tour CDR comprising bootleg-quality recordings from rehearsals and concerts. To be candid, if SubArachnoid had played like they did on these CDs in their T5 set, I wouldn't have bought any CDs. "Play Nice" holds some of live set's powers (check the samples) but overall the material is, unfortunately, much more psych than it is prog. While SubArachnoid's set at T5 was (blessedly) on the fringes, the music on these CDs would have been right in the middle of the T5 spectrum, almost definitive: lugubrious noodling jams with lashings of space echo on the guitar — pleasant enough in their own right, sometimes breaking the barrier into interesting, a long way from being enthralling and almost memorable. The good news is that SubArachnoid Space are working on a new album. - Tom Worster
samples (from "Play Nice"):
The Gloria Record, "Start Here"
Arena Rock


When Mineral disbanded following the completion of their second record, 'EndSerending,' many fans of their brand of plaintive and emotional rock were stunned and dismayed. In just a short time, Mineral had not only amassed a loyal following and had been courted by a number of major labels—even signing with Virgin but calling it quits before they could record anything—but they had also nearly changed their sound completely. Once a punk-laced energetic emo band like Sunny Day Real Estate, they were now fans of sprawling melodic structures with even more soaring vocals. Founding members Chris Simpson and Jeremy Gomez decided to continue making music together under the moniker The Gloria Record, and released several EPs and singles on Crank!. With this, their first full-length, the Gloria Record accomplishes the same growth in sound Mineral showed from their first LP to 'Endserenading.' Where as before their sound was more acoustic in nature, with mellower songs and themes, now The Gloria Record is an accomplished indie rock band with some very interesting textures and flavors. They've finally hit their musical stride, featuring keyboards and distinct drumming, chiming Sundays-like guitars, and Simpson's vocals soaring above it all with a renewed sense of glory. The album opens with the synth-drenched title track, but soon shifts to the fervor and drive of "Good Morning Providence," eclipsing anything these musicians have been involved with previously. Things move pleasantly along with "Cinema Air," with its lyrics the most impressive of the lot—and the frolic of "The Immovable Motorist," which is a mostly somber affair with a hospital/death mixed with driving theme. "My Funeral Party," "I Was Born in Omaha," and "The Ambulance" are phenomenal arrangements, surpassed only by "The Overpass," burying them all in piano and Simpson's falsetto. Fans of Mineral should like this new sound, but fans of Death Cab for Cutie and the like will also love this release. - Rob Devlin
samples:
Exhaust, "Enregistreur"
Constellation


For their second release, this Montreal-based drum, bass, and tape trio has mellowed out their punk-influenced musical assault, and have somewhat filled the space with a wider variety of sounds and techniques. The result is a diverse collage of musique concrete- and beatbox-inspired instrumentals. Throughout the album, the musicians stay true to their rock roots. Even when bits of DSP are employed, the overall sound is stripped-down and unpretentious. "Gauss" opens the album with some low bass and brooding bass clarinet, establishing the album's stark and gloomy mood. Most of the songs combine a slow, moaning, three- or four-note bassline with some solid mid-tempo breakbeat drumming and noisy tape and computer processing. "Voiceboxed" is an excellent track; it is propelled forward by a repeating one-note guitar part (played by Mike Moya of Hrsta) and reel-to-reel tape manipulations, while some well-crafted digital effects shift in and out. "Ice Storm" starts as a semi-interesting medley of instrument cable buzzes and intermittent static; a downtempo beat and some clarinet emerge for a while but then the piece gets quiet and abstract again for the last minute. "My Country Is Winter" has an almost hip-hop beat and one of the better bass melodies as all manners of tape noises and strange electronic sounds whirl about. Exhaust have used the studio effectively in constructing this album; at various points the drums cut out and are seamlessly replaced or augmented by filtered and machine-produced rhythms. The reel-to-reel tapes were my favorite part of Exhaust's debut, and that element isn't as high-profile as I would have liked this time around, but there's so much more detail and variety of sound on this album that it definitely deserves a closer listen than its predecessor. The mixing of organic rock instrumentation with more abstract electronic elements makes 'Enregistreur' an entertaining and interesting release. - Steve Smith
samples:
The Mercury Program, "A Data Learn the Language"
Tiger Style


Upon first listen, the latest full length release from the sunshine state's The Mercury Program comes across as an homage to Tortoise's 'Millions Now Living...' due in part to the liberal use of vibraphone, hypnotic arrangements and a firmly rooted rhythm section. After putting aside the fact that the vibraphone had been around for quite some time before 1996, and several more listens, it's apparent that these guys are more at home with prog rock than say, post rock, for lack of a better term. Guitarist Tom Reno perfectly blends the Fripp/Belew sound of 80s King Crimson with the style of Will Sergeant. The multi-faceted drumming of Dave Lebleu is made melodic through Sander Travisano's solid, yet understated bassline translations. For me, what makes this disc is the electric piano provided by newest member Whit Travisano. You just can't go wrong with a Fender Rhodes these days. There being raised level of musicianship, the tunes can be somewhat lengthy with a fair bit of repetition in order for the exchange between the players to gel. This leads to some clever compositions which push their own boundaries. With all the elements that personally make for a satisfying listen, the unfortunate thing is that I don't find myself being too emotionally involved in what should otherwise be a great disc. Perhaps it's more of a live thing. - Gord Fynes
samples:
christmas decorations, "model 91"
Kranky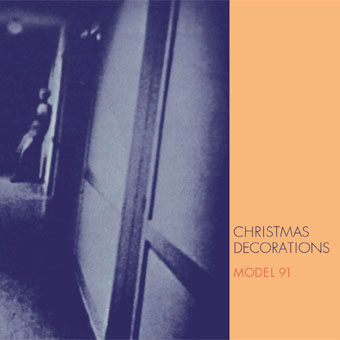 It's a frigid and sleepless December night. I'm sitting in the darkness on the floor in the living room across from the tall, stoic fir tree, watching the metal ornaments on its branches shoot brief, brilliant sparks of light when cars pass, flashing their headlights through the front window. This is the experience of listening to 'Model 91', the debut album from Brooklyn duo Christmas Decorations. Using an ad hoc aesthetic built on the band's improv background, Steven Silverstein and Nick Forte create patient melodies that are much more sincere and approachable than the modern electronic composors from whom they draw their influence. The thumpy, low basslines on tracks such as "Brittle Stem" recall Graham Lewis' post-Wire recordings for 4AD, and the band's use of primitive digital sequencers contribute further to the early '80s feel of 'Model 91.' "Small Window" sounds like a computer on life support being gently nursed by the ambient guitar and bass. The vocals featured on several of the tracks are approriately monotone and disjointed (to the point of being potentially off-putting to the listener), but without sounding disaffected. Christmas Decorations are surely one of the most innovative new bands to appear this year, with their refreshingly raw, yet concise sound and bold approach. - Jessica Tibbits
samples:
destroyer, "this night"
Merge


Although 'This Night' features a number of solidly written songs, this extremely production-heavy album emphasizes its faux-velvet-bell-bottom-wearin'-chamber-pop sound so forcefully—to the point of being tedious—that even those who acclimate will probably remain disgruntled. Drippy reverb makes a mush of overly rhapsodic instrumentation. Nearly every song is unmercifully dominated by affected vocals. Don't get me wrong—Daniel Bejar's coquettish voice is the perfect complement to his wistful, teasing lyrics. But over the course of the album, the vocals and the effects put too much emphasis on a fairly categorical sound, at the expense of the songwriting. Each on its own, the songs here might do a bit more justice to the band's less obvious talent for assembling the essential melodic and lyrical structures of each track. Consecutively, however, their continuous drone becomes irritating and awful. Obviously, some bands have successfully worked this angle to their advantage, but in the case of Destroyer, the somewhat desperately lush effects-laden backdrop is empty filler, a viscous mud one must wade through to get to the heart of each song. There is a pretty great album here, tragically smothered by its own "atmosphere." - Diane Wei-Lewis
samples:
Ruins, "Tzomborgha"
Ipecac


I adore this disc, I really do. Its fifteen studio tracks, mostly between two and three minutes each, are so dizzyingly dense that it will be a long time before I figure it out, if ever. The music is devoted to the prog rock aesthetics of the 70s and 80s and delivered with Japanese values of painstaking design, utilitarian efficiency, precision execution and quality. But I have some confidence in Tzomborgha's endurance since a) I always loved prog despite my self-consciousness over its profound unfasionability through the 80s (hatred and denunciation of prog was a tenet of 80s British music journalism), and b) much of the material is based on favorites from various periods of my youth: Crimson (70s and Discipline, yae!), Sabbath, Olivier Messiaen and John McLaughlin. The Mahavishnu and Sabbath Medleys are spectacular, of course, and fun crossword puzzles for the so inclined, while the Messiaen quotes are very hard to pin down. There's an extended blissed-out jam with pretty vocal and a cloying Fripp-like solo, an exercise in Indian styles, and Magma singing on several cuts (check the samples for each). Yoshida blessedly restrains his goofiest vocal excesses most of the time so there is seldom a feeling of parody. The Ruins have successfully defined and mastered their own mesogenre, put a huge variety of music in it, and made it highly entertaining and credible — a rare achievement of which this CD is a fine exhibit. - Tom Worster
samples:
Spectrum, "Geracao Bendita"
Shadoks Music


The 1970's Brazilian band Spectrum hailed from the Nova Friburgo region of Rio de Janeiro, which also hosted the well-known Os Mutantes. Spectrum shares a musically similar psychedelic slant with Os Mutantes, but without the refinement and prolificacy of their more famous compatriots. Despite its rough edges, Spectrum's soundtrack for the film 'Geracao Bendita' (The Blessed Generation) compiles a pleasant hodge-podge of 60's psych-influenced sounds which take from just about every band of the psych generation which it ought to. There are elements of the Mamas and the Papas, Simon and Garfunkel, Crosby, Stills, Nash and Young, Blue Cheer, and Jefferson Airplane, all complemented by a general fuzz that hovers throughout the album. There are even some funk sounds starting to creep in (see the beginning of "Pingo e Letra"), it being the 1970's and all. The soundtrack for the film (supposedly the first Brazilian hippie movie) has been out of print for some time now, but Shadoks Music has reissued it with new liner notes and photos. Songs alternate between English and Portuguese; meandering and straight-ahead; female and male vocals; fuzzed out and reverberating. The sound of Spectrum can best be likened to the broken English in which the liner notes are written: you can understand what both are trying to say, but it could be executed more crisply. For instance: "After that, Ramon was attacked by a disease, which made Tiao sacrifice himself in substituting him on the bass, with a lot of study, much devotion, persistence and performance." Unfortunately for Tiao, the persistence and the performance did not pay off, since the band itself had neither persistence nor performance. Spectrum was around for about four years, without ever performing live once as Spectrum. The band which prefigured Spectrum, 2000 Volts, played a number of club shows, as well as birthday parties and schools. 'Geracao Bendita' is a pleasant listen, helped in some part by the economy of the record, which lasts a perfectly allotted thirty minutes. - Joshua David Mann
samples:
The Replacements, Reissues
Restless


The first time I heard The Replacements was when my brother gave me a ride to school when I was in junior high, and he played a few tracks off of "Don't Tell a Soul," their almost unanimously reviled penultimate release. I remember being drawn in by the melodies, the quirky Westerberg lyrics, and the almost sloppy nature of it all. Plus, my brother and his friend liked it, and I was a total joiner back then. Years later, as my taste and interest in music improved, I started to look for more Replacements records, only to be disappointed by the lack of them in my record stores, and the apparent inability to order them because they were out of print. This was particularly true of their early output on TwinTone, which you could special order, but it was anyone's guess as to whether or not you would get it. Now, Restless Records is remedying that, albeit controversially, it seems.


The Replacements were never fond of the concept of CDs, as in the story of them trying to destroy their back catalog when they heard that TwinTone was releasing their albums on CD. As it turns out, they only succeeded in destroying the safety copies of the masters, so these Restless reissues of their first four albums are digitally remastered from the original tapes. Reportedly, the surviving members (original guitarist Bob Stinson died in 1995 of a drug overdose) are again not pleased by this project, with Westerberg even saying he was never asked for permission, and since they had no contract with TwinTone they have none with Restless so he might legally contest the pressings. Nevertheless, it is an opportunity for new audiences to hear The 'Mats, arguably the best rock band of the '80s (I still say it was Oingo Boingo. Sorry.) And what will those listeners hear? Probably the sloppiest, poorest recordings of a rock band in its infancy, but some really amazing songs. Is the sound quality all that different from the original CD releases on TwinTone? Nope. So if you have them already, folks, don't bother with these. However, for indie rock from Minneapolis in the '80s, these albums are pretty damned good.


"Sorry Ma" is the quickest and most disposable listen, with the band rocking through eighteen songs at an average of two minutes per song. It's almost The Replacements tribute to hardcore, but it's not in any way an indication of the quality of output they would produce on future records. Completists will love it for 'I Hate Music', 'Shiftless When Idle', and other catchy tunes, but for first time listeners, avoid. The real prize release is "Stink", with the hit potential of 'Fuck School' and 'Dope Smokin' Moron'. It's a raucous, quick record, as well, but it shows an emotional depth on select tracks, most notably 'Go'. Westerberg finally touches on the area he continues to mine today: love and the fear of loss. There's still a lot of edgy noise in their sound, like they want to be a punk band but just aren't good enough, but it's a fun listen for Bob Stinson's guitar antics, and Westerberg's painful vocals.
"Hootenanny" is where their sound really took off, with most of the hard, angry energy missing in favor of earnest songwriting. There are still some quickies, but with tracks like 'Willpower' and 'Within Your Reach' the band was starting to show potential. Westerberg's lyrics were improving, the band was getting tighter, and you can really hear that this was what they wanted more than anything. Which leads to "Let It Be".


Come on, how ballsy is that? They named an album "Let It Be". Were they trying to draw comparisons that are completely unwarranted? Were they just fans of the Beatles and decided to call a record after one of their favorite tracks? Or were they shoving it in the Fab Four's face, saying their era was over and it was time for a new one? My guess it the ladder, though I'm sure the band won't say. "Let It Be" is the best Replacements record: the most cohesive, the most original, and the most impressive. 'I Will Dare', 'Androgynous', 'Unsatisfied', 'Black Diamond, 'Answering Machine'; these are all classic songs for this or any band. The fun-loving spirit is still there, on 'Tommy Gets His Tonsils Out' and 'Gary's Got a Boner', but mostly the maturity of the band is starting to show. Westerberg actually sings, and plays piano. The music has come into its own, with the band improving their arrangements and musicianship. Peter Buck from REM contributes a guitar solo. It's just a great record. Of all of these, it's the one to own, and now's your chance. Then again, if you've never liked The Replacements, never mind. You still won't. - Rob Devlin
samples:
Sing-Sing, "The Joy Of Sing-Sing"
Manifesto


It's easy for pop musicians to get a complex about being taken seriously in the music world. We've been through the 80's fetishists attempt to reclaim pop music via forced kitsch, and we've seen would-be pop singers succumb to the trend du jour by lacing their otherwise straight-ahead songwriting with up-to-the-minute studio trickery that is bound to sound dated in a few years. Luckily, Sing-Sing are smarter than this. On "The Joy of Sing-Sing," they get down to the business of making pure, catchy pop music with a tried and tested set of sounds and production techniques that never get old if they are used in the right way. And they are here, as evidenced by the fact that I woke up this morning with their single "Feels Like Summer" repeating on infinite loop in my brain, and I didn't mind. While most of the press surrounding Sing-Sing seems intent on comparing this album to the two songwriters' previous body of work, and ultimately telling you what this album IS NOT (it is, after all the product of people who have been involved with other bands) I feel like it's more interesting to tell you what Sing-Sing IS! It's bitter-sweet lyrics about friends and lovers that falls nicely between the two unbearable extremes of chic lounge indifference and embarrassing heart-on-sleeve open-ness. You won't know what side of the bed singer Lisa O'Neil wakes up on, but she's also not so flippant towards her miniature tales of personal connections that you don't lose interest. And therein lies the allure of Sing-Sing. The looped beats and layered guitars are interesting enough to draw you in while delicate vocal harmonies allow you to take the songs with a grain of salt, or to pour your heart and soul into every crisply recorded breath. Sing-Sing is pop music for people who remember liking pop music at one point, and aren't afraid to like it again, but don't want to have to like it with their tongue always planted firmly in cheek. Sing-Sing write songs that take three minutes to move from point A to point C by way of B without drawing attention to the formula that makes them work, and are intelligent enough not to be seen as a guilty pleasure. This is the kind of album that will make you want to go to a show and (gasp) buy a t-shirt again. It can be easy to get stuck in a rut of listening to nothing but 'serious' music, and we all need a break now and then, and Sing-Sing has the perfect recipe. It's music you don't have to get involved in to enjoy, but it' that much richer if you do. Oh, and Emma from Lush is in it. - Matthew Jeanes
samples:
In The Nursery, "Cause + Effect"
ITN Corporation


Most of the time, the original material from twin brothers Klive and Nigel Humberstone (with the occasional help of Dolores C. on vocals) is as close to perfection as possible: dream-like neo-romanticism with classical elements, passionate and sometimes even a bit too ethereal for the 'real world'. It's the kind of music to cherish for special moments which come less frequently as this music deserves. I was curious when I first heard about this remix project.
Remix participants were all invited by ITN, themselves. Most of the artists are of a younger generation (Flesh Field, Assemblage 23, Ivan Lusco, Haujobb, Seize, Faith & The Muse, Chandeen, Steve Bennet, Electronicum, and A_Robot) while only two are fellow contemporaries (And Also The Trees and Attrition). These aren't very obvious choices at first glance but all of them treated the original songs in a very careful and respectful manner. The beats are most obviously reworked in almost all cases. Flesh Field's Ian Ross lays a driving beat under "A Rebours (Against Nature)" as does Ivan Lusco on "El Secreto (It)," while Assemblage 23 get a bit housey. Justin Jones from AATT replaces haunting electronic sequences with his own trademark guitar style on "Corruption (Sister And Brother)." A_Robot and Faith & The Muse add their own voices to their contributions but keep conservatively close to the original In The Nursery style. Attrition's pick of the secret hymn, "To The Faithful," is characteristic for their dramatic style and with their version, "To The Faithful (In Remembrance)," they nearly take the greatest side-step from remix to re-interpretation, only outmatched by the final drum and bass dancefloor mix of "Caprice (Levity)" by Seize.
Nearly all of the tracks (with only one exception, "And Your Eyes") were selected from recent albums, from 1990's 'L'Esprit' through last years 'Engel,' thus excluding their 1980s work. As bonus, however (and maybe a reference to their own starting point), ITN include their interpretation of "Love Will Tear Us Apart," produced with a similar aesthetic as the rest of the disc's remixes and featuring a live drummer and professional oboe player.
The fact that 'Cause + Effect' can stand up to the beautiful standards of nearly all ITN output makes this remix project a great success. - carsten s.
samples:
Delicate AWOL, "Heart Drops From The Great Space"
Fire Records


The south London sextet Delicate AWOL has other projects besides their recently released 'Heart Drops From the Great Space.' They run a label called Day Release Records and they play in the band Rothko, sometimes referred to as their "alter ego." On 'Heart Drops From The Great Space,' Delicate AWOL craft a baroque arrangement of jazz, post-rock, and classical, perhaps plucking unique pieces from the spheres of their other projects outside the band. The layers throughout the album are largely twofold, though: jazz and rock. Third and fourth minor layers are the chamber-pop strings and the electronic glitches which pop up in some songs. But every now and then, all of these layers evaporate along with their relevant instruments and leave bare the skeletal side of the band, which is often more honest and true and delicate than the rest. On "That Terminal's Down," the bass guitar, drums, and horn-tooting eventually give way to simply shimmery chimes and Caroline Ross's vocals, and it sounds lovely. These sparer parts on the album are unfortunately infrequent, but when they do arrive, they do so stylishly and with panache. Throughout the record, the jazz layer of Delicate AWOL is slightly abrasive, largely because the horns suggest that this album should be labeled as a lounge rock album. But I think there is more going on here than just background music to Scotch and cigarettes. It peaks out from behind the velvet curtain occasionally, when it hears the horns subdued, the strings muted, and the rhythms dissipated. Appreciation of Delicate AWOL is developed through these built-in contrasts, though this renders some of 'Heart Drops From The Great Space' much more listenable than the rest. - Joshua David Mann
samples:
Andrew Duke, "Sprung"
Bip-Hop


Picture the scene: Three hundred wide-eyed and crazy club kids from the Ukraine, desperate for a place to hold the mother of all parties, hi-jack a dormant soviet submarine and load it up with a massive sound system, a bar, and several cases of glowsticks. They descend into the icy waters and let the rumble begin. Meanwhile, Andrew Duke, a Canadian Naval sonar operator picks up a faint throb from the distant party sub as it sinks to the bottom of the ocean. The gurgling beats are mangled by the time he receives them several thousand nautical miles away, but as he listens for signs of hostile intent, he begins to tap his foot, and the impetus for "Sprung" is born. He leaves the Navy with deep-sea sonar recordings in tow and buys a laptop where he begins to splice the faint, distressed beats and pulses with more audible scratches and pops and the Bip-Hop label is more than happy to release the results. I'm not sure if that's exactly how the recording of "Sprung" went down, but if you sit back with a copy of "Sprung," and a pair of headphones and picture that wayward sub and its crew of tripped-out dancing kids slowly descending through the darkness until the pressure squeezes the infinite beat into submission, you'll have the perfect soundtrack. - Matthew Jeanes
samples:
Hangedup, "Kicker In Tow"
Constellation


On 'Kicker in Tow,' Hangedup explore territory stylistically similar to their excellent self-titled debut, but the viola and percussion duo is even more finely tuned and powerfully compelling this time, making this a wonderful album. They play repetitive but lively rock music with clear minimalism and folk influences, and the nine songs on this record are a blend of well-executed improvised and composed pieces. The opening track "Kinetic Work" is an incredibly catchy song that's mobilized by Eric Craven's rather unique "locomotive" drumming style and Genevieve Heistek's kinetic, stacatto viola playing. Though the instrumentation remains pretty constant throughout the album, it never grows tiresome as the duo push their instruments to the limit. On improvised tracks like "Sink" they work well together; the viola doesn't lose sight of its beautiful melodic progression while interacting with the borderline free drumming. There are a few shorter, more abstract, improvisations that explore ringing mechanical tones; the engine/machine metaphor that appears throughout the titles and packaging is an apt description of the band's sound and style. "No More Bad Future" is an epic standout track; it starts with some quiet viola and metal scraping and then builds as various percussive elements enter, eventually forming into an infectous melody. Then it quiets down, leaving just some ringing percussion, but soon the full instrumentation returns and the song gets even louder and livelier as it barrels on. 'Kicker in Tow' is hypnotic but invigorating, and it looks like it'll be one of my favorite rock albums of the year. - Steve Smith
samples:
Brendan Walls, "Cassia Fistula"
Idea Records


All the noises and frequencies on this record have been produced using self-constructed equipment, resulting in a sound not very far away from early analog synthesizer experiments or a tone generators humming. These home made drones are divided into three parts, add up to a total of 46 minutes, and are nicely packed in a miniature album-like gatefold sleeve. Two of the three parts were mixed, edited and mastered with fellow Australian Oren Ambarchi (and Section Two with Scott Horscroft). Without this name dropping, however, I doubt this disc would have been released. There are no warmly welcomed richly layered textures or multi-level sound structures, instead, the result is, on numerous levels minimal (minimal in conception and minimal in effect). The balance between disturbing and hypnotizing sounds is so well-kept that it lacks a certain excitement besides the hidden gimmick—a subliminal overdrive when the speakers start to crackle as the mastering job pushes the CD output level in the red zone of the LED display. Somehow this release leaves me slightly puzzled with an isolated feel. From the start to the end, Walls musically guides us through the middle of nowhere without any clue or destination. I like my music to be a bit more expressive or excessive but for more settled minds this might be a welcome refreshment in noisy drone ambience. - carsten s.
samples:
The Mobius Band, "Three"
Microearth Records


The chimes, clicks, and percussive beats heard on The Mobius Band's 'Three' EP are an old chestnut. We have heard them before. Perhaps not in this setting, not in this wood. But we know them, just as you know the guy who seems to show up at every show you attend. The Mobius Band surround their slyly standard indie rock songs with a swirl of electronics. The tactic is more successful in some songs than others. Most noticeably, the instrumental songs on "Three" have a hard time distinguishing themselves because the synth effects and the beat processors which The Mobius Band use are nothing new, and nothing novel is done with them. The more successful songs, like "Arrow," have at their core simply a strong rock song, regardless of the electronics dancing around them. And that is what the electronics really amount to: sonic flourishes on top of rock songs, dressing on salad. The electronic instrumentation feels superfluous, though in a live setting it admittedly could add color to improvisational parts. On record, it ends up tasting rather like a stale Tortoise song, which is already likely covered with bacterium. When The Mobius Band fire up a long instrumental track, I tend to forget about them. When the Mobius Band sing, I am more apt to listen. - Joshua David Mann
samples:
Moonsanto, "Fraud - Hell - Dope"
Hushush


Moonsanto's Fraud - Hell - Dope goes awry in the first minute and never gets back on track. It's a concept album, and right off the bat that means it has a lot more work to do to keep me from saying "oh, come on already." Don't get me wrong, there are some great concept albums where the result of a deeply rooted idea being fleshed out over the course of an album yields a result greater than the sum of the parts. This is not one of them. The story here is about "Professor Dr. Goodseed" and his ultimate pesticide, and well, I don't really have to finish that thought, because it all gets much more silly as it goes along. Is this supposed to be creepy or diabolical? If it is, it achieves that tone only in the way a Scooby-Doo villain does. The background noise is just that: relatively uninspiring electro-acoustic mishmash of instruments and digital blurbs. On its own, it wouldn't make an engaging record. What intensifies my frustration is the near constant voice-over that vaguely tells the story of Moonsanto, the Professor, and Mary Ann in a pitch-shifted and nearly cartoonish voice. It's like the Teletubbies trying to trip you out, and it's not working. There are a few worthwhile moments where the composition makes sense and is intriguing, but for the rest of the release Moonsanto is either assuming that being vague and faux-spooky will be enough for me to suspend my disbelief, or being ironic and tounge-in-cheek to cover up the utter lack of real content. Either way, Hushush is usually on point with odd music that a lot of other labels wouldn't touch, but with this one, they cast the net a little too far. Reel it in. - Matthew Jeanes
samples:
We know that sometimes these CDs are somewhat challenging to find, which is why we have a community section which can be used to obtain nearly everything available on this site.
all revved up

Subject: the Martin Rev review
In front of me is D1012CD, "Marvel" by Martin Rev, released by Daft Records (Belgium). I can't see what is different about the album you review on the Brain, but one is the samples is different so I'd like to know.
On this album, 8 tracks: Mari, Baby o Baby, Nineteen 86, Temptation, Jomo, Asia (all 1980), Coal Train and Marvel (1991).
Would like to hear from you.
Tom Worster replies: the cd i reviewed has 11 tracks: the 8 on your cd and another 3 after that called "5 to 5", "wes", and "daydreams". the original 1980 lp on lust/unlust had the first 6 tracks while the remaining 5 were recorded in 1991.
this new release says that tracks 1-8 were digitally re-mastered in belgium so i would guess that the eight tracks on your cd are no different from the first 8 on this new one. this cd also claims that the extra 3 tracks are "never before released".

Subject: [no subject]
absolutely amazing....i have never heard anything so fucking mindblowing
Gary writes: "I hear ya, Ruben. I hear ya loud and clear. Don't let those guys down at the VA Hospital give you any flack. Now smuggles me out some of that spicy methadone... Ooooh that's the stuff."

Subject: the brain
did everyone else take a holiday to cambodia and leave only mr whitney to do the reviews?
Gary writes: "leave ussh alone, you bastard. we don't get paid to hear you bitsh about our rag. we don't get paid period. now leave ussh alone so we can keep drinking jaegermeister with colt 45 chashers...
experimental music suchs."

Subject: !!!
if you were then why - all this time. since then and until before you.
Gord says: Because, before was how/what time you were then since.

Subject: monos
did you get this from an american store, or straight from Die Stadt? if the former, which store was it... I havent seen any of the usual suspects list this in their catalogs yet...
Danny writes: Jon got it from Die Stadt, I intercepted the box and he had to tackle me to get it.

Subject: bowling
While I was overall impressed with Jon Whitney's brief review of 'Bowling For Columbine', the bit about being embarrassed and reluctant to admit having some sort of respect for Marilyn Manson seemed almost contrary in thought. Considering that over the length of their careers, both Manson and Michael Moore have always stressed to their audiences and the public similar themes of thinking for yourself, fighting the system, striking fear into the powers that be and voicing your opinon to the world. Both have used shock tactics in conveying their messages. Moore, in his documentaries has used footage of rabitt skinning and gun victims to equal amounts of debate and outright hatred. Manson has used similar tactics on stage to incite the powers that be. The fact that both have put alot of fear and hatred in the exact powers they aimed for says alot about the power of art and its influence in media and government. Could this lack of respect be due in part to your failure to acknowledge Manson as more than a mainstream shock rocker with a mostly dumbed down MTV-fed audience? Or perhaps your failure to listen to his 'Mechanical Animals' album (something his fans just didn't get) and note its striking similarity in themes that Moore over the entireity of his career has pounded into the brains of his audiences? We need the Mansons and Moores of the world to bludgeon their messages in our ears and hopefully incite people to care. We need their outrageous stunts and provocative images to stir all kinds of debate about our affairs.
Interestingly enough, you pointed out Manson's statement about people just not listening to eachother. Maybe if you would have listened to some of the stuff Manson has had to say for a long time now, you would have afforded him the kind of respect you give his like-minded peers.
Danny responds: get over it, he hates the music, okay? Billy Joel probably has great messages in his music too but he hates his music as well.

Subject: [no subject]
Hello friend..you have an impresive collection of music..maybe you can help to grow our poor underground gothic and electro music scene
thanks so much
from PERU!!
of your list we are so interested in: windy and carl, tristeza, trans am, tortoise, to rococo rot, tarwater, stars of the lid, songs ohia, PANASONIC, Sol invictus , scorn, jim orourke, NURSE WITH WOUND of course!, mogwai, MAIN of course, magnetic fields, M, labradford, lali p una, ITN, In gowan ring, current 93, chris and cosey 80s releases, Autechre, and amp.
thanks so much
please answerto us
Matthew writes: I ate at a Peruvian restaurant this weekend and had Peru's version of fried rice. It tasted just like Chinese fried rice. What's up with that? Please answerto me, too.

Jonathan writes: of your response we are very happy to be receive it. of your list we like to be for you peru, macchu picchu, incan emporer of course, ufo landing strip, coup for dictator, STRANGE ARTIFACT, weird heiroglyphic (of course!), pre-columbian pyramid monument. we are to help you grow your goth in peru!
manythanks be to us.