The Legendary Pink Dots, "All the King's Horses" and "All the King's Men"
Cacoicavallo & ROIR
The Legendary Pink Dots might be the best-kept secret of the independent music scene. The band has been playing together for more than 20 years without a single brush with the mainstream, occupying a nebulous space between gothic rock, the avant-garde, progressive rock, the "esoteric" and psychedelic rock. Too goth for the indie fans and too rock for the apocalyptic folk, the Pink Dots have fallen into an odd little niche where few are familiar with them and even magazines like The Wire seem unaware of their existence. It is said that the best environment for artists to produce great work is one in which no one gives a damn, and this could certainly be true for the Pink Dots. Over the course of their career, they have produced a huge catalog of worthwhile music, much of it totally out of step with its time, and always shot through with boundless experimentation and amazingly original soundworlds.


The new simultaneous release of these two brand-new, full-length studio albums is certainly no exception. For longtime listeners of the Dots, it is a welcome return into the beautiful dread of Edward Ka-Spel's idiosyncratic poetry, Silverman's kaleidoscopic synths, Niels van Hoornblower's weaving flutes and Martijn de Kleer's swirling, effects-laden strings. 'All the King's Horses' and 'All the King's Men' mark a sort of turning point for the band. After losing drummer/guitarist/bassist Ryan Moore (of Twilight Circus Dub Sound System), the Dots have made a clear and deliberate step back from the heavy progressive rock influence of the last couple albums. The lack of live drumming has brought more programmed beats and drum machine back into the mix, and along with it an emphasis on more minimal, eerie compositions. Additionally, the violin solos of mid-80's albums like 'The Golden Age' and 'The Lovers' are back, in a somewhat more subtle form. This material bears more in common with Ka-Spel's solo albums, or early Pink Dots albums such as 'The Tower' than the fuzzy, psyched-out prog of recent albums like 'Nemesis Online' and 'A Perfect Mystery'.
Ka-Spel has obviously been affected by the events of September 11th and their dismaying shockwaves throughout the globe. His visions are even more apocalyptic than usual, with songs about war being waged by fools, abandoning the earth for happier worlds, and even a jaunty number about being cryogenically frozen. What always impresses me about Ka-Spel is his ability to endlessly recycle his many familiar lyrical obsessions over the course of his work, but always juxtapose them in a way that add fresh new insight. For those who are well versed in Ka-Spel's symbolic language, these albums will be a catharsis, as the themes are explored in more painstaking detail than ever before.


'All the King's Men' is the quieter of the two albums, with many of the songs only consisting of minimal keyboard melodies and Edward's deep intonations. The dizzying psychedelic studio effects usually present on LPD albums has been toned down to some very subtle flourishes that are all the more affecting for their subtlety. Over the course of the first eight tracks, this minimalism begins to wear a tad thin, but then we are rescued by the last two songs—the title track and "The Brightest Star", by far the highlights of 'Men', where Niels and Martijn reappear for two lengthy instrumentals. "The Brightest Star" is a masterpiece, representing the most awe-inspiring epic track by the Dots since "Evolution". Clocking in at 13 minutes, this last track is an ecstatic, house-influenced psychedelic jam that succeeds in lifting me into orbit every time I hear it. Silverman's trance-inducing beat programming merges with Ka-Spel's swirling synths, Martijn's breathtaking violin swells, and Hoornblower's mindbending electronic saxophone blasts. This track alone (the Pink Dots' current "grand finale" song on their US tour), is worth the price of the album.
'Horses' doesn't have any one song approaching the genius of "The Brightest Star" on it, but overall is a much more consistent listen than 'Men'. Guitars and horns are present throughout the album, and the songs are more fully fleshed-out and produced. It's also a tad less cynical and dark than its sister album, with more of Ka-Spel's trademark humor coming through. "Lisa Goes Surfing" is an amusing track, with it's pleading refrain of "freeze me" as Ka-Spel reveals his desire for cryogenic freezing upon his death. These creepy, funny lyrics are set against a whimsical pastiche on medieval court music. No Pink Dots album would be complete without at least one lovely, plaintive ballad. "Our Dominion" fills the bill quite nicely, with its melancholy lyrics and lovely, acoustic arrangements. The album closes with "Wax and Feathers", a lengthy song with a breathtaking vocal by Ka-Spel, and a wonderful solo by Hoornblower. The song eventually culminates in an ambient, spacey excursion that beautifully concludes the album. 'All the King's Horses' and 'All the King's Men' are an impressive pair of albums by the greatest band that no one's ever heard of. - Jonathan Dean
horses:
men:
Out Hud, "Street Dad"
Kranky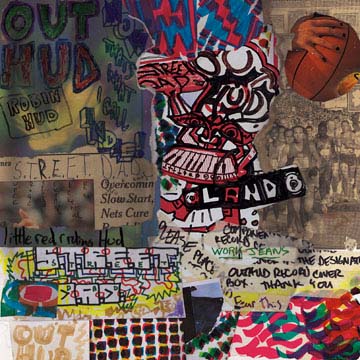 When I first saw Out Hud, they were playing to a crowd of Chicago's finest at the Fireside Bowl in the midst of an old-fashioned Midwestern heat wave. Two feelings prevailed that night, as the crowd anxiously awaited the headlining Locust to come on: the first was the "my god, I could not be more sweaty in this sauna of a club appropriately named the fireside" feeling. The second was the "I don't know who this band Out Hud is or why they are playing this show, but I guess it's cool" feeling. This second sentiment was actually voiced by Out Hud bassist (and !!! vocalist) Nic Offer himself in the banter between two songs. All the perspiring punks could have cared less why Out Hud were there; what mattered was that they were in fact there, and for a 40-minute set on a night when movement was excruciating, everyone forgot about the oppressive heat and started to dance and move and shake to this strange band whose music demanded that our bodies dance and move and shake, regardless of whether we wanted to or not. 'Street Dad' aspires to do just that. Since it is both Out Hud's first full-length and their label premier for Kranky, 'Street Dad' will likely introduce a lot of folks to their music, which many critics see as the not-quite-natural result of ESG breeding with Gang of Four and the offspring being adopted by the two well-meaning parents of Soft Machine and King Tubby and allowed to see its six Factory Records cousins on holidays. The premise of the music is simple: dance beats decorated with heavy fringes of rock and electronic music. While this formula sounds like a bland concoction that every musical alchemist is trying to perfect these days, Out Hud are able to make it work. Part of the band's success is due to the reliance on actually playing instruments rather than pumping sound samples in from a mixer (though Justin Vandervolgen handily manages the mixing board for the band, it is not over-utilized).
"The Story of the Whole Thing" is a moderately-paced opening song which drones pleasantly until giving way at the end to a dawn-breaking call and response between Tyler Pope's guitar and what sounds like a rather delighted and rhythmic humpback whale (actually, it's Molly Schnict's cello). The centerpiece of the album, though, is its second song, titled "Dad, There's a Little Phrase Called Too Much Information." This song features about four distinct and lovely parts, shimmering with guitar but plodding onwards with heavy bass and drum beats which sternly coax you into movement. Between the themes there are punctuations of Out Hud's trademark two-second cacophony, a resonating blast of electronic feedback that seems to pop up in the majority of the band's songs. These little explosions remind you that despite the seeming control and mastery with which the band handles the music, there is such a thing as chaos and ataxia in Out Hud's music. This hinted-at entropy is perhaps the reason why their sound is so compelling, as the band brings you desperately close to some arrhythmic brink of destruction, only to draw you instantly back in, cuddled safely once again in the bosom of their groove. The feeling is both infantilizing and exhilarating. - Joshua David Mann
samples:
Nurse With Wound, "Automating Volume 2"
United Dairies


This CD release of Nurse With Wound's compilation track collection LP from 1989 will not come as a surprise to any of the insane fans, who, like me, have already tracked down this material long ago and are very familiar with it. However, it's always nice when these works are given the CD treatment—often it means improved sound and extra tracks. Well, I can't detect any difference in sound from the LP edition. As for extras, the one bonus track, "New Dress," is not really that special, having already been issued (and still readily available) on the United Dairies edition of 'Crumb Duck,' the Stereolab collaboration. It is an awesome track, however, one of Stapleton's better ambient works. The tracks on 'Automating Vol 2' run the gamut of Stapleton's various styles. The first track "The Strange Play of the Mouth" is a good example: It begins with a woman singing, her voice being distorted and phased into psychedelic oblivion. Then the track suddenly shifts into an industrial drill attack along the lines of 'Thunder Perfect Mind', then the voice returns and is placed into a sound patchwork featuring old records and wacky sound manipulations a la 'Sylvie and Babs.' All in the span of eight minutes. "Elderly Man River/Dance of Fools" is a Jacques Berrocal-style free-jazz improvisation, with one of the most absurd takes on the old standard "Old Man River" that you will ever hear. The absurdity quickly segues into an aggressive Whitehouse noise attack, then a chorus of girls saying some deeply weird things about a hobby horse. "Lonely Poisonous Mushroom" (a collaboration with Organum) and "Lea Tantaaria" (renamed as "Wolfi") are eerie, atmospheric sound collages, featuring bell tones, randomly plucked guitars and nonsense piano. "Human, Human, Human" is my favorite on the album, utilizing the mutated sounds of a typewriter behind a truly odd New Age cult indoctrination record. A male and female speaker read a text aloud that is so full of psychobabble, twisted logic, and space cadet reasoning, it puts Heaven's Gate propaganda to shame. Although it's far from a great Nurse With Wound album, the variety of music on this disc might be a pretty good place for NWW novices to get an idea of the breadth and scope of Stapleton's oevre. - Jonathan Dean
samples:
Jason Lescalleet, "Mattresslessness"
Cut


This is Jason Lescalleet's first full length release of studio produced material. I have known Jason's live tape-loopery for about four years and I deeply appreciate its visceral, human-organic quality and a gnarly expressiveness. With this background, 'Mattresslessness' came as a shock. The album opens with a sine tone composition in the Vainio/Ikeda style. I wonder why would this artist, whom I consider to have a truly rare and original talent, stoop to aping established artists? The next track seems to continue the pattern with a repetitive click pattern in the Nicolai style. The source of the third is harder to identify but it is also familiar: a noise collage, perhaps in the Lanz style? And so it goes on. I was, to say the least, bewildered and a somewhat concerned. However, after some head and chin scratching I put together a theory to answer this. With each piece being of a different character, the album covers a lot of space, touching on several well-established areas of endeavor in music, sound and noise. And these areas all have their well established masters. The European and Japanese masters, such as Lopez, Akita, Tietchens, Ikeda, Behrens, Nakajima et cetera, are able to turn out their quality set pieces with the apparent ease that Hayden did his symphonies, Mozart his concertos or Elton John his songs. All these masters were established as such through a combination of talent, PR, funding, and consistency­; the aesthetic, political and financial aspects are all necessary; and it is fallacious to think that the former is sufficient. This CD sets out to challenge the essential authoritarianism inherent in this hierarchy. Jason, armed only with the aesthetic, moves into, by my count, nine different domains, turns the handle of the respective digital machine and shows us how the respective set pieces are constructed. He then proceeds to transcend each, exceeding the achievements of the masters, moving beyond the respective area's confines by adding acutely personal expression and original brilliance. The incendiary subtext is that the masters are false gods and the hierarchy itself is a false intellectual product of broken rationale. I'm not suggesting that Jason is challenging the validity or value of anyone's work; I don't think he is. I think he is taking aim at the authoritarian logic, so prevalent in Western culture, that bestows master status on a few and pretender status on the rest. Now then, with that theory of its intent in mind, how does the music sound? Actually it sounds wonderful. The sine tone piece descends into a gorgeous Eraserhead-sounding dreamscape, the metrical click patterns are transformed into scintillating diginoise only to emerge again fattened on a throbbing bed of bass, and the collage noise is run through the degenerative tape-loop process to make it good and sinister. My favorite piece, "Ineinandergreifen ­ 08 Dezember 1912," has a melody that sounds like scraped or bowed metals on a 78 record that is then consumed by the tapes; degraded, subdued and eventually killed by an aging process to wrenching emotional effect. The whole album is immaculately turned out with excellent sound and tasteful packaging. Jason Lescalleet has exceeded himself. 'Mattresslessness' is a major achievement: brilliant music and a valid political message. - Tom Worster
samples:
Polmo Polpo, "The Science of Breath"
Subtractif


This first full length release from Toronto-based multi-instrumentalist/producer Sandro Perri is a collection of two previously released 12" EPs (of very limited quantities) from his own Audi Sensa label with new interlacing compositions that sum up the title's concept. First off, an accompanying insert card in the Russian nesting doll-type of packaging provides textbook descriptions of four basic types breathing techniques (high, mid, low and complete) with there being a compositional collage to correspond and convey a sense of each one. The "breathing" tracks are generally comprised of subtle pulses, distant keyboard drones and washes of white noise with tremolo effects which could be heard as the equivalent of each individual style being translated by a high-end piece of music software. Previously released tracks such as "Acqua," "Rottura" and my personal fave "Riva" are somewhat more straight ahead in the style of a slightly funky deep house meets IDM, layered over what becomes the familiar elements throughout the course of listening. Perri handles the mixes of synths and samples with an exactness and still manages a nice, loose feel by adding some treated guitar and other stringed nuances to provide a more human quality. Spanning over forty-five minutes, the disc's eight tracks flow very agreeably, blending into each other so as not to leave you holding your breath. - Gord Fynes
samples:
Soft Cell, "Cruelty Without Beauty"
Cooking Vinyl


It's been a long time since 'This Last Night In Sodom' and to be honest, who would have thought they will ever come back with a new album. Rumors floated around for years, Marc Almond even mentioned it in his autobiography from 1999, and it's great that the finished product has finally materialized. Of course Soft Cell (like their audience) aren't screaming teenage TOTP stars any more. They've both grown through their solo work, Dave Ball most remarkable with The Grid and as producer and Marc Almond as, well Marc Almond.
"Darker Times" is a great opener and the only song co-written with Ingo Vauk, who co-produced this album with Dave Ball. The Marc Almond themes of love, passion, desire, and desperation are present in songs as "Last Chance" (the 'sequel to "Say Hello Wave Goodbye"' as announced on tour), "Together Alone", "Desperate" and the incredibly catchy "All Out Of Love," where Almond steps outside of his his favorite terrain and ventures into the familiarity of a sleazy secret world.
There are reflections about the modern lifestyle, the media sickness and the emotional and moral bankrupt: cynically sharp on in the albums preceding single (and video) "Monoculture," intense and dramatical on "Caligula Syndrome," cabaret-like on "Le Grand Guignol," and on the poppy dance tune, "Sensation Nation." Another Almond trademark, the self-reflective introspection, takes the shape of a sing-a-long tune, "Whatever It Takes," the story of somebody's mid-life crisis and the album ends on an up-note with an appropriately titled outro, "On an Up."
The weakest point of the album is the cover version of "The Night," another Northern Soul classic like "What" or "Where Did Our Love Go?" Musically, it's actually quite nice but I whish they had gone for something more daring. Soft Cell are able to push pop boundaries much further (as they proved often enough), but have played it safe with this tune (which is most likely to become the next single). The same could be said of this album, but maybe those are the effects of a 'matured' sound and slick production. Since so much time has passed, it's probably impossible for them to have met all the expectations of their fans. What we are left with is a fine album, one of this year's highlights, full of bouncy electronic pop songs, matched with superb lyrics which are more enjoyable with each listen. - carsten s.
samples:
Keith Rowe and Oren Ambarchi, "Flypaper"
Staubgold


Recorded in Australia in 2001, this CD is further documentation of what is now a frequent collaboration. It's essentially an old-school guitar drone record, but with a modern, digital edge. The four tracks, which I'd guess were extracted from a single improvised session, add up to 45 minutes of reasonably novel dark ambience. Of dead-guitar godfather Rowe's techniques, those evident here include the use of a hand-held electric fan, brushing the strings of his guitar, and live radio mixing. As for Ambarchi's contributions, I'll admit to hoping for some of the fresher, emotionally neutral sounds of his breakthrough release 'Suspension'. But at least there's his trademark bell-tone drones and subtle use of digital effects. 'Flypaper' manages to construct an atmosphere that's undeniably engaging: the gently handled strings clunk and rattle in a concrete foreground narrative, in firm contrast to the thick, soupy drones beneath. The dynamic duo's dramatic improvisational timing also helps provide some oustanding moments. But nonetheless 'Flypaper' sounds a bit hackneyed. When we have Keith Whitman, Christian Fennesz, and Ambarchi himself proving that experimental guitar doesn't always have to be so grimly post-industrial, then even such an accomplished recording as this will sound like a blast from the early nineties. - Andrew Shires
samples:
windy & carl, "introspection: singles and rarities 1993-2000"
Blue Flea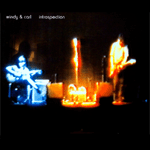 The limitations of the 7" single medium dictates that songs need to be brief and to-the-point. While this seems like a confining space to work in for a group who has a reputation for lengthy drones, Windy & Carl have actually been doing this for years. 'Introspection' is the first career-spanning evolutionary tour guide of the Dearborn duo, chronologically arranged in triplicate. Meticulously divided, disc one collects various singles and EPs, disc two collects compilation tracks, and disc three gathers live and unreleased songs. Windy & Carl's music has always been one of my personal faves for curling up with something good to read and this time they've provided something extra to read along with. The accompanying booklet contains descriptions of nearly every song along with images of covers, concert flyers, and various candid photos. To hear the evolution wrapped up in three +70 minute segments is fascinating. Windy's voice is a dead ringer (no pun intended) for Nico on some of the earliest tracks, like "Watersong," while Carl's guitar work and production seems plain when compared to songs only a couple years later like "Smeared." By 1995/1996, (the Chrismtas single) the duo show a clear turning point, Windy's voice finding its space and the addition of delicately layered other sounds. Whether they're bell-like percussives, low-end bass, acoustic or electric guitars, the sound never strayed from the delicate, almost pure beauty that has always been there. Unsurprisingly, longer songs flourish on the second two discs, including some of their finest moments like the indescribably stunning "Marble Dream," the love song, "Fuzzy," and "Near and Far," from their split single with Amp. Live moments are carefully chosen from both concert venues and radio sessions while some studio recordings offer a glimpse of how songs evolve—like the alternate version of the song for the 'After the Flood' album and the cassette version of "Xmas Song." Three discs worth of music doesn't compile all of their non-LP material, but it sure is enough to digest for now. - Jon Whitney
samples:
We know that sometimes these CDs are somewhat challenging to find, which is why we have a community section which can be used to obtain nearly everything available on this site.
who's brainwashed

Subject: i found this, was amused, took a picture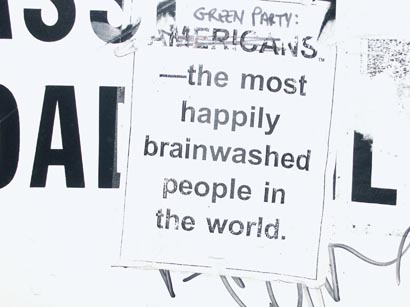 cute

Subject: Do you know Pirannah?
I can't believe I'm the only one who voted for Pirannah Jones! Doesn't anybody else remember the yarny-haired Meat Beat Manifesto dancer who wore the spikey outfits and graced numerous MBM covers????
The memories wear thin at this place, sorry. To remind others, check this place out - http://www.cmd.co.uk - click on History and Meat Beat Manifesto for some fierce pics. Thanks to Pietro for this link.

Subject: gopher guts
Great green gobs of greasy grimey gopher guts....
what are the rest of the words to this song from my childhood....
Please help
I want to teach my Grand kids
Actually, there seems like a billion variations on this one, but, here's the most complete one found:

Great green gobs of greasy grimy gopher guts,
Mutilated monkey meat, little birdies dirty feet,
Great green globs of greasy grimy gopher guts,
And I forgot my spoon!

Great green gobs of greasy grimy gopher guts,
Multilated monkey meat, itsy bitsy birdie feet,
French fried eye-balls rolling down a muddy street,
And I forgot my spoon.
(pause)
But I got my straw!

Great green gobs of greasy grimey gopher guts,
Mutilated monkey meat, saturated birdy feet,
All wrapped up in all-purpose porpoise pus.
And me without a spoon!

Gee whiz! (but I've got a straw)

Great green gobs of greasy grimy gopher guts
Mutilated monkey meat, chopped up dirty birdy feet.
A one pound jar of all purpose porpoise pus
And me without a spoon!

Great green gobs of greasy grimy gopher guts
Scab sandwich, spit on top, monkey vomit, camel snot,
Great green gobs of greasy grimy gopher guts
Swimming in pink lemonade

Great green gobs of greasy grimy gopher guts
Eagle eye and cookie goo, made a sandwich just for you.
Great green gobs of greasy grimy gopher guts
And I forgot my spoon.

(We recommend doing some more web searches.)


Subject: [no subject]
like yr CD collection but I think you have at least 1 too many Slowdive records!
You can never have too many Slowdive records.

Subject: radio silence
Hey, are the majority of the Brainwashed radio stations going to remain as Live365 Preferred Membership stations for the foreseeable future? I don't intend to moan and complain, I was just curious if you all intended to keep it as being available only through the paid service. Thanks, you guys run a great website.
So long as the RIAA charges, brainwashed ain't paying.

Subject: word on the streets
Well, it's about time that someone spoke out about the sheer crapness of The Streets Original Pirate Materal. NME is no longer a decent magazine: all that lot are concerned about is masturbating over the Strokes ever chance they get.
I must say that these "geezers" do not reprazent a majority of British youth- many are frequently turning to Mo'Wax, Warp and Ninja Tune material.
I apologise on behalf of my country for releasing such utter shit overseas.
Gary writes: Apology accepted. We at the Brain are still waiting on apologies from NME for their shameful praise of this horrendous album. You, however, represent your country well by proudly listening to the fine underground sounds that continue to emerge from there.
Keep it up.

Jon writes: Ninja Tune, Warp, Mo'Wax underground?