godspeed you black emperor, "yanqui u.x.o."
Constellation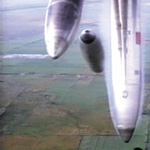 Fans and critics have uncontrollable tendencies to place far too many expectations on something they had no expectations of to begin with. Think back to the first time you heard this Canadian collective: there was something about that very moment which COMMANDED your attention whether you care to admit it or not, even if you like the band or not. The sound was fresh and warmly welcomed, grand and overwhelming at times. Transcending a number of genres, there was little room for comparisons or classifications. They achieved something which my friend, Jeremy, of Temporary Residence considers a mark of success: people started comparing -other- things to them. There was something more, however—something almost indescribable and intangible—which started out like a small mystery and has built to a frenzied, inescapable force-field which surrounds this simple instrumental rock group. Godspeed certainly could share the blame of setting the winds in motion—perhaps due to the choices of samples and the use of symbols and messages tucked inside artwork or projected on the stage screens. Couple these with a feverish, caustic and sensational media, aching for a soundbyte to exploit or an individual to single out, and things can easily spin out of control. The band's fourth recording feels like their attempt to wrestle control back into their court. 'Yanqui' is a simple and pleasing instrumental rock record, as straight up as Godspeed can probably ever get—void of the musical gimmicks in which the band has become known for. The songs are once again lengthy, but noticably absent of the multiple-parts approach. The build up on each of the five tracks is simple but no less enjoyable than anything else they've done, whether it's with the droning strings on the second part of "09-15-00" or the quiet yet piercing bell-like opening of the first part of "Motherfucker=Redeemer." In addition, there are no speeches of the moral decline by senile old people or random Iron Maiden fans roaming the streets. Either they didn't want to go "mining for shit" through various tapes of field recordings or they're sick of people actually believing these bits are far more than instrumental coloration. The only extra-curricular additions are some pleasantly odd chords struck by wind instruments during the quiet moments of "Rockets Fall on Rocket Falls." For an album which is not meant to be their crossover or major breakthrough, I think the band has successfully conveyed, musicially, that they are simply a rock band, and don't want to be either saviors nor Satan's spawn. - Jon Whitney
samples:
Black Dice, "Beaches and Canyons"
DFA


As the art punk progression tends more and more towards electronic experimentation, Black Dice are ready to offer their interpretation of the movement, fusing their improvisational noise rock with an electronic sound which calls to mind Beaver and Krause, and a musique concrete similar to Xenakis. There are clicks, beeps, voice samples, chirps, echoes, robots, chimes, wails, mystic hums, crunches, and Oriental pentatonic scales. The group's previous releases for the Gravity and Troubleman Unlimited labels were unbalanced by their composition: many extremely short, kinetic songs combined with one or two longer songs. Here, the songs start off long and get increasingly longer. The band chooses to employ its heretofore unexplored potential energy in these songs, rather than just brashly offering their kinetic formulae. It's fascinating to hear this evolution, particularly because I used to think Black Dice were one-trick ponies. Live shows of the band were always intense and fun, but not always well-suited for translation onto record. With this record they have proved me wrong, and have developed into a forceful and imaginative experimental collective to listen to in my room. What will be interesting to see is whether their new sound is adaptable to their explosive live performances. 'Beaches and Canyons' starts out with the six-minute long "Seabird," an appropriately maritime number which unmistakably features some perturbed plover signaling the unjust encroachment on its nesting sand dune with constant squawks. The plover may or may not be robotic, and may or may not actually be a tern. By the end of the song, the intruder has clearly left, but bird is still squawking, albeit a little less virulently. "The Dream is Going Down" takes us to a canyon where robot voices bounce of the eroding limestone walls, while during the last six minutes of "Endless Happiness," waves and tidal sounds wash over us as the supposedly interminable bliss eventually does fall off. By the time the seventeen minutes of "Big Drop," the last song, comes about, we have literally dropped from the canyons in an errant spelunking mission into a cave where sound bounces about violently and the vocals scream, recalling Black Dice's older output. Wherever we find ourselves by the end of the album, the echoes in the music remind us that we are still in Black Dice's canyons, while the crashing of waves reminds us that we still have one foot rooted on the shores of an undiscovered beach. - Joshua David Mann
samples:
i am spoonbender, "shown actual size"
Gold Standard Laboratories

The downfall of any musical trend begins at the point where the music becomes too easy to make. From there, hoards of immitators flood the market and are scooped up by any record label wanting to compete in the "new market" just like a lipstick company has to have the coolest color of the year to compete with their competitor or the trend-setting upstart who got a major break. I Am Spoonbender have not only remained relatively quiet through the electroclash explosion, but refuse to allow keyboard presets, generic production and predictable riffs drive their music. While this hasn't made them as popular as the biggest offenders of dullness like Felix da Housecat, releases like this, along with their previous EP, 'Teletwin,' will still be as listenable years from now and just as tasty as they are today. 'Shown Actual Size' is only three short songs totalling less than 14 minutes, the first thing they have released in two years, and serves as a teaser for the forthcoming DVD/album, 'Hidden Persuaders'. It opens with the forceful "I Went and Had My Knives Sharpened," where a ripping, sassy, distorted bass (thanks to Dave Edwardson of Neurosis) undercuts nasty, angular synths and strong vocals from the female and male singers. "Remover-Installer" relentlessly continues with the same energy while the closer, "Re-dial Meant 'Remember'" recalls to a darker side of 1980s synth music, left in the past thanks to the absence of radio hits and perky videos. - Jon Whitney
samples:
K2, "In the Monotonous Flowers"



K2, the prolific artist who arrived in the third wave of Japanese noise musicians and is currently one of the last ones standing (MSBR and Government Alpha are still relevant, Merzbow and Aube have descended into pathetic self-parody... and don't get me started on Keiji Haino, yeesh), has changed course. Rather than the metal-on-metal screech for which he has previously been known, K2's newest album is all fast-cut collage of drum machines, pop music, noises both harsh and not, and more flavors than I can now recount. A sound begins, then abruptly interrupts itself, occasionally doubling back only to fall apart and maybe be picked up by some incongrous thing. All sounds remain in place long enough to be plowed under by the next one, and K2 keeps the pace relentless for the full hour of the disc. And what a good time this album is! The absurd juxtapositions remind me of the Hafler Trio's 'A Thirsty Fish,' but with no pretense of sublimity. In fact, the sublime appears to be far from K2's range, he having opted instead for instant gratification, even if that means bringing in elements that shouldn't work (but, miraculously, they do). Some delay settings are painfully silly and banal, as are some 70s-era drum machine sounds and Western choral records, but these only enrich the sense of wide-eyed joy that the music evokes. So do the flourishes of human gesture; the clearly manual adjustment of a volume level, or the telltale clip of a computer splice, or the wildly variant fluctuations in dynamics and sound-quality all remind the listener that there is somebody driving, and that person has a clue where the music will lead. It's a damn fun ride. - Howard Stelzer
samples:
Main/Antenna Farm, "Brombron 01"
Staalplaat


Dutch experimental label/store Staalplaat has a new series in collaboration with the Extrapool art space called Brombron. For the first installment they invited Robert Hampson (Main), David Howell and Alastair Leslie (who make up Antenna Farm) to spend some time together making strange sounds. The results are scattered here, but never dull. The five-track CD does not list song titles, but presents pictures of the final song waveforms taken from the mastering program used to finish this disc off, and that nicely sums up what the music is all about, too. There's little apparent direction here, mostly just collages of found sounds, digitally spliced together and packaged in a beautifully simple all paper sleeve that folds in on itself like the sources of the sounds the disc contains. It's nearly impossible to tell what is making the odd creaks and clicks and knocks here, but I can visualize the musicians walking about the art space, contact mics in hand, with the kind of giddy wonderment that a child who has first discovered a tape recorder might have. While the completed compositions are far from playful in tone, they do represent a kind of 'throw caution to the wind' sort of approach to realizing the acoustic properties of the discreet time spent together in a designated space. This may not hold the interest of old school Main fans who appreciated Hampson's song-based approach to deconstructing sound; there are no basslines or melodies or even songs here. This is like the equivalent of listening to the architechture of the Extrapool, and from the sound of it, it's a place worth a visit.- Matthew Jeanes
samples:
"Urban Renewal Program"
Chocolate Industries


This cornucopia of Hip-Hop-styled and inspired music makes for a perfect primer for the new directions in which this music is thriving, from an independent, non-bling-bling standpoint. The Chicago-based Chocolate Industries label has put together a choice compilation featuring a plethora of artists which include members of the Def Jux familia such as Aesop Rock and Mr. Lif, Prefuse 73, Diverse, Cibo Matto's Miho Hatori and DJ Food. Opening the disc is a college radio sounding ad listing the guest appearances which launches into Prefuse 73's "Radio Attack Pt.2" which has some cool breaks that vary from the version on his 'Vocal Studies + Uprock Narratives' release. Souls of Mischief's "Spark" provides a head-nodding groove filled with some simple yet great organ samples while proclaiming, "We align with the planets and stars / Advancing the art form whenever we spar." RJD2's "True Confessions" chronicles the satirical church confessions of a seventeen year old stereo thief and burglar to a shocked and surprised priest, set to a rocking backing track of pounding drums and distorted guitar samples. El-P's signature backing track and sharp lyrics ring out in "Deadlight" with vocal plays on Apple's FireWire and Apocalypse Now, complete with a reference to 70s fusion heads Emerson Lake and Palmer and Pavlov. This is one of the more thought provoking tracks on the disc that'll have ya hitting the back skip button to make sure you caught it all. In the "surprise surprise" department—but then again, not really—is Tortoise with their contribution "C.T.A.," which has a real remix feel to it. Comprised of clipped live drums, synth patches and processed guitar, the track builds with repetition throughout the clever, winding progression. At about the halfway mark, the most anticipated and monstrous bassline kicks in and pulls it home. Overall, the disc's eighteen tracks play through as if you were listening to a hip college radio program, complete with brief interludes from Prefuse 73 and altered chit-chat. - Gord Fynes
samples:
Liars, "They Threw Us All in a trench and stuck a mountain on top"
Mute


Not so conceptual, not sad or very beautiful, not likely to persist in its impression, the Liars simply grab onto immediate, relentless hooks and make urgent, funky fun. It's like this: three-minute songs with slithery disco-punk bass lines, given a slightly chilly imperviousness by sparse synthesizers and walkie-talkie barked vocals. Good stuff, with the exception of the last track, which ends in a looped locked-groove, extending over 30 minutes! (An excuse to make an "album" out of an EP?) Go figure, because this plodding bore is the complete opposite of the album's leading tracks. "Grown men don't fall in the river, just like that" is a rousing, somewhat ironic wake-up call from the band that's got its "finger on the pulse of America": "Can you hear us? / Not too political, nothing too clever." I applaud the use of electronic handclaps and cowbells on "Mr your on fire Mr." On this track, you can practically see the lead singer wiggling his butt in this jerky twister's breathless pauses. It's not the most memorable album I've heard recently, but the songs are captivating in their frenetic, ephemeral sorta way. However, most of the material here is so sonically of a genre and lyrically unremarkable that I can't really think of a reason why I would choose the Liars above any other band that makes punk rawk kids shake their thangs. - Diane Wei Lewis
samples:
Kid606 vs. Dälek, "Ruin It"
Tigerbeat6


The pairing of Kid606 and Dälek isn't something that makes immediate sense to me on paper. 606 is known for most for his full throttle laptop cutups, glitchery and appropriation of hip hop as one of a myriad source files to be mashed into his digital melee. On the other hand, Dälek fuse experimental rock and electronics, but somehow grind out real hip hop without any sense of irony or 'look how cool this Missy Elliot sample sounds' tongue-in-cheek humor. However, the musical match-up works well on this EP from Tigerbeat6, further demonstrating that neither artist in the equation here is pinned down to a particular MO. Dälek's contributions from the straight-ahead rap on the Dälek remix to the thick drones of dirty sounds on the original mesh well with Kid606's short-attention span approach to songcraft. 606 seems to take the Dälek material seriously, and with the CD bonus track "Vague Recollection," there's even a reflective moment of pause that recalls equal amounts of the Kid's 'Soccer Girl EP' and Dälek's beat-less live ambiance. Kid606's own remixes of the "Ruin It" track provides the anticipated cut up beats, tiny noises, non-linear structure, and fractured groove that most of his beat-oriented work is like, but it takes the Dälek version to ground the song and really pull it back to earth with a simple head-nodding beat that thunders over the washed out noise beneath. The second CD bonus track, "Satan's Hard Drive," is a recording of Kid606's hard drive failing, a cacophany that almost anyone who's worked with digital audio for any length of time can appreciate, but a track that on its own, holds very little interest other than wonder at the failure of machines. - Matthew Jeanes
samples:
The Black Heart Procession, "Amore del Tropico"
Touch and Go


Black Heart Procession's fourth album marks a divergence away from the band's convention to number each album consecutively, so it should not surprise anyone that the sound of the band has also undergone a change. Within the first few minutes of the album, there are unprecedented female backing vocals which persist throughout the record and end up feeling like more of an indulgence than an affectation. "Amore del Tropico" is supposedly an overture to a murder mystery. Like anyone who has seen the band's live shows, which are robust with masks, disguises, and theatrical distance, I was at first skeptical about the sincerity of this project as a true murder mystery. After hearing "Tropics of Love," the first full-fledged song after a brief opening number, my skepticism disappeared. The song begins with a snazzy up-tempo beat to which you could snap your fingers, and you begin to wonder if they are scoring some lost Raymond Chandler novel, as this song could easily fit into the opening titles sequence. Interestingly, there is an 'Amore del Tropico' DVD forthcoming which will flesh out the narrative of this tropical murder mystery, with each song from the album creating a new chapter. It will be interesting to see if this project ever materializes. From what we have at hand now, I don't think I could tell you who was killed, where it occurred, or what the murder weapon was, let alone solve the crime. Perhaps my bumbling sleuthing is due to the fact that I find it hard to get drawn into this album like the previous Black Heart Procession records. I found myself distracted while listening to the album, trying to piece together the underlying mystery, but disgruntled knowing that I was never very good at solving even the most rudimentary Encyclopedia Brown case. The one time I was fully aware of the album's concept was in "Fingerprints," when singer Pall Jenkins repeats, "They found my fingerprints," amidst a wailing violin which is reminiscent of the fiddle from Bob Dylan's 'Desire' album. While adopting the mood of the murder mystery, the Black Heart Procession have forsaken their signature mood of old, which was grave, dense and swirling. Despite the macabre subject, the newly forged mood seems light and comical. "A Cry for Love" would be a song of the old Black Heart mood, were it not for the punctuating female backing vocals, which sound like they were culled from Isaac Hayes's "Theme from Shaft." The finale, "The One Who Disappeared," returns reluctantly to the older Black Heart sound, and it is comforting to know that, now that the murder mystery has dwindled down to its final clues, and all the leads and hunches have been followed to their end, the band at last can retrace its footsteps back to where they began and start again from where they left off. - Joshua David Mann
samples:
Diverse, "Certified/Build EP"
Chocolate Industries


Chicago's Diverse is twenty-five year old MC Kenny Jenkins, who has been making a name for himself through his craft and collaborations with the mighty Mos Def, Prefuse 73 (see Wylin' Out review) as well as Isotope 217 members Matt Lux and Jeff Parker. At one time a mail delivery driver for a local university (that's his van on the cover), Jenkins honed his MC skills and released an EP entitled "Move." This follow-up EP is a taste of what's in store when a full length release materializes later this year. "Certified" is chock full of socially conscious lyrics which flow relaxed and steadily against the dirty funk guitar driven groove, produced by RJD2, which would sound right at home on one of those 70s 'Pulp Fusion' compilations. Jenkins gives a tight vocal delivery on "Build" over K-Kruz's jazzier channeled production which makes use of subtle muted trumpet and gives a nice and chill kinda feel. Both of these tunes also appear as instrumental versions, which highlight elements in backing tracks that would not draw as much attention with vocals over top. Of course, there's also the obligatory radio edi*s, so as not to piss anyone *ff. Based on this EP, Diverse is a name to keep your ear open for. - Gord Fynes
samples:
Hayden, "Skyscraper National Park"
Badman Recording Co.


Don't blame Canada. It just so happens they have some pretty damn fantastic songwriters. Current exhibit Hayden took the music industry by storm with his self-recorded and self-released debut 'Everything I Long For'. The storm was big enough for him to get signed to Geffen imprint Outpost. Woe to those on Outpost, though, after the Unigram merger, as the label was dissolved in the deal. Many of the artists were snatched up by other labels, but Hayden was left in the cold after the mixed-bag sophomore slump of his second CD, 'The Closer I Get'. So he hibernated. And waited. And went back to his roots, recording again in his home with some close friends. The results are this underrated album that was originally planned as a 1000 copy limited addition, but was snatched up by Badman after demand was high. Not a departure by any means, 'Skyscraper National Park' is instead signs of introspective growth as well as hope for this talented songwriter to finally get the attention he deserves. Where previous works have featured Hayden's low growl, this record has him singing quite capably, even touching Kurt Wagner territory on a few songs. The primary modus operandi hasn't changed, though. Slower, melodic folk rock songs with quirky lyrics are the order of the day, with electric guitar used as a squelch tool and noisemaker on such fare as "Dynamite Walls". And Hayden is clearly finding his voice again after almost three years away from recording. He's a little hesitant, and less than perfect vocally on these songs, but it's still refreshing compared to other home-recorded CDs being released these days. My only complaint is it's length - eleven songs at just over thirty-nine minutes is better than most, but after three years I wanted to hear more. All told, though, it's a great indication where Hayden is now, and where this wave might take him. Look for Hayden's recent live album in addition, as word is it's brilliant. - Rob Devlin
samples:
Schneider TM, "Zoomer"
City Slang/Mute


Dude, I had no idea how BECK Dirk Dresselhaus had become. To be fair, the only Schneider TM that I was really familiar with at all before Zoomer was 'Binokular' from two years ago, which I really liked. But there were only 2 tracks with vocals on that album/EP, and they were fairly understated; on Zoomer, the vocals are pretty upfront most of the time. And he really does sound like Beck (or at least a glossier, techno-savvy, Germanic Beck doppleganger), especially on pop-friendly tracks like "Frogtoise" and "Abyss." I could forgive Dresselhaus for his Beckishness if his lyrics were decent, but to quote verbatim from the lyric sheet: "I had a dream / I cut a frog in half / And a turtle too / oh, oh, oh, oh..." (It's the "ohs" and "yeahs" and "heys" that really get to me.) Some of the singing actually sounds pretty good, if a bit overly chipper. Musically, most of the album is upbeat, light electronic pop, with a little guitar thrown in for good measure. The production is slick and the beats are rhythmically interesting. But Dresselhaus doesn't take many risks, preferring to stay within safe, accessible territory—and unfortunately, it makes 'Zoomer' seem a little dated. There's obviously a lot of talent here, but its overshadowed by Schneider TM's seemingly newfound pop flashiness (see the Beckish cover shot). I guess part of me really wanted this album to be a good counter-attack to the (sigh) "electroclash" mentality of most recent electronic pop. [Note: you can be influenced by New Order without trying to sound exactly like them.] To be fair, the influences run deep on Zoomer, but the end result doesn't stick with me like I hoped it might. The one exception is the album's opener, "Reality Check," which, despite its overused vocoded vocals and flangy guitar, is a fine, catchy pop song that I can't help returning to. Considering that the album also contains the awful "Turn On," with (I'm serious) a guest rapper, the two tracks balance out, returning 'Zoomer' to its natural state of mediocrity. - Nate Smith
samples:
Guided By Voices, "The Pipe Dreams of Instant Prince Whippet"
Fading Captain Series

When Guided By Voices initially left Matador Records to record with TVT, it was rumored that the main point of contention was Rob Pollard's prolific songwriting, and his inability to concentrate on just one release. Solo records, records under different band names, EPs, and singles dotted the marketplace from GBV, and Gerard Cosloy wished Pollard wouldn't cause fans confusion over which release to buy. After all, who has money to buy 9 releases a year from Mr. Pollard? (Especially when some of which aren't any good.) Now, Pollard has the Fading Captain Series, where he releases all of his wacked-out side projects in limited pressings, and they're back on Matador. So it seems surprising that that label is willing to let Pollard release this "odds and sods" collection under the Fading Captain name, especially since it is a Guided By Voices release, not the Circus Devils or Airport 5. Pollard and Co. do thank Matador in the liner notes, but it still feels odd considering the past. But these tracks, recorded during sessions for 'Isolation Drills' and 'Universal Truths and Cycles' are an interesting sort that hint at both the past and present without being either. They're partially in between both aforementioned records—too tame for 'Truths', yet too strange for 'Drills,' which was arguably their most accessible release. The title track is a perfect example: catchy yet annoying, solid yet sloppy, and in your face yet distant, it is as study in contradictions. Which makes it one of the most compelling GBV songs ever. "Dig Through My Window" is better than anything on their last two records, with its careful strings and irresistable melody. Elsewhere, it's more than the same, but with a touch more class. 'Pipe Dreams...' is a quick listen, with ten tracks at just over twenty-three minutes, but it's also a great introduction to this, the most consistent and most hard rocking, incarnation of GBV. Loyal fans will rejoice, casuals will waffle but give in, and once in a blue moon fans will avoid like the plague. And that's exactly the way it should be. - Rob Devlin
samples:
The Mountain Goats, "Tallahassee"
4AD


The Mountain Goats have finally released a true Euripidean goat song, a sparkling Floridian tragedy which places an alcoholic couple whose once true love has soured in a two-story bungalow filled with cases of vodka and ashtrays teeming with stale cigarette butts. We have seen this couple before: they inhabit all the songs with "Alpha" in the title. The difference is now their exploits are being documented with the assistance of a fancy recording studio, sometimes even complemented by bass, drums, piano, and other instruments. It's not that The Mountain Goats have never recorded in a proper studio before. They have. They have just never released an album filled entirely with songs not recorded onto John Darnielle's Panasonic FT-500 boombox. 'Tallahassee' sounds much like last year's Extra Glenns's 'Martial Arts Weekend,' which paired Darnielle with Franklin Bruno (who also appears on this album). This time, Darnielle teams up with Peter Hughes who, coincidentally, also played with Bruno in Nothing Painted Blue. The album ostensibly deals with the tumultuous and strenuous relationship of the Alpha couple. But sometimes it is hard to perceive that the songs are about the lamentable side of the relationship because sorrow usually takes place in metaphor and abstraction (with notable exceptions: "No Children" features the lyrics "I hope you die; I hope we both die"), and the melodies and tones are not particularly somber, doing nothing to suggest that the fall of the house of Alpha is upon us. There are no disastrous downfalls in these songs, only the banal everyday annoyances and grievances which plague most married couples. Unlike every other Mountain Goats release, this album is devoid of the signature frenetic guitar strumming, a strange omission when you consider how suggestive that particular sound could be of the looming animosity which courses through the album, or at least the anxiety surrounding it. Most of the songs are deliberate without being languid. The album starts out with the title track—an ambling and sedate song which takes its time building into a combustible and emotionally restrained ditty, just screaming to be let out of its cage. Darnielle refuses to let it out entirely. His tight reigns are masterfully manipulated and his discipline is astounding. It's not easy to find the chaos fomenting under the skin of each song, even though the liner notes let us know it's there. If anything, it is Darnielle's voice which divulges the entropy underneath. It sometimes twists and writhes with itself, sometimes shrieking in a tenor which would likely shatter the windows in the two-story house where his Alpha couple lives. The gem on this album is "International Small Arms Traffic Blues." The song could be a love paean, with its almost whispered vocals, optimistic coda (the lyrics a reference to either The Eagles or The Emotions), and love sonnet-like metaphor. Each verse begins with an absurd love simile ("My love is like a Cuban plane"), which quickly becomes less absurd as the verse takes shape. When it is all over, you realize how much sense it all makes; how this couple can be in so much grievous trouble behind the scenes of these lovely songs; how dangerously and delicately balanced their lives are on this northen Florida swampland. - Joshua David Mann
samples:
We know that sometimes these CDs are somewhat challenging to find, which is why we have a community section which can be used to obtain nearly everything available on this site.
"Punch Drunk Love"


You've probably heard that this is not an Adam Sandler movie. Add to that, you're probably thinking, it's a P.T. Anderson movie, that just happens to have Adam Sandler in it in a wry casting move by one of young Hollywood's most promising new directors. Well, if you are thinking that, you're wrong. This IS an Adam Sandler movie, albeit one not hindered by former cast members of SNL, not starring a vacuous and impossibly endowed female lead, and not featuring dialogue retreaded from every other Sandler film. As the film opens, we're introduced to Sandler's awkward anti-hero Barry Egan, dressed in a sharp, but painfully tacky blue suit which probably marks the first time Sandler's shown up at the beginning of a movie in anything other than a pair of sweatpants and a sports-themed t-shirt. What looks at first to be a cast against type turns out in fact to be a ruse. Here, Sandler is basically a toned down (but amped up) version of his regularly scheduled misunderstood and maladjusted self. He's scaled back the over-the-top, loony tune histrionics and refocused that out-of-control energy into the bursts of violence that punctuate the film's key scenes that turn the Sandler caricature into a real character. I think that what I was expecting here was something along the lines of Marlon Wayans' performance in 'Requiem For A Dream' (something really off the beaten path for a slapstick comedian). What I got instead was a more tolerable, believable, and sympathetic version of the odd misanthrope that Sandler has played in films like 'Happy Gilmore' and 'Big Daddy.' It's like watching an Adam Sandler film that you don't feel bad about liking. P.T. Anderson does so much right in this movie, from the bits of surrealism that pop up in nearly all of Sandler's films (remember the Penguin and the musical from 'Billy Madison'?), to the unpredictable shifts in tone from playful to creepy. He's managed to keep all of the cues that Sandler films are known for, but he's done it in a way that doesn't insult your intelligence. I kept waiting for the expository dialogue that would explain why Sandler's character was so emotionally off-balance, but thankfully it never came. A typical film with this sort of set-up would spell out in more ways than one the exact disorder, affliction, conflict, or personal background that the lead has been through to make him such a shy and goofy introvert with violent tendencies. But Anderson holds all of that back so that we can focus on the story at hand, the tenuous relationship between Sandler and Watson, and we watch to see how the situation will snap. Because of course it will snap, and it does, with some amazing ferocity. Early reflective moments in the film are almost completely silent with no score and no added sound effects, and they nail the sense of isolation that holds Barry Egan back. In contrast, when he erupts in a restaurant restroom, smashing it with his fists, the sound is blunt and distorted like listening to a migraine tearing Barry apart. It's a stunning effect that finally puts all of the rude violence of Adam Sandler movies into perspective. The final showdown with a detestable Philip Seymour Hoffman shows the kind of maturity that the archetypal Sandler character can hold, when in the right hands. Of course, Adam Sandler will go on to make more 'Little Nicky's' and Anderson will undoubtedly move on to bigger and more complicated fare, but for this hour and a half, it's fun to see the two come together and make it work. Go see this before it Sandler's next movie, an animated feature where he's back in the sweatpants and sneakers, changes your mind about his potential. - Matthew Jeanes
The Truth About Charlie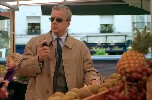 I don't want to know what happened to Johnathan Demme. I used to like him. He made not great, but certainly affecting, films. He seemed to care about the audience, and giving them something to appreciate, to believe in. And suspension of disbelief, a requirement for all film and theatre experiences, was not a problem for Demme's films, as he created a whole world where anything was possible. 'The Truth About Charlie' is quite frankly the worst film he has ever been involved with. The fact that he co-wrote and directed it makes him complicit in every way, and I couldn't help but shake my head the whole time I was in the darkened theatre. The fact that it's reportedly a remake of the Cary Grant starrer 'Charade' is almost a mockery of the original. Thandie Newton, as annoying as humanly possible as a British tramp, excuse me, wife of an art dealer, is shocked to discover that her husband is not the mild-mannered workaholic romantic he portrayed himself as, but yet, well, it's not really clear. He was at one time the member of an ultra secret invasion force for extracting prisoners and hostages, but there is never any explanation for what he does now. Or did, as he's dead in the film's first five minutes, and Newton spends the rest of the movie badly acting, er, trying to figure out why someone wanted him dead, who these new people are that are popping into her life seemingly every day, and where the great sum of money her husband reportedly had ended up. The rest of the support cast—Tim Robbins, Mark Wahlberg, Lisa Gay Hamilton and others Demme's used before to good effect—are lifeless caricatures with horrible lines to recite. The film is void of explanations on many levels. Wahlberg's motivations are in question because of his character, but in the end his motivations are fairly transparent. It's his methods that puzzle us. Robbins puts in the worst performance of his career by far, as a spook who wants to help. Furthermore, the script has holes, strange occurances with no clear meaning, and dialogue that first-year film students could better in their dreams. The last fifteen to twenty minutes are drawn-out pure drivel. It's almost like Demme was trying to make a tribute to his favorite foreign films and directors, and went completely nutbag while filming it. Elements of Truffaut, Fellini, and others mark the film, but at poorly-executed surface level. The real disappointment comes at the very end, though, with the dedication to Ted Demme, Johnathan's nephew, who died of a cocaine-fueled heart attack at a celebrity basketball tournament. As sad as it sounds, even the director of "Who's The Man?" deserved a better tribute than this. - Rob Devlin