23 SKIDOO RE-ISSUES
Ronin
23 Skidoo have one of the most fascinating but neglected bodies of work in the annals of the early 80's post-punk/industrial diaspora, so why haven't you heard of them? Directly related to such luminaries as Throbbing Gristle, Cabaret Voltaire, This Heat, Psychic TV, Current 93 and Coil, the Turnbull brothers have nonetheless been reduced to a footnote in most accounts of the genre, which has led to the total unavailability of their material for the last 20 years. The new schedule of CD re-issues of their entire back catalog by 23 Skidoo's own Ronin Records should rectify this situation; they definitely don't deserve their near total obscurity. With a name straight out of Aleister Crowley's "Book of Lies" and a pair of martial arts-trained brothers at the center of the band, 23 Skidoo seem ripe for a critical rediscovery and re-appraisal. Their classic albums and 12" dance singles presage so many of the developments in post-punk, avant-garde and electronic music throughout the 80's and 90's—sampling, tape manipulation, afrobeat fusion, ethnic percussion, drum n' bass, ambient. Their music has become sampling fodder for countless mainstream dance and hip-hop acts. Listening to these albums is like hearing a crate-digging beathead's secret stash of funky basslines and weird breakbeats, all wrapped up in a package of some of the most influential and idiosyncratic music to come out of the industrial era. Spurred on by the release of Soul Jazz's compilation 'In The Beginning, There Was Rhythm', and the renewed interest in the sound of Sheffield circa 1977-84, these re-issues come at a perfect time for listeners to educate themselves on the multifarious sounds of 23 Skidoo.

It would be hard to imagine a better first album than 23 Skidoo's 'Seven Songs'. A viscerally exciting statement of purpose, and an infectiously listenable album, 'Seven Songs' is probably their most concentrated effort on record. Produced by Genesis P-Orridge and Peter "Sleazy" Christopherson of Coil renown, the album has a nervous, dark atmosphere punctuated by funky basslines, ethnic percussion, and a maze of samples and tape edits. The Turnbull brothers were martial arts experts, reflected in the music's pan-Pacific smorgasbord of influences, and in the "ninja stealth" of the sneakily violent headkicking beats. There is a certain aesthetic perfection here, an intuitive mix of perfectly executed punk-funk that has never really been repeated. Just listen to the opening track "Kundalini", with its phased-noise opening, which is quickly joined by a ring-modulated tribal drumbeat and some aggressive vocal outbursts. The song quickly becomes an intensely funky and nasty hyper-sexualized ecstasy of masculine violence. It's like the audio equivilent of a genocidal terroristic threat. Fans of This Heat, Savage Republic and Muslimgauze, take note. Things get slightly less menacing with the second track "Vegas El Bandito", a fantastic Fela Kuti-influenced afrobeat exploration, with a beautifully paranoid atmosphere and "wokka-ja-wokka" guitars. "Porno Bass" is a beatless soundscape, with windchimes, distorted bass hits, and odd dialogue samples. 'Seven Songs' is a wonderful piece of the industrial puzzle, and a great album in its own right.
samples:

The songs on "Urban Gamelan" have one foot firmly planted in the ancient feudal Orient. When the brothers recorded their 1984 masterpiece Urban Gamelan, they were even more preoccupied with the cold, calculated perfection of the industrial-funk fusion they pioneered. (As a side note, David Tibet of Current 93 was a part of 23 Skidoo's live ensemble during the period leading up to these recordings, although he does not actually appear on the record.) 23 Skidoo's interest in improvised Indonesian percussion, found instruments, afro-beat and funk comes to the fore on this release. The first side builds a giant tower of funk exploration, the highlight being "Fire", in which a wandering bass melody, pounding beat, random echo and zealously screamed vocals meld to form an uneasy dub track which is a lot more creepy than it is rocksteady. This uneasy vibe on all of the tracks is enhanced by the remastering job, which exposes background whispers and electrical drones, lending an air of British esotericism to the ecstatic Zen proceedings. The second side opens with the tense, pressure-cooker trippiness of "Urban Gamelan Pt. 1", an exploratory work for traditional Indo-Pacific chimes and drums. The album's apex is the masterful "Language Dub", which utilizes traditional percussion, wall-of-sound reverb and samples from martial arts films to build a drama that is literally overwhelming. This track fades away into a crystal pool, and we are left with a hauntingly rhythmic swansong.
samples:

'The Gospel Comes to New Guinea' collects 14 tracks originally issued on 12" singles, EPs and compilations. The material included here is truly some of 23 Skidoo's best, making this compilation essential. The title track opens the compilation brilliantly—an insistently dark and repetitive bassline, complex drums, distant horns, and strange human chanting buried way under the mix. This is a breathtaking 10-minute exploration of the depths of the tense rhythmic atmosphere that the band is able to evoke. Also on this compilation is 23 Skidoo's most commonly sampled track, the tightly wound, dance-oriented "Coup". Listeners will recognize the famous bassline later sampled on Chemical Brothers' "Block-Rockin' Beats" and Grandmaster Flash's "White Lines." This collection also includes a handful of actual "rock" songs with full vocal parts, quite rare in the Turnbull brothers' oevre. These fleshed out vocal tracks resemble Gang of Four meets This Heat, and point to a wholly different direction that sounds so tantalizingly great, it seems a shame the band never really explored this sound for a full album. Later in the compilation, there are some of 23 Skidoo's dance singles from the mid-80's. These are some very unique and exciting songs, merging early techno, acid house, record scratching and beat sampling with 23 Skidoo's usual array of congas, tablas and gamelan percussion. This material has held up amazingly well, in constrast to many of the more well known house-influenced material from the period. Psychic TV, I am looking in your direction,...
samples:

23 Skidoo's second collection of singles, EPs and dance mixes, 'Just Like Everybody Part Two' is mostly drawn from their mid-80's output. This compilation is not as immediately likable as 'New Guinea,' as some of the more obviously hip-hop influenced tracks included have not aged very well. The horn trills on "Roninstep" sound a little cheesy, and the song unfolds in a rather predictable way. The production is still top-notch, but 23 Skidoo have picked up a little too much of the slick, faux-jazz sound of their less creative contemporaries, and pushed their ethno-funk fusion to the background. Looking back, some of the sampling and record scratching sounds a little clinical, as if the band was self-consciously pushing itself in a direction that may not have been completely in line with their natural evolution. That said, there are still some great moments here, several terrific songs with infectious beats and sample-ready breakbeats. The CD ends with an interesting retread of on of their greatest songs, "Coup." "Recoup" picks up the same tasty bassline, but adds some interesting horn fanfare, an occasional dub echo, and a complementary piano melody. An interesting, if unnecessary, update of their classic track. - Jonathan Dean
samples:
COH, "Seasons"
Idea


The fourth release from COH this year is the first all-new recording. Four paintings and four pieces represent the year's four seasons, recorded and painted from summer 2001 to spring 2002 by Ivan Pavlov and his wife, deliberately conceived and packed on a limited double 12" vinyl set in a glossy gatefold cover. The concept itself has obvious parallels to Coil's Equinox / Solstice project: COH's approach is different, less magickal perhaps but not less impressive. "The Colour Of Beauty, Summer Is Red (A Forest Fire For Fèlix Lajk?" starts with a 'suffering' violin by Janesse Stewart set against Pavlov's computer-generated structure. His idea of summer is quite different from the obvious ones; there's no hint of beach life or good times outside but an instant pressure, like when the heat reaches its peak and people are about to turn crazy. The accompanying painting is the front cover and the listener follows the trees trough the year graphically and musically. "As Ripe As Autumn's Tears " is very sparse and melancholic. The autumn tree itself is overripe behind the pouring rain. A field recording by Peter Christopherson of November rain opens the piece before COH plays the Grand Piano in an abstract somewhat minimalistic way. Both the artwork and the music work well together as the overall mood is very calm and bordering on ritualistic. "Winter Broading Underneath," once again features J. Stewart, this time on cello, but only echoes of it are recognizable in the frosty and compact drone piece. This is the shortest and harshest of the four. Bleak trees in the dark accompany this one graphically. "Springs Come Shooting: Make Love, Make War" closes the circle and is the most accessible track. In the beginning, this is reminiscent of COH as he is known; a sparkling optimistic manipulated sequence by Tin-y dominates the first half until it crashes into an heavy drone guitar solo by Ivan Pavlov. Dedicated to the god Mars and the artist Russel Haswell (probably in reverse order), the trees on the back cover grow together in an act of love in front of a blue sky. 'Seasons' is probably his most sincere and ambitious work yet but also his most unconstrained in use of structures and instrumentation. It's a great and promising step sideways from his semi-laptop-pop stardom and may even be a glimpse of what the future might bring. As the edition is quite low (only 400 pressed), I recommend pestering Idea's distributors if there are difficulties finding it. - carsten s.
samples:
"Lockers"
E.R.S.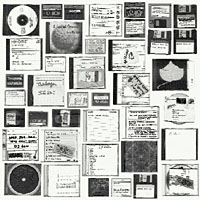 I don't think I will ever get tired of the novelty of locked-groove records. Originally released in 2000, this compilation is making its rounds again. What sets this pile of locked grooves apart from other similar releases like RRR 500 or Non's 'Pagan Muzak' is that a large number of these are actually based on beats. Sure, the usual "experimental" suspects come out to give a titter of noise like Merzbow, Janek Schaefer, Stilluppsteypa, and Oren Ambarchi, but it's the contributions from the heavy dub of Twilight Circus, the techno pop of Studio X, and a host of others who actually make the most out of the fractional seconds they're allowed to make a decent sounding loop. (I tried to figure out the amount of time in split seconds which has to elapse near the center of the record versus near the edge of the record but I gave up trying.) At some point I'm planning to try and find a second copy of this record and do some sort of turntablist day on the radio, playing nothing but locked grooves, winding in and out (including all of those tigerbeat6 7" single releases too), but the chances of finding another copy of this record grow slimmer and slimmer. As quickly as it re-appeared, it seems to be vanishing. - Jon Whitney
samples:
the clientele, "haunted melody"
Merge


Just when it seems that there's no such thing as any uplifting sounds in indie rock, a quiet voice is heard from the other shores from what could be a distant time. The Clientele are based in London, but could easily be a dead ringer for the Mersey sound of the late 1960s. The band has kept to their guns and have still not yet released a full-length start-to-finish recorded album (only a number of 7" singles, EPs and compilation appearances, gathered on a full-length recording but that doesn't count). The latest pair of songs materializes on a cheap 7" from Merge, equipped with their staple of faintly delivered vocals over deceptively complex melodic structures recorded on high-hiss sound gear, probably far older than any member of the trio. The A-side clocks in at barely over two minutes, and while it's not as singable as some of their most famous refrains, like "I want you more than ever," it still is a tasty treat to savor as the weather is nippingly cold outdoors. The B-side, "Fear of Falling," is another uplifting-sounding gem, which, despite it's phobic title, sounds more like a yearning for the summertime and being outside. What all their lyrics mean together, I'll probably never know without first finding out what exactly is being said, but in the meantime, the songs are good enough for making tapes and taking long journeys to. - Jon Whitney
samples:
lali puna / isan split 7"
Unhip


Not to be outdone by retro obsessiveness of analogue (and oddly enough days of the week), the latest Lali Puna song to surface comes perfectly equipped with crackly 78 rpm vinyl sounds. The song is a bit of a departure for the group as it is has beefier percussion and beat sounds, a slowed down tempo, and the spoken drone of Valerie with a minimal number of musical instrument sounds. It's almost as if this is the band's attempt at creating their impression of a surrealistic musicbox number to be used as the musical backrdop for a Brothers Quay short. ISAN's side is unsurprisingly an unoffensive melodic number from the duo, underscoring recordings from a British newscast. Originally recorded in 2001, the song could easily have been a throwaway track as it's not even nearly as musically compelling as anything on their 'Lucky Cat' release last year on Morr. Future split 7" single releases planned for this growing Italian label include Pan•American/To Rococo Rot, Calexico/Black Heart Procession, Califone, Geoff Farina, and Melt Banana. (Unhip, my ass!) - Jon Whitney
samples:
isan / phonophani, "postcards vol. 2"
Audio Dregs


I think there's only so many ways you can describe four-minute pretty little melodies. There is something, however, in this Isan recording from 2002 which makes it somewhat sounding more like a strong A-side for this single than the B-side of the split with Lali Puna. Perhaps it's due to the fact that, in comparison to the Phonophani song, Isan has a much stronger interest in melodic structure within a strict time signature, while Phonophani easily sounds like randomized synth noodling within a key signature put through some fuzzy distortion. By the end of the Isan track, however, the melody hasn't gone far, while at the end of the Phonophani track, the tune has evolved from slow trickle of individually sounding tones to a downpour of notes. More than four minutes of this and I would probably run screaming for the "eject" button on my turntable. The synth sounds for both artists are undeniably as sweet as a cavity-inducing baklava but after digesting just these two, I'm feeling that I want something with a bit more flavor. - Jon Whitney
samples:
sybarite, "scene of the crime"
4AD


Much like Isan, Xian Hawkins has also built a strong career on a number of incredibly noteworthy electronics-laden 7" single releases. This one is no exception. Released shortly after his full-length 4AD debut, the A-side is a brand new song while the B-side, "The Fourth Way," is an alternate version of "The Fourth Day" from the 'Nonument' LP. The two paired together prominently feature Xian's adventures exploring the sound of the human voice, something uncommon to the Sybarite sound. "The Fourth Way" features vocal samples while "Scene of the Crime" features singing by Jennifer Charles. In both cases, the vocals work fantastically alongside Hawkins' multi-instrumental electronic playings and reprocessings. "Scene of the Crime" has some amazingly strong guitar sounds while "The Fourth Way" has one of those melodies that gets stuck in your head all day long. Hawkins is used to recording and releasing music in tiny batches and, in all honesty, I think the quality of each of these two songs alone is far superior to much of his full-length album. A CD version of this single contains one additional exclusive track, "International Date Line." Sybarite's 'Travels in Constants' EP should be available either now or very soon from Temporary Residence. - Jon Whitney
samples:
Rumah Sakit, "Obscured By Clowns"
Temporary Residence


Rumah Sakit craft instrumental rock with fierce energy and a bizarre structure that achieves stunning results. After their debut album on Temporary Residence, the members took a hiatus to concentrate on their other projects. Then they recorded some more, and those tracks appear here, but now, they're on hiatus again. Only two albums in three years might make some wonder about their longevity, and, in fact, there are rumors that this album may be the band's swan song. If that is true, this would be a fantastic final effort. These songs crackle with the energy of a practiced ensemble, a group that has grown very comfortable with each other and is now ready to create almost symbiotic music. They are in the pocket on every note, and it's a joy to listen to. Considering its members are in other groups like Sweep The Leg Johnny and Howard Hello, as well as the Tarentel connection, this group is very energetic and focused, unlike most others in the genre. The instrument choices are very generic rock on this release, with bass, guitar and drums creating the noises, but it's no slouch for it. These songs are the band's best, and they know it. The ten-minute-plus title track starts and stops several times with perfect precision, while the strangely titled 'No One Likes a Grumpy Cripple' soars with squelching solos and ecstatic drum fills. Known for their amazing live shows that have to be seen to be believed, Rumah Sakit have also seen it fit to include a couple live recordings on the CD, as well, just to prove it's all for real. Of these, 'Go Horsey Go' is the more interesting, as it begins with a delicately played guitar arpeggio, then builds to a full firefight with all guns blazing. Hopefully it's not their last, as there's still a lot of mileage in this group of players.- Rob Devlin
samples:
Tarentel, "Ephemera"
Temporary Residence


Few have suffered the changes and shifts Tarentel have and continued to make music. After at least six personnel changes (and at least as many releases, including two full-lengths), Tarentel collect their singles from 1999-2000 here on one CD. Tarentel have always created sprawling compositions, often with very simple beginnings that build to more orchestrated heights, and this release shows their evolution as a group well. It all begins with "The Waltz," with very pretty guitar and bass in—you guessed it—waltz time, which is a very solid instrumental track though not very original or grabbing at first listen. The experimentation with laptop noise begins on "Looking for Things," another gorgeous track with insular sounds jutting in for effect as well as what sounds like sampled radio at the end. Things really get going with the visceral double-shot of "Two Sides of Myself" parts One and Two (also the shortest tracks of the album), with a haunting structure and feel. These tracks were the most moving to me, as they do show two sides to Tarentel: the structured, planned side, and the morphing, amoebic side. Both are effective, but only because the band separates them so well here. Together, they don't work as well. Especially when they end up resulting in a twenty-five minute exploration like "Searching for Things." It probably started out as a great piece of music, but then it gets dragged out for no apparent reason with echoes of percussion and guitar in the background and seeming transmissions from space and guitar in the foreground. I like Tarentel, and this release works well to show their strengths and compile their ever-changing sound. I'd just like to hear more music in the huge span of time. As a whole, though, this is great music for aquariums, from the shark tank to the sardine bowl. - Rob Devlin
samples:
Funki Porcini, "Fast Asleep"
Ninja Tune


As the title may suggest, the latest release from the once nomadic James Bradell (aka Funki Porcini) is a wonderous collection of musical dreamscapes and headnodding grooves to relax with. Assisted by the musical (and visual) talents of Team Alcohol (Rupert Small), the disc's fourteen compositions, comprised of droning synth and guitar layers, funky, jazzy rhythms and sampled dialogue that sounds right out of a sci-fi B-movie, vary from subtle to conspicuous. Tracks like "Last Night Over Norway," "Offshore Birmingham" and the aptly-titled "Sleepy" can evoke the urge to turn down the comforter on a lazy weekend afternoon, while the B3-driven "We're Out Of Here" and "16 Megatons" will have you poppin' your fingers with a smirk. Most noteable is the seriously slippery-grooved "Weow," which sounds as if The Orb were jamming with The Meters. Accompanying the disc is a DVD of eight visual interpretations (six tracks from the disc, plus two bonuses) which explore the world of macro photography and seamless loops, all synching up beautifully with the music. It's a great multimedia artshow for your living room without the overpriced drinks and snooty, turtleneck-wearing people. - Gord Fynes
samples:
Loscil, "Submers"
Kranky


When we left Loscil—aka Scott Morgan—last, he had released his debut 'Triple Point' to much acclaim, and was preparing to tour behind the release. That was scant a year ago, and now Loscil is back, having toured the earth and recorded a mother of a concept album. 'Submers' is very much a continuation of the same ideals Morgan has upheld before—singular artistic vision, music created on keyboards and computers—but he plumbs new territories this time around. Each track is named after a submarine, and the songs all have an eerie spaciness that makes them feel very detached in nature. Very appropriate for songs about huge metal vessels that travel miles below the ocean's surface, for defense use or not. The sound is very much the same, though this time I got the feeling of a more cohesive release than the last CD. Songs blend into each other well with dense keyboards and simple click beats over top. Then they build, adding intensity and textures/flavors until they achieve fervent but understated pace, then fade out gracefully. Morgan has a real ear for production, and these tracks are crystal clear, with a violent tension that sits just underneath it all, waiting to pounce, but revelling in the torture of not attacking instead. There are tracks that sound like sonar bouncing off the hull of a ship, or the slow pulse of the "caterpillar drive" from "Hunt For Red October". The whole time I listened, I felt very much alone, and the thought of that almost drove me insane. The album closes with an almost funereal requiem called "Kursk," after the Russian submarine we all saw on CNN with tales of its fallen crew. It's a tribute and a dirge, a respectful sending up of these men who subject themselves to unreal situations and fears—the ultimate bravery. Loscil gains major points for dreaming up a concept this brave, embracing it, and succeeding in creating a moving and stirring listening experience. - Rob Devlin
samples:
Jel, "10 Seconds"
Mush Recordse


Jel's '10 Seconds' is a celebratory exercise in connecting music (in this case, hip hop) with the machines that make that music possible. '10 Seconds' refers to the amount of sample time that a producer can squeeze out of a vintage E-Mu SP1200 sampler, something that Jel argues is a seminal driving force behind hip hop music production. While hip hop may not owe as big a debt to the SP1200 as it does to the Technics SL1200, he makes a convincing case for the machine's place in the hip hop sound arsenal, and demonstrates its versatility across 23 mostly short instrumental jams. The SP1200's gross limitation on sample time meant that hip hop producers of years past who relied on samplers rather than turntables to construct their beats were required to find creative ways to cut up the samples, loops, and beats to keep a three to four minute song interesting. Listening to '10 Seconds,' it seems apparent that not all of the sounds here come from an SP1200, but judicious use of editing and loop splicing generates some terrific grooves. The grainy, lo-fi quality to most of the beats and melodic fragments on '10 Seconds' owes less to an attempt at kitsch and more to a DIY ethic of music production, where bedroom producers take a piece of gear with hefty limitations and tear up their record collections, only to piece them together again into something new. But the most refreshing thing about '10 Seconds' is not that it demonstrates the depth that an SP1200 is capable of in the right hands—it's that Jel freely expresses a love for music and a vibrant spirit that throws polished studio production to the wind in favor of a direct connection between the composer and the rhythms he constructs. - Matthew Jeanes
samples:
OMA YANG, "BANG BANG"
Slowdance Records


"Bang bang! That awful sound!" said Cher in a song of the same name, and like any critical listener in search of a cheap laugh I was primed to apply that reference here. After all, it's easy enough for an instrumental rock group to come off as either hideously discordant or sleep-inducingly masturbatory. But the problem is, even the most awful sounds on Oma Yang's second full-length release are sublime, and theirs is the sort of masturbation you'd pay good money to see (though you might not want to volunteer for clean-up duty afterwards). On the front cover of this particular 'Bang Bang' CD, a sloppy-looking man wearing wet, baggy underwear contemplates an algae-spotted river from the shore. On the back cover, he just dives right in. Drums, bass and guitar come together on this occasionally harrowing mix of tracks, sometimes joined by a welcome synth or organ. When these guys throw rock, jazz, and smooth psychedelia into the mix, does it work? It can be as beautiful as a quiet, echoing horn on "Oh Yeah...I Get Jokes" and as jarring as the tempo changes and discordant notes on "No Backdoor To Heaven, Just A Front Door To Hell." Somehow, even the studio trickery and synth warblings of "A Paper Bag Holds Great Secrets" manages to fit in and sound chummy. Just as the jangling and thumping begins to get on your nerves the mood will switch to something placid as a rippling brook (a quiet song you could knit a sweater to while humming along)...but before the track is over that sloppy guy will jump right in again and shake things up, dropping stitches and jumping influences, proving that the Oma Yang guys know more than just how to write cute song titles. The best songs on this CD are over five minutes long, allowing the band to expand, twist, distort, and demolish their theme, leaving me eagerly awaiting the day they decide to record a single hour-long track. "Awful sound?" Well, occasionally yes, but in a good way. Sometimes lush, sometimes minimal, always capable and never dull is Oma Yang.Muffy St. Bernard
samples:
We know that sometimes these CDs are somewhat challenging to find, which is why we have a community section which can be used to obtain nearly everything available on this site.