Bill Hicks
Rykodisc


If you aren't familiar with the comic genius that is Bill Hicks, you're not going to get a chance to hear anything new from him. Unfortunately, he died of pancreatic cancer in 1994, never quite achieving the acclaim he so richly deserved. Only after his death has there been an increase in interest about the man from both big personalities (Radiohead and Tool have dedicated albums to him) and regular folk. Hicks wasn't so much a comedian as he was a social sermonist. He would lecture about the many futilities in our twisted, twisted world, about the Kennedy assasination, about US drug policies, and about Sonic the Hedgehog and Clam-lappers Volumes 1-90 (his Blockbuster video receipts showed these as his most frequent rentals). Some of his routines have seemingly been borrowed or flat-out stolen by other comedians (Denis Leary's routines about smoking are dangerously close to Bill's) but no one did them as well as Bill. Unfortunately, there has been very little available from Hicks that truly show the genius of this great loss to comedy. There's a few bootleg videos floating around of him, and a few official ones on Sacred Cow Productions and BBC Channel 4 Video. The best evidence continues to be issued by Rykodisc, who have released seven Bill Hicks CDs, two just recently. For the uninitiated, 'Philosophy: The Best of Bill Hicks" is probably a good place to start. It's a collection of tracks from the first four Rykodisc CDs with no added material.



Bill started out rather tame if you consider his later, expletive-ridden, Lenny Bruce-like rants. 'Dangerous' was recorded in New York over several nights, and it's just dead hilarious from the onset. His takes on smoking and drugs, staying in hotels, the state of modern music (George Michael and Debbie Gibson are HUGE targets), and the like may seem dated now, but you can think of more modern equivalents and just wonder what Bill would have said. Considering the fact that the work is over 10 years old, it still holds up very well. Bill shows early on that he doesn't take his job lightly, and that wherever he goes he's takin' you with him, kicking and screaming if necessary. The CD also contains one of several classic Bill Hicks show-enders: a speech about feeding the hungry of the world so we can explore space together. It may seem corny, but coming from Bill it's practically a revelation.



'Relentless,' by far, is my favorite of the series. Some of his earlier material is here, just in a different form. His rants on smoking and drugs have new slants, and his stance on the news, his ideas for stunts in major motion pictures, and his take on the Persian Gulf War are priceless. Plus, they're just as timely today, with the son-of-the-Bush planning to take us in for what Daddy couldn't finish. 'Relentless' also features a new facet to the Bill Hicks aura: music. The last track on the album is a song called "Chicks Dig Jerks," performed by Marblehead Johnson, Hicks' band with producer/engineer/friend Kevin Booth. It's not that great a song, but the way they present it on the album—with Bill seeming to leave the comedy club at the end of the night, getting in his car, and finding the song on the radio—is classic.



Next in the series is 'Arizona Bay,' a title taken from Bill's belief (and hope) that Los Angeles will eventually be "flushed away like the turd city it is" in a major earthquake, leaving ocean-front property in Arizona. This CD was one of two completed mere months before Bill's death, and represents a major step forward. Music is present on this album more than any other, integrated into the album for segues and complete songs. Bill is in rare form, especially his analysis of the LA Riots, which he narrowly avoided to perform a few shows in London. One of my favorite bits of Bill's ever is his scathing diatribe on the Kennedy assasination: at one point he remarks that people always tell him it happened a long time ago and to let it go; Bill's response is "Okay, then don't bring up Jesus to me. I mean, as long as we're talking shelf life here." The music isn't all that great, but considering the fact that it's Bill on guitar it's a pretty good mix. The album closes with yet another classic Bill ending: his Elvis impression.



The last in the original series, 'Rant in E Minor,' is taken from Bill's final performances. It's also his most offensive material ever. Not that it's a bad thing, at all. It has less music, which is also not a bad thing, either, as it leaves more room for comedy. Bill pulls out all the stops on 'Rant' to provide a twisted view of consumer culture. COPS, Bill Clinton, Rush Limbaugh, artists doing commercials, pro-lifers, and religion in general take a firm bashing, as Bill lets it be known that he will tolerate NONE of it. "You do a commercial and you're off the artistic roll call, and that goes for everyone... except Willie Nelson. Twelve-million-dollar tax bill, Willie got a little looser than the rest of us. I just have to turn my head when he does Taco Bell commercials." The rendition of said commercial that follows deserves entry into the Comedy Hall of Fame. It's easy to see why so many prefer this CD, as Bill is at his most honest, like an open nerve exposed for all to poke at and examine. That alone makes for brilliant comedy, but also gives us insight into the man behind it, as well.



The two new releases are unique because of their material, but also because of their circumstances. Where Kevin Booth, Bill's best friend and producer in most everything, was involved in the first five Rykodisc CDs, he's completely missing here, as these sets were brought to life by Bill's family. Bill apparently recorded most every show he performed (standard for a lot of comedians), and those tapes belong to his family, so we are promised more unreleased Bill Hicks material. 'Love, Laughter, and Truth' is a collection of material that cannot be found on the other discs, and, most probably, any of the videos of Bill, either. It is also the shortest of all the releases, with just a little material being highlighted in its forty-five minutes. It also has terrible sound quality, something that the engineers have tried to correct in bringing the CD to light but haven't really made vast improvements on. This is one of those CDs that people will want to own so that they can have the entire collection (I bought it, and several of his videos in PAL format from foreign sources; now all I need is a multi-system VCR). Not for the casual listener, but still fantastic and better than most any comedian you'll hear nowadays.



The crown jewel in the set is the complete and (mostly) unedited Bill Hicks stand-up routine. 'Flying Saucer Tour Vol. 1' is the first in a promised series of such recordings, chosen for their content, situation, and quality. The show is unedited, except for the fact that (perfectly situationally humorous) the tape ran out before the show was over. So, they cut the portion that didn't fit and added the ending from another show. This particular show was also chosen because of the audience Bill was performing for. The powers that be noticed that Bill put on better shows when the audience didn't "get" him, and that was certainly the case more than once. Bill's reaction is by turning into the pale-faced demon he used to proclaim himself and doing his absolute best to win them over. Here and there, he succeeds. But for me, it is yet again a reminder that no matter what happens the show must go on. Bill is having the most horrible show of his life (one of the tracks is actually called "Worst Audience Ever") but he still does his best. Considering that, and the fact that the show serves as an even greater reminder that he didn't ever gain popularity, it's the best of the series. You want to know why Bill was banned from David Letterman? Why Tom Waits says "he will correct your vision"? Why Dennis Miller and Brett Butler call him one of the greatest comedians ever? Finally, you will. - Rob Devlin
samples from Relentless:
samples from Arizona Bay:
kippi kaninus, "huggun"
Kitchen Motors


Some of the lucky few reading this might remember Gudmundur Vignir Karlsson as the polite Icelandic guy who opened up for M˙m on their North American tour earlier this year. His debut album is the first full-length by a single artist to be released by Kitchen Motors. It might seem somewhat odd for a label whose prior releases have consisted of live and often improvised multi-act collaborations to choose a one-man studio nerd for release, but, for an electronic record, it has an almost undescribably improvisational feel. While the album opens with beat-friendly glitched up numbers, it's not long before piano, looped and manipulated spoken word, and light environmental sounds (like cows) find their way to the mix. Karlsson isn't satisfied enough with the proverbial beats which line nearly every other laptop musician's albums, so a variety of other tempo-keeping devices—including a metronome and what sounds like metal cans and pans—are introduced and take over when the electronic beats run their course. The melodies are pleasant and unobtrusive, with very little surprises, making this a very safe album to have playing on the walkman while enjoying a hot beverage and watching all the crazy holiday shoppers rush in and out of hectic downtown shops. It's peculiar enough to keep the mind active, making up original stories about where people are from, what they do for a living and how couples met. Kippi Kaninus (latin for the muscle that controls the smile) never feels like it's trapped by the rules of chin-scratching glitch or snooty modern compositional piano, and Karlsson isn't afraid to bring sounds in and out as he feels. He's got an amazing ear for the balance of sounds and when progressions need to change and evolve, his only obstacle now is to break free from 3-5 minute passing thoughts and fully develop his melodies into wonderful, full-bodied, buxom songs. - Jon Whitney
samples:
"Strewth"
Synaesthesia


In a blind taste test, 4 out of 5 people said this was a new Ryoji Ikeda album. Subtitled "an abstract electronic compilation from Australia & New Zealand," here we find various characters churning out digital mulch for your vibrational pleasure. From Xenakis-style micromachines to feedback clock chimes, to the VST sausage grinders that are so popular these days. Speaking of which, there is an alarming trend among many musicians of this genre to put out a product that could be sold under anyone's name. It is an unfortunate by-product of modern audio software that a lot of music emerges with the same zippery sheen. Unlike previous comps coming out of the underside of the world (such as the "set reverb unit to 20, touch your guitar haphazardly and moan" —a.k.a. "NZ noise" output so widely revered a few years back) this one doesn't establish a regional flavor to the glitch. That said, what we have here is an enjoyable collection of volume swells, feedback squalls, clipped rippage and single-ball-bearing-inside-a-water-tower moments. Standout cuts for me were Candlesnuffer, Oren Ambarchi, and Netochka Nezvanova. - Jesse Niemenen
samples:
Andre Afram Asmar, "Race To The Bottom"
Mush Records


'Race To The Bottom' is an ambitious work by Andre Afram Asmar, who has assembled a hefty list of guest musicians and vocalists to lend his dub-centered compositions an authentic world music depth. The liner notes read like those of your typical Bill Laswell record, and Asmar treads some of the same African and Middle Eastern influenced dub paths that Laswell is known for. But 'Race To The Bottom' feels more like a collaborative homage to diverse sounds than the often forced 'let me sit in on a session' vibe that some of Laswell's recordings draw out. There are nods here to abstract hip hop, Brazillian rhythms and African drumming, and it all flows seemlessly from a single source as if the world's non-western musical forces all got together to kick out the jams. Vocals skate between traditional sounding hyms to droning chants and mantras that roll right along with dubbed-out effects applied to dejembes and doumbeks. The subtle infusion of sampled beats and studio-manipulated textures keeps the album from sounding too much like an Epcot Center jam session, while the Middle Eastern timbres add a somber tone to songs like "Race To The Bottom" and "Camel Clutch." Everything is glued together with a heaping dollop of Jamaican dub bass and spacey delay, and when the songs are most dense, they take on the familiar, experimental quality of music made in the presence of a lot of hallucinogenic plants. But what makes 'Race To The Bottom' such a rich experience is that despite the forays into mind-expanding studio effects, the theme of the album is one of connecting and reflecting on global suffering. There are both pain and hope laced throughout the beats and synths and repeating vocal phrases that elevate the album above being just a clever amalgamation of worldbeat styles and downtempo grooves. - Matthew Jeanes
samples:
"orang-utan"
Goppa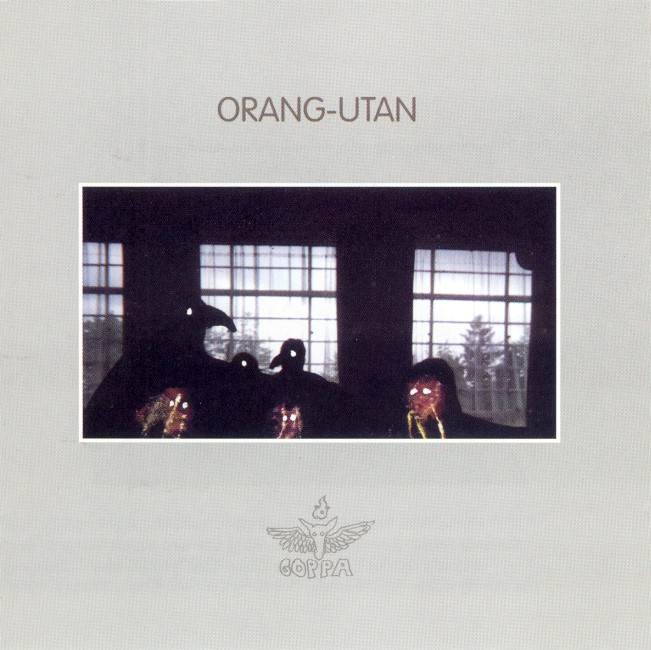 Various artist compilations can be difficult to peg down, especially when the styles flip-flop from track to track. Goppa relaunched their label earlier this month with this ten-song compilation of all exclusive pieces by musicians either from Ireland or who frequently work in Ireland. Thankfully it's not another one of those beer drinking comps with green covers that show up sometime in mid-March, but it does open with a piece by The Tycho Brahe, which is undeniably rooted in folk music. The high pitched voice and acoustic instrumentation is long forgotten by the time the short electronic bit by Daniel Figgis is in full effect. Surprisingly enough, Aranos' vocal/violin contribution and the twittering, comical collaboration between King Camera and Volcano the Bear (sounds like a muppet being spanked) are brief and over in a blink, while the following track from The Jimmy Cake is a welcomed lengthy bit of improv drones with bells and horns. The elusive Melanie Finch is perhaps unknowingly reaching for the Diana Rogerson award for this comp, with an uncanny Aranos-like violinist backing her up along with drums, detuned guitar and sloppily played bass guitar. Nurse With Wound has donated the slightly shorter, slightly altered, 'slightly green librarian mix' of "Die, Flip or Go to India," which originally appeared on the Current 93 collaboration, 'Bright Yellow Moon' last year, while PKD's track, "In Circles, Back to Back," is experiencing borderline techno disorder with it's thumping repetitive electronic beat for the first half. The disc is rounded out by a short, forgettable dark post-goth bit by Belinda Quirke and a fantastic surrealistic horror ride from Artificial Memory Trace equipped with sub-end rumblings and an arsenal of unidentifiable sounds which tense up and break like a loose floor panel which cracks underneath you, plunging you to an impending doom right before you wake up. For an introduction to a number of these artists, a little more artist information might be nice, but much like the tape-only compilations back in the 1980s, the mystery is half the fun. - Jon Whitney
samples:
telefon tel aviv, "immediate action #8"
Hefty


Speaking of discovering unsuspected gems, Hefty's Immediate Action series has almost been revived with this EP from Telefon Tel Aviv. The first wave of the series came as a flood of limited 12" singles, some were entirely of one artist and others were collaborative works matching up a couple Hefty frends and mainstays. While this disc keeps up the mish-mashing of folks—with remixes from Slicker, Prefuse 73 and the first appearance of female vocalist, Lindsay Anderson (of L'Altra)—its non-limitedness and CD format make it seem like a completely different beast. To me, this EP doesn't feel like it's part of a multi-part multi-artist compilation, but an appropriate stopgap between last year's fantastic debut from Telefon Tel Aviv and the follow-up, whenever that's due to arrive. The opening track, "Sound in a Dark Room," is a brand new recording and the first time a guest vocalist has actually sung for the band. It keeps with TTA's tradition of clean instrumentation, chopped up electronic beats and strong bass guitar work while the vocals add an entirely new dimension to the music. While some might like this added bit of personality to the somewhat robotic sounds of the duo, I can't say I'm completely sold on the idea of a vocalist in the mix, especially as the song becomes a wishy washy love song once words become audible. The other non-remix track on here, "8 Track Project Cut," was recorded back in 1999, and, while the choppy beat techniques and crystal sound of their debut can be hinted at here, it sounds sterile enough to be an electronic music student's midterm. The Slicker remix of "TTV" doesn't do much different than the original version on the album while the short alteration of "Fahrenheit Fair Enough" by Prefuse 73 is almost an instrumental hip-hop by numbers at this point. You know it's the dog-end of a year when things are becoming almost too predictable. - Jon Whitney
samples:
Big Tex, "Authentic Songs of the Old West"
Crunch Pod Media


IDM is easily be one of those styles that most people just don't get. And that's good. Because most people don't know anything about good music. That's right: the vast majority of the populace is made up of sheep that don't know any better. Or cattle. Cattle that need to be led. Cattle that need to be roped up and put where they belong. We need a cowboy. And sure enough, riding over the plains comes Big Tex, ready to bring us the sounds of cattle 'rassling. Welllll, not really. The sound of Big Tex is one that can rope you in, but only if you're an intense lover of the machine-noise style. Otherwise, it's a real big turn-off. There is certainly a lot of promise on this disc, and considering it took Tex a while to put it all together he's probably got it in him to better this set. 'Authentic Songs' is really a disjointed set, with the album starting and stopping with all the precision of a skipping CD player. In fact, there isn't a composition with real substance beyond knob-tweaking and squelching until the eighth track. There are a few interesting rhythms, but they either don't last long, or they never build past the point of introduction. "Gravy Mouse," though, is where Tex lets loose and the boogie gets laid down. After that, it's a thoroughly enjoyable listen, with "Beat Me" and "10,000 Gallon Hat" leading the drive. There are some throwaways or interludes in between here and there, but, again, a lot of skill and prowess at work that will someday blossom into a great album. 'Authentic Songs' is a fine debut, though, and well worth a concentrated listen. - Rob Devlin
samples:
Tha Blue Herb, "Sell Our Soul"
Tha Blue Herb Recordings


On a trip to Japan, I asked a record store employee in my best broken Japanese, "How is Japanese hip hop?" His non-verbal reply said, "eh, it's not so hot." But after he thought about it for a minute, he pointed out a listening station with a disc by Tha Blue Herb, and I'm so glad he did. While most of the Japanese hip hop scene is languishing in the cliches of American B-Boyism only glimpsed in movies, Tha Blue Herb are creating some of the most vibrant and original hip hop anywhere on the planet, putting most of their western counterparts to shame. 'Sell Our Soul' opens with the a cappella "Shine On You Crazy Diamond" (no, it's not a cover) that introduces the idea that rapping voices are as much an instrument of rhythm and tone as they are the carriers of linguistic content. Not understanding Japanese doesn't detract from these songs, whose intelligent lyrics are kindly reprinted in English in the liner notes. Rather, without an understanding of most of the words, for me the voices become another texture, splattered over the rest of the mix like buckshot. The opener is followed by a banging introduction to Tha Blue Herb's production style. The beat sounds like its falling down a flight of stairs, rumbling a slow bass line as the MC, Ill-Bostino, begins to spit out polyrhythmic internal rhymes like it's nobody's business. The beats, assembled by O.N.O., are a cross between the skittering, spastic rhythms of IDM and broken record lock-grooves, and are usually accompanied by ethnic instrument samples played in staccato jabs that would make Timbaland jealous. Track six, a melancholic 13 minute epic called "On The Street" opens with the lines "According to karma, I will die by mistaken identity/ It's not funny, that fate is itself a mistake," and carries on with a spoken intro that slowly evolves into a bluesy tone poem that is weightier than all of the so-called 'cinematic hip hop' I've heard this year. Ill Bostino is a gifted vocalist and lyricist, who is matched perfectly with the fractured, demented beats on tracks like "S.S.B." Tha Blue Herb achieve that rare synergy where the rapper and producer combine to form something more otherworldly than either could produce alone. Sadly, this record isn't distributed in the West as far as I can tell, which is a real shame because it should find a huge audience in beat-loving, glitch-watching heads that follow acts like Prefuse 73 and Funkstorung. Hopefully, 'Sell Our Soul' is a sign of things to come from Tha Blue Herb, and from the Japanese hip hop scene that is faintly, desperately trying to carve its own niche in what has become a global culture. This is, without reservation, my choice for album of the year. Now, let's hope that this record and Tha Blue Herb's debut see a release outside of Japan in 2003.- Matthew Jeanes
samples:
Repeat, "Pool"
cut


Repeat albums are never bad and never great, though it seems like each one is just a shade away from one or the other. I'm not sure what could push these guys over the edge into greatness, but perhaps there is a tension that I expect in contemporary improvised music which is just not present here. What I'm percieving as a lack of tension might also be an ambivalence on the musicians' part about what exactly the group is about; are they trying to be pretty and melodic? an electronic improv band? ambient music? It's hard to tell. What might, in some other case, be an interesting break in genre comes across here as merely an underdeveloped idea.
The duo, made up of Jason Kahn (a drummer who has fully embraced electronic processing) and Toshimaru Nakamura (a former guitarist who misleadingly describes his current instrument as "no-input mixing board"... misleading because he's playing the electronics which process the board's internal feedback as much as he's playing the mixing board itself), establish broad loops of bell-like tones and allow them to sway over and under each other for six-minute intervals. It's lovely, if somewhat uninspiring, and the seven tracks on "Pool" are essentially variations on one sonic idea. I find their latest album to be fine as background noise...while not as insipid as typical "ambient" music, it establishes a mood of tranquility ans statis more than it demands my active attention. Nakamura, who established himself a few years ago as a guy whose sonic language resided mainly in the highest registers, has surprised me lately with his range, and his subdued playing here is no exception. There are no piercing sine-tones on this album, only graceful liquid shimmer and the occasional smooth crash of struck metal. The rhythms are more subtle and fluid on "Pool" than on Repeat's more overtly pretty "Select Dialect" CD from last year, which for me makes "Pool" a more intruiging listen. Still, I cannot find anything stronger to say about this album than: it's a lovely noise. Not great, not terrible, not a major statement nor terribly distinctive, but certainly enjoyable for an hour. I wonder, though, if it couldn't have been more than that... - Howard Stelzer
samples:
Robot vs. Rabbit, "Trading the Witch for the Devil"
Mandragora Records


I am a sucker for evil primitive psychedelic sludge. This obscure North Carolina crew is banking on the fact that there will be one of me born every minute to buy their records. Anchored steadfast in the darker registers of sound and philosophies, this band makes a lot from a little, suctioning tribal rhythms and fierce winds through staticky burlap. This is unintended ghost voice recordings type of stuff—lots of reversed sounds for the backmasking fans out there. Many bands/musicians out there could take a lesson in heavy atmosphere from these guys. If you are looking for points of reference, I'd say somewhere between Gravitar and early scary Current 93 (sans vocals). They do have a unique sound, though, and an impressive range over the 14 tracks on this CD. My only complaint is that some of the best musical ideas are cut short - I would love to see them expanded live. - Jesse Niemenen
samples:
PURE, "NOONBUGS"
Mego


This is the first Mego release which my ears have considered completely pointless. Pure are undeniably technically adept, but these eight tracks—mixed together in a nearly one hour long flow—build up nothing more than a meaningless sinister ambience. 'Noonbugs' is a kind of micro glitch-meets-some-suffering-jazz-influenced crossover attempt but there's nothing exciting about it, nor does it leave any impression after the CD is finished. The tracks take a long time for little development, and the use of voices in "Ivan" or the surprisingly straight drift of "Flew" are sparse highlights which aren't rewarding enough for sitting patiently through the other seemingly endless tracks. Pure stay clearly out of their possibilities and have presented a perfectionist's work which seems to have lost all emotion during production. - Carsten S.
samples:
We know that sometimes these CDs are somewhat challenging to find, which is why we have a community section which can be used to obtain nearly everything available on this site.