Throbbing Gristle, "24 Hours"
Mute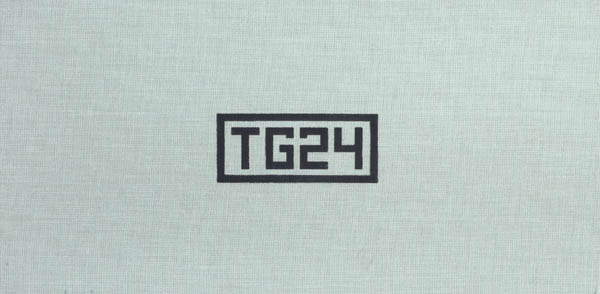 If 2002 has been a generally mediocre year for releases, it sure as hell is not going out without kicking and screaming. '24 Hours' arrived on Monday, December 22nd, and, while I haven't had the time to pick through every last second of music on this 25-CD set (yes, it turns out to be 25 CDs for those who mail-ordered it!), everything so far has been incredible. While the Sex Pistols and The Clash were "dressing" themselves as punks, their music was easily digestible pop/rock tunes with enough of an attitude edge for the kids to dig. Throbbing Gristle's approach was almost the entire opposite, as the band dressed respectfully on album covers and played various art halls (in addition to boys schools and rock clubs), but made music with far less commercial potential. Every concert lasted exactly 60 minutes, controlled by a timer which would cut the power on the stage at exactly 60 minutes no matter what point the band were at. Every show was recorded and committed to cassette tape, and for this box, it seems as everything is here from the very first to the very last second of each show. The original 24 Hours box consisted of 24 cassettes (IRC 2 through IRC 24 and IRC 26—see the web site for more specific details) plus two additional tapes of radio interviews. (Look for it at online auctions for over a thousand dollars on average!) For the CD box release, 25 cassettes were remastered by Chris Carter (the original master of IRC26 was lost but later recovered after the project was underway with IRC29 in its place). It's fascinating to actually hear Genesis in his role as entertainer, front-man and stand-up comic, going from a jaded youngter in the earlier recordings, poking fun at the same-ness of Johnny Rotten songs to a more clever prankster by the end, leading crowds on, completely bullshitting them with an honest composure. The music also evolved over the few years captured here, from the earlier years of making tons of noise to cold-calculated compositions, where band members Chris, Cosey and Sleazy would pay closer attention to each other, opting to remain silent to let other parts shine through. The mastereing job by Chris Carter is far better than I have even dreamed of, with many recordings in stereo, either with different instrument assignment on either side or a true stereo recording, most likely depending on what type of mixing desk was available at the show. The included tidbits are also nice to have too, but since this box cost so much, frankly I'm afraid to lose any of the stickers, pins, pictures, or patches. At the approximate $220 price, however, this is something almost exclusively for the fans. If I were to have any complaints at this point, it would be for the lack of inclusion of the radio interviews, but there's still more live recordings yet to get the Chris Carter remastering attention and resurface, so I'll be patient. This is enough music to hold me for a long time. - Jon Whitney
samples:
THALIA ZEDEK, "YOU'RE A BIG GIRL NOW"
Kimchee


The plan was to record an EP of cover songs. The coolest singer in rock music wanted to pay tribute to some of her influences, including Nina Simone, Patti Smith's epochal 'Radio Ethiopia' album and Neutral Milk Hotel's "Comely." Then she changed her mind and instead recorded three new songs, an old Uzi number that never made it onto the classic 'Sleep Asylum' and a couple of covers. The fans lucked out, as her songs are drastically superior to the ones she did eventually cover. Lou Reed and Bob Dylan should shit blood to be songwriters even half as gifted as Thalia Zedek. Are you reading this Reed? You wasted an hour of my life with that turgid wankfest you call 'Ecstasy,' and I'm not happy about it. Yeah, yeah, the pope in a silver castle my ass and don't you ever make the coloured girls go do de do like that again, motherfucker! But enough of that ol' hasbeen, he was still pretty gritty when he knew what "Candy Says" with the Velvet Underground and later resurrected it in 'Berlin,' but nevertheless it's the weakest cut here. Thalia Zedek packs an emotional punch into every song as if the weight of the world is crushing her and singing is the only way to lift it off her back. There's this lone drum beat in the relatively upbeat opener "Everything Unkind" that reels like total emotional desolation. The opening lyric, "I got tired of waiting," is something any Lou Reed fan hoping for another album even half as rockin' as 'New York' can surely relate to. But enough of that ol' hasbeen, there's another one just round the corner and he has a nasal voice and a legion of rabid bootleggers under his thumb. The Dylan cover that gives the six song CD its title bears some similarities to "Temporary Guest" off Thalia's last album, except nowhere near as finely captivating. More equal to that stupendous album no doubt overlooked by idiots racing for the next big little thing are the two No songs. "No Fire" gets right under the skin of a slowly souring relationship then tears it right off. Meanwhile "No Substitutions" is the one that'll make old Come fans happy, with Mel Lederman's piano taking the place of bass. It seems Thalia has also stepped up the contribution of viola player David Michael Curry, and the only other old Come hand on board is drummer Daniel Coughlin. Perhaps the most magical moment happens when Thalia covers her younger self. "JJ85" paints a dream portrait of youthful longing and unravelling, with a simple uplifting strummed riff that seems like the dark reflection after Blondie's "Dreaming" took a tumle through the tunnels underground in search of the doctor that the hopes were pinned on before a change of heart. - Graeme Rowland
samples:
THE RAPTURE, "MIRROR"/ "OUT OF THE RACES AND ONTO THE TRACKS"
Gravity / Sub Pop


Yet another in a recent onslaught of bands with names beginning with "the", The Rapture are a noisy three-piece post-post-punk outfit from New York City. The Rapture are riding a wave of trendy postpunk revivalism, but have managed to emerge with a fairly unique identity and an engaging, dynamic energy on record. Judging by this first album, their recent SubPop EP, and the current underground hit 12" single "The House of Jealous Lovers" on DFA, The Rapture have enough of their own to add to their obvious early-80's influences to make their music worthwhile. Bolstered by the strength of their DFA dance single, their first album 'Mirror', which was originally released almost two years ago, has been re-released on the Gravity Records imprint. This first album finds The Rapture trio in a nascent form, producing gloriously low-fi noisy shit most closely resembling The Pop Group's 'Y' album sodomizing an early Cure record. The album opens with the short, dark piano dirge "in finite clock!" This quickly segues into the sound of police sirens and a wall of scratchy, fuzzy garage noise on "NOTES>>>". The angular guitars and driving beat support the throat-stripping lyrical screams, with the repeated chorus "I'm taking notes from the underground..." The next track "OLiO" takes a cue from early Cure, with its goth-as-hell bassline and plaintive lyrics. Although I realize that doesn't sound like a recommendation, this is an awesome song. The next couple tracks utilize keyboard effects and drum machine, adding textural elements to The Rapture's spare, gritty goth-punk anti-songs. After another dark, atmospheric piano melody, the last track is an appropriately hyperactive and chaotic remix/interpolation of "Notes" by Kid606. 'Mirror' is an impressively nasty slice of raw punk-funk, and I would highly recommend like-minded folk waste no time in seeking it out.
samples:

The Rapture's new EP, out recently on SubPop, bears little resemblence to the aggressively dark and abrasively gothic trio that recorded 'Mirror'. They have a new bassist, and two years down the line they have dropped the Bauhaus posturing and stripped their sound down to a leaner, meaner brand of art punk, influenced by Wire and Gang of Four. Gone are the moody dirges and dark dance anthems. They have been replaced with upbeat, politically charged songs with a tight drumming, clipped guitars and repetitive lyrical rants. The songs have gotten a bit longer and some contain abrupt tempo changes and other self-consciously artsy techniques. The production is much cleaner, as well. The title track opens the EP with its high-strung rhythms and ear-splitting guitar. The zealously screamed vocals recall Mark Stewart's clipped verses in The Pop Group's first two albums. In "Modern Romance" the vocals are pushed to the background as the ear-splittingly non-melodic guitar lines take precedence. "Caravan" is a tense track, with a rhythm section that keeps phasing in and out of existence. The only song with anything resembling a melody is appropriately titled "The Pop Song", but the cacophonous and repetitious refrain of "You're growing older/You're growing older" keeps the song from approaching any kind of mainstream aspirations. "Confrontation" closes the disc, with a relentless, distortion-heavy bassline and tribal dance rhythms recalling 23 Skidoo. This EP is as good as 'Mirror' and points to a new direction for the band. I can't wait to hear their upcoming full-length. - Jonathan Dean
samples:
F.S. Blumm, "Ankern"
Staubgold


F.S. Blumm begins his second full-length album with measured, confident guitar strumming and fretboard squeaks in a decidedly jazzy number called "Folge." Despite the confidence, the song ends up feeling a little hollow by the end, as if it never really reached the point where it had intended to go, a disorientation which is symptomatic of the whole album. Frank Schultge's polyinstrumental improvisations tend to meander, sometimes aimlessly. The mood of 'Ankern' is largely improvisational, not directional or determined. F.S. Blumm creates compositions which rely on repeated melodic statements that change and flow into other statements. The repetitions between these statements are like the sips of coffee between bites of morning toast (whole wheat with the strawberry jam): moderately enjoyable and somewhat necessary to drench the palette, but once the coffee sits around for awhile, it needs refreshing. Blumm's music feels lighter on this release than on his debut 'Mondkuchen.' It hops and it skips without ever really planting its feet firmly in the ground to take a stand. The songs with the most substance to them, like "Sprung," "Tal," and "Fehlsprung," all share a cello which gives them some body, some voice, some resonance. These three songs get better with each listen, whereas most of the other songs have a tendency to be too playful and less focused and they eventually evanesce like vapor. Of the more playful songs, "Abgebildet" is the most memorable with its brilliant guitar lines unapologetically ending with a sudden cessation. The most delightful sound I heard on the album was in the background of "Fehlsprung" towards the end, where, if you listen closely enough, you can hear what sounds like the croakings of a castrated bull frog whose bellows skim across the pond like a skipping stone. Despite the title, 'Ankern" does not feel anchored enough to hold much ground against Blumm's previous strong work. - Joshua David Mann
samples:
COIL/BLACK SUN PRODUCTIONS, "THE PLASTIC SPIDER THING"
Eskaton / Black Sun Productions


'The Plastic Spider Thing' is the name given to a sexual/ritual performance art piece performed by Black Sun Productions. Black Sun appears to be primarily the duo of Massimo and Pierce—two pierced, tattooed fetish models, avid Coil fans and ex-rentboys. I have never seen a performance of 'Spider Thing' in person, but from the extensive photos and video clips on the Black Sun Productions site, it looks like quite a decadent form of theater—live gay sex and bloodletting occurs in a room filled with taut plastic webbing. The sex act is turned into a sadomasochistic, predatory dance of sorts. It looks fascinating, and more than a little arousing. Massimo and Pierce have also done some on-stage interpretive nude dancing during many of Coil's recent European live shows. Now comes this new release on Threshold House, a "soundtrack" for the performance piece, constructed by Black Sun associate DraZen and consisting entirely of remixes and mutations of Coil's recorded output. I would like to report that this CD is as adventurous and perverse as its performance counterpart. However, listening to this release several times, I feel that I may be missing something. Working from a palette of colors as vivid and diverse as Coil's, I really feel that something more interesting should have resulted from a remix project such as this. The 15 tracks here completely remove rhythm and structure from Coil, and focus on long ambient, droney material. A lot of cheap "Wave Studio" effects are applied to the music, such as excessive echo, reverb, backwards masking, etc. In short, I don't think these remixes were very hard to make, and I don't think much time or care went into this. DraZen has slowed down and extended a lot of his "pet sounds" from the Coil archives, and in the process the songs have completely lost their original meaning and genius. There are some extraneous heavily delayed voices added into the mix that just seem rather annoying in this context. The best moments are when Coil's music reaches us relatively untouched, as with the "Bee Stings" sample on track six. This release is somewhat useless for Coil fans. It doesn't really work as a "party mix", and it doesn't really serve to underscore any new facets of Coil's original works. Separated from its performance context, it doesn't work at all, except as a mediocre dark ambient release that you will listen to once and then shelve. - Jonathan Dean
samples:
Dot Allison, "We Are Science"
Mantra


I became intrigued with the idea of hearing Dot Allison's new record when I read a quote from her citing Psychic TV as a band she really enjoys. I already owned her debut solo album, 'Afterglow,' which I found to be a guilty pleasure of a sultry, yet simple, pop record. So, the notion that she takes influence from PTV left the impression on me that 'We Are Science' might bear a reflection of the cult legend. Well, I didn't really notice such an influence, but I can report that Allison's new record is a step away from the mainstream, radio-friendly leanings of her last album. It kicks off with "We're Only Science," full of low, throbbing beats, exotic synth-y touches and sexy vocals, and based on this, I was actually expecting a lot from the remaining tracks. While not a complete let down, the rest of the album is not as well-developed as the opening cut. "Substance," which seems like somewhat of an attempt to cash in on the current "electroclash" trend, is nonetheless catchy. "You Can Be Replaced" and "Strung Out" embrace some of the same straightforward pop aesthetic found on 'Afterglow,' and remain enjoyable, but unfortunately, the six other tracks are largely forgettable. They're either slow and sappy or just plain boring. The US version of the album comes with two remixes, one of "Substance" by Felix da Housecat and one of "We're Only Science" by Keith Tenniswood of Two Lone Swordsmen (who also assisted in the album's production), both of which turn the originals into cheesy house music and are borderline tacky. Dot Allison strikes me as a genuinely talented vocalist (she formerly fronted early '90s trip hop outfit One Dove) and songwriter. 'We Are Science' is a demostration of the development of her own style, but she still seems to have a long way to go. - Jessica Tibbits
samples:
"Chamber"
Cold Spring Records


Cold Spring might be more recognized as a distributor of dark ambient, neo-classical, death industrial and japanese noise music than as a label, but as this compilation shows, this is unjustified. 'Chamber' is a fine selection of various neo gothic & post industrial sub genred music. The songs are culled mostly from recent releases but there are also some exclusives like "Hail The Queen," the last track ever recorded by Folkstorm, a remastered version of the haunting "Mitternachtsberg" from Von Thronstahl and a preview of forthcoming album by The Days Of The Trumpet Call. The inclusion Mark Snow (known as composer of the X-Files Theme) and Benedikt Middler is surprising but not necessarily unfitting, as their contribution is the title song from their score of "Nekromantik," a German splatter movie. Kerovnian, Schloss Tegal, Band Of Pain, Toroidh (the new project of the Folkstorm / MZ.412 founder), Endrva and Von Thronstahl represent various shades of dark and black ambient while Ignis Fatuus, The Days Of The Trumpet Call, A Challenge Of Honour dive more into the martial neo-classical fields once explored by Laibach (and In The Nursery). Laibach are even present with a version of "Die Liebe" from the soon to be officially released 'Neu Konserativ' bootleg album. The sincerity and powerful realization behind the ultra deep traks by Novatron and Sleep Research Facility distantly separate them from any 2nd or 3rd-generation "dark ambient" cliches. This compilation is more than just a mid-price introduction, as it is carefully arranged to be enjoyed as a whole and complete piece (especially on rainy days or in the darker hours of the day). There lies much unexpected beauty and love hidden within—and out of darkness there comes light. - Carsten S.
samples:
Lift To Experience, "These Are The Days"
Bella Union


So many things bother me about this three song single, that it's hard to imagine having this many conflicted feelings about so little recorded music. For starters, Lift To Experience wear the fact that they are from Texas on their sleeve the way some Texans sport "Don't Mess With Texas" bumper stickers on their Chevy trucks. Look, I'm from Texas too, but you don't see me out eveyday with my Texas Ranger badge on, and I don't start every record review with "even though I'm from Texas, I found this record quite interesting." The constant Texas posturing seems awfully condescending to all the folks from Texas who, like LTE, were more turned on by shoegazy indie rock than square dancing, knee slapping hootenany, and it's equally condescending to people who like squaredancing, because there's nothing wrong with that either! There are plenty of folks in Texas who can rock a good Cocteau Twins record anyday, we don't need LTE to remind us. A line about the band's Texas heritage even surfaces in the single's title track, and whether its supposed to be tongue in cheek or not, it just drags the credibility of the rest of the song down for me. The vocals alternate between painfully earnest choruses and half-spoken, disaffected verses reminiscent of Arto Lindsay or Lou Reed. The music in the background is sincere enough, kind of like what you might expect from people thrown into a culdron of indie rock, Country twang, and the Bible Belt. It was genuinely securing a grip on me when I opened the CD liner notes to read "Ladies and gentlemen we are playing with one guitar." Look again, it's really not necessary to point out something like that in such a way unless you are trying to make a point about how important or strong or incredibly unique your music is DESPITE the use of only one guitar. Maybe it's all part of a humor too dry for me to get into, but it sounds a lot like when popus jackasses like Rage Against The Machine say things like "we didn't use any keyboards or computers on this record." Frankly, I've heard a band with only a drummer and a bass player make more dense music than Lift To Experience, so the "one guitar" thing isn't doing much for me. Tracks two and three were recorded live for SBN, and have a live band sound, but as much as I like the songs, I can't keep the image of amped up Texas machismo out of my head. "These Are The Days" is a genuinely enjoyable single with a bonus video that gives you an up-nostirl view of the band performing that is at least worth a glance. If you can look past all the "Beers, Steers, and Queers" style Texas 'humor,' and take the band less seriously than they take themselves, you might find that it's a pretty damn good single. - Matthew Jeanes
samples:
"Suffer / Enjoy"
Antifrost


A unique restriction was given to the artists for this compilation; all artists were only allowed to use a limited bandwidth of 200hz for their contributions. Subsequently, Francisco Lopez, Zbgniew Karbowski, Kim Cascone, Coti, Ilious, Philip Samartzis and others work their way through frequency ranges from 0 to 17002hz. Most remain in the lower range from 0-200hz up to 490-690hz (Lopez, PG 13, Karkowski, Coti, Kawasaki, Ilios) while a few step into the middle 991-2298 hz (AS 11, Samartzis, Yoshida) and only Cascone and Jason Kahn work in the highest ranges, from 14000hz to 17002hz. While the goal was -not- meant as a "tonal experiment for studio technicians," it requires a very good stereo system to pick up the barely audible parts some pieces mainly consist of. What's lacking, however, is a sense for the extraordinary like some of the Ash International releases have. Furthermore, the minimal nature of the pieces is puzzling, as they sound like they might have originally been completely different tracks simply run over with a filter, cutting out all but the desired 200hz spectrum. It's this limitation that sometimes prevents a track from ever really getting exciting. 'Suffer / Enjoy' is theoretically a success but in fact not an album to please anybody other than the hardcore sound experts. - Carsten S.
samples:
the fire this time
Hidden Art


If I could leave this year with one thought for each reader to hold, it would be to consider how lucky you are. How lucky everybody reading this is to have access to a computer and is literate enough to read, because, even if you're not reading these words on your own computer, you're probably living in a society where you can voice your opinions, vote, read, work, and educate yourself. It's ironic that after three years in the making, Grant Wakefield's project is finally available just as the USA and Great Britain are making plans to wage war again on Iraq. Facts, samples, quotes and narrations alone usually end up in a sea of public radio, where the words rarely fall on ears that aren't already somewhat aware of some of the tragedies that have been carried out through bombings or years of sanctions and inescapable radioactive aftermath. What Wakefield has done is piece the words together with exclusive music from Aphex Twin, Bola, Speedy J, Orbital, and a number of others. The story is arranged chronologically, from the pre-European history, through the early 20th century, through events that lead up to the Gulf War and its aftermath, the music underlines the narration and climaxes at appropriate points of tension. While the messages at times feel somewhat force-fed through hip techno music, it almost feels like it needs to be at this point, since the gung-ho messages from the war-mongers is being even more force-fed through the media as news. Its goals, as described by the full title, are "deconstructing the Gulf War—a permanent record of the fate of Iraq and a guide to the language of mass media propaganda." The story is, unsurprisingly more horrific beyond imagination, with an angle not entirely unlike Michael Moore's in "Bowling for Columbine," where the media is clearly exposed for being manipulated by superpowers and driven by capitalism rather than focused on facts and humanity. But don't rely on Wakefield's words alone: guests include President Bush (senior), Madeline Albright, Oliver North, comedian Bill Hicks, and numerous world leaders, unidentified soldiers and victims in their own words. It succeeds as a commentary and should be recognized as such. Wakefield isn't crying out against evil Western empires nor is he providing solutions for individuals who do not wish to support the campaigns of their own governments. Thankfully, we're fortunate that one of the benefits of US military funding gave us the internet, and Firethistime.org picks up where the recordings have left off, providing more information to read and links for people to get involved. If you love the bands but feel this is a glorified public service announcement, a second CD has been provided with instrumental versions. Hopefully you will take the time to hear the first disc out and make up your own mind for yourself. - Jon Whitney
samples: