a weekly digest from the staff and contributors of brainwashed
V06I01 - 01122003
Click here for other issues
SITE
Hafler Trio news and interview
There are even more new releases due from Hafler Trio as well as a new page set up at the site for benefit auctions. Over at Crouton, however, is a brand new interview with Andrew Mckenzie.
Panacea live
Look for live dates from Panacea in the news section of his site. Upcoming shows are posted for Toronto, Chemnitz and Schili.
Colin Potter live with others
"Love Night" is set to take place on February 14th in London at Red Rose, 129 Seven Sisters Road (Finsbury Park tube). On the bill are NWW/Monos collaborator/producer Colin Potter, Jonathan Coleclough, World Serpent band Sieben, and a DJ set from William Bennett of Whitehouse. The night starts at 9pm and is scheduled to run until 2am. For more information, see www.geocities.com/hagshadow.
OFFSITE
MIA ZAPATA MURDER SUSPECT IN CUSTODY
Rob Devlin reports: Almost ten years ago, the body of singer Mia Zapata was found on a street curb in Seattle, WA. She had been strangled with her own sweatshirt tie, as well as sexually assaulted, and was laid out in a Christ pose, carefully placed. Zapata was the singer of the Gits, a punk band on the brink of stardom following the signings of Pearl Jam, Soundgarden, and Nirvana. Her death and the circumstances surrounding it inspired the creation of Home Alive, a non-profit self defense initiative to teach men and women self defense for free so that, unlike Mia, they could "make it home alive." Until now, there were no leads in her case, with private investigators and a feature on Unsolved Mysteries turning up little. This week, police in Miami, FL, arrested a man who was living in Seattle at the time of the murder, and whose DNA profile matches the one left at the scene of the crime. Jesus C. Mezquia, a transient who has lived on both coasts, was charged with first-degree murder. It is likely he will be extradited to Washington for trial. For more information, see the following articles:
For information on Home Alive, as well as the two benefit CDs they've released, go here:
claim your money
Are you living in the USA? Have you bought a CD between the years of 1995 and 2000? Then you can get your share of the settlement agreed to by the record companies and distributors who were involved in illegal price-fixing practices. Answer a few questions and submit some information at www.musiccdsettlement.com and you can expect anywhere from $5 to $20 for your share. Have the major records issued a public apology yet? Maybe not, but this is a step in the right direction. Remember, this is only open to residents of the USA.
MUSIC IN REVIEW
Sonna/Sybarite/Lilienthal, "Make Shift Carousel"
Temporary Residence


It's very seldom that fans of instrumental rock and electronic wizardry get to hear artists from both genres collaborate, maybe because the results are often disastrous (anyone hear the Scanner remixes of Hovercraft?). Therefore, it's a rare treat when such a collaboration fares as well as this one. Sonna need no introduction, as their various CD singles provided that before their critically lauded debut in 2001 (stay tuned for it's successor next week). Sybarite, either, whose output has seemed to dim in quality a bit on 4AD, but there's extreme hope for the future. Lilienthal may be new to some out there, with only a few remixes and one CD under his name, but he's already building a reputation for amalgamation and an impressive palette. The original collaboration, first released as a seven inch on ZEAL, makes up the introductory two tracks here, where Sonna sent some unfinished noodlings to both artists for recreation. The results are varied and hair-raising. Sybarite accentuates the melodic side of Sonna on "Make Shift," with beautiful acoustic guitar-picking taking center stage. As the steady beat builds and the infectious whistles and backwards sounds swell, you can't take your ears off of it. This is easily the best thing Sybarite's done lately. Sonna's drone side takes over Lilienthal, as he stutters up "Carousel" towards a complicated and layered climax. He drops out the middle, teasing and taunting with more guitar interplay, only to return to the same shaky ground on the closing three minutes, all of which induce toe-tapping and air-drumming in even the tamest lab rats. This is well enough alone, but then we are treated to two new tracks, credited to all three bands. Here is where the jaws drop. "Four Way Street" is a slightly remixed reprise of the closing minutes of "The Opener" from Sonna's debut full-length. At just under a minute, it can't really captivate. The final track, "From a Person We Seam" is astonishing - a real electronic masterwork. The song starts slowly and calmly, with gentle guitar and squelch effects, before exercising a labored trip-hop beat and keyboard flourishes with great success. An open letter to all three particpants: please make a whole record in this configuration. The world demands it. - Rob Devlin
samples:
Lucky Dragons, "Dark Falcon"
555 Recordings


It might happen that the worthiness of an album becomes gauged on whether it is able to marry the cacophony of firecrackers with the frailest of human voices. When this happens (and surely it will happen), then 'Dark Falcon' will be the first and perhaps only record which will measure up to this standard of excellence. 'Dark Falcon,' the first full length from Lucky Dragons (after two lovely EP's on the English Muffin label), does many other things remarkably well, but this peculiar marriage is the most remarkable. Although there are clicks and clacks aplenty on this album, the electronics grace the songs rather than linger at the center of them.
The more frantic songs bookend the album while a bank of more reserved songs populates the middle of it, where beats plod along with the exhalations of an accordion, or the pluckings of a banjo, or just the whimsical humming of band members. Besides the frantic ends and the more placid middle, there are further dichotomies both between and within songs on 'Dark Falcon.' These contrasts are often exhilarating, and sometimes even exhausting (in the best possible way). "Cherchez le Dragon" starts out stuttering wildly, trying to evince some statement but only ejecting playful electronic spittle. It is not until the placating guitar part comes in that the song is able to demonstrate clearly what it is trying to say. The guitar and the voice parts soothe the hyperactive beat better than a bottle of Ritalin; once they calm the beat, the stutter decreases and the song is persuaded into obedience. The opener, "Heartbreaker," features a field recording of kids setting off Independence Day firecrackers with cars driving by in some neighborhood in Providence and the sound culled from this recording is undeniably urban. Later in the song, a gentle female voice comes in and it sounds like it is being sung from the most remote log cabin in the backwoods of Montana, or maybe it was Kentucky. I can picture the cabin, with one window illuminated by a gaslight in the dark, and the sound of a girl singing as it rises, just barely perceptible, above the wind moving through trees. Somehow, this unmistakably rural piece, which is clearly not part of the firecracker recording, is able to synchronize with the more urban sample, and together they create a perfected hybrid lullaby. - Joshua David Mann
samples:
Bjorn Olssen, "UPA"
Gravitation


This is the second solo release from the guitarist of Union Carbide Productions, Soundtrack of Our Lives and Spain, among others, following 1999's apparently well-recieved 'Instrumentalmusik'. There are several unusual aspects to UPA, all of which are worthwhile. First, uplifting celebratory music like this is smile and happiness-inducing. Like Shooby Taylor or High Rise, it just works in that way. Next, it is mostly based on unlikely combinations of musical styles: a Notting Hill Festival-style steel band music with heavy progressive rock, Herb Alpert horns with blissed-out space-wah guitar, 80s MOR power ballad with Moricone western and 60s spy movie themes, traditional Scotish dance music with French girl-group harmy vocals, Sweedish folk and kraut rock. The success Olsson has with these combinations suggests a rare compositional talent as the tunes gel and just work as though these styles always belonged together. Quite unlike Zorn's genre-hopping in the 80s, UPA works more as though a master like Quincy Jones were doing genre set pieces. It's a dazzling, intoxicating tour that would be surreal if it weren't so natural in appearance. Then, for nerds like me there's some excellent guitar work on several cuts to be enjoyed, including a storming psychedelic work-out to close the album. But there's more, the disk has utilitarian strengths too: 1.) the post-modern aspect (not that there's anything tounge-in-cheek about UPA) means that you can enjoy these highly unfashionable and uncool musical styles (that deep down you love and would listen to more often if you weren't so self-concious) without fear of losing credibility among your most sophisticated friends, and 2.) it's so well done, nice and easy going that straight and square friends are going to dig it too. To top it all off, the whole album appears twice on the same CD! The first time around, it is with a polished studio sound while the second version is low-fi, apparently having been run through a cassette player with what sounds like a fairly cheesy AGC. With an album like this which deserves repeated plays, why not have it these two different ways? - Tom Worster
samples:
McLusky, "McLusky Do Dallas"
Too Pure


The majority of buzz surrounding this Welch rock trio has been for their latest release and its rough, dynamic energy cast as 'Surfer Rosa 2002.' Engineered by Steve Albini, 'Do Dallas' certainly features all the sonic hallmarks of that seminal influence, with fuzzed-out, frantic guitars and a pummeling rhythm section. Rather than Black Francis' verge-of-a-mental-breakdown vocals, we're treated to a sneering Andy Falkous, who is all attitude, confidently convinced that his band is better than your band, and more than willing to go head to head to prove it. He delivers with conviction, occasionally dissolving into fits of yelps or slurred syllables in his effort to demonstrate his supremacy. Mclusky is a tight, energetic group with a guitar that cuts like a serrated knife and their lyrics are almost as sharp as their licks, with highlights like "We take more drugs than a touring funk band" and "I'm fearful / I'm fearful / I'm fearful of flying / and flying is fearful of me!" It is a little disconcerting that some of the lyrics seem to crib from other sources, for example, the 'touring funk band' line is from the late comedian Bill Hicks, while a quote from The Simpsons pops up near the end of the disc. Also, their swagger fails at times, and Mclusky's bravado comes off as trite, like a confused playground taunt ("All your friends are cunts / your mother's a ballpoint pen thief") or too cutely ironic and self-referential like the quiet filler track "Fuck This Band." Straight ahead, surging rock tracks like "Dethink to Survive" show that they can make the familiar sound exciting, while "Clique Application Form," a noisy, shambling track with shouts of "Never been kissed! Never been kissed!" may foreshadow future attempts to broach new territory. Despite the derivative aspects, 'Mclusky Do Dallas' manages to be exhilarating and entertaining in its brief thirty-five minutes. When Falkous commands you to "sing it!" on the standout "To Hell With Good Intentions," you feel compelled to do something, maybe yell or bark or pump your fist. His band may not be better than your band (In fact, they might have ripped your band off a little), but 'Do Dallas' is a fun, albeit brainless record. Just don't expect it to stay in your CD player for too long. - Michael Patrick Brady
samples:
Iron & Wine, 'The Creek Drank the Cradle'
Sub Pop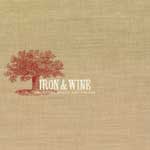 I bought this album after being captivated by the band name and album title, having no prior knowledge about them. Both had a sonorous quality which made me intensely curious to hear what such a band would sound like. To my delight, in doing so, I discovered what was to become one of my favorite albums of 2002. Sam Beam, who is almost solely responsible for the writing, performance, production and recording of 'The Creek Drank the Cradle', creates pleasantly unpolished songs using little more than an acoustic guitar, banjo and his own delicate vocals that belie their no-frills approach with a rich, seductive sound. Beam clearly takes influence from Nick Drake and Tim Buckley, but truly carves his own niche in terms of his folk stylings. This album, however, definitely is not a "folk record," but reaches far beyond, ranging from lullabies to ballads to narrative fragments of memories. The American Deep South features prominently in the lyrical imagery, accented by an eerie romanticism. Beam, who hails from the Miami area, seems to be yearning for a South removed from beaches and nightclubs, on tracks like the twangy "The Rooster Moans" and the haunting "Upward over the Mountain." There is a purity in the simplicity of Iron & Wine that is so refreshing that 'The Creek Drank the Cradle' unsurprisingly appeals to true music lovers of diverse tastes. As Sam Beam's moniker suggests, his music is both weighty and intoxicating. - Jessica Tibbits
samples:
Cerberus Shoal "...And Farewell to Hightide" / "Elements of Structure/Permanence"
Temporary Residence
Grossly overlooked due to their dwindling availability, Temporary Residence reissued these two Cerberus Shoal albums in October of last year. Both are earlier works by the band, and therefore show off very raw, almost incomplete sounds. Both show different sides to the band, as they changed members in the time between. Both are classics in their own right.


'... And Farewell to Hightide' is easily the work that put the band on the map. At that time, Cerberus Shoal was coming off the success of a self-released vinyl LP and decided to return to the studio to capture the energy while they were at a high-point. The results are seminal, a testament to any young band and an influence on so many others. A measured and steady release, 'Farewell' is a band at its peak with all cylinders firing at once. The instruments are unleashed, as the band members let the spirit of the music flow through them and release whatever sounds it wants. Drums, guitars, percussion, trumpet, violin and flute work harmoniously to create more gentle fare, but often combust in their pursuit of something higher. Chriss Sutherland's vocals resemble those of Brian McMahan mixed with the awkwardness of Jay Ryan from Dianogah. "Falling to Pieces Pt.1" is impassioned and grooved by Sutherland's vocals and bass, with droning guitars and chirping strings solidifying the atmosphere. Then "Broken Springs Spring Forth From Broken Clocks" begins, slowly buidling to two ferocious climaxes, where noise is king but melody is the court jester. The mellow side returns for "J.B.O. vs. Blin," as harrowing guitar lines and treated vocals and instruments make for spooky waters, like the soundtrack of Charon, the boatkeeper on the river Styx. Here Sutherland sounds more like Danny Elfman, and the song goes on forever, contrary to what his vocals suggest. The last two tracks are more of the same, though not any less powerful. The second part of "Falling to Pieces" is a spoken word performance first with a piano requiem throughout and at the end. The vocals are piercing, often annoying on first listen, but the charm overtakes on future tries. What makes this reissue so spectacular, though, is the introduction of two other tracks recorded before the album, "Lighthouse in Athens, Parts 1&2," with a pared-down line-up. These tracks are more urgent, tighter, and louder; a treat to true fans that shows an early hint at the Shoal's more aggressive nature. I'm glad to see this set get the proper release it so richly deserves. - Rob Devlin
samples:

After 'Farewell,' band turmoil took its toll, and the band saw some personnel changes as well as battles with their label. In the end, the Shoal needed a change, and joined together with fellow Maine band Tarpigh, who created strange music with Middle Eastern instruments. The band played a few shows together, at the same time that the Shoal were invited to write a soundtrack to two silent films by a friend, Tim Folland. In a brave move, Folland asked the band to improvise while watching the films, and record their first takes only as the soundtracks. Cerberus Shoal was up to the challenge, and even brought Tarpigh along for the ride. The resulting album is two pieces, named after the films they accompany, and the two bands liked the experience so much they joined together as Cerberus Shoal. The release marks a serious style shift for the Shoal, one that would affect their sound forever. Some elements are still there from the 'Farewell' era, like Sutherland's low bass, the always skilled drumming of Tom Rogers, and the droning guitars. But the addition of Tarpigh brought about a new experimental side to the Shoal. The improvised nature of the proceedings seems like it became almost a blueprint for future projects, where the band would just "let go." Eric LaPerna's percussion is a central point here, and on every Shoal release since. Gone are the sung vocals, replaced with something far deeper and more disturbing. Tim Harbeson, multi-instrumentalist who wields trumpet, flute, recorder, and accordion here, is the real star, switching and adding flavors on a whim. "Elements of Structure" starts out fairly tempered, but then slows in the middle only to explode at the end in a sprawling jam that resolves in a piano/guitar/percussion soother. This is the best Cerberus Shoal, the evolution towards something better. "Permanence," the longer of the two tracks, is also more of a jam than the first. Each member gets moments to spread wings and fly, making for some interesting solos and expanses. Having never seen the film, I imagine each solo as a new character like "Peter and the Wolf." Or perhaps each solo is a new lament or crisis point. Either way, the approach is very effective, and the music is moving, indeed. And with two tracks at over 57 minutes of music, it's an egrossing listen. Both of these reissues are defining releases for Cerberus Shoal, and available for the first time in years. Don't miss out this time. - Rob Devlin
samples:
King Crimson, "Ladies of the Road"
DGM


It was probably around 1979 when I first heard the KC's "Earthbound," a live album featuring the 1971-2 incarnation of the band. That edition of KC was a good band. The rhythm section was relentless, monsterous and unforgiving, Fripp's chops had got to the point that he could hold his own and then there was the horn blower Mel Collins Ð like a hyper-caffineated hybrid of Coltraine and Hendrix, he had the strength, creativity and stamina to step out as sax front man for this already higly dynamic band. So I'm delighted to have a new double CD of live material from that band's European and US tours. "Earthbound" is special for me in large measure because of the solos on 21st Centuary Schizoid Man. Collins' and Fripp just rip it up on that cut Ð it is unspeakably exciting. Listening to it, I often wind up doing a full-on air-sax solo in the middle of my living room. Now here's the really great part: CD 2 of "Ladies of the Road" is a medly of 21stCSM solos! It opens with the song's melody but after that it's a dozen or so edits of blazing guitar and sax solos with varied sound quality, crudely spliced together. That's a whole unrelenting hour of air-guitar and air-sax action for the energetic listener Ð quite a work-out! So, depending on your take of the 21stCSM on Earthbound, this CD will be either a godsend or tortuous. But back to CD1, it has basically eight cuts including Pictures of a City, Formentera, Sailors Tale, Groon, Bearings and a complete 21stCSM, all of wich have good sound quality and really good solos. Boz Burrell isn't history's greatest singer but his contribution is somehow enchantingly dated and English (as was his sucessor John Wetton, strangely enough). Extravagant extemporisation is so much to the fore here that it almost has that jazz aspect of the tunes only being there to lead into and out of the solos. Fripp has often said that while KC's studio albums from 69 through 74 may be worthy in their own way, they do not at all reflect what the band was like live. Given evidence such as this I can only agree. While the studio albums were composed and disciplined the live bands were wild and furious, borderline out of control at times. The 4 CD set "Epitah" demonstrated the difference for the 69 band, then the "Nightwatch" double CD did so for the 73-4 band, a better document than USA, and now "Ladies of the Road" completes the task for the 71-2 band, similarly eclipsing "Earthbound." DGM's KC Collectors' Club has released a great deal of live material from the 69-74 period, some of which is really only for the devoted fan, but, like "Epitah" and "Nightwatch," "Ladies of the Road" is an essential item for anyone who likes KC. - Tom Worster
samples:
KOMET +/VS. BOVINE LIFE, "RECIPROCESS 01"
Bip-Hop

"It's coming fast, it's a Komet!" Damned if I haven't put the wrong CD in the digipack again, I raved about that Wire EP ages ago... "It's Koming up your arse!" Look you bastards, you aren't supposed to take these unscientific Brain polls so seriously. I can hardly move here for Whitehouse mix tapes and it's hard to find all the CDs I didn't get round to reviewing last year. One of these was the two way electrofuck of Komet and Bovine Life. Berliner Frank Bretschneider does to hypnotic echochamber pulsebeat what opiated dubs would do to your brain if only you had one. This he calls Komet and you can too if you want people to know what you're on about when you name drop in the record shop. He might move in a straight line but it's a very nice and relaxing line, not lacking in momentum yet immersive. There I go thinking about Wire like I always do. If you had a room Frank would paint it white. But his netmate Chris Dooks (an Edinburgh man himself) would probably splash gravity rainbows of multicoloured chaos all over it, and roll about like a happy pig. That's what happens when the Komet collides with the Bovine. In less esoteric and more boring but perhaps more understandable terms, Komet takes a mouse and keypad to Bovine Life and clicks him up in clunky chunky robofunk. Then Bovine Life does the same to Komet's "Flex" and they call it "Flux," as more scraped and jagged meltdown spasms strain to step over and throttle the accelerated beat. Then Komet steps up to roll off four deep groove tricks of precision throb chromkomohmsog. This is the best part of the CD and is as good as I've heard from Komet, who is firing on all cylinders here. Next sequence is four collaborations, Komet hitting Bovine twice and vice versa. The first of these makes it difficult to finish the review without using that word 'bleep' that irritates Jon Whitney so much. Luckily Komet's angular reply is deeper (godamnit where's my thesaurus?). You could nod out to this Komet shit but a sloppy seven strong suite of Bovine Life's babbling brooktronix closes the disc, nudging out into further rhythmic dimensions and stuttering distraction. Imagine the consequences for Space Invaders escaping from a Japanese keyring toy and left gasping for air in an alien atmosphere. Ok, don't then, it really doesn't matter to me. Although in some respects they come from almost opposite ends of the beat spectrum, their collaboration works and flows well. Just in case the music isn't enough, there are extensive notes in the booklet to help you understand where their heads were at when they knocked 'em together. And they've stuck your granny's bathroom wallpaper on the cover. - Graeme Rowland
samples:
We know that sometimes these CDs are somewhat challenging to find, which is why we have a community section which can be used to obtain nearly everything available on this site.
NEW RELEASES
WEEK OF JANUARY 12 - JANUARY 18
Department S - Sub-Stance CD [unreleased album from 1981 plus singles, live tracks and more] (LTM, UK)
Erasure - Solsbury Hill CDEP (Mute, US)
The Freed Unit - Straightjacket CD (Ecstatic, US)
Layo & Bushwacka! - Love Story 12"/CDEP (XL, UK)
Manitoba - If Assholes Could Fly This Place Would Be An Airport 12" (Leaf, UK)
Miaow - When It All Comes Down CD [anthology of singles, Peel Sessions and unreleased material] (LTM, UK)
New Order - Live At Finsbury Park DVD (Warner, Canada)
Pest - Jefferson Shuffle 10" (Ninja Tune, UK)
Tam Tam - Miles: Relaxo Abstracto remix 12" (Music for Speakers, The Netherlands) Terrace - Uptime 12" (Eevolute, The Netherlands)
TTC - De Pauvre Riches 12" (Big Dada/Ninja Tune, UK/Canada/US)
Fat Harlingen - Black 10" [limited to 150 copies with bonus CDR] (Beta-Lactam Ring, US)
Various - (sic) CD [collection of tracks from the (sic) 7" series by I-Sound, Criterion, 1-Speed Bike, Donna Summer and more, plus new remixes] (Broklyn Beats, US)


This is simply this week's highlights from the NEW RELEASES provided by Greg and Feedback Monitor.
For a more detailed schedule stretching into the future, please check out the site,
since release dates can and will often change.
DVD
Cabaret Voltaire, "Live at the Hacienda '83/'86"
Cherry Red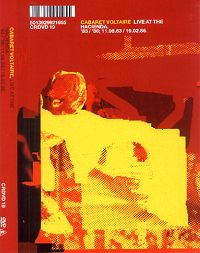 Months of wrestling with a DVD player which didn't initially read this disc has finally paid off and the results were well worth all the fuss. The first DVD to surface from Cabaret Voltaire takes two aural/visual snapshots of only slightly different periods in their evolution, recorded live in Manchester's infamous club. The first one was recorded right after CV made their deal with Stevo and Virgin as 'The Crackdown' surfaced. On record, their sound was drastically changed, Cabaret Voltaire traded in their punk for funk, the droning guitar noise and tape recordings were traded in for keyboards and samplers. The live performance, however, capture a band who is quite clearly the same group as before, only expanding with new techniques and methods. Mal was almost sloppily trying his hands at funk bass while Kirk, in his rather new role as a full-time keyboardist, incorporated sound bytes and samples along with both sequenced and played keyboard riffs along with the occasional saxophone and guitar. The drummer, however, served to accent the beats that the core duo had already brought to the stage in a pre-programmed format on future classics like "24/24" and "The Crackdown." With songs like "Over and Over," however, the band had one step in their own past, playing completely live without keyboard accompaniment. Three years later, the electronic techniques were perfected, Mal's evolution as bassist/vocalist is impressively evident, and the band's emphasis on visuals was marked by intense video accompaniment. At this point in their career, the group had parted ways with Stevo and Virgin, while recording with EMI loomed in the future. (It's almost ironic how Mute bought their Rough Trade catalogue and EMI bought Mute and Virgin.) While songs like "Just Fascination" and "I Want You" were now crowd favorites, early versions of songs like "Sex, Money, Freaks" were being tried out. The visuals in both of these performances aren't the most exciting, as there really weren't high budgets for video productions, but for a fan, the archive is simply a must-have. In addition to the two concerts, three music videos are included: the entertaining "No Escape," which has the first lineup lip-synching in a very desolate, cold looking area of what could be Northern England, "Sluggin For Jesus," pieced together from CV's own personal video footage and "Yashar," equipped with dancing girls in the typical 1980s post-punk nu-wave outfits of white shirts and dark vests! For those who have problems with viewing this, try to hit the "menu" or "go to" buttons on your DVD player and the whole thing should work just fine. For DVD-less fans, an audio CD of this is due soon from Cherry Red. - Jon Whitney
POLL
Results from last poll: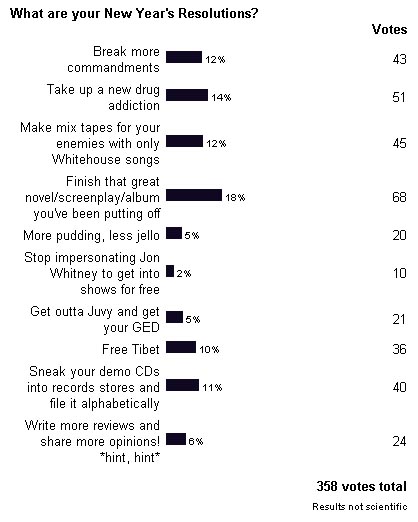 LINKS OF THE WEEK
new year, new potty humor to share
These domain names basically speak for themselves. All are bizarre and will no doubt be fun to share with the special friends in your life.
FEEDBACK
polling questions

Subject: the poll
i think this is the 3rd time i've written to bitch about the inclusion of major label stuff in b'washed recently, and i thought twice before doing this, but come on. you definitely said in last year's poll that you would no longer accept major label crap in the survey answers. well.... beck, sigur ros, sonic youth, flaming lips just to name a few that should've been left out this time.
geez, i really like flaming lips too, but i was inspired by your anti-corporate rants to thoughtfully select only independent bands in my answers, and i see it was all for nought. here we have "war mongering" as a most hated trend, and yet as beloved gybe! have thoughtfully pointed out with yanqui uxo " treasure map", by supporting these bands, we are supporting the war mongers and countless other horrors. blergh!
The "no major label" thing this year wasn't outlined ahead of time and removing them without warning would be censorship.
If people can vote for major label stuff as the "worst" then it's only fair to vote them for the "best" at least the majors didn't win this year (although admittedly they placed high).
However, a lot of people soon forget about releases early in the year and next year it might be set up where the trustworthy staff and contributors get to pick nominees and the readers get to vote on those nominees.

Subject: 2002
Who the fuck anticipated "audioslave" to be good?
Dildos.

Subject: Should I Stay, Or Should I Go?
I am a flag-waving, gun-toting, right-wing Libertarian who so happens to love experimental music and Brainwashed.com. In fact, the absolute first site I view on Monday mornings is the Brainwashed Brain. I have even purchased all three Brainwashed singles and the "Brain In The Wire" compilation.
Now, that being said, do you still want me as a reader and a patron?
Who said we didn't?

Subject: brainwashed poll
No big surprises on the musical side of the poll, but it was VERY nice to see that Miyazaki and Spirited Away got their props from the Brainwashed readers. Too bad Disney didn't give a flying fuck about the movie, and therefore let such a wonderful work of art make such a little splash over here. Not that I'd expect any less...

Subject: You guys are way off !!
Why all the anger against 80's music and electro ?
May I remind you that techno music actually comes from : funk, electro such as Mantronix, Afrika Bambaataa, Kraftwerk as well as some synth-pop acts like human league, visage,ultravox and FGTH....!
The contradiction of this site is that you seem to think that new wave and electro are nothing more than trendy genres while you praise aphex twin, BOC, Morr music who like I said before hail from electro...
I got the feeling that people listening to IDM are sometimes pretty snoby vs electro saying it's just crap !
Maybe you guys should be less narrow minded and more open to dance music...It's not because an artist makes people dance that it's automatically crap !
IDM ca be pretty boring sometimes just as dance music can be as well...
If you're talking about the reader's poll, then you need to realize that's the readers, not the staff. (Plenty of the staff members like dance music.)

Most of the voters who chose 80s revival and electroclash probably don't need to re-live stuff they lived 20 years ago nor do they care to be forced-fed music which is simply regurgitating what was already done to death (and more originally) the first time around.

As for IDM, please find somebody who can clearly outline what's I, D, or M about any IDM, or who is IDM. There's nobody here championing IDM at this point even as a genre, so what you're on about is a mystery. (There are no Aphex Twin praises in the last few years, either.)

Subject: Hey...
Hate to shit in everyone's cake (or maybe that should be, "glad to shit in everyone's cake..."), but Out Hud isn't exactly a new band--they go back at least to '96, and I think they even precede !!! (which their members are best known from). I mainly mention cuz they have a loverly single from one of my fave labels, 5rc/KRS.
But 2002 saw the release of their debut full-length, which might have been why a number of people voted for them.

Subject: Limp
I saw that you had Limp on your list for 2002 in some context. Thanks! That's killah!
Happy new year, etc.
~Jakob / Limp
Yeah! Now if we can coax a tour outta you guys that'd be even more "killah".

Subject: Blue Herb
It was a real suprise to see The Blue Herb review on brainwashed. I mean, I know you guys cover quite few jap stuff, but japanese hiphop. I came back to japan last may, I still have hard time watching jap b-boys, they look so stupid and shit. the Blue Hard is one of a few exception in the scene, and I appriciate for your decision to print that review.
unless you know, their track in on DJ Krush mix cd.
there's always only good music and bad music.
Thanks!

Subject: [no subject]
hi,
is there any newsletter with tour dates and news and stuff ?
would be great
cu
Not here.

Subject: [brainwashed staff option chosen]
i was just wondering if your have any gigs in toronto.
i saw you last year with the dinner is ruined band and thought the show was excellent.
if you could send me any information i would pleased!
For the last time, the Brainwashed Staff doesn't play live.

Subject: trans am website
This website has not been updated for months. What is the deal? Did they break up or something?
Give them their space, sheesh.
POST SCRIPT
brainwashed.com financial report
Brainwashed.com is operating at a financial loss. Operating costs, administrative costs are not being paid as easily since projects like CD reissues and compilations have yet to break even. Brainwashed.com has goals for 2003 which include (but are not limited to) the following:
Brainwashed Archives — a new mini-label, specializing in specially-packed, limited CD issues of out-of-print material from a number of artists (four releases are lined up right now, FYI, but cannot be divulged at this point).
Brainwashed TV — video clips, interviews, live footage, backstage documentaries in the form of free streaming videos on the site.
The Brainwashed Database — a fully integrated back-end restructuring of brainwashed.com so all artists discographies and biographies are fully interactive, with user-defined views and screens.
Brainwashed Films — full-feature documentaries on brainwashed-related and non-related artists with lengthy histories who want to share their stories on the little or big screens. (DVD or film? Who knows? The sky's the limit. If "Better Living Through Circuitry," "Modutations," "Scratch," and "Sonic Acts/Sonic Images" can be done, why can't we do it???)
These things aren't free. Equipment costs money, technology costs money, production costs money. To achieve this, we may start selling sponsorships on "The Brain." We do not want to sell advertisements, but this can be a way to support stores and artists while they support us.
Donations are accepted in any increment, but I, Jon Whitney, feel that people should be able to get something tangible out of the money they give. So, with this in mind, the last remaining copies of Brain in The Wire are being discounted $15 (33%). The remaining copies of the compilation are available directly from us at $30 (shipping excluded this time, however). In addition, everybody who buys directly from us will get a bonus keychain for free! We are also instituting a "buy five get one free" deal too! (Not a bad deal for the greatest fucking various artist compilation ever.) Stores and distributors are also welcome to jump in on this deal: prices will be negotiated.
For more information on ordering, visit the commerce page.
Donations are now being accepted at the address below and at our Paypal Account.
Feel free to communicate your thoughts to us. This site is as much yours as it is ours. Thoughts/suggestions on other things like mugs or whatever are open for discussion.
WHAT'S IN YOUR PLAYER?
two cents
Joy Division - Les Bains Douches
The Doves - The Last Broadcast
John Coltrane - A Love Supreme (2CD)
Talking Heads - 77
New Order - Low Life
Bill Hicks - Flying Saucer Tour Vol. 1
Labradford - E Luxo So

Lucas From Near St. Louis, who wrote: "Does anyone else think the new GY!BE release was way overrated?
Oh yeah, () was cool and all, but there were better releases... I still think "Playthroughs" deserves number 1."