the sea and cake, "one bedroom"
Thrill Jockey


I can safely say I haven't been this excited about a Sea and Cake album since 1997's 'The Fawn.' After a 2+ year hiatus, the quartet of Sam Prekop, Archer Prewitt, John McEntire and Eric Claridge enter their tenth year of releasing music together with what could easily be the year's first masterpiece. By 2000, I honestly felt their sound was becoming flat, predictable and tired, both from the 'Oui' album and after seeing a concert where every song sounded almost exactly alike. 'One Bedroom' isn't a distant departure from their springy, tropico sound which resounds with a fondness of summertime, warm weather and palm trees—but is a distinguishable evolution—incorporating only enough more instrumentation and variety to keep it natural sounding while maintaining an undeniable attractiveness that is truly intoxicating. It opens with a perfect introduction: the fast-paced, "Four Corners" comes equipped with a three-minute instrumental lead, and from there the group springboards into the pleasant "Left Side Clouded," and the nerdy post-electro-funk "Hotel Tell." Punchy mid-tempo electronic jams like "Le Baron," and "Shoulder Length," can easily stop anybody wherever they are and move uncontrollably to the rhythm while the rimshot-heavy title track is smooth like a Pińa Colada on an unpopulated sunny beach. To me, this album sounds like the time spent away has made the quartet more fond of playing and making music together. They sound like they're having fun and that this album isn't obligatory in any way. Even the album's closer, their tasteful cover of Bowie's "Sound and Vision" is a perfect clue that this group isn't the stuffy lot of artsy jazz fans from Chicago that indie record store snobs might have you believe. - Jon Whitney
samples:
Massimo, "Hello Dirty"
Mego


Nearly one year after his debut EP, Massimo returns with his first full-length album. For 38 minutes, this Sicilian never fails to entertain with an intense soundstream that is both twisted and distorted. Like the noisemakers of the late 1970's and early 1980's, he explores a pure lust for noise, using and abusing every possible effect to achieve amazing results. Additionally, any playback unit used becomes yet another distortion device as the LED display remains in the red zone constantly. 'Hello Dirty' is like a cyberpunk album jumping out of the future. The sounds are reminiscent of data streams in annoying bitrates while the moods switch from melancholy, lonesome production lines to sheer information overload. Imagine the hell of an overcrowded, advertisement-saturated shopping mall combined with the emotional landscape of modern societies' lost dreams and possibilities. To achieve the full effect, this recording needs to be played loud. No noise addict should miss out on this one, as it's fun to listen to, neatly packed, and one of the finest electronic splatter works in a long time. - carsten s.
samples:
Neko Case, "Blacklisted"
Bloodshot

Country music is a genre marred by the Nashville Network-popularized images of ten-gallon hats, Shania Twain, and the "Achy Breaky Heart." Its history has been buried by line dancers and crossover hits, and this mainstream face is often enough to make your average rock music fan plug their ears and refuse to even entertain the thought of listening to country music. But just as the crčme de la crčme of rock and electronica won't be found with a spin of the radio dial, a closer look must be taken at artists like Neko Case who make meaningful music that acknowledges the rich past of country music and Americana. Neko takes a much subtler turn on her third full-length album than on her previous efforts. Eschewing the bright, twangy sound of 2000's superb 'Furnace Room Lullaby,' 'Blacklisted' feels like a smoke-filled room, dark and foggy, but with a definite sting. The hushed, plucked acoustic guitar of "Things That Scare Me" sets the late night mood of the album while racing along at a gallop. Banjos, strings, and vibraphones play supporting roles throughout the album, but the true star of 'Blacklisted' is Neko's voice. She manages to lend a delicacy to her lyrics while singing with such force and emotion on tracks like "Runnin' Out of Fools" and "Deep Red Bells" that you'll fall out of your chair. Songs like "I Wish I Were The Moon" lament loneliness, while on "Look For Me (I'll Be Around)," Case is dangerously close to resembling a stalker. Heartache, longing, loneliness, and obsession are common subject matters, but the passion in her voice conveys a sincerity and honesty that makes 'Blacklisted' a truly powerful album. It's the soundtrack to a sleepless night, lying in the dark, listening to the rain where you can't stop thinking about that one person and how you don't know where they are, or who they're with. Forget about the baggage that country music has been tagged with. To allow preconception and prejudice to stand between you and this work would be a serious mistake.- Michael Patrick Brady
samples:
Sonna, "Smile and the World Smiles With You"
Temporary Residence


In an age where the sophomore slump is more commonplace than a band name that starts with "The," it's a pleasure to hear an album that does not show any chinks in a band's armor. Sonna's lovely second full-length effort is not a departure for the band in any way, and what a lovely treat that is. The band continues to craft fluid instrumental guitar music without redefining the genre, but still in a unique enough way not to draw comparisons, and varied enough not to bog the listener down. The first track, "Frone Taj," opens with fervor and energy, and doesn't let up for its duration. Chiming, dueling guitar lines start the track off, and when the drums kick in the song just soars. Thick but sparse bass notes underlie the proceedings, and the bright and seemingly dischordant guitar line mixed with a very pretty note progression on the second guitar meld better than you'd expect. Then, the band slows things down considerably for the hypnotic "Open Ended," which features a similar melody to the end of "The Opener" on Sonna's debut. It just grooves along, steady faded drums and muted bass joined by that same chime and guitar bend. Elsewhere, Sonna drones out on "One Most Memorable," and returns to their frenetic side on "The Right Age," but only briefly. The tempo slows mid-song, turning the song into a pleasant slow dance for lovers only. The final two tracks flow into each other, completing a sentence together, title-wise. "Smile" is a down-tempo mix of bass, echoed guitar, and droned swells with what sounds a lot like a harmonica joining towards the end for a beautiful climax while "And the World Smiles With You" finishes the record off much like it started, with crisp drumming, intertwined guitars, and purposeful bass. It all quiets down towards the end with harmonics and piano for a whole "in like a lion, out like a lamb" vibe that's just magic. Sonna's not breaking any molds, but they're certainly growing into their own space. - Rob Devlin
samples:
Masha Qrella, "Luck"
Monika Enterprise


The debut solo release from Berlin-based singer/songwriter/multi-instrumentalist Masha Qrella (Contriva, Mina) is a collection of relaxed pop songwriting, based mostly around the acoustic guitar and vocals approach. Once layered with drum loops, keys, synth patches, punchy bass and the odd electric guitar, the disc's eleven tunes tend to flourish nicely while maintaining their straight-ahead direction, showcasing the compositions. Recorded mostly in secret at her home throughout 2001-02, Qrella's delicate, breathy vocals and guitar are augmented with her own instrumental overdubs, some of which employ sounds from a recording session with her band Contriva. The most obvious being a couple of very basic two-bar drum loops that form the root of the rhythm section for the bulk of the disc becomes monotonous at times. The catchy "I Want You to Know" sings of the conclusions from a past relationship, leading off with a looping guitar that builds into an arrangement of poppy progressions and subtle, clever hooks and sparingly used stop and start rhythms. The laid back "I Don't Like Her" revolves mostly around a simple, yet tense two-chord progression of heavy-handed guitars in which some interesting leaps in vocal melodies and phrases are played off. The 6+ minute "Hypersomnia" opens with a jangly acoustic guitar progression that quickly turns dark and draws in a slow drum machine and sub bass layered with synth strings while stating "Don't wake me up/Not yet/I've got at least one hour left" as an almost slumber mantra. Most of these songs are quite enjoyable. The main reason that I found this disc to be uneasy at times was the lack of variety in the rhythm section and the use of too many stops and starts which interrupt the flow of some sincere musical ideas. A full band on some tracks could have expanded the dimensions of this disc from good to great. - Gord Fynes
samples:
Torrez, "The Evening Drag"
Kimchee


When you see a song title like "Trebling/Freezing," you have a pretty good idea of what kind of a listening experience you're in for. 'The Evening Drag' is a sullen exercise that doesn't reach for much more. The album begins with "The Girls Will Haunt You," starting off strong as Kim Torrez debuts her plaintive voice amidst the band's simple, yet deep-sounding arrangement. It's a strong hook, and yet frustratingly, the track begins to fade out unresolved, without expanding or developing on its initial expression. A majority of 'The Evening Drag' mines the same territory, competent songs of quiet despair that rarely display any flair or personality to set it apart from any other song on the album. At times, it seems they tried to compensate by adding special effects, but more often than not, they feel out of place or downright goofy. By the time you reach "A New Despair," an inexplicable instrumental track that has you waiting for something, anything to happen and then again fades out, the album's formula has begun to wear out its welcome. Torrez is capable of showing some dynamics, which makes the sameness of the middle of the album so disheartening. On "After the Carnival," they create an atmosphere that's positively blissful, as Kim croons "spin me around / spin me, make me dizzy." The emotion is conveyed excellently, a warm memory replayed the next day that still manages to make you smile. The final two tracks, "The Flame" and "All on Fire" also deviate from the standard sorrowful drone, the latter beginning as a lullaby with dreamy vocals that make you glad you didn't hit stop. 'The Evening Drag' is uneven, but with a few bright spots that make it hard to count this band out. - Michael Patrick Brady
samples:
ELLIOTT SHARP / BOBBY PREVITE, "THE PRISONER'S DILEMMA"
Grob


Elliott Sharp shouldn't need much of an introduction, but just in case he does, just think of him as this bald headed big-nosed cyberpunk-obsessed improvising bassist with a mountain of recordings and collaborations behind him. He's a mainstay of the New York Knitting Factory scene and one of those musicians whose activities have always been on the periphery of my record collection. I've probably heard quite a lot of tracks from him here and there but before getting hold of this I only had one Carbon CD, which I found in a highly unlikely dusty old secondhand shop. This duet recording with the almost equally prolific drummer Bobby Previte is perhaps slightly more exciting and a little more freeform than Carbon, and mostly it's hard to believe that it's just two people playing. They've played together a lot in the past but this is their first duo recording and it's obvious they could probably kick out deconstructed funky jams like this at the drop of a hat. Their chops are dense yet fluid, and whenever it seems they're about to hit a predictable groove, they pull out some new rhythmic thrust that shifts the dynamic. This can occasionally work to the album's detriment. For instance: at the end of one track they lock onto a really cool Can-style hypnosis, only to curtail it prematurely. However, this is only a small niggle as it's quite a breathtaking display of virtuosity that keeps up a high level of momentum and flux, as Sharp fingerhops all over the neck of his eight string guitarbass, plucks a little pedal steel and even blows a bit of bass clarinet. Unless they are overdubbing or more likely laying on delay pedal tricks, it seems he can play clarinet and bass at the same time. Although people who've heard a lot more of Sharp's recordings might have become jaded by now, to these ears this sounds fresh and fun. - Graeme Rowland
Bill Laswell, "Book of Exit (Dub Chamber 4)"
ROIR


Bill Laswell is one of those "everywhere-at-once" musicians—producing, engineering and playing bass on countless albums for other artists, as well as maintaining an absurdly prolific release schedule of his own music. This album is mysteriously billed as 'Dub Chamber 4,' and since I haven't heard the first three Dub Chambers, I'm questoning my qualifications to write this review. However, this album does bear quite a resemblance Laswell's 'RadioAxiom: A Dub Transmission' album, a collaboration with Jah Wobble released early last year. Like that album, 'Book of Exit' is a highly polished series of superlative ethnic music workouts, utilizing heavily percussive dub as a backbone. This strategy has worked for Laswell many times before, and it works here again. Three of the six tracks contain beautiful, serpentine vocals by Ethiopian singer GiGi, who also sang on 'RadioAxiom'. GiGi's seductively epic vocal style works wonderfully in this context, but as Laswell's music always floats dangerously close to New Age/Worldbeat territory, it's difficult for me to completely surrender to its beauty. There is something a little enraging about white westerners who shamelessly co-opt the music of other cultures and blend them into a super hi-fi pastiche that loses its meaning and context, and serves as stereo test fodder for thousands of yuppie bachelor pads. The only things that save Laswell's music from being relegated to this hall of shame are his incredible grasp of composition, subtlety, and his ear for rich, captivating production. It is this amazing ear that transforms the opening track "Ethiopia"—a combination of cleanly plucked acoustic guitar, tabla, multitracked voice and echo chamber—from an easy cliché into an alarmingly beautiful experience. Most of the album follows this same basic formula, until things get a little bone-shaking and mind-bending towards the end, with the one-two punch of "Shashamani" and "Land of Look Behind." The album concludes with the long-form heroic pop of "Jerusalem," an achingly lovely paean to an ancient holy land, rife with war and division. GiGi sings mostly in English this time, and her sad and timely refrain of "Jerusalem, Jerusalem/You are so undone/Oh, what have you done...?" leave no doubt of this album's worthiness. - Jonathan Dean
samples:
Crooked Fingers, "Red Devil Dawn"
Merge


After the Archers of Loaf broke up, front man Eric Bachmann decided he still had a significant Muse living within him, enough to warrant forming Crooked Fingers, his current project. Where the Archers of Loaf had an abrasive noisiness which was unbelievably catchy and poppy, Bachmann's Crooked Fingers has shed all of the noise and distortion for a far more plaintive and roots rock sound. Did I mention there were strings? There are strings. Some of the songs on 'Red Devil Dawn' receive a strangely lush orchestration, complete with horns ("You Through a Spark") and strings ("Big Darkness," et al.). On the other hand, the last song, "Carrion Doves," is a truly spare dirge which reminds you how good a songsmith Bachmann is even with the most stripped-down elements. The last time I heard Crooked Fingers was when I sought out their cover of Bruce Springsteen's "The River" (I find myself singing this song sometimes driving late at night, in the car, alone). I was curious what Bachmann did with the Boss's ballad. I remember it being not as good as I wanted it to be, and I was surprised because Bachman's scratchy, throaty, and gruff voice was perfectly attuned to the task. The songs on 'Red Devil Dawn' are catchy pop rock songs, but when the strings or trumpets come in I cannot help but think I am listening to a Mark Knopfler album, a thought which makes me feel rather uncomfortable and causes me to look for the nearest Minor Threat album. While picking up my mom from the airport recently, I had the Crooked Fingers album playing in the car, and she actually asked if I was listening to Bruce Springsteen. Her confusion became clear to me when I thought about it. Someone could easily mistake this album for the newest Tom Waits or Neil Diamond. Still, I find myself listening to the first song, "Big Darkness," whose verses hop up and down the scales and whose chorus is quite catchy. As long as I don't think about Mark Knopfler or Neil Diamond, I can listen to 'Red Devil Dawn' pleasantly, though I don't foresee any of its songs replacing "The River" as my late-night solo material. - Joshua David Mann
samples:
stereolab, "abc music"
Strange Fruit


When Stereolab burst onto the music scene, critics and fans praised the fresh sound of a band who incorporated the energy and drive of groups like Neu! combined with the artful mentalities of 1960s French pop music. Over the years, the group's recordings have evolved from a raw, analogue sound to a much more refined, digital one. Live, however, the group has consistently proved their worth, evolving with the exploration of more territories and unrelentlessly dishing out the noise, graduating to a tight, fully realized collective. This two-disc collection captures ten years of BBC radio sessions, that live in-studio moment where a band's weaknesses can easily be exposed to the world. (Perhaps it's through these recordings they decided it was time to get a new drummer after the first session, and perhaps they gave the bass guitarist another chance to tune up after "Check and Double Check." The revolving door of keyboardists remains a mystery, however!) It's safe to say, however, that a number of these recordings that have held up over time, sounding remarkably as fresh as the day they were first broadcast. From the early low-fi days I'm reminded of the band I fell in love with: a group who was still sort of learning their place but were doing a fantastic job regardless. It wasn't long after the recordings that songs like "Wow and Flutter" and "French Disko" were stuck in the heads of thousands of fans and with all-out jams like "Metronomic Underground," classics of the 1990s were born. This is the longest-spanning collection of Stereolab music issued and it provides an excellent document on their evolution as skilled players and writers, without the advantages of studio tricks, re-takes and overdubs, something their most recent albums might be a little too oversaturated with these days. - Jon Whitney
samples:
Angel, "Angel"
bip-hop


This CD is a recording from the Summer of 2000 of a Berlin performance by Ilpo Văisănen and Dirk Dresselhaus (i.e. Schneider TM). Văisănen is playing the typewriter, that beautiful device pictured inside the Panasonic "Kulma" CD, while Dresselhaus is playing electric guitar. The music is electric noise improvisation and is generally pretty enjoyable. This is nice music to play while doing the dishes, ironing or checking email. But the trouble with that is, as the music is mostly not very attention-grabbing, it's easy for the mind to wander and suddenly I find that the CD has come to its end and, with a measure of guilt, I admit that I can't recall much of what happened. It is not fair to expect a 45-minute improvisation to be enthralling all the way through. Even if it were, how much of that can we expect to remain after the transfer through CD into your living room, with the sound toned down and smoothed out, with the drama and tension of the event replaced by the banality of everyday surroundings? So I get the headphones on and concentrate. (This enhanced CD has a couple of videos taken from the performance that can be played on a computer and, despite the video effects, the images help me to visualize the event.) Under these conditions, this turns out to be an exciting performance. Văisănen is the more dominant player in duo. While rather conventional and fairly transparent, the guitar playing is always tasteful, sometimes exciting, and very sympathetic to its surroundings, these being presumably Văisănen's doing. The same personality known from Pan Sonic is immediately recognizable but is largely without the Pan Sonic sound. After years playing a unique instrument it is perhaps no wonder that a personal style emerges. Văisănen introduces considerable originality to the unfolding process at several points throughout the show. My only quibbles are the smart-ass track mastering and the inscription on the inside of the digipack that says "set the volume and listen." But perhaps this is no more than the anticipation that certain in the audience will in fact set the volume and do the dishes or ironing instead. - Tom Worster
samples:
non, "children of the black sun"
Mute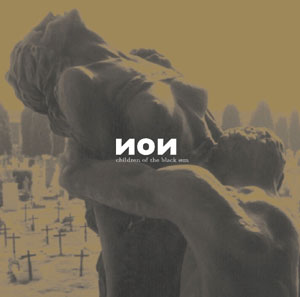 It's rather ironic that a guy who refused to accept the technology of email (which predates Non recordings actually) has released an album mixed in 5.1 surround for compatible high fidelity DVD systems. (Unfortunately, months after owning this, I have yet to experience the horror in full surround.) Following Non's brightest album, (the unofficial tribute to Phil Spector and girl groups, 'Receive the Flame'), Boyd Rice strays further away from Non's noise roots, yet returns to a dark sound, roping in grand orchestral and choral samples to the mix of fire and death. 'Children of the Black Sun' is Rice's all too brief aural tour of the underworld, where seven spots highlight various mythologies' takes on the darker side of the afterlife and what keeps the world cyclic. While the album is potentially rich with fascinating themes, I feel the music is rather undeveloped, far too short, and somewhat haphazardly tossed together. Opening with a brief vocal recording, the sound immediately morphs into a heavy drone. Harp sweeps, viola strikes and distant screams additionally color the soundtrack of "Arka," the place where Cain was exiled to after his expulsion from Eden. Without pause, the tour continues on through "Black Sun," where a single note horn drones on in the foreground while an orchestra holds painfully for resolution it never sees. The tension works but the development sounds far from complete. From here, the tour continues through five more locations, gliding from track to track without stopping, each incorporating a new set of sounds. The distant machinery-like noises of "Serpent of the Abyss" subside to flies picking off tasty morsels on a rotting corpse on "The Underground Stream," while the echoed choral loops carefully matched with crackling fire and crashing waves on "The Fountain of Fortune" give way to the albums closer, the 51-second "Son of the Sun," where a distorted backwards speech clumsily accompanies an unexciting orchestral loop. (Spin it backwards for extra insult if you really find the need to shell out the cash for 31 minutes of average drone loops.) I could be gravely mistaken on the value of this album, since I haven't experienced the full spectrum, but musically, I'm going to make an educated guess that the listening experience doesn't get a whole lot better. - Jon Whitney
samples:
High Tones for the Winter Fashion
Textile


There's no denying the quality of individual tracks on this disc of improvised electro-acoustic music, but I am reluctant to recommend it. This is because I am really not sure what the disc actually is, or what it is intended to be. Perhaps I should list its contents, in order of appearance: two brief pieces by a duo called Alma Fury, who play moog and sampler. One lengthy quartet piece by Alma Fury joined by Yasuhiro Otani (computer player whose appearance on the "Four Focuses" comp turned my head pleasantly a few years ago) and turntablist Otomo Yoshihide. Then two pieces by multi-instrumentalist Xavier Charles, a short duo by Charles and Otomo, and two more short solo improvisations by Charles. Now I ask you: is this a compilation? The reappearance of Otomo on two tracks suggests that some larger framework is in place, though what that could be is unclear. So is it a group with interchanging members, like the great "Four Focuses" CD? Maybe, but then we never hear Charles with Alma Fury, and Otani only appears on one piece. It could be that this is a document of a single concert, which would explain the variousness of the disc's contents but, alas, such a possibility is never addressed in the package. That a date and location is only supplied for the quartet track implies that the other recordings were made at some other date and place, so my theory has that hole in it. Is it a meeting of Japanese and French musicians? If so, then why are we not presented with solo pieces by Otani and Otomo? I just can't tell what unites these pieces of sound into An Album, so I am left to describe the music by itself.
High tones are, as the title clearly states, in fashion. Sachiko M plays them exclusively, TV Pow employ them often, Toshimaru Nakamura seems to live mostly in the uppermost frequency range, and on and on with the hordes of late-comers and hangers-on. The sine tone is as obvious and self-explainatory a noise as white static, or 60-cycle hum, or feedback, and as such must be used very intentionally in order to be at all effective. Whatever their relation to each other might be, all performances on this album use sine tones as a key element. Thankfully, all the muscians are dextrous enough improvisers and sensitive enough listeners to create more than a mere demonstration of a trend. Alma Fury (aka Claude Besnard and Vonick Moccoli) seems to be an especially exciting duo, whose pieces leap and dive gracefully among gravel growls and piercing highs. The trio recording covers much territory in its 21 minutes, and made me wonder why an entire album was not devoted to this group. When it changed subject to Xavier Charles afterwards, I felt as if I had cold water thrown on me; I was just enjoying the many places that this quartet could take me, when suddenly they were gone, the subject abruptly changed. Not that Charles' solo tracks are bad; they are not, though the use of recognizable radio fragments has never been to my taste. To me, as soon as an improviser turns on a radio, pure sound is brought crashing down to a reference that it cannot recover from; I find myself too aware of the process and attempting to tune that part out (no pun intended). The Charles/Otomo duo is less successful than the quartet, if only because they each seem to be doing their own thing at the same time, in the same room. I would have liked to hear the possiblilities of their instrumentaion explored in more depth (could this have been a full duo CD?). The inclusion of two additional Charles solo pieces is fine, if (for the reasons already described) somewhat puzzling. - Howard Stelzer
Scanner + Tonne, "Sound Polaroids"
Bip-Hop


This disc by Scanner and Tonne is a CD version of an installation they created for a London-based art show at the Institute of Contemporary Arts. It expands on the original concept that used location recordings around London to form a sound installation by adding themed pieces from Milan, Tokyo, Montreal, and New York City. There is so much detail in the process that created this record, that it has raised questions for me that hinder listening to the album as a simple recording. Should I be interested in the process that creates the resulting sound or focus on pulling meanings solely from the experience of the recording? Where does the line between spectator and creator get blurred with works that simply reproduce a moment in time and space for later listening? At what point do we become so fascinated with aural snapshots of real-life events that we spend more time listening to someone else's version of a walk through New York City than we do our own? Is this what they mean by postmodernism? I'm not sure where to go with answers on any of those topics, but Scanner and Tonne provide a sound collage that is true to the title of this collection. Each track is a manipulated collection of commonplace sounds from familiar environments that tend to reflect, if not always comment on the location in question. "Tokyo" begins with field recordings from Japanese subways and melts into a nearly techno-ish rumble that captures the dehumanizing effects of Tokyo's massive scale and the isolation of its millions of commuters crammed cheek to cheek into trains, but never connecting. "Montreal" finds Scanner returning to his namesake with stolen cell phone conversations and the trademark high pitched whine of radio feedback. "Milano" is a melancholic abstraction that flirts with the introduction of rhythmic figures that are never fully realized and buries the source material in a wash of synthetic pulses. These days, an artist can take a recording of someone ordering a pizza and turn it into a convincing 808 kick drum and bass pattern, so it's not surprising that musicians like these choose artificially limited sets of sound sources to see where they can take them. But while listening to 'Sound Polaroids,' I am reminded that there's no substitute for experience. These recordings are distilled through a very specific set of personal criteria set out by the artists and they don't sound too terribly different in tone than a lot of Scanner's other work. These recordings don't capture the life and vibrancy and complexity of the environments they are reflecting as much as they hint at a way to compose whatever music you want with whatever set of sounds you've got. - Matthew Jeanes
samples:
Tonne, "Soundtoy"
Bip-Hop


Another theme/concept record from Bip-Hop is Tonne's 'Soundtoy,' which is effectively a product demo for a sound sequencing device that Tonne created as an alternative to the big budget, feature-laden audio packages that drive modern electronic music production. The Soundtoy application is included on this disc for listeners to try out, and it allows the user to drag and drop colored squares that represent a bank of sixteen sounds onto a grid of twelve moving lines. Like the board game Othello, Soundtoy takes a minute to learn but a lifetime to master. The interface is intuitive and even fun to play with, but as there is no quantization feature and no way to record your drags and drops for playback at a later time, getting something you really want out of it is another story. But creating whole tracks, like the eight songs also included on this disc, does not apper to be the real aim of Soundtoy. Instead, the artists involved primarily used the application to come up with new rhythmic combinations that a rigid sequencing program might not have helped to produce. Scanner, Si-cut.db, Hakan Lidbo, and Tonne himself each contribute two tracks a piece of noodly electronic tones drenched in reverb and delay, and after listening to the album straight through three times in a row it was very difficult to pinpoint any one artist's signature sound or contribution. Expect a lot of click n cut style percussion stabs, warm sampled bits from analog keyboards, and structures that flirt with the idea of beats but don't usually manage much more than fractured, off-time rhythms. The included sound files from the artists involved should keep bedroom laptoppers busy hacking and remixing for a while, and the music included, while not a necessary advancement in the world of computer music, is fresh enough to earn a spot in the rotation at your favorite chill out spot. - Matthew Jeanes
samples:
The Lounge Tribute to Eminem
Vitamin


It seems like every week a new tribute album comes out where artists from another genre show homage to bands that they've enjoyed or been influenced by. This is not one of those albums. The Lounge Brigade, for no apparent reason other than the pure comedic value, have taken some of Eminem's more popular numbers and made them lounge. And although it seemed incredibly unlikely to me, the results are not all bad. To be honest, I'm not a big fan of Eminem, though I will admit he has an impressive delivery. The Lounge Brigade doesn't even try to keep up, and it's one of the only entertaining things about this release. On "Without Me," Tony Calzone, the band leader, tries to welcome us to the show, and he's butted out of the way by another vocalist delivering a raspy dismissal in true Marshall Mathers style. Then he flubs half of the lyrics or outright changes them as he clears his throat repeatedly. This is not a big band, as just four members handle keyboards, guitars, percussion, bass, and the occasional trumpet. The Brigade tries to make up for their roster shortcomings, though, with unique arrangements. "Stan," the track based on a horrible Dido song called "Thank You," is amped up into a Salsa number where the vocalists take a rest. The Dido part is replaced with horns, and piano picks up Em's lines, saving us from more lackluster performance by the vocalists, but that's the only plus. The one song where the delivery is close to the original, and therefore something of a standout, is "My Name Is," where the vocalist comes across like Steve Lawrence, even providing a corny "verse two" introduction. There's even an original composition called "Loungin' With Stan," but even that can't save this release from what doomed it all along. Why remake Eminem as lounge? Even if it is just for the comedy of it, it's not that funny, and it's a one-note joke. - Rob Devlin
samples:
lemon jelly, "lost horizons"
XL


Admittedly, I do buy my share of soft, white, fluffy stuff. It's called toilet paper. While the duo of Nick Franglen and Fred Deakin have proven themselves to be fantastic producers, none of the songs on their first proper album seem to go anywhere. At times, the instrumentation can be impressive and well-balanced, but other times it can be klutzy and oversaturated. In all examples, however, the melodies simply don't change for the nearly eight minutes of each track. What works is when crystalline acoustic guitar riffs, piano melodies, and string sounds are finley matched with subtle breaks. This trend is established from the first few seconds of the album and thankfully continues for most of the first part of the disc. However, quite often the songs become buried in too many layers, consisting of the painfully British sound of muted brass instruments, tacky scratches and irritating vocal samples. For example: while the flute and bass guitar on "Ramblin' Man" are becoming blissfully intoxicating, the obnoxious British twit listing off cities forces me to hit the "next" button on the CD player. Match that with the obvious American influenced sounds of pedal steel guitar and harmonica and it's almost as if Lemon Jelly are suffering from an identity crisis. Ironically, and this is in their favor, each song does have a clear identity and I never get the feeling that I've listened to the same song eight times. I admit the guilt of having, "All the Ducks are Swimming in the Water" running in my head over and over again, and the black-and-white horror film score feel of "Experiement No. 6" is fun too, but oversaturating a song with instruments and not changing the melody doesn't change make for a listen worthy of repeating. - Jon Whitney
samples:
We know that sometimes these CDs are somewhat challenging to find, which is why we have a community section which can be used to obtain nearly everything available on this site.