a weekly digest from the staff and contributors of brainwashed
V08I04 - 01302005
Click here for other issues
SITE
brainwashed welcomes two new family members
Brainwashed welcomes two new websites to the family. Charles Atlas has been a Brain favorite since the debut record surfaced in 1999. Prior to forming Charles Atlas, founder Charles Wyatt was most known for his involvements in bands Piano Magic and Dart. Last year saw two releases: a full-length on Ochre and a remix album on Audraglint featuring mixes by Isan, Sybarite, Pram, Nudge, Strategy, and many more. We've also launched a tiny micro-website devoted to Antony and the Johnsons. This site compliments Antonyandthejohnsons.com in that it features a full discography with all singles and compilation tracks along with sound samples. While we will post tour dates and release news here on The Brain, for the most updated news, information, and merchandise, it'd be best to direct your attention to the official website. Tour dates are now available below for both groups.
we're number 2!! we're number 2!!
After only seven weeks, the Brainwashed Podcast has shot up the charts at Podcast.net to a whopping #2! Since we trail behind Open Source Sex at #1, we are the top played music podcast! (Of course, this means we have to add more sex to get to #1.) Hot new tunes are once again expected in this upcoming week's podcast, and feedback and requests are encouraged.
matmos and four tet paint it, black
Matmos and Four Tet (Kieran of Fridge) both appear on a forthcoming tribute to Black Sabbath titled Everything Comes & Goes. The collection, from Temporary Residence Ltd., also features Ruins, Curtis Harvey Trio, Paul Newman, the Anomoanon, Grails, Racebannon, and Greenness w/Philly G. Release date is set for April 4th but one of these tracks might just sneak onto the Podcast.
tough choice on march 19th for londoners
On March 19th, The Legendary Pink Dots return to England for a rare London appearance at the Slimelight. Meanwhile, across town, Matmos will take to the stage as part of the Ether 2005 festival at Queen Elizabeth Hall. Featured guests of Matmos include Charlemagne Palestine, Zeena Parkins and Ikue Mori, and a DJ set from Cyclobe. For more information see www.rfh.org.uk/ether.
brainwashed presents otology
There is still time to pre-order Otology: The Brainwashed 7" Singles Collected. It comes free with the pre-order of the next round of limited 7" singles from Brainwashed: Sybarite, "Dolorous Echo"/"The Mast;" Jessica Bailiff Live at VPRO Radio; and Aranos, "No Religion"/"Spitting Revivalist Dreams of Everlasting Pain." Sound samples and the awesome cover artwork images (thanks to Ben Palmer once again and Brain contributor Jim Siegel) are available at Brainwashed Recordings. Copies can be reserved with a purchase at the commerce page at brainwashed. Thanks for your support, it keeps food on our table.
TINO LIVE IN SAN FRANCISCO
Tino Corp will perform live at The Elbo Room, 647 Valencia Street, San Francisco, CA Friday February 25th. Tickets are $10, opening acts are BLVD and Motion Potion. Tino Corp will be on stage at 12.30am
THE EYE

colin potter


If the self-professed non-musicianship of Steven Stapleton is the "man behind the scenes" for Nurse With Wound, then Colin Potter is surely the "man behind the man behind the scenes." Colin has worked with bands and people like Current 93, Nurse With Wound, Ora, Monos, Andrew Chalk, Darren Tate, Jonathan Coleclough, and a bunch of other people since the early 1980s. Colin still runs his own studio operation and engineers tons of recordings from many of our favorite non-musicians here at Brainwashed. We had a rare opportunity to catch a live show and sit down for some words with Potter in NYC on the day after Christmas, 2004, and are pleased to present this episode of The Eye, chock full of goodies. We apologize if his stage presence during the concert isn't terribly exciting, but the music was utterly breathtaking.
30 Minutes, Quicktime Streaming Video
TECH SPECS
Necessary:
A current web browser
A modern computer
The latest quicktime plugin for streaming media (hint: use the latest Mozilla if other browsers aren't working)
Recommended:
A fast connection
A willingness to learn
Unnecessary:
If you see a blank window without anything streaming, don't complain to us. You don't have the latest version of Quicktime for streaming media. Go download it. It's free.
MUSIC IN REVIEW
Food, "Last Supper"
Rune Grammofon


Food is one of my favorite Rune Grammofon groups and this is their best record yet. Though less experimental in nature than the majority of Rune artists, and lacking in the sense of high concept that makes many of the label's releases so attractive, Food is more fun without seeming outwardly less complex. They are the easiest of the Runes to be called jazz or even new-age, but the words will hardly sound dirty to anyone ever seduced by Vangelis or something from the ECM label (for which label owner Rune K. is longtime employee). While 2003's Veggie arranged the group's progressively more electronic sound within a lattice of kinetic, percussion-driven outbursts, Last Supper sounds like less of a retreat into more textural play than a document of the members' focused effort towards integration. Arve Henriksen's trumpet attempts nothing that his last solo record Chiaroscuro didn't test first. His lush, breathy style, however, has never sounded more comfortable than among Thomas Str?nen's much looser, clatter-heavy drumming and the subtle hums, whirs, and pure tones making up the unobtrusive electronic quotient. The quartet is horn-led without the sax and trumpet becoming the fulcrum for the movement of each track, their looping overlays and uniformities creating instead the drifting backdrop from which all of Last Supper's small surprises burst like budding desert flowers. Str?nen's percussion bears the influence of the gamelan sound as well as the sparse, resonant bleats that would characterize Asian musical drama. Henriksen's playing, on the other hand, sounds less Eastern than usual, opting to connect distinct sound events rather than punctuate their contrastive parts. His playing, and the interconnected of the album's tracks, their seductive whole, reminds me most of In a Silent Way, a recording that for me has always represented a perfect open-endedness of mood. It is music that through familiar means and a relatively even keel reaches a magical point of atmospheric flux and regeneration. Those attracted by ?Daddycation,? the song included on last year's defining Rune compilation Money Will Ruin Everything, will be pleased to find it repeated here among tracks which mirror its vague and triumphant sense of melancholy. Last Supper will also be perfect for those made curious by Henriksen's playing with Supersilent but yet too timid to try one of his solo records. - Andrew Culler
samples:
"THE FURTHER SOMNILOQUIES OF DION MCGREGOR"
Torpor Vigil Industries


Dion McGregor was a down-on-his-luck Broadway songwriter living in New York City in 1960, sleeping on the couch of his friend and partner Michael Barr, when Barr first noticed McGregor's unique propensity for speaking his dreams aloud. In the early morning hours before McGregor awoke, he would rattle off remarkably coherent narratives that were by turns surreal, disturbing and hilarious. It was not until 1961 that Barr began to record Dion's sleeptalking, and he recorded his roommate faithfully every morning until he moved away in 1967, amassing a collection of thousands of McGregor's so-called "somniloquies" on mountains of reel-to-reel tapes. In 1964, Barr approached a Decca Records executive with the idea of releasing an LP of Dion's best dreams. In possibly the strangest major label move ever, Decca actually agreed, releasing not only the classic LP The Dream World of Dion McGregor (He Talks In His Sleep) , but also a companion book with many more dreams transcribed, with accompanying illustrations by Edward Gorey. The book and LP both sold poorly to a largely bewildered public, and in the intervening years the cult of Dion McGregor slowly grew, and the book and record both became collector's items. McGregor died quietly in 1994, and then seemingly out of nowhere, Tzadik released a sequel to the Decca album (1999's Dion McGregor Dreams Again), with more than an hour of dreams deemed to be too obscene for the original LP. I assumed that was probably it, but surprisingly, Torpor Vigil Industries has dug deeper into the Barr tape archive to put together yet another hour-plus collection of somniloquies from the same bountiful source as the other two classic releases. I was apprehensive about this volume, thinking that most of the best dreams would have already been used on the first two albums. I was wrong, however; the 24 tracks that make up The Further Somniloquies are vintage McGregor, full of surreal humor, oddly disturbing mental imagery, and that same fey delivery that made the other dreams so supremely funny. Just as on the earlier recordings, the sound of NYC traffic noise can be heard in the background throughout (Dion liked to sleep with the windows open), and every dream ends with McGregor shrieking and waking himself. The man's sleeptalking talent was truly outstanding: from the opening track "Scavenger Hunt" ("A yellow robins egg...a wolf's dream...a Welsh shoelace...a dirty napkin used by Garbo"), to the finale of "The Wet Parade" ("Walk straight into the sea, goddamnit! Hup, two, three, four!"), McGregor's dream world is utterly bizarre, frequently hilarious and always fascinating. Along the way McGregor plays "Food Roulette" with a lazy susan of poisoned eclairs, talks about living in a boarding house full of circus freaks, and reveals his obsessions with mangoes and horseshoe crabs. Many of the dreams are so meticulously realized and performed that I have often wondered whether or not the whole phenomenon was really just a hoax, despite the volumes of anecdotal and medical documentation regarding McGregor's peculiar case. Even if it is a hoax, it's an amazingly entertaining one, and that should count for something. - Jonathan Dean
samples:
Black Forest/Black Sea, "Radiant Symmetry"
Last Visible Dog


This set sounds amazingly cohesive for a collection of tracks recorded at various live venues with many tracks featuring different guests. Jeffrey Alexander and Miriam Goldberg, Black Forest/Black Sea's two permanent members, are noble for sharing so much of the spotlight of their own project with others. They seem to thrive on the energy which is produced by trying new combinations of instrumentation and personnel. On the opening improvisation, recorded in Glasgow, the addition of Daniel Padden on clarinet, Alex Neilson on percussion and Christoph Hladowski on bouzouki combines with the duo's cello and guitar and produces a swirling mass of sound that a duo could not create on their own. The chaotic, free improvisational flavor of this piece is deceptive as an opener, as throughout the remainder of the cd there are calmer elements. The mood is plaintive on a collaboration with guitarist Nick Talbot (Gravenhurst), recorded in his hometowm Bristol, England. On this recording Miriam makes up for her lack of vocals on this album with some equally emotive screaming cello playing. Track three, recorded in Bologna, features an extra guitarist and gives Miriam room to stretch out on cello, producing aching tones that serve as a background for the two guitarists to pit feedback against fingerpicking. Although it's often difficult to tell who is playing what, it seems that Goldberg and Alexander value this anonymity. To me, this music is about the immediacy of exploring new directions, and with expert players the results are not self-indulgent. Of nine tracks included, only three feature the duo by themselves. Two of these were recorded at Morden Tower, Newcastle-Upon-Tyne, and find the pair making excellent use of electronics. Tastefully enhancing their acoustic instrumentation with many different textures provided by warped analog effects is one of the strengths of this project. Also from this venue, track seven sounds particularly fresh, with Alexander's guitar playing sounding like a direct response to the sharp electronic tones swarming all around. The 15 minute track recorded at Talbot Hotel in Stoke-on-Trent which closes the set is a highlight, and features Harry Sumnall on electric tamboura, harmonium and percussion. The trio create a hazy mass of drones which allow guitar and hand percussion to weave in and out of the mix. By leaving the focus somewhat open-ended, yet working with a worldwide network of likeminded collaborators, Alexander and Goldberg produce exciting music that is at once selfless and fulfills their personal vision. - Jim Siegel
samples:
MINIMAL MAN, "THE SHROUD OF"
Boutique


Minimal Man was founded in 1979, in San Francisco by avant-garde painter and filmmaker Patrick Miller, and the band included a revolving cast of musicians from fellow SF art punks Tuxedomoon and future members of Factrix. Minimal Man have been historically marginalized in a fertile underground music scene that included many other influential artists (including Z'ev, Flipper and Nervous Gender), and they are no doubt unfavorably compared to stylistically similar artists such as Suicide, Chrome or even NON. In truth, the Minimal Man sound was somewhat derivative, but Patrick Miller's intensity and willfully anti-musical aesthetic provide a fascinating footnote to the history of post-punk and industrial music. The debut album, The Shroud Of was released on Subterranean Records in 1981, and is presented here in its entirety along with some early singles and compilation tracks. The Minimal Man sound is relentlessly dark and aggressive, with cheap synthesizers and drum machines, jagged guitar and occasional shrieks of saxophone all purposely pushed into the red, creating a dissonant blanket of treble-heavy distortion. Patrick Miller's vocals are unmodulated and flat, his lyrics nihilistic, each line echoplexed, doubled or otherwise mutated into a synthetic oblivion. Chugging sequencers spit out fuzzy non-melodies as Miller cultivates his Kafkaesque persona, full of anxiety, angst and existential dread. With lyrics that indicate an adolescent fascination with Philip K. Dick, William S. Burroughs and J.G. Ballard, Miller creates a cinematic ambience of high-contrast black and white, like a German expressionist filmmaker let loose in a recording studio. Just listen to the hypnotic, swirling maelstrom of noise and dark, grainy atmospherics on "Blue Step." Perhaps because of its relative obscurity, Minimal Man's debut album has weathered the sands of time gracefully, and with legendary acts Suicide and Tuxedomoon currently attempting to destroy their legacies with mediocre reunion albums, The Shroud Of sounds positively refreshing in comparison. LTM's Boutique label has done an excellent job on this reissue, including hard-to-find tracks from two early 7" singles and an impressive eight-minute track called "Shower Sequence" from a Subterranean cassette compilation. The booklet reproduces some of Miller's excellent paintings and contains a detailed biography of Minimal Man. I'm guessing that this disc is the first in a projected series of Minimal Man reissues, and I am looking forward to getting my hands on the rest of the discography. - Jonathan Dean
samples:
STEVEN BROWN, "HALF OUT"
LTM


Not to minimize the great work that the LTM label has done dusting off the extensive back catalogs of labels like Factory and Les Disques du Crepuscule, but when I hear something like this Steven Brown album, it makes me wonder if their time and energy might be better spent on more worthwhile archival projects. Brown was, of course, a member of cult avant-garde band Tuxedomoon, the San Francisco collective that pulled up stakes and moved to Belgium in the mid-1980s. Last year LTM reissued a couple of albums by fellow Tuxedomoon alumnus Blaine L. Reininger, and it's actually a little weird how similar Brown and Reininger's solo material sounds, especially considering how little it resembles their work in Tuxedomoon. For their solo projects, both artists developed a distinctly MOR style of urbane, jazzy pop music with literate, world-weary lyrics. Luckily, Blaine L. Reininger's albums were saved by his prodigious talent on strings and his use of neo-baroque chamber quartet orchestrations. Steven Brown has no such saving grace however, and 1991's Half Out, his third solo album, suffers from "adult contemporary" blandness and an annoyingly overcomplicated production style. Each track is filled out with loads of superfluous compositional elements: keyboards, horns, emulators, synthesizers, strings, drum programming, accordion, guitars and backup vocals. It's all a bit exhausting, making relatively minimal tracks like the point-counterpoint "Violorganni" (a duet with Reininger) a welcome respite. For the majority of the album (and the four extraneous bonus tracks), Brown's music seems over-calculated and pseudo-sophisticated, from the tiresome opening monologue ("I've got a million things to say but I forgot. I could write a book but I lost my pen."), to the ill-advised Cole Porter cover ("In the Still of the Night"). In an effort to prove how intellectual and literate he is, Brown name drops Jean Cocteau, randomly breaks into French and Italian, and spins some incomprehensible yarn involving "Willy Loman with his Flemish Reader's Digest." Frankly, it's all a bit pompous, a collection of empty artistic gestures that don't seem terribly substantive. I seriously doubt I'll be giving Half Out another spin any time in the near future. - Jonathan Dean
samples:
Skates, "Lord of the Rinks"
Unschooled


People who can't rap shouldn't and programmers with some degree of ability shouldn't bother enlisting those tired vocalists when they aren't needed. Point in case: Todd Drootin of Books on Tape makes some mildly entertaining, low-end electronic fuzz dependent on bass and drums and then decides that it must be too boring to stand alone. Melissa Dungan enters this scene and proceeds to rap like a 12 year old girl obsessed with coming off as "old school." It's a truly sad scenario of adolescent proportions until Dungan stops rapping and starts singing some reasonably tolerable lines variously concerned with such topics as Donnie Darko and shoes of different colors. The EP is five tracks plus five remixes; one remix is provided for each original track. The Master Cylinder remix of "Chartreuse" is actually quite good and is worth a few listens or perhaps it could serve as a nice addition to a mix CD for long, relaxing drives. While there are plenty of groove-filled rhythms pulsing through most of these tracks, the vocals always end up cutting through them like a chainsaw to bobbing rolls of fat. It's messy and irritating because those rolls of fat are mesmerizing and fun to watch while they last. Eventually the remixes stand out and above the original tracks, but only because the lyrics are buried deeper in the mix and because the remixes aren't trying hard to be surprising. They simply move along at their own pace and provide a continuous mood and steady rhythm. There's nothing but standard fare going on here; the price is pretty nice for a ten song EP, but it's depressing that only two or three of those ten songs are worth paying attention to. - Lucas Schleicher
samples:
Reuter/Boddy, "Pure"
DiN


There won't always be room for new, instrumental, and rhythmic electronic music. Albums like this one suggest that only so many synth pads and sampled instruments can be combined in an entertaining and quality way. At first Pure is a pretty album—sliding like a slow mass of ice over the surface of a still body of water. There are warm tones bubbling up and over the surface of this ocean and the water's rhythm provides nothing but a soothing cushion of air on which to relax. Over the course of the first five tracks this same feeling is reproduced in slightly varying ways: guitars stretch and crack, pseudo-pianos jumble against each other, and fairly straight-forward guitar solos dominate the mix of electronic percolation. Sadly this is all the album has to offer; one complete rotation through this record reveals a monotonous production that never allows any of the synthetic strings to stand out as anything more than passing scenery: listening to this record is much like trying to catch all of the details in the trees on the side of the road while passing them by at one-hundred miles per hour. It isn't as though the music is moving by too quickly, but all the sounds end up blurring together in an unsatisfying way. There are exceptionally beautiful moments on some of the songs, but it is as if they are predictably beautiful. Markus Reuter and Ian Boddy can sequence and orchestrate music quite well, but they limit themselves far too severely to produce more than one or two truly engaging tracks. This kind of shimmering music feels as if it is stuck in time, undeniably in the late 1980s or early 1990s. Instead of trying to escape from song structures that have long been worked out by other musicians, Reuter and Boddy both revel in sounds and structures of a tired genre with a vague hope of making them sound more interesting. - Lucas Schleicher
samples:
maximilian hecker, "lady sleep"
Kitty-yo


On his third full-length album, Maximilian Hecker has truly established himself as a fantastic pianist, composer, and arranger. Lady Sleep opens with the climactic piano melody of "Birch." It sets the scene much like a tragic love story: patient and powerful, set against lush strings and underscoring Hecker's frail voice. The album picks up where 2003's The Rose left off: piano-soaked melodies almost completely void of the electronic beats and rhythms that made his 2001 debut Infinite Love Songs so infectious. This is where the problem lies, however. With Infinite Love Songs, Hecker was not only powerful in his originality, but he authored some powerful songs that linger long after they're over. The problem that plagues Lady Sleep is similar to The Rose: the lyrics are a tad too timid and moderately obscure, almost completely incomprehensible at times, uncatchy and forgettable; and without the daring rhythms and beats of the first album, as a whole, the album is dangerously bordering on completely miserable. Furthermore, Hecker's originality seems to be slipping too: songs like "Lady Sleep," and especially "Dying," painfully echo Sigur Ros while on "Yeah, Eventually She Goes," the album's only track that choses to (almost) rock, Hecker is plainly resurrecting Radiohead's "Creep." Perhaps Hecker is trying to find some hit power for his formula, and although I can give him some mad props for the stunning piano and string arrangements, everything else is far too bland and disposable. Perhaps it's time for a remix album to add some color back into his palette. - Jon Whitney
samples:
We know that our music picks may be somewhat challenging to find, which is why we have a community section which can be used to obtain nearly everything available on this site.
NEW RELEASES

WEEK OF JANUARY 30 - FEBRUARY 5
A Guy Called Gerald - All Things What They Need CD/LP (!K7, Germany)
Africa Unite - In Dub CD (Echo Beach, Germany)
Marc Almond - Sin Songs, Torch and Romance: Live at The Almeida DVD (Demon, UK)
Another Electronic Musician/The Snodgrass - split 7" (Imputor?, US)
Antony & the Johnsons - I Am A Bird Now CD/LP (Secretly Canadian, US)
John B & Exile - Broken Language 12" (Planet ?, UK)
Bitstream - Domestic Economy 7 CD/2xLP (Modern Love, UK)
Bluprint - Ruby 12" (Exceptional, UK)
Butti 49 - Habit CD/LP (Exceptional, UK)
Braun (And The Mob) - As The Veneer Of Dumbness Starts To Fade CD (Nonplace, Germany)
Cex - Starship Galactica CD [remastered reissue with bonus tracks] (Temporary Residence Limited, US)
Randall Cousins - Murder on the ICE-Train CD (Alleged Iguana Music, Canada)
Dumbwaiters - Musick CD (Fiani, US)
El Poeta - Musically Speaking CDEP (Imputor?, US)
* Field Mice - Snowball CD [remastered reissue with bonus material] (LTM, UK)
Jason Forrest/End - Ladies Get In Free! split 12" (Broklyn Beats, US)
Girls Under Glass - Zyklus CD (Dependent, Germany)
The Impossible Shapes - Horus CD/LP (Secretly Canadian, US)
Justus K?hncke - Doppelleben CD/LP (Kompakt, Germany)
Jens Lekman/El Perro del Mar - split 7" (Secretly Canadian, US)
Lemon Jelly - '64-'95 CD/LP/DVD (XL Recordings, UK)
Roots Manuva - Awfully Deep CD/LP (Big Dada/Ninja Tune, UK)
Billy Mackenzie - Auchtermatic CD [anthology of unreleased original mixes of various acoustic tracks] (One Little Indian, UK)
Billy Mackenzie - Transmission Impossible CD [anthology of electronic tracks with unreleased material] (One Little Indian, UK)
* Billy Mackenzie - Memory Palace CD [remastered with bonus tracks] (One Little Indian, UK)
The Skygreen Leopards - Life and Love in Sparrow's Meadow CD/LP (Jagjaguwar, US)
Sol Invictus - The Devil's Steed CD (Tursa, UK)
Speedy J & Chris Liebing - Collabs 301 12" (novamute, UK)
* Suicide - A Way Of Life 2xCD [remastered reissue with bonus live CD] (Blast First/Mute, UK)
* Suicide - Why Be Blue? 2xCD [remastered reissue with bonus live CD] (Blast First/Mute, UK)
Amon Tobin - Chaos Theory: Soundtrack to Tom Clancy's Splinter Cell CD (Ninja Tune, UK)
Mia Doi Todd - Manzanita CD/LP (Plug Research, US)
Various - The Best Of Grandmaster Flash and Sugarhill 2xCD (Sanctuary, UK)
Various - Monika Force CD (Monika, Germany)
Various - South Africa In Dub CD (Echo Beach, Germany)
Patrick Wolf - The Libertine 7"/CDEP (Tomlab, Germany)

This is simply this week's highlights from the NEW RELEASES provided by Greg and Feedback Monitor. For a more detailed schedule stretching into the future, please check out the page, since release dates can and will often change.
POLL
Results from last poll: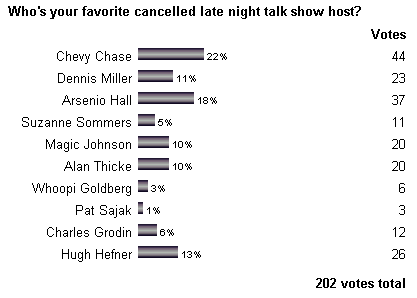 LINK OF THE WEEK
are you tall or not?
Now you can see how you measure up to some of the most famous people living or dead. Well, it's a start. They've got a small number of people in their database but with any luck they'll expand it.
http://www.ringophone.com/TallOrNot.swf
FEEDBACK
how low can you go?

Subject: Low review
Low on SubPop: owned by Warner Bros.
Breaking your own rules?
SubPop's not completely owned by AOL Time Warner, nor is it operated by them. The distribution rights are owned by ADA, a conglomorate owned by Time Warner, but it still functions as an independent without Beverly Hills lawyers making decisions on teen pop icons. But it is dangerously close, yes.

Subject: Low
Jon, you've never been more right on about a review than you are about the review of the new Low record. The songs are amazing, but who the fuck overdrives the toms!?? It sounds like a muddy mess in the background where all of the instruments just collide. It's a shame that Low went out on a limb and did something very different for the first time and it wasn't captured correctly. Who would have thought we'd be saying the Steve Albini produced record sounded cleaner?
Well, it's really not the first time they've gone out on a limb: Trust was pretty out-there and Things We Lost in the Fire was also pretty lavish in comparison to earlier albums. But yeah, err, who overdrives the toms? Whatever you said...

Subject: f@#k listeners!
Low's new album really really rocks. I mean... what they expect? MORE and MORE slowcore songs? f..k off!
By the way... it seems a pretty obvious that in the production they try to sound raw. I'm not defending friedmann .. i'm not a really a fan of him... but i thinks he's donde well... really.
also i'm not a Low fan... just think is a bloody good record.
Bloody better than a 5.5 from bitchpork, I'll admit that.

Subject: no subject
Dear Sir/Madam:
I am a real estate attorney handling the greater Boston area, and from time to time I visit companies to give a brief, 20-minute talk on the basics of buying and selling a home or condominium (from the Offer to the Closing). People have told me they find my talk very valuable; that is especially so as we enter the spring purchasing season. I would like to visit and give a talk at your company. If a group of your employees (even a small group) would be interested in my talk, let me know and we can arrange a mutually convenient time.
Yeah, come by the house, we'll be naked. You be too. Bring some door-to-door Mormons or Jehovas Witnesses and an RCN and a Masspirg person.

Subject: eye on the eye
With regards to your 'EYE32' I think it's really good.
I've watched it three times in three days and now I'm contemplating swelling your coffers with more lucre and getting the rest of the series. So sorry I can't be more insulting but I'm sure something will turn up soon.
Thanks! It's something we're excited about here and hope other people can share in the excitement.

Subject: Mirror
Would it be possible to put up samples from any of the new Mirror? They amaze me, though it's very hard to find samples.
When albums get reviewed, we'll give them samples, as for the Mirror website, well, that's a different story. You'll have to pester Francois about that one.

Subject: radio feedback
Your Radio-chat link is for AIM (AOL Instant Messenger) only. how about adding something like Yahoo IM or Microsoft IM, which many people use.
Thanks and keep up the good work,
Thanks for the compliments, but honestly only rarely is there ever somebody at the brainwashed radio computer to begin with. That IM is kinda there for people to make requests here and there. Adding two more instant messaging programs to idle on will be kinda silly. Plus AIM is free anyhow!

Subject:
GET INVOLVED
sponsor, donate, or buy from brainwashed
Click here to find out how you can help keep The Brain going. Every penny helps.
become a contributor
We're always looking for more writers and are welcoming applicants who meet the criteria. Have a look at our new section, Write for The Brain and don't be shy.
sign up for the announcement list
Do you want to be the first on your block to hear about special limited pressings and happenings of Brainwashed? An announcement list has been set up at www.hollyfeld.org/mailman/listinfo/brainwashed. It's not a forum and subscribers will be the first to hear about new releases on Brainwashed Recordings, a new Brainwashed Handmade imprint, the hopefully soon to launch Brainwashed Archives label, and any music fest(s) to coincide with Brainwashed's 10th Anniversary (which is only a year away). Thanks again for the support, it keeps us going.
let us know what you think
Communicate with us, tell us what's in your player, tell us what you want more/less of, send recipes.