Cooloorta Moon
Details
1989 12" UK Idle Hole MIRROR THREE
Black vinyl copies in regular sleeve
1 Test pressing with hand-made sleeve entitled "Broken Horse No.4"
Track Listing
Vinyl Etchings
Side A: TONY WHIPS IT OUT
Side B:
Personnel
Dik
Douglas P.
Chris Wallis
David Jackman
Bradford Steer
Sleeve Notes
Tony Wakeford - Bass
Dik - Engineer, bongos, percussion
David Tibet - Voice, toys
Douglas P. - Electric guitar
Chris Wallis - Acoustic guitar
David Jackman - Shakuhachi, esraj
Bradford Steer - Alto sax
Steven Stapleton - Percussion, voice, loops, sax, electronics & mix.

Produced by S. Stapleton
Cover by Babs Santini
This record is dedicated to the OIMELS.
Other Images
Cooloorta Moon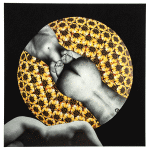 Details
2016 November 12" UK Idle Hole MIRROR THREE
1 test pressing of earlier release
hand-made sleeve by Steven Stapleton
Track Listing
Personnel
Dik
Douglas P.
Chris Wallis
David Jackman
Bradford Steer
Other Images