Bright Yellow Moon
Details
2001 CD UK United Durtro UDOR8CD
1000 Numbered copies in embossed and stickered digipak with Purtle
Only available via mailorder
2001 CD UK United Durtro UDOR8CD
In digipak
Track Listing
Butterfly Drops (1:42)
Disintegrate Blur 36 page 03 (17:31)
Mothering Sunday (Legion Legion) (3:45)
Nichts (7:41)
Walking Like Shadow (3:13)
Personnel
Michael Cashmore
Sleeve Notes
Nurse With Wound and Current Ninety Three:
Steven Stapleton , David Tibet , with Michael Cashmore.
Mixed by Steven Stapleton with David Tibet.
Engineered by Colin Potter at the Water Tower.
Cut by Denis at Country Masters.
Cover by Santini and Tibet.
Thanks to Matt Black, Paul Jackson at Othila, Ross, Thomas Ligotti, 3 Serpents, and special thanks to Scarflatti for chemical amusement aid.

In August 2000 I was taken into hospital in London. I was vomiting many brown grains, was in great pain and was unable to walk. The doctors were unsure as to what the actual illness might be. They injected me with morphine, put a tube down my nose into my stomach to drain the poison, and inserted a catheter to drain my urine. I was then diagnosed with peritonitis , but they were still unsure as to what the specific nature of the peritonitis was. Their tests showed that I was suffering severe blood poisoning, and my stomach and all related bowel functions had shut down. They operated the same night; I was wheeled into the operating theatre with an icon of St. Pantaleimon accompanying me. I woke up with a ten inch long scar down my stomach from the pubic area up towards the centre of my chest, avoiding in a sweet swerve, the navel; the scar had been beautifully stapled together in twenty-five places. I was told that my appendix had burst some time before and had become gangrenous. They said the inside of my stomach was covered in pus. They said I had been very few days away from dying. They said I should have been in a lot more pain than I had been when I was admitted into the hospital. They introduced more morphine into the epidural tube that had been inserted into my back hilst under anaesthetic. I did not have a great deal of awareness as to where I was. But I could already see helicopters chattering over me, and they followed me to the ward. I was in London and was Nowhere. Check the hands of the watch for time, for time; and do not say 'This time is mine'...All shine, allshine: Someone Bright appears and says 'Your time is Mine!' The two gentlemen next to me were very very ill. I could hear their breath fighting. One man called always in the night called for anyone to save him from the Persecutors and the Staff, and he called for those who had been his Protectors in younger days, the Police or the Army or whosoever. He would scream in the night as he continually ripped the tubes out of his body externally an internally. The last words of the Man next to him and this Man was next to me were: "Are you a Man or are you a mouse?" Then a few long hours latyer his lungs choked on the mucus in them and he passed on. I saw a great and terrible and aweful Angel sweep down to him from the roof of the ward. He was clad in close Purple, and was the Angel of Death Samael. He did not take the Man's Soul. He disappeared suddenly. I did not see him go or where. But he left a Psychopomp: a great cube, perhaps five feet of length in all dimensions. Its nearest colour would be a deep slate-grey, but its nature was that of a Black Hole which,m we are told, sucks all energy from around it and takes it to some new and perhaps terrible place. Pychopomp's task was to guard the Soul of the Man till the Four Last Things. It was to wait by the soul of the Man until the Four Last Things: "...Memento quatuor novissima, those foure inevitable points of us all, Death, Judgement, Heaven and Hell." - Sir Thomas Browne, Religio Medici, 1642. . All of the lyrics on Bright Yellow Moon were written in hospital whilst I saw these things and felt these things and knew these things. So 'Any Man's death diminishes me, because I am involved in Mankinde; And therefore never send to know fopr whom the bell tolls; It tolls for thee." - John Donne, Devotions Upon Emergent Occasions, 1624. When I crosssed that ssea is not known when I crosssssed that sssea is not know whe n I crossde that seeaa is notkn own when ik crosseddd tha seeeeaa issn otkn wonn. This I dedicate to Andria Annette Degens who saved my life and won't say more than to thank all of those who sent me flowers and cards.

David Tibet, London, February 4, 2001.

Embossed Cover Text
NURSE WITH WOUND CURRENT NINETY THREE BRIGHT YELLOW MOON
YOU THOUGHT YOU WERE LISTENING TO THE RADIO AT NIGHT BUT PEN
CURRENT NINETY THREE BRIGHT YELLOW MOON NURSE WITH WOUND
TAGRAM WAS BLOCKING YOUR EARS WITH TORN LIGHT I SAW HOW ARO
BRIGHT YELLOW MOON NURSE WITH WOUND CURRENT NINETY THREE
UND YOU THE CHILDREN WOULD LIE AND THEN WATCH THEM RUSH IN
NURSE WITH WOUND CURRENT NINETY THREE BRIGHT YELLOW MOON
TO SLEEP LIKE BUTTERFLIES DIE LOSE MYSELF AND DREAM OF WORL
CURRENT NINETY THREE BRIGHT YELLOW MOON NURSE WITH WOUND
DS THAT LIE BETWEEN YOUR FINGERS AND HIDE BEHIND YOUR EYES
BRIGHT YELLOW MOON NURSE WITH WOUND CURRENT NINETY THREE
THEN DREAM OF FORESTS AND SORTS OF SNOW WHERE WE MAY KNEEL
NURSE WITH WOUND CURRENT NINETY THREE BRIGHT YELLOW MOON
Notes
The first joint album by Current Ninety Three and Nurse With Wound.
The label originally mentions 600 copies with the Purtle CD, but this is crossed out and replaced with 1000.
Related Items
Bandcamp
Bright Yellow Moon
Details
2002 12" UK United Durtro UDOR8A/B
1000 Black vinyl copies including Purtle
Track Listing
Side A
Butterfly Drops
Disintegrate Blur 36 page 03
Mothering Sunday (Legion Legion)
Side B
Nichts
Walking Like Shadow
Vinyl Etchings
Side A: YOU'VE GOT TO GO TO HELL
Side B: ON THE BLACK DIAMOND TRAIN
Personnel
Michael Cashmore
Sleeve Notes
Nurse With Wound and Current Ninety Three:
Steven Stapleton , David Tibet , with Michael Cashmore.
Mixed by Steven Stapleton with David Tibet.
Engineered by Colin Potter at the Water Tower.
Cut by Denis at Country Masters.
Cover by Santini and Tibet .
Thanks to Matt Black, Paul Jackson at Othila, Ross, Thomas Ligotti, 3 Serpents, and special thanks to Scarflatti for chemical amusement aid.

In August 2000 I was taken into hospital in London. I was vomiting many brown grains, was in great pain and was unable to walk. The doctors were unsure as to what the actual illness might be. They injected me with morphine, put a tube down my nose into my stomach to drain the poison, and inserted a catheter to drain my urine. I was then diagnosed with peritonitis , but they were still unsure as to what the specific nature of the peritonitis was. Their tests showed that I was suffering severe blood poisoning, and my stomach and all related bowel functions had shut down. They operated the same night; I was wheeled into the operating theatre with an icon of St. Pantaleimon accompanying me. I woke up with a ten inch long scar down my stomach from the pubic area up towards the centre of my chest, avoiding in a sweet swerve, the navel; the scar had been beautifully stapled together in twenty-five places. I was told that my appendix had burst some time before and had become gangrenous. They said the inside of my stomach was covered in pus. They said I had been very few days away from dying. They said I should have been in a lot more pain than I had been when I was admitted into the hospital. They introduced more morphine into the epidural tube that had been inserted into my back hilst under anaesthetic. I did not have a great deal of awareness as to where I was. But I could already see helicopters chattering over me, and they followed me to the ward. I was in London and was Nowhere. Check the hands of the watch for time, for time; and do not say 'This time is mine'...All shine, allshine: Someone Bright appears and says 'Your time is Mine!' The two gentlemen next to me were very very ill. I could hear their breath fighting. One man called always in the night called for anyone to save him from the Persecutors and the Staff, and he called for those who had been his Protectors in younger days, the Police or the Army or whosoever. He would scream in the night as he continually ripped the tubes out of his body externally an internally. The last words of the Man next to him and this Man was next to me were: "Are you a Man or are you a mouse?" Then a few long hours latyer his lungs choked on the mucus in them and he passed on. I saw a great and terrible and aweful Angel sweep down to him from the roof of the ward. He was clad in close Purple, and was the Angel of Death Samael. He did not take the Man's Soul. He disappeared suddenly. I did not see him go or where. But he left a Psychopomp: a great cube, perhaps five feet of length in all dimensions. Its nearest colour would be a deep slate-grey, but its nature was that of a Black Hole which,m we are told, sucks all energy from around it and takes it to some new and perhaps terrible place. Pychopomp's task was to guard the Soul of the Man till the Four Last Things. It was to wait by the soul of the Man until the Four Last Things: "...Memento quatuor novissima, those foure inevitable points of us all, Death, Judgement, Heaven and Hell." - Sir Thomas Browne, Religio Medici, 1642. . All of the lyrics on Bright Yellow Moon were written in hospital whilst I saw these things and felt these things and knew these things. So 'Any Man's death diminishes me, because I am involved in Mankinde; And therefore never send to know fopr whom the bell tolls; It tolls for thee." - John Donne, Devotions Upon Emergent Occasions, 1624. When I crosssed that ssea is not known when I crosssssed that sssea is not know whe n I crossde that seeaa is notkn own when ik crosseddd tha seeeeaa issn otkn wonn. This I dedicate to Andria Annette Degens who saved my life and won't say more than to thank all of those who sent me flowers and cards.

David Tibet, London, February 4, 2001.
Other Images
Related Items
Bright Yellow Moon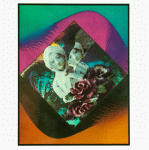 Details
2017 January 12" UK United Durtro UDOR8A/B
1 test pressing of earlier release
hand-made sleeve by Steven Stapleton
Track Listing