8 Second Date Records
It's not easy to like weird music, so we understand that when meeting someone new, tact must be employed in order to get to the next level. Here's our list of albums that are safer to introduce once you and the new friend have gotten to know each other better.
8 Second Date Records
Low, "C'mon"

Since parting from Kranky after 2002's Trust, Low have been at a crossroads. Alan Sparhawk and Mimi Parker, the band's guiding lights, have experimented with Low's blueprint, slipping into costume as a proper rock band on The Great Destroyer, then deconstructing that sound on Drums and Guns. Both are littered with great songs, but sound restless and unfocused in contrast with Low's previous work—the distinctive, low-key beauty that had drawn me into their world was often missing, at odds with their forays into dissonance and distortion. For their third Sub Pop album, Low have discovered a wonderful middle ground, merging the simplicity of their early recordings with the scaled-up production of their last two albums.
Stars of the Lid, "And Their Refinement of the Decline"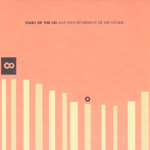 "Dungtitled (in A major)" seems an irreverent title, but announces sonically Brian McBride's and Adam Wiltzie's most doggedly serious recording to date. Compared to The Tired Sounds of... the music on And Their Refinement of the Decline is more direct, relying less on minutiae and emphasizing the power of their music as cleansing and consumptive.
Mimir, "Mimyriad"

Following their excellent eponymous debut, this outré music supergroup reconvened after a brief break sans Elke Skelter, but with a pretty exciting new addition in her place (Jim O'Rourke).  Given the pedigree of the players involved, it was no surprise at all that the resultant album was a strange and difficult one, but it managed to subvert my expectations anyway.  Of course, having my expectations subverted when my expectation was "this will be a brilliant album!" is not entirely a good thing.  Mimir clearly had admirable intentions and a formidable line-up for these sessions, but Mimyriad's success is much more evident as an artistic statement and an experiment.
Cock E.S.P, "Historia de la Musica Cock"

Minneapolis' favorite sons (and daughters), mostly led by Emil Hagstrom and Matt Bacon, have been cranking out releases since the mid 1990s.  While they've shared releases with sleaze noise kings Macronympha and Japan's master of sterile sound art Aube, they've never shied away from a healthy dose of absurdity and insanity, and on this messy, sprawling 99 track album, they allow it to fully devour them and revel in it.  As much parody as heartfelt tribute to their influences, this is an unabashedly fun album.
Vikki Jackman, "Whispering Pages"

Out of my latest order of three releases from Faraway Press, the current CD from this infrequent Mirror collaborator and often overlooked co-conspirator of Faraway Press (alongside Andrew Chalk) has been by far the most rewarding. On this, her second solo release, she has consciously let go of the single-piece-per-side mold and created a decidedly not-drone album.
Emeralds, "Does It Look Like I'm Here?"

For their latest full length album, the Ohio trio have nudged the controls of their vessel and changed course for new sonic territories. The character of their music has remained unchanged, they use the same synthesizer and guitar set up, but the form in which they present it is not the familiar waves of cosmic debris that populated albums like Solar Bridge or What Happened. Here they have adopted a more melodic style which has resulted in a more accessible but equally thrilling body of music.
Baby Dee, "Safe Inside the Day"

Baby Dee's latest album and her first for Drag City is somewhat of a departure from her previous work in a lot of ways, yet many of the new songs still retain the fragility that made her earlier material so intimate. Backed by a band of admirers that includes Will Oldham, Matt Sweeney, Bill Breeze, John Contreras, and Andrew W.K., her music comes alive like never before.
"Magnolia Electric Co., "Josephine"
The passing of bassist Evan Farrell was enough to make Jason Molina think about breaking up the band, according to some recent interviews. Instead, Molina turned to his guitar and ended up writing what might be the best Magnolia Electric Co. record since the group's 2003 debut. Josephine finds the band looking forwards and backwards, breaking new ground and mining old territory and creating something strangely seductive in the process.