a weekly digest from the staff and contributors of brainwashed
V05I32 - 08182002
Click here for other issues
SITE
coil and the black sun
World Serpent has announced the release of "Plastic Spider Thing," a release by Black Sun, using music from the Coil archive. Black Sun have been performing live with Coil recently and the album serves as the soundtrack to "The Plastic Spider Thing."
matmos' drew gets soft and pink
The following info was recently posted to magicandaccident.com, the website of Matthew Herbert and his record labels Soundslike, Lifelike and Accidental:
"A label night will be taking place on August 23rd at Liquid Room, Toyko featuring 8 Doogymoto live, The Soft Pink Truth live, Emerson Kitamura live, a special Matthew Herbert DJ set and the debut live performance from Dani Siciliano. The Soft Pink Truth (aka Drew Daniel of Matmos) returns in October with a 12" ('Promofunk') and CD album ('Do you party?') for Soundslike. Further details very soon."
MUSIC IN REVIEW
People Like Us, "Recyclopaedia Britannica"
Mess Media


This "best of" collection of woozy, kitschy plunderphonia looks back on ten years of PLU releases over the course of 30 tracks. The finer moments foster nostalgia for childhood memories you've never had, as Vicki Bennett's strong suit is the whimsical collage of sounds that appeal to the immature side of her audience. Uneasy listening, bathroom humor, gaudy polka jaunts, field recordings and happy singalongs all emerge from the blender as a dadaistic children's record. That's not to say that this music is unsophisticated; many of the juxtapositions are brilliant. The closest comparison I could make would be Stock, Hausen and Walkman, but PLU does not shoehorn the samples into beat-oriented electronic music. People Like Us has a very personalized approach that has more to do with the silly innocence of Spike Jones than the dark cynicism of fellow cut-uppers Negativland. But this innocence is savagely taken advantage of on "If someone touches you," which is hilarious but will have you feeling creepy for laughing. Sort of like the deviant side of Paul Rubens creeping onto the set of the Pee Wee Herman show and molesting the talking chair. The parts of this record that fall short for me are some of the vocal snippets pulled from radio interviews and TV call-ins as they just don't share the exotic appeal of the musical constructions. But the slow spots don't take too much away from this highly entertaining retrospective. - Jesse Nieminen
samples:
The American Analog Set, "Updates"
Tiger Style


For this 6-track EP, AmAnSet has enlisted the remixing assistance of label mates Her Space Holiday as well as Belgian Morr Music up-and-comer Styrofoam. The EP kicks off with a re-working of an older track, followed by a charming cover of Her Space Holiday's "These Days'. Both of the remixers, whose expertise lies primarily in electronic-based music, fuse digital elements into tracks from the Texas quintet's most recent release, 'Know By Heart.' Marc Bianchi of HSH puts an edgy spin on "Aaron & Maria", and turns the title track into a funky trip hop feast of sliced and diced vocals with an unobtrusive touch of drum 'n' bass. Both remixes feature the orchestral gilding present on much of Her Space Holiday's last album. Styrofoam's remixes have the warmth and subtlety that is signature of so many of the Morr Music artists. He adds gently crunchy beats to "The Postman", stripping the original of nearly everything but the original vocal track, and turns the instrumental "We're Computerizing and We Just Don't Need You Anymore" into a delicate ambient piece. 'Updates' is plesant treat for fans of all the artists and labels involved. - Jessica Tibbits
samples:
Seana Carmody, "Struts and Shocks"
Kimchee


In recent years, forgive my unflattering opinion, it seems that women in rock forgot how to, well, rock. Piano crap like Sarah McLachlan and Fiona Apple can only spawn weaker alternatives, with other female artists doing soul rip-offs or beach rock retreads that do not nor can not satisfy the hunger in our souls to hear a woman who can rock. And here, without any warning, comes Seana Carmody of Swirlies fame with a great solo debut. Sure, she slides into familiar territory on some of these songs, and it doesn't necessarily rock you into oblivion, but it does a great job of creating a mood and keeping you there. And, on some tracks, most notably on 'Tailgate', the rock happens in a big way, and almost as a kiss off to non-believers. For the most part, I suppose you could call this shoegazer rock, as it does provoke that response on most of these songs. But Carmody has a great voice, and gets so close to the sound of others without parodying or copying that it comes out sounding completely original and unique. The double-tracking of the vocals allows for minor differences that punctuate some songs on a bizarre note, and the saccharine quality that may annoy after a while from some doesn't grate when Carmody expresses it. Mostly, this music is full, raucous, and moving, with short jabs of loud aggression. On the eight-minute-plus closer 'Stay Awake', however, it excels to a whole new level of noise, meandering and crashing on top of itself with an interesting Mogwai-esque sustain, though it seems the noise's purpose was to add time to this too-short disc. It's an accomplished debut of pretty good songs worth sampling, though. - Rob Devlin
samples:
The Chap, "Fun"
Lo Recordings


The Chap are a new group formed by Karamasov guitarist Johannes von Weizsaecker. If you heard Lo's _Fresh Fruit_ budget compilation from a year or two back, this is the Johannes behind the stunning "My My Rock'n'Roll", a catchy guitar number evoking a feel of casual sophistication. The knowing hipness persists on this a 10" mini-album of original and witty instrumental rock. Having named themselves after the modern gentleman's publication which offers advice on the semiotics of smoking and of facial hair, and which has a "sartorial agony" page, they're in no position to deny the accusation that they're pretentious, but frankly this is what I want in a band -- particularly when, as with The Chap, the pretence is more of a wry smile than a sneering glance.
"Yes" puts a buzzing analogue synth riff over a tight motorik rhythm, but most tracks slow things down, allowing Johannes's cool and noodling lead guitar work to take precedence. "Exalarm" reiterates the Krautrock influence. For an alternative rock group they're more than usually sonically liberal: a vaguely musique concrete aesthetic comes through in the choice of the samples that are scattered about, and there's a nod to cinema soundtracking in the piano-led "The Creak". It's quite a varied set and a very promising debut. - Andrew Shires
samples:
The Boggs, "We Are The Boggs, We Are"
Arena Rock Recording Co.


My record collection reads like many other music-obsessed mid-20s male computer geeks (let's be honest). I've got loads of laptop generated music, a bunch of jazz (especially stuff on the 'fringe'), some good ol' Krautrock, not to mention the classics: Zeppelin, Floyd, etc, to name just a few of the genres represented on my shelf (but, I am proud to say, no Magnetic Fields or the like). But I'm lacking something integral in my record collection: BLUEGRASS. I was brought up in Appalachia, with bluegrass and old-time music around me my entire childhood. The lack of Louvin Brothers or Carter family records in my apartment is therefore appalling; I've always liked and appreciated bluegrass and old-time, and a good banjo player always knocks my socks off more than a flashy guitar player. So where are my Flatt & Scruggs LPs? It must be city life - how can I ever have "Knoxville Girl" in my head when I'm trying not to get hit by cabs as I speedwalk to the subway? All of this is leading up to the fact that I love this CD by The Boggs, who live in the same city I do and somehow find themselves inspired to pick up banjo, mandolin, etc and make some damned fine downhome bluegrass. On the cover of the album, the band looks like deceivingly like any other NYC band, possibly one that would make "dance music with a punk edge," but the Boggs couldn't be further from the typical NYC trend in bands. Though no one is going to confuse the Boggs with Doc Watson or Bill Monroe, this is straight up bluegrass, not 'alt country' or 'bluegrass-infused rock.' Usually, I make progression a priority in the music I like; that is to say, I like to use the argument, "Why listen to [new artist making music in an old style] when I could just listen to [artist from 20-50 years ago]?", but I find myself unable to justify that argument with the Boggs. Maybe I like them so much because there aren't too many people up north making music coming from an Appalachian influence (though I must admit I don't know the true roots of the members of the Boggs). In a city overflowing with bands aping bands that ape 20 years ago, it's refreshing to hear a group whose music isn't dictated by their surroundings. - Nate Smith
samples:
Asmus Tietchens and Vidna Obmana, "The Shifts Recyclings"
Soleilmoon


Asmus Tietchens and Vidna Obmana have been collaborating on "recycling" projects since 1995, using each other's work to build unique transformations. For this 2 CD set, they have turned their attentions to a third party. I've never heard Shifts, but I have enjoyed Frans de Waard's other minimalist ventures as Quest and as a member of Beequeen. For "The Shifts Recyclings," Tietchens and Obmana use de Waard's ambient guitar material, and lay out their interpretations across a disc apiece. The two have produced beautiful and strikingly different results - it's hard to imagine that these sounds came from the same source. Tietchens cranks up his electron microscope and focuses on crackling ice, eyeless subterranean creatures, and earth drones. There is a fantastic variety of organic sounds here that hold few hints of the source material or the method by which they were created. Tietchens' pieces really seem to occur naturally out of nowhere, and conjure up mental images of strange phenomena. Vidna Obmana's disc is a revelation for me. I don't remember hearing anything of Obmana's before, and didn't know what to expect. While Tietchens' disc explores the caves, Obmana's wafts through the upper atmosphere. His first three pieces focus on sublime drones and dramatic crescendoes that build up mightily then subside into a metallic haze. I am somewhat reminded of Cristoph Heemann and Stuart Dempster, but this material seems to have more of a foundation in classical archetypes. Epic themes seem to be hinted, but get lost in the shimmering undulations of sound. The haze evaporates during the last half of the disc, revealing mournful musical passages. The guitar has been forged into a baroque orchestra of brass and strings that strains out a beautiful dirge. "The Shifts Recyclings" is an excellent collaboration, and illuminates the strengths of all three involved. I'd be interested to hear their interpretations of less-ambient source material in future "recyclings." - Jesse Nieminen
samples:
The Standard, "August"
Touch and Go


There's really a shortage of good prog rock these days, mostly because of the overwhelming need for the artists or critics to make each album a concept record. Good ideas can rarely be carried that far, as Nine Inch Nails showed on "The Fragile". Really, has anyone accomplished this feat as well as Genesis on "The Lamb Lies Down on Broadway"? So what if a band played surprisingly good prog rock but didn't make it a concept album, and it moved the minds and souls of millions to accomplish near-impossible feats? Well, The Standard have at least landed the first part on this, their second full-length. And I'm not sure I'd call them prog rock, but this album has that general feel all over it to me. The first track opens quietly enough on acoustic guitar and with soft vocals and keyboards, but then rips into loud guitars and keyboard swells that would make Peter Gabriel blush. 'The Five-Factor Model' starts off stuttering and stopping, but then settles into a nice groove that carries the wieght of the lyrics ("I could not sustain it", "I could not explain it") well. And those keyboards again, ringing and buzzing with bizarre fluidity and intensity. The album continues with similar themes and airy vocals, sounding at times like the best album Rush never made, others like the best moments on the Archers of Loaf's last studio album which was the best they'd made in terms of structure and power. This is music from a band that will improve over time, but have made a pretty damned fine start. - Rob Devlin
samples:
Brad, "Welcome to Discovery Park"
Redline


A highly anticipated return for this band with many faces. They're the first Pearl Jam side project - guitarist Stone Gossard was the first to record a project without any of that band's members; they're a funk-rock project that Brits loved for their catchy single '20th Century'; they're the band that named themselves after the guy who owned the rights to the first band name they wanted, Shame; they're the band that gave Jeremy Toback a place on the alternative rock map so that he could start his mildly successful solo career. Why so much anticipation, you ask? Brad's first album in five years, "Welcome to Discovery Park" is their first for Redline Entertainment, consumer conglomerate Best Buy's fledgling independent label - Prince is also one of their few signings. Their tours are always wildly successful, and their albums have sold moderately. And with lead singer Shawn Smith's other two projects, Satchel and Pigeonhed, gone seemingly for good, Brad is all he's got, and fans want to hear more of him. It shows on this release, which is one of its major weaknesses. Smith is the primary songwriter and performer on most of these tracks, as he has been in the past. However, something's changed. His writing is more pedestrian, more mellow than it has ever been. Gone are the pure funk moments of earlier releases, and the slower material has nowhere near the power of 'Screen' or 'The Full Sentence', mainly because Smith seems afraid/ashamed of his falsetto on these songs, where he has used it in the past to great success. Admirable touches are added by Thaddeus Turner and Elizabeth Pupo-Walker, new to the Brad scene, but even Gossard seems more subdued than ever or he's taking his cues from Smith. Plus, Toback appears only on a few tracks, which weakens the album's appeal as a group project. This has the feeling of a Smith solo record that he wanted Brad to be the backing band on, and it's not anywhere near as dynamic. They're not taking any chances. On their first two records, we also got to hear Toback's voice, and Gossard's, on occasion. Not this time. And why not? It certainly couldn't have hurt the record any. I'll still listen, but with caution from now on. This is not the Brad I was used to, that much is crystal clear. - Rob Devlin
samples:
We know that sometimes these CDs are somewhat challenging to find, which is why we have a community section which can be used to obtain nearly everything available on this site.
NEW RELEASES
WEEK OF AUGUST 18 - AUGUST 24
Barry Adamson - Black Amour 12"/CDEP (Mute, UK)
Natacha Atlas & Mark Eagleton - Foretold in the Language of Dreams CD (Mantra, UK)
Blue States - Man Mountain CD/2xLP (XL Recordings/Memphis Industries, UK)
Dntel - (This Is) The Dream Of Evan And Chan 12"/CDEP (Plug Research, US)
Doormouse - Broken CD (Planet µ, UK)
Dino Felipe - Xanaconversex CD/LP (Schematic, US)
Fennesz/Main - split 12" (Fat Cat, UK)
Grom - Sadness Sells CD/2xLP (Ladomat 2000, Germany)
Les Hommes - Les Hommes CD (ESL Music, US)
Liars - They Threw Us In A Trench And Stuck A Monument On Top CD/LP (Mute, UK/US)
Mekons - t.b.a. CD/LP (Touch & Go, US)
Metamatics - Remodelled 7" (Civik, Canada)
Moby - Extreme Ways 12"/CDEP (Mute, UK)
Nightmares On Wax - Know My Name two 12"s/CDEP (Warp, UK/US)
NON - Children Of The Black Sun CD+DVD (Mute, US)
Phantomsmasher - Phantomsmasher CD (Ipecac, US)
Pub - Single CD (Ampoule, Scotland)
Radian - Rec.Extern CD/LP (Thrill Jockey, US)
Rivulets - Thank You Reykjavik (BlueSanct, US)
Steve Roach/Jeffrey Fayman - Trance Spirits CD [with Robert Fripp & Momodou Kah] (Projekt, US)
Schneider TM - Zoomer CD (Mute, US)
Singer - Low Light Dreams CD/2xLP (Carpark, US)
Skanfrom - Soothing Sounds For Robots 12" (A.D.S.R., Germany)
The Standards - August CD/LP (Touch & Go, US)
Tipsy - Tipsy Remix Party! CD [mixes by Matmos, the High Llamas, People Like Us, Messerchups, Optiganally Yours, World Standard and more] (Asphodel, US)
Various - Asian Massive CD [with DJ Cheb i Sabbah, Karsh Kale and more] (Six Degrees, US)
Various - I Hear Voices CD [collection of new French artists curated by Air] (Astralwerks, US)
Various - Urban Renewal Program CD (Ninja Tune, UK/Canada/US)
Iannis Xenakis - Persepolis Plus Remixes Vol. 1 2xCD (Asphodel, US)

This is simply this week's highlights from the NEW RELEASES provided by Greg and Feedback Monitor.
For a more detailed schedule stretching into the future, please check out the site,
since release dates can and will often change.
CONCERT REPORT
CHRIS BROKAW
Briton's Protection, Manchester, UK, August 8
James Orr Complex played humble fine picked folky acoustic guitar numbers with lazy drawled vocals. He's recently been picked up by Mogwai for Rock Action. A couple of songs reminded me of Nick Drake, but I liked them better than Drake who's always seemed too drippy. Ray from Vinyl Exchange said he thought the vocals seemed almost an afterthought, but added that he liked that a lot.
Then Chris Brokaw plugged his guitar into the same amp and sat down to play a set taking in everything from Pullman to Come to his entrancing 'Red Cities' album. This guy from Cambridge, Massachussets is responsible for making some of the greatest rock albums ever recorded. Now that Come is over, he's very busy with so many musical activities its hard for some to remember them all. However, despite what you may read in gig listings in Manchester newspapers, he has never played with Richard Thompson, Tom Verlaine or John Fahey. And he certainly never will play with John Fahey unless genetic engineers perfect resurrection techniques soon. Chris pulled an unexpected opener out of the hat with Pullman's "Sagamore Bridge." Whilst he plays guitar he keeps also taps out unpredictable inventive foot percussion. For much of the gig his eyes seemed closed in rapt concentration. Initially some silly drunks were talking really loud at a table right next to the stage and distracting everyone, and finally they got annoying enough that they were asked to leave. "Where have they gone?" joked Chris, "I can't play without them talking in the background!" This was cool because it meant I could go sit at their table right opposite Chris's ultrafine looking vintage amp where the sound was much clearer. It turned out that the amp had actually been borrowed. Chris was travelling light by train with only guitar, quality music CDs to sell and bare essentials. Amongst the CDs were a couple of CD-Rs from the Empty House Co-Operative, which you probably won't find for sale anywhere but gigs. I expected to hear mostly tracks from his excellent instrumental album 'Red Cities' but he played as many vocal songs if not more. These included a new song called "Cranberries" which was a highlight of the set, a great Townes Van Zandt cover "Nothin'" and three old Come songs. He'd never played "Sad Eyes" live since Come, and dedicated it to me which was a nice thing to do. That one jerked a few tears, as did the encore "Shoot Me First." Before he played that Chris asked if anyone had any questions, and Nick the promoter quietly muttered to me, "What's your favourite colour?" which made me laugh a lot. "Shoot Me First" in which Chris sings of pulling the hair of a lover he's pining for from a comb, revealed that the answer to that question was probably BLACK. "Well, I knew that," said Nick. - Graeme Rowland
AND NONE OF THEM KNEW THEY WERE ROBOTS, THIS AIN'T VEGAS, REDBANK
The Redhouse, Manchester, UK, August 9
Redbank were set up and ready to rock, but everyone was waiting for the other bands to turn up, stuck in traffic. I got talking to the five Redbank punk rock dudes as we waited and I found out this group from the Wirral had been at many of the Liverpool Planet X gigs I'd been at in late 80s, early 90s. One of them even played bass for the legendary Haddock Fishbeast for a while. In the end I convinced them it was a good idea to start anyway so they did. We'd been talking about Rites of Spring and I'd been going on about liking them more than Minor Threat, so they surprised everyone by starting with a slowed down cover of 'If I Started Crying' which was even more strange since Chris Brokaw had played music that moved me to tears the night before. Their own songs rock melodic with a nod to Fugazi and a big wink to Jawbreaker, at least that's the way I hear it. I'm sure they're also influenced by the mighty Leatherface. The singer fiddled with the PA soundboard himself - total DIY! About halfway through their set the other bands arrived.
This Ain't Vegas are from Sunderland, which as far as punk rock goes must be known first and foremost as the home of Leatherface. There's a very Leeds 6 feel to what they do but I was also reminded of late eighties DC HC, and they have this odd dynamic where the guitarist seems to sing as much if not more than the singer, but it's obvious that the dual duelling vocals are something that's an important part of their sound. At the end the Robots drummer joined in to sing a song. They have a single out on www.jealousrecords.com which is probably not going to be around for long.
Apparently this was the last tour for And None of Them Knew They Were Robots which is a shame as they are shit hot. They have a few records out, including a five song CD-R which they sell for just a pound! Think of Rites of Spring mixed up with a more melodic Drive Like Jehu perhaps? Or maybe don't. They're from Leeds, no doubt from the notorious Leeds 6? If sub-Britpap shite like Miss Black America can be described as emo and punk then we definitely need a new name for what's happening here, however Robocore is probably a bad idea. Or are they just another example of experigressive provivalism? By this I mean a group who can combine a positive life affirming feeling to a convincing, liberating display of aggression and yet retain an experimental edge. It doesn't really matter what they call you if your drummer strips naked by the end of the set. - Graeme Rowland
POLL
Results from last week's poll: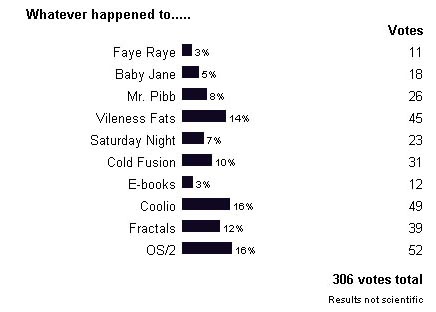 LINK OF THE WEEK
Angry Ticks Fire Out Of My Nipples
Nominated for an Oscar, "Rejected!" might very well possibly be one of the greatest cartoon shorts ever. Somebody has finally gone and put it online!!! Now, we don't know if this is actually sanctioned by the creator, so, do a kind deed and after you've watched this about a zillion times, buy the DVD from Don Hertzfeld himself at Bitter Films. You can now see "Rejected" here: http://www.uni-leipzig.de/~mad/krischan/download/Rejected.wmv
FEEDBACK
how do you say,...

Subject: deee lad?
is lady miss kier (singer from deeee lite) actually a man? if this is true i'd be very disturbed. i thought you might know cos you have a few pictures of her on your site and you're also very knowledgeable about things like this. thank you and please cart me away to summer camp!
She's a woman. Where that album of hers is, however, the world may never know.

Subject: email
hello!
i got one question - can i somehow get an email account at turbid.com ?
no
WHAT'S IN YOUR PLAYER?
the golden age of rubber
Arto Lindsay, "Invoke"
Jun Miyake, "Innocent Bossa in the mirror"
DJ Spooky, "Optometry"
The Velvet Underground & Nico, "Produced by Andy Warhol"
Various Artists, "SOUND01 A Big Dada Sampler"
Jackie McLean, "Destination Out"
Die Enttauschung, "Die Enttauschung"

Andrew Klimeyk