a weekly digest from the staff and contributors of brainwashed
V05I35 - 09152002
Click here for other issues
SITE
mbm debuts "Supersoul"
In the vinyl era, artists would often release one or two 7" singles prior to the release of their album. In the digital download era, Meat Beat Manifesto has offered up a second song for download from the forthcoming album, 'RUOK?'. "Supersoul" is now available at the site. Check it out!
new Tear garden comp available from subconscious
"Eye Spy With My Little Eye" is now available for order from Subconscious. The limited edition release contains nine tracks of outtakes and rarities recorded from the joint venture between Skinny Puppy and Legendary Pink Dots members.
whitney does providence
Jon Whitney will be performing as R in Providence, RI on Sunday, September 22nd at the AS220. Deutch Nepal and Der Blutharsh headline that night, with a number of other performers both local and international. For more information, go to www.as220.org.
OTHER MUSIC NEWS
ba da ben goes online
Brainwashed is happy to report that longtime brainwashed friend and all-around cool guy Ben Goldberg has announced that his humble label, Ba Da Bing!, after numerous years of existence, finally has a web site! You might remember his label for classic releases from Windy & Carl, Landing, and the legendary Badaboom Grammophon book/CD series. Check out www.badabingrecords.com. Yay Ben!
MUSIC IN REVIEW
Mirror, "Solaris"
Idea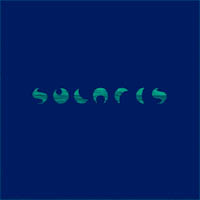 The first full-length (non CD-R) CD by Mirror is already in danger of becoming another rarity (like their previous limited vinyl releases) just 4 weeks after its release. [The disc is already sold out from Idea and is in stock at only a few online stores at the time of the publishing of this article.] Christoph Heemann (of H.N.A.S., C93, Mimir, and Nurse with Wound fame) and Andrew Chalk (New Blockaders, Organum, ORA) certainly know how to attract a loyal following. Recorded back in August of 2001, this 41-minute track is a deep space journey without the sci-fi gloss of Star Wars et al. Their drone journeys are more like travelling in some old and lost (maybe Russian) space ship that's unable to change its direction while the life supporting system is running low of energy. The aim of the mission may be forgotten but undefined waves of sound shake through the last remaining passengers. Shades of memories are evoked: isolation, apathy and hopelessness dictates the mood. Any conventional form of communication broke down long ago. 'Solaris' can either be a soundtrack for a late-night listening, an out of mind experience, or a calming, reassuring, post-traumatic remedy (like after your lover left you in anger). As David Sylvian has put it two decades ago, "the doubt inside my mind comes and goes but leads to nowhere". - carsten s.
samples:
Cormega, "The True Meaning"
Legal Hustle


While many underground hip hop heads find themselves content with backpacks stuffed with demos of verbose MCs over abstract beats and the latest Def Jux and Rawkus releases, some of the best underground rappers are overlooked for taking their cues from the grimy tales of street hustling and the kings of contemporary radio. Cormega probably couldn't care less what some white kid in an El-P visor thinks of him, because he's been through more bullshit that any of those backpackers can imagine. Raised in and educated by the infamous Queensbridge projects, Cormega was on the knife's edge of popularity with a contract on Def Jam, a seemingly tight bond with Nas and inclusion in the potential rap supergroup, but ultimately a commercial failure, The Firm. Depending on who you talk to, the story changes, but either way thanks to shady major label bullshit and betrayal from his former allies Cormega fell from grace. The streets, however, still embrace the talented MC, and his latest gem 'The True Meaning' is no exception to their love. With solid production from the likes of Hi-Tek and Alchemist supporting his high-caliber rhymes, the formerly incarcerated rapper (almost a redundancy these days) embodies the hardened ghetto child trying to make sense of it all while trying to keep his own head above water. The most apparent single on here has to be "Live Ya Life" with a soulful female vocal hook compatible with those on Ja Rule's latest radio anthems. Tracks like "Take These Jewels" and "A Thin Line" highlight the value of honor among thieves and emphasizes the universal disgust for snitches. Called out publicly on Nas' 'Stillmatic' banger "Destroy And Rebuild," Cormega avoids the diss track response route (which is surprising considering the multitude of insults slung on his debut 'The Realness') with the honest "Love In Love Out." Easily one of the best rap albums of 2002, 'The True Meaning' is definitely the best indie label rap release of the year. Show love. - Gary Suarez
samples:
Ms John Soda, "Drop = Scene EP"
Morr Music


Ms John Soda is the duo of Stefanie Böhm (Couch) and Micha Acher (The Notwist, Tied + Tickled Trio) in a most agreeable and expansive pop environment. The diversity of the four songs on this EP (featuring Böhm's vocals on three of them) makes for an interesting yet all too brief listen, especially when there's a full length release just around the corner. The rhythmically-solid "Go Check" is a pop song of distorted congas, fuzzy quasi-surf guitar lines and droning keyboards under Böhm's melodic vocals. The warm sounding "Done Twice" floats along as a multi-layered keyboard based tune with breathy vocals that overall makes for a nice lullaby. The tranquil "Solid Ground (Piano Version)" is, as the title suggests, a solo piano version of "Solid Ground" on the forthcoming album, which moves gracefully throughout the composition. The eight-minute plus "Elusive (Remix)" is a remix of the album track by the duo Jersey. Here, it's vocally, a gloomy retrospect that builds from a percolating keyboard, layered with bass and Rhodes, with a nice break that introduces the acoustic guitar and laid back drums. The song makes for that great, repetitive, pop-ish closer. Now I'm interested to hear the original version having heard the remix first. - Gord Fynes
samples:
Cursor Miner, "Explosive Piece Of Mind"
Lo Recordings


This debut full-length from Rob Tubb, who must surely be Chichester's premier retro-electro crooner, follows his recent "Remote Control" single, also on Lo Recordings. While the electroclash cultural blip has made me wary of contemporary musicians who pay overt homage to the 1980s, I've plenty of time for those working in a more underground, principled, fashion (for example Gerhard Potuznik). Cursor Miner is definitely to be counted amongst the most interesting of such musicians, fabricating something original and fun from the lighter side of 1980s English synth-pop and the geeky, meticulous side of modern electronica.
Instead of just dropping a ponderous vocal on to a club-friendly beat, he deftly merges the electro-pop basics of warm, resonant keyboard riffs and fey vocals with up-to-the-minute production work that's manic and crisp. The package is completed by a nice line in retro-futuristic lyrics, most notably on the single "Remote Control" itself, which ironically feigns both wonder at, and fear of, modern technology.
Cursor Miner's music is a forward-looking form of nostalgia. The fact that he doesn't take the easy route of pure 1980s revivalism means probably won't get the following it deserves, but on the other hand, he won't end up eviscerated and embarrassed on the altar of mass whim like, say, Fischerspooner. Quite simply, this is an excellent album for fans of interesting electro-pop and one which brings something new to the game. - Andrew Shires
samples:
Phobos 3, "Melody For Sleep"
Nameless Records


Yes, Virginia, there is a place for pedestrian electronica, but no one likes to listen to that much. Repetitive beats, the same thumping bass, the cheesiest of house girl singers - the time for the unoriginal concepts of third generation beat stylers isn't gone, it just never was. The best electronic music mixes recorded instruments in, improving on the concepts and hopes of both genres. Originality is improved, the sound is fuller and more genuine, and you can still dance to it. Plusses abound. "Melody For Sleep" is the first full-length Phobos 3 recording, a group that was created out of the consequences of theft. Steve Jones and Richard Pushong had all of their equipment stolen, but still had a strong desire to make new music, so they went back to basics on bass and guitar. Then they brought in beatman Martin Stovey to add some hip hop magic. The results are part My Bloody Valentine, part dance party. Everything takes on an ominous tone due to the low bass and squelched guitar, and there are creepy manipulated vocal tracks present in areas to raise the fear factor. Strangely, though, there's also a great deal of hope present, even in the ramblings of 'Crazy Reenie'. Phobos 3 aren't trying to change the face of music or anything. They just want to make music that leaves a good taste in your mouth after you've brushed your teeth, and that isn't too hard to swallow. They accomplish this for the most part, even though some of the basslines sound reminiscent of Fun Loving Criminals or Talking Heads, and the beats sometimes sound like Happy Mondays. But the instrumentation and arrangements aren't too heady, and the melodies are actually quite lovely in places. Worth sampling, for sure. - Rob Devlin
samples:
Nightmares On Wax, "Mind Elevation"
Warp


The poppy first single from this album "Know My Name" (reviewed in Brain Volume 5, Issue 29) served as fair warning to Nightmares On Wax fans about the direction that George Evelyn was taking his long-running project. Although 'Mind Elevation' serves up a good deal of dubby smoker's delights, it appears N.O.W. has moved into the arena currently occupied by Moby and his big fat vegan ego. Fortunately, this soulful album is far stronger than Baldy's multi-platinum samplefest. While some extreme N.O.W. purists might cringe over their glass-blown pipes at some of the more vocal radio-ready cuts, most of their old fans and music lovers everywhere can appreciate this more accessible sound mixed in with the instrumental groove-ology. Motorola, Volkswagen and other "hip, young-minded" companies are probably eager (checkbooks firmly in hand) to license such tracks as the lush, summery "Date With Destiny" and the aforementioned "Know My Name". True to form, "Environment" wastes little time praising the ganja with blunt (no pun intended) lyrics like "I don't know if I can carry on / Without my roots and bong," so even those bitching about all those damned divas can have a good chortle while skinning up over the latest issue of High Times. N.O.W. have always been one of Warp's finest gems, as well as one of their most reliable staples, and 'Mind Elevation' may very well be the best album released on the label so far this year (Yes, I have heard 'Geogaddi' and no, I did not find it "hauntingly evocative" so shut your trap). Trip hop may be long dead, and "chillout" compilations may fill the Virgin MegaSuperChain cutout bins and Wal-Mart Superstores, but Nightmares On Wax has successfully managed to dodge these tricky genre bullets. - Gary Suarez
samples:
Stella Luna, "Stargazer"
Clairecords


Noisy, loud, and sprawling guitar rock is really reaching its apex these days with some accomplished bands putting out fantastic records. Add another possibility to the pile, but closer to the top, please. Stella Luna's first release, "Stargazer" is a four song EP meant as a teaser for their full-length due later this year. Their sound is primarily space rock, with breathy male and female vocals teasing each other over the distortion-drenched guitars, meaty bass, extraterrestrial synths and echoed eerie drumming. This music is horribly affecting, stirring, and compelling. I once read an article that postulated on the idea that the goal of movie trailers was actually to make you not want to see the film in question. Therefore, if a trailer succeeds, you should want to stay away at all costs. If that's the goal of an EP like this one - to make me want to avoid the full-length - it fails miserably. If you resist, Stella Luna attacks you at your brain stem, attaching and living there for a time until you relent. 'Change' opens the EP quietly, building noise until the wall of sound floods the speakers, then haunts with the repeating chorus ("Funny how some things never change/chaaaange/chaaaange"). The melody then feeds right into the EP's title track, featuring swirls and wooshes of sound with Susan Hanson's faded vocals. On 'Antares', the synths are more prevalent, at least until the chorus, with a chiming guitar line that just kills. 'A Bridge to Nowhere', the EP's closer, is not as strong a song, as it strikes with its pure noise, but it adds some diversity to the overall composition. A fine debut from a promising band to expect greater things from. - Rob Devlin
samples:
Oren Ambarchi, "Der kleine König" / Keith Fullerton Whitman, "Live (at the Tremont Theatre)"
Tonschacht


Oren Ambarchi is one of the busiest new composers around. Sadly, his work on this 7" does not stand up to his reputation. Compared to a number of his more theoretical releases, the songs here sound somewhat shallow and unimpressive. Produced with analog equipment (or trying to mimic such gear) "Der kleine König" consists mainly of a slightly distorted naive melody line. On "Links!," he pushes the frequency range into more uncomfortable regions at first, but lets it fade away in a repetitious wave which ends abruptly in some pitch bending. Both of these tracks could easily be excerpts of a recording session from years ago that just marginally escaped the eraser button. Experimental electronic recordings like this are both average and overdone these days.
samples:

The simultaneously-released Keith Fullerton Whitman 7" features two edited parts of a concert from March, 2001. "Part One" sounds surprisingly reminiscent of a soundtrack (like the Sonic Youth score to 'Made In USA'). Guitar and loads of processing provide a moody setting which, to me, could go on much longer without ever getting boring. "Part Two" takes off with electronically-altered layers of sound until the guitar resurfaces in the middle part, only to be buried again in an effects-assault conclusion. This one's indeed a pleasure to listen to. Whitman shows a clear concept in composition which puts this release up with the best that 2002 has had to offer yet. Get it while you can.
Both singles are (as all Tonschacht releases) limited to about 500 copies and come with an info sheet. - carsten s.
samples:
Drekka, "Take Care to Fall"
BlueSanct


Drekka has been releasing music since 1995, though not in the traditional fashion, it seems. Songs were released on cassettes, CD-Rs, or the odd 7", and in such limited numbers of copies that it must have been nearly impossible to hear any of them. So now BlueSanct releases Drekka's debut full-length, which contains some new tracks as well as some previously released in limited engagements. Michael Anderson, for all intents and purposes, is Drekka, with occasional guests. Anderson creates "home-fi" music: atmospheric music on four-track recorder with very little substance and yet a lot of weight. Songs are very minimalist, with just a simple guitar or vocal. Sometimes there are no instruments at all, just low voices or clicks. Anderson seems to be possessed by the demons of low quality production for a reason, though: these songs are much more successful because of the limitations of the recording. Every song has its own precious idiosyncrasies, from the movie playing the background of 'An End of Silence (Night Dancing)' to the misplayed guitar part on 'Untitled Filmshoot'. Fourteen tracks in forty-seven minutes makes it a quick listen to, with real disparity in the track lengths (a four second thirteenth track leads into the eight-and-a-half minute album closer). Spooky music to be sure, with strange sounds to raise the hairs on your neck. Will it stand the test of time, though? - Rob Devlin
samples:
Vincent Gallo, "Recordings of Music for Film"
Warp


And the winner of the Worst Warp Album Ever prize? Why Vincent Gallo's 'Recordings of Music for Film' of course! Beating out the former champion (Gallo's previous Warp release 'When'), this entirely unnecessary release compiles material that recorded since the late 1970s all the way through the late 1990s for various film projects, including his classic film Buffalo '66. Please don't misunderstand me. I enjoy Vincent Gallo somwhat as an actor, and his role in the sex meets cannibalism indie "Trouble Every Day" will probably stand out in my mind as his finest hour, but musically he's the pits. It troubles me that a label with such a strong history as Warp would even bother to put this album out on the market, as it is comprised of 29 tracks of pointless atmospheric noodling and forgettable vocal takes. "Lonely Boy" is a great example of this, with tonedeaf singing over minimal instrumentation. Nothing stands out here. Nothing moves me. Is this supposed to be artistic? Am I missing something? It can't just be me. Some people may think that I've just been hard on Warp lately, but that's because I know they can do better than this garbage (as their recent singles from Sote and S omething J/DJ Maximus have proven). They cannot rely on the famous names in their roster like Aphex Twin and Squarepusher to redeem them forever. It's time to break ground again, and Vincent Gallo is not going to be that innovator—not by a longshot. - Gary Suarez
samples:
We know that sometimes these CDs are somewhat challenging to find, which is why we have a community section which can be used to obtain nearly everything available on this site.
NEW RELEASES
WEEK OF SEPTEMBER 15 - SEPTEMBER 21
Morgan Caney & Kamal Joory - Magic Radios CD/LP (City Centre Offices, Germany/UK)
Casino Vs. Japan - Whole Numbers Play The Basics CD/LP (Carpark, US)
Conjure One [Rhys Fulber] - Conjure One CD (Nettwerk, Canada)
Death In Vegas - Scorpio Rising CD/2xLP (BMG, UK)
DHS - Attention Earth People 12" (TinoCorp, US)
DHS - Attention Earth People CD (TinoCorp, US)
Dive - Lies In Your Eyes CDEP (Daft, Belgium)
Earnest Honest - Scratchattack/Scratchmass 12" (NovaMute, UK)
Gotan Project - Santa Maria (Del Buen Ayre) 12"/two CDEPs (XL, UK)
Gros - Waves CD (Nosordo/Fork Series, Spain)
Tommy Guerrero/Various - AnotherLateNight CD/3xLP (AnotherLateNight, UK)
Isis - Oceanic CD (Ipecac, US)
Komputer - Market Led CD (Mute, UK/US)
Ladytron - Light and Magic CD (Emperor Norton, US)
L'ombre - Medicine for the Meaningless CD (Ant-Zen, Germany)
Madcap - Third Person 12" (Music For Speakers, The Netherlands)
Nick Rapaccioli - Compare/Skima 12" (Vertical Form, UK)
* The Parallax Cooperation - Cocadisco CD/2xLP [reissue with bonus material] (Disko B, Germany)SFT [Simon Fisher Turner] - Swift CD+DVD (Mute, US)
Sketch Show - Audio Sponge CD (Daisyworld, Japan)
Soft Cell - Monoculture 12"/two CDEPs (Cooking Vinyl, UK)
Sutekh - Incest (Live) CD (Force Inc., Germany)
Underworld - A Hundred Days Off CD/2xLP (V2/JBO, UK)
Various - Earth Octave Lounge CD (Interchill, Canada)
Various - Projekt: Gothic CD [available exclusively at Hot Topic] (Projekt, US)
R. Villalobos - Halma 12" (Playhouse, Germany)
Arne Weinberg - Beauty in Decay 12" (Down Low, The Netherlands)
Wobbly - Wild Why CD (Tigerbeat6, US)
Yotoko (Domu) - All Creation 12" (Delsin, The Netherlands)


This is simply this week's highlights from the NEW RELEASES provided by Greg and Feedback Monitor.
For a more detailed schedule stretching into the future, please check out the site,
since release dates can and will often change.
CONCERT REPORT
Dabrye/Telefon Tel Aviv/T. Raumschmiere/Knamiproko/Richard Devine (dj set)
Eyedrum, Atlanta, Thursday, September 12
An electronic show of this magnitude only comes to Atlanta once every few months, so even though I hadn't heard much recorded work from a few of these artists, I knew that Eyedrum would be the place to be (and it usually is) for chance-taking electronic tunes. Local openers Knamiproko are a three-man musical ensemble whose live performance mode, as near as I can tell, involves 'jamming' over some pre-arranged beat patterns and chord structures. Backed by local video artist Shana Wood, Knamiproko played for what seemed like a very long time. While I'm interested to hear what congealed studio versions of their jams sound like, they still seem to be trying to find their rhythm live. Richard Devine, local IDM luminary who was scheduled to DJ to open the show apparently showed up late and only got his iPod/Laptop DJ set up rigged after the opening act. His 'set' consisted of glitchy beats and pitch-bending synths, all of which were nice in a head-nodding kind of way, but none of which were identifiable as a particular artist. If live musicians get upset when DJs take center stage to play records, I can only wonder what DJs must think of a guy who gets booked to play mp3 setlists from his iPod!
After a rockstarishly long interlude in which it seemed like the members of Telefon Tel Aviv were in absolutely no hurry to get started, the lights dimmed and the respectable crowd poured in for what was to be the main act. The band of guitars, bass, keys and laptops launched into their signature set of soothing melodies and DSP beats, and the crowd rocked back to listen. TTA came across as a groovier version of Slowdive with 2002 style glitch beats, without ever sounding forced. It was a sound for the moment, to be sure. I couldn't help but wonder though if the same group of guys wouldn't have written the same exact batch of songs in 1995 using scratchy trip hop loops, and if they wouldn't be writing a similar batch of songs in 5 years using whatever new software will be available at the time. All speculation about TTA's place in a stylistic timeline aside, they put on a great show and even got coaxed into an encore by enthusiastic fans.
T. Raumschmiere followed suit and waited another excessively long time before getting started, by which time at least half of the audience was heading for the hills. He opened with a blast of digital noise and kicked right in with loopy, dirty house for DHR fans. The thick textures and muscular 4 on the floor blended well, but would be the end of my evening of laptop madness. Unfortunately, Dabrye's spot on the bill seemed almost like an afterthought by midnight, as most of the crowd had dissipated, lost interest, and gone home. A shame, but a lesson learned by the promoters for next time. - Matthew Jeanes
POLL
Results from last week's poll: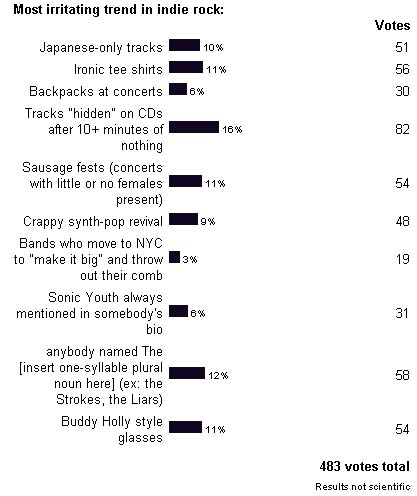 LINKS OF THE WEEK
What an odd 404 message...
Tom Worster found this amusing one: http://security.rr.com/blahblah.html
MediaGeek
Something more serious this week: a politically-charged site with intentions to educate and take action against the perils of corporate broadcasting. There was story this past week about a Negativland attempt to "bite" Clear Channel with a Mosquito Fleet of radio stations in Seattle as well as various commentaries on who really is controlling what you listen to. In the words of Tom Petty, "There hasn't been a commercial radio DJ who hasn't been told what to play and when to play it in the last 15 years." www.mediageek.org
Patriot Day vs Patriots Day (a link of the week commentary)
Patriots Day, April 19th. This holiday is rich with Early American cultural history. http://www.world.std.com/~adamg/patriotsday.html Bush Announces the formation of Patriot Day, Sept 11th. http://www.michigan.gov/gov/1,1431,7-103--50849--,00.html "Two holidays with the same name? Priceless. Thanks, W, you jackass." - Jeremy Labrosse.
Top 10 signs your neighbor is brainwashed
We're not talking about our own website here, take a glance at these qualifications to see what you probably already fear: http://www.buzzflash.com/contributors/2002/09/05_Stepford.html.
FEEDBACK
making noise about noise

Subject: A comment regarding the recent poll.
It seems that most people don't like noise artists that take themselves too seriously. I, to a certain degree, can understand and agree with that. And ultimately, it's just one opinion versus another. As a noise artist (though i don't limit my work to noise, I find myself returning to the style, because I love it), I feel that there are a few caveats to this generalization.
I'm not saying this to put myself, or my opinion above anyone else's. I hold an equal grudge against improvised music, so I'm no better. But there is this: For the most part, particularly in experimental music, the artists make the music for themselves. It's masturbation; making the music that they want to hear. I'm glad when someone tells me they like a song, because that seems they like a part of myself, but I'm not hurt when they don't. However, to a degree, a certain level of self-involved seriousness needs to be present for the music to be any good.
Yeah, it's pretentious, arranging static in classical-style structures, but without the pretense, there wouldn't BE the music. The world doesn't force feed you Ligetti and Cage, you need to put forth effort to understand it, and to interpret it and take it (hopefully) to the next level. So, yeah, taking yourself too seriously is bad (that's part of why I work under a silly name, despite it hampering me from getting shows around town), but to a degree it's necessary. This IS art, done for art's sake, not to make a quick buck.
If no noise artist took himself seriuosly, then the world would be filled with generic house and soulless pop songs. Ultimately, it's not about money, or being respected, or building a community. It's about the music, and conveying an idea or an emotion to someone else, consciously or subconsiously. That doesn't mean I can't laugh at my work, or mock my chosen form of expression, but that I have to love and respect it. At least while I'm doing it.
I think you mis-read the intention of that poll choice. "Noise artists who take themselves too seriously" isn't a generalization and does -not- translate to "All noise artists take themselves seriously." Regardless, the poll is meant for entertainment purposes, just like nearly ALL music in the Western culture we are part of. And if you're still unconvinced, try organizing a concert for Zbignew Karkowski some time!

Subject: in search of...
is it possible to put a search function in your old issues page? i'm constantly going there to check out your cd reviews...
There's one on the brainwashed home page.

Subject: [no subject]
where is nick kershaw's "would'nt it be good"
Probably on his albums or some trashy 1980s comps.

Subject: nww faves
do you know where i can find the 'near-mythic' list of NWW's favorite records on line? I lost it and I figured you had it on you site, but no luck.
There's a list on the web site which was a list of Influences written on the first album. Of course, I'm sure Steven Stapleton has been influenced by many more things in the 24 years since.

Subject: prince
do you think he really writes stuff that way, or does he have some translation software 2 turn words into gibberish 4 him?
u and i may never know.
WHAT'S IN YOUR PLAYER?
driving miss loeb
Ms. John Soda - No P. or D.
Vague Terrain Recordings - A Viable Alternative to Actual Sexual Contact
Telefon Tel Aviv - Fahrenheit Fair Enough
Fad Gadget - The Best of
Godspeed you Black Emperor! - Lift Your Skinny Fists Like Antennas To Heaven (both discs)

Jon Whitney, Arlington MA, listening as he drives celebrities around over the weekend.