hrvatski, "swarm and dither"
Planet Mu


When most music snobs think of the word album, they tend to discount the concept of the compilation (in comparison to the release of a full-length recording of new material). In actuality, all full-length albums are compilations themselves of thoughts and ideas which materialize as audio compositions. While Keith Fullerton Whitman has never recorded and released a full-length album as Hrvatski, listening to his second compilation is much like going through somebody's personal photo album with the brief little captions underneath each picture. "Here I am restructuring a Kid 606 track you've all heard," "this one was taken in the hallway of an apartment building," "here I am doing a Rolling Stones tribute," and thankfully each snapshot is enjoyable. For 'Swarm and Dither,' the whole story isn't even close to being completed—this isn't to be regarded as an anthology or a definitive collection, however it does make for a great collection of the finer moments of Whitman's experience as Hrvatski, picking up where 1998's 'Oiseaux' left off. Included are the choppy hyperactive cuts like "2nd Zero Fidelity Mandible Investigation" which could easily have been recorded the same day as the opening classic "Vatstep DSP," appearing for the first time ever on a Hrvatski record (outnumbered by the two appearances on Kid 606 projects). The 16-second "Untitled Fields" is a good tension-reliever as well as the all-too-short "Gemini," culled from the release 'Autumn Nature.' Some of the more chin-scratching pieces include his abstract cover version of "Paint It, Black," and the sample-montage of "Anestetise Thineself," in which he could easily be paying tribute to Tear Garden's "OOEEOO," but I doubt that was intentional. My personal favorite moments on the compilation are the new tracks "Freie Zeit," an improvised bit which just happened to be captured and the waltzing closer, "Tegenborg," equipped with enough distorted prog-rock cock-rock guitars and hand claps to make any DSP fan cringe. Maybe one of these days Hrvatski will do some sort of a conceptual album, but for now, this listen is rewarding enough. - Jon Whitney
samples:
keith fullerton whitman, "playthroughs"
Kranky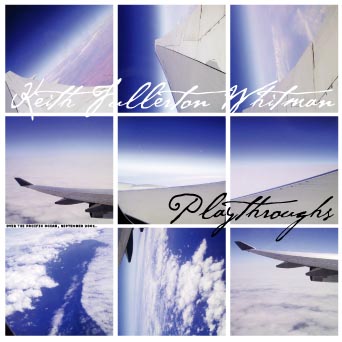 Right off the bat I want to get something off my chest: had I not been familiar with Whitman's work as Hrvatski nor trusting of the label Kranky, I would have been completely thrown off by the clinicization of music by the words "laptop," "ring modulators," "granular re-synthesis algorithms," "drone," "academic," and (especially) "Terry Riley" in the description on the web site. Seeing something like this is almost remeniscent of the magic of fucking nearly ruined by the overexplaination by a creepy teacher in a high school sex ed class. That said, the music on KFW's debut is alarmingly attention-commanding for a beat-less, lyric-free excursion. Most strikingly, there is a beautiful sense of room-filling warmth on every one of the disc's five tracks, and thankfully Whitman is careful enough not to oversaturate each composition with sounds. Unlike a number of drone records, this disc is filled with songs which are just long enough to make their point clear and short enough to keep the record interesting as a whole. Even in the pulse-less opener, "Track3a," the music is set in motion much like the conflict of a film—with an enjoyable scenery background to a conflict which needs to be resolved. Thankfully the resolution comes in only a few minutes and the payoff is well worth the wait. "Feedback Zwei," on the other hand is set in motion by a steady pulse of an ear-tickling rhythm. Both that and "ACGTR SVP" build to noisy climaxes and quell, the latter piece much like the buzz of a heat bug in a sweltering late August day. "Modena" serves as a fantastic closer, as it is clearly remeniscent of Whitman's fantastic CD EP released last year, '21:30 for Acoustic Guitar,' almost completing the chapter in Whitman's output on guitar exploitation. Whether it's complete is yet to be seen, but if the Piano Concerto from 'Brain in the Wire' is any indication of what's next to come, I'll undoubtedly be listening. - Jon Whitney
samples:
kinski (eponymous tour ep)
Sub Pop


One of the highlights from this year's Terrastock festival was the blowout performance by Kinski. The EP they're selling on tour (and on the net) is their first release through Sub Pop, a precursor to their Sub Pop debut (their third album) next Spring. At four songs, the disc acts as a wonderful introduction for those who haven't been won over by the band yet. Kinski cleverly disguises their unbridled rock tendencies with lengthy drone openings and noise fillers. While the formula is old hat (two guitars, bass, drums), the songs are straight up fun to listen to. Anybody familiar with Ride's "Leave Them All Behind" could probably predict that the opening guitar effects on "Semaphore" (no relation to Fridge) merely hint towards the bombastic arrival of all the other instruments. About 2/3 of the way through, however, the song takes an unexpected turn and speeds headlong through the finish line. Continuing on with that same motion, the peppy, punchy "Point That Thing Somewhere Else," originally by the Clean, is the only vocal track on the disc. The energy completely drops after that for the improvised noise of "The Bunnies Are Tough," which, honestly could have been either avoided or completely exploited. The closer, "I Wouldn't Hurt a Fly," opens with the serene sounds of wonderfully delayed guitars (you know, the kinds mama used to make) but is soon shattered by the loudness factor again. With two minutes left, the track gets completely fucked up. I can't tell if this is intentional or a complete glitch as it happens on all of my CD players. Look for this Seattle four-piece on tour with Acid Mothers Temple right now and try your damndest to track down any of their older recordings. (Best of f'n luck.) - Jon Whitney
samples:
t. raumschmiere, "anti"
Hefty


It should come as no surprise that the album Hefty gets this year from Marco Haas as T. Raumschmiere is considerably more cerebral and noticably less ass-pounding as the one from Shitkatapult (see Sept. 29th's issue). The puffy thump of the bass kick is present again (deep enough to blow a hole in your speakers if you're not careful). This time around, however, deep listening has replaced sleazy listening, as the chunky, sweaty basslines that littered 'Rock N' Roll Swindle' are noticably absent. Taking the center stage are more hypnotic samples, breathy noises, clicks, ticks, and soft keyboard sounds. Songs take longer to develop for the most part as one by one, sounds are gracefully trickled in. Unlike the omnipresent relentless motion of the unlikely companion, this album takes a few noticable pauses here and there, driven by short beat-free moments. They're quick enough to catch your breath, but are abruptly dropped when the throb of songs like "Dual Kanal" make their presence known. If 'Swindle' is the album that brings you to that extra-special level of throbbing ecstasy, this album is pefrectly suitable for the transition into the coming-down afterwards. It's perfect for the car ride home as you race to beat the sunrise of the next day. - Jon Whitney
samples:
k, "goldfish"
Tiger Style


Quick, my cat's purring, grab the microphone! Seriously, I'm continually impressed with Karla Schickele's songwriting and singing abilities, both as an integral piece of Ida, and as the boss here as K. Shickele's lyrics never sound anything less than painfully honest, and never, for once, are they remotely predictable or trite. On this, the second K album, the musical styles vary so greatly that I'm unfortunately having a hard time at certain points being completely won over musically. The broken continuity works amazingly well in the powerful "Crush Mine," as the magical superglue that seems to hold most rock songs together (the drummer) is showing strong desires for an improvisational angle. The country twang of the steel guitar on "I Am Not Willing," and "Everybody Knows Your Name," however, seems almost forced and unnatural. Instrumental diversions like the metronome, guitar and gong sounds on "More Than Wanted" are warmly welcome while the bangy-bangy piano on "Keep Your Eyes on the Road" simply grates on my nerves. Songs like "Ballad" and "Bounty" are destined to become fan favorites, as they're both bleedingly emotional and have the sound of a band who is in perfect synergy with each other. K is on the road right now, and while I might not have given this album the highest marks, K's shows have never let me down. - Jon Whitney
samples:
Boom Bip, "Seed to Sun"
Lex


The year was 2001. I was in Columbubs, Ohio selling merchandise for a touring band when I only briefly shook hands with a friend of the guitarist, a really charming young gentleman named Brian. The following year, I was completely blown away by the sounds Brian (as Boom Bip) was generating in collaboration with the rap of Dose One in a small concert in Boston. I look back on that one concert night with fond memories as the sound was loud and the feeling was wonderful. Later on that year, he released his album, "Seed to the Sun." After Hollywood caught wind of the phenomenal breakthrough, he was soon composing film scores left and right and nobody ever heard from Brian again. His success was rightfully deserved, however. On the first seconds of that album he wowed the crowd by his sharp sense of musical composition, structure, playing abilities and production smarts, with an electronically-based driving beat layered by live bass guitar playing and thoroughly enjoyable musical progressions. From track to track, the feeling varied (ear-tingling beat-less digital drones of "Pules All Over," a campy drunken trumpet calliope on the brief "Newly Weds," a raspy rap by Buck 65 on "The Unthinkable," and the nasal, beat-poetry prose of Dose One on, "Mannequin Hand Trapdoor I Reminder") but the consistency never faltered. Influenced by hip-hop beats, New Order-esque high-fretboard bass guitar playing, synth pop, sampleadelics and space rock, Boom Bip was indeed a well-rounded child, albeit a bit unfocused at times, yet impressively talented. - Jon Whitney
samples:
comets on fire, "field recordings from the sun"
Ba Da Bing!


"Elaine, the sun!"
"What is it, Ted?"
"A big, fiery ball of gas, but that's not important right now."
If I didn't know both the name of this band and their album title, I honestly would have guessed they recorded this with the full intention of creating a overpoweringly bright image of a glass lense amplifying the sun's light to such an unbearable degree, that everything else in sight becomes a mush of yellowy wash. Hold your hand up to your face but you still can't block the intensity. In a word, this quartet's second album is simply "unavoidable," in that the minute the bombastic hippie rock sounds in, all other ambient sounds are eclipsed. It's due to the combination of fuzzy guitar, over-distorted vocals, a messy wash of cheap effects and quiet breaks much like the rustling of wind chimes and dangling outdoor objects in Kansas as the sky grows from blue to black, moments before the tornado rears its ugly head and destroys every trailer in sight. Picture Animal from The Muppets going berzerk on the drums as a crazed LSD-freak screams and can't stop wiggling the whammy bar. Occasional guitar shredding can probably be partially blamed on producer Tim Green, who makes ironic 80s retro-metal with the Fucking Champs. The most charming aspect is probably in its brutal live feel. At moments like the second song, "Return to Heaven," this album could easily be mistaken for a live MC5 session sans singer Rob Tyner. Grab some cheap beer, phone some friends and bring your earplugs, playing this album on a Tuesday night (with the volume on 11) is a great substitution for a lack of killer rock shows in your dull town. - Jon Whitney
samples:
guitar, "sunkissed"
Morr Music


The name of this musical act should give you a clue about it. Unfortunately the guitar recordings are the most redeemable part of this album. Guitar is the musical project of somebody who refuses to be known as anything other than Digital Jockey. He (this is just a guess here) has a real mastery of guitar effects and layering which is wonderful to listen to, but has been done for years since that unavoidable reference point, My Bloody Valentine. In addition, he has enlisted vocalist Donna Regina on a couple songs and Ayako Akashiba on a few others. While this album will most certainly go over very well with anybody obsessed with 'Loveless' and/or thick-accented Asian girls singing in Enlish, the lyrics are so irritating some times that I can barely make it through each song. "Honey bee, me and me, see sea, bee and me" over and over and over and over again (with two appearances even) gives me frightening visions of Asian girls with long fingernails, digging deep into my skin to climb up my body and chew my eyeballs out. Admittedly, I was enthusiastic about this album after hearing the rich guitar and simple drum sounds of "House Full of Time" on 'Blue Skied an' Clear,' but sadly, that has become the only song remotely bearable to my ears any more. -
samples:
Monos, "nightfall sunshine"
Die Stadt


While I have been listening to Colin Potter's output (as part of other projects) for years and own a couple Monos releases already, I feel the latest full-length release is clearly a turning point for Darren Tate and Colin Potter as a duo. For years, the two, in various different combinations along with the usual suspects (Andrew Chalk, Jonathan Coleclough, and the circle which extends to Christoph Heemann) have been creating a seeminly endless stream of limited records of lengthy drones: anti-compositional in nature, exploiting sounds for super-extended periods of time. On this, Potter and Tate display a clear evolution in simply 'putting the pieces together,' and for five tracks incorporate the proverbial field recordings and drones with actual compositions, evolving sounds and musical movements gracefully both with and without various pulses keeping strict tempo from introduction through demise. Recorded in 2001, this disc opens with what has almost become a mainstay for these folks: a gradual fade in. The hum on "Intro" doesn't last long, however, as a number of other tones and pulses begin to make themselves heard. Quivering echoes and very, very (almost inaudibly) low undertones mainly propel the spacey "Moon Environment" while tinny pitch-bending, crackling (either leaf-rustling or a fire), and thumping analog synth bass sounds make for a hypnotic aural feast on "Brittle." Unsurprisingly, the purveying visual images I get from this album is a very, very bright night lit by an amazingly large moon. It's the point where night vision takes over and the shadows come alive. The scene could be a forest or a field, relatively close to civilization, but grand enough to seem untouched by modern man. Thankfully nearly all of these pieces end somewhere relatively close to the ten-minute mark, despite the almost unnatural fade of each. There is more, and while I generally dislike fadeouts, I'm somewhat relieved these things don't go on forever. 'Nightfall Sunshine' ends with a marvelous ten-minute piece, "Sunrise," with bird recordings, a subtle synth melody, what sounds like the shivering wiggle of an Arp and the warm drone of an organ. It is the end of the night, the rise to the next day, as animals wake and we, the humans, need to return to reality. - Jon Whitney
samples:
Cabaret Voltaire, "the original sound of sheffield '78/'82"
Mute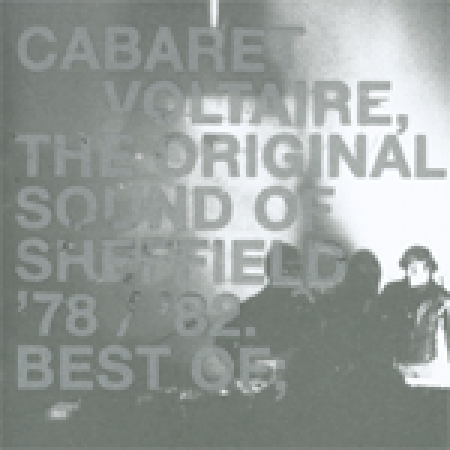 I know what you're thinking, "Didn't EMI already release 'The Original Sound of Sheffield' last year?" Yes, they did, and, in fact, their Cabaret Voltaire collections (including the 'Conform to Deform' box and 'Remixed' CD) contained a plethora of material previously unavailable on compact disc. This collection, despite the subject being dear and close to my heart, contains no music previously (or currently) unavailable. The timespan focuses in on the most essential songs from the pre-Some Bizzare/Virgin days when the Cabs were still a three-piece. To Mute's creadit, this serves as a great documentary of how they evolved, chronologically, from their tape-noise punk days (with classic single tracks like "Nag Nag Nag" and popular album favorites like "No Escape" through the more structured beat material (with the timeless "Yashar" which still gives me chills) which led up to the Virgin trilogy. I would even go as far to say that this would most certainly match a mix-tape of Cabs that I would make for a friend if I wanted them to hear the most important tracks in this period of their career. Completists and fans might appreciate the thick booklet, newly unearthed photos, and a brief interview with Richard H. Kirk contained herein, but the grey text on black-and-white print is exceptionally annoying. Sometimes I wonder if compilations like this are just a vehicle for record companies to employ Designers Republic. As much as I love the music, I can't recommend this in good conscience. Had this been a budget release, I might have a different take, but for people who are interested in good introductions to this period of Cabaret Voltaire music, 'The Living Legends' collects nearly all of the Rough Trade singles and odds-n-ends from this time and compliments the albums without overlap. Now that EMI owns both Virgin and Mute, it would be nice if there was a collection that gathered all their 7" single release versions from inception through the end, possibly even coupled with a DVD to include all their videos too. As it is now, however, the market is completely oversaturated with Cabaret Voltaire compilations and music snobs insisting it's all good for you. - Jon Whitney
samples:
tino's breaks 6, "hallowe'en dub"
Tino Corp


Just when I was about to abandon all hope of possessing a dub record to play while kids in Jar-Jar Binks outfits come knocking on my door this materializes! In actuality, however, this is not an illogical step in the evolution of Tino, as, well, when you look through sound effects records of the 1960s, horror sounds seem to have been a big trend, forgotten faster than you can say 'Dear Dead Delilah.' In addition, must we remind you that "Tino is, like, Mr. Halloween," according to Rayanne from the TV series, 'My So Called Life' (episode 9). Obscure references aside, Tino has expectingly grabbed a number of obscure sound effects, music, film and TV samples, gently mixed with fiendish Rastafarian samples and served on a sturdy dub plate, and the result is as tasty as fine pumpkin pie. Guest appearances include Wolfman, the Loch Ness Monster, zombies, and numerous unnamed ghouls. Quick, cue the theremin for the ghost appearance as the lady screams and the rhythms roll on. It's just that fun. In the end, much like the other Tino records, a number of samples are provided for your own personal use. Of course, this time it's a little scarier,... Muhahahahahahahahaha. - Jon Whitney
samples:
We know that sometimes these CDs are somewhat challenging to find, which is why we have a community section which can be used to obtain nearly everything available on this site.