Jessica Bailiff
Kranky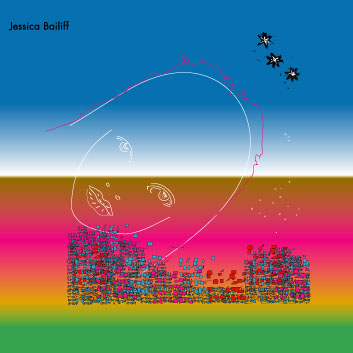 After two impressive albums recorded with Alan and Mimi of Low, Jessica comes home with her third album —recorded at home with Jesse Edwards, her bandmate in Red Morning Chorus and Northern Song Dynasty. The record has a much more intimate feel than any she's recorded, with an eye towards more acoustic arrangements and a bit more experimentation. Everything sounds sparse or barren, far more than other releases have, like there's a stark loneliness or quiet that is being explored on each track. Often times it all sounds brittle, even, as it feels like if these songs are pushed like she has in the past, emitting any noise that is too harsh, it will all come crashing down. Bailiff's voice is as assured and sultry as ever, and the treatments on a few tracks even elevate it, making it sound firmly otherworldly. All these ingredients make for her most engaging release yet. "Swallowed" is classic Bailiff: steady rhythm with small flourishes and the desperate call of "If only you'd hold me and say it's all right." "Hour of the Traces," with the violin-uke melody and percussion that sounds like taps on an acoustic guitar, is hauntingly pure and pained, even as a happy tin whistle, faded in the mix, plays along. Finally, on "Disappear," the roar comes in and the volume increases and the guitar distorts seemingly into oblivion with computer voice back-up to hold it all in. The album closes with the piano-based "The Thief," a lamenting chorus of voices singing behind Bailiff as the song progresses. It's a gorgeous moment, where I felt Bailiff stepping out of herself. - Rob Devlin
samples:
bohren & der club of gore, "black earth"
Wonder


A ski weekend in Vermont sounded like the perfect get-away for the weekend. All your friends packed up and headed north. You left in a different car because you had room for everybody's gear, but they left at the same time and followed closely behind. Night fell and a blizzard came in out of nowhere. You arrived safely at the remote cabin on the lake but the electricity is completely out and the other car hasn't arrived yet. It's been hours. The snow outside has not eased up as it is visibly getting deeper and deeper. You light another candle and try to keep warm but the firewood is running very, very low. In contrast to the band's name, 'Black Earth' is an album of implicit tension and suspense, much like a Hitchcock film, completly unlike slasher films, filled with explicit scenes of blood and gore. (You haven't found their bloody, cold, dead bodies yet but you know to fear the worst!) The atmosphere is so thick with tension that even if you're listening to this album in the brightest moments of daytime, the slightest external sound can make you jump a mile. Despite its painfully goth appearance, the sound is Twin Peaks-like Labradford-inspired jazz: instrumental with slow shuffling drums, heavy Rhodes keyboards, piano, double-bass and saxophone. It's a marvelous treat, thrilling enough that even long after listening, I get lumps in my throat just thinking of it. - Jon Whitney
samples:
Amon Tobin, "Out From Out Where"
Ninja Tune


The fourth release from Amon Tobin, under his own name, once again tends to lead more in the direction of last year's 'Supermodified' in that the use of a lot of those "go cat, go!" drum licks and upright bass samples have been eschewed in favour of some heavier groove-styled numbers, with the odd drum 'n bass licks thrown in for good measure. The frenetic "Back From Space" kicks the disc into high gear with its busy rhythmic layers, compressed bass lines and monster low-end synth patterns that leave fingerprints all over the scene. The solid "Verbal" has enough of a pop element to come close to getting airplay on major dance radio (if it hasn't already), thanks in part to it's strummy acoustic guitars, pumping bass and the cut 'n paste vocals provided by MC Decimal R. The stand out, "Hey Blondie," is a great, spacy bed of synths, subtle 70s bass lines and arpeggiated guitar held together with a deep pocket, down-tempo groove that's a mile wide. Who says electronic music has no feel? "Cosmo Retro Intro Outro" builds from processed funk guitar squelches and fleeting melodic synth lines to some heavy drum 'n bass-styled rhythms which blend perfectly with the backdrop. "Triple Science" will have your ears doing pinwheels with its uptempo barrage of bips and bleeps, held together by a half-time bass line that sounds like an upright being whacked with a stick. The remainder of the disc's eleven tracks tends to be a lot more groove oriented, making for some great space and choices of sounds in the compositions. - Gord Fynes
samples:
Her Space Holiday, "Audio Astronomy"
Tiger Style


This reissue of Marc Bianchi's 1997 vinyl-only release documents a vastly different Her Space Holiday from the warm, symphonic, electronic pop of last year's 'Manic Expressive'. The six tracks present that appeared on the original (the reissue includes six unreleased bonus tracks) evoke both the psychedelic, spacious atmospherics of Flying Saucer Attack, the ethereal twang of Mojave 3, and the shy vocals and simple, introspective guitar melodies of Trembling Blue Stars. Furthermore, "Gravity Fails Us" sounds downright Stereolab-esque in its first 60 seconds. These songs have a relaxed expansiveness that contrasts with the tight, meticulously constructed material for which HSH is presently known. The six bonus tracks, while in the same vein as the aforementioned, are less noteworthy. Terse and underdeveloped, it's clear why these songs, presumably recorded around the same time as those which comprised the 'Audio Astronomy' in its LP version, were initially not included. In fact, for this reissue, they seem less like a "bonus" and more like tacked-on filler material. Nevertheless, Bianchi, who seems to hold the highest appreciation for his listening audience, no doubt added the previously unreleased songs for their enjoyment rather than as a sales ploy.
Despite the drastic change in sound over the past 5 years, fans will no doubt find 'Audio Astronomy' an interesting document in the evolution of Her Spaace Holiday. - Jessica Tibbits
samples:
numbers, "life"
Tigerbeat6


Numbers might not be an electronic laptop band, but like nearly everything else on the TB6 label, it is fun, addictive, silly, and sickingly dancable. This trio of youngsters from the Bay Area consist of a Moog player, guitarist and a front-stage drummer who controls the world. (All of which who sing.) While I'll be the first to admit I didn't really get this band entirely on record, after seeing them live I have been completely won over. Subsequently, the album sounds much better now. Clocking in at just over 19 minutes, this ten-song record has got to be one of the most genuine releases of the year. The band addresses adult issues through the mind of a child, as the subject matter ranges from materialistic greed ("We Like Having Things") to technology ("Intercom") and strained intrapersonal relations ("Too Cool to Say Hi"). The disjunct playing and off-tunings of the guitar separate the group from the typical post-punk punks, almost as if three computer nerds were handed rock instruments and trained long and hard to play louder, faster, and more original than the bullies down the street. Training and practice payed off as the good kids did win this time. Let's see how they do in the sequel. - Jon Whitney
samples:
Nerve Net Noise, "Meteor Circuit"
Intransitive Recordings


CDs like this make me smile because they have dual uses: 1) listening enjoyment and 2) annoying the hell out of a captive audience. I imagine popping this one on full blast for a car full of guests while zipping along the freeway at 80 mph. No escape. Nerve Net Noise is a Japanese synth duo that set their homemade synths to autopilot and record the unexpected results. This album's focus is on rhythmic percussion percussive clicks and chirps, almost like a pared-down Pan Sonic sans the Finnish Stoicism. Japanese culture is fascinated with all things cute, and I imagine the wheezy squeaks on "#3" being a cheery cartoon bird laughing at your erratic heartbeat. "#5" sounds like someone rapidfire plugging/unplugging one of those chirping Christmas ornaments. "Long Mail to Boston" is an overloaded car horn blast. While this is a trying record for those with short attention spans, it's just the trick for those of you who incessantly drum on anything and pick up rhythms from refrigerator buzzes and passing trains. NNN go a little far to claim that this is a "new kind of pop music," but some of it indeed is catchy. Not the kind of thing you could hum though—the heavy clicks are of the brain function interruption variety. - Jesse Niemenen
samples:
Venetian Snares, "a giant alien force more violent & sick than anything you can imagine"
Hymen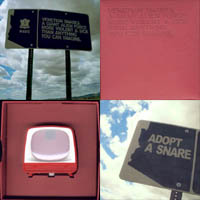 Rumours that Aaron Funk has four albums coming out on the same day in 2003 are no more than rumours, but the Canadian's work-rate is so impressive that the claim is actually plausible. After two superb full-lengths this year on Planet Mu, and a third, 'Winter In The Belly Of A Snake,' held back despite being pressed and available in October (as if to save others embarrassment) it seems natural that he would sneak out another release somehow, and this time it's an elaborate box set on Hymen. The red box contains a 3" CD with a single track, as well as a small TV-shaped slide viewer, with 8 slides inside. Each slide has the title of the box PhotoShopped onto some object. Fans will revel in this entirely reasonable claim being splattered all over road signs, vending machines, and other items. As for the music, as usual Funk explores the limits of his self-discovered blend of breakcore and cut-up drum'n'bass. Here, he takes the opportunity to create an extended piece rather than move chaotically between different musical parts, and develops a harsh break and distorted bassline over 16 minutes, leading inevitably to a mental, blurred climax. No-one is taking intensely programmed breaks further. - Andrew Shires
samples:
Jeff Buckley/Gary Lucas, "Songs To No One 1991-1992"
Knitting Factory


Many were devastated by the untimely loss of Jeff Buckley to a drowning accident in Memphis in May 1997. Not only had such an outstanding vocalist, musician and songwriter, who spoke to so many with his music, met a premature death, but he had made such an impact with only one studio album to his name. Several posthumous releases, including live recordings and a concert video, have made their way thanks in part to Buckley's estate and his major label, which were accused of being a cash grab in light of gaining popularity, though genuine nonetheless. "Songs To No One 1991-1992" covers what has been said to be an important time in Buckley's development as a singer through his collaboration with former Captain Beefheart guitar whiz and Gods and Monsters bandleader, Gary Lucas, whom he met while performing at a tribute to his late father, folksinger Tim Buckley. Compiled by producer Hal Willner, the disc's eleven tracks showcases band demos, duo soundboard and home four-track recordings, some of which introduce tunes that became Buckley standards such as "Mojo Pin," and "Grace," with the latter appearing in two versions. Cover tunes such as the dirge-like "Hymne À L'Amour," and the snappy "How Long Will It Take," not only highlight Buckley's ability as a vocalist, but also Lucas' exceptional musicianship and expertise in layering guitar loops. The country standard, "Satisfied Mind," is a live solo Buckley performance in which jazz guitarist Bill Frisell has added his signature sound to for this release. Downtown NYC jazzers Sex Mob augment the duo recording of "She Is Free" with solid rhythm, swelling organ and some great horn lines based on some licks that Lucas plays out. "Harem Man" is a southern bluesy duo track in which it is very apparent how much of an influence Robert Plant's vocal style was. With this release coming out around the same time as the 'Grace EPs' box set, it wouldn't be hard to understand why this disc would be lumped in with the aforementioned. This is a great chronicle of the Buckley timeline and an insight to his partnership with Lucas, which until now was the kind of stuff we'd only been able to read about. - Gord Fynes
samples:
Pleasurehorse, "Bareskinrug"
Load


Pleasurehorse populates the songs on "Bareskinrug" with pummeling polyrhythms which erupt arbitrarily all over the place. The sound is dense, heavy, and percussive. The pounding throughout "Bareskinrug" is created primarily by the bass beat, which provides the bed from which the other minor beats spring, sometimes blossoming, sometimes withering. Amidst the percussion, you can pick out the synthesized computer noises which fizzle, fizz and fiddle. Whereas I was astounded by the violence of the sound, I also felt like I was being attacked by the songs, which is just to say that at no point was "Bareskinrug" removed to the background of my mind. The music draws an adamant line in the mind's foreground, refusing to cross over into some lost ambient land. "Laitbait" felt like being cudgeled with a tomahawk repeatedly and then the subsequent dizzied and blood-speckled daze which accompanies such a bludgeoning. The full range of this experience was captured within just the three minutes of this song. Most of the other songs can be likened to some other violent or intense sensation. The only time at which the album threatened to be boring was "Re: Vip," which maintains the same dull beat for three minutes, with nothing hovering around it to give it much life. When it finally promises to change the beat, the song merely morphs into a duller beat perpetuating until the end. The range of sound on the album as a whole is not that wide, but the recombination of sounds is innovative. "Bareskinrug" is interesting to listen to at first, but has a hard time sustaining multiple exposures, unless, of course, you find a song on it which changes your life for a few weeks. Otherwise, the aural assaults become all too similar, like the daily beatings from a schoolyard bully. Is the day you got your nose bloodied much different than the day you got your arm pinned behind your back? Nonetheless, Pleasurehorse does a lot with a little, and heavy-handedly suggests he might have some promising work yet to perfect. - Joshua David Mann
samples:
jackie-o motherfucker, "change"
Textile


All functional humans have the capacity to make noise, whether it's with what genetics gave them or the tools they make. However, very few have the capabilities of making noisy things sound amazing to the human ear. Some bands never achieve this. Thankfully, at least Jackie-O Motherfucker does a good job of achieving it about half the time on each their albums. In all of my recordings of this Portland, Oregon-based collective, they have remained consistent between the number of songs that sound completely derivative and uninspiring to songs that really sound like an impressively orchestrated group of musicians whose sounds amount to more than just chin-scratching mayhem. For the latest disc, the band opens with a track that doesn't move far off the Molasses-like northern white guy hillbilly blues singing tip and follows it up with a track that kept me re-referring to the package to make sure it wasn't an elaborate cover of Jandek's "Carnival Queen" with tape mutilations. It's at this point, however, that the ensemble is basically getting in gear. They pause for a 17-second instruction on playing on "the seven" and by halftime through the immense (and perpetually changing) fourth track, "777 (Tombstone Massive)," I'm happily lost in a daze. It opens with relentless drum and percussion poundings then halts, restarting with a crackle, wind instruments, chimes and a low string drone. A quick rise reintroduces the forceful percussion from the first few moments but thankfully that dies down for the mesmerising interplay between strings, winds, and chimes. Just when everything boils up to a clumsy, disorganized borderline masturbatory jam with nobody paying attention to each other, (the end of "Feast of the Mau Ma") quietness befalls the record and all is good again. The album ends with two more 10-minute pieces: a blissful quiet instrumental and a 'manual' loop of guitar and drums with distorted vocals which leaves me with an unsettling feeling despite the violinists struggles to play something pleasant. One of these days this band is either going to make a record that will be my favorite of the year or send a pipe bomb to my P.O. box. I don't know which to fear more. - Jon Whitney
samples:
"SharkAttack!Music 3.5eps"
SharkAttack!Music


This compilation of artists on SharkAttack! features some extremely talented bands playing some incredibly strong material. Charlene, whose members started SharkAttack!, contribute four tracks, HelloAttack give two, and Compass and Lockgroove three each. The music of Charlene has already been praised on the Brain recently, and the four tracks here run their gamut of sound. There's the drone of "Look for the Line," the pop of "Low Down" and "Radio Son," and the quiet beauty of the hidden "Slow Broadcast Dozer." All are fantastic. HelloAttack craft space rock instrumentals with solid bass grooves, chiming guitars, and keyboard drone. Their two tracks bode well for their full-length, due next year. "D" is an loud attack with a bounce rhythm, where "A" is slow to start but eventually makes it to a loud yet metered and aggressive tone at the end. Lockgroove includes David S. Goodman, who is also Compass. Both projects have released singles on SharkAttack!, and both demand strong notice in their offerings on this CD. Goodman plays with beeps and programmed beat pop with aplomb, and his three songs have a charming grace. Lockgroove burn out of the gate with "Nullify," then click it down a few notches for "All Caught Up" and "All My Friends," showing the ability to bruise as well as to soothe. Their debut EP and full-length, from 1998 and 2000, respectively, are also available directly through their website, with more to come on SharkAttack!, I'm sure. SharkAttack! is truly a home for great artists with common themes and has a lot to show on this compilation. - Rob Devlin
samples:
Various Artists, "Ju-Jikan"
23five


This two-disc compilation coincides with last year's SFMOMA exhibit of the same name, a "listening event documenting the past 50 years of Japanese experimental music," though this recording features mostly electronic-oriented material from the past few years. Despite this, its breadth is exceptional and some of the tracks are unreleased, so it's excellent both for collectors or as an introduction.
Noise, of course, is a focal point, and each of the several noise pieces are quite distinct—Pain Jerk's track is a rumbling, rhythmic assault in contrast to Masonna's brighter vocal and synth-driven freakout. The Otomo Yoshihide track, consisting only of high frequency guitar feedback, is easily the toughest; he exploits the subtle interaction of two tonally pure sustained notes, holding them for uncomfortable lengths of time. It's interesting and challenging but I prefer his more dynamic work.
Other tracks range from minimalist-inspired rhythmic clicks, such as the Nerve Net Noise, Atau Tanaka, and Ryoji Ikeda tracks, which all manage to distinguish themselves with their detailed but disarmingly simple tonal palettes, to more abstract, juxtaposed medleys. Masahiro Miwa's contribution uses plaintive low-fi synths to establish tension; though the sounds are light and playful, the overall feel is heavy and works well with his stated topic of youth violence in Japan. I like I.d.'s supposedly "hacker"-inspired piece. Its discrete bundles of static and waves of digital noise sound almost like information, and it slowly develops into something vaguely repetitive and structured.
The compilation also features a few notable older but forward-looking pieces. Yasunao Tone's track is about contrasts: beauty and ugliness as well as ancient and modern, combining gorgeous flute playing and a noisy synth that sounds like the creaking of a door. The music stops periodically for an NPR-type voice to read some semi-decent poetry; although the track is long and generally simple, it's still engaging and I love the flute playing.
The Kazuo Uehara composition, dating back to 1988, has the most impressive sounds on the disc. It begins with some quiet, indeterminate events and some mumbled French with a cavernous echo, and the vocals grow increasingly processed and alien. Stunning woodwind-like drones build towards an organ-like range and later into hauntingly serene howling and whistling. The ground that this compilation covers, as a whole, is amazing, and it definitely reaffirms the brilliance of Japanese musical innovation. - Steve Smith
samples:
Various Artists, "Variable Resistance"
23five


This compilation, released to accompany an SFMOMA exhibit, collects eleven tracks from Australian experimental musicians. There's an excellent sense of unity, as most of the compositions are aesthetically similar, at least superficially, in their emphasis on sparse, laptop-driven presentations. Some rely on organic instruments and others on homebuilt electronics, but all of them find creative sounds and work really well, making this album quite consistent.
Worth mentioning are the extremely lucid liner notes by Philip Samartzis and Csaba Toth, which provide a reductionist breakdown of improvised and noise music; it sheds some light on the undercurrents, although nothing on the compilation fits clearly into their categories.
Jim Knox provides the most noise, in the form of three short pieces which range from an eerie metallic drone to a harsh, radio-influenced noise collage. Most tracks on this disc have some incredible sounds and techniques. Delire's track is a flowing medley of intermittent sci-fi sounds occasionally riding on an electro rhythm that keeps falling apart; then things get a bit nostalgic as he incorporates some obfuscated videogame-type tones into the mix, along with some crunchy phased static.
My favorite piece is David Brown's "Were Holes Mended?", a duet of prepared guitar and squeaking door. The guitar cliches are in effect: the high gain power chords, the pick slides, and the Derek Bailey imitations; but it flows seamlessly, as the creaking door morphs into strange horn-like tones and the processed guitar provides a dazzling array of counterpoint sounds (in what could be all the Powerbook cliches). Robbie Avenaim's "Impulse Control Disorder" also takes the DSP improv route, mixing high tones, beeps and FM bells, and the whistle of steam with the clatter of thin, trash-can percussion. It has a great sense of progression. Philip Samartzis' piece, "Soft And Loud," is an exercise in interruption; a train approaches and then some fractured music starts, only to suddenly disappear leaving only the wind. This general idea is repeated several times, using environmental, mechanical, and digital sounds to represent these two extremes. I really like the "soft" parts of the track; there are some beautiful field recordings and gentle buzzing drones, but it's only fitting that these moments of peace are transitory. 'Variable Resistance' has introduced me to some innovative new artists, and like its relative 'Ju-Jikan,' is definitely a worthwhile collection. - Steve Smith
samples:
Fontanelle, "Style Drift"
Kranky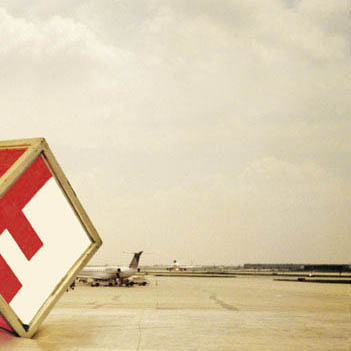 'Style Drift' couldn't be a more appropriate title for this, Fontanelle's long-awaited sophomore full-length, as the band don't necessarily shift their style but improve enough to make a noticeable difference. Recorded again in their Magnetic Park studio, 'Drift' is a real step forward for the band, as their confidence improves and their arrangements gain strength and weight. For improvisation-based music, it doesn't get any better than this, and Fontanelle are reaching an apex where their version will be instantly recognizable. As always, the drumming is tight, the bass a propulsive mass, and the wah-wah guitar tasty. The keys, different types, are more ingrained than before, and create a mood and feel all by themselves, often with layered effects and computer gimmicry applied to them. The band has become tighter, as perfectly evidenced on the breaks in the title track. There's a definite jazz vocabulary at work, too, that only serves to improve the proceedings. Overall, though, the spirit in Fontanelle is in maniupulation. There are sounds on this record that are new for the band, as they reach out towards the outer limits. Imagine, if you will, that the Max Rebo Band fired Sy Snoodles and got a hold of a few Tortoise records and you wouldn't be far off. Fontanelle have always been amazing musicians, but on this release they are in the pocket every time, working together better than ever, and proving that there is longevity and consistency in doing it all off the cuff. - Rob Devlin
samples:
add n to (x), "loud like nature"
Mute


Add N to (X) have a fantastic formula. Catchy post-punk hooks played on primal synths coupled with a powerful drummer works well in dirty and loud live settings. The band puts on some of the best shows I've had the privilige to see over the last couple years. Their biggest challenge at this point is to take some of that raw live energy and channel it into their recordings so there's less wishy-washy tunes that simply meander all over the place. Like all of their records, there are some really awesome moments here. I'm partial to the Meat Beat-ish sampled drum shuffle on "Elecrtic Village," the new wave of snotty post-punk vocals of "Large Number," and the campiness of the album's opener, "Total All Out Water." There are numerous low points, however. The "I Hate Her/She Hate Me" vocals on "Sheez Mine" and spoken word on "Invasion of the Polaroid People," sound completely convictionless and could have easily been omitted from the album altogether. The undeniable hit, "Quantum Loop," has a strong enough hook to carry the tune but the random scattering of samples seems like a poorly planned afterthought. Even the album's single, "Take Me To Your Leader," kind of fizzles after only a minute or so. While I'm not looking for them to recreate some of my fave tunes from the last five years, ("Metal Fingers in My Body," or "Plug Me In" still get me as excited as the first time I heard them) there is an increasing lack of strong tunes and completed thoughts this time around. - Jon Whitney
samples:
C-Drik, "Dissolution"
Hushush


C-Drik, the man also responsible to varying degrees for Moonsanto, Xingu Hill, and Ambre is nothing if not a dabbler. 'Dissolution,' his first album under the C-Drik name takes repeating pieces of pretty synth melody and disturbs them with intrusive bursts of synthesized and found sound in a way that is difficult to ignore. While most of the music on 'Dissolution' could be described as textural or ambient, C-Drik has given each song a voice in the form of a carefully clipped and manipulated pile of samples that pop out of the dense, swirling background. Song titles like "Immersion" and "Fanfare Cosmique" are fairly descriptive of the tone of the pieces which all have a kind of deep sea or deep space feel, expansive and heavy but also empty and drifting. Although C-Drik does fall somewhere in the continuum of electro-acoustic composers working in the minutiae of field recording, 'Dissolution' isn't built upon the claustrophobic isolationist ambiance of microsound. Instead, the space created here is vast and explorable in that kind of 'floating around in a space probe, waiting for the life support system to fail' kind of way. Synth strings provide the faintest of droning melody as bit-crushed clouds roll out of silence and into the foreground, then recede into chaotic rumbling. Occasionally, C-Drik disrupts the otherwise well-paced drifting with an ill-timed digital gurgle or bump in the road, but most of the dry, up-front sounds serve as handles for the songs where the listener can grab on and be dragged along for the ride. Any one of the songs here would be a perfect accompaniment to a slow motion replay of that scene in 'The Black Hole' where it becomes obvious that everyone is going to be sucked in. Comparisons to typical outer-space music and sci-fi sound design are inevitable, but there's nothing about 'Dissolution' that screams "take me more serious than that," so while you aren't likely to get truly lost in the void that C-Drik creates, you can certainly have a good time closing your eyes and imagining the power failing in your escape pod.- Matthew Jeanes
samples:
Martiens Go Home, "Une Occasion de Chute"
Hushush


Martiens Go Home have crafted a listening experience with 'Une Occasion de Chute' that is far less of a musical album than it is a sound document. Presented here is the aural equivalent of a diary or book of snapshots of Martiens Go Home and various friends like Szkieve, Moonsanto, and Frank Pay at work in the studio. The product of a weekly radio show in Brussels, this recording is the band's attempt to document the spontaneity and exploration of sound that happens live every week on the air, and as a sound document, it's well worth exploring. The sounds used range from recordings of the mundane (the sound of someone typing) to cut up vocal snippets and highly processed ambient textures that offset one another and keep each chapter interesting. This is one of those CDs that will inevitably generate the comment from someone nearby: That's not music. For me, its not a question of whether this is music or not; since it is being presented as music that's good enough for me. However, the question that does come to mind is this: What place does music like this have in a world dominated and polarized by albums, songs and commercial radio and the academic structures that seem rarely to listen to music admist much writing and talk about it? The answer, it seems to me, lies in Martiens Go Home's approach to the compilation of these tracks. Each track is a study in acoustics, an improvised clash of differing approaches and techniques for dealing with the language of vibrations that we understand as music. While the results of these experiments are varied, they always provide a challenge to the listener to take the sound at face value, to abandon preconceived notions about what makes a sound musical, and to listen closely for something. Bored by the ambience of a bedroom with birds chirping outside? The key to overcoming that is not paying attention to the content of the composition, but to the very wisps and pops and hums that fill the space when this disc is whirring in the player. Sure, these ideas aren't new to MGH, but they are always worth revisiting and 'Une Occasion de Chute' can serve as an apt leaping-off point.- Matthew Jeanes
samples:
We know that sometimes these CDs are somewhat challenging to find, which is why we have a community section which can be used to obtain nearly everything available on this site.