a weekly digest from the staff and contributors of brainwashed
V06I04 - 02022003
Click here for other issues
SITE
sorry, it's a half-assed issue...
The managing editor was in Atlanta this weekend and other things came up so there's no reviews or feedback. It's no excuse, I know I know, just merely an explanation. Heck, nobody even sent a "what's in your player" list. (So keep those lists coming!) A full issue is guaranteed next week or your money back. In the meantime, go look through March of 2001. That was a great month. Reacquaint yourself with some old stuff.
KFW and JRW play with FSB and ESP
No, it's not a super group named KFCJREMFSB, but Keith Fullerton Whitman will be playing in Boston on the same bill as Jon R Whitney on Monday, February 10th. This is the second installment of the reborn non_pod events in the Boston area. This time around, the shows are at the Milky Way in Jamaica Plain. Resident noisemakers include The FSB (a.k.a. Brain contributor Tom Worster) and DJ ESP. For more information, check out non_pod.com. Hope to see you there!
out hud on the road
Out Hud have some brand new tour dates available for the USA. The shows start in Boston on February 13th. More info at the Kranky site.
DIAMANDA'S VALENTINE'S DAY MASSACRE
Hell's favorite angel will rip your heart out as she wails songs of shattered love, blinding obsession and howling melancholy. With the power of a mac truck and delicacy of a broken martini glass, the ever-loving Diamanda Galas will shred classic Valentine's fare with her own Baby's Insane, Tony and You'e Mine, Hank Williams' I'm So Lonesome I Could Cry, Tracy Nelson's Down So Low, Ornette Coleman's Lonely Woman, John Lee Hooker's Burning Hell, Little Milton's Losing Hand, O.V. Wright's Eight Men and Four Women, Screaming Jay Hawkin's Frenzy and I Put A Spell on You,and Timi Yuro's Time..... Diamanda will share her "bad vibe" love hangovers on Feb 15 at the Knitting Factory for two shows only: 8pm & 10pm. Tickets can be purchased at www.knittingfactory.com
DANIEL MCKERNAN PLAYS WITH DOLLS
This upcoming Saturday, February 8 from 6-10pm at Poet's Gallery in New Orleans: The Dolls Tea Party, a group exhibition with the intention of recognizing and celebrating the doll as an art form. A veritable cavalcade of unique artists, dollmakers, photographers, scultpors, and performers from all over the country will be exhibitting. Brainwashed artist Daniel McKernan will be showcasing his series of images, The Dollhouse.
NEW RELEASES
WEEK OF FEBRUARY 2 - FEBRUARY 8
A1 People - The Reason 12" (Hydrogen Dukebox, UK)
Bastard Noise/Christian Renou - Brainstorming CD (Desolation House/Relapse, US) Seth P. Brundel - Mata de Cacao 12" (Beta Bodega, US)
Nick Cave and The Bad Seeds - Nocturama CD/LP (Mute, UK / Anti/Epitaph, US)
Clearlake - Cedars CD/LP (Domino, UK)
Con Dolore - Sailor's Warning CD (clairecords, US)
Converter - Expansion Pack 1 2x10"/2xCD3" (Ant-Zen, Germany)
Fat Harlingen - Black 10" [limited to 150 copies with bonus CDR] (Beta-Lactam Ring, US)
* Gastr Del Sol/Tony Conrad - The Japanese Room at La Pagode CD [reissue] (Table of the Elements, US)
Grand Ulena - Gateway to Dignity CD/LP (Family Vineyard, US)
* Keiji Haino - I said, This is the son of nihilism CD [reissue] (Table of the Elements, US)
Iditarod - River Nektar CD (Bluesanct, US)
If Thousands - Yellowstone CD (Chair Kickers Union, US)
Jan Jelinek Avec The Exposures - La Nouvelle Pauvrete CD/LP (~scape, Germany)
Mileece - Formations CD (Lo Recordings, UK)
Gary Numan - Hybrid 2xCD [remixes/re-recordings of old hits plus several new tracks] (Jagged Halo, UK)
The Orb/Various - Back to Mine CD (Razor & Tie, US)
Paik - The Orson Fader CD (clairecords, US)
* Pet Shop Boys - Disco CD [reissue] (Parlophone, UK)
* Pet Shop Boys - Disco 2 CD [reissue] (Parlophone, UK)
Pet Shop Boys - Disco 3 CD/3xLP (Parlophone, UK)
Pub - Surgery 12" (Ampoule Records, UK)
Schengen/Portal - split CD (Make Mine Music, UK)
Super Numeri - Great Aviaries CD/LP (Ninja Tune, UK)
Various - Pre-Set: New Electronic Music CD (Mute, UK)
Various - Afluenza CD (Botanica del Jibaro, US)


This is simply this week's highlights from the NEW RELEASES provided by Greg and Feedback Monitor.
For a more detailed schedule stretching into the future, please check out the site,
since release dates can and will often change.
POLL
Results from last poll: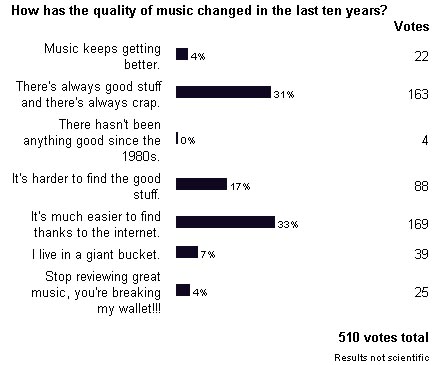 LINKS OF THE WEEK
the lord of the rings in engrish
Tom gave this to us. It's good for you. http://home.online.no/~gremmem/engrish_ttt_captions/.
You are a...
Go ahead, just try. http://members.shaw.ca/wpgclan/whatyouare.htm
Oh yeah, the jerk who wrote this made it only functional in MSIE.