a weekly digest from the staff and contributors of brainwashed
V06I05 - 02092003
Click here for other issues
SITE
new releases from the vaults of cab volt
4 radical new mixes of the Cabaret Voltaire classic 'Nag Nag Nag' originally intended for the personal use only of Richard H. Kirk will be available March 17th. Inspired by the re-release of 'Nag Nag Nag' with remixes by Akufen and Tiga & Zyntherius last year, Kirk decided to tinker with the track for his own personal use. Having managed to persuade him to allow mix 4 to be used on the re-release last year, Richard has now allowed The Grey Area Of Mute to release a strictly limited edition 12" of all the mixes.
A remix 12" of Yashar, with mixes by All Seeing I and Alter Ego will be released on Novamute on May 5th, a box set of rare and unreleased material 'Methodology - The Attic Tapes (1974-1978)' will be released on May 19th, and a DVD 'Double Vision Presents Cabaret Voltaire' will be released on June 9th.
brainwashed new additions
A belated welcome to a few new sites here on Brainwashed:
Mirror now has their own space, while
Ora has a separate place all their own; and
Christoph Heemann has a site devoted to his solo work.
These sites join the handful managed by Francois Carrier, along with newly updated sites for Andrew Chalk and HNAS. These sites are micro-integrated, but appropriately referencable. In addition, there is a small site for Mimir. Also, there's a new site for Out Hud, who incestuously share members with !!! and last, but not least, is Sybarite, whose domain, meusic.net is now on the server too!
Please join us in welcoming them all to the family and introduce yourself when you pass by their cubicle.
hud hit the hub
Boston fans can rejoice now as Out Hud have added a special pre-tour Boston date with The Rapture and LCD Soundsystem, downstairs at the Middle East, Thursday, February 13th. For the rest of their North American romp, see the tour page at Kranky.
MUSIC IN REVIEW
"Essential Underground Hip Hop 1"
Landspeed Records


I've never hid my true feelings about "underground" rap music in my reviews. Whether I'm muttering about the lackluster Def Jux family, discrediting the Anti-Pop Consortium, or setting The Streets ablaze, I show love to the street-level lyricists who represent properly as opposed to digging through their backpacks for their thesauruses. Yes, I know that artists like Run DMC and Grandmaster Flash built rap music, but so did NWA and the Geto Boys. So when I spotted this budget sampler, I was inititally skeptical until I scanned the roster: no Def Jux names in sight. Released on indie Landspeed Records label, this lengthy compilation packs 19 tracks full of the diversity of the underground, from hustlers and gangsters to Okayplayer heads and oldschool purists. With contributions from both well-known artists like N.O.R.E. and 50 Cent (currently tearing up rap radio with two hit singles from his album on Eminem's Shady Records imprint) as well as originators like Inspectah Deck and Big Daddy Kane, there's something for everyone here. Mobb Deep brethren Infamous Mobb spit verses straight outta Queensbridge over two trademark Alchemist produced cuts, reminding me once again that my borough rocks hardest. Speaking of Queens, Cormega comes correct here as well, with "Built For This" from his latest album (which incidentally made my Top 10 List for 2002) the older banger "Get Our Of My Way." The biggest surprises here are the high-quality unknowns like the Havoc-endorsed R.A. the Rugged Man. Produced by Ayatollah, "You Don't Wanna Fuck Wit" is rife with sweet beats and pleasantly obscure references to Nabokov's infamous pervert Humbert Humbert and the road rage rich girl Lizzie Grubman. Also of note is Group Home, an assumedly Gang Starr-related project whose "Handle Your BI" emits serious head-nodding soul that could warm up the coldest winter night. The overall outcome is impressive, despite particularly weak moments from 7L and Esoteric, Thirstin Howl III, and Non Phixion (whose tasteless rhyme about Michael J. Fox is as funny as another Christopher Reeve joke, as just as original). Considering you can find this CD online and in both large and independent record retailers for around $6.00, you'd be foolish to pass up this opportunity to get a good look at some of the best artists in the underground today. - Gary Suarez
samples:
Kawabata Makoto, "I'm In Your Inner Most"
Ochre


When Acid Mothers Temple played at last year's Terrastock festival, they performed a 45-minute set that completely galvanized the exhausted crowd. Having listened to the band's records for years, I was awestruck to be in the physical presence of the band's leader and guru, Kawabata Makoto. Here was a man that I had was sure would be a gargantuan, superhuman presence. I was surprised to see that he was an unassuming, diminutive Japanese man with a scraggly head of long messy hair. He also kept grinning uncomfortably at the crowd. I was somewhat disappointed by Makoto's decidedly non-Shamanistic appearance, until he struck the first riff on his electric guitar. Suddenly we were aware of being in the presence of a cosmic messiah, an otherworldly atavistic guru who has the ability to deconstruct and destroy the entire history of psychedelia, metal, and noise music within one guitar solo. This newest solo outing from Kawabata Makoto is very different from most Acid Mothers Temple records, however. Eschewing guitars almost completely, this album features three long pieces of subtly shifting electronic drones and vocal loops. "I'm In Your Inner Most" is a psychedelic drone journey to the center of your mind. Makoto pushes the distortion on his electric organ, and fills out the texture with synthesizers, violins and a female vocal sample that randomly fades in and out of the mix. Not very easily digestible at first, upon repeated listenings you begin to sense the true cosmic transendence of his music. LaMonte Young's influence can be heard in the first track - a long, shape-shifting high-pitched squeal that cleanses the listener's mind of all thought, leaving only the rapturous sensation of sound. The second track begins with the same drone, but adds delightfully cosmic keyboard arpeggios and cyclical melodies. Even throughout the beautiful melodic sections, Makoto continues to push the noise and percussive distortion so that the listener remains in a completely trancelike state while investigating the astral worlds that the keyboards usher you through. Shades of Tangerine Dream and Terry Riley become apparent towards the end of this track, as the synthesizer loops take prominence. The third track "Oculation (remix version)" contains the same organ tones and repetitive synthesizers as the first two tracks, but adds some atonal guitar feedback into the mix. "I'm In Your Inner Most" is definitely an album that requires active listening to enjoy, and unfortunately the one-minute sound bites below cannot begin to approximate the fully mind-bending listening experience that Makoto has created. It's like trying to understand a Jackson Pollock painting by closely examining some paint globs on the lower right corner of the canvas; not until you stand back and see the shape and dynamic of the entire work can its full glory be experienced. - - Jonathan Dean
samples:
ANTONY AND CURRENT 93, "LIVE AT ST. OLAVE'S CHURCH"
PanDurtro


While several Current Ninety Three live outings have been recorded and in due time released, Antony and the Johnsons five years of performances have not seen the same light of day. Perhaps that and the (at the time) upcoming Antony/C93 shows in Portugal and San Francisco were reasons for Durtro to present this EP length disc featuring three tracks apiece from last April's shows. Antony is at the piano, accompanied by Johnson Maxim Moston on violin. "You Stand Above Me" is only one minute and thirty-six seconds but contains all the melancholy and drama one would expect. Antony bellows "while eternity cycles wildly, inside me," over plaintive piano notes, the vibrato of his powerful soprano nestling into every crevice of my mind, body and soul. Antony naturally adapts Edgar Allan Poe's lovely 1827 poem "The Lake" to song, a much more fitting tribute than Lou Reed's ill-advised 'The Raven' (excepting Antony's minimal rendition of Reed's "Perfect Day"). What follows is the tender "Cripple and the Starfish," and what sounds like a well deserved standing ovation. For C93's songs, David Tibet is accompanied by usual suspects Maja Elliott on piano and Michael Cashmore on guitar. "Walking Like Shadow," from C93 and Nurse With Wound's 'Bright Yellow Moon' is musically true. Ditto the brief version of "Judas as Black Moth" from 'Soft Black Stars' which also benefits from additional lyrics, "in the middle of the night as the cats cry in the street, and the scent of flowers is heavy in your hair, the car sweeps by with a murdered child, the car sweeps by with a violated girl". The mammoth title track from 'Sleep Has His House' is reduced to just the main lyrical passage here, the piano and Tibet's voice rising to a fever pitch as he breathlessly chokes on emotion in remembrance of his father. It is magnificent. Too bad there's only three songs each. I'd happily pay more for more. Maybe, just maybe, a future show will come closer to me than 1300 miles away. - Mark Weddle
samples:
Minny Pops "Sparks in a Dark Room" & "Secret Stories"
LTM
The LTM label seems to have dedicated itself to reissuing work by Factory Records bands of the early 1980s who never quite became the next New Order, Joy Division, or Happy Mondays. So far, they have heroically compiled full CDs for bands who might only have had only one 7" on Factory, or whose work might have been overshadowed by the dominating mythos of that label or of producer Martin Hannett. Lately, LTM has exhumed a band who were one of Factory's strangest signings, a Dutch trio called Minny Pops. These two CDs comprise the group's second LP, 'Sparks in a Dark Room' (here coupled with contemporaneous 7" and demo material) and 'Secret Stories,' which is a collection of more 7" singles, demos, and excerpts from their third and fourth albums.



The question now is, since collectors have been clammoring for these records for so long, have they actually been worth the wait? I'd say so, but with some reservation. Minny Pops' yet-to-be-reissued debut album, "Drastic Measures, Drastic Movements" from 1979, was a bizarre mix of noise, new wave, synth pop, and Yello-like cabaret goofiness. It is one of the most genuinely tweaked documents of DIY electro-pop, a record which to this day causes heads to be scratched in satisfying bewilderment. As the group's members aquired careers as record label executives (at Boudisque, Play it Again Sam, etc), the music that they produced became more accessible, the noise nearly vanished, and recognizable industrial-funk genre trappings emerged. If you're aware of the music happening in Belgium in the early 1980s (particularly Siglo XX, the Neon Judgement, and A Blaze Colour) then the gloomy monotone grooves of 'Sparks in a Dark Room' will immediately sound familiar. But there's something different here; on 'Sparks,' there exists an implacable note of self-awareness and humor which seperates the album from those by other practitioners of the style. Tunes like "A Feeling" and "Night Visit" are perversely catchy, with lyrics that tend toward self-effacing. I like that. The humor, however subtle, offsets the otherwise overbearing gloom.



The "Secret Stories" compilation is problematic, though I am glad that it exists. In other words, if tracks from the band's 1985 reunion LP, '4th Floor,' and their 1983 soundtrack to 'Poste Restante' were not reissued in some form, there would always be someone crying "Why doesn't someone reissue those other two Minny Pops records I can't find?". The tracks from both of these albums, which make up the discs's second half, recall some of Tuxedomoon's post-Ralph schmaltz, with the humor replaced by opaque melodrama. My curiosity about these long out-of-print LPs is now satisfied, but I don't particularly want to hear the music again. Perhaps that's why the albums were not reissued in their entirety (a smart move on LTM's part). However, what's great about "Secret Stories" are the 7" tracks that make up the disc's first half, including the classic "Dolphin's Spurt" (a different version than the one on 'Drastic Measures'), and several wonderfully rough 1981 demos. These show the band at their best, a balance of bizarre electro-funk and edgy industrial disco. The comparison to early Yello isn't so far off (and, though I don't really want to validate the venomous English journalists of 1980 who sought to destroy Factory bands by comparing them all to Joy Division... well, with these 7"s, the comparison is tough not to notice), but Minny Pops were more subtle and much darker. With hindsight, it's easy to imagine which other bands might have listened to these records before starting bands of their own (especially the Neon Judgement), adding more bombast to the grooves. Listening to both CDs makes me yearn for the profound oddness that marked 'Drastic Measures, Drastic Movements,'which is simply not present here. - Howard Stelzer
samples:
Origami Galaktika, "The Power of Compassion"
Duplicate Records


The Galaktica agent of the multi-faceted, many-membered Origami art collective is one Benny Braaten. You might have encountered him late last year opening for the Legendary Pink Dots on their North American tour. There, he ensconced those smart enough to show up early in drones and ambiance and manically bowed bass guitar strings. At the merchandise table were flyers advertising this forthcoming 7". Soon after the tour I sent off $7 to Norway and about two months later the record (one of 500) arrived. There are two versions of the title track, recorded in Canada and Norway respectively. Version I offers a slow, breathy drone that rises and falls at times into near silence, glass-like chimes gently touching in the distance. The latter half of the track gains new layers of warmth and the twinkles gain friction. Version II is more ominous with a sustained, darker hued hum as subtle trombone notes effectively add to the aura. It's nice, soothing stuff, but with both tracks clocking in at just under five minutes, it really leaves you wanting for more, such as the stunning 'Stjernevandring / Eesti Lilled Silmad Süda' double CD from Norway's Jester Records. The digital format certainly allows Origami Galaktika's music the mammoth track times it deserves. Mark Weddle
samples:
Con Dolore, "Sailor's Warning"
Clairecords


The folks who comprise Con Dolore used to be in a highly underrated and largely unknown dream pop band called Polar. Their album, 'A Future History Of The Frigid Polar Night,' has been one of my favorite records since its very limited release several years ago. Luckily for the rest of the world, members of Polar have continued on in Con Dolore and their newest release on Clairecords is their strongest yet. What separates Con Dolore from the teeming masses of female-fronted dreamy pop bands in the world is their impeccable flare for songwriting. Songs like "Your Ways" and "Are You Still There" have hooks that Top 40 radio producers would kill for and production that doesn't make you feel dumb for falling in love with them. The beats are electronic loops and samples but they veer far, far away from the electroclash trappings that could otherwise infect and sour a release like this. Jangly guitars meet lush shoegazer effects, drawn out keyboard melodies, and the fragile, pretty voice of Kristy Moss in a bittersweet swirl that will attach itself to the inside of your head and refuse to leave for weeks. Later tracks like "Quietly and Still" let Ed Ballinger stretch his vocal chords as well, and the results while not as coy, are still sincere and hum-able. The only missteps here are the forced "Intro" and "Intermission" that break up the otherwise stellar line up of great songs that sound perfectly pieced together for people who wish Depeche Mode and Lush had kept on making records like the ones in their heyday. Sadly, this is to be the final Con Dolore release, in a cruel twist of fate that finds the band dissolved when they have created a truly wonderful record of selfless, honest pop songs that should find an audience far wider than their earlier efforts. I can't recommend this record enough. - Matthew Jeanes
samples:
The Baptist Generals, "No Silver, No Gold"
Sub Pop


The Baptist Generals, whose very name hints at a collared intensity, have produced an album that pulls at that restraint until it snaps. 'No Silver, No Gold' is haunted, clearly. On the first track, they introduce the mind that shapes this album. "Ay Distress" begins as a simple, weary sounding dirge. This lasts for three minutes into the song, when someone's cell phone begins to ring in the studio, and singer Chris Flemmons explodes into a fury, throwing his acoustic guitar down and screaming "Goddamn it, Oh God. Fuck!" as those around him try to calm him down. Indeed this is a man who is serious about his musical expression. This volitility serves as an unsettling undercurrent throughout the album. 'No Silver, No Gold' creaks and groans like a dusty, rundown shack swaying on its foundation. It's this precariousness that demands attention, that at any moment it will collapse and spill out its insides. Flemmons' approach to his guitar is not one of melodic delicacy but percussive attack, raw and rough. Stll, many of the songs manage to feel delicate with obtuse lyrics that hint at deeper pain and emotion. "Give me your hands / I don't need your mind now," he pleads on "Preservatine," "I need your hands / engaged in the construction of a special place / we can hold onto the light." Flemmons' often rambling delivery adds to the unhinged feeling of the album. There are moments of poignant confession, "Diminished," along side uncomfortable leching like "Creeper," where the singer comes off as an unwanted, drunken advance. You can't help but be creeped out by his assurance, "Give me your number / I'll come around." The most overtly volatile song is "Burning," where Flemmons scathingly accuses "You want love, do you? You call it love / It's a murder / It's a theft." 'No Silver, No Gold' reads like the diary of a broken soul, cathartic, a fascinating look into the mind of someone dealing with his own haunting. - Michael Patrick Brady
samples:
Black Faction, "Reworked"
Vivo Records


Though technically a remix album of 2001's 'Internal Dissident Part 1', it's more practical to consider 'Reworked' a new entity. Mancunian Andrew Diey (aka Black Faction) has taken the input of about 10 other artists from around the world, often adding "additional sound design" to their reworkings, and spliced in more of his own for another 72 minutes of seamless segues. Whether it's Diey's or the others' doing, the sound never strays too far from Black Faction's (varied) aesthetics. Diey's own "Cartesian" sets the tone in typical Black Faction style: crisp and clean, cinematic electronica that's as melodic as it is moody. Universal Delux's "Kaftanistanabul 1" blends deep beats, tinted textures and Middle Eastern voices (the disc is dedicated to friend and influence Bryn Jones aka Muslimgauze). Rapoon's "Caligulan" is a seething dark ambient soup that pours neatly into the metallic tone collage of Keith Fullerton Whitman's "Sepia Indate." Then it's back to the rhythm, as Sutekh goes gritty techno with "Oakland Concréte" and Valea Djinn loops her own pretty vocal wail into the quirky mix of "Modenesa". Nemezis rechristen "Widowmaker" as "Windowmaker" and it's just as subtle and sublime as the original masterpiece. Black Moses drop the Hip Hop bomb, scattering cut-up MCing over the lilting string pads and minimal beat of "Anti-Freeze -Props Mix." The lengthy finales are "Dissidents in Exile" by Foreign Terrain (Diey's previous moniker) and CClay and "Mina Schoen Unreleased" by Black Arc (Seven Sages Version, another of Diey's projects). Both settle into mild mannered, repetitious rhythms allowing the feminine voices and miscellaneous sound effects to fill the foreground. Every facet of Black Faction's sound is expertly explored here making for an album that's as good if not better than 'Internal Dissident Part 1'. It's a fine companion to the 'New Cult of the Sun Moon' two disc collaboration between Robin Storey (Rapoon) and Diey, out now via Soleilmoon. Mark Weddle
samples:
If Thousands
Chair Kickers Union


If Thousands is Christian McShane and Aaron Molina from Duluth, Minnesota, who having decided to depart from their respective backgrounds in classical performance and punk have collaborated to attempt something quite different. The result is a sound grounded less on performance and based much more on assembly, repetition, and duration. With the help of Alan Sparhawk, who produced and mixed the album, McShane and Molina have built resonant instrumental pieces that sound oceanic in their tendency to roll together different recurring samples with the musicians' work, producing a reverberating blend of fluid sound. A few songs have vocals, but their inevitable shift of focus onto lyrics and melody is not as absorbing as those tracks that draw your concentration to qualities of intensity and variation. The cover of Joy Division's "Isolation," while beautiful, seems a little out of place and distracting because of its prominent placement as the second track of the album. It's too much of a sidetrack or nod to something else, whereas one of the overall strengths of 'Yellowstone' is its introspectiveness. Songs are composed through persistent use of particular tones (generally repeating phrases on bass, guitar, and keyboards with a few other interesting sounds thrown in) that are drawn out and cycled with careful fluctuations and variety, a process then repeated with different approaches as the album progresses. This technique, along with the sheer length of 'Yellowstone' (over an hour), creates the feeling of being drawn ever deeper into something to emerge at the other end of the album. It's important to emphasize that despite the careful attention If Thousands has given to the detail in each song, their work seems neither technical nor calculating. Instead, it's possible to be enveloped by the music and engaged by the similarity and difference of the patterns at work within the songs and from one song to the next—like looking into a fire for a long time as it seems to dance and change. - Diane Wei Lewis
samples:
The Thermals, "No Culture Icons"
Sub Pop


The Thermals debut release on Sub Pop is a four-song single of quick power-pop. "No Culture Icons" begins strong, with a bouncy feel that comes through the crunchy, static buzz. It's super catchy, and loaded with hooks, as vocalist Hutch Harris begins shouting slogans like "No new deafness / no self reference / no cults and / no false starts." Recorded in Death Cab for Cutie's Chris Walla's bedroom, the single has an amatuerish sound that's endearing, with fuzzy distortion enhancing the simplicity of the music.
"An Endless Supply" keeps up the pace of the opening track, with Harris' voice sounding urgent while adhering to the catchy, sing-a-long melody. "Capture with a Magnet" speaks of the power of a familiar attraction in a burst of adreneline. The final track, "Everything Thermals" violates the no-self-reference rule that the band declared just three songs earlier, while proving that the rule existed for a good reason. Lyrics like "Everything thermals / the come in four shades of purple / some are tight, some have trousers" are just embarassing, and while it's not their strongest song, it's probably good that it is here and not on an LP. The Thermals sound like a band that is having a good time, and their attitude is infectious. 'No Culture Icons' is a snapshot of things to come, and it can be expected that they are set to make music that's fun to jump up and down to. - Michael Patrick Brady
samples:
Tigersmilk, "Tigersmilk"
Family Vineyard


Tigersmilk is free jazz improvisation by Rob Mazurek playing cornet and electronics, Jason Roebke on bass and Dylan van der Schyff on drums. "Free jazz" is a genre every bit as conservative as any in that most conservative of musical realms: jazz. It has its standardized techniques, stock gestures and established styles and this CD is so deeply into the manipulation of these familiar symbols that I wonder if the intent is post modern. Roebke and van der Schyff are both very capable and skilled in such manipulations. Indeed Roebke boasts a masters degree in improvisation, a training that, judging by this document, included almost all the elementary avant-garde bass playing techniques that I loathe (the ugly-bowed harmonics, out of tune double stopped chords, muted pizzicato, etc,...). When Roebke gets going in the accompaniment role, the competent result is the Gary Peacock style that unlimited numbers of bass players apparently never tire of imitating. An accompanying blurb quotes Jazz Times as comparing van der Schyff to Oxley and Lovens. This is informative only up to the point that van der Schyff can clatter around the kit in a fairly frenetic and disconnected way like those Europeans do, but beyond that the comparison is misleading. Firstly, he clearly sounds like a jazzer and secondly, he is a sympathetic and supportive drummer rather than leading the process by constantly challenging it. (Basically the quote means that van der Schyff can imitate the Lovens sound fairly accurately, which is true.) The contrast in musicianship between Mazurek and the others on this CD could hardly be starker, and yet again, what should be the last resort of stylistic imitation is in fact the first. Loud raspy trills and split-notes in familiar sudden disjointed gestures are offered up as a version of avant-garde expressionism. All in all, it's hard for me to imagine how anyone can really get excited by playing all these tired old ideas again and again, which is maybe why Tigersmilk sounds as though the players are already bored by the whole thing. - Tom Worster
samples:
TEMPER, "NAVY BLUE"
Piehead Records


Piehead's inaugural subscription series passed my quality control standards with flying colors, so there was no need for second thoughts when it came time for ordering this year's. As with 2002, this series features a disc by a different artist each month and a compilation with exclusive tracks by all of them in the end. This time around, they're EP length, professionally pressed 3" CD-Rs, pouched with pretty Japanese silk-screened paper inserts, and limited to 211 copies. Last year I was familiar beforehand with only two of the artists and this year just one (Rapoon) but that's exactly what makes this so much fun! Volume one is by Jack Dangers look-alike Michael Weak, aka Temper, an early twenty-something Canadian student. The eight tracks that make up 'Navy Blue' are remarkably melodic electro/nic ditties that are cute but not to the point of being cutesy. "Goodmorning (a day at the fair)" is sunny and buzz-y as a synthesized voice reminds you that "outside is beautiful" so "why not go out and enjoy it?" The soft bass tones of "Full of Stars" and "Still Dreaming" overwhelm every pair of (cheap ass) speakers and headphones I own, reminding me of Aphex Twin's 'Selected Ambient Works 85-92' in the process. "A Rather Significant Discovery" (title derived from a space talk sample) adds a generous sprinkling of pleasant piano melody that shifts the mood of the track some. "Please Save Your Applause Until The End, Thank You" is lovable just for the smarmy sampled use of applause at the end and three very brief "Pianobox" interludes both break and tie everything up nicely. This series is strong right out of the gate and I'm not surprised one bit. I'm looking forward to whatever the next 11 happen to bring. - Mark Weddle
samples:
Nada Surf, "Let Go"
Barsuk


It's rare when a band can make somber rock work for a full record. Usually there are peaks and valleys, because all of that sadness either makes the listener really depressed or long for an emo album just to brighten things up, which is never a good thing. It's good that Nada Surf knows this, and in the midst of their most down-tempo release ever, they throw in some real rockers to get the blood pumping again. (Not that the mellow proceedings hurts them at all.) This is the tour de force record Nada Surf has had percolating for years. Song for song, it's their best effort yet, and it will be hard for them to match this level of perfection on future releases. Matthew Caws has always written lyrics like they're sung apologies to specific people. There are a few of those here (he even sings "I'm sorry you've got nowhere to go"), but overall he just opens up and lets his feelings pour out, without regrets or consequences. "Blonde on Blonde" is a reference to the classic Dylan album and the moods this kind of music can put us in, and it's bar none the best song Nada Surf have ever released. "Blizzard of '77," "Fruit Fly," and "Killian's Red" are rich with vivid storytelling, with the narrator sharing his experience and telling it like it was for him. Caws' voice is fragile as ever, and the whole album has the band sounding their best. Little flourishes help all over, like small Rhodes piano bits and hand claps. When the Surf do really let go, it's like old times but with more wattage. "Hi-speed Soul" is a call to dance, "Fruit Fly" at its peak is the heaviest lament about mistakes you'll ever hear, and "The Way You Wear Your Head" just hooks and cooks. 'Let Go' is a classic album for Nada Surf, full of the kind of lyrical imagery and melodies that other bands kill for. - Rob Devlin
samples:
We know that sometimes these CDs are somewhat challenging to find, which is why we have a community section which can be used to obtain nearly everything available on this site.
NEW RELEASES
WEEK OF FEBRUARY 9 - FEBRUARY 15
Asa-Chang & Junray - Tsu Gi Ne Pu CD/LP (Leaf, UK)
At The Close Of Every Day - Zalig Zijn De Armen Van Geest CD (Jonathon Whiskey, UK)
Bass Junkie - Return To Bass 12" (Breakin', UK)
Bell - Rhythm Machine 12" (Soul Jazz, UK)
Books On Tape - Winning Record CD3" [ltd to 211 copies] (Piehead, Canada)
Kit Clayton - When Cedars Fall 12" (Soul Jazz, UK)
* Cocteau Twins - Garlands CD [remastered reissue] (4AD, UK)
* Cocteau Twins - Head Over Heels CD [remastered reissue] (4AD, UK)
* Cocteau Twins - Treasure CD [remastered reissue] (4AD, UK)
* Cocteau Twins - Victorialand CD [remastered reissue] (4AD, UK)
Com.A - Shot of Love CD (Tigerbeat6, US)
Data 80 [Hakan Lidbo] - Data 80 CD (Force Tracks, Germany)
Deadbeat - Garble & Slur 12" (Cynosure, Canada)
Death in Vegas featuring Paul Weller - So You Say You Lost Your Baby 7" (Concrete, UK)
DJ Krush - Message At The Depth CD (Red Ink, US)
Dub Syndicate - Murder Tone CD/2xLP (On-U Sound, UK)
Echoboy - Giraffe CD/LP (Mute, UK)
Electric Company - It's Hard To Be A Baby CD (Tigerbeat6, US)
* Funki Porcini - Fast Asleep CD+DVD/2xLP (Ninja Tune, Canada/US)
G Corp - Dub Plates From The Elephant House: Volume 2 CD/2xLP (Different Drummer, UK)
Hecker - Sun Pandämonium CD (Mego, Austria)
* Hexstatic/Various - Solid Steel CD (Ninja Tune, Canada/US)
Humanoid - Sessions 84-88 CD/2xLP (Rephlex, UK)
Jaman All Stars - In The Dub Zone CD (Blood & Fire, UK)
Jukeboxer - Man Throughout The Ages 12" (Memphis Industries, UK)
Tim Koch - Islandtones CD (U-Cover, Belgium)
Kopernik - Kopernik CD/LP (Eastern Developments, US)
Main - Transiency CD (Tigerbeat6, US)
Massive Attack - 100th Window CD/3xLP (Virgin, UK/US)
Meam - Meam CD/LP+DVD (Skam, UK)
Meanest Man Contest - Merit CD/LP (Plug Research, US)
Melvins - Fool/Promise Me 7" (Ipecac, US)
Melvins - Judas Chang/Jerkin' Krokus 7" (Ipecac, US)
Mileece - Formations CD (Lo Recordings, UK)
* New Order - International CD+DVD ["best-of" collection] (Warner, US)
Gary Numan - Scarred: Live At Brixton Academy CD (Eagle, US)
Numbers - Remixes Vol. 1 12" (Tigerbeat6, US)
Erlend Øye - Unrest CD [member of Kings Of Convenience in collaboration with Morgan Geist, Mr. Velcro Fastener, Soviet, Prefuse73 and more] (Source, UK - Astralwerks, US)
Pantytec - Remixed 12" [mixes by Daniel Bell, Ultrakurt & Isolee] (Perlon, Germany)
The Polyphonic Spree - Light & Day 12"/two CDEPs (679, UK)
Pornorama - Bon Voyage 12" (April, Denmark)
Psychick Warriors ov Gaia - Kind Of Prayer 12" (Terminal Antwerp, Belgium)
Pub - Surgery 12" (Ampoule Records, UK)
Dwayne Sodahberk - Partying Without Inhibition or Dignity 12"/CDEP (Tigerbeat6, US)
Stars - Heart CD (Paper Bag, Canada)
Squaremeter [Panacea] - War of Sound CD (Ant-Zen, Germany)
TTC - De Pauvre Riches Remixes 12" (Big Dada/Ninja Tune, UK)
Twerk - Motala 12"/CDEP (Context, US)
Universal Funk - Streets Of Havana 12" (April, Denmark)
Paul Van Dyk - Global CD+DVD (Mute, US)
Various - House of Stairs Vol I: Useless in Bed CD (House of Stairs, UK)
Cosmo Vitelli - Clean CD (Astralwerks, US)
Otto Von Schirach - Earjuice Synthesis 12" (Schematic, US)
Stewart Walker - Degenerate 12" (Persona, US)
Whitehouse - Bird Seed CD (Susan Lawly, UK)


This is simply this week's highlights from the NEW RELEASES provided by Greg and Feedback Monitor.
For a more detailed schedule stretching into the future, please check out the site,
since release dates can and will often change.
CONCERT REPORT
William Basinski / Andreas Martin / Christoph Heemann
Saturday, January 25, 2003, Austin, TX
There was a cozy church sanctuary, a fully stocked merchandise table, three premier experimental artists, and an audience of about 75 people. It was a familial vibe all around, and quite unlike any other show I've ever been to.
William Basinski, sharply dressed in black suit, was introduced (by a guy I'm assuming is the head of Robot Records) and his set began about 8:15. On stage were two folding tables, the center one with six or so components and his Apple laptop on top, and one off to the right with a mixer and a large reel to reel tape machine. The set began with three or so shorter, continuous pieces then settled into one epic piece, probably 40 minutes, obviously one of Basinski's "Disintegration Loops." He occasionally looked at the laptop screen and reel to reel but spent the bulk of the time with the mixer faders, headphones on, very subtly and very patiently layering sources. The tape loop was literally disintegrating, ending up just a small strip by the end of the set. The whole piece sounded like an old orchestral recording. The repetition of the loop was relentless, but elements within the loop were very gradually transformed. I could sense the "percussion" falling out of time and later it seemed smeared, possibly reversed, in the mix. This was very soothing, engaging stuff. The crowd remained perfectly silent until the end and politely clapped. It was a very good start.
After a 10 minute intermission, Andreas Martin, more casual in blue windbreaker and blue jeans, was introduced. Martin is very unassuming and quiet but spoke some in German-inflected English. He told us the first song was written a few days ago while thinking about how nice it was to have the opportunity to come there (from Hamburg) to play for people. He gave us the German title and an English translation as "Lucky Mushroom." I had assumed that he would use the guitar and effects to produce drone-y stuff like the Mirror records I have, but it was nothing at all like that. These songs were very physical and intricate, melodic and rhythmic, with all the notes rapidly finger picked or hammered on by both hands. Harmonics and different tunings were frequently used and some songs included percussive bits where he either slapped the top of the guitar or the side (with his ring) underneath the fretboard. Between songs he would catch his breath and sweep back his curly black hair. One song was a cover of an American composer who died in 1997, the name I didn't quite catch. Martin finished his last song and shyly said "that's all," but we clapped crazily so he did another one, it being the most aggressive of them all.
After another brief intermission, Heemann took the stage, sat in a folding chair behind the center table, and was introduced. Most the of the time was spent looking at CD players and fiddling with knobs on the mixer. There were roughly three parts to his set. It began pretty abrasively, mostly with noise waves and some ambient sound that included a buried (Euro) emergency vehicle. The sound concentrated into a powerful, harsh drone for about half the set, suddenly stopped, and began again with a softer drone. It was this last drone that really, really sucked me in. Heemann made it ebb and flow some but it also maintained a constant frequency for its 20-minute duration. Everything suddenly stopped around 11:00 and Heemann departed stage rather quickly.
Soon after, my friend and I realized that Heemann's set had physiologically altered us (my equilibrium in particular - so much that I was afraid to drive for awhile). It was to remain that way for the rest of the night. Never before had we been so affected by live music. Did Heemann intentionally use frequencies that would have that effect on the audience? Did others feel like we did? Would we ever be the same again? - Mark Weddle
Low
Friday, February 7, 2003, Manchester, UK
"I had so much to say."
First time I saw Low they were supporting Come at the London Garage and Kramer was doing their sound. They were enjoyable but I didn't feel motivated to rush out and buy their records. Since then they've just kept getting better and better, growing ever more assured, confident and orgasmic. Last week Low played the best gig I ever saw them do. The sound was perfect, immaculate, accentuating their pin drop precision, and the large crowd was held enraptured in awe. From the opener "Candy Girl" it was clearly the perfect fuck music, tragic make out make up for the last fling before she flies over the ocean. It had all the controlled intensity of their spartan Joy Division "Transmission" cover that had held the Star and Garter so enraptured on earlier trips to Manchester. The way Alan Sparhawk turns and strums at Mimi Parker and the way she taps calm heartbeat assurance is PURE SEX. It's so obvious Mimi is his his candy girl, and this is the sweet molten core of Low's slowburning genius. Alan and Mimi (ahem, and bassist Zack Sally) have fashioned a music that twists and turns with all the ups and downs of an intensely consummated relationship. "Candy Girl" also shows that maybe Steve Albini has had a little more influence on Low than just recording them. Alan throws out subtle jags of guitar skree at oblique angles to the heartbreak beat. The song cuts dead and they launch into the Peel-popular "That's How You Sing Amazing Grace" and the relatively stompin' "Canada" single. How can that Sparhawk dude sing "In the Drugs" without bursting into tears? It surely is one of the saddest songs I ever heard. Then there's the spaghetti western malevolance of "John Prine," a dark ode to revenge so quietly fiercesome it could ignite blue flames of paranoia in anyone who ever crossed a softspoken Duluth musician. Low can even make dear ol' drippy Roger Waters seem profound, with their majestic cover of "Fearless." On the way to the gig I was almost run over by a speeding car escaping gross corporate slavewage superstore. I had been moderately distracted by Come in my headphones, which would've been a fine thing to hear with my dying breath, but it was no time to leave the planet. A glimpse of mortality is always a lever for heightened sensuality. Don't waste your days with mediocre piffle. You might die tomorrow. Hurry up materialise, don't just threaten to. Flirt, take drugs, booze, shoot the shit with the people who are worth the effort. Soundtrack it with a band that fucking matters, and then some! Low are serious as your life.
"Now I'm gonna make them pay." - Graeme Rowland
POLL
Results from last poll: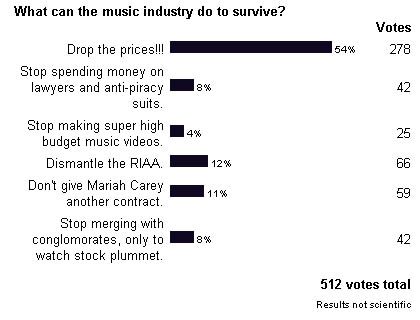 LINKS OF THE WEEK
which enemy are you?
The Christian Church hates everybody, but why does it hate you? Take this simple quiz to find out which category of heretic you fall under.
anybody else here own "hogtied"?
So, we've linked to the Smoking Gun in the past, but this has got to be one of the most satisfying links in a long time. For those who are cursed with the reality TV show Joe Millionaire, It's nice to know one of the contestants likes to "think kink." Videos have turned up featuring contestant Sarah Kozer bound and gagged for pleasure! Be sure to share it with your most conservative media brainwashed colleagues.
FEEDBACK
turn up the radio

Subject: brainwashed radio
Just found out about our radio, it's great.
Keep up the good work.
btw. I don't care for interviews, at least not served inbetween the tracks, it would be better if you could listen to them by clicking a link, that way you are more in control.
Perhaps some sort of program, one-on-one with an artist, once a week at a certain time?

Subject: radio
nice!!!
you should absolutely pop-in some interwievs....
Until there's a schedule, some of these might very well float in.

Subject: tuning in
i just wanted to thank you for putting this great collection on the net. i really like that the title and artist show up in itunes when a new selection comes on...
thanks...
a higher fidelity stream would be nice, but i know how much work that is!
What we work with keeps it free. No ads, no fees, no violations, no fooling!

Subject: more radio goodness
Love the cover of walking in the air by Rosa Mundi. Check out another mix of it at www.iconscious.co.uk go to Archives Mixes and Tunes then look for The Snowman Cupcake mix. Cheers for all the great stuff you guys put into this site keep it up. And thanks for making Brainwashed Radio free.
Maybe we can get staffers and contributors to record shows and speak and introduce songs. Wouldn't that be neat? Suggestions are still warmly welcome at this game. We want to know what people want!

Subject: krankynet
Kranky is a great site
i had to contact you.......
everyone enjoys a good criticism.
Thanks! It works, it hasn't changed really since its inception, ideas were toyed with, but for now it serves its purpose very nicely.

Subject: nww
What happened to NWW? I haven't seen any news about them in the artist section in months. Please, as a fan I'm dying to hear anything new about them.
Also, thank you Brainwashed for providing the best music site on the web.
News will be posted once news is made official,...

Subject: godspeed
so is there any news on when godspeed will be touring the western united state (ie to colorado)?
Nobody's holding out information from you.

Dear Brainwashed:
By my calculations, this email is about a month overdue. My apologies. I want to offer a sincere "Thanks" for reviewing the Six Drumsets CD, "Simmer." The band appreciates and respects the honest opinions reflected in the review.
Your website and, in particular, the Brainwashed Brain are providing an important (and often entertaining) service. I've discovered so many great recordings by browsing the reviews.
Keep up the good work. PLEASE!
Thanks, again,
Steve Wilkes (a Six Drumsets drummer)
Thanks for the note. Everybody appreciates their time recognized.

Subject: Popup ads on The Brain?
For real? Or is it just me?
For now it's just the poll because it's hosted offsite. However, ads might be in the near future as the fundraising campaign didn't yield much.

Subject: post-rock
What the fuck is post rock!
As if there weren't enough pointless genre names, post-rock was coined back in the 1990s. post-rock.com was located around here, wasn't renewed, expired, and was bought by Tower Records. That should explain it, right?
WHAT'S IN YOUR PLAYER?
this town is doomed
HIGH ON FIRE - surrounded by thieves
NOTORIOUS BIG - ready to die
OVE-NAXX - ovnx shoot accel core
ELECTRIC COMPANY - it's hard to be a baby
ISIS - oceanic
45 SECONDS OF - simballrec comp
CAPPADONNA - the pillage

Chris, Philadelphia PA