a weekly digest from the staff and contributors of brainwashed
V06I15 - 04202003
Click here for other issues
SITE

Matmos news
Matmos have completed the mastering of their upcoming full-length album, due out September 23rd on Matador and they don't want anybody to order the Live CD for now because they're about to head out on the road with Bjork again. Wide Open Spaces is due out on Tigerbeat6 soon with performances from Matmos, People Like Us, and Wobbly. For more complete details on these and other zesty morsels, visit their site.
a vulgar delay
Word from Thighpaulsandra is that his forthcoming album Double Vulgar has encountered problems at the pressing plant. The artwork is apparently so racey that a number of manufacturers are refusing to print the cover. We'll keep you informed on future developments.
cooking with aranos and el monte
Allied Cooking But Not As You Know It! is the brand new album from Aranos and El Monte of Volcano the Bear. It has been completed and is ready for release. More details will be posted soon.
output tunes in to brainwashed radio
Output Recordings have some new tunes floating around in the Brainwashed Radio mix. In other Brainwashed Radio news, the album hour will take a break this coming week but will return next week with the new Nurse With Wound to be aired at some point.
upcoming live european shows for edward ka-spel
After his appearance at the EE Tapes Festival on May 17, it looks quite certain that there will be solo shows (including solo sets from The Silverman!) on June 17th and 18th in Cologne and Munster. Edward is also trying to make arrangements for shows on June 19, 20, and 21st. If anyone has tips or requests for West Germany, Belgium, or Holland, the information would be greatly welcomed. Please visit Terminal Kaleidescope and choose "Live Shows/Booking" from the contact form to help out. LPD tour plans are coming together right now for Poland/Russia/Scandinavia in August/September and the rest of Europe in late October/November. Confirmed dates will be posted on the LPD website.
MUSIC IN REVIEW
monade, "socialisme ou barbarie (the bedroom recordings)"
Drag City


The first exposure to the lead singer of Stereolab, Laetitia Sadier's solo project Monade came on a split single with M (later known as Aerial M and currently Papa M). The music was unobtrusive, peaceful, and serene, much unlike the intense sounds Stereolab were notorious for. Finding Monade music was always a treat, whether it was on an obscure 7" single or a split releases. Through these relatively quiet releases, the availability and market flood of Monade music has been quite low key, much like the music. Stripped down to very basic elements of guitar, vocals, and the occasional organs and percussion, Monade music is perfect for a lazy sunny afternoon. This, the first full-length album, captures pretty much everything previously released (with songs only slightly expanded in a couple cases) and some previously unreleased material. Sadier's voice, which is most typically backed by a host of horns, intense drums, and a plethora of rock instruments sounds wonderful up against the simple guitars which could have easily been recorded in the inbetween times, in bedrooms, away from the grandeur of large studios and major label budgets. At a time where I think the current status of Stereolab might be a little bit tender after the untimely loss of Mary Hansen, an album like this is a fantastic gift to have, to cherish, and take an introspective moment with. At 12 tracks, the 45 minutes passes very quickly, and it never loses its charm with continuous repeats. - Jon Whitney
samples:
Imitation Electric Piano, "Trinity Neon"
Drag City


Following up an EP released a couple years back, Stereolab bassist Simon Johns has assembled the first full-length from his project. The band consists of fantastic players, utilizing a wide spectrum of instruments and honing a driving sound most Stereolab fans could easily latch on to. However, as I enjoyed the brevity of the other EP, as an LP, there's simply something missing. While the music is pleasant and enjoyable, most of the songs don't really progress far from their entry point. In addition, with the lack of melodic variety and the frequent droning of single note playing, all the tracks makes this ensemble sound almost too "jam-band-y" for my own personal tastes. For the most part, it never quite gets offensive, that is until the "Theme for an Imitation Electric Piano," with the atrocious "Rockin' and rollin' / the theme for an imitation electric piano" lyrics. Getting through the entire album just isn't as rewarding as a short 5-track EP of stuff that gets in late and gets out early. If the eponymous EP gave the feeling of a tap, slap, and run, Trinity Neon is a wait, get impatient and give up kinda feel, which, at best can serve as decent aural wallpaper. - Jon Whitney
samples:
Richard Maxfield / Harold Budd, "The Oak of the Golden Dreanms"
New World
Charlemagne Pasestine, "In Mid Air"
Alga Marghen


The truth regarding the history of minimalism and American experimental music from the 60s is, despite the best efforts of certain musicologists and writers, becoming much more widely know. As it does, more and more labels get in on the game of releasing the archival recordings that document the history better that any text can. These two CDs are part of this revisionism. Maxfield was older than most of the 60s pioneers; he had his grounding in the academy, ambitions of being a composer of serious music, and access to the space and musician resources of the classical world. He was pretty much ready to roll when Cage hit the scene. But his music, as presented here in these four works from 1960 to 63, is immediate, effective and without the need of theoretical crutches. Each of these pieces can be seen as inventive American responses to develoments in the European avant-garde: Pastoral Symphony to 50's electronic music but with the major difference of having been continuously synthesized (on which synth I wonder?) rather than spliced together; Bacchanale to Schaeffer's and Henry's musique concrète here incorporating beat poetry, jazz and narrative; Piano Concert for David Tudor, combining tape music with live piano, to Stockhausen's Kontakte (1960 version) with similarly unexpected and dramatic results; and finally Amazing Grace, based as it is on repetitive tape loops, being the most intrinsically American of all. Maxfield's valuable and underrated work was ended in 1969 when he died, a casualty of 60s drug culture. Harold Budd's music is much less to my taste. I never put much effort into exploring his music since none of it ever caught my fancy but Budd's place in the world of ambient and spiritualized meditative music is obviously one of integrity. The Oak of the Golden Dreams catches Budd improvising bagpipe music on the Buchla synth in 1970, a twiddley modal chanter line over a continuous E flat drone (but it's probably relevant that I grew up in Scotland to hate bagpipes). Coeur D'Orr has essentially the same structure: two organ chords, D flat major on the right channel and B major on the left, sit there shimmering and swelling while Charles Oreña noodles a highly expressionist and at times decidedly jazzy (Coltrane rather than Paul Desmond) line on the soprano sax. Initially (the sax only comes in in the third minute) the resemblance to Charlemagne Palestine's organ music is obvious. But here the organ is static and not central, functioning as a bed for melodic improvisation within the static harmonic sound shape. The correspondence to, say, Frank Zappa's guitar noodling within static structures, e.g. 'Ship Ahoy', is more accurate. Such overtly happy (hippy?) music isn't my bag but if you dig Budd these are surely two important documents.

And so to the Palestine CD which presents five slices of his electronic drone music recorded between 1967 and 1970. Palestine's innate predilection for evolving static sounds, transcendental drones and spiritual elevation was evident well before he first had access to the synthesizers that allowed real-time manipulation of additive (combining different tones) and subtractive (filtering) synthesis. The possibilities for improvised drone music were obvious and he eventually had a custom machine built for this purpose with 16 ultra-stable oscillators from Serge Tcherepnin and 4 band pass filters from Donald Buchla. The five pieces here, all subtitled Late Night Electronic Sonority, are snapshots from his "spectral continuum searches for the golden sonority—day, week, month long journeys of harmonies and their overtones in constant evolution in time and transformation in space." The music is heavy with tension, balanced somewhere between fear, existential question and the possibility of hope; glistening, shimmering and perfectly judged. It's a remarkable achievement that Palestine originated this approach to music, the instrument design and its musical practice, performed these masterful improvisations, inspired a whole generation of musicians and wound up as a mere footnote, if that, in the history of minimalism. Take those Phillip Glass and John Adams disks down to the thrift store and get abord minimalism's revisionist revolution; apart from being more authentic, the real stuff is of infinitely superior taste and actually has a soul. - Tom Worster
samples:
Antimatter vs. Antimatter
Asphodel


Coming from the school of two guitars, bass and drums, I like to think that my interest over the years for certain areas of experimental, electronic-based music has not only lead to a slightly better understanding of the genre but to also recognize and appreciate its more salient artistic qualities. As Antimatter, San Francisco-based sound artist and audio engineer, Xopher Davidson, has recently released a solo disc that plays out like an aural sojourn to the gallery exhibit of cutting edge abstraction. >From a Powerbook-based standpoint Antimatter vs Antimatter is a collection of experimental soundscapes, frequencies, instrument manipulation and rhythmic collages. Knowing that Davidson holds an MFA could provide some insight as to his approach when constructing and composing with various sound textures. Spanning just over an hour, the disc's seventeen tracks are emotionally varied from beautiful and seductive to angry and powerful. Tracks such as "Licht," "Phosphor" and "Gilded Pallor" creatively use treated/processed guitar as the instrument of focus amidst the intricate weavings of controlled static, low frequencies and drones generated from modified synthesizers. "Auxiliary" begins with what sounds like an orchestra performing on an airport tarmac amid the screams of jet engines, all of which abruptly cuts to the odd-timed rhythms of brush-whacked drums against cycling Euro-styled violin lines that build in intensity over low-end keyboard drones. "Rangefinder" uses the ultimate droning instrument, the bagpipes, to convey a drawn out melody which is based on layers of specific tones drifting in and out to give the impression of momentum while the lower frequencies are subtle and electronically enhanced. A number of the disc's tracks blend together seamlessly as not to interrupt the stream of sound and/or to allow for a musical continuum which results in gradual modifications until a new composition is occuring. There are certain overall qualities and tones of Antimatter's sound design where, if the mood and setting are just right, you could get lost in it the same way as when you're staring at a great painting. - Gord Fynes
samples:
Hajsch, "1992"
Sonig


Like many current serious artists, Hajsch—who's work lies somewhere between experimental electronic, electro-acoustic and music concrete—tries to break free from categorization. This remastered reissue of two limited vinyl only albums originally released in 1992 (Nagual and PFN - Hajsch and collaborators) on his own Quiet Artworks label sound both contemporary and challenging, thirteen years later. "Akasa" is a quiet but intense opener: a 16 minute journey starting off with concrete sounds, synthesizers and field recordings which build up an electrifying atmosphere slowly that finally reaches it's peak when an almost orchestral ensemble of viola, cello and clarinet appears. "Nagual (Part 1)" takes use of sharp contrasts, with sparkling water morning birds, bound in a nearly dream-like atmosphere. Parts one and two consist mainly of sounds taken from a bicycle, melodica, and a hardly recognizable guitar. In "Nagual (Part 2)" the mood changes to a more unsettling ambience. For those who've read Carlos Castaneda, this shouldn't be unexpected, as the concept of Nagual stands contrary to Tonal, that represents all our known territory, material and immaterial. "Nagual (Part 3)" is an otherworldly, nearly harmonic short appendix created only with synth and samples. "Für Cleo" is a pleasant cinema-like closer where a quiet guitar drone meets a melancholic saxophone. Hajsch's music requests close attention and throws the listener in an aural environment of great clarity. His strength lies with the careful arrangement of seldom heard sounds in the purposeful use of volume and timing. The fact that these recordings are over 10 years old doesn't matter much, as 1992 is stimulating, serious, and strong evidence that some music can be timeless no matter how styles and technical possibilities change. - carsten s.
samples:
VIA TANIA, "Dream Of..." EP
Chocolate Industries


Via Tania is the project of ex-Spdfgh bassist/vocalist and Australian native Tania Bowers in a very relaxed, groove-oriented setting as a singer/songwriter. Those familiar with the musical happenings in the Chicago scene over the last few years may recognize her from adding guest vocals on discs by various artists. On her six-song debut solo EP, engineered by ace soundman Casey Rice (Designer), Dream Of... brings in some very cool instrumental backing from Tortoise/Isotope 217 members John Herndon on drums and Jeff Parker on guitar, and also enlists Scott Herren (Prefuse 73, Savath + Savalas) and While to provide a couple of remixes. The three minute, very laid back "Little China" showcases Bowers beautiful voice, which arrives at times very delicately, over solid bass, soft drums, and full, jazzy guitar chords. "Fighter" opens with a series of distant guitar overdubs which state the chord progressions and melody, only to gradually fade out and introduce upright bass and brushed drums and sultry vocals which carry the tune. "Mosquito Lights" is a haunting ballad comprised of dark, thick and minor sounding piano chord progressions and multi-tracked vocals which appear to sing of loss. The breathy vocals and overall vibe of the track "Universe City" come through twice on the EP; the second time as a remix by While. This version, the longest track on the disc at just under six minutes, is anchored by a very low-end sliding synth bass line, mechanical percussion and sampled woodwinds which give it a real heavy chill-out vibe. Running at just over twenty-five minutes, this EP makes for a great introduction for Bowers' blend of laid back pop, her full-length disc Under A Different Sky and also as an artist to watch for. - Gord Fynes
samples:
erlend Øye, "unrest"
Astralwerks

With the undeniable hit that the Kings of Convenience Remixes album became, it's unsurprising that the next move from singer Erlend Øye was to continue on the electronic music path, employing the services of many, leaving the acoustic guitar tunesmith days to lie dormant. Unrest features ten songs, each with a different electronic music collaborator, each taking place in a different city. The concept is appealing for those who found some of the reconstructions and reworkings a spectacular accomplishment, as the influences of outside collaborators and remixers had a marvelous effect. Without the tinkling guitars and folky vocals serving the basis for the tunes, the truly unique identity is somewhat lost. While the songs are somewhat catchy, like the fast-talking (almost rapping) "Prego Amore" with Jolly Music, the opener "Ghost Trains" with Morgan Geist of New York and the discoey beats of "Sudden Rush" with Kompis, this album could honestly be another drop in the bucket in the trend of new techno pop, popularized by Morr related artists, The Postal Service, and others. The most exciting direction unsurprisingly comes from Prefuse 73, who has integrated a number of horn, vibe, and guitar sounds into the mix, but only ever subtly and not tampering with the electronic bass sound that drives the rest of the music. For the rest of the record, it's a lot of tired drum machine sounds, sparse instrumentation, and unchallenging vocals. - Jon Whitney
samples:
We know that sometimes these CDs are somewhat challenging to find, which is why we have a community section which can be used to obtain nearly everything available on this site.
NEW RELEASES

WEEK OF APRIL 20 - APRIL 26
8 Doogymoto - Minimalistico 12" (Soundslike, UK)
8 Doogymoto - Minimalistico CD (Soundslike, UK)
AFX - Smojphace 12"/CDEP (Men/Rephlex, UK)
Arab Strap - Mondays At The Hug & Pint CD/LP (Matador, US)
Bonobo - Pick Up/Nothing Owed 10"/CDEP (Ninja Tune, UK/US)
Certainly, Sir - Mugic CD (Spoilt, UK)
The Cinematic Orchestra - Man With A Movie Camera 12" (Ninja Tune, Canada/US)
DJ Broken Window - Parallel Universe Vol. 2 CD (Violent Turd/Tigerbeat6, US)
DoF - If More Than Twenty People Laugh, It Wasn't Funny CD (Highpoint Lowlife, UK)
Electrocute - I Love My Daddy CDEP (Emperor Norton, US)
Flare - Hung CD (Le Grand Magistery, US)
* Flowchart - Evergreen Noise Is Flexible/The Spirit of Kenny G CD [reissue of two 12" EPs on one CD] (Fuzzy Box, US)
Flowchart - Singles & Comp Tracks Pre-2000 Vol. 1 CD (Fuzzy Box, US)
Flowchart - Singles & Comp Tracks Pre-2000 Vol. 2 CD (Fuzzy Box, US)
* Gogogo Airheart - Gogogo Airheart CD [reissue] (GSL, US)
Gogogo Airheart - Love My Life, Hate My Friends CD (GSL, US)
Goldfrapp - Train 12"/CDEP (Mute, US)
Hint - Portacabin Fever CD/2xLP (Hombre/Ninja Tune, Canada/US)
Icarus - Six Soviet Misfits 2xCD (Temporary Residence, US)
Lexaunculpt - The Blurring Of Trees CD (Planet µ, UK)
Opiate - Sometimes 12"/CDEP (Morr Music, Germany)
Original Hamster - Nuthin' but a G4 Thang 12" (Tigerbeat6, US)
Pink Anvil - Halloween Party CD (Ipecac, US)
Playgroup - Make It Happen 2x12"/CDEP (Output, UK)
Pole - 45/45 12"/CDEP (Mute, UK/US)
Skalpel - Sculpture 12" (Ninja Tune, Canada/US)
The Starvations - Get Well Soon CD/LP (GSL, US)
Subtitle - I Am Always Recovering from Tomorrow 12"/CDEP (GSL, US)
Tes - x2 CD/2xLP (Lex/Warp, UK)
They Came From The Stars, I Saw Them - What Are We Doing Here? CD (Lo Recordings, UK)
Paul Van Dyk - Nothing But You 12"/CDEP (Mute, US)

This is simply this week's highlights from the NEW RELEASES provided by Greg and Feedback Monitor.
For a more detailed schedule stretching into the future, please check out the site,
since release dates can and will often change.
CONCERT REPORT
Buzzcocks
April 17, 2003, Manchester, UK
Buzzcocks were my favourite band for a while during teenage, somewhere between getting into rockpops bigtime thanks to the Stranglers and the total takeover of WIRE. They might've split up by the time I heard them, but I wore out timeless tapes of Singles Going Steady and Another Music in a Different Kitchen which I replaced with vinyl which in turn wore out. When I finally saw them during an early reformation afternoon festival slot they were so fucking disappointing I mistakenly dismissed them as over the hill. They played a set of lacklustre new songs that seemed to have lost the spark. When The Fall played a free gig in Castlefield Arena, Manchester I sauntered on down to watch Mark E Smith blather on for the quidillionth time and was quite surprised that when Buzzcocks came on after them, they clean blew them back to rockabilly rebel scatter fields with a set of greatest hit adrenaline rush gems. I was even more surprised to find myself leaping about like a kid down the front to "Harmony In My Head" and "I Believe." A lot of folk were probably equally enthused and the Manchester show on their current UK tour sold out. They had everyone in their orgasm addicted palms from the get go charging out with anti-rock anthems "Boredom" and "Fast Cars." The band played a similar set to Castlefield but with a few extra Kitchen classics including "Love Battery" and "Get On Our Own," and a clutch of new songs that suggested that their new eponymous album might not be quite the tedious through the motions affair that the last three were. Some tired old lags have been bitching about this tour being too loud but these guitars should always be set to stun. The interplay between Diggle and Shelley has given us some the finest minutes in pop music and the current rhythm section from old Crass label group Lack of Knowledge can actually pull off a sprint in the Garvey / Maher shoes with energy left to burn. Steve Diggle detractors can suck my dick and die. Diggle looks like he's having the time of his life up there trying to do Who windmills whilst Pete Shelley looks like a pudgey teddy bear with a mess of blond wig and a quick quip every now and then. They're never likely to pull off a record as fun as the first album or as adventurous as the third, but live they're still a whole lot of fun. Maybe the blast was nostalgic, and perhaps it wasn't for an age yet to come, but Buzzcocks have written some of the smartest pop songs ever and they're still best heard live and loud with a bellyfull o'beer. I think I'll go see 'em again at the Empire the day after WIRE let the devil dogs out for Flag Burning. - Graeme Rowland
Dead Kennedys, Gold Blade
April 16, 2003, Manchester, UK
Gold Blade frontman John Robb is a cultural commentator with shows on TV, self-appointed standard bearer of the punk rock torch and a familiar face about town who can always be relied on for a friendly argument. His band have gone through a few line up changes and the added muscle of an extra guitarist and spritely stand up drummer serves them well. Familar old singles "Black Elvis" and "Strictly Hardcore" form the backbone of their set which sees Robb stripping to the waist and charging about like a kid half his age, climbing the PA like he's on a mission to get Joe Strummer Action Man dolls patented. When he makes a daft speech about the only valid subjects for rock songs being sex, death and revolution, I feel like bashing the silly bugger over the head with a crate of WIRE CDs and some heavy Shellac vinyl! Gold Blade might not be the most original band ever to tread the boards and whilst Rocket From The Crypt comparisons are obvious there are also a handful of songs that sound like they were written to celebrate "Shot By Both Sides" being the greatest riff ever. Robb is surely astute enough to realise that 2003 is looking like the biggest year for punk rock since the late seventies, probably in part as an opposing reaction to civil clampdown and war, and Gold Blade's angry anti-corporate stance coupled with their partying mentality might just see them in the right place. Some might say Dead Kennedys have had their day and I was worried I might end up hating a band I'd loved but I was won over pretty damn quickly about halfway through opener "Forward to Death." I shouted along and had fun with the real mixed up crowd of old punks and young 'uns. "Lets Lynch the Landlord" seemed to get the biggest singalong. I had doubts about the singer Brandon Cruz, but he did the songs justice and the band were shit hot. The guitarists in glasses Klaus Flouride and East Bay Ray are like the revenge of the uber-nerds and Cruz was certainly less active than Biafra back in the day, but then he did have his arm in a sling after breaking it the night before. There might be acrimony and rancour between Biafra and the rest of the band, but his fighting spirit was unavoidable in all those caustic critical lyrical barbs. Even if Cruz was a much less exciting performer than Biafra, dreadlocked drummer DH Peligro had enough anger and charisma for about ten bands. "Holiday in Cambodia" seemed an obviously apocalyptic choice for a finale but wasn't acyually the end of it. Klaus suffered bass strap failure but the band pulled the song back into hard shape as if they had a a knife in their backs for a bowl of rice a day. DKs charged back into a second encore featuring the two most exciting numbers of the night, a hyper "Bleed For Me" (with anti-Bush lyrical updates) and the sadly appropriate "Chemical Warfare," the chaotic breakdown with Klaus Flouride shouting being probably my favourite moment of the night. Or was that shouting "Lets Lynch the Landlord" with a bunch of people who could identify with that sentiment? Or was it the adrenaline rush of "Riot" or the pop punk slayer single that never was "Moon Over Marin"? The whole gig was just a rush of great songs and even if I'd have prefered them to have played "Halloween" or "Soup is Good Food" instead of the silly cover songs, they really couldn't have been better under the Biafra bereft circumstances. - Graeme Rowland
SUNDAY FILM CLUB
a mighty wind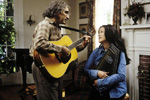 This is the third go-around for Christopher Guest's very talented improvisational troupe and follows in the footsteps of the mockumentaries Waiting for Guffman, Best in Show, and is based, in part, on a oft-forgotten SNL sketch "The Folksmen." An important folk concert promoter has passed away, and his children assemble a tribute concert which reunites three of the groups he helped: The Folksmen, Mitch & Mickey, and The Main Street Singers. While The Main Street Singers have been touring since the 1960s (as The New Main Street Singers and featuring none of the original members of the band), this tribute concert serves are a reunion for the others.
I already love the work by Christopher Guest, Eugene Levy, Harry Shearer, and Michael McKean (the list goes on and on). It has been hard for this troupe to let me down, so consider this a bit of a biased review. That said, I loved this film, and while some would consider Guest's troupe return to the mockumentary trough tired, I think they really hit their stride here. Out of the three, this film is less overt in it's comedy. A Mighty Wind doesn't feel as mocking as the prior two films, instead going for more subtle, character-based humor. Guest seemed to treat the subject of the reunion and folk music itself with a bit more reverence than his previous targets. That feeling of respect, which isn't as overt in his prior films, is what makes this film great.
Like the improvised nature of the other films, the cast also wrote all of the songs used in the film. While some of the songs have humorous references in them, or may seem a bit corny at times, they are very enjoyable. Taken out of the context of this film, they could possibly be mistaken for 'real' songs if heard on the radio (even when analyzing the lyrics). This film did have it's problems, however. While it is nice to see these familiar faces, seeing underdeveloped characters in near-cameo appearances sometimes feels a bit hollow and unnecessary. In addition, it seemed to me that there wasn't enough "middle" to the story, and it pretty much seemed to just jump into the concert. These are minor flaws though, and I almost feel guilty mentioning them.
The film ends with a priceless post-concert epilogue, and fans of Best in Show, Waiting for Guffman, or This is Spinal Tap should not miss out. Even comedy fans who weren't into those films might find A Mighty Wind enjoyable as Guest's "tweaking of the formula" really sets this film apart from it's fore-bearers. - Sean Graham
POLL
Results from last poll: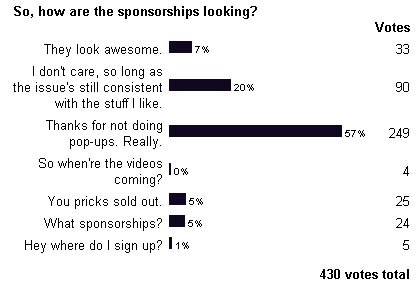 LINK OF THE WEEK
test your movie knowledge
This quiz is only available for people who have Excel, however. It's fun, interactive, and safe to play as you're given various famous movie scenes with the bodies of the stars REMOVED! Jim Kelley claims it's the greatest exam he's ever taken! http://members.cox.net/janacjb/MovieQuiz.xls
FEEDBACK
video complimented the radio star

Subject: brainwashed video
hello: listened to the mark gardener stream, heard you guys recorded it and you're posting it to brainwashed.com? just wondering where i'll be able to find it once it's there. thanks!
Once the fundraising can reach the goal of getting better computers, the video segments will be available right here on The Brain.

Subject: brainwashed radio
just wanted to let you know Brainwashed Radio has now contaminated my computer and i'm enjoying it very much...especially looking forward to upcoming Coil and Current 93 albums on air. thanks!
rock!!

Subject: Hi there,
first of all, you probably get dozens of emails about this, and i feel bad just for that fact alone. I have been making electronic music for about 3 years (although the use of the word electronic is very loose) i have been promoting my newest album which has some violin on it and harmonica as well, and i was wondering if you guys would accept a promotional copy of it? I'm sure you probably get a lot of albums from people, some being good and some being "slag-waste" but I feel really happy with my latest release and am curious if there is any way to get it out there a tad more. My influences are: Aphex twin, godspeed you! black emperor, boards of canada, tori amos, the flaming lips, squarepusher, cLOUDDEAD, joni mitchell, neil young, bjork, sigur ros and others.
thankyou and take care,
While your polite demeaner is appreciated, it's rude not to read the pages before you click "send" on the feedback. Your questions were already answered there. No need to email you an answer.

Subject: board (bored)
To whom it may concern.
Are there no plans what so ever to revive the/a message board?
When I understood it had been shut down a second time I also understood why. But the thing is, after having spent months lsearching the net it's plain to see there is no other board out there the old Brainwashed one. So once again, is there no chance of it being revived in perhaps in a different form? I for one miss it dearly and all the priceless info I obtained through it.
No plans, sorry, there's more constructive things to do than be a babysitter.

Subject: thanks
Simply, thanks for supporting those kind of vibrations in this "brainy" way! I also love Black and Orange.... :-)
Thanks for the note! Thanks for the love.

Subject: licensing
I love your music. I'd like to license a track for a movie I produced called L.A. D.J.
Please advise
You need to contact the recording companies of the songs from the bands you wish to use. We're still basically a web site.
HELP OUT THE BRAIN
sponsor, donate, or buy from brainwashed
Click here to find out how you can help keep The Brain going. Every penny helps.
WHAT'S IN YOUR PLAYER?
don't sleep in the subway
Sonic Sum "Rocket"
Sun Ra "Rocket Number Nine"
Suicide "Rocket U.S.A."
Lydia Lunch "A Cruise to the Moon"
American Music Club "Challenger"
The Residents "Ships A-Going Down"
Material "Seven Souls"
Can "Soul Desert"

AK, who claims this is "music for bad times."