THIGHPAULSANDRA, "DOUBLE VULGAR"
Retractor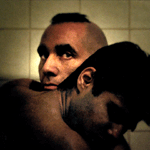 When you listen to Thighpaulsandra's music, your cup most certainly runneth over. In fact, Thighpaulsandra may be one of the most indulgent musicians working today. Tim Lewis' gooey concoctions of all of the most exaggerated elements of prog, krautrock, glam rock and homoeroticism is not some postmodern juxtaposition of styles meant to demonstrate his cleverness. Rather, it is the work of a man who fetishizes the music he loves to the point of overdose. This is not a bad thing. Indeed, it is a pleasure to hear music as un-selfconscious as Thighpaulsandra's, that is referential without resorting to parody or irony. His Some Head and Michel Publicity Window EPs both ingeniously exhibited Thighpaulsandra's talent for making his musical fetishes coherent and enticing to listeners. Thighpaulsandra's singular mastery of analog synthesizers has made him the ideal choice for collaborations with Julian Cope, Spiritualized and Coil. 2001's I, Thighpaulsandra, was an exhasting 2-CD set that displayed his skills at catalizing beautiful and unique long-form compositions, but also evidenced his prog-esque penchant for overblown, overlong self-indulgent wankery. I, Thighpaulsandra was thankfully saved from being relegated to the same pile as Yes' Tales From Topographic Oceans by its energetic spirit and the jarring eclecticism of each track. The new album definitely benefits from its relatively efficient length. Double Vulgar is a tighter, slimmer and sexier beast, much like the young naked men that adorn the album's artwork in various states of aesthetic slavery, death and decay. Thighpaulsandra is assisted by an assortment of terrific collaborators, including familiar names from the Coil family such as The Boy Anal, Martin Schellard, Cliff Stapleton, Ossian Brown and Jhon Balance. "The Bush Administration Project" combines the operatic voice of Thighpaulsandra's mum Dorothy Lewis backed by some very minimal piano, before majestic synthesizers explode into prominence, with all the magic and pomp of Phaedra-era Tangerine Dream. The second track "Slammer" takes a sharp left turn into a deeply rhythmic rock n' roll groove, with sexy vocals courtesy of Sion Orgon. Synthesizers are wielded for maximum psychedelic effect, sounding like a recontextualized version of bad-but-interesting 70's prog-rock like The Sensational Alex Harvey Band or Curved Air. "On the Horns of Magda Reuth" is an improvised jam that utilizes the strange and rare Russian ANS synthesizer, along with guitars and hurdy gurdy. It's a lengthy, psychedelic jam session, but it's much more Nurse With Wound than Grateful Dead, with its eerie atmosphere and sudden launches into pounding industrial oscillations. "The Circumcision of Christ" meanders around a bit in sampled shortwave radio transmissions, before turning into a wickedly brutal electro-rock song with soaring, mutated vocals. The title track is also the most brilliant—an unfolding drama that melds medievalism with Eno-ambience before transforming into a massive glam-metal-Kraut groove, with joyously barked vocals by the Welshman himself. The brief, twisted noise explosion of "He Tastes of the Sea" is followed quickly by the eroticized drones of "His Royal Highness The Prince of Wales Breaches Reality." This ritualized sex fantasy utilizes the beatiful vibratory Farfisa organ along with samples of some rather shockingly lewd pillow talk between Ossian Sex-Shop and another unidentified pervert. Double Vulgar is unmistakably the work of an artist who has the uncanny ability both to shamelessly wallow in his own predilections, and persuade the listener to go along for the ride. - Jonathan Dean
samples:
1 Mile North, "Minor Shadows"
Ba Da Bing!


Often, what is said only complicates matters, and what can be seen or shown carries more weight, especially when it is expressed in a thoughtful way. Minor Shadows plays like the accompaniment to a film or documentary, but instead of the music enhancing images and ideas that it is purposefully coupled with, here they conjure those images themselves. Their long pieces are composed and arranged as if with a cinematographer's eye; each note or pluck positioned to lend the scene the proper depth, the most vivid illumination or the right shading to reveal the finest details that gives the image, whether visual or aural, the greatest sensual impact. The patient, lingering guitar strokes of "In 1983 He Loved to Fly" seize upon implications of the title's past tense verb. It creates a feeling of watching someone living out a memory, staring at a gray sky as the warmth of the guitar plucks hovers while the accompaniment fades away leaving it alone and precariously aloft, unsupported. The chord stroke fades, only to return just as intensely before repeating its reminder again and again. 1 Mile North finds that subtlety and restraint can be virtues and employs them throughout Minor Shadows, never lapsing into indulgent tedium, but finding a comfortable nook in which to base their songs before they move outward. Their progression is not explosive, nor is it fiery. The tension and presence is felt like heat from a radiator, filling the room in waves. "The Sick" begins with a simple strum, different from the preceding songs in that it is somewhat more ragged, more percussive in its strike. Sampled drums hits crop up intermittently as keyboards rise and fall around giving an eerie mood to the piece. Finally, the strum unfurls into a melody that releases the anxiety it initially presented, not by speeding up or snarling out but simply elaborating on the plot. In this sense, a single hushed word is worth a thousand shouted ones. This dichotomy appears almost literally on the next track, "Black Lines," which features a film sound clip of a father viciously berating and verbally abusing his son. In response, 1 Mile North plays along with their patient track as if assuming the point of view of the victim of the clip. Their music finds both the fear of the situation but in its steady keyboard melody it also implies an almost triumphant resolve. The clip adds a wonderful tension to the track, and provides an excellent foil for 1 Mile North to converse with. This dialog serves as an argument, the fury of the actor mingling with the music, and yet for all the histrionics he flings, he is unable to unsettle it. It is a moment of insight where Minor Shadows proves that quite a bit can be said or shown when care and consideration is taken to crafting an intricate scene. - Michael Patrick Brady
samples:
sightings, "absolutes"
Load


Then there's that scene in the Wizard of Oz where the hurricane comes knocking on the door and there's no stopping it. Sightings latest album opens with the sound of the scenes that would have been cut from the film for being too graphically violent. There's a mess of nature at the door and it's ready to explode itself on everybody inside, blasting all with a violent barrage of dirt, water, debris and a tractor or something. It's impossible to shut the door, it's impossible to escape, and nothing is safe in its path. There's only a few points where the attack becomes less violent, like by the third track, "Anna Mae Wang," which, at its calmest, sounds like a busy construction site. But, the party starts back up again with the closest Sightings will ever come to a funky post-punk dancefloor smash, "Bishops," and continues with the equally dancey "Canadian Money." The second half is certainly a more body friendly as songs like "Right Side of the Hall" could be an homage to the violent techno of earlier Panacea days while the closer, "Reduction" could pass for Liquid Liquid or A Certain Ratio put through a distorted Sightings-designed noise filter. Make no mistake about it: there's nothing accidental about their sound, as the trio full aware of the potential of gear and the ability to make everything more blistering and sweaty without making it sound like a crackpot crew of amateurs. It makes me proud to live in such a wonderful time when rockers and noisemongers can live in ear bleeding disharmony. - Jon Whitney
samples:
Christ, "Metamorphic Reproduction Miracle"
Benbecula


Christ's first full-length album is a dubby and thick pudding of scary dreams and rainbow-filled landscapes. Christ has been compared to Boards of Canada before, but I think it would be a mistake to leave a description of Metamorphic Reproduction Miracle at that. The songs walk a fine line between static repetition and irregular activity. Keyboards will chime and gurgle while a solid rhythm runs around in circles in the background; they are inseperable from eachother and the effect of one relies on the effect of the other. As a result the music often feels like a blob slowly oozing its way up my body. There are plenty of detuned tones and happy melodies, but there is an added element (mostly in the early tracks) of horror, too. "Lazy Daisy Meadow" features a sizzling electronic voice suffering under an overcast of humming clouds and "Dianoes Nouveau" is a brilliant dub-influenced piece armed to the teeth with anxiety, apprehension, and a stunning arrangement that coheres into a mass of beautiful melody. The manner in which Christ arranges his instruments is confusing at first. The music has movement and there's an element of hip-hop in some songs, but often there's a feeling as if the music is only producing the illusion of movement. The quality of the entire album is very organic and gooey. Metamorphic is neither entirely dark nor wholly joyous; instead it strikes a nice balance between the two extremes that makes it listenable at about any time. I'd like to hear more from Christ, especially something focused on the sound exposed in "Dianoes Nouveau." Eventually the goo dries up and by the time "School Is Not Compulsory" fades away I'm left feeling a little teased. The same thing that makes the early part of this album great ends up making the last part feel a bit drawn out: a little more variation and breath outside the blob would certainly be nice. - Lucas Schleicher
samples:
nymphomatriarch
Hymen


The much anticipated synthesized sexual symphony of Hecate's Rachael Kozak and Venetian Snares' Aaron Funk is quite clinical in its final state. Created entirely from sounds of the two's sexcapades in various places on their tour, the music is more appealing in the creation concept. What's left at the end are the thumps of bed posts as bass drum kicks, loads of high-pitched rhythmic sounds and only a tiny splash of bedroom banter. The second cut (or first non-filler song if you discount the Intro) "Blood on the Rope" gives a lot of hope with some heavy breathing and some skin slapping sounds towards the beginning, but it shortly gives way to moderately unchallenging mechanic dark drum 'n bass. The two deserve credit for assembling 35 minutes of music which rarely resemble the original sources, but there's something to be said for a stronger incorporation of untouched recordings back in to the mix once things have become unrecognizable. After being in love with the previous two brilliant EPs from Venetian Snares on Hymen, the Nymphomatriarch is musically a let-down as it doesn't even seem as provocative or daring as either nor as the hype would make it seem. Fans of clean drum 'n bass sounds might feel slightly different, however, and with about 12 minutes of underwater ambience smack-dab in the middle, those who can only read about sex might find a charge. The closest this extended single comes to orgasmic is in the second to last track (or last non-filler track) "Pervs," where more skin slapping could be taking place, but it's so far removed from recognition that it could easily be just another clever computer plugin. Perhaps I'm too much of a sick pervert, myself, but I think I was truly jonesing for a more voyeuristic and unlubricated experience, one where the sound could conjure the smells of the breath and fluids of everybody involved. - Jon Whitney
samples:
Vacuous Ninnies
Quatermass


Hang a fat chick in a sequin jumpsuit from the ceiling and break out the cocaine. The beats are fat, the melodies are slick, and the instrumentation is a biological mass of boogiemania. Vacuous Ninnies' self-titled party-on-a-CD is an accumulation of strange sounds that are cut, pasted, manipulated, and arranged into either dancey fireballs or ultra cool chillouts. What's interesting is that none of that fluffy and yuppy-like smooth production is employed nor are any minimalistic tendencies revealed. The samples are robust and lively and mixed into beautiful melodies and chugging beats. Although "Cripples Fall Down" opens the album, it's the fun-machine known as "(Can't) Get Up" that really kicks things off. It's full of dissected vocal samples, gliding synthesizers that cut the air like a jet of pure 80's soul and a rumptastic, rubbery beat. The slower songs have a more wondering feel about them: there isn't always a fixed melody and the beat isn't always explosive but the effect is gentle and ravishing. There's a sense of humor throughout this full-length, too. Some of the samples used are absolutely whacky and at times a bit psychadelic. None of the music has a serious or "arty" attitude. The sounds don't always glide together flawlessly and as a result the melodies can sound just slightly out-of-control or off-center. Why bother "perfecting" something like this when it sounds so exceptional in a wild and untamed state? I get the distinct impression that whoever the Vacuous Ninnies are, they had a whole lot of fun making this. - Lucas Schleicher
samples:
Frankie Sparo, "Welcome Crummy Mystics"
Constellation


On Frankie Sparo's last full-length, My Red Scare, he created his own brand of chilling folk mostly on his lonesome with the help of some friends and labelmates. Now his group has grown to a full-fledged and powerful duo with the addition of Nadia Moss on any instrument with keys. He's also brought along some old friends from A Silver Mt. Zion: Sophie, Thierry and Efrim all play on the album with the latter also handling recording duties at Hotel2Tango. The result is a growth from the previous record while retaining the same qualities that made Sparo so engaging in the first place. Welcome Crummy Mystics is also a jarring, hair-raising listen, as the new orchestral direction Sparo started on Arena Hostile sees fruition with new original compositions that explore different rhythms and musical forms. Odd sounds captured here and there make the heart jump, as does Sparo's voice and delivery. "Hospitalville" features compression effects that scatter and depurify the drums and Sparo's vocals. He does it himself on "Back on Speed," screaming and letting his voice buckle under the pressure, backed at the end by a bizarre choir. The minimalism of the past is still present on a few songs, such as "Sleds to Moderne" and "Bright Angel Park," but the arrangements and contributions of the guest musicians give the music and performance amazing depth. The addition of Moss cannot be understated, however, as it is her instrumentation that is the most vital, that separates these structures from others in the genre like so much musical three-point lighting. Together, she and Frankie Sparo are forming a new language that they want to teach the world. It sounds great so far, and there's nothing lost in the translation. - Rob Devlin
samples:
Snawklor, "It Would Have Lived Here"
Synaesthesia


Subtlety can either add to a composition or take away from it. If understatement is enough to carry a tune then there's no reason to add anything to it. It Would Have Lived Here is a very careful album and ends up benefitting for it. Everything is bare bones and this approach works very well. Most of the tones used are metallic in nature and percussive but more often than not there are less musical and more found-sound effects used. Everything begins rather enigmatically: there is rhythm, but it heeds to no time signature. There is a bass-like strumming throughout and the sound of tiny cymbals chiming everywhere, but no melody to speak of. Random sounds bounce back and forth between my ears and now and again there's a quick stab of recognizable speech but it's distant. Metallic sounds run throughout this full-length but in different forms. Some are used to create short melodic lines, others produce a constant background noise that ties the various tracks together in different ways, and others simply pop in and out of the music like images of killing your boss during a hectic day of work. Nothing ever jumps out and grabs my attention immediately. Every moment is saturated with interesting sounds that stretch, echo, and breathe without interference. The sense that the sounds are somehow coming from a living, breathing thing is strong and a bit unsettling at times. Snawklor obviously pay close attention to detail and the result of their patience is nothing short of beautiful. Despite its rather abstract nature it is highly accessible and fun to listen to. - Lucas Schleicher
samples:
Zongamin
XL


It's rare that I hear a record and feel like every single song on it makes me want to shut up and dance, but that's exactly what the debut full-length by Susumu Mukai's Zongamin does to me. It very well may be the pop club album of the year, because it's this type of music that gets the bodies and booties on the dancefloor. Zongamin's aural pastiche is an amalgam of myriad styles and musical configurations. Dance and club music created with live and electronic instruments alike, using latin, funk, jazz, rock, and techno rhythms, and all blended together into a formula that stutters, grooves, tweaks and slams. I took it all in one listen, just giving in to whatever washed over the speakers next. It wasn't easy: not any two songs on the record have the same flavor, and it's hard to give in to the whole enchilada. That's not a huge surprise for a first effort, as if Mukai is trying to find a voice and gives his all in multiple directions. Something tells me, though, that Mukai intended Zongamin to sound this disjointed as his vision of what pop music should be: a place where anything and everything is allowed. "Serious Trouble" gets the party started with its discobass and stroll style, but gives in to the drive of "Spiral," easily the best track. "Painless," "Double Dostiev" and "Whiplash" makes for a great album centerpiece, clubbing it up, twisting and freaking, then serving the almighty pummel into submission. After that, the album gets plain strange, with the differing styles fluctuating to extremes. The good news is that the record is an accomplished debut from a very talented artist. The bad news is he's being pulled in too many directions at once, but would probably be tied down too much by a singular style. One thing is certain: Zongamin is an original voice, definitely the product of many influences, that can certainly generate more than a few earnest gyrations. - Rob Devlin
samples:
DJ Spooky, "Optometry"
Thirsty Ear

If you happened to catch any of the installments of Ken Burns' sprawling nineteen hour documentary on jazz a few years back, you may have wondered what exactly happened to jazz in the second half of the twentieth century. The filmmaker's heavy reliance on Wynton Marsalis and the various other talented members of his family tended to skew the focus of the series in the direction of Wynton's classicist ideals. The 1960's and beyond are crammed into the last hour of this mammoth series, an injustice to say the least. Adding insult to injury, Wynton's commentary is particularly dismissive of the strides taken by icons like Miles Davis toward a more inclusive and adaptive mode of jazz music known as fusion. When it is referenced at all, the music of Miles-disciple Chick Corea or electric-guitar virtuoso Pat Metheny is talked about as if it were a negative influence threatening to ruin jazz. This is a shame, because the experiments of fusion and avant-garde jazz should be viewed as every bit as vital as the classic style; god forbid anyone try and avoid becoming stale. For the past few years, indie label Thirsty Ear has issued music under their 'Blue Series' banner, releasing music that blends and transforms jazz, hip hop, rap, and electronic music with some interesting pairings. On this release, modern jazz pianist and Blue Series curator Matthew Shipp and his group back up DJ Spooky as he indulges his thirst for progressive intellectualism in music. Spooky clearly wants to incorporate as much as he can into his music, as evidenced by a few of the names dropped in the liner notes (Duchamps, Dostoyevsky, Cage, Ellington, Berners-Lee, Bambatta). In text this might make you wary, but on record Optometry is a fascinating excursion, with Spooky and Shipp navigating through the blurry water of fusion brilliantly. Kicking off with the familiar ride and high hat clicking, the slinky upright bass line (manned by Spooky himself) rising through, Optometry throws a curveball by cutting, mixing, and looping the beats, a subtle addition that works well. Programmed beats, electronic throbs, and wailing violin all find spots on the record, and are used to great effect, counterpointing the traditional (but only in instrumentation) jazz quartet. Shipp is a versatile pianist, and his hands float across the keys weaving amazing patterns of tone, able to rise above the mix whenever necessary. Guests appear, giving us Carl Hancock Rux's smooth spoken word delivery over "Asphalt (Tome II)," where he waxes on about Coltrane and Lil' Kim, minidisks and turntables. Essentially, it is the mission concept of the record. Jon McPhee's tenor sax croaks around Rux's witnessing, making this a true standout. High Priest of Anti-Pop Consortium and Napoleon of IsWhat also appear, lending their hip-hop skills other tracks, the former sounding stronger than the latter. 'Optometry' is the essence of experimentation. Grounded in the jazz medium, it looks outside of itself for inspiration and seeks to infuse new blood, not just into jazz, but into the styles it couples with. Jazz is not a museum. Music never should be. It has strength and power, enough to offer something to contemporary music and retain its rich history. The Blue Series seems to have a hold on that, thankfully. 'Optometry' is not at all the kind of record you would find in Wynton Marsailis' collection, but in my opinion, that stands as more of a recommendation of this than just about anything else does. - Michael Patrick Brady
samples:
Corker/Conboy, "In Light of That Learnt Later"
Vertical Form


Paul Conboy and Adrian Corker create instrumental music with mostly electronic percussion and nuance, but layered with acoustic guitars. Once I slipped their debut on the stereo, I was immediately at ease, relaxed, and open to every possibility. Playful bass and latin jazz rhythms mark one track, slower moody computer whines and echoed guitar the next, but throughout there's a coordinated groove or feel that every composition nuzzles up to lovingly. It's not stunning, demonstrative, or the next big style shift, but it doesn't have to be to be effective. Corker/Conboy may borrow a bit from the aesthetic of others — Tortoise, Pullman, and Isotope 217 come to mind — but it doesn't mean they breathe any less life into their work. Playing most of the instruments themselves, the duo have a true fluidity and ease to their songs. The music starts off lightly, establishing rhythm and tempo, and doesn't build so much as coagulate. Each part or instrument has its own time, its own place, but ultimately they exist to fulfill the needs of the whole composition. Listening to a track like "From the Hip," hearing its simplicity, and being thrown slightly by the little tinges here and there set my mind at ease, almost into REM-like stasis. One minute I was in a sweaty nightclub hearing a neo jazz outfit, the next in the rainforest hearing the most advanced tribe of natives tap out their steady labor. In Light of That Learnt Later flows through despite its various genre bends, and it's an excellent driving companion — the best compliment I can think to give it. - Rob Devlin
samples:
We know that sometimes these CDs are somewhat challenging to find, which is why we have a community section which can be used to obtain nearly everything available on this site.

WEEK OF JULY 6 - JULY 13
Amen Andrews [Luke Vibert] - Volume 1 12" (Rephlex, UK)
Bardo Pond - On the Ellipse CD (ATP/Foundation, UK/US)
Christ - Metamorphic Reporduction Miracle CD/2xLP (Benbecula, Scotland)
Cibelle - Cibelle CD (Six Degrees, US)
The Clientele - The Violet Hour CD (Merge, US)
Cock E.S.P. - Hurts So Good: The Painful Remixes CD (V/Vm Test, UK)
Dot - Dot CD/LP (Twisted Nerve, UK)
Faith & the Muse - The Burning Season CD (Metropolis, US)
Fictional - Fiction CD (Metropolis, US)
* Lisa Gerrard - Whale Rider soundtrack CD (4AD, UK)
Goodnight Streetlight - The Great Invention of the Wheel CD3" [ltd to 211 copies] (Piehead, Canada)
Gravenhurst - Flashlight Seasons CD (Sink & Stove/Silent Age, UK - Red Square, US)
Icebreaker International & Manual - Into Forever CD/LP (Morr Music/Sound of a Handshake, Germany)
cEvin Key/Ken Marshall - The Dragon Experience CD (Metropolis, US)
Klute - Lie Cheat & Steal/You Should Be Ashamed 2xCD (Breakbeat Science, US)
Kraftwerk - Tour de France '03 12"/CDEP (Astralwerks, US / EMI, UK/Europe)
Leafcutter John - The Househound Spirit CD (Planet µ, UK)
The Magic Band - Back to the Front CD (ATP, US)
Mondo Generator - A Drug Problem That Never Existed CD (Ipecac, US)
Christian Morgenstern - Wasn't You 12" (Forte, Germany)
Ben Nevile - The Norris Division Sucked 12" (Telegraph, France)
Pole - Pole CD/LP (Mute, UK)
Ral Partha Vogelbacher - Kite vs Obelisk CD (Monotreme, UK)
T. Raumschmiere - Monstertruckdriver 12"/CDEP (Novamute, UK)
TV On The Radio - Young Liars CDEP (Touch and Go, US)
Unto Ashes - Empty Into White CD (Projekt, US)
Static - Flavour Has No Name CD/LP (City Centre Offices, Germany/UK)
Amon Tobin - Collaborations 12" [with Kid Koala, Steinski, Bonobo, P Love, Double Click] (Ninja Tune, UK)
Amon Tobin - Collaborations & Verbal Remixes CDEP (Ninja Tune, UK)
Various - Always Trying CD [with John Thomas, Octave One, Robert Hood, Aril Brikha, Claude Young and more] (Logistic, France)
Various - Rough Trade Shops Post Punk 1 2xCD/12" (Mute, UK)
Various - Staedtizism 4 CD/2xLP [with Safety Scissors, Jan Jelinek, Daniel Bell, Akufen, Thomas Fehlmann and more] (~scape, Germany)
Velvet Acid Christ - Pretty Toy CDEP (Metropolis, US)

This is simply this week's highlights from the NEW RELEASES provided by Greg and Feedback Monitor.
For a more detailed schedule stretching into the future, please check out the page,
since release dates can and will often change.