a weekly digest from the staff and contributors of brainwashed
V06I49 - 12142003
Click here for other issues
SITE
mute announces tg+ box
From Mute's press release:
Throbbing Gristle 'TG+' (10 CD box set) - TGCD15
Mute in association with all the original members of Throbbing Gristle and founders of Industrial Records (Chris Carter, Genesis P-Orridge, Cosey Fanni Tutti & Peter Christopherson) announce the release TG+.
TG+ contains CD releases of the final ten live Throbbing Gristle shows and is the companion to the legendary TG24 box set, released on CD for the first time last year. [don't you have to wait more than a year to claim something as "legendary"—Ed.]
All ten CDs (listed below) are available for the first time on CD and have been remastered by Chris Carter. The CDs come packaged in a hand made box that will also include a very limited edition TG+ branded object.

IRCD30 Oundle Public School, UK. 16th March 1980 57:29
IRCD33 Sheffield University. 10th June 1980 55:11
IRCD36 SO36 Club, Berlin, Germany. 7th November 1980 75:10
IRCD37 SO36 Club, Berlin, Germany, 8th November 1980 48:07
IRCD38 Kunsthofschule, Frankfurt, Germany. 10th November 1980 42:39
IRCD39 Rafters Club, Manchester, UK. 4th December 1980 61:58
IRCD40 Heaven, London. 23rd December 1980 60:43
IRCD41 Lyceum, London. 8th February 1981 55:52
IRCD42 Vetrans Auditorium, Los Angeles, USA. 22nd May 1981 58:53
IRCD43 Kezar Pavillion, San Francisco, USA. 29th May 1981 65:48

Having recieved stock of this release early at Mute Bank, this offer is an exclusive for Christmas and will not be available officially until January 26th 2004.
output and brainwashed amicably part
Brainwashed fondly bids farewell to Output (OutputRecordings.com), who have moved their hosting back to the UK, closer to home. Since it was such a pleasure to work with them over the years, we'll keep their music in circulation at Brainwashed Radio as a gesture of respect and admiration.
voting halfway over
Don't say you never get a chance to make your voice heard! The Brainwashed Best of 2003 Readers Poll has two more weeks left. You nominated and now you're voting. Have a look at the extensive ballot, scroll through to make sure you've seen all the choices for each category and make your three choices (five for the Album of the Year category). Results will be posted the first week of 2004. Voting closes on January 1st.
time out for annie
Little Annie's live show is a top pick in this week's Time Out NY magazine (see the clipping here). She continues the second week at the slipper room Thursday, Friday and Saturday. In addition, some copies of her out of print Short, Sweet, and Dread and scarce Diamonds Made of Glass releases have been unearthed in the Commerce section of brainwashed.
boston residents can tune in the dolls
Chronicle, a TV program on Boston's ABC affiliate WCVB (channel 5) will be able to catch a special glimpse inside the Cloud Club Foundation — an arts collective and architectural labour of love by Lee Barron — home to Dresden Dolls, filmmaker Michael Pope, and others who live in the truly unique space. Dolls say "they shot a week's worth of footage & interviews here at the house," and are all curious to see how everything turned out. The show airs this Wednesday, December 17th at 7:30pm.
arts and crafts time with important
Important Records is very excited to introduce the Arts and Crafts series. Each installment in will marry sound art with physical art handmade by the artist on the recording. The Arts and Crafts releases will host a varied array of artists and each release will be strictly a limited edition. Jad Fair was willing to create 500 paper cuts on different colored paper for the first Arts and Crafts release. This record is pressed on clear vinyl with 3 exclusive tracks from Jad and is housed in a clear mylar jacket with a hand made 7 inch by 7 inch paper cut monster lurking ominously behind the vinyl. These are limited to just 500 copies worldwide. This second installment in Important Records Arts and Crafts Series is a limited edition 7 inch by The Dresden Dolls. Pressed on white vinyl, each record contains the single "Good Day" from their self released full length debut album and an unreleased B side titled "A Night At The Roses" produced by Sean Slade (Fort Apache/Pixies/Radiohead). Inluded is a sepia toned photograph of the Dolls taken by Riessen Kinghorn and signed by Brian and Amanda. It is also limited to 500 copies.
THE EYE

mogwai


The Eye is proud to up the ante once again with this feature on Mogwai, possibly the best quality of a filmed concert. Special thanks to Stuart and Dominic for sitting down for some candid stories. The group was filmed in Northampton, Mass at the Pearl Street nightclub. The documentary ends at 22 minutes, but, for people who enjoy the occasional last "bonus" song, there's something extra special waiting this time.
22 Minutes, Quicktime Streaming Video
TECH SPECS
Necessary:
A current web browser
A modern computer
The latest quicktime plugin for streaming media (hint: use the latest Netscape if other browsers aren't working)
Recommended:
A fast connection
A willingness to learn
Unnecessary:
If you see a blank window without anything streaming, don't complain to us. You don't have the latest version of Quicktime for streaming media. Go download it. It's free.
MUSIC IN REVIEW
CURRENT 93, "THUNDER PERFECT MIND"
Durtro


Continuing the time-honored tradition of reissuing widely available back albums instead of releasing new music, Current 93 present a remastered, repackaged and expanded 2CD re-release of 1991's Thunder Perfect Mind. In contrast to some recent, mostly pointless rehashes of the back catalog, TPM was due for this treatment, as the original CD issue was poorly mastered. The volume was far too low and the mix lacked punch, inferior to the hard-to-find LP edition. The bonus disc is comprised of TPM-era outtakes, alternate versions and live material. Nearly all of this material can also be found on Emblems: The Menstrual Years and Calling For Vanished Faces, so Current 93 collectors will find very little that is attractive about this package, with the exception of the restored LP cover artwork and the nifty foldout digipack. Of course, the music on Thunder Perfect Mind is nothing less than essential, the first entry in David Tibet's masterful three-album run that also included the classics Of Ruine or Some Blazing Starre and All The Pretty Little Horses. With TPM, David Tibet created his first highly personal tour de force, a sprawling double album that finally gelled all of Tibet's myriad influences - esoteric, lyrical and musical - and represented the very culmination of his promising, though uneven early career. Thunder Perfect Mind is that rare class of albums where every track is a highlight - the crisp medieval balladry and bizarre Gnostic cosmology that comprise "The Descent of Long Satan and Babylon," the melancholic funeral dirge of "A Song for Douglas After He's Dead," the atmospheric gloom of "A Sadness Song" and the swirling, spectral psychedelia of "All The Stars Are Dead Now." The collaborations on TPM are among Current 93's finest: Jhon Balance's vocals on "Rosy Star Tears From Heaven" pushes the track into the kind of Satanic fury previously only heard on Comus' First Utterance, and Bevis Frond's Nick Salomon contributes an electrifying third-eye guitar track to the side-long prophetic Blakean hallucinations of "Hitler as Kalki (SDM)." David Tibet and producer Steven Stapleton transform holophonic krautrocker Sand's skeletal "When The May Rain Comes" into a masterpiece of phased Euro-folk, evoking the wet cobblestones of a half-remembered old-world Berlin. A true rarity in the Current 93 canon, the outtakes from TPM are every bit as good as the album, especially "Maldoror Is Ded Ded Ded Ded" and "They Return To Their Earth" - a pair of stunning tracks that build to a frighteningly cathartic climax. The re-mastering job is admirable, raising the volume and adding dimension to the high and low frequencies, without sacrificing the integrity of the original's fidelity. This is exactly what I hope for when a favorite of mine is re-issued - a superbly realized package that deepens, rather than dilutes my conviction that the album is a classic. - Jonathan Dean
samples:
Joseph Suchy, "Calabi.Yau"
Staubgold


It seems like an eternity since the release of Suchy's third album, Entskidoo, easily one of my favorites from last year. The record felt like the first major statement from the German guitarist-turned-laptopper, beautifully representing his skills over two seamless sides, each teeming with layers of pixilated guitar noise that coalesce to create something wholly other. Suchy makes psychedelia for the digital age, a remarkably streamlined combination of hypnotic, half-improvised guitar lines and an equally absorbing array of electronic sounds. His guitar talent is matched only by his ability to integrate it with the rest of his often busy, though never confused compositions. The sound of Suchy?s guitar becomes automated rattle, static drone, windchime, even the wind itself, until enjoying it means slipping into a kind of trance state, swaying at Suchy's whim. Calabi.Yau is less noisy and less colorful than its predecessor but is equally rich in both sonic density and hallucinatory power. Suchy keeps plenty of melody at hand, though here it is pushed further from the core of the songs, which rely more on shivering feedback and scattered plucking and tinkering to achieve their desired effects. When melody does enter, it comes with an aura of detachment, a hesitance to make too bold a stroke. Where Entskidoo was like a journey through the tropics or some mutant jungle, Calabi is colder and more spacious. Even "Ka-asam," the disc's most raucously psychedelic track, arrives through a background of weightless drones, floating in on choppy waveforms like transmissions of a distant satellite. The new addition of Stephen Barnickel's percussion contributes ominous gong-like roars to Suchy's frequently gorgeous picked sections, and various clatter to the more abstract parts, adding tangible, or at least recognizable touches to the guitarist's increasingly bizarre soundscapes. I've always thought it a mystery why Suchy is so rarely grouped among other electronic or experimental artists using guitars, like Fennesz or Christopher Willits. Though with each new release, Suchy gives me the easy answer: he operates on a completely elevated plain. The production value and nuance of this record places it on par with any from the aforementioned musicians, but the complexity of Suchy's arrangements, the emotional and illusionist distance covered by each track, remains unmatched. - Andrew Culler
samples:
stars, "heart"
Arts & Crafts


Montreal-based future million-sellers Stars have the right formula working for them. The instrumental competance is flawless, the production is fantastic, and the sincerity is genuine, but I can't get over my polar gut feelings about the dichotomy of the two singers. Songs like "Elevator Love Letter," and "Look Up," with Amy Millan taking the lead vocal, are both ear-grabbingly pop-powerful and wistfully surreal to hold the attention, as well as her parts on songs like "Heart." These tunes alone make a strong, compelling case in favor of this record. However, most of the material in between, sung by Torquil Campbell are a bit too timid for my tastes. In almost all cases, the group executes a fine balance between guitars, violin, and both electronic and organic percussion. The songs are undeniably prepped for greatness, which doesn't render them completely wishy-washy or forgettable, but I'm only left with a feeling of mediocrity with clich? love songs that aren't challenging enough to make me keep coming back. Rest assured, however, that the true standout songs from here are powerful enough to be forever immortalized to a small number of people in the form of handwritten mix tapes that come directly from the heart. - Jon Whitney
samples:
The Chinese Stars, "Turbo Mattress"
Skin Graft


The first release by the Chinese Stars is a no frills romp with moxy to spare, a post-punk garage tirade that refuses to relent, and a too short visit from a friend you miss only after he's been gone long enough to forget what you didn't like. At fourteen-and-a-half minutes and five tracks, it's just a taste, and some may see that as a good thing. This is music for the mentally ill, made by the mentally ill, and every sloppy minute of it is another godsend. Former members of Six Finger Satellite and Arab on Radar make up the Stars, and their CD cut into the shape of one of the implements with which they share their name. Lyrics like "You could build a bone toilet with the calories that roll off your shoulder" and "I was grew up in a glue factory/my teenage years were less than satisfactory" pepper the release, yet Eric Paul sings "Now, I worry about you" as if everyone else has a problem but he's fine. The ugly crunch of the guitar and the pounding drums — with cowbell that would make Christopher Walken proud in areas — do nothing but feed this perversion, but at the end it's all in good fun. I could not resist tapping my foot, and though abrasive it may be as the guitars squeal to bleed the eardrums, this EP is jolly fun to listen to and rolls right along like it would run anything over if it got in their way. It's a fantastic primer for what the band is capable of, and it serves as a warning in a way: these Chinese Stars are dangerous, and not to be trifled with. - Rob Devlin
samples:
Ken Ikeda, "Merge"
Touch


This music could give a new meaning to the word "accessible." On one hand, Merge is an album constructed from Ikeda's 13-year-old "sound diary," music created to "reflect [his] everyday life," and, therefore, arguably more approachable than something based, say, around a chapter from Ulysses or the story of a mythical lady buying a stairway to heaven. Music from the diary of a living, breathing human is necessarily less demanding than music involving the imagist pile-ups of fictional or narrative songwriting. True, any piece of music will impose a kind of narrative simply by progressing in real time, and, I will admit that upon first listening to Merge, I found myself unconsciously trying to reconstruct the events which inspired such a cold, often unsettling backdrop. I was soon aware, however, of something beyond simple documentation at work. Any attempt to recover the specific inspirations for Ikeda's snail-paced sine tone collages would be next to impossible anyway, and luckily this is not the artist's desire. Instead, Merge attempts a widening of communication lines between musician and audience, an environment in which little stands in the way of my grasping a piece of Ikeda's day (or night), and making it entirely my own. The sine waves play a big part in this effect. Music produced by pure tone generators avoids the dialogue among sources that occurs with turntable or sample-based music, as well as the idiosyncratic quiver of the guitarist's hand. While not "accessible" in the traditional sense, pure sound needs no preamble; it carries no baggage and is therefore easier to approach on neutral ground, come what may. Ikeda's tones ride the surface for most of Merge, guarding against the possibility of giving the music anything less than full attention. They are not forceful, however, and rarely occupy fixed states, oscillating smoothly between the uncomfortable and the inviting at the urge of the personality guiding them. Each song has its own set of droning waveforms blanketing all other activity in a way that is subtle enough to allow the background to filter through, without establishing a set relationship between the two. It?s almost as if the sine tones exist to prime the ear, making it more receptive to the abstract bell patterns and simulated string flourishes behind. The continual flux of tonal relationships, with sine tones becoming at once stage and concealing pocket for the delicate background, creates a listening experience valuable more for its process than for any lasting resonance. The relatively short songs offer concise, inviting trips through atmospheres that feel consistently new, while at the same time very personal. I have listened to Merge dozens of times and still encounter its strange pull in new ways. - Andrew Culler
samples:
Illoin, "Pinafore"
Notenuf


All the light-weight electronics and smeared melody runs make me think of the ocean pushing up against the beach this past year. All the sounds suggest a simple tinkering, something happening just under a sheet of roaring noise that somehow stops roaring and goes into a cocoon to emerge as a whisper. Children are running all over the place, too, and it's not that they're making a mess, but I'll be damned if they don't seem way more busy than they should be capable of. Everything's a little simplified on Pinafore and that being so, I have a difficult time feeling anything but nostalgic when this is spinning. The sounds are piled one on another and it's very easy to capture every little second of music in my head and let it push its full effect on me. The record, I'm afraid to say, almost made me just a little sad. I couldn't help but think of the California beach and the way the water sounds when its crashing into rocks and the way, despite that incredible wall of sound, that the birds, the wind, and the people's voices around me were crystal clear. I make it sound as if Illoin writes noise-inspired music, but everything is very subtle: all the drums click and clack and sort of stutter underneath pillows while bass melodies swindle their way out of a little kid's toys. It makes me want to dance a little bit, but that melancholy is a strong presence. The lonly piano of "Pinafore" and the ringing and delicate raindrops on "Darkwater" drag me under and into memory and its a strong presence to be in the company of when music makes it so visceral. I was watching it snow outside while I listened to this record, too, and it was a soft snow-fall. The music almost seemed to mimic the way the snow fell and was whipped about by the wind. This is a stark and simultaneously lush collection of songs that has stayed in my player since I received it. - Lucas Schleicher
samples:
Mountaineers, "Messy Century"
Mute


For me, the name Mountaineers conjures up images of a rustic tradition, as well as adventurousness and innovation on the frontier. On Messy Century, the band does position itself on a frontier, or boundary, and straddles the line, taking liberally from both sides. Their synthesis is a compelling one, exciting and reassuring. Their compositions give the impression that there are dozens of styles, influences, and ideas each fighting for center stage. This competition is ever present, as sampled beats and electronic manipulation ebb and flow over light, bouncy strumming and sing-a-long vocals. The end result is not confused or unfocused, however. Mountaineers have a keen sense of when their nicked percussion should hit, or whether their synthesizer lines should hold back or rise to a dizzying climax. With all the modernized electronic flourishes floating around, it is important to realize that the core of these songs is a humble acoustic folk sensibility that is delightfully hook filled. When the band puts the emphasis on this aspect of their sound, as on "I Gotta Sing," they do not suffer from any supposed loss of novelty. The song's bright vocals and memorable lyrics erupt in a jovial, smiling chorus. "UK Theatre" even brings a snappy whistle into the mix of handclaps and pots and pans drumming, adding to the feeling that this is a recording of some exuberant living room free for all. On the other end of the spectrum, there are tracks that revel in their processed instrumentation and computerized blips. "Bom Bom" is replete with punchy cascades of melody and blurry, obscured vocals. Though it seems light years away from the more straightforward songs on the disc, the start stop rhythms and attention to song craft refuse to allow this song to become an exercise in murkiness or aimless experimentation. Mountaineers manage to make the otherwise sterile and slick sound cozy. "Apart From This," another track that relies on electronics (though not as drastically as "Bom Bom,") is imbued with a warmth that emanates from the heart of the song. It has a swagger and a swing to it. The final track, "Silent Dues," is a subdued, elegiac piece that drifts along with an introspective tenor. All throughout this disc, the band proves themselves an extremely versatile outfit, able to incorporate any number of differing thoughts and sounds into a pleasing pastiche. - Michael Patrick Brady
samples:
Tex La Homa, "If Just Today Were to Be My Entire Life"
Hybrid Electric


As the label's first release, Hybrid Electric unveil the second album by critically praised electronic/acoustic artist Matt Shaw, also known as Tex La Homa. Where his last full-length was a virtual snore, with monotone delivery and static soundscapes, this sophomore effort is a real breath of fresh air. Shaw has honed his sound, concentrating on the atmospherics and pop sensibilities that shined through before, and eliminated the repitition and flat presentations to produce a consistent mood without feigning self importance. Dirty electronic percussion gurgles from the speakers to start the set, as delicate electric guitar entrances and invites. When Shaw finally opens his mouth halfway through the track, his vocals are treated so much that the words are often hard to make out, but it makes little difference for a simple track of this beauty. Later, on "In the Clouds," the closeness of the first track is replaced by pure isolation, but the music almost makes it sound welcome. This is a tribute to a love that deserves better, and Shaw sells it well, and I can't get over how much his voice has improved and how good these songs are compared to the first album. Even when the vaguely country influence makes an appearance on "Paper Car," it's completely reinvented and there's no cause for concern. (Or, as Shaw puts it "I am not your enemy." Agreed.) If his debut was unabiding sadness, If Just Today is the exact opposite, as every track has a driving energy and a positive outlook and feel. "Either Way" is the album's climax, a six-minute-plus mix of all the styles on the record that still blows me away. This is my pick for most improved artist this year, and this is a perfect record to pull out come summer or autumn evenings when you're winding down. - Rob Devlin
samples:
AmmonContact, "SoundS Like Everything"
Plug Research


After a couple interesting mini-albums, including the excellent (though minimal) "Beat Tape Personalities" on Soul Jazz, AmmonContact had me preparing for a full-length that would focus their efforts and show them giving a bit more substance to a sound that, while far from stale, suffered instead from a kind of over-refinement. It seemed as though, in their efforts to cook each song down to its essential parts, the duo instead guided their records straight to the 'DJ-fodder' bin, comfortable with the fact that they would never be more than a piece in someone else's more elaborate puzzle. The ambitious title of Sounds Like Everything, though, threatened the masterwork of ostentatious stylistic shifts, overblown thematics, and guest-MC hoards that would prove me wrong. No such luck. The disc's title most likely refers to the simple eclecticism the group achieves through the scattered use of tribal drums, woodwinds, and thumb piano, and while these sounds are welcome additions to the bare-bones, electo-funk of the duo's beats, they are never enough to make things truly extraordinary. Many of the disc's twenty tracks are under three minutes, sounding more like studio leftovers; the few moments of brilliance, like the syncopated, flute-blown jazz of "Zato Ichi," come and go with little or no development. I get the feeling that the inclusion of an MC would provide the element of daring that is so lacking in these tracks and would no doubt create a foil to make the beats sound more impressive. As it stands, one of the most enjoyable tracks probably required the least amount of studio trickery. The cut-up "Top Tape 1," sounds like bits and pieces of a dozen trashed beats, spliced together almost at random to produce a few minutes of blissful unpredicatability. Conversly, the anthemic closer, "Our Cry For Peace," with its chorus of tribal drums, piano and flute is the busiest and longest track here, but the song comes off sounding like a weak variation on what would hardly be an eight-bar interlude on any jazz record worth its salt. That said, if AmmonContact set out to make an hour-long DJ tool, they have succeeded admirably, but anything else will require some more risk-taking. - Andrew Culler
samples:
Virus, "Carheart"
Jester


Norway's Virus want to create a sort of free-form heaviness that changes your perception of what to expect from the hardcore metal genre in an effort to promote versatility and variation. What they ended up with is a lite version of adrenaline-fueled pound and screech with a cross between Mike Patton and Serj Tankian on vocals. Which ultimately means sometimes the vocals are on key, sometimes nowhere near, and it sounds like that may or may not have been a conscious choice; but the music is stable, engaging even, with sadly very little change from one track to the next. Virus try hard to make the songs blend together into a congruous whole, with tracks fading into each other and combining elements, but the music is so derivative and the vocal performances often so horrendous that it's hard to find anything really to latch on to. Incidentally, where other import artists have stayed with their native tongue or tried at some deeper meaning in the translation, Virus emote through lyrics that are almost incomprehensible, with talk of screaming insects and "I went smilingly like a classic obsession" topping the list of sub par nonsense. This, unfortunately, also means that they are not all that different from any other Norwegian hardcore band that tries its cards on this side of the pond. Carheart is a valiant effort, though, and Virus are pouring their hearts all over this record. It just doesn't amount to much that hasn't been tried here before. - Rob Devlin
samples:
We know that our music picks may be somewhat challenging to find, which is why we have a community section which can be used to obtain nearly everything available on this site.
NEW RELEASES

WEEK OF DECEMBER 14 - DECEMBER 20
2/5 BZ - Peel Session 12" (Gozel, Turkey)
Bexarametric - Bexarametric Pressure CD (Metric Style, US)
Cassette Boy vs. DJ Rubbish - Inside a Whale's Cock Volume 1 CD (Barry's Bootlegs, UK)
Chicks On Speed - Wordy Rappinghood 12" (Chicks On Speed, Germany)
Crack We Are Rock - Animal Trap 12" (International Deejay Gigolos, Germany)
Diamanda Gal?s - Defixiones, Will and Testament 2xCD (Mute, UK)
Diamanda Gal?s - La Serpenta Canta 2xCD (Mute, UK)
Hell - NY Muscle CD (International Deejay Gigolos, Germany)
Kaito - EP 10"/CDEP (Blast First/Mute, UK)
Manufactura - Precognitive Dissonance CD [initial 100 copies include a bonus CDEP with mixes by Converter, Databomb and Pneumatic Detach] (Hive/Auricle Media, US)
The Rapture - Sister Saviour 12" [DFA remixes] (Output, UK)
Harold Raucous - Feedback & Distortion CD (Dissonance, US)
Smash TV - Hi-Jacked 12" (Bpitch Control, Germany)
Steril - A Day At The Races 12" (International Deejay Gigolos, Germany)
Team Doyobi - Pushchairs For Grown Ups Remixes LP [mixes by Autechre, SND, Ryoco, Made and more] (SKAM, UK)
Ukuphambana - Brennschluss CD [remix album with mixes by Datach'i, Pneumatic Detach, Neutronic, Codec and more] (Voidstar Productions, US)

This is simply this week's highlights from the NEW RELEASES provided by Greg and Feedback Monitor.
For a more detailed schedule stretching into the future, please check out the page,
since release dates can and will often change.
HOME THEATER
CAN DVD
Mute/Spoon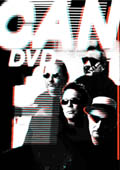 I've been listening to Can records for years without any kind of visual counterpart other than the one created in my fertile imagination. Other than the few photographs on the inner sleeve of the Tago Mago LP, I had no idea what the band really looked like, or what their stage presence would be, what kind of clothes they wore, or how they behaved in interviews. In part, it was this total lack of a visual context that made their music all the more mysterious and addictive to me. I imagined a group of hairy future primitives; shamanic heads full of acid and tightly wound sagacity, like Gandalf crossed with The Beatles crossed with those aliens from Fantastic Planet.
When Mute/Spoon announced the release of Can DVD, featuring hours of live and documentary footage of the band across two DVDs, I was excited, but apprehensive. Any video image of the group was bound to pale in comparison to the elaborate image I had extrapolated while listening to their explosive records. I was right to be apprehensive. While it is truly wonderful to finally be able to view and own rarities like the 1972 film Can Free Concert and the early performances excerpted on Can Documentary, the rest of this DVD is frightening and pointless. Can Notes is an overlong documentary assembled by Wim Wenders collaborator Peter Przygodda from years of random video footage. There is a heavy emphasis on the period leading up to and following the release of the Sacrilege remix album. Holger Czukay, Irmin Schmidt, Jaki Liebezeit and Michael Karoli are paraded out, well past their prime, to answer a bunch of submental Actor's Studio-style questions, which elicits exasperating, embarrassing results. Why would you sit down with a genius like Holger Czukay and ask him to name his least favorite word? It ends up playing like a low-rent Where Are They Now? on Can, but with the noticeable absence of any material on vocalists Damo Suzuki and Malcolm Mooney, both of whom are alive and well, and continue to make music.
There are four Dolby 5.1 remixes of songs from the Can catalog, which on the surface seemed like an interesting idea, until I realized that the tracks chosen are all drawn from average-to-terrible latter-day albums Flow Motion, Landed and Rite Time. The multi-dimensional retuning adds nothing to this lackluster material. I should add that Can DVD also comes with an audio CD of material by the core members' post-Can projects. While it's all nice enough, it seems strange that this is packaged with something called Can DVD. Can Notes is also stuffed full of footage and material from these later solo outings. It's almost as if I'm being force-fed this stuff. As interesting as one might find the music of Clubs Off Chaos or Irmin Schmidt's Gormenghast opera, one would need to employ heavy historical revisionism to consider this later work to be nearly as significant as the groundbreaking work of Can. Brian Eno contributes an amusing one-minute video which manages to be completely self-aggrandizing even as it purports to pay tribute to his heroes. The disc also includes the presentation of an Echo Lifetime Achievement Award to the band, but strangely, the award is presented to the surviving members of Can by, er, The Red Hot Chili Peppers.
Can Documentary contains many terrific moments - the band performing "Paperhouse" live on German television, a delightfully standoffish interview and excellent promo clips for "Dizzy, Dizzy" and their leftfield disco hit "I Want More." Unfortunately, the film spends a disproportionate amount of time on the ill-advised Rite Time reunion album, and ends with a shamefully piss-poor video for the Westbam remix from Sacrilege. Can Free Concert - made in 1972 by Peter Przygodda - is the DVD's sole moment of pure genius. A 51-minute film combining footage from a 1972 concert in Cologne with candid material of Can composing tracks for Tago Mago inside their Inner Space studio, Can Free Concert displays the full explosive range of the improvisational chemistry between the five band members. The director uses disorienting parallel editing to emphasize the primitive, primal and shamanic qualities of Can's avant-neanderthal noise. It's a pure delight to see Damo Suzuki wearing a red-and-pink velvet jumpsuit, furiously shaking his black mane in time to Jaki Liebezeit's tribal trance drumming. Later, in the studio, Damo works out the vocals for "Bring Me Coffee or Tea" with quiet intensity, and I finally experience the perfect visual equivalent to Can's incomparable magic.
Mute/Spoon should have placed this and the Can Documentary onto a single DVD and retailed it for the price of a CD. Instead, we have this overstuffed, prohibitively priced package full of pointless junk, with a little bit of genius thrown in for color. - Jonathan Dean
POLL
Results from last poll: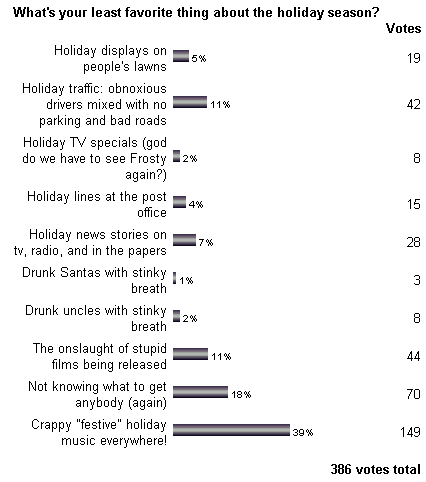 LINKS OF THE WEEK
THE VOICE OF YOUTH SPEAKS UP
Let these videos provide enough reasons NOT to get a video camera for your nephew this year:
"Aicha" by GellieMan
Pout, baby, pout. "I'd rather be a crying sissy than a goth fag any day."
http://home.online.no/~leko/OMFG.wmv

"Crispy New Freestyle" by Andy Milonakis
Years of credit card therapy on mom and dad's dime still isn't helping. Get thee to a shrink, boy.
http://home.online.no/~leko/crispy[1].wmv

The Daily Dosage
Try to guess which one was filmed before and which one after an intense three-way which drained Texas A&M dry of its last lube reserves.
http://students.cs.tamu.edu/caw5195/Moviez.htm
WISH LIST
digital video dreams
Stevie Wonder - Live in Germany (Innervisions tour).
VH1 used to show this at the most unusual times. I've written them a million times for a copy...they won't respond. Possibly the best thing I've seen on the tele.

Soul Train Live - Live performances by Al Green, James Brown, and Curtis Mayfield specifically.
They should put out a comp. In the early-mid 70's, the performances were live...and unbelievable. A friend in Boston had a rough video copy of all the greats and it was riveting. I need this.

Captain Beefheart Live (early 70's)
This one is a bit ambiguous. It was a live TV show where Beefheart's band was made up of scary looking hippies playing the stompiest, tweaked 'funk' I've ever seen/heard. It looked like the same set Sabbath used on the Paranoid video (generic acid trip background). I have to see the whole performance.

Bill Withers Live
Is there a video companion piece to 'live at carnegie hall'? If not, it's a crime.

James Brown Live in Paris
Bootsy's in the band and the audience looses their sh*t...I lost mine too. I've seen this on bootleg VHS...someone please re-master it to DVD so that I may possess it.

Sly Stone Live - ..riot goin on-era.
I've never seen anything...but must.

- Mario Andreoni, !!!, who says "Most of what I can think of, has been re-issued...albeit not on vinyl...so each time I thought of a release, I ended up finding it on CD somewhere. What I thought of though, are live performances that rocked me so hard, I'd wish they were available on DVD."
FEEDBACK
poll stuffing

Subject: brainwashed poll
Dear, I don't like manipulation. I received the mail below:
Could you please to send my request to every and each friends of you and to aske them honestly to vote for me at this link ,:http://www.brainwashed.com/brain/2003finals.html

here is the place where you can vote :

album of the year
(Choose five different albums.).......Amir Baghiri, 'Yalda'

best cover
(three choices
............Amir Baghiri, 'Yalda'

thanks again

amir

p.s.

it is so important event if i reach a good place at this poll :))

Thanks for letting us know. It's truly tacky and tasteless. We would disqualify him, however, it seems that he's not even getting enough vote numbers to even chart.
This year has seen its share of poll stuffers as well, but, thanks to technological advances, have been spotted and their ballots have been tossed. Reports come in all the time from people faking IP addresses. If the reverse host lookup fails, their vote evaporates into the ether. So, ballot stuffers are just wasting their time.

Subject: o canada
Did I actually read one of your writers mention both Juno Awards and Much Music in the same sentence? Don't Canadians realize that nobody outside of Canada either knows or cares what those things are?
Take off, eh? I don't know what you're talking aboot.

Subject: brainwashed radio
I've finally gotten a broadband connection, and your radio station has already made it well worth the extra dollars I pay each month. Thanks!
Neato. Maybe we'll eventually get some DJs. Nobody has applied yet.

Subject: can't tune in
Hello Brain,
I've been trying to connect to the Radio for the past weeks (!) but it never worked. I have Win Amp on my PC and it's fully functional. Just clicking on the link on the "radio" webpage doesn't seem to play the trick: my browser returns a "page is down" error message.
I understand there can be occasional downtimes, but it just doesn't seem to be occasional in my case. Am I missing something? Should I download some kind of plug-in or try something else to connect?
Thanks a lot for your help and keep up the good work!
Everything is up, try putting this into your WinAmp (click "add URL") and put in http://63.208.2.26:7000/ OR http://63.208.2.26:7000/listen.pls

Subject: eye never told you this, but...
Hi,
I just watched The Eye with Out Hud/!!! last night and I must say that it totally rocked (in a good sense). Excellent work! Here are some minor suggestions, though:
- A little more information on who you are talking to would be interesting. Show the name and role/function of the person you're interviewing. Not everybody is that much of a fan to know every band member just by their looks. I usually download The Eye for later perusal, so I might not be able to look at the Brain's description of the video to get that information.
- Same goes for the songs played. A little info like the title of the track and the release it appears on would be nice. If I hear something I like, I might want to buy it.
- Other than that, I really like the idea of mixing bits of interviews with live performances. And putting a complete live track at the end is a nice way to finish the thing. It doesn't always have to be a 20+ minute track :-)
Anyway, keep up the great work.
Best regards
Thanks for the suggestions, if you notice we do have people introduce themselves as the first thing usually. However, song titles can be odd because sometimes groups play new songs not on albums yet. We have no time to make the video, upload it, consult a band, edit it, and re-upload it agian in time for the issue.
*IF* there is ever an Eye DVD "Best of" or something, we'll be sure to take the steps to do this thoroughly, however, the "help Brainwashed Get A G5 Campaign" hasn't been as successful as we hoped.

Subject: Wolf Eyes DVD
Hey, just wondering if the Brain knows where I can find a copy of the Wolf Eyes' DVD "Covered In Bugs?" Has is it even been released yet? I just read about it in the Wire.
Wolf Eyes could not be reached for comment.

Subject: snip
nice and snippy communicate page..must be a fun place to work...good day.
You're confusing snippy with direct and "without room for misinterpretation."
You have a good day too, now.

Subject: About the poll!
I am aware that is is not possible to please everyone, but I must express my surprise at your faliure to mention such pivotal and innovative acts as Khanate and Sunn0))) (yes Sunn were mentioned but only once). Also I missed labels such as Drone and Southern Lord among the ?Label of the Year batch. Finally, it surely must be almost unforgivable not to include a film like Ken Park in the film list.
Other than that, well done! Brainwashed continues to promote and write about interesting and qualitative music. Keep it up.
Thank you for your time
Once again, it was the readers who nominated.
Sorry you felt it was neglected.

Subject: godspeed
Godspeed is a joke and so are its stupid hipster fans (that wonderfully soft and malleable white college demographic). I've never seen hipsterism so thick and horrible that it allows a group (or more like a crowd) of lousy, lazy musicians to continually resew frayed badges of genius on their sleeves. What the hell. I saw pictures of the band live and noticed that the guitarists were sitting down. What the hell is that crap? I've seen guitarists that sit down, and most of them are seasoned (and extremely creative) jazz players like John Abercrombie and John McLaughlin. Not arrogant white indie snobs who were dumb-lucky enough to hook enough idiots in the mouth with their psuedo-intelligent concepts and nonexistent musical abilities. Loud/soft dynamics are not millenial or politically cogent artistic statements. They are merely dynamics within the boundaries of a musical piece. Unfortunately, Godspeed's bullshit charade goes no further, and hence, is music only in the most base definition. Fuck this crowd, they suck.
Honestly if you hate them so much why bother wasting the time to write this?
Music shouldn't be explained to you, but people play it because they like to, and have done for centuries. If people enjoy the music then hey, that's cool. Honestly, you'll be hard pressed to find many virtuosos on the whole of brainwashed.com: these are generally people who aren't playing digestible pop or trying to prove something with guitar solos or spineless academia.

Subject: sun city girls
in the likely event that you add a new band site on to your page...i just have one suggestion. that it be the *SUN CITY GIRLS* and family. just a thought, please think about it.
Nobody has stepped up and offered to do a comprehensive site.

Subject: !!!
yo yo yo!
he guys want to say you guys rock and thats about it.
hehe
cant wait for the next.
Stay tuned to brainwashed. We'll let you know once we know.

Subject: GEMM dissatisfaction
First of all I'd like to express my mutual dissatisfaction with some GEMM transactions in relation to Mark Kolmar's unfortunate incident. I ordered Swans Omniscience from a GEMM dealer and received a copy from the dubious and ironically titled label Ars Nova (apparently limited to 500 copies too, oooh! a limited edition bootleg!) The sound is fine but it just doesn't feel right and its certainly annoying that i was under the impression that i would get an official release and instead ended up with a less than authorized version. Since then i've been rather skeptical of using GEMM's services especially from distributors outside of the US, the UK, and Australia. GEMM, to me, has always been a potentially excellent service that has the distinct possibility of sinking into a forum for less than copasetic transactions, much like eBay. However, GEMM seems to have failed miserably in the customer service aspect in your case. For me i never got them involved and just said fuck it w! hen i received my bootleg copy but their handling of your case is just deplorable. I guess the lesson here is to use GEMM with great trepidation because, despite their claims of handling unfortunate situations, you're basically on your own if you encounter an obnoxious distributor.
I also wanted to point out to the individual complaining about your iPod link that the page does in fact contain a rather large link at the top of the page that addresses both points he or she brought up. The makers of the film acknowledge that after they started their campaign (though more than likely not in response to it) apple did begin a replacement program which they admitted was fair. also they did try to replace the battery with a third party part which ruined their iPod.
Thanks for your feedback on both accounts.
HELP OUT THE BRAIN
sponsor, donate, or buy from brainwashed
Click here to find out how you can help keep The Brain going. Every penny helps.
WHAT'S IN YOUR PLAYER?
double trouble
Frou Frou - Details
Talk Talk - Laughing Stock
Gus Gus - Polydistortion
The The - Soul Mining
Liquid Liquid - S/T
Nice Nice - Chrome



Dana, Chicago, who's being clever clever.