a weekly digest from the staff and contributors of brainwashed
V07I09 - 03072004
Click here for other issues
OFFSITE
the party's over for EFA
The worldwide independent music community was dealt a blow with the announcement of the collapse of German-based manufacturer/distributor EFA. In a letter sent out to various effected labels and individuals, EFA stated they were forced to file for bankruptcy. The 22 year old company claims that this comes after numerous attempts to have tried to prevent this, including, as they state: "downsizing our staff, restructuring all distribution methods and channels, negotiating with third parties, particularly with several groups of possible investors, yet - sadly - to no avail."
This could possibly be a much more powerful blow to the business than previous collapses of other once large independent label distributors like Cargo, Rough Trade, Bayside, and Dutch East. EFA has a small amount of in-house labels, including Clearspot, but the bulk of their business is through a large amount of European labels they manufacture and export worldwide as well as North American and British labels they import and distribute throughout Europe. Some of the past and present labels include Accession, Anticon, Chicks On Speed, Cold Meat Industry, Constellation, Crammed, Crippled Dick Hot Wax, Dischord, Force Inc./Force Tracks, Gramavision, Impact, Ipecac, italic, ITN, Kitty-Yo, Klangbad, Metropolis, Mille Plateaux, Ongaku, On-U Sound, Payola, Plug Research, Quatermass, Rephlex, ReR, Ritornell, Saddle Creek, Sähkö, Scape, Shifty Disco, Shitkatapult, Southern, Southern Lord, SubRosa, Thirsty Ear, Thrill Jockey,Touch, Touch & Go, Transient, and Tresor. Pick up a German pressed CD in your collection, see if it has EFA printed on it. If it does, chances are that release's entire income is controlled by EFA.
Repercussions have not begun to surface yet but don't be surprised to see the closing of some of these labels while others scramble to get their stock back before auction time and find other distirbutors. More information about EFA including their history, roster, business statement, and ethos can be found online at their website, www.efa-medien.de.
THE EYE

Mono


We love Mono. It's plain to see that the super charged music with loud louds and soft softs isn't everything that's capable of winning hearts, but their sincerety and dedication is highly admirable too. We thought of adding subtitles but in the end decided against it. You'll have to just enjoy it on its own.
20(+) Minutes, Quicktime Streaming Video
TECH SPECS
Necessary:
A current web browser
A modern computer
The latest quicktime plugin for streaming media (hint: use the latest Netscape if other browsers aren't working)
Recommended:
A fast connection
A willingness to learn
Unnecessary:
If you see a blank window without anything streaming, don't complain to us. You don't have the latest version of Quicktime for streaming media. Go download it. It's free.
MUSIC IN REVIEW
Akira Rabelais, "...Benediction, Draw."
Orthlorng Musork


This is Rabelais' third release using Argeiphontes Lyre, software of the artist's own design which runs instrumental sound through a gauntlet of time domain filters, resulting in unique digital music that retains much of the physicality and tender imbalance of its sound source whilst enacting subtle, though deeply resonant transformations. His previous record, the excellent Eisoptrophobia, featured processed piano works by Bartók and Satie, and ...benediction, draw continues with a similar exploration of the latter's idea of "furniture music," this time with Rabelais' own guitar compositions run through the forgiving machine. The resulting 71-min. piece, essentially divided into eight sections, is most certainly the kind of inconspicuous, sublimated work that Satie's doctrine would promote. The original guitar lines are completely obscured, disintegrating (or multiplying...who knows?) into creeping waves of tonal flutter, the shivering patter of half-plucked strings, and faint, drone-like backdrops that sound like the result of fairly extreme time-lapse manipulation. The relative sameness and level field of each track make ...benediction, draw hard to penetrate at first, and the meandering movement of the piece could be off-putting for the unprepared. However, deeper listening reveals the remarkably intricate construction of the work, which, rather than retreating to the background, instead completely transforms the listening environment. Rabelais understands that Satie's ideas do not predict music that is just another piece of room-filler, but music whose structure and passage feel determined by the acoustic quality of the sounds themselves, music that becomes, to some degree, a room of its own. Rabelais' guitar emerges from the Lyre sounding like a 25-piece ensemble of brushed guitars, chimes, and hammered bells, passing slowly through a cycle that seems immediately incidental, yet painfully timed and integrated so that no such group could have possibly arranged it. Digital manipulation is evident, but the sound of the instrument, which Rabelais' claims to have recorded without multi-tracking (!), is beautifully maintained. A look at the notes inside tells me that ...benediction, draw is dedicated to the artist's "father, who [he] never knew, and mother who abandoned [him];" also, the track titles read sequentially, making two florid sentences that describe the journey of a "dispossessed child under the invisible tutelage of an angel." Turns out the record is a reminiscence on Rabelais' childhood, growing up estranged on the desolate sweep that is South Texas, which explains the cover photo of a boy, presumably the artist, in full Gary Cooper regalia. It's easy to imagine ...benediction, draw as furniture music for the wind-damaged Texan plains; each shimmering wave full of weightless solemnity, highly expressive but also elusive in character. Comparisons to late-period Morton Feldman, particularly For Philip Guston, would not be out of place; a similar tenebrous beauty stretches through ...benediction, draw's drift, making any lapse of attention impossible. With this record, Rabelais has created one of the most singular processed guitar works I've heard in a long time, and it will be a pleasure hear which instrument he approaches next. - Andrew Culler
samples:
Colin Potter & Paul Bradley, "Behind Your Very Eyes"
IC Studio


Anxiety and apprehension are made sound incarnate within the first quarter of this record and holy ground is consecrated and threatened thereafter. A narrative runs through the thick, pulsing heart of these sounds; beginning with shimmering, metallic rolls of lightning and highligthed by the mysterious calls of nocturnal birds, Behind Your Very Eyes announces itself as a heavy and imposing experience. The opening "Cryptozoology" has the blood of fear running through it; the atmosphere is thick with the tension of unseen voyeurs and rapacious hunters whispering secrets under forested moonlight. Such a heavy and consuming beginning might seem imposing, but Colin Potter and Paul Bradley make the mystery too intriguing to be ignored. It would be impossible to turn tail and run. "Decline" medicates and softens the breath of impending disaster with its organ-like tones and unearthly shakings. There is a bright light at the center of its being and it eminates the presence of safety and familiarity; it's as if the night of the first sounds has been transformed into the romantic and alluring night of summer winds and cricket's voices. But the narrative of the music is not simple and elegant transformation: "Cavity" invokes the aura of a total void, staring down into the abyss, and being frightened that nothing looks back. No semblance of human life is found in the cascading mass and it's low-end humming simply shakes my body to a numbness that removes the physical world to a purely mental state. The beauty of Potter and Bradley's work is that it removes easy reference; sounds become pure and without linguistic characteristic and there is always an environment shaped out of silence. By the time "Flattered To Deceive" expels its suspended ghost, the music has made a full circle. The electronic whines and textural brushes of sound reverberate back into the mystery of the unknown and demand another journey; the near-deceptive warmth of these sounds is Behind Your Very Eyes' greatest asset. Though alien and without translatable elements, it expands and welcomes the mind to a consideration of the esoteric. - Lucas Schleicher
samples:
"Seasons"
Ochre


Concept albums in general are a bit troublesome. Like "Music from and inspired by the motion picture," they are sometimes not at all relatable to the subject at hand, and often they get overshadowed by some lofty sense of purpose that ultimately falls flat. When I saw the roster on Seasons, I was willing to ignore the fact that the compilation was a concept album just to hear new work from these bands. So, I must say I was pleasantly surprised to find that the music does, in fact, have a fine correlation with the concept, making this the best theme-based compilation I have ever heard. Each artist was asked to compose music that, to them, represented the four seasons. Most took this at its literal meaning, composing four tracks for the four seasons, but a couple, namely Stylus and 90° South, chose a different way, combining different elements to represent more than one season and the change between them. Altogether a fascinating listening experience, the album features emotional reactions of the artists to the states of the year that are sometimes not what you'd expect. In The Land of Nod's tracks, the traditional perception is challenged on "Summer-house": a drone with frog/cat noises that almost sounds like someone being trapped in a warehouse all summer, baking in the heat — not exactly the prettiest image. It's a nice switch of roles, though, with the more traditional interpretations on their other tracks making for lovely chiming guitars and the deafening worry of the winter track, "Light Fades Fast." Longstone's electronic elements are a sharp contrast upon their entrance, and their tracks fade together and contain similar elements, allowing for a nice shift between them to represent the overlap from summer to fall to winter. It's a nice take on the theme, even though some of the sound effects and pitch bends towards the end grate on the nerves. Lakescene, aka The Land of Nod's Ant Walker, keeps the electronics going, with beeps and static washes breaking for crickets and guitar. His tracks were my favorites, making the most of different elements while painting the most lifelike pictures of the seasons. 90° South manufactured one track that shifts with common elements, as well, and with the guitar and keys being joined by thick percussion and swirling noise, it's a fantastic ride, even though the track pushes the fourteen-minute mark. Stylus makes typically odd compositions that expound on odd beginnings, like tribal drums and chanting with bubble noises. His tracks are most "out there," and therefore I was thankful for his inclusion, as he brings a bit of the left field to the proceedings. All in all, though, I was impressed by all contributors, and hope to see more compilations that can truly flesh out a theme with such success. - Rob Devlin
samples:
David Gross & Liz Tonne, "Performing Sunday 7:30"
Sedimental


The artists have, thankfully, chosen cover art and title which testify to these performances occurring at locations on the surface of the Earth, the Southern U.S. no less, instead of in some forgotten fissure of the planet's crust or from the edge of an astral plane, far, far in the distance as the music would suggest. The 10" contains two sidelong selections from stops along a small duo tour in 2001. Gross, who alongside Greg Kelley and Bhob Rainey has helped put the Boston improv scene on the map, commissioned Tonne's exploratory vocal talents for the tour, following a single, fruitful collaboration earlier that year. The reeds-man's impulsiveness does not disappoint, as his increasingly bizarre, limit-crossing assault on sax and clarinet finds a perfect counterpart in his companion's strained pipes. Much of Gross' playing focuses on a baffling expansion of the sounds and textures available to a particular instrument. His blowing reaches squealing pitches that belong to the ambiance of the motorway or factory space, his low warbles and grating trills enough to transform every hair on the body into a lightning rod. Most impressive, though, are his extended bouts of pushing note-less air through the saxophone, creating completely alien whistles, scrapes, and dry rustles. In short, his is eye-popping, head-rushing, and blood-quickening music that must be heard to be believed. Tonne's contribution is equally arresting. The vocalist's attunement to the nuance and textured rise-and-fall of Gross' playing is remarkable, her voice rising to match the most challenging pitches or inhuman bits of vibrato. The tendency to mistake one musician for the other is a risk even after hearing the record several times, a phenomenon that fills the listening experience with frequent moments of utter disbelief. Tonne builds gliding, theremin-like tones, arching masterfully into frightening high-pitched shrieks and lowly half-moans with clear precedent in artists like Diamanda Galas or the venerable Patty Waters. Her most unique talent, however, is the incorporation of foreign syllabic utterances, a kind of glossolalian scat spread across Gross' varied landscape with enough restraint to keep it wondrously effective. The vocal style brings a subtle degree of future-primitivism to the pieces, recalling the free-calligraphy techniques used by many Abstract Expressionist painters. My only complaint is that this release was not expanded to 12" or full length CD; both pieces fade out with the wish that at least the room ambiance or a bit of Gross' clapping air-holes might continue long enough to inspire Tonne to swoop back into song. I can only hope that the duo was pleased enough with these initial excursions to take more, soon. - Andrew Culler
samples:
Lycia, "Empty Space"
Silber


There are several disappointing things about the new Lycia album: mainly the fact that it is also their last album together, as the band disbanded before finalizing the release. Also, it's a bit short — due to the band implosion, too, I suppose — even though most songs are right around the five-minute mark. At nine tracks, there just seems to be something lacking as a defining end statement for this passionate and powerful band that no doubt influenced many, including those at Silber Records, who have been so moved by Lycia that they refer to them as mentors. However, beyond the effects the end of the band had on their final recordings, these songs are what many have come to expect from this group since their first album in 1989. In fact, Empty Space marks a bit of a return to their birth, with original member John Fair rejoining the fold for some drum programming and the whole sound returning to their post-punk roots. With the old, though, there's also a renewed love for pop structure about these songs, like Lycia was striving to find a perfect mix of their different albums over the years. Instrumental tracks make up about half of the record, as well, and though it's entirely possible that they were always meant to be that way, it still feels like vocals could sit right on top of them. Standard industrial and goth-type effects and sound qualities spill out of the speakers on every track; Mike VanPortfleet has his vocals buried in the mix for the most part, and Tara Vanflower's otherworldly vocals charm and disarm as ever. There are some amazing melodies on this record, with an overwhelming feeling of foreboding doom. While it's unpolished and each song has at least a two second pregap it's still enough for this to rank up there as one of their finer works, and given that the album was supposed to be released four years ago, it's good that the songs are making their way out there to true fans now. It's a shame that there'll be no more after this from Lycia, but it's a tremendous reminder of how easy it was for them to move their audience. - Rob Devlin
samples:
Korber/Müller/Steinbrüchel, "Momentan Def."
Cut


This rapturous disc is the result of a live improvisation conducted under an aqueduct in Zürich, a 40-foot-tall acoustic space that perfectly matches Momentan's simulation of poised ebb and flow. Not standard microsound fair, of minimal movement or painfully obsessive blip-bending, the piece ingests each members' contribution, Korber's threadbare guitar scratch, Müller's increasingly spartan percussive manipulations, and Steinbrüchel's grainy drone cycles, lifting all in an undulant, misty passage across the broad hollow, action that plays perfectly on the disc's punning title. The piece seems obsessed with "momentum," full of sweeping static washs and low-level machine hums that arrive quickly and pointedly as if to establish motion, but are consistently buffered by contrastive elements more indicative of detail, or a particular "moment" staking its claim within the sinuous whole. Sections of Müller's inventive hitting and surface-testing frequently occupy both ends at once, coalescing into strands of rhythmic interference that are quick to fold under the weight (or lightness) of each stroke. Often Korber or Steinbrüchel will introduce thunderous or ominous sounds via processed feedback or laptop, as if only to watch the colored noise fade into the pale complexion of its surroundings. The level of communication between players that allows this pause-less dialogue to proceed is astounding. Any back-and-forth that appears in "momentan live" (the 30-min. improv session is accompanied by 3 remixes, one by each contributor) occurs underneath the opaque surface of the piece, and a dominant "voice" never comes to the front. The fluidity and graceful progression will recall Müller's recent solo work and Poire_Z's + record, but the real heroes of Momentan are Steinbrüchel and Korber. The young guitarist is a master of beautifully tempered feedback tones and frail note clusters that run nicely alongside the former's synthetic drones and microscopic click-tracks. Their combination allows for the darkly expressive sheen that coats this work, full of intricate, fleeting gradations. The three remixes are equally successful, if more single-minded pieces. Korber introduces a surprising amount of rhythm, his process more additive and loop-based than the others', crafting a bottom-heavy gem of post-technoid atmospherics. Steinbrüchel's is less engaging, a minimal reconstruction consisting of one deep, droning waveform that sounds directly pulled from Korber's feedback and layered with digital crickets and crackling fire. Müller's mix is the most sympathetic to the original, combining the churning pulses and short loops of Korber's take, with the Steinbrüchel's textural achievements to produce a highly differentiated piece that shares "momentan live"'s preoccupation with issues of drift and stasis. While not a landmark recording, the disc stands as a welcome addition to the catalogs of three artists at the top of their respective games. - Andrew Culler
samples:
Vocokesh, "The Tenth Corner"
Strange Attractors


The artwork says it all here, as those unfamiliar with Vocokesh can tell right away what's inside: an obsession with psychedelic guitar rock and a twisting of genres. That it is as strange as it is but still makes an impact is truly an accomplishment, in my opinion, because it has the ability to estrange people at its very core. With no vocals to speak of, and a decided lack of structure here and there, some would lose interest even though the quality of the playing is of the highest caliber. This is something not foreign to Vocokesh's mad scientist Richard Franecki considering his experiences in F/i, and this fourth album from his subsequent project is their most expansive, most glorious, and finest yet. The album is a bit of a tribute to some of Franecki's favorite cult films from Michaelangelo Antonioni and Alejandro Jodorowsky, with Vocokesh composing music that could have been used as the soundtrack. Even the tracks not ear-marked for this purpose have a cinematic quality, though, where you can imagine the action going on while the song is being played. Loud processed guitars that wail and screech meet with synthesizers and other electronics plus heavy drumming to produce a wall of sound that could destroy entire cities. The album comes in like a lamb, though, with the title track's gentle acoustic strumming meeting with some distorted guitar and synths in an almost flamenco style and a bit of minor key. But then the fifteen-minute crushing blow begins, and "Love Theme From El Topo" struts across the headphones. Loud feedback, dirty solos, kick drum-heavy rhythms and delay make a delicious smorgasbord, even though it never leaves a given area, seeming to meander in the same space. No matter: it's still gorgeous, like a composition written by Miles Davis and performed by Hendrix on guitar. It's got that swing, baby, but I wouldn't turn it up too loud cause the ears'll bleed. That's the blueprint, and though the melodies and chords change, there ain't a lot of variation. I still loved every minute of it, and I'm more than sure that any lover of experimental psych rock will, too. - Rob Devlin
samples:
We know that our music picks may be somewhat challenging to find, which is why we have a community section which can be used to obtain nearly everything available on this site.
NEW RELEASES

WEEK OF MARCH 7 - MARCH 13
Beanfield - Tides 12" [with Carl Craig remix] (Compost, Germany)
The Black Heart Procession - Tropics of Love DVD (Touch & Go, US)
The Black Heart Procession & Solbakken - In The Fishtank CD (Touch & Go, US)
Blonde Redhead - Misery is a Butterfly CD (4AD/Beggars, US)
cLOUDDEAD - Ten CD/LP (Big Dada/Ninja Tune, UK/Canada)
CocoRosie - La Maison de Mon Reve CD (Touch & Go, US)
Corker Conboy - Radiant Idiot CD/LP (Vertical Form, UK)
Deadbeat - Something Borrowed, Something Blue CD/2xLP (~scape, Germany)
Dubloner - Foreign Sway 12" (Headinghome, US)
Errorsmith - Near Disco Dawn: Live Recordings 2001-2003 CD/2xLP (Errorsmith, Germany)
Imperative Reaction - Redemption CD (Metropolis, US)
Lights of Euphoria - Krieg Gegen Die Machinen CD (Metropolis, US)
* The Locust - The Locust 7"/CDEP [remastered reissue] (GSL, US)
Man'sbestfriend - The New Human Is Illegal CD/2xLP (Morr Music, Germany)
Portland - t.b.a. CDR [ltd to 211 copies] (Piehead, Canada)
Rank Sinatra - Chairman Of The Bored CD (V/Vm Test, UK)
Rivulets/Marc Gartman - split CD (Tract Records, US)
Squarepusher - Ultravisitor CD/LP (Warp, UK)
TV On The Radio - Desperate Youth, Blood Thirsty Babes CD (Touch & Go, US)
The Vanishing/Sixteens - split 12" (GSL, US)
yelworC - Trinity CD (Metropolis, US)

This is simply this week's highlights from the NEW RELEASES provided by Greg and Feedback Monitor.
For a more detailed schedule stretching into the future, please check out the page,
since release dates can and will often change.
HOME THEATER
"LIVE FROM SHIVA'S DANCE FLOOR"
Aspyr Media


Timothy "Speed" Levitch was the star of the 1998 documentary The Cruise, one of my favorite films of all time, which profiled the New York City tour guide's unique perspectives on the city, his own transitory life and deeper questions of existence. Through a series of bus loops, interviews and walking tours, Speed displayed his enthusiasm, his intelligence, his inquisitiveness and his romantic quest for intellectual and spiritual fulfillment. One of the more eccentric oddballs ever captured on film, Speed's extraordinary linguistic gifts communicate his deep passion and jubilation at existence. His ideas are the perfect antidote for a world that every day moves towards irony and detachment, pessimism, cynicism and nihilism. Though it's a minor travesty that The Cruise has never been released on the DVD format (or even a VHS that doesn't cost upwards of $100), Aspyr Media recently released this short documentary also featuring Speed, made last year by Richard Linklater of Slacker. Linklater previously featured Speed in one segment of his animated masterpiece Waking Life, a rambling episodic film that dealt with the many solutions to existence offered by science, philosophy, magic and dreams. Clearly, he was impressed enough to direct this follow-up film, which deals primarily with Speed's response to the September 11, 2001 attack on New York City - its historical context, its ramifications, and Speed's unorthodox suggestion for what should be done with "Ground Zero." It is a refreshing film that completely transcends the seemingly endless parade of ridiculously schmaltzy, over-cautious and reverential garbage that has been said about the tragedy by nearly everyone since 9/11. Speed is anything but sentimental, living as he does in the eternal "now," and his suggestion for the proper commemoration of Ground Zero is uniquely inspired. The DVD also contains numerous extras, including picture-in-picture annotations by Speed himself, as well as some live appearances and readings from his recently published Speedology: Speed on New York City on Speed. Standing at Ground Zero, Speed pontificates: "9/11 was one of the many parables the great sagacious cosmopolitan guru has dropped upon this population to illustrate one of its greatest points: the creation and destruction that is the rhythm of the universe is a part of our universe. Creation and destruction: the dance of Shiva. New York City is an excellent dance floor for that specific choreography." - Jonathan Dean
"Blow-Up"

Italian auteur Michelangelo Antonioni's first film in English is also arguably his most famous. Although it bears his trademark hypnotic, dreamlike style, Blow-Up transcends to another level with its commentary on and reflection of London in 1966. Based on a story by Julio Cortázar and starring David Hemmings, the plot revolves around a jaded fashion photographer who may or may not have witnessed something sinister during a morning stroll in the park. Like Antonioni's earlier films, Blow-Up progresses at a languid tempo, and instead of plot, the emphasis lies primarily with the essence of the characters, who range from aloof fashion models (one in particular played by Veruschka, who was herself one of the most famous models in the 1960s), naive groupies (Jane Birkin in one of her first film roles), and a mysterious woman (Vanessa Redgrave) relentlessly demanding the photographs taken of her and her lover by the photographer during his walk in the park. The culture of 1960s music is also plays a role in the film with the presence of the band The Yardbirds during a club scene, although the score is dominated mostly by the sleek, cool jazz of Herbie Hancock. It is endlessly stylish (even now, nearly 40 years later), colorful and beautifully photograped by Carlo di Ponti.
Warner Brothers' edition marks the first appearance of the film on DVD, and it is a mixed affair. The transfer is presented in anamorphic widescreen aspect ratio of 1.85:1, which is generally quite clean, although occasionally fuzzy. The sound as well is not particularly dynamic, but this is likely a result of a film of its age. The extras include a music-only audio track, two theatrical trailers and a disappointingly useless commentary track by Antonioni scholar Peter Brunette. Perhaps the nicest extra is the use of the original artwork on the cover of the case.
Although it's often dismissed as pretentious, Blow-Up, which definitely suceeds in being cryptic, is an excellent film. It will likely never appeal to viewers in search of a film with a concrete plot, straightforward dialogue or an ending that neatly ties everything together. It is highly recommended viewing for anyone in search of an escape from the mindless drivel that typically fills the multiplexes in the first few months of the year. - Jessica Tibbits
"THE EYE VOLUME 1"
Brainwashed


Although I've been contributing to The Brain for only two years, I've been a fanatical reader and avid surfer of Brainwashed for nearly eight years, and just because I work for the site now doesn't mean my enthusiasm has faded. So, I was obviously excited last year when The Eye made its first appearance with an impressive 35-minute documentary on Emil Beaulieau. Initially, I wondered how anyone could possibly hope to keep up the daunting schedule of producing a documentary every week. Amazingly, confounding adversity, each week since has brought a brand new episode to readers. I have nothing to do with the conception, direction or production of The Eye, so I can say this without fear of impropriety: The Eye is without peer; there is nothing else on the web doing anything even remotely as interesting as this, and it's all for free. This DVD-R, released as a fundraising effort, collects five episodes of The Eye, including the aforementioned debut episode profiling "America's Greatest Living Noise Artist." Through an engaging montage of amazing live performances and numerous interviews with the ebullient Beaulieau, his friends and cohorts, the doc builds an intimate profile of the artist that illustrates clearly why Beaulieau is a legend in noise circles. "Antony: The Androgynous Zone" is a spellbindingly minimal short film that captures Antony (sans the Johnsons) performing a rare solo piano recital in Boston, as well as sitting for a revealing interview about his work, his influences and his creative methods. "The Dresden Dolls: Brechtian Rock n' Roll" is an in-depth feature on Boston's punk-cabaret duo on the eve of their recent success. Delectable siren Amanda and adorable gothboy Brian sit for an informative and humorous backstage interview about the origins of the band. The Dolls performances excerpted throughout are top-notch. The other two segments feature equally fascinating sketches of unsung post-rock groups Pele and Tigersaw. Sound and picture quality are first rate throughout the disc, far better than having to contend with that little Quicktime window and computer speakers. A brief trailer for The Eye DVD-R series is also included on the disc, with tantalizing glimpses of episodes featuring Out Hud, Coil, Wire and others. I can only hope that the future volumes may bring some of these artists to my home theater. - Jonathan Dean
"NON LIVE IN OSAKA"
Caciocavallo


Boyd Rice is at the center of that spurious underground milieu which rose to quasi-prominence in the eighties, combining industrial and noise culture with LeVay-style Satanism, social Darwinism and fascist aesthetics. The work of NON, and of its progenitors and followers, influenced a generation of Dungeons and Dragons players, rivetheads and white supremacists to unite their interests under an anti-establishment banner that seemed pretty dangerous and sexy when it was new, but appears a bit silly in retrospect. In truth, Boyd Rice created nothing that hadn't been suggested previously by David Bowie, and especially Throbbing Gristle. TG's interest in musical performance and noise as cultural exorcism, agitation and political rally was clearly a precedent for NON's subsequent exploitation. Boyd's only contribution was to narrow and delineate these interests, and to incorporate his neo-Satanic views and his sadistic sense of camp. Coming after the double disappointment of last year's tepid Children of the Black Sun 5.1 surround-sound album, Soleilmoon officially releases Non Live in Osaka on DVD, a frequently bootlegged recording of a legendary 1989 concert in Japan. This concert was legendary because it was the first to unite Boyd Rice, Douglas P., Rose McDowall, Tony Wakeford and Michael Moynihan on one stage. They appear in a thick fog, flanked by red beams of light, decked out in paramilitary gear, beating on giant barrel drums, while Rice performs a series of propagandistic invocations in his familiar modulated monotone. He spouts off the usual monologues about war, might and superiority. None of this is particularly ingenious, but it's very much better than any NON performance I've been unfortunate enough to witness in this decade. In fact, it all seems quite potent, with the big martial drumbeats, the grinding noise sweeps and Boyd Rice's booming, echoing voice. I especially appreciated the long introduction of Iron Guard marching songs directly preceding and following the performance. Watching this transported me back to a time when I thought it was quite daring to adopt an amoral, nihilistic viewpoint and wear Nazi totenkopf symbols on my clothes. In addition to some nifty photo slideshows accompanied by hilarious Japanese girl-pop, the DVD also includes illuminating commentary and two experimental short films by Boyd Rice. I've often heard these films compared to Kenneth Anger's ritual-on-celluloid masterpieces such as Lucifer Rising and Invocation of My Demon Brother. Judging by the first film, Invocation, Mr. Anger has nothing to worry about. This grainy, pornographic footage has all the genius of any Hi-8 video made by a 13-year old goth teenager from Des Moines. The second film, Black Sun, is much better, a Stan Brakhage-style celluloid trance-meditation on a spinning swastika. - Jonathan Dean
POLL
doin' time with martha
Who would you most likely want to see Martha Stewart sharing a prison cell with?
Results from last poll: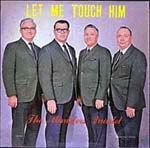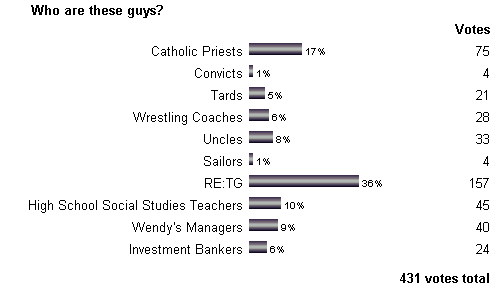 LINK OF THE WEEK
yeti sports!
Here, go play!
If there's any questions this Flash game poses, it's these ones:
Is there a difference between the Yeti and Sasquatch?
Who would win in a fight?
Enjoy.
Part three is supposed to come next week.
http://yeti.e-medien.com
COMMENT
The 1990s are over
With the music industry on the whole taking a universal downturn, plenty of fingers are being pointed on what's to blame for this. A number of major labels outright accuse filesharing as being the #1 perpetrator for this. This is completely false. In hard economic times, it's easy to figure out that people spend less money on items which are NOT necessities in life. Music, and, nearly all of entertainment, fits nicely into that category.
There's also a circle of fingers which go like this: artists blame record labels, labels blame distributors, distributors blame stores, and stores blame the artists for not coming around or making good enough music!
There are ways to avoid this. First of all: musical artists need to realize that if they want their music to pay, they need to make an actual job out of it. Spending quality time and energy devoted to composition and production should be a given, but musicians need to play as many shows as they can: as it seems that the bands who are actually making money in these times are the groups who are heading out on the road, booking their own first few tours, networking, becoming friends with other bands to play and tour with, sleeping on floors and doing whatever else they can to cut costs. The rock and roll lifestyle only works for stadium rockers and not glitch artists, post-modernists, or fringe experimentalists! For an independent label or artist, selling 20,000 copies of a record is considered a success. However, for an artist, they'll be lucky to see $1 from each sale of the record (unless they manufactured and released it on their own, of course). Consider some of the mathematics involved and ask yourself: is $20k enough for the average of 1-4 people to live on for two years between albums?
Next up: it's important that a record label (both great and small) exercises QUALITY CONTROL. For the big boys, releasing every bit of drivel—even of some of the label's best-selling acts—can seriously damage a label's credibility when stores, fans, and critics all agree that a collection of farts just doesn't sell well. For the smaller folks, note that the ease in which technology has allowed people to record and manufacture CD duplicates has magazines, radio stations, stores, and distributors bombarded with options. The hours in a day are a finite amount, the shelf space in a store is a finite amount, people's patience are a finite amount. Don't take it personally when somebody doesn't get back to you, doesn't respond to your emails asking "did you get this?," unless they asked for it in the first place.
If you want to enter the thankless business, do some investigation. Take a look at who is succeeding and who isn't and try and find out why. Everybody has a completely different story. One thing is for certain and that is that nothing is predictable, a "sure thing," and sales figures and responses and profits should never be expected. For the label: every release is an investment and every release is a risk. For a musician: putting the control of your art in somebody else's hands is a risk too. (Hint: if some label's notorious for excessive spending, heavy drug usage, and massive ad campaigns or video budgets for things which don't provide much return, then chances are you'll never see a penny. Historical examples spring to mind like Some Bizzare and WaxTrax!)
A nameless label owner has this to say:
"There are risks inherent in distribution for labels and distributors, and the greatest come with exclusive manufacturing and distribution deals. Rumors are circulating about artists whose royalties from labels connected with EFA have not been paid in the last year. To add insult to injury, those artists now may have lost their masters or could be forced to bid for them in receivership court in Germany. So like they say on all of those home repair shows, "measure twice and cut once." Artists and labels should always step back and carefully consider exactly whom they're giving their releases to."
For the music fans: don't ever be afraid of asking questions, especially when seeing a TV ad from the MPAA or RIAA squaking about downloaders or receiving some email from an artist bitching or crying about how they've been ripped off by some label who's probably broke or living way below the poverty level. Blame isn't going to answer any questions or solve any problems, owning up to your own responsibility in the grand scope of things and taking control of it from day one is. - Jon Whitney
FEEDBACK
is that all you can do?

Subject: no subject
dear brainwased-
hey , i hear you guys are gay, like radiohead.
are you and radiohead going to get married?
This is the only letter we got this week?
Come on, you can do better.
But, I guess, since this is the only one, it can be answered, so here goes:
Marriage is good for three things: health benefits, green cards, and divorce lawyers.
Brainwashed doesn't need a green card, Radiohead probably have no bennies and nobody likes divorce lawyers.
Happy?

Tune in next week when people get pissed off about EFA or lack of Squarepusher review.
HELP OUT THE BRAIN
sponsor, donate, or buy from brainwashed
Click here to find out how you can help keep The Brain going. Every penny helps.
WHAT'S IN YOUR PLAYER?
Musick To Play In The Hotel Room
Fantomas - Delirium Cordia
Current 93 - Halo
Einstürzende Neubauten - Perpetuum Mobile
The Cure - Kiss Me Kiss Me Kiss Me
Refused - The Shape Of Punk To Come

Nils Winkler, Frankfurt, Germany (on a business trip to Zurich).