THE LEGENDARY PINK DOTS, "THE WHISPERING WALL"
ROIR


The Legendary Pink Dots seem unaware or unconcerned about the unwritten record industry rule that discourages artists from releasing multiple albums simultaneously. The proverbial wisdom has it that multiple releases confuse the record-buying public, and the albums tend to cannabilize each other's sales. Multiple albums have ruined a multitude of bands, from the Incredible String Band all the way to Kiss and Guns N' Roses. Well, the Pink Dots have been ignoring that maxim for quite a while now. In fact, Pink Dots albums tend to come it two and threes, often with a few solo albums thrown in for good measure. No exception here, as this month brings three new Pink Dots releases, in addition to a new Ka-Spel solo album. Everything is being released on the eve of their North American tour, which takes them through far more US cities than any other underground British/Dutch post-industrial psychedelic art-goth group could even dream of visiting. The extensive touring may be the secret to the Pink Dots impressive longevity and endurance, as they are frequently one of the most critically ignored bands in the underground scene. The Whispering Wall isn't going to rectify this situation, a typically indigestible concoction of psychedelic whimsy, wildly experimental textures, densely prophetic lyrical themes and skewed songwriting all mixed up together in a gooey prog-rock quagmire. Evaluating its relative quality compared to other albums is almost a moot point, as most hardcore Dots fans will certainly want to own every album regardless, and others stopped caring 30 albums ago. That said, The Whispering Wall does have some brilliant moments, and is very cohesive, easily eclipsing 2002's double feature of All The King's Horses and All The King's Men, albums that had strong points, but would have been better whittled down to a single disc. Those albums saw the band in a transitional period, finding their footing after the departure of Ryan Moore, trying out a more intimate, stripped-down sound that became tiresome after a few listens. This time around, there's been a few more personnel changes — the loss of guitarist/violinist Martijn de Kleer and the addition of guitarist Erik Drost — but the Pink Dots have come out intact and smelling (and sounding) like a bouquet of atomic roses. All the familiar Dots elements are present on The Whispering Wall. There's a good bit of future-scare dystopian proselytizing ("Soft Toy"); a sinister riff on a nursery rhyme ("Dominic"); a slow-cooked instrumental ("The Region Beyond"); the ubiquitous spoken-word EKS narrative against a backdrop of densely layered noise and sound effects ("The Divide"); and just plain demented silliness ("King of a Small World"). The soupy production by Dots mainstay Raymond Steeg is typically heavy-handed (in a good way, lots of sonic detail), and each player is given time to shine: Silverman's expertly-wielded synthesizers and rhythm programming, Niels Van Hoorn's exquisite saxophone blasts and Erik Drost's gutsy swathes of shredding psych guitar are all variously highlighted in the mix. It's an accomplished album by a prolific band who continue to prove that although less is certainly more, more can also be more. - Jonathan Dean
samples:
THE LEGENDARY PINK DOTS, "THE POPPY VARIATIONS"
Beta-Lactam Ring


The Poppy Variations is the ill-natured twin of The Whispering Wall — the qlippothic, mirror-universe reflection, residing in the shadowy nightside of Eden. Where Whispering is right in line with LPD's current manifestation and evolution, Poppy is entirely regressive and even transgressive. Where Whispering is often joyful and musically rich, Poppy is spare, prickly and pessimistic. Rather than a series of inviting, accessible compositions, LPD creates a series of perverse spectral enigmas, even utilizing samples and reworkings of their older material, in some attempt at painstaking self-reflection and exegesis. Edward Ka-Spel's lyrics aren't as bemused and detached as usual here, instead, on many of the tracks, he sounds downright miserable, displaying the kind of perplexed mental fragmentation familiar from early Dots material like Asylum. Long sections of near-silence and passages exhibiting the kind of wildly unorthodox experimentation not heard since the Steven Stapleton-produced Malachai: Shadow Weaver part 2 make this album one of LPD's most difficult propositions in recent memory. It's a schizophrenic experience attempting to place this album in context with The Whispering Wall; best, then, to evaluate it on its own merits. Which are many, especially for diehard fans of early Dots (read: freaks of nature) - the jagged, minimal electronics and Ka-Spel's piercing graveyard whine, staccato drum machine rhythms, bizarre samples, loops and low-budget psychedelic touches that contribute to an air of drugged-out bedroom insanity. The hazy, summer buzz of "Krussoe" shifts and festers in the background, as Ka-Spel mutters: "All I have is sand, a withered hand, a pile of cans, they're rusting." More nautical metaphors (see Ka-Spel's Pieces of 8), this time the bedraggled literary castaway wishing for a ship to come and take him away from his tropical hell. Even the song names on The Poppy Variations seem to echo the album's dire outlook: "Personal Monster" and "It Doesn't Matter Anway," a pair of songs that echo early Dots melodies, minimal treatments, up-close vocals explicating the most dreadful futuristic angst. "L'oiseau Rare (Pt. 1 & 2)" begins with wacky jungle-drums and bouncing vocals familiar from "Crumbs on the Carpet," but it quickly segues into a lengthy excursion through enigmatic unfoldings of ambient meandering, lost in a vast interplanetary garbage scow at night. It's as frightening, haunted and lonely as The Tower or parts of Crushed Velvet Apocalypse. An Orson Welles-ish radio drama voice slips out of the aethyr on "The Hot Breath on Your Neck," creepily intoning: "It...is...later...than...you...think....," to which a resigned Ka-Spel replies: "I know, you don't have to rub it in, do you?" Ouch. Things end on a note of spectacularly epic melancholy, with the two-part, 25-minute picaresque musical patchwork of the title track, which uses the classic track "Poppy Day" as a jumping off point for a lengthy meditation on depression and addiction. I've never felt so far away listening to music on my headphones, the track traveling through mental corridors, collecting faded memories and obsessed spirits, ultimately exploding into a massive and sinister soundscape of disembodied voices, radioactive swipes of brain-frying sound, cold metallic insectoid textures and distant, reverberating funereal choruses of bagpipes. In its own twisted, cadaverous way, The Poppy Variations is an even finer accomplishment than The Whispering Wall, a spooked missive from deep in the heart of the abyss. - Jonathan Dean
samples:
EDWARD KA-SPEL, "PIECES OF 8"
Beta-Lactam Ring


Pieces of 8 is the latest bookend to the long shelf filled with China Dolls too numerous to count, the holy books of Illumina, Lilith and Tanith, the Heartbreak, the Needles and the colors: Blue Room, Red Letters and Graye Skreeens. A vague continuation of the nautical, "soul set adrift at sea" themes explored on 2001's rambling, unfocused O'er a Shalabast'r Tyde Strolt Ay, the new album is — true to its title — an embarrassment of riches, a sunken treasure chest of pirate's booty. Pieces of 8 is an amazingly well-crafted concept album of remarkable strength and focus from an artist who would have every right to be well past his artistic prime. Over the years, we've learned how to listen to Edward Ka-Spel's solo albums: the well-worn sonic palette, the familiar arsenal of metaphors and lyrical themes. Ka-Spel's career as a solo artists is virtually predicated on its unfaltering uniformity, constantly retracing its own lines, deepening the grooves of an etching long since completed. Those who love Ka-Spel's music know to listen for those tiny nuances, the changes in perspective, the recycling and re-contextualization of familiar lyrical conceits. Hence, there is something of a learning curve for this music, an "EKS literacy" that is nurtured over time by repetitive exposure. What's amazing about Pieces of 8 is that it may be Edward's first album that peeks its out of that endlessly self-referential universe of bedroom electronics, crepuscular psychedelia and microcosmic dread. Musically, it's one of the best albums EKS has ever crafted, consisting of several solid songwriting efforts balanced perfectly with evocative sound-effects suites and passages of pure electronic ambience. Ka-Spel's trademark gallows humor is fully intact, explicating his constant themes of personal and universal apocalypse, and the existential dread experienced in a world of human emotions increasingly mediated by technology. Opening with a whimsical sea-shanty that evokes some pre-war street accordionist playing in a French harbor town, "The Writing on the Wall" inexplicably transforms into a haunting piano dirge littered with atmospheric samples. As ever, Edward is a storyteller, his lyrics spinning a yarn of a doomed man forced to walk the plank who, paradoxically, seems endlessly amused by his fate. "Here Comes the Night" is a lengthy, sprawling ambient piece that follows the more abstract moments of Dark Side of the Moon to their logical conclusion: a majestic space-scape haunted by fragile piano melodies and the ghostly transmissions of long-abandoned deep-space probes. The blasted, distorted electro groove of "Comedown" is punctuated by handclaps and noisy throbs, Edward's spiralling vocals evoking the terrors of infancy, pausing briefly to reference David Lynch's Eraserhead. "Alms for Lepers" is more standard EKS fare: melancholic vocals filled with linguistic puns and odd metaphors, against a backdrop of spectral keyboards and deliberately synthetic drum programming. The lengthy final track is a meticulously constructed, multi-layered kosmische symphony of cyclical electronic pulses that build in hallucinogenic intensity before giving way to a scratchy, warbling old 78 spinning out fractured, kaleidescopic nostalgia which bobs out over the whitecaps and disappears from view. - Jonathan Dean
samples:
Susanna and the Magical Orchestra, "List of Lights and Buoys"
Rune Grammofon


Susanna and the Magical Orchestra sway, saunter, and sulk through nine melancholy originals and two spectacular cover versions on this exceptional debut. List of Lights,... features production and additional instrumentation by Andreas Mjøs (Jaga Jazzist) and Deathprod, giving it a certain touch of music geek street cred. Rest assured, however, that this is a far more accessible and poppy record than anything Rune Grammofon has released (to my knowledge), particularly due to the intimacy brought to the table by vocalist Susanna Karolina Wallumrød. Of course, her Nørwegian heritage naturally compels American reviewers far lazier than I to draw comparisons between her and that adored Scandinavian chanteuse Björk, easily encapsulating our opinions of the record into neat, reader-friendly boxes. However, it would be criminal to ignore or even gloss over Susanna's desperately fragile and foreign intonations, as well as the endless waves of solemnity that define her standout performance style. Rejecting Björk's over-the-top delivery, Susanna opts to uses her time on record differently, exposing a strangely seductive fragility instead of conjuring up some inner feminine strength. While singing simple yet powerful words like "happiness" and "joy," the sincerity in her voice expresses a general malaise and a yearning for deserved yet tragically inaccessible dreams, a sense strategically supported by the truly "magical" compositions of primary instrumentalist Morten Qvenild. "Turn The Pages" overflows with desperate strings and even more desperate questions, providing both the most straightforward vocal delivery on the album and the most memorable, albeit repetitious, chorus. In contrast, "Hello," one of five tracks with lyrics penned by Susanna, takes a more eclectic approach musically and lyrically, featuring cryptic accusatory lines ("Who are you to touch me in this very special way? / Who are you to step on me in this very special way? / Hello at my doorstep.") and perhaps referencing a more disturbing context of victimization. The cover versions, of Leonard Bernstein and Dolly Parton respectively, are just as moving and powerful as the originals. The interpretation of Bernstein's "Who Am I" blends cold alien radio frequencies into shimmering and bright keyboard tones without breaking any sense of flow, while the seemingly simplistic plucking on the highly emotional "Jolene" overflows with emotion as a result of its sparsity. All throughout, Qvenild constructs masterful beds of subtle sound, full of space and far more melodic and engaging than Matmos' work with the aforementioned Icelandic princess. With the Magical Orchestra, Qvenild has discovered a comfortably tranquil niche in that delicate balance between conventional musicality and audio experimentation, and I can only hope that he continues to collaborate with the enchanting Susanna on further releases. Without question, List of Lights and Buoys is one of the strongest contenders so far for placement atop my "Best Of" list for this year. - Gary Suarez
samples:
Loscil, "First Narrows"
Kranky


Scott Morgan has accomplished nothing short of an evolution on his third CD, breathing new life into his own music and into the electronic genre in general. For the first time, Loscil is not built on machines and computers alone, but with the aid of live instrumentation overtop of the usual sequencing Morgan incorporates. The result is stunning, capable of inducing real dreamlike states with even a glancing listen. Where the last record was mainly music for and from the depths of the ocean, these songs are a bridge over the waters of the past, a gateway to rebirth and the promise of the future. Morgan provided a computer base for the musicians to improvise over, then took both segments and edited them for the final product, resulting in a half-organic, half-synthetic experience that just might be the best mix of the two I've ever heard. Drone elements still prevail, with Loscil's music being more about a mood or feeling than a structure. Rhodes piano, guitar and cello add new dimensions, grounding the experimental in something familiar that makes it easier to swallow. On tracks like "Lucy Dub," there is also a hope present as well as a feeling of life beginning or continuing on unhindered. Pan and fade effects evoke a Doppler-like reaction, where it feels like the music is actively swirling around and passing in and out of the ears with an ease and playfulness. All at once the elements of each track climax together, and create a gentle swaying effect that is exquisite; and though this might take a while as the tracks are all rather lengthy, there is never a dull or unstatisfying sustain, as each section of the song burgeons with individuality. This is the auditory equivalent of being in the womb for me, and after listening to it I always feel comfortable and warm. First Narrows represents a new Loscil, one that hopefully continue to grow in the same vein. - Rob Devlin
samples:
Christian Kleine, "Real Ghosts"
City Centre Offices


While recording his second full-length, Kleine felt inspired to create seemingly with whatever he found lying about, and it has reinformed his music in a whole new light. The simple beauty of his other works is here still, but augmented by a new dancefloor sensibility, and the strength and assurance of years behind the boards and with an instrument in hand. From the first song, "Home," the energy can be felt, as the album starts off with gentle keys and sounds before exploding into full boogie shuffle. The beats are never stale, sounding like they were created from the ground up instead of from samples, and the density of the sound is undeniable, with new sounds popping up every time I listen; and that's just the first track. From there, it's on to the almost indie rock presence of "Stations," where the guitar and drums are joined by an otherworldly ringing and keyboards. Kleine complicates things more and more as the album progresses, getting more and more creative with the rhythms and the tones he lays on top. Contrasting that is the all-out rock nature of songs like "Ghostwriting," that reinvigorate more than new rock bands could ever hope to. Kleine took eighteen months to finish the record, and the effort shows in the production, even though there is no real congruity to the songs as a whole. Maybe that's planned, or maybe that's just how it came out, but it's not a detractor: each song is a different story or ghost and exists just fine on its own, lasting just as long or short as it needs to. Real Ghosts is a tribute to Kleine's influences and a reaction to the music of his past all at once, and as such it is the boldest musical statement he's ever made. - Rob Devlin
samples:
biting tongues reissues
LTM
Embarassingly enough, I didn't discover Biting Tongues until recently: I had been just flipping through some old vinyl at the radio station and happened upon some old Factory 12" singles by Biting Tongues and was drawn by the comments on the sleeves. The Compressor EP soon became a frequent spin on the radio show. As an 808 State fan, it was even more embarassing to admit that I hadn't been aware of this group, as it featured Graham Massey through their entire existence between 1979 through 1989. LTM has taken the initiative, as they have with a number of old Factory groups, to reintroduce their music to the public. What works on these reissues is the music: it's all enjoyable and the songs are also valuble in understanding some of the good things that laid groundwork for much of the DFA and Output rosters and the styles that bridged a time in Manchester's musical history after the punk and Joy Division heyday and before the sound of acid and 808 State's heyday. What I don't like (and of course, I'm being nitpicky as always) is the lack of original artwork included in the booklets and the terrible font choices inside, but that's only very minor. For full discography along with images and other visuals, bitingtongues.com is a great resource. Coincidentally, the original four-piece Biting Tongues are scheduled to perform this coming week at the ICA in London along with their old touring partners/space sharers Crispy Ambulance. (Check the listings because the event's listed as Thursday, May 29th and Thursday is not the 29th.)

After the Click: Retrospective 1980-89 is the first in the series and serves as a perfect introduction. It features 16 songs hand-picked by Graham Massey, himself, and comes with a discography, interview, and liner notes for each track included. What appeals to me most about their sound and a other appealing contemporaries like 23 Skidoo, A Certain Ratio, James Chance, and Liquid Liquid is the loose attitude, vibrant energy, tight rhythm section, and a sparse arrangement that doesn't cloud the sound with too much junk. Low, brooding vocals (most frequently provided by Ken Hollings, author of Destroy All Monsters and frequent contributor to The Wire magazine) are common to the early tracks, lifted off the Don't Heal LP, originally released on Situation Two in 1981. "Denture Beach" is the only track from the Live It cassette, and is fantastically soulful for a primitive recording: completely instrumental, with a hypnotic bassline, 808 drum machine with real drums and a blistering saxophone. My only complaint is the fadeout: for all I know, these guys could have gone on for an hour (and I wouldn't have minded). For the rest of the earlier 1980s material included, the group switch up arrangements with staccato, unmelodic vocals, no bass or guitar, but numerous claps and extranous tapes on "Dirt for 485," chugging bass with tape f/x and layered screaming sax solos on "Iyabhoone," and "44," with a spooky spoken story. Tasty noisy tape experiments like 1983's "Feverhouse part 1," from the Feverhouse Soundtrack appear, but it's not even remotely common to the other beat hefty mildly jazz-influenced songs. Other highlights include the immaculate "Compressor" and a live recording of "Everywhere But Here," never recorded in the studio. By the end of the collection, and their career, the group was down to a duo of Graham Massey and saxophonist Howard Walmsley. Massey was playing more with drum machines and programmed melodies, trying to fill in the gaps left by the departures of other members. While it was a formula that translated well to 808 State, in the Biting Tongues setting, things didn't sound quite right. "Double Gold St. Paul" was recorded for the album Recharge and it sounds like a somewhat uncomfortable and clumsy demo for the early 1990s incarnation of 808 State. It was clearly time for the Biting Tongues to end.

For those primarily interested in the Factory Records label output, Compressed conveniently collects only the recordings released by Factory of Biting Tongues. Included are the Trouble Hand and Compressor releases in their entirety along with the complete soundtrack to Feverhouse, a black and white 16mm film by fellow Tongues Ken Hollings and Howard Walmsley. It was the film in its rough form that interested Factory's Tony Wilson to do a parallel release of the soundtrack and the film on the new video extension of the Factory label, Ikon. The ten track LP was released in 1985 along with the movie, gaining praise from a number of press folks and showing in a couple rare locations. All ten tracks appear (at the end of this disc however) and they sound like the soundtrack to an "atmospheric" art film a group of rhythmic tape experimenting rock musicians would make. Muffled horn sounds and tape noise, instrumental subdued rhythmic numbers, field recordings put through effects, and droning tape manipulations are common. The remastering job is nice as I can only begin to imagine how annoying crackly vinyl could easily ruin these more quiet recordings. Trouble Hand was the second Factory release: a five-track 12" EP featuring the speedy vocal title track and the equally speedy "Panorama," which has a noisy opening (it sounds like somebody drumming inside the hull of a submarine) and deftly slips right in to a fierce flanging bassline. Things slow down for the jazzy horn-saturated "Meat Mask Separatist," but pick back up again for "Boss Toyota Trouble." Compressor is probably the most celebrated peak of Biting Tongues career, with the popular a-side, produced in 1986 and featuring machine-like live drums, hypnotic bass, looplike vocals, and a killer horn riff. My preference however was the b-side, with "Black Jesus," a much darker melody and its beat-less counterpart "Black & White Jesus," the last track released in terms of chronology, but making for a good transition into the Feverhouse tracks which follow.

Recharge is the album that even time can't save. After four songs appeared on a white label promo, the album, (the last recorded as Biting Tongues) recorded in 1989, was shelved. Technology can never completely be substituted for humans, and I fairly certain that's what I find problematic when muisicians start incorporating synths and machines for the sake of replacing what was once live. The drum machine and synth sounds available to the now duo of Massey and Walmsley are so painfully artificial, that it's best that they're not attempting to recreate the living drummer and horn sections. Simultaneously, the blueprints were outlined for 808 State, as the legendary Quadrastate EP was recorded at the same time in the same studio. Hints of 808 classics like "Pacific" bleed through the poorly recorded first tracks—I don't know if it's a remastering problem or if it was the state of the original tapes, but the bass is completely overblown and muddy on much of album. The squealy, cheesy guitar on "Take the Back Right Off" could even point to 808 State's mega hit "Cübik." Guest female vocals absolutely ruin the Biting Tongues'-ness of this release by the third track, "Love Out," while the novelty of the 'ooh-we-just-got-a-sampler' in the form of endless female vocal samples on "Increase" is simply painful. Only one track, "Neckwork," am I truly enjoying thoroughly, but the slap-bass and white funk feel is more reminiscent of Code-era Cabaret Voltaire than anything Biting Tongues did prior to 1989. Even this one track is honestly not worth the price or agony of the rest of the disc. Die hard 808 State fans will probably find joy in this record, but Factory fans and those who find an affinity for the earlier Biting Tongues material might want to hold off. - Jon Whitney
samples:
Sandoz, "Digital Lifeforms redux"
mute


Digital Lifeforms marks the point where Richard H. Kirk, formerly a dour, paranoid composer, released a happy, intelligent, danceable album. Originally released on Touch in 1993, the disc consists of ten distinct, separate, non-experimental tracks, all upbeat and surprisingly commercial (although without sounding naive, obvious or shit). For those who weren't able to get the original copy twelve years ago, this expanded version is now available. Digital Lifeforms redux comes with a second CD of tracks from the period, recorded for the Sandoz project. One track has been released on CD before, some on very limited vinyl and there are a couple of alternate (original) versions. On the whole, I'm less impressed with the addition as there's nothing I find particularly spectacular or memorable. It's not unpleasant, but it's clearly something the die hard fans would probably appreciate most. it's just not great as the first disc. - Nic Doye
samples:
Ehlers/Hautzinger/Suchy, "Soundchambers"
Staubgold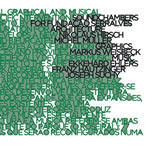 This is Staubgold's second architecturally-oriented release, the first being To Rococo Rot's Kolner Brett, a disc which set about creating a kind of audio simulation of Cologne's Kolner Brett building, situating tracks within a quasi-geometric framework and streamlining the group's austere sound into a series of registers meant to represent different parts of the biulding. Soundchambers is different, more of a commemoration or a traditional response piece than To Rococo's stylized production. The three seasoned Viennese and German musicians teamed up at the opening of the Museu Serralves in Porto, Portugal for a ceremonial live improvisation, Suchy with processed guitar and laptop, Hautzinger with his trumpet, and Ehlers manipulating piano samples and machine noise via computer. The result feels markedly less site specific than Kolner Brett, with a spaciousness that could be associated with Serralves' sprawling gardens, but feels almost at odds with the building's "chambered" construction. I've listened to the disc in a number of different spaces trying to gauge the closest approximation, and so far it feels most appropriate in transit, speeding over trainyards on the subway or strolling a city block flanked by walls of glass. Hautzinger's trumpet, with its characteristic breathy flights and hesitant abbreviations, would seem the perfect companion to the microsound noodling of the two computer musicians, yet he delivers a refreshingly lyrical, linear performance for most of Soundchambers. His lush and expansive lines drift through and bisect Ehlers' and Suchy's abstractions like a street musician's horn through the city's mess, warping the mood to make every crushing noise a miniature buttress for the fragile howl of one man's breath. The computerists do not work against their protagonist, rather covering his lesser moments with warm piano tinker or swirls of guitar that keep the mood buoyant and coolly triumphant. The musicians practice a treacherous kind of hesitant, near-impressionistic playing, drifting across subtle movements and phrases with the threat of dissolution ever-present, especially given the amount of swift processing required to transform so much brushed guitar or industrial noise (Ehlers sourced sound in the heating rooms of Stuttgart) into such coherent, immediate swells. The severe geometry of Serralves, as indicated in the sleeve's graphic component, feels far enough removed from Soundchambers' tenuous construction for me to question whether experiencing the building would be at all emotionally consistent with the music. Luckily, a finer appreciation of the architecture's genesis or deeper implications is not required to fully engage with this beautiful recording. - Andrew Culler
samples:
Kinski, "Don't Climb On and Take the Holy Water"
Strange Attractors


For those who are familiar only with the most easily available recorded works of Kinski (ie: the Sub Pop releases), this album might be somewhat of a mystery: it's not the blistering loud rock sounds felt miles away, but a collection of the gentle, spacey tunes Kinski live audiences have paid witness to for years. The disc opens with the brief echoed guitar work of "Never Compete with Small Girls," then is followed by a nearly half hour live performance, "The Misprint in the Gutenberg Print Shop," recorded live in Seattle. This tune, along with the rest of the disc pretty much, is a real trip, with twittering primitive effects and chiming sounds, rumbling echoed bass, and a serene flute on top. It's ghostly and intoxicating, moves through a number of different phases, from swelling sounds to parts so quiet a pin could be heard dropping, and it never gets stale or dull. I'm not surprised the group has toured extensively with Acid Mothers Temple, but unlike AMT, Kinski has never bored me or made me long for a song ending. There's not much room left on the disc after the massive track but three tracks under five minutes complete the collection. "Crepes the Cheap" continues with drumless bliss like a spaceship in a cheap sci-fi film taking off, while "Bulky Knit Cheerleader Sweater" is a wafting wall of guitars as dense as the title, and the closer, "There's Nothing Sexy About Time" drones off into the distance. While Don't Climb isn't representative of Kinski's entire range of sound, it does provide a good companion piece to the more rockin bits and can certainly provide a good "coming down" album when leaving a concert from the foursome that has left ears bleeding in the path. - Jon Whitney
samples:
Skalpel, "Skalpel"
Ninja Tune


Ninja Tune has strayed away from the things that worked for it a handful of years ago and as such, it hasn't been a label I've followed much since the heyday of Dj Vadim and Amon Tobin. Their new signing is a Polish act called Skalpel whose name conjures much more dire images than their music, but works as a reference to the idea of surgically cutting records together. Taking samples and bits from Polish jazz records and recombining them into new tracks, Skalpel do what so many have done before them, but with an amazing amount of precision and care. The songs on their self-titled debut are mostly laid-back, muted arrangements of horns and upright bass flowing effortlessly over funky drums and the occassional hint of exotica. Polish Jazz records from the 60's and 70's make up the bulk if not all of the source material, giving the album a steady, cohesive sound that rarely changes timbres enough to alert the listener that the record is made up of samples. Upon first listen, it all sounded a little too familiar as others like Kruder & Dorfmeister have travelled similar roads before. However, Skalpel bring a level of refined sophistication to the game that makes the album something worth putting on again and again. Loops don't just repeat here, they are changed and arranged organically so that everything has the feel of a live band playing over some vinyl surface noise. The cheeky samples about dancing all night to jazz and playing Polish records are to be expected, but those are the only signs that this music is a conscious decendant of the jazz-record pillaging scene. The rest of the record plays as an homage to martinis and the dapper young people who drink them, and to the wonderful history of Polish jazz of which most people who hear this record will have no foreknowledge. While it's not a groundbreaking technical achievement, the production is seamless and ultra-smooth making this a perfect chill-out record or post-modern bachelor pad soundtrack. The disc also includes three short films arranged to tracks on the album that help round out the presentation. Their stark black and white imagery flickers and reminds me of hep cats in tuxedos and of the fond false-nostalgia for a bygone time that afflicts those of us who were never alive to experience the things we see only in pre-color images. - Matthew Jeanes
samples:
Lasse Marhaug, "The Shape of Rock to Come"
Smalltown Supersound


The press release calls it an assembled "history of extreme music," covering death and black metals, free jazz, VU/Swans guitar walls, and the power electronics spectrum. And while the cheeky title reiterates Marhaug's impossible ambitions, it is safe to say that this disc represents one of the Norweigen noisemaster's most unrelenting works yet. As half of Jazzkammer and a frequent collaborator with noisemakers from across the globe, Marhaug has affixed his stamp of curdled feedback and precise digital doctoring to the range of experimental musics, from Jazzkammer's irreducible pinprick landscapes to Maja Ratkje's operatic abstractions and on into the dark densities of Merzbow and Kevin Drumm. The work of the latter two is where The Shape of Rock finds closest comparison. Consistent with his recent live shows, Marhaug explores the limits of guitar feedback here, forcing shards of low-end click and hum through rows of screeching effects and into the computer where things are reassembled into grainy staccato pulsings and writhing pools of sludge. Titles like "Sleeper" and "Magmadiver" point to the legacy of Norway's black metal scene; however, as far as audible similarity is concerned, other examples of electronic music paying homage to metal (like COH's Iron or any of Drumm's recent releases) come closer. For all of its excess, The Shape of Rock hangs onto a certain amount of the crisp, cool atmosphere that characterizes much of the artist's work and begs to be associated with his Nordic roots. Rather than peaking with dramatic transitions into random, deconstructive meltdown, the tracks climax with effective regroupings, organizing into thick laths of sound more likely to conjure images of looming, night-lit skyscrapers than Gothic ruins. Marhaug often exploits the digital foundation of each piece by guiding the bulk of certain tracks into stuttering 'skip' patterns, a technique that works with the science fiction feel of the disc. Overall this is a solid addition to the catalog of one of Norway's most prolific and successful noisemen; it is also one of his surprisingly few solo releases, as good an entry point as any. - Andrew Culler
samples:
Portland, "Uprox Detox"
Piehead


Piehead's third offering this year comes from the melodic electronic solo act, Portland. Those familiar with the pioneering n5md label will probably recognize the name, if not the sound of Portland, and that's likely because Portland offers little to call his own on Uprox Detox. While the album charts a path through melancholic, beat-oriented IDM (a label used specifically to illicit memories of Artifical Intelligence compilations and those who love them) with minor key synth tones and clicky, punchy drums, it ultimately plays as a tribute to those who have gone before. Every moment of Uprox Detox is predictable, just as every sound coaxed out of the computer has been coaxed out before. Portland's pedigree lies firmly in the Warp/Skam family tree, and while this album is a worthwhile addition to a catalog of music that follows a certain set of rules, it never strays from those rules. These may not be preset drum and synth patches, but they might as well be, as most songs sound as though Portland has called up the "Early Autechre Kit" on some softsynth in order to compose. The songs are likeable, genuinely nice in fact, but they aren't poised to startle or upset anyone, and that seems to be my biggest complaint. When this strain of IDM's progenitors took a staid techno formula and fucked with it to build something new, it was a little bit shocking, daring, and weird. Now, those same production tricks are nothing more than a shorthand for the kind of music that is characterized by blocky, condensed Helvetica typography and technologically-minded alternate spelling. Portland has rendered a polite and polished album here, but one that never quite cuts loose the way I wish it would. Uprox Detox is a fine addition to a collection of otherwise ambiguous records, but I hope that next time he colors more outside of the lines. - Matthew Jeanes
samples:
Benford/Mathieu, "Reciprocess: +/vs. 02"
BiP-HOp/Fällt


The second in the two labels' collaborative series of collaborative works, Reciprocess 02 features duo, solo, and reciprocal remix tracks by Stephen Mathieu's Full Swing and Douglas Benford's Si-cut.db. The series' goal is easy enough: to explore the "process" of collaboration in a more comprehensive way by including evidence of the artists alone, together, and at conscious remove from each other. The most interesting thing about this set-up is the way it questions the assumed ideal of any collaboration. By anticipating the range of synthesis and clash available to any two artists, Reciprocess assures that the decision of "which combination is better?" becomes both well-informed and harder to make. Sometimes the points of divergence within a particular union can be the most interesting, as was the case with volume one, Komet +/vs. Bovine Life. Conversely on 02, Mathieu and Benford transcend even "complimentary" status by focusing their contributions into such a sleek, consistent product that distinguishing between remix, joint effort, and solo work will no doubt require a second look at the liner notes. Those already familiar with Full Swing will find Mathieu's two solo tracks echo much of the click-less, bass-driven dub Benford has perfected throughout his years under the Si-cut.db name. His simple and immediate melodic approach, something Mathieu's idiosyncratic output has often rejected, becomes the disc's support, a skeleton filled in by Full Swing's vibrant glitch-ist accompaniment. Mathieu is one artist whose reliance on glitch or microsound method never seems to result in the same tired deconstructionist route; he can atomize sound with the best of them but his reformations always reach further than the simple end of exploiting music's ephemeral qualities. Being forced to accommodate Benford's solid, even danceable structures only further enlivens his collaborator's technique, encouraging dense, swooning textures that will inevitably recall the work of Christian Fennesz. In fact, Reciprocess 02 would not be a bad recommendation for anyone curious about the result of a collaboration between the Viennese artist and, say, someone from the ~scape label. As with anything Mathieu has a hand in, though, it is special on its own terms, fusing the distinctly modern elegance and delicacy of his music with Benford's more extroverted and romantic style in ways that reveal each must have had some affection for the other all along. - Andrew Culler
samples:
FAUST VS. DÄLEK, "derber respect, alder"
Klangbad


On paper, the pairing of German krautrock godfathers Faust with New Jersey Hip Hop trio Dälek sounds like a soundclash of epic porportions that has as much potential to work as it does to fail spectacularly. Through a brief studio collaboration while Dälek were on tour in Europe, the unlikely became a reality and the result is the eight-track album Derbe Respect, Alder. The mutual respect and admiration from both sides is on full display here, as Dälek let Faust jam sloppily over pieces of tracks that would be much tighter on a Dälek record proper. Meanwhile, Faust step back and react, allowing Dälek to infuse the tracks with their signature take on abrasive hip hop. Dälek (The MC) flows in an open verse style over cavernous drones and the sounds of giants battling. Looped beats make an appearance and then give way to uncompromising live drumming and bass that takes the funk and mechanizes, becoming less of an invitation to dance and more of a directive. To their credit, all of the performers try to make it work and take what could have been a confluence of meandering noise and shape it into loose, jammy songs. That none of this is scripted or pre-planed is obvious from the start. In fact, the recording often sounds like a straight mix of a live session even though parts and takes have been reconstructed somewhat after the fact. Lo-Fi is the aesthetic of choice rendering the sound quality and mix frustrtating at times. Though these are finished album tracks, some of the songs are so raw that they more closely resemble demos. This is the sound of two sets of performers learning from each other and making some noise in the process that is both dense and macabre, but not entirely unexepected given the creators' respective backcatalogs. I find myself appreciating the record more than liking it; I understand the journey and the purpose of it all but it's not always a trip that I want to take. A straight-up Faust or Dälek record would probably find heavier rotation in my player, but being a spectator through Derber Respect, Alder certainly has its rewards. There's a certain amount of faith required for a project like this to work, and it calls on listeners to meet the record halfway, to accept the technical shortcomings and take them with the music as a reflection of the experience of creation. The final result is a tenuous bridge between drastically different styles and methodologies that demonstrates the power of abandoning preconceptions and going where the cloudy haze of inspiration takes you. - Matthew Jeanes
samples:
RJD2, "Since We Last Spoke"
Definitive Jux


The instrumental hip-hop crowd is already sloughing off towards insignificance, with recent releases showing little to no innovation on the original themes. Another can be added to that list with this latest from RJD2, whose new sounds definitely come from the same old tricks for this set. Truth be told, his last full-length did nothing for me, but the remixes on the Horror EP gave me some hope that he'd pulled himself out from under the shadows of others to create something original; maybe he learned a lesson in that if he let things cook a bit more there'd be something real. That hope not only disappeared but was mercilessly crushed on the opening track, where the same stale drum samples are accompanied by fast cut fades and piano plunks. Then a slow fade out that sounds like it could be the end of the track, which would have been fine by me, as it seemed like an intro at best. Suddenly, though, the track comes right back in at full volume — SURPRISE! — and right back into the same lame line with a few distorted additions, before fading out slow again, only to come right back in in the same fashion. (It's not the best start.) RJD2 has a genuine talent for pulling out good voices to throw in on his records, it's just what he layers them over that lacks here and there and sometimes everywhere. "Exotic Talk" uses a vocoder over a more rock sound, but its bombast is forced and synthetic in nature, not actual. The songs here use vastly varied samples, but the composition is so very much the same that it never succeeds in revealing anything more than the last record. Why he bothered to explore new areas in terms of genres to sample, but stayed with the same old production techniques, is beyond me. Awkward missteps, like the vocal on "Making Days Longer," don't improve the overall package, but instead bring it down even further. There are moments where everything is not mired in mediocrity, such as "Someone's Second Kiss," with its soul vocals and keyboard soliloquy. Next time, though, it would be beneficial if RJD2 expanded his whole repertoire instead of some semblance of it, as it might create the genre-busting album this genre desperately needs. Plus, an open note to Definitive Jux: Please stop sending out promotional copies of releases that contain anti-pirating voice stamps. It makes it impossible for any writer to get a good idea of the music when a voice reminds them that it's a promo every thirty seconds. At least send out clean copies to press sources or street teams. I wouldn't have reviewed the record if I hadn't bought it myself, as it's that detrimental to the listening experience. Just a thought. I'd never heard anything like it before I received this CD. - Rob Devlin
samples:
We know that our music picks may be somewhat challenging to find, which is why we have a community section which can be used to obtain nearly everything available on this site.