musique concret, "bringing up baby"
Fractal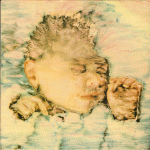 The delayed echoes of pretty guitars with thumps and rhtyhms washing over the first few tracks make this album sound like a dead ringer for Black Dice. However, Bringing Up Baby is the latest time-forgotten gem of the United Dairies label to be reintroduced to the public. Originally released by Steven Stapleton's label in 1981, the reissue of this CD was not an effortless move. Not only are the original masters unavailable, but the original members are nowhere to be found (hence the note inside urging communication with the musicians). The French label Fractal has done a fantastic job by commissioning a mastering job from an excellent vinyl copy, using scratch reducing technology, and making it sound far better than the recording I made from the record for personal enjoyment. Additionally, Fractal has honorably used all the original artwork from the cover and record itself in this CD issue. The duo of Matt Mullen and Jim Friedman recorded only this one album as Musique Concret and one known track for a Come Organisation compilation and then vanished without a trace. Side one of the original record consists of four parts of "Incidents in Rural Places." Here, soundscapes are created with guitars, delays, low frequency bass, slowed down effects, backwards manipulation, and occasional sounds from old records and lullabies trying to push their way through the surface of twisted effects much like somebody trying to crawl to the surface after being buried alive. Side two opens with the thunderous prog-rockin'-your-foundation "Organorganorgan," where the musicianship is flaunted by dueling solos on a truly evil sounding fuzzy organ. It closes with the nearly 14 minute track "Wreath Pose at Sacrifice" which could easily be appreciated by any early NWW fan. It's an opus with numerous movements, opening with sounds of pots, pans, twisted metal, and what could be tooth brushing accompanied by very few real instruments making a faint melody, continuing with the ripping, distorted sounds of what could be explosions and wind, giving way to the climax with all the distortions alongside a groovy drum machine loop, and ending with warped old music bleeding through a fuzzy AM radio. This CD happily sits on the shelf next to other UD classics like Masstishaddhu, aching for the day they're joined by equally as honorable reissues of Robert Haigh and Asmus Tietchens. - Jon Whitney
samples:
Charalambides, "Joy Shapes"
Kranky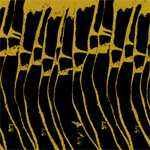 In a way that is noble, isolated, and romantic, the strings and voices of Tom Carter, Christina Carter, and Heather Leigh Murrary craft music as though it were made for lost souls and restless spirits. There is an uneasiness in the wobble and sway of their plucking and weaving that radiates uncertain photographs and blurred figures. Without a doubt there exists this haunting dimension to the Charalambides' music, but to mistake their music for stringed ghastliness is to miss half the beauty of Joy Shapes. Christina Carter serves as some kind of medium between this world and the next, where mountains blur in the distance, disappear, and leave only sand in the wake of their death. This world crafted out of slide guitars, chimes, voices, and various string instruments has no certainty, belonging to the spirit of improvisation and illusion. "Here Not Here" wails away as Christina Carter chants "The rains shines / And the sun falls / Here is here / Here is not here." A theme of deceptiveness is already established in the early lyrics and it becomes all the more evident in the spring-like rumble of guitars that slowly echo into the darkness near the end of the song. The vocals often come away sounding as though they belonged to some ancient Greek comedy where the hero dies tragically and the lyrics tell of his passing into the next world. There are shrieks and cries throughout the record; some are intelligible and others act as part of the instrumentation. Though this all sounds like it might belong to tragedy and fear, "Joy Shapes" changes the direction of this record and opens up a door of uncanny beauty. "Joy Shapes" drops like a focused lense over the misty landscape the Charalambides' had painted over the previous thrity-two minutes and rings like water ripples over the surface of a pond. The interaction of the guitar, the delicacy now present in Carter's voice, and the story-like lyrics all represent something from this world without spoiling the fragile mystery that occupied the first half of the record. As "Natural Night" progresses though its trembling fingers and whale-like waves of sound, calm washes over everything and a strange pearl-light marks the descent of dread and the rise of peaceful understanding. The closing "Voice For You" put me under a spell of love the instant I heard Christina Carter's voice unmasked and smiling from behind the veneer of its previous enigmatic allure. The droning of Carter's voice into an instrument, the slow rumble of the approaching end, and the keyboard-like crooning of electric guitars all twist and turn until they explode and wrestle to a slow and natural end. All along this music had been a focusing from the realm of unease and doubt to the harmonies of love and oceanic rhythm. The Charalambides might be playing a strange music that completely lacks any familiar song structure or easy point of reference, but it is honestly affectionate, somehow familiar, and warm to its core. - Lucas Schleicher
samples:
battles, "Tras" & "EP C"
Cold Sweat & Monitor (respectively)
For more than a year, Battles have been making a name for themselves for their live shows, by both supporting major players (like Isis, Lightning Bolt, and Fant?as) and headlining tiny sweatholes. The fourseome hasn't had much trouble packing tight audiences in without having a full-length album out nor having hipster critics gush over them. It's easily the buzz from feverish fans as Battles could be considered the newest supergroup to emerge out of a nameless scene that really doesn't exist. Tyondai Braxton is probably the least known of the crew, but his brilliant 2002 album, History That Has No Effect is embarassingly underlooked, David Konopka has played with Lynx, Ian Williams with Don Caballero and Storm and Stress, and John Stanier has drummed for Tomahawk and Helmet. Together, the sound is diverse, forceful, unavoidable, and their first two EPs are short but strong and soon to become legendary.

"Tras" opens the two-song single. At under four minutes, it's a perfect introduction to the band as it's both rhythmically challenging and catchy as all hell. The precise guitar riffs combined with a TV theme-like keyboard ditty are a perfect fit for drums that are aggressive enough for a metal record, but, as the drums come equipped with a super slick sound and an occasional shuffle, are way too cool to be wasted on brainless hair tossing. "Fantasy" is almost a throwback to the sampled staccato sounds of Ty Braxton's album with echoes reverberating in time with the rhythm. It's boldly almost completely absent of melody yet rich in beats, provided by drum machines, punchy samples, and live percussion. At the eight-minute mark when that 808 kick comes in, any speaker in its path is in trouble.

Together with Tras, EP C could easily form a complete album. The repetition on the opener "B + T" is deceptively simple: it's pretty and layered with different motives, occasional breaks and samples, all which keep the song in perpetual motion. After the short drumless "UW" that could make Kraftwerk blush by its atmospheric twittering, the band comes back in full swing with "Hi/Lo," substituting a low end synth where a bass should be. "Hi/Lo" may be slower than some of their other loud numbers but it's no less grand, building in intensity gradually over the nearly eight minutes, from a small pile of rubble to a mountainous beast. Finishing off the disc are the short "IPT-2" and "Tras 2," each incorporating what seems like a bit of digital fuckery at first, with the second one ending with the drummer trailing off on his own. It's hard to not admit that Battles are flirting with traditionally nerdy instrumental alt-rock/post-whatever styles, and, as a number of groups that each member was in before Battles, they are admittedly crafty. The trick to the craft is making something interesting enough for the band to play and attractive enough for the audiences to enjoy it, and with that, mark my words, Battles are something to watch. - Jon Whitney
samples:
"Carbon"
Mirex


After three years of eclectic 7" singles and a couple of Fanny CDs, my favorite Ant-Zen sublabel Mirex presents its first-ever compilation. Many people seem to worship the Hymen sister label yet neglect this high-quality breakcore imprint, although this intense collection will surely attract new converts to join the ranks of the already respectable number of devotees. Carbon marks its unique place in the Ant-Zen tradition by screaming Top 40 song lyrics at the top of its lungs, pissing blood all over the rug, and boasting a roster of familiar established names as well as rising underground scene stars. Here, breakcore displays its many hideous and goofy faces in true schizophrenic fashion, and while industrial purists may revel in the brutality of Hecate and recent signing Subskan, many will be tempted to cringe over the subversive mash-up experiments of Ove-Naxx and Donna Summer. Those who resist the knee-jerk anti-pop reflex and stay open-minded will be aurally rewarded for their efforts. Representative of the style off his full-length From Zero, Enduser's "Basement" creatively fuses a somber Tori Amos piano riff and ragga MC toasting with crunchy junglist and hip hop loops. Drop The Lime makes an appearance here with "Chump Killers," a DSP-fucked blend of spastic electro-funk and hyperactive broken beats akin to his work for the likeminded Tigerbeat6 label. "Kiss Me On The Dancefloor," the phenomenal selection from Sickboy, throws together a maddeningly delicious, yet undeniably aggressive, update of old school rave. Mirex would do well to snatch up more of this guy's work for a CD release immediately. Atypical to this release, Line 47's "Taken Away" offers an unusual yet gratifying moment where the noise and mischief are somewhat toned down in favor of melancholy and melody. From Blaerg's Hitchcockian beginnings to End's Morricone-inspired closer, these twenty tracks continually pummel the speakers and delight the ears. Though notably lacking any presence of the notoriously prolific Venetian Snares, arguably the biggest name in the subgenre today, Carbon comes out stronger than any breakcore compilation I've heard to date, including those that do include the Snares Man. While I am tempted to call Mirex "a label to watch," people should have have honestly caught on before now. Jump on the bandwagon now and perhaps the rest of us will accept you... in time. - Gary Suarez
samples:
Ielasi/Rinaldi, "Oreledigneur"
Bowindo


Translating as "hare's ears," "Oreledigneur" has become a blanket term to mark the assorted collaborative works of this duo, proprietors and key players of the Fringes/Bowindo camp, responsible for two of the more remarkable release schedules in improvised elecroacoustics to appear in recent years. Though it is their third album under the name, Oreledigneur is the first produced by Giuseppe Ielasi and Renato Rinaldi alone, despite their countless outsourcing of material for labelmates' releases. Not only do the duo's friends feed happily off of their ever-expanding stockpile of skeletal acoustic ambience, field captures and intimate electronic scavenging, but the artists themselves draw from these private sessions to fill gaps in their own solo work. A recent example would be Ielasi's Plans which uses generous helpings of Rinaldi's endlessly warm percussive meanderings and lush acoustic surface-testing to fill the gaps between the disc's more sculptural inclusions, like the cyclical guitar figures that help delineate the piece's turns. With such a picked-apart history, the Oreledigneur sound might be tempting to describe as glamorized filler, as the yet-unrefined bursts of inspiration from these two stalwart sound explorers, rushed to tape in a frenzy and either given over to future improvements or left to stew in their own crudity. Luckily, Oreledigneur the album, while not without its rough edges, is no collection of throwaways. Rinaldi and Ielasi have clearly taken time to blend and polish five concise statements of mission, each a distillation of the tensions the duo seems compelled to uphold, and of the surprisingly "available" emotional quotient of their work, solo and otherwise. True to the sensibilities of both artists, there is a constant dynamic between sounds with a genuine "presence" or immediacy (often due to their connection with recognizable instrumentation or phenomena) and other sounds that appear as if glimpsed across a dreamy distance, suspended in the same near-nostalgic limbo that consumed Plans. Any sense of crudity in the music is likely an immediate response to the forced tension between the surface sounds, like the labored engine chugs or metallic patter that opens the disc, and the more opaque under-layers, the rich atmospherics flaking restlessly off Ielasi's brittle guitar or dropping from the great underwater bells and door-hinges that might now be signature Bowindo sounds. The effect of this kind of tension, rising as the disc progresses, is that the sounds more comfortably left half-filled-in, those shifting about with no clear resolution, become the ones that carry the greatest degree of emotive weight. The sense of longing that these nebulous patches of chiming guitar and blooming analog fragments provoke seems somehow inappropriate in the face of the blank machine drones, everyday mechanics, and scattered street ambience that populate the foreground of Oreledigneur. The effected result, to borrow a phrase, is "nostalgia for nothing," emotion without center that shifts nervously, though sincerely, with each listen, guarded against sentimentality but always left somewhere, hanging. While the previous Oreledigneur productions offered similarly beautiful, barely-anywhere bits of ecstasy, neither came close to these trembling heights. - Andrew Culler
samples:
Kites/Prurient, "Load Split Series #4"
Load


Hatred and comedy have never seen to come together so frutifully. Kites' side of this split 12" is The Hidden Family and its features stick out in my mind as some perverted hallucination of a three-ring circus. The music isn't particularly carvinal-esque, but for some reason Kites doesn't sound vicious or biting enough to convey a sense of dread that freezes me to the core. Track titles like "All the Jesus Shit" and "Screw Style" do little to change the appearance that this is a near-humorous attempt at frazzled samples and TV-static composition. This isn't a complaint, though. Kites' approach to noise is one that makes the second half of this split seem all that more disturbing. There's nothing particularly amazing about the Kites side, but it doesn't amount to anything near amateur, either. It's just not my cup of tea. Perhaps my exposure to a live Prurient performance will bias what is to follow, but Prurient's White amounts to a hellaciously viscious vocal attack that comes away simultaneously addictive and abusive. A pounding series of feedback serves as a rhythmic base for Prurient to scream his unrelenting vocals over. Whether or not the poem included on the cover of the split 12" is actually what is performed by Prurient is questionable. The words being spoken aren't exactly what's important, it's the delivery of these half-words and hate-fuelled screams that makes Prurient's music so frightful. As soon as "Spanish Moss" (the centerpiece of this side) finished, I immediately replaced the needle at the start of the record and went over Prurient's music again trying to decide what it was that fascinated me so much. Prurient live stuck in my mind because of his presentation and how in control he was of the noise when all he had was a couple amps, a couple mics, and distortion pedal or two. On record, Prurient is so utterly raw that his noise is hard to ignore. Drum smashes, psychotic mumbling, uninhibited feedback and a feel for what is and isn't bearable makes Prurient more entertaining than many others who feel noise is just a mix and mash of heavy and disroted sounds. Try listening to this record with the sound turned down, the effect is just as chilling as when the volume is loud enough to make ears blister and hearing a difficult task. - Lucas Schleicher
samples:
Z'ev, "Live, 03.01.86"
C.I.P.


Sandwiched between two sheets of metal, numbered out of an edition of 333, and signed by Z'ev, Crippled Intellect Productions has released an excellent 10" of a percussive singularity. The two performances recorded on this release are of the kind that are rarely played live or recorded in the studio. Side A begins with Z'ev suggesting that some "travelling music" be played and what follows is a series of metal on metal rhythms that, on the whole, don't seem to fit a single rhythmic time signature nor suggest any kind of ethnic reference. The entire piece feels like an experiment in time; it is as though the pulsing that consistently finds its way into this piece is moving time along in a new way and the texture of the instruments on top of eachother create a new terra firma to experience this time on. Whether the travelling Z'ev was suggesting was of a mystical kind or merely a trip across land and sea, the movement of these apparent non-rhythms slowly builds into a piece that creates the illusion of recognition — the rhythm was always there in my mind, Z'ev simply showed it to me. Side B begins with the humming of metal sheets. They are surprisingly melodic and, as time carries on, they begin to resonate in a rubbery way, bouncing in a perfect wave form and releasing their ghost in the form of a beautiful moan. It sounds as though Z'ev must've added some kind of extra instrument to this performance or somehow mixed scrap pieces with the rest of his instrumentation because their is the constant effect of metal rolling about slowly over this wave of sound made by the metal sheets. Z'ev doesn't seem to be in control of this extra element all the time, but the result is amazing. It's hard to imagine how Z'ev could make music like this solely from percussive elements. The second track on the second side is a comparatively more straight-forward exercise in diversity. Z'ev opens by banging away at some kind of metal pipe that changes tones here and there; it's either that or Z'ev is moving like a speed demon between multiple metal drums, each of which carry a different tone. The rhythms on this track are more definite, but I find it difficult to keep time with Z'ev and his sense of direction and composition. The instrument used on this side is incredibly beautiful and at times sounds like an incredibly low steel drum that emits the most powerful of sounds. At times it seems as if the rhythm is weaving like a snake through Z'ev and his hands. This is undeniably a kind of work that I have never heard from anyone else. Z'ev's music is unique beyond compare and his complete mastery of texture and sound only adds to the unique character of his drumming. - Lucas Schleicher
samples:
JAMES CHANCE AND THE CONTORTIONS, "BUY"
Ze


For followers of the fertile New York City scene circa 1977-1983 that spawned the avant-punk-funk-dance-jazz meltdowns of the so-called No-Wave and Mutant Disco genres, there could be no better news than the resurrection of the classic Ze Records label, and the accompanying reissue program. Having already released a clutch of fantastically rare and sought-after albums from Was (Not Was) and Lizzy Mercier Descloux, Ze recently unveiled four superior reissues of James Chance/White's classic LPs, adding bonus tracks of rare material and reproducing the original artwork and liner notes. Together with recent reissues and career-spanning discs from DNA, Mars, Glenn Branca and the Theoretical Girls, my No Wave cup truly runneth over. Most of this material appeared on Tiger Style's recent Irresistable Impulse box, but there's something more satisfying about having replicas of the original packaging, each album kept to its own disc. The only advantage of the Tiger Style set was the inclusion of 1982's Sax Maniac album, which tanked on Warner back in its day. However, if you've tracked down this LP as I have, you would probably agree that this material is far from essential. 1979's Buy is inarguably essential, however, the first full-length LP from The Contortions after their appearance on Brian Eno's epoch-defining No New York compilation. Their lopsided funk energy is in full swing on this set of studio material, all dissonant melodies, lurching rhythms and jagged bleats of saxophone, together with Chance's bratty, nihilistic vocal outbursts. The rolling basslines and urgent drumbeats suggest dance music, but the material is so aggressively irregular that it begs for some kind of interpretive spastic acrobatics, an imperative made clear in the lyrics for the Contortions' most well-known song: "It's better than pleasure, hurts more than pain/I've got what it takes to drive you insane/Now is the time to lose all control, contort your body and twist your soul...Once you take out all the garbage that's in your brain/Forget about your future and just go insane." Chance slows down the tempo a bit with the intriguiging noir-jazz stylings of "Anasthetic," imparting the dark sense of claustrophobia experienced in narrow metropolitan alleyways. Bonus tracks come in the form of three superlative early live cuts, including one particularly angular cover of Elvis Presley's "Jailhouse Rock," which Chance introduces in his trademark confrontational style: "And now a little something for all those of you who live in the past, and that's about 99 percent of you idiots out there." - Jonathan Dean
samples:
JAMES WHITE AND THE BLACKS, "OFF WHITE"
Ze


Though Off White was released in the same year as Buy, it points to a new trajectory for James Chance. Renaming himself James White (in a snotty white-boy parody of James Brown), he recast The Contortions as The Blacks and veered towards the kind of slickly-produced funk-disco hybrid that had already become a Ze Records trademark. The album opens with two new versions of "Contort Yourself," the first a radically reworked and extended mix by August Darnell of cartoon Latino-disco gangsters Kid Creole and the Coconuts. Darnell's version of the song subtracts the dissonance and adds a looped bassline, uptempo hi-hats and full-on disco throb. This could be a dancefloor classic in any era. The rest of the material on Off White is engrossingly unorthodox, fearlessly matching White's asymmetrical free-jazz with smoothed-out NYC disco sleaze. "Stained Sheets" is a bizarre dialogue between White and an anonymous woman enraptured in her own sexual malaise, over a druggy, slow-cooked improvisation. There's nothing more embarassing than pandering white-boy versions of island music (see Buster Poindexter's "Hot Hot Hot"), but "(Tropical) Heat Wave" somehow sidesteps the usual pitfalls, mostly because of White's blazing saxophone solos. The two parts of "Almost Black" act as a dancefloor-friendly showcase for White's unstoppably intense soloing, as anonymous female voices admire White for being so nearly a black man: "I love him cuz he might be white/but every time I feel that smack/I want him more because he's almost black." White's cavalier attitude in dealing with this kind of edgy race material (other song titles: "White Savage," "Bleached Black" and "White Devil") is refreshingly provocative, especially in our current social climate of gutless, politically-correct racial dialogue. The tastiest bonus track on the disc is "Christmas With Satan," a 10-minute narrative about Yuletide with the devil that deliriously quotes classic holiday tunes such as "Walking in a Winter Wonderland" and "Hava Nagila." For sheer inventiveness and off-kilter funkiness, Off White is without compare in the James Chance catalog, and this disc is far and away my favorite of the bunch. - Jonathan Dean
samples:
JAMES CHANCE AND THE CONTORTIONS, "LIVE AUX BAIN DOUCHES, PARIS 1980"
Ze


A recording of a live performance on May 13, 1980, Live Aux Bain Douches is the single best James Chance live album available, eclipsing ROIR's White Cannibal and Soul Exorcism releases. The recording is far superior to any of the other live material I've heard, and the band seem to be fully engaged with the material, delivering an energetic set to a wildly appreciate audience. Opening with a unexpectedly searing version of Michael Jackson's "Don't Stop Till You Get Enough," Chance and the band expertly tear through a set comprised equally of raucous funk, sophisticated hard bop and adrenaline-pumped dance music. The creeping forward momentum of "I Danced With A Zombie" is an opportunity for Chance and his horn section to showcase their talent for blistering improv, creating interwoven threads of smoldering brilliance. On a pair of James Brown covers — "I Got You (I Feel Good)" and "King Heroin" — Chance displays his unique perspective on the material; on the former, he adds a level of snarling rockabilly attitude to the perennial Brown favorite; on the latter, he slows down and extends the song into a tortured, emotive blues that pierces straight to the heart with gut-wrenching power. Switching back into fast tempo for the final one-two punch of "Put Me Back In My Cage" and "Contort Yourself," Chance hoots and hollers, throwing his entire body into the performance, as his band throws together a hyperactive arrangement that constantly threatens to upend itself. Live Aux Bain Douches clearly manifests a confident ensemble, fully in control of their talent, delivering a blazing set unparalleled in the annals of post-punk. My only complaint is that I wasn't there to witness the performance firsthand. - Jonathan Dean
samples:
JAMES WHITE, "JAMES WHITE'S FLAMING DEMONICS"
Ze


1983's Flaming Demonics comes right at the end of James White's four-year run as the reigning King Shit of No-Wave Fuck Mountain, and the intervening years have not been as kind to this album as they have been to his earlier efforts. By this time, White had parted company with The Contortions/Blacks, and they are sorely missed. For Flaming Demonics, White instead utilizes an assemblage of studio session players, who, while certainly talented, are more orthodox in their approach, bringing much of the music the too-polished veneer of traditional jazz playing. Coming after the similarly lackluster Sax Maniac, this album probably sounded a death knell for the artist, evidenced by the fact that he stopped performing and recording not long after its release. In hindsight, however, the album is not nearly as bad as some have claimed, and it contains several tracks that James White converts will find especially entertaining. The album continues White's Mephistophelian obsession with the diabolism of jazz and funk music, with plenty of lyrical allusions to the selling of his soul and the demonic possession supposedly evidenced by his serpentine horn blasts. The album opens with "The Devil Made Me Do It," where unnatural polyrhythms form an uncomfortable backdrop for staccato swipes of jangling funk guitar and an abrasively lyrical saxophone dialogue. "Rantin' and Ravin'" is an extended rock-bop instrumental, sounding surprisingly similar to James Brown's early-80's work ("Livin' In America," anyone?). Your reaction to that comparison will no doubt largely determine your opinion of this material. Things get a little better with a medley of Duke Ellington classics ("Caravan" and "It Don't Mean A Thing"), which are unceremoniously thrown into the mix with the White original "Melt Yourself Down.". The whole mess provides nine minutes of ararchic fun, especially the incongruously chaotic electric organ solo towards the beginning. This reissue includes three bonus tracks, which travel even further down the homogenized, early 80's rock-jazz path, veering dangerously close to Huey Lewis and the News territory. A version of one of my favorite early-60's rock n' roll songs, Gene Pitney's "Town Without Pity," is a little too self-consciously "cute" for White, and his head-scratching version left me wondering about his motives in covering such a classic song. All good things must come to an end, alas. - Jonathan Dean
samples:
Neutrino, "Neutrino"
Mush


Some of my favorite releases of the last year or so come from the US indie hip-hop contender, Mush. Their recent find, a Japanese import called Neutrino, is being sent out with a sticker comparing the release to DJ Krush, claiming that Krush isn't the only player in Japan's instrumental hip-hop scene. That may be true, but Krush is still a few moves ahead of the rest of the pack if Neutrino's eponymous release is any indication. The tracks are classic Mush: slow and moody with a nod to hip-hop and jazz record sampling, but with a sophisticated touch and layered production style. These don't sound like tracks in search of an MC, but rather they function as whole songs on their own. For nodding background music or the score to a student film about 'urban landscapes', Neutrino is just fine. There's enough warmth and depth to the compositions that they held up to repeat spins as I drove around town and then set up my wireless network at home. However, whenever I tried to focus on the album, it seemed to be built on an all-too-familiar set of rules and loops. It's groovy downtempo stuff, no doubt, but it fails to capture the imagination the way last year's Villain Accellerate record did. This is polite and tidy beat-making, with windchime accents, chirping bird samples and the occassional disembodied voice-snippet that almost lend it a depth worth exploring more. With a shelf full of exceptional releases from other Mush artists, as well as their forebears like the aforementioned DJ Krush, DJ Shadow, and almost all of the early Ninja Tune stable, it's difficult to make room for Neutrino, though he does make enough of a case for giving it a try. - Matthew Jeanes
samples:
Circus vs. Andre Afram Asmar, "Gawd Bless the Faceless Cowards"
Mush


How the mighty have fallen. Not that Andre Afram Asmar might really be considered mighty, but his last record for Mush was a beautiful mashup of hip-hop and middle eastern instrumentals that worked on any number of levels and preserved a sense of genuine respect for all of the sounds it culled. Enter Circus, the MC who manages to take AAA's production and run it into the ground with half-witted rhymes and a deadpan vocal delivery that recalls a suburban, middle-aged businessperson reciting a 'rap' in some corporate skill-building seminar. The album has a loose theme that revolves around alien abduction, conspiracy theories, and the Bush administration's war-waging in the middle east. Unfortunately, the serious themes and stupid themes are given just about equal billing, but its all played in a straight-faced way to render none of it funny or effective. The beats and samples that Circus drowns out might be worthwhile on their own, but it's impossible to separate the voice from the songs. I'll never quite understand how people who have an ear for quality music and deft MCs can listen to something like Gawd Bless the Faceless Cowards and feel that it's adequate or even fun to listen to. Inane rhymes delivered flatly over beats and samples about UFOs might make for a fun party record amongst friends, but only really close friends who aren't too critical, or who are really drunk. Someone got in the car with me when this record was on and the first question he asked was 'is this a demo someone sent you?' No, but maybe if someone had heard the demo first, they could have steered it somewhere productive. As it is, steer clear.- Matthew Jeanes
samples:
We know that our music picks may be somewhat challenging to find, which is why we have a community section which can be used to obtain nearly everything available on this site.