TOM ZACHARIAS, "BELINDA"
Subliminal Sounds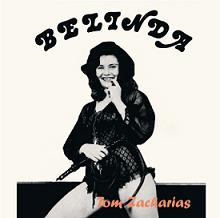 Tom Zacharias was something of a renaissance man: Sweden's first male pin-up, a successful film and television producer, singer and songwriter of a string of well-received LPs, and the mastermind behind Belinda and Belinda's Daughter, to my knowledge the only albums ever to have been conceived and created specifically to be sold from ads in the back of porn magazines. This is the sort of thing that could only have happened in the Sweden of the early 70s, with the sexual revolution in full swing and people waiting in lines around the block for mainstream erotic films like I Am Curious Yellow. In 1973, Zacharias was approached by businessman, inventor and astrologer Stefan Brydolf, who proposed that he write, perform and produce two concept albums of erotic rock, along with an accompanying erotic novel. The novel was written, and the LPs were recorded with the help of Sweden's finest session musicians, and everything sold fairly well. The next logical market was North America, so Zacharias recruited New Yorker Suzy Heine to translate and re-dub the lyrics in English, and ads were placed in US men's magazines like Screw and Hustler. Unfortunately, they never received even one order, and the album was shelved. Now Sweden's Subliminal Sounds have released this collection, which gathers together the never-before-heard English language tracks, together with both of the Swedish LPs. I have rarely heard anything as funny or as shocking as the first six tracks on this disc; funky 70s acid rock with completely over-the-top pornographic lyrics. Starting off with a sleazy fuzz-guitar solo, "Dirty" quickly erupts into alarmingly direct pornographic provocation: "You want to suck a cock and lick a hairy pussy/And wear sexy underwear and paint your face/You want a cock up your ass and rubber ducks in your bath/You'd like to screw every sailor in the place...You want a 10-year old virgin to use and abuse/You'd like your friends to gangbang your mother-in-law/While you watch it all and jerk off on her shoes." Singer Suzy Heine erupts into perverse Karen Finley-style shrieking, detailing every sexual perversion imaginable: S&M, incest, rape fantasies, foot fetishism and homosexuality are all celebrated with equal zeal. What's most amazing is the infectiously funky jamming by the session musicians, which is really quite good, a terrific specimen of mid-70s acid-funk. It's tempting to compare it to porn soundtrack music, but I don't recall any porn soundtracks with music this accomplished. A closer parallel might be Blaxploitation music, an apt comparison, because Zacharias often reminds me of a Swedish Rudy Ray "Dolemite" Moore. For non Swedish-speakers, this disc loses a little bit of momentum after track six, because the remainder of the tracks are from the Swedish-language LPs, but the music is still fun. Belinda is absolutely essential; I don't where else you'd get to hear such languid, trippy rock music accompanying lyrical refrains like: "There's a he-man on the sofa with a hard-on, giving me the go-ahead sign/About four cocks at a time is all I can handle, with someone sucking mine." - Jonathan Dean
samples:
Converge, "You Fail Me"
Epitaph


Listening to these four musicians play together is much like watching a sixth grader beat the shit out of some kid just for the hell of it. The music is so heavy and unhinged that it makes all those fast-loud bands look like a bunch of sissies masturbating to episodes of the Red Shoe Diaries. Sure, it's one thing to be fast and loud, but to be heavy like Converge is on You Fail Me is entirely different. Their guitars are thick as tar, their rhythms maniacal to the point of dizzying, and their arrangements unpredictable. The lyrical content, on one hand, has a romantic edge to it: obviously the demons of Jane Doe never fully went away and the title of the album is suggestive of a topic too many metal-heads are too cool to bring up. Relationships between people, emotional disappointment, needs, love, lust, and sex all make an appearance on the record and Jacob Bannon has some stunning moments lyrically that convey all the disgust and confusion that arises out of all those topics. "First Light" and "Last Light" open up You Fail Me on a level that might turn most away. The opening guitar riffs on "First Light" are gorgeous and heart-wrenchingly emotive — but it's the way that "Last Light" plays on this beginning that really enhances their effect. The percussive chaos and nearly blurred wall of sound that follows is only matched in intensity by Bannon's words: "I need you to be the strength of widows and soul survivors" stretches through the speakers as the record begins with a cry to "Keep breathing / Keep living / Keep searching / Keep pushing on," holding the song up through its rumbling and screaming middle. As "Last Light" ends, Bannon yells "This is for the hearts still beating" and the purity of the noise and vehement desire echoed in the song makes the dedication believable. Tracks like "Drop Out" make it obvious that this isn't just some band marking out the destructive path of emotions with loud and heavy metal. The time signature shifts, frequent changes in intensity, and the absolute control that the band exhibits over their instruments makes it obvious that Converge is a band thinking about what they are doing at each and every moment. They still manage to sound completely out of control, though, and when "In Her Shadow" begins, it comes as the only moment of relief the whole record provides. Driven by a strangely fuzzed out acoustic guitar and a hatred for taking the easy way out, it's an oddly beautiful song in the eye of a hurricane full of bludgeoning energy. When "Eagles Become Vultures" kicks back in right after this, the music sounds a billion times more intense than it did before and You Fail Me begins to spiral out of control. The last four songs on the album are almost deadly in their delivery and as it convulses into silence it becomes quite clear that this is perhaps the most honest vitriol I've heard recently. - Lucas Schleicher
samples:
Lazarus, "Like Trees We Grow Up To Be Satellites (The Backwards America)"
Temporary Residence Limited


By the end of the last Lazarus album, Trevor Montgomery had intoned a forecast so bleak and blighted that a second album seemed an almost implausible effort. The combination of lazy vocals and a deeply depressed music seemed to be too much to reiterate, let alone resurrect. Yet, Lazarus is back with an album whose atmosphere is not nearly as desolate as the landscape his initial "unborn son." It's not that the Montgomery's signature voice has changed. He still employs the elongated vocals, making each word sound so labored and intense that it conjures an image of utter lethargy. He still stretches syllables out to their elastic extremes. But now, the landscape around the vocals has changed. The music on "Like Trees We Grow Up To Be Satellites" seems to indicate that the sun shines a little more in the world of Lazarus and there might even be some vegetation lurking around the corner, as alluded to in the album's title. The spare guitar is again reprised but with a warmer texture. Sometimes even the word "Caribbean" is on the tip of my tongue, aroused especially by the steel drum sounds on "This American Dream" and "Yes. Roam." Even so, don't expect to find neon rainbows or happy little elves in this new brighter Lazarus. There is still a dark cumulonimbus cloud which hovers over everything and bathes most of the songs in that harsh, yellow pre-diluvian light. On "The Poet of Emptiness" (the title alone is enough to send the bravest agoraphobe back into his bedroom), Montgomery sings: "I'm not afraid of your cursings/ it's the way friends can be when/ they are empty and jaded." Listening to a Lazarus album is a truly private affair if only because you get the impression that these songs are honestly crafted by a solitary man in the vacuum of his bedroom in the depths of 3 A.M. The fact is, a lot of artists create songs in this way. The difference here is that you can actually sense the bedroom. You can see the ruffled sheets on the bed; you can hear the silence in the apartment; you can smell the stale air of a room whose door and windows are closed; and most importantly you can hear the introspection as it plays itself out on the guitar in Montgomery's hands. "Singing to the Thieves" is the album's highpoint. Both the pace and duration of the song is rather quick and the entire effect is positively life-affirming. A fuzzy guitar is greeted by a strong drumbeat (it could be described as fast considered against the rest of the album) and I can't get the image of Neutral Milk Hotel out of my head when I listen to the song. Aside from this song, I don't know that there has been a lot of growth from Lazarus's first haunted and haunting offering, but I am also not sure what you can expect from such a cruelly resuscitated soul. - Joshua David Mann
samples:
VIRGIN PRUNES, "OVER THE RAINBOW"
Mute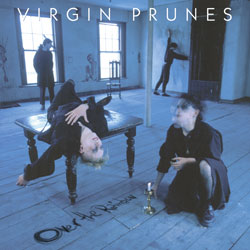 Wrapping up Mute's series of flawless reissues of the Virgin Prunes' neglected back catalog is this two-disc collection of odds and ends. Over the Rainbow compiles long-lost singles and compilation tracks from various vinyl and cassette releases on Rough Trade and the Prunes own Baby imprint. When this was originally released on LP back in 1986, the album only contained the material on the first disc. Mute and Gavin Friday have generously reached back into the past and dug up enough material to fill a second disc. The music on both discs easily ranks among the best of the Virgin Prunes, showcasing a breathtaking artistic range never exemplified better than here. Most of the material dates from 1980-1982, the most fertile creative period for the cadre of flag-flying freaks. Listening to the sheer breadth of insanely adventurous approaches on Rainbow made me wonder just what exactly they were putting in the Lypton Village aqueducts; whatever the mysterious chemical was, it's a shame they stopped. It seems that the Prunes often saved their most experimental moments for the odd flexi-disc or cassette compilation, from the hypnotic ambience of early tape piece "Red Nettle" to the psychedelic cacophony of sampled birdsong on "Mad Bird in the Wood." "Jigsawmentallama" is a compelling piece, a slowly evolving sequence of overlapping rhythms, nebulous industrial noise and eerie graveyard vocals. "Greylight" and "War" are prime examples of early 80s post-industrial experimentalism, combining layers of droning, oppressive synths with primitive drum machine and mutated vocals. Tracks on the album reminded me variously of Dogs Blood Rising-era Current 93, Death in June of Brown Book, or the tense abrasiveness of This Heat. The previously unissued track "The Happy Dead" is a stunning 13-minute collage of experimental music intended as the soundtrack to the never-released Prunes film A New Form of Beauty. It's an intense combination of dissonant, improvised piano fugue, richly evocative ambient soundscapes and warped passages of dark, discombobulated Krautrock. "Third Secret" takes a crack at the low-fi industrial klingklang of early Neubauten, with a brief track constructed from the arrhythmia of randomly struck metal pipes. Not all of Rainbow is quite this abstract, however, as the collection also offers its share of the Prunes' post-punk compositions. A pair of extended dance mixes of two classic tracks off ...If I Die, I Die — "Pagan Lovesong" and "Baby Turns Blue" — provide plenty of bat-swatting, tombstone-kicking fodder for those who, like me, can't get enough vintage goth thrills. Without a doubt, Over the Rainbow provides the most bang for your buck among Mute's five reissues, as well as a serving as remarkable evidence of the band's uniquely expansive vision. - Jonathan Dean
samples:
"Kompilation"
Kranky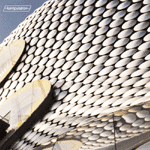 Over twenty-one tracks, eighteen artists, and one hundred and forty-eight minutes of music, Kranky of Chicago, IL demonstrates why it is one of the most excellent record labels in existence. Stars of the Lid, Keith Fullerton Whitman, Greg Davis, Loscil, Clear Horizon, Jessica Bailiff, Out Hud, Fontanelle, PanˇAmerican, and many others show off their varied talents on this two-disc compilation, some providing exclusive tracks, a couple previewing upcoming material, and everyone making it clear just how beautiful their music is. Priced incredibly cheap, Kompilation makes it possible to get a taste of many of the new artists on the label without shelling out big bucks and it provides a chance to hear material from the next Stars of the Lid and Keith Fullerton Whitman album. Listening to both discs makes Kranky's diversity obvious. Christina Carter and her acoustic guitar work immediately follows the buzzing and busy work of Autistic Daughters only to be followed by Greg Davis' exclusive mix of "Campestral," which sounds nothinglike what comes before it. So much music is exhibited on this release that it's hard to know where to start; each track has its own essence, each reflects a different direction in modern music, and each is fun to listen to. More than one or two tracks reminded me of how much I loved a band and a few have forced me to put yet another record on my "to buy" list. Each track being so different from the last might cause concern for continuity; it is, of course, always nice when a record flows smoothly. The Kompilation keeps everything moving quite nicely and despite the various changes in mood, structure, and presentation, the very last song sounds as though it is part of something bigger (even though no artist has two songs right next to eachother). Even though I have quite a few of the record that are showcased on this compilation, I'm still very glad I have it and for a couple of reasons. Beyond the exclusive tracks and the previews of new material, the Kompilation is just plain fun to listen to. After listening to the second disc, I broke out my Out Hud and Jessica Bailiff records to satiate the hunger the compilation had put in me. Listening to "Schnee" sandwiched between PanˇAmerican's "Inside Elevation" and Clear Horizon's "For Days" was a treat and made me think that maybe Kranky should be a little more incestuous. Whitman, Bailiff, David Pearce, and Mark Nelson all on one record would be so good that it might give reason to suspect that the apocalypse is coming. In any case, the Kompilation is a good chance to hear new music and be reminded of how excellent the more familar music is. In fact, there's absolutely no reason not to own this double-disc collection of songs: it is cheap, it is full of some of the best music being made in the world right now, and it's evidence of the fact that record labels and musicians everywhere have a lot to live up to. Kranky and the musicians on the label are setting standards that many will have difficulty reaching, much less surpassing. - Lucas Schleicher
samples:
SAINT ETIENNE, "TRAVEL EDITION 1990-2005"
Sub Pop


This compilation is an excellent selection of highlights from the group's entire career to date. The previously unreleased instrumental, "Primrose Hill," is a perfect lead-off track, as it provides an introduction and sets the mood. Travel Edition shows that Saint Etienne has evolved from their dance music roots, as heard on their 1990 cover of Neil Young's "Only Love Can Break Your Heart," into a group capable of featuring tracks with a live band feel, such as "Lose That Girl," alongside dance-floor friendly tracks, such as "Sylvie," on the same album (1998's Good Humor). A main strength is their ability to write catchy pop songs while retaining credibility in the techno world. Saint Etienne is one of the few groups besides New Order and The Pet Shop Boys that have successfully combined pop music and techno. US mainstream radio would benefit greatly by supporting them. While it is easy to dismiss pop music as trite, Travel Edition serves to remind us that music can be catchy and still have integrity. This is a group whose music contains more variety than some may realize. Their influences have always been hinted at subtly, rather than directly copied. The backing vocals on "Avenue" recall the girl groups of the early 60's, while the track sounds undeniably modern. The flutes on "Nothing Can Stop Us" and "Hug My Soul" show an appreciation for Brian Wilson's arranging sensibility, while neither song sounds like one of hundreds of blatant Pet Sounds rip-offs. Travel Edition 1990-2005 is more successful than the UK-only Too Young To Die-Singles 1990-1995 because it contains some of the best album tracks as well as many excellent UK singles. "Mario's Cafe," a highlight from 1993's So Tough LP, is included here, while "You're in a Bad Way," a single from the same LP, has been left off. "Lose That Girl" and "Goodnight Jack," both from Good Humor, have been rightfullly chosen over the single "The Bad Photographer." This shows that some thought was put into selecting the tracks. By including album tracks that are as strong as singles, the compilers have shown that their discography is worth digging into. Although the one new track, "Fascination" is excellent, many fans may find little appeal to a collection of tracks that have mostly been readily available on albums and previous UK compilations. It might have been wise to include a few tracks from the scarce I Love To Paint album, which was only available through the band's fan club in 1995. It's a shame that Saint Etienne has never been given much recognition in the US as one of the truly great pop groups of the last two decades. Hopefully this first-time US "best-of" will help gain them some appreciation. - Jim Siegel
samples:
Nasum, "Shift"
Burning Heart


The biggest name in second generation grind have graced us once again with another exceptional release with Shift, their latest of a decade long string of albums that has seen them continuously redefine the role of melody in grindcore to a level of critical acclaim and proficiency only their godfathers in Carcass were able to obtain. Following 2003's award-winning Helvete, some changes in the Nasum camp (most notably the departure of Burst bassist and long time collaborator Jesper Liverod) brought some doubt as to when and if a new album would arrive from the Swedish heavyweights. However, for an act that began as a side project and survived for years as a two-piece, this proved to be inconsequential and replacements in the form of Regurgitate guitarist Urban Skytt and Sayyadina bassist Jon Lindqvist were welcomed into the fold as the act signed a deal with rock and hardcore giants Burning Heart. These renovations would not go unnoticed on Shift, which opens with a thick sludgy riff before giving way to the trademarked speed and turn-on-a-dime precision one can expect from a Nasum release. Things immediately take a turn for the unusual when, on "Engine of Death," the familiar death metal growls of Paganizer/Ribspreader vocalist and Edge of Sanity colleague Rogga Joahnsson surface to compliment Mieszko Talarczyk's politically-charged shrieks, adding even more old-school worship to an act that already exclusively employs that deliciously thick traditional Swedish buzzsaw guitar tone. Also making an appearance on "Engine of Death" is an actual guitar solo, historically a Nasum anomaly, which they manage to squeeze into the minute and half long track. This new affinity for death metal rears it's head several times on Shift, which, while it is a welcome addition to an already expansive sound, takes away from the rock and roll groove they perfected on Helvete. Fans of the that album can still find much to love on "Wrath" (the first single), "Circle of Defeat," and "Like Cattle," but don't be surprised to find the masterminds in Nasum have stayed true to form and evolved into an entirely new beast. - Drew Wright
samples:
Tarentel, "We Move Through Weather"
Temporary Residence


The most obvious new development for Tarentel's sound is in the drums. The band has a new drummer, Jim Redd from Sonna, and from the first moments on their latest full-length album, the drums take front and center stage. The languid guitar movement fans are familiar with only hesitantly comes in the opening track, but it's clear this band is no longer about prettiness. We Move Through Weather does exactly that, as the band could easily be as hooked on National Geographic documentaries as a growing number of people are. Tarentel have tried to score nature, from the storm to devastation, chasing clouds, and being overtaken by the inescapable. The album as a whole is a bit of a departure as like the weather, is much more rough than calm. "Hello,..." is tumultuous and pounding, and when it's over it leaves a mess in its path. The second track, "Elephants Shoes," is an ominous short, beat-less, unmelodic, abrasive bit built with harsh scrapes and backwards noises. As the band moves on, the weather patterns change, dissonant keyboard melodies open up to some unconventional production effects as quivering rumbles reverberate halfway into the epic "Get Away From Me You Clouds of Doom" before everything calms down again. The ride becomes choppy and harsh again and returns to a calmness for the beginning of the last epic, "A Cloud No Bigger than a Man's Hand," and while it has the driving drums similar to the opening, the consonant guitar soundscapes and what sounds like a clarinet underscores a pleasant mood, as even without the title it is the perfect fit for a clear day, completely bathing in blue skies. By the tenth minute of this track, however, I begin to feel somewhat let down. While the concept of Weather is clever, the lack of variety in the drum patterns Jim Redd exhibits are a bit of a tedious thing to listen to. The band might as well have looped him and turned the volume up or down as it sounds now. Sure, Can did similar things back in 1972 but that was over three decades ago and with droning sounds, Tarentel don't quite "jam." Tarentel are not unfamiliar with long songs—they have a history of making numerous multi-part 20+ minute long songs—but when tied together, We Move Through Weather sounds more like a concept that's on the right track but hasn't quite been finished yet. - Jon Whitney
samples:
"Nicky Siano's 'The Gallery'"
Soul Jazz


For fear of sounding like a cranky old retired record store employee, I'm calling bullshit on Soul Jazz, aka The K-Tel Of A New Generation. The collections they toss together are almost identical to collections of the un-biggest hits by big artists that have collected dust in discount bins for years. But, they do deserve credit for how trendy and cool they have become with flashy packaging, intricate stories in the booklets, the big advertising blitz, and a target market analyst's wet dream in the name for their label and store. Like a number of their other collections, The Gallery attempts to revel in some borrowed nostalgia for something nobody releasing or promoting the package ever experienced. Like the record store, it could easily be referred to as how Screamin' Jay Hawkins once put it, "Black Music for White People." Collected here are major label 1970s superstars like the Pointer Sisters, the Trammps, Bobby Womack, and Bill Withers. The music is nothing less than powerful, vibrant, feverish, and catchy. But there's no denying it's probably the most affordable songs that legendary DJ Nicky Siano could pick from the list he was probably given from the Sony Music, Motown, BMG, and EMI licensing departments. The copyright dates on the back also raise the questionability of the tracks, as the title of the collection states "1970-1973" but seven of the 17 tunes carry dates from 1974-1994! Even more unsettling is the fact that a number of these tracks are clearly mastered to CD from old records, making me question whether some of these artists are even getting a penny from this release. In its defense, however, it serves as excellent audio fodder for a hipster's party or the actual Soul Jazz record shop, as it's got some great tunes that people will instantly like but not necessarily recognize nor be completely sick of. However, it's far from definitive and the biographical information about the music and performers is lacking. The booklet instead is full of some great old photos and stories of how important New Yorkers think their dance clubs actually are. In fact, I'd be even more pleased if Soul Jazz pieced together large books of photos and stories from the folks like Nicky Siano, Frankie Knuckles, and other scenesters. For somebody wanting to hear more than the greatest hits collections, Soul Jazz's collections do a fairly good job, but at the large price, I'd recommend saving the money for true definitive boxed sets like the Stax/Volt singles collection. - Jon Whitney
samples:
808 State, "Prebuild"
Rephlex


People who have been waiting patiently for a magic collection of super duper unreleased gems from the early period of 808 State will have to wait a little longer. While the music on Prebuild (which obviously predates Newbuild) is certainly important to the evolution of the band, much of the recordings were done on chintzy cassette tapes who are hissy, chewed, or otherwise showing their age. "Automatic" for example opens the album as the tape slows down from a fast speed down to normal while the painfully noise reduced (to the point of serious muffling) "Johnnycab" and "Clonezone" just stop abruptly at something which clearly does not sound like the end. But it's a good reminder of how the 303 acid generator and snappy 909 drums once coexisted together in beautiful harmony through the power of "sync" (those original models weren't built for MIDI) while a small choice of short samples are overused to give the song something more than just the music and the rhythm. It isn't until track seven, "Sex Mechanic" that the sound completely fill in the audio spectrum, but the formula somewhat remains. From this track on, the stakes get higher and the studio workmanship sounds a lot cleaner and marginally more adventurous with effects and manipulative techniques. The album ends with the monsterous 14 minute live version of "Thermo Kings," which, surprisingly enough was recorded live to a cassette during a performance at Manchester's Boardwalk Club. Essentially, this needs to be considered more of a primitive artifact than a work of gallery art. Each track builds on the same formula and they each clock in at approximately the same BPM. Together with the horrible sound quality of some of these tracks, Prebuild could easily be a headphonic mix tape for a bus ride home from school in the rain. The songs don't go anywhere but it's easy to zone out to them or have them provide some sort of uplift to get from one point to another. - Jon Whitney
samples:
We know that our music picks may be somewhat challenging to find, which is why we have a community section which can be used to obtain nearly everything available on this site.