Nurse With Wound, "Raw Material-Zero Mix-Angry Eelectric Finger"
Beta-lactam Ring


It's frustrating that one of the best Nurse With Wound albums in recent years will probably slip through the cracks of formatting politics. Available to purchase only as a bonus vinyl LP with a pre-order of all three collaborative albums, Raw Material-Zero Mix may not be heard by many people. Although it was merely meant to provide source material to be reworked by Jim O'Rourke, Cyclobe and Irr.App.(Ext.), this album should have been released on its own. Rather than sounding like a library of sounds and skeletons of ideas to be fleshed out by other artists, this sounds like a finished, fully formed statement. "Part One" is a side-long exploration of the interplay between various creaking sounds and a steady blanket of drones. This piece recalls one aspect of their recent work, particularly the slowly developing atmospheric moods created with "Beware the African Mosquito (Ring Your Doorbell, Put You to Sleep)" from 2002's Man With the Woman Face and 2003's Salt Marie Celeste. "Part Two" is in sharp contrast to "Part One's" exercise in understatement and tension building, as it embeds the same creaking sounds in a panoramic landscape. This section's nightmarish blasts of sonic detritus are an aural representation of the Hell panel from Bosch's Garden of Earthly Delights. Toward the end of the piece the sounds of saxophone, flute and hand drums played by members of Xhol Caravan are introduced. These acoustic sounds don't sound out of place among the electronics that have so far domimnated the album. Between these untreated acoustic sounds, the quiet tones and creaking ratchet sounds in "Part One" and the chaotic shards of noise in "Part Two," Nurse With Wound has provided an impressive range of source material. Although Cyclobe's take on this material is a widely divergent escape into their outer-space freakout zone, O'Rourke and Irr.App.(Ext.) have seemingly done little to further the ideas presented by Stapleton and Potter. It may have been more exciting if the project were taken in the direction of actual collaborations between Nurse With Wound and each of these three artists, who are all good choices for such a task. All of these Angry Eelectric Finger LPs feature excellent design work, which is a step in the right direction for Beta-lactam Ring, whose past releases have often looked amateurish with regard to layout. It's a shame that this album was not given proper release status. Hopefully a CD reissue is in the works, as it would give a proper perspective to the efforts of O'Rourke, Cyclobe and Irr.App.(Ext.). - Jim Siegel
samples:
nurse with wound/jim o'rourke "tape monkey mooch: angry eelectric finger 1"
Beta-lactam Ring


O'Rourke's version of Nurse With Wound's source material keeps very close to the spirit of a Nurse With Wound album. This is partly due to the common reference points both artists share, but partly because it seems that he has used much of the raw material provided by Stapleton and Potter without changing it at all. Nurse With Wound and O'Rourke are two of the few artists who can sustain interest while essentially presenting an entire LP side of creaking sounds set against doom laden ambient soundscapes. By gradually shifting the sound and by placing small gestures such as the sounds of bells among the existing soundscapes O'Rourke has created a sense of tension in his "Part One." By the time a noisy crescendo occurs toward the end of this build-up it feels like a true release. He clearly shares Stapleton and Potter's sense of letting a mood develop slowly, and the piece is stronger because so much is held back for most of the piece. "Part Two" has a completely different feel with the introduction of strings and has a more composed feel. It is here that O'Rourke seems to have done the most work to shape the piece. This section recalls his early work with tape music and also references the musique concrete that both he and Stapleton admire. As on the raw material LP, this section is much more chaotic, with all manner of sharp electronic sounds bouncing from left to right in the stereo field. O'Rourke introduces the section of saxophone, flute and hand drums played by members of Xhol Caravan earlier than it appers on the Raw Material LP. However, he hasn't done much to alter this material either. Since O'Rourke has a background as an accomplished composer, producer and musician, it is baffling why he hasn't made this album sound more like the product of his own imagination. - Jim Siegel
samples:
Nurse With Wound/Cyclobe "Paraparaparallelogrammatica: Angry Eelectric Finger 2"
Beta-lactam Ring


While O'Rourke presented an LP very much in a Nurse With Wound style, Cyclobe have obliterated most traces of Stapleton and Potter's raw material and instead produced a freak out of frayed electronics that sounds much closer to the work of their former colleagues in Coil. Although their "Part One" begins with sparse drones and eerie ambience, the stereo field soon becomes a battleground on which sharp bursts from analog synths whirr back and forth. Passages of extreme noise are balanced by menacing quiet sections such as the last several minutes of "Part One." Some of the sounds appearing early on are so jagged and startling that these calmer sections produce the same effect as the scenes in horror films in which an intruder is waiting quietly behind a corner. It is no coincidence that Cyclobe's Stephen Thrower was an integral member of Coil during the time they produced music for Hellraiser (referred to in some places as "too scary to be used in the film"). This album is interesting for the insight it may provide into the working methods of Thrower and Ossian Brown as Cyclobe. By not directly referencing the source material they may give us clues as to how they construct their own music. Perhaps they always tend towards manipulating source material beyond recognition. The creaking ratchet sound that seems to be the project's signature motif is audible here, as are the flute and saxophone played by Xhol. However, they are merely hinted at underneath dense layers of sonic debris, and are only heard briefly. Cyclobe have treated the source material as a starting point for producing a compelling new work that pays tribute to Nurse With Wound as much as it cements their reputation as being superb producers in their own right, regardless of their Coil associations. - Jim Siegel
samples:
Nurse With Wound/Irr.App.(Ext.), "Mute Bell Extinction Process: Angry Eelectric Finger 3"
Beta-lactam Ring


It is unfortunate for Matt Waldron (Irr.App.[Ext.]) that his reworking of the Angry Eelectric Finger raw material was alotted Volume Three status, as he has used many of the same sounds as Jim O'Rourke used in his Volume One. Although both albums are excellent listens, perhaps owing to the strength of the source material, both artists have done little alteration and their volumes sound a bit too similar at times. It is unclear whether or not they heard each other's works in progress, although I imagine that they did not. Waldron has started his "Part One" with the same ratchet sound and creepy drones that are a main feature of both the Raw Material LP and O'Rourke's volume. However, this version quickly gives way to a more chaotic and surreal environment, with chugging motor patterns ping-ponging around the stereo field. "Part Two" again treads similar ground to the O'Rourke version, in which both artists have included a large, unaltered section featuring interplay between saxophone, flute, and hand drums. Waldron has placed this section closer to the end of the piece, while O'Rourke introduced it near the beginning of "Part Two." Here Waldron's structure mirrors that of the Raw Material LP almost exactly. The first half of Mute Bell Extinction Process's "Part Two" is taken up by swirling psychedelic electronics, much as side two of Stapleton and Potter's raw material LP is. Perhaps Waldron's well-documented reverence for Nurse With Wound got in the way of his being more adventurous, or perhaps he felt that the source material was so strong that he didn't want to do more than give it a slight twist. This is, after all, the same man who released a CD of a version of Nurse With Wound's debut album, Chance Meeting on a Dissecting Table of a Sewing Machine and an Umbrella which he accidentally "remixed" by simply making a tape-to-tape copy of said album on defective tape machines. - Jim Siegel
samples:
Greg Davis, "Somnia"
Kranky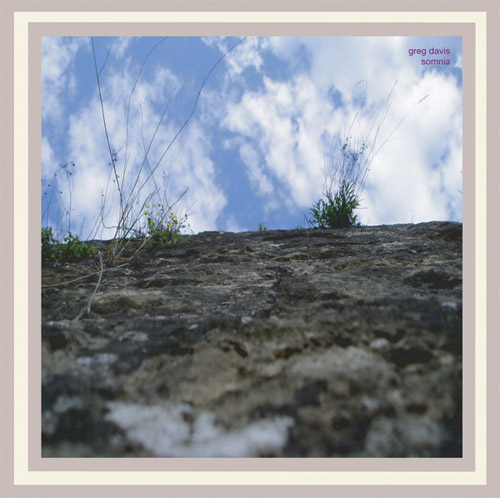 Greg Davis has illuminated the link between sound and light. Perhaps, when the universe was first unfolding, the explosions sounded like buzz saws or pure white noise, but when the heavens came to be and from its convulsions the universe produced stars and angels, the sound generated must've been close to the music on Somnia. I hesitate to lump this record in with any group of individuals currently practicing the Zen of protracted sound because Davis' music flutters and ripples with hints of melody and harmony more so than found sounds or textured moments. This must be related to Davis' recording process: take one instrument per track, fool around with it, and then process the sounds produced by that instrument until there is little or no resemblance between what comes out and what went in. While processing and editing has become a typical means of producing meditative and molasses-like sounds, Davis manages to create something unique. The vibrations of these songs feel as though they are a slow condensing, a trace of some event happening beyond our perception, beyond possible memory or direct experience. What is left, tracks like "Clouds as Edges (version 3 edit)" and "Campestral (version 2)," echo a sentiment of impossibility: I want to reach through the process and back to the original sound. A sense of wonder and mystery is nearly always present when I hear a good drone record and Davis has added emotional dimensions that work on a few levels. "Furnace" sweeps and rises with an incessant yearning that nearly erupts from between the seams of the accordion-like buzz that dominates the composition. "Mirages (version 2)" is the most attention-grabbing track on the album, whispering and ringing softly as though it were a recording of wind-chimes on an island not touched by any human individual. The cascade of ideas and associations that swim and die within the sounds themselves is infinite—the album takes on a life of its own and extends through space like a slowly rattling thread, each moment evoking a different sense, and different thought, and a different sentiment. To the extent that this is a musical record, Davis shapes subtle and nearly fragile pieces teeming with beauty. To the extent that this is a means of looking past the distinctions between energy, material, time, and light, Davis, perhaps unknowingly, provides medium capable of shining a light on the existence that is beyond experience and tangible sensation. - Lucas Schleicher
samples:
CAN SACD REMASTERS
Mute/Spoon
In many ways, Can was (and is) the ultimate rock band. Accordingly, volumes have been written about Can by writers far more eloquent, knowledgeable and pretentious than me, so I will forgo any in-depth explication of the band's considerable importance and influence. Suffice to say that Can virtually invented a new paradigm for rock music, pioneering a marriage of avant-garde techniques and improvisational rock. They combined classically trained instrumental virtuosity with unhinged psychedelic meltdown, and recorded epic records filled with massive, funky grooves that were simultaneously trance-inducing and booty-shaking. Though the back catalog has been available for years via vinyl and CD reissues on Mute/Spoon, this marks the first time that the albums have been massively overhauled and subjected to new digital remastering. Beginning with the first four chronological releases, these reissues were overseen by Can founders Holger Czukay and Irmin Schmidt. All discs are playable on CD and SACD compatible players, and each contains allegedly improved artwork (though it actually looks like a step down in quality to me), rare band photos, and predictable new liner notes by The Wire's David Stubbs.
Perhaps not surprisingly considering Czukay and Schmidt helmed these reissues, the elements that seem most obviously emboldened by the new digital mastering are the bass and keyboards. Because the original albums were all made from carefully edited and assembled two and four-track recordings, it would have been impossible for a particular instrument to be isolated and expanded in the mix. Nevertheless, I am certain that I detect a bigger presence of bass across all four discs, and Schmidt's architectural swathes of organ have never sounded fuller or more atmospheric. The hiss that was often detectable on previous CD issues has been almost completely eradicated. Often when hiss is removed from old recordings it can wreak havoc with the treble tones and bottom end, smoothing every sharp edge away into soft-edged, nebulous blandness. However, an extremely careful job has been done to remove hiss without disadvantaging the original mix. The volume has also been increased considerably across all four albums. Louder is not necessarily always better, but in this case, it means an increased presence and a greater sense of acoustic vastness, with no discernable distortion. The hiss removal and volume increase contribute a terrific live feeling to this material, dragging it out of a dusty, formaldehyde past into a seething, organic present, loaded with previously inaudible sonic detail. Jaki Liebezeit also benefits from the remastering, with each robotic, hypnotic pummeling of his primitive drumming bursting with an even more earth-shattering urgency than before. Only the late Michael Karoli seems relatively unchanged by the new digital processing, his uniquely spindly, spidery guitar still shredding and piercing its way through the mix.

Though I've never heard anyone claim it's their favorite Can album, the pre-Damo Suzuki debut Monster Movie is nonetheless a force to be reckoned with. This is primarily because of the sidelong behemoth of "Yoo Doo Right," on which American vocalist Malcolm Mooney obsessively scrapes up the remnants of a broken relationship while the band unleashes a stoned, hypnotic groove that sets a new record for transcendent monotony. The remastering job breathes new life into the song, highlighting a sense of presence and cohesion that previous editions have lacked. Though I know it's a terrible cliché, it sounds almost as if the band is in the room with me, and I could practically feel the flecks of spittle flying out of Mooney's mouth with every anguished repetition of his lyrical refrain. Monster Movie and its follow-up Soundtracks seem to be the most improved of the four reissues, perhaps because of the comparatively poor quality of the original recordings.
samples:

Soundtrackswas a collection of music Can recorded for five long-forgotten films, with the main attraction being the 15-minute "Mother Sky," containing the first example of Damo Suzuki's stunning vocal technique. The track sounds cleaner and crisper than ever before, with each strike of the kettle drum sounding absolutely monolithic, and Czukay's bass tracing its own melodic path through the song.
samples:

The massive double LP Tago Mago is my favorite album of all time, hands down, making objective analysis all but impossible. I've become quite accustomed, over the years, to the sound of the previous Mute/Spoon CD issue, so I did not easily welcome the changes apparent on the new remaster. After just a few spins of this version, however, I was completely won over. Whether in the thick, rich detail of Schmidt's cosmic keyboards on "Paperhouse" or the warm, dimensional presence of the transcendent "Oh Yeah," this Tago Mago has much to recommend it over all previous incarnations. Quiet, simmering tracks like the dark, ritualized experimentation of "Aumgn" or the album's hazy comedown "Bring Me Coffee or Tea" benefit tremendously, as new ghostly details become evident at all audible levels, making these pieces seem even more ingeniously conceived than before.
samples:

The differences are least obvious on Ege Bamyasi, although the volume increase and fidelity boost make tracks like the classic "Spoon" sound razor sharp, living in the perpetual present, instead of some shaggy Krautrock past. I welcome any chance to rediscover and experience anew the unparalleled genius of Can, but these reissues are truly a cause for celebration. They literally breathe new life into music that has become such a legendary, influential, intellectually scrutinized body of work that one might have assumed that it had no more surprises to offer. While I'm not convinced by the new packaging or the rather doctrinaire liner notes, the improved sound of these discs more than makes up for those shortcomings. People who own the original LPs or the previous Mute/Spoon reissues would be most enthusiastically encouraged to seek out these remastered editions, and for those who still don't own these Can albums, you have no excuse not to run out and buy these immediately. They would also make a swell, reasonably priced Christmas gift for that very special music junkie in your life who might not have even heard them yet! - Jonathan Dean
samples:
The Anomoanon, "Joji"
Temporary Residence


Though Ned Oldham has never needed to live under the shadow of his family name — like it would be a bad thing if he did — he has recorded music with his brothers in a number of projects over the years, including his own The Anomoanon. This has helped shape the style of his music, but on Joji he steps out large in his own direction, creating one of those records that many will point to for years to come as the sound that defined the band and others in the genre. Paul Oldham is the only other family member involved and even then only at the recording board, but the rest of the group is the same old reliables that have appeared with Oldham on and off for years, including songwriting foil Aram Stith. Together they've recorded a batch of songs in the classic bass-two guitar-drums format, with some extras here and there, and a style that transcends decades to become a lost batch of recordings by some late sixties roots guitar rock outfit. Honestly, "Green Sea" could be played on KPIG in Prunedale, CA, next to John Fogerty and hippie pundits would scarcely notice, maybe filling the phone lines to ask who it is and didn't they open for Creedence oh so long ago. It's the sound of revolution, of people who've struggled, of simple stories about the girl who lived next door and the funny people who used to visit. Maybe none of those things, but that's certainly the feel of this collection of tunes. There's buzz from the amps at quieter moments, au naturale, and harmonies that float above the chords to fill the room with words about teenagers swooning, running to the hills, not being a fool, and the power of one person. Oldham's voice is undoubtedly an inspiration of his family's traditional drawl, and yet cleaner and purer on some level and not as warbly. He sings with the voice of a heartland troubadour, and his passion can be felt in every note, with the voices that join him augmenting the impact without overpowering it. The guitar noodling may be the source of some of those jam band comparisons, but they're off-base without being offensive — just misinformed like the term "post-rock." "Down and Brown" is down and dirty, until it reaches its playful and meandering climax. The old school quasi-R&B groove of "Nowhere" is a definite highlight, with Oldham's ever clever lyrics punctuating the proceedings. The peak, though, is the "After Than Before"/"Wedding Song" pairing, with the first song sounding like a joyous courtship, and the second laying back into a lazy but epic jaunt about the sanctities of a life spent together, and how others should be made to remember and understand. In the middle of it all, it's clear that Joji is The Anomoanon at their peak, and a fine example of a band that's just hitting a stride that could their whole lives. - Rob Devlin
samples:
Suicide, "A Way Of Life" & "Why Be Blue?"
Mute
Suicide changed my life. This summer, New York City was treated to an exclusive one-off concert of the legendary duo of instrumentalist Martin Rev and vocalist Alan Vega at the Knitting Factory. Drenched from the downpour outside, I shivered with my beer until they arrived on stage and proceeded to show this jaded critic just how powerful a seemingly simple two man performance can be. Ripping through a set of classics ("Ghost Rider," "Cheree") and more recent material ("Death Machine," "Misery Train," the unreleased "Friday Night Fever"), Suicide energized the entire audience again and again, ultimately leaving to uproarious hollers and applause. Immediately afterwards and still, I considered this night to be one of the greatest musical experiences in recent years, rivalling several notable shows including the return of Psychic TV. Naturally, my excitement peaked yet again when I learned that Mute would be reissuing two essentially forgotten Suicide records this winter. While their first two albums, given the Mute reissue treatment back in the late nineties, are regarded as their most influential recordings, 1988's A Way Of Life and 1992's Why Be Blue were overlooked in an almost malicious fashion and have finally been given a second chance. Up until now, these Ric Ocasek produced releases have received little attention beyond the collective stereos of adoring acts like Depeche Mode, Pan Sonic, Primal Scream, and Spacemen 3.

Wax Trax! completists may remember A Way Of Life with a certain amount of distaste. Unaware, uninformed consumers expecting the reformed duo to adopt the sound of labelmates Front 242, Meat Beat Manifesto, or Greater Than One were surely aghast at the album's overt, unabashed reverence for Elvis Presley and early rock and roll. Though it failed to fit comfortably amongst that wave of industrial music, the album exudes a similar emotive quality to that of their second album, due to Ocasek's return to the boards and the band's desire to record more of a "live" album. The music, credited entirely to Rev, ranges from the hard driving "Rain Of Ruin" to the gorgeous "Surrender." Vega's desperate gasps and poetic yelps on "Dominic Christ" and the incredibly ominous "Heat Beat" recall those of his peer Genesis P-Orridge at his best and most energetic. Patience did unfortunately wear thin for this Suicide devotee on the painfully dated electro-rockabilly "Jukebox Baby 96," a reasonably popular and updated version of Vega's 1980 French Top Ten solo hit.
samples:

Compared to the eclectic flavors of A Way Of Life, Why Be Blue abandons a good deal of the noise and moves in a more accessible direction. However, a poppy version of Suicide is, in and of itself, far more disturbing . The album, again produced by Ocasek, consists primarily of upbeat and danceable tracks including "Cheat Cheat" and the New Order-esque "Play The Dream." The title track opens the CD with Vega's near-gibberish lyrics and a typically repetitive Rev production, wasting little time to show this newfound optimism. "Flashy Love" is the clear standout track, with Rev toning down his effects a bit to allow both his melodies and Vega's catchy verse-chorus-verse vocals to shine through. On "Last Time," one of the few slower songs here, Rev's warbling synths and phasing drums attempt to drown Vega's voice in this sonic sea. Truth be told, the panning and delay makes this song, as well as the rest of the album difficult to enjoy in headphones. Leave it to Suicide to make what could have been a pleasant pop album into a challenging, yet still rewarding listen.
samples:
As with the previous Suicide reissues, each album comes with a bonus second disc featuring European concerts from the latter half of the 1980s. The live discs present the band in two distinct settings: one difficult and confrontational (London, 13 December 1987), the other more welcoming (Paris, 17 April 1989). In London, apparently before a rather small audience, the duo previewed tracks from the then-unreleased A Way Of Life, including "Dominic Christ," "Jukebox Baby '96," and "Surrender." The band's frustration is clear, with Vega growling his way through Rev's gritty versions of "Cheree" and "Girl," closing with the classic "Harlem." Roughly a year and a half later, they are met with an eager audience in Paris, who are subsequently rewarded with a set packed with tracks never recorded in the studio such as the opener "C'Est Lie Vie", the very groovy "Mambo Mambo," and "Night Time." The classic "Dream Baby Dream" comes in towards the end, sounding even more somber than the original recorded nearly ten years earlier. While the recordings of these performances naturally reminded me of the powerful experience I had this summer, neither of them matched it. In any case, these four discs are a great audio document of a band in limbo, stuck in that uncomfortable space between the Seventies smashed bottles and furious punk assholes and the superior cult status they enjoy today worldwide. Many would have given up where Suicide have managed to endure, and for that they have earned themselves the bragging rights. Anybody with any respect for modern music whatsoever should waste no time in seeking these two double disc sets out. - Gary Suarez
Monos, "Landscapes"
ICR


I have to wonder what the trio of Darren Tate, Colin Potter, and Paul Bradley has in mind when they record a set such as this one. Perhaps they have in mind the construction of psychic hammer dedicated to the eradication of the sensual world or perhaps they simply mean to open up a space where it seems that no such space could possibly fit or exist. Landscapes has the strange quality of being both musical and completely self-indulgent. "Entering" is a thirty minute circle of guitar, heavy moaning, and monumental volume and "Surface Form" is a chugging and throbbing chunk of absolute isolation. If I'd never heard anything by any of these musicians, I'd find it very difficult to sit through this entire album from beginning to end. Aside from the guitar on "Entering" there is absolutely no reference point that might serve as a familiar anchor; the density of every second of sound on Landscapes is imposing and undeniably rewarding, but I'd start somewhere else if I were interested in anything by Tate, Potter, or Bradley. Once I got over just how thick and sludgy the album is, the tiny nuances and near subliminal sounds that are littered everywhere on this record reveal themselves and demand that the record be listened to again and again. Whispering collisions and intricate networks of sonic tunnels rumble underneath the imposing rumble of organs bellowing sheer intensity. At times the tone is so low that the music is manifested on physically as a material vibration: at this point active listening becomes important. While many records of this type might serenade me into believing its okay to relax my senses and listen passively, Monos demand a careful and direct attention. There is literally an entirely different album moving beneath the pure, direct, and constant hum of machine-generated groans and waves. Darren Tate's artwork is the perfect visual example of what the music sounds like: the bumpy and burned fibers of the cover art suggest a layering of tones, thoughts, and feelings. I was reluctant to listen to Landscapes at times because, on the surface, it feels like such a desolate and uniform recording; repeat listens have revealed it to be so. This is a desert of sound on the surface, but the record grants the chance to see below the surface and into the heart of appearances themselves. - Lucas Schleicher
samples:
Robokoneko, "Shades of Genki"
Piehead


With Piehead's 10th installment this year, the label offers up a pleasant slice of lo-fi electro in the form of the Nippon-o-centric album from Robokoneko (or Robot Cat for the gaijin.) The record begins with a sample from 2010 wherein the professor and the machine are wondering if computers dream. From that simple sample, the rest of the agenda for Robokoneko is laid out. The record is comprised of four tracks of melodic, blippy electro that tends to worship at the altar of artificial intelligence and sci-fi references, and four remixes that take other Robokoneko tracks in different, but not too-different directions. There's a loveble lack of fidelity in the recording, where tape hiss is better disregarded and sample noise isn't smoothly eased into but rather accepted as a by-product of the approach of cut and paste. "Nevermore" is built around a simple electric piano melody and reprogrammed breaks while "Karataka" plays with game sounds and could be the soundtrack to a Sega Genesis cut screen in another life. The remixes all keep what must be Robokoneko's sense of melody in tact (to be honest, I haven't heard any of the original songs and they aren't included here), and they all pick up on the gamey, glitchy mode from "Karataka" and weave that in and out of everything from straight-forward electro to minimalist cut-ups. If anything, the remixers seem to take the Robokoneko material more seriously than the artist herself, and while they sound like they could co-exist more freely in a world of similar sounding tracks, I prefer the original tunes here for their willingness not to care. This is the kind of record that winds up essentially genreless because it breaks the stoic rules of DJs and world-renowned producers who like their electronic beats clean and well-polished, or at least dirty in a manufactured way. This is dirty, scrappy, fun electronica that works well in a world of anime-fetish and casio love. It never stoops to being a novelty, and for that I admire it. - Matthew Jeanes
samples:
Qwerty, "The Sorrows of Young Qwerther"
Piehead


Standing as a fill-in for the unfortunately absent Edward Ka-Spel as Piehead's 11th release this year, Qwerty more than manages to keep the series interesting as it draws to a close. Qwerty is a solo Croatian electronic artist who is working in the well-traveled but still enjoyable paths cut by Warp Records trailblazers and their contemporaries nearly a decade ago. This record is actually a collection of Qwerty tracks originally recorded between 1996 and 1999 and every minute of it sounds like a product of those days long gone now, before fast access internet service and companies with bandwith to burn hosted hundreds upon thousands of tunes created in bedrooms and basements as a reaction to eager youngsters hearing early Autechre records for the first time. So if the record sounds a little dated it's mostly due to the incoherent pace at which trends in electronic music change, and the breakneck speed at which whole new sonic paradigms are adopted as 'the next big thing.' Frankly, I've always loathed the new-chasing quality of a lot of contemporary electronica, so it's fun to take a dip back in time a few years and add these tracks by Qwerty to my playlist of late 90's interesting electro experimentation. The sounds and melodies here are all a tweaked reflection of synth and sample-based techno, but run through a cut up filter or distortion plug in or other bit-mangling device to give them a slightly worn and abused character. "Aardvark" in particular uses static bursts and a wobbly thump for its rhythm track while minor key, melancholic chords wash around in the background. "Il Cuore" seems based on broken game sounds at first until it sputters into jagged, squelchy electro with a smooth tine melody. It's not music that's going to set the laptop world on fire, but it's a fun and varied mix from an artist very few people will have ever heard from before. That's the beauty of the Piehead series, and one of the greatest laments I have about the series project coming to a close with the 2004 edition. I've recommended time and again to people that they check out what Piehead is doing. It's a great treat to get a disc in the mail once a month, like a featured wine or desert of the month. I've never known what to expect each time, and there have been more than a few really great surprises. The monthly series is closing shop, but Piehead promises to continue on with less frequent output in the future. I'm hoping they keep digging up stuff like Qwerty that has something to offer the world, if given the right attention and care. - Matthew Jeanes
samples:
We know that our music picks may be somewhat challenging to find, which is why we have a community section which can be used to obtain nearly everything available on this site.