COIL, "AND THE AMBULANCE DIED IN HIS ARMS"
Threshold House


This is the first new Coil release (and also possibly the last) to surface since the untimely passing of Geoff Rushton AKA Jhonn Balance last November. As we are assured that the title for this release was already decided upon before Balance's death, it's hard not to read it as strangely prophetic, just as it is difficult to listen to any Coil music nowadays without hearing signs, omens and harbingers of death everywhere. For a group whose music is so implicative of a rich esoteric heritage, the death of Jhonn Balance, while certainly tragic and accidental, seems somehow wholly appropriate, a corporeal sacrifice in pursuit of some higher pitch of magickal experience. These omens and beckoning mythologizations are all over ...And the Ambulance Died In His Arms, which documents a unique Coil performance at the Camber Sands Holiday Centre, part of the Autechre-curated All Tomorrow's Parties festival, weekend of April 6, 2003. I was in the audience during this performance, and have been repeatedly listening to a fan-recorded bootleg of the show in the two intervening years, so this material is very familiar to me, and brings back gloriously hallucinogenic memories. This official release is superior in many ways to both my memory and the bootleg, boasting a higher quality soundboard recording, song names, track separations and packaging containing fantastic photos from the performance. The front cover is a particularly choice snapshot of Jhonn Balance in his Victorian madman costume, sporting a D.H. Lawrence/Will Oldham beard and hair combed sharply sideways. After a brief introduction of the now-familiar Coil-trademarked electronics—all shuddering gurgles, ripples, dimensional buzzes and distorted analogue melodies—the lengthy, seemingly improvised "Snow Falls into Military Temples" begins. The song is all icy ambience: a chillingly glacial combination of distorted, sidereal synths, unidentifiable percussive clatter and irregular trills on the marimba. Jhonn Balance pipes in with a series of nonverbal ululations and incantations, eventually settling on the mantric repetition of the song's title. Then Jhonn reveals the guiding principle behind this uniquely understated Coil performance: "We're doing a quiet set today...we've had too much shouting over the past year." And a quiet set it is, at least when compared to the Constant Shallowness-era, baptism-through-noise set I'd witnessed a couple years earlier in NYC. However, quiet in this case does not suggest that it is any less powerful, and in fact, there is a simmering, deliberate intensity to this material that brings it closer to the group's Musick To Play in the Dark phase than any of their other live appearances. "A Slip in the Marylebone Road" is an aural dowsing rod, Jhonn Balance recounting hazy memories of a drugged robbery near the aforementioned tube station that left him bereft of a valuable green notebook full of ideas and song lyrics. The story is told in freeform style over a quiet rhythm punctuated by Sleazy's sampled Speak-and-Spell spitting out computerized nonsense syllables. The last two lengthy tracks seem the most prophetic of all, "Triple Sons and the One You Bury" ("I drank a cup of mercury...If you're going to bury him, bring him home first.") and a radically retooled version of "The Dreamer Is Still Asleep." Subtitled "A Somnambulist in an Ambulance," a reference to Balance's alliterative mantra, impossible not to read as an eerie portent of tragic events to come. This is an indispensable live document, a set of songs never performed before or since, with a uniquely atmospheric mood steeped in morbid augury. - Jonathan Dean
samples:
THIGHPAULSANDRA, "DOUBLE VULGAR II"
Beta-Lactam Ring


This is the long-delayed sequel to the mad Welshman's 2003 Double Vulgar album, which was intended to follow closely upon the release of the first, but because of various problems surrounding the pornographic artwork and the dissolution of World Serpent Distribution, it has been delayed until now. Released as a CD and a triple-LP on Beta-Lactam Ring, the music on Thighpaulsandra's Double Vulgar II is very much in the same vein as its predecessor: long, freeform post-prog soundscapes populated by a basement full of vintage analogue synthesizers, long passages of masturbatory noodling, occasionally erupting into grandiose psychedelic glam-rock centerpieces before giving way to the twittering machines again. The album opens with Thighps and his opera-singing mum Dorothy Lewis trading surreal quips. "I'm not above using these tongs, you know," says Mme. Lewis, to which her son replies: "You afro-intercom bitch!" This weirdness continues for a while, against a backdrop of vaguely Star Trek-ian electronic chirps and the mutated saxophone bleats. The track continues through very surreal territory, sounding not entirely unlike something Nurse With Wound would produce after listening to the entire discography of ESP-Disk under the influence of magic mushrooms. I kept thinking that the song was on the verge of coalescing into something more concrete and musical, but I was wrong—dead wrong—which is good. It's nice to have your hopes and expectations dashed occasionally. "Telly For Rex" is something else entirely, sounding like the group improvisations captured on last year's Rape Scene album. The trio (or quartet?) of players orbit loosely around Thighpaulsandra's noisy squalls of brain-frying electronics, trying to glue it all together with shambolic percussion and swathes of electric guitar. It's a gloriously incomprehensible mess, all the way up until about the 13-minute mark, at which point the song unceremoniously explodes into a ferocious Hawkwind-style space-rock bacchanalia, complete with incongruous female back-up vocals. Things don't get any clearer with "Imperial," which begins quiet and clattery before gradually turning into an inexplicably groovy jazzy Krautrock with xylophones and all manner of unexplainable audio phenomenon bouncing around the room. Then it gets quiet and creepy again, concluding with a distorted group incantation. "Vomitting Child" begins with the sounds of closely-mic'd droids quietly masturbating, before turning into a vaguely tribal excursion, eventually somehow ending up as a melancholic, spaced-out alt-country number complete with slide guitar and mellow vocals by Thighpaulsandra himself. Ending this kitchen-sink mess is the hilariously over-the-top "Bost Sanvay Unst Bit Sumonver," a truly unhinged sidelong track that begins with a sorta coherent song-type-thing with perverse lyrics ("I wipe my penis on his curtains") and gradually falls apart into its component pieces, wandering lysergically through several deeply fucked-up minutes before reassembling for a final rhythmic leap into space. Double Vulgar II is the sort of album that plays like an uncensored, unedited stream-of-consciousness from a group of talented players being led by a mad genius. It makes no apologies for its excesses (including the erect male member lovingly pictured on the back sleeve), and doesn't stay in one place long enough for anyone to get bored. - Jonathan Dean
samples:
Keith Fullerton Whitman/Greg Davis, "Yearlong"
Carpark


Recorded on the road between December of 2001 and November 2002, these thirteen tracks prove that it's never impossible to continue exploring new musical palettes. Each track is, as far as I can tell, the combined effort of both Keith Whitman and Greg Davis and the music is markedly different from anything they've released by themselves. Far more glitchy and filled with non-linear messes of static and random noise, the majority of Yearlong has a less polished and more improvised structure than what I am accustomed to from either composer and so, upon first listen, I was a bit shocked by what I was hearing. The first Knitting Factory track is basically a series of highly edited pulses forced into envelopes of echo, reverb, sudden decompression, and 90 degree turns. There's very little room for continuity. Similarly, the recording from the Bottom of the Hill in San Francisco comes off as a noise performance edited and disjointed on the spot; gone are the smooth curves that populated both Davis' and Whitman's releases from last year. On the other hand, the two WFMU Radio pieces and the Kontor Gallery recording in Köln, Germany fit together quite well: the bells, whistles, reversed signal hums and guitar samples all flow in and out seamlessly, as though they were meant to sit side by side on a disc. The La Casa performance in Washington is a beautiful mix of kitchen sink percussion and simple, spacious piano bits and the massive WNYU-FM track from New York (recorded on the same day as the Washington performance) is a blissful mix of contemplative bells and shuffling utensils. These two tracks, in particular, are amazing because of how different they are. Recorded on the same day, they're indicative of how diverse both composers are and just how willing they are to try new ideas. The Impakt Festival recording, the last track on the disc, is particularly fun, too, and seals my feelings on this album up. A combination of crackling hiss and marching band samples, it lights up the end of an album that, at first, can be a little daunting, but ends up being excellently diverse and addictive in all its playfulness. - Lucas Schleicher
samples:
F.S. BLUMM, "ZWEITE MEER"
Morr Music


After hopping back and forth between a few different record labels over the past four years, Berlin-based multi-instrumentalist, Frank Schültge Blumm, has returned to the Morr Music fold for his latest release, Zweite Meer. I found myself easily drawn to his lush and gorgeous compositional style, which is just as influenced by modern, minimalist classical as it is pop music. For the most part, Blumm's tunes originate from guitar and bass strummings and pluckings that warmly become enveloped with instrumental layers of harmonium, accordion, vibraphone and minimal keyboard effects. Having devoted serious studies towards music, his knowledge, placement and performances with such instruments has been done very tastefully and with no discordance. Although a pop music element is present on the disc's compositions, the one facet not included (and not at all missed) is the bright tempos. Tracks such as "Nie" and "Langen" move at a slower, yet comfortable clip for plucked guitar progressions to leave the ample space which is beautifully colored by strokes of xylophone and blocks of harmonium with melodies furnished on melodica and glockenspiel. Brisker tempos would only muddle these brilliant and emotive performances. "Blick" consists of a base of sparse, drop-tuned acoustic guitar strumming and weaving melodica lines propelled by subtle vibraphone flams. Already rife with cinematic-styled orchestrations and evocations, the addition of a soaring French Horn performance from Harald Ziegler seals the deal to make this my favorite track on the disc (not to mention a new-found respect for the French Horn). The musically rich David Grubbs lends his unique vocals to the disc's closing track, "Nachhall/Chroma Key," with lyrics verging on stream-of-consciousness based around the set of a television show. Zweite Meer is a disc of warm and amicable tunes, and as its cover suggests, is the musical equivalent of laying back on the grass and picking out cloud shapes as a lazy afternoon drifts by. - Gord Fynes
samples:
"Tibetan Buddhist Rites From The Monasteries of Bhutan"
Sub Rosa


This double CD reissue of intimate recordings by Englishman David Levy from 1971 is a sprawling document of immense beauty. These recordings of rituals, chants and ceremonies strike a perfect balance between sounding clearly recorded and gloriously primal. Various trumpets, hand percussion, vocals and the occasional stringed and wind instrument are used to worship deities through prayer and invocation. Levy used state of the art recording techniques but aimed to capture events as they happened, therefore these recordings have an air of authenticity. The fact that he did not bring the participants into a studio and attempt to recreate their performances also lends the set a timeless quality. A track simply titled "Monks" is described as "monks, clown and public enjoyment." This two minutes of seemingly random chanting and informal vocalizing simply would not have been heard had Levy not made his recordings as an observer. The immediacy of the recordings gives them a visual quality. It is easy to envision layers of dust being released from ancient cymbals as they are struck together. Although the set is long at 143 minutes, it is conveniently divided into three sections: "Rituals of the Drukpa Order," "Sacred Dances and Rituals of the Nyingmapa and Drukpa Orders," and "Temple Rituals and Public Ceremonies." Much of sections one and two are trance-inducing, and perhaps this is entirely the point, as this music is not being created as entertainment. Levy was granted special access to record these rites based on his track record of excellence in field recordings made in other countries. While this music of Buddhism is normally only heard by the general public on special occasions, Bhutan's folk music is performed publicly and enjoyed by all. Many examples of this type are heard in section three, which offers a wider variety of styles than the private Buddhist rites heard in sections one and two. Here we are treated to music performed during processions, festivals and dances. There are also examples of pieces for solo vocal, cymbals and flute. Music that is devotional in nature and ritualistic in practice is one of the most pure and genuine forms of expression, and these recordings are free of the baggage that plagues so much Western music. - Jim Siegel
samples:
Daedalus, "Exquisite Corpse"
Mush


Exquisite Corpse (a sequential collaborative process in which each successive contributor is only allowed to see the very end of the previous addition before adding his or her own) is Santa Monica aritifcer of sound Daedalus's most collaborative effort to date, with the likes of MF Doom and Mike Ladd on board. Completing the double entendre, the album uses a motif or montage of death and related imagery as its unifying principle. In doing so, Daedalus informs the world that hip hop—the category in which Daedalus's uniquely arranged, densely-packed beat-driven sound best fits—can offer elegies far more involved that merely pouring some out for one's homies. Adhering to habit, Daedalus uses primarily analog samples of 1950s cocktail-lounge singers, ancient-sounding 1920s and 30s piano and organ notes and cheesily ambiguous post-war string arrangements as source material. Put in front of a simple snare-and-cymbal beat or a bossa-nova percussion sample, the sound of Exquisite Corpse is more akin to classical elegy rather than a Gothic dirge: a welcome surprise as nothing is worse than a melodramatic hip hop record. And the material is no Antigone, either. After a few minutes of instrumentals to set the mood, MF Doom's rapid fire and witty opener "Impending DOOM" mates a frantic, frenetic backbeat to his signature flow, with a string sample to keep the mood slightly mellow. Two versions of "Welcome Home" hint at some sort of an authentic cadavre exquis; a glitch-heavy beatdown that is unmistakably Prefuse 73, and a typically thoughtful and esoteric Mike Ladd poem, read over the original Daedalus beat: "Waiting on Pompeii/ my brain's a war machine/ waiting on the next/ another shoe is another day/ long as it doesn't fall I'm ok/ welcome home." "I Sent Off" is the closest Exquisite Corpse comes to more "typical" electronic music, the strings-and-singer opening duet fading into a dance-club worthy crescendo of gyrating beats. Among the more notable guest appearances is the pleasing sleeper "Drops," featuring obscure MC Cyne, laying a heartfelt rap over a relaxing jazz-inspired loop. The album's zenith is "Crippled Hand," a six-minute tour de force that showcases Daedalus's ability to do whatever he wants with any conceivable sound, from Andean pan flutes to clipper-ship era pennywhistles. In Greek mythology, Daedalus's skill as an inventer was legendary, able to manipulate anything with dexterity and aplomb. It's hard to think of a more appropriate moniker for the hip-hop Daedalus. - Chris Roberts
samples:
Charalambides, "Our Bed Is Green"
Kranky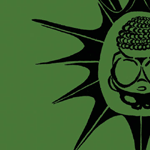 Kranky's double CD reissue of the debut recording from Charalambides reveals the origins of a band that, to some of us coming in late in the game, were seemingly without one. Everything I've heard from this now triple-guitar band is amorphous and translucent, the music never quite touches the ground, preferring to remain among the hazy and unsure images of dreams. Our Bed Is Green is a massive recording of several different styles of music, all of which are only hinted at on more recent releases. Between the soft, eerie opening of "Tea" and the hissing, open sound collage aura of "Finale" is a mish-mash of country, soul, blues, and spiritual music grinding upon each other and unleashing a full, dense steam of tense atmospheres and playful, melodic pictures. Songs like "Bid You Goodnight" and "I Don't Know You" are composed of relatively straight-forward guitar and organ phrases harmonizing together perfectly, with either Christina or Tom singing, but without the strange or alien characteristics of their more recent work (think Joy Shapes). On the same CD, however, are droning and meditative guitar sonatas like "The Treadmill" and "Stuttgart." On these noise is king and the guitar is bled of every last ounce of electricity before Tom Carter even thinks about letting it go. Crystalline notes seep through the walls of sound that Charalambides lay down, providing a center to the chaos they sometimes unleash, and through their wails that familiar and haunting spirit rolls out of their music. It's hard to imagine any other band sitting such distinct musical styles side by side without sounding sloppy, but Charalambides can be quiet and spectral one moment, igneous the next, and end up resolving themselves into a country-folk hybrid that eases on by as though it were carried on the wind. There might be more recognizable elements on Our Bed Is Green, but the music is undeniably unlike anything else I've heard; Charalambides were entirely unique from the beginning. The songs on their first record are already composed of anti-matter and numinous non-sounds, placing all of them well outside this world and somewhere in the nether places of myth or mysticism. - Lucas Schleicher
samples:
Nodern, "Nodern"
Sub Rosa


The white eyes staring out from darkness on the cover and the scream heard in the opening seconds of Nodern's debut album point toward an uncomfortable listen. He is adept at taking elements normally associated with specific genres and displacing them into his own, highly personal world. "The Meat in the Street" and the hideously-titled "The National Republic of Harelip" feature the rapid, rolling stop-start rhythms that are usually associated with so-called IDM, but in this environment they work well to heighten the tension created by layers of atmospheric synths and brooding melodies. This music seems more the work of a singular vision than most melodic electronic music, bearing evidence of human hands through the emotional resonance of tracks like "Letter Puncture PNX Pass" and "Johnny 123." "Johnny" features irregular rhythms escaping all over the stereo field, yet is grounded by a bed of plaintive, melodic synthesizer tones and strange vocal samples. The cut-up whispered vocals on "The Coal Mine Worker" give the track a sense of pending doom that is heightened by the eerie, claustrophobic ambience of the music. Other tracks, such as "Not Down That Alley," "Slave News," and "17 Fidelity Guards" are beatless and evoke apocalyptic visions through introspective synthesizer washes. These relatively sedate pieces offer contrast to the hectic beat programming featured on many of the other tracks, yet retain a connection to the whole by evoking a similar atmosphere of desolation. This contrast is one of the strengths of the album, and saves it from being a dull collection of tracks that each pit beats versus ambience. "Bleak Purple" is by far the noisiest track here, with short bursts of digital detritus weaving in and out of skittery beats that vary from the quiet pitter-patter variety to full-on industrial stomp. The dub-inflected techno rhythms and keyboard stabs of "Lockerbroom Rumble" would sound derivative of Pole and the Basic Channel crew were they not combined with waves of sharp static and placed within the context of the rest of these tracks. Although Nodern was recorded in Venice, London, and Johannesburg, it doesn't sound as if it was pieced together from various sessions over a period of three years. None of these cities come to mind when hearing the album, as Nodern has successfully created a work that is borne of his own universe. - Jim Siegel
samples:
Revenge, "No Pain No Gain Live 1991"
LTM


Speaking as a committed New Order fan, I can confidently assert that Revenge was the worst musical excursion that Peter Hook ever took. Toying with blatantly darker themes than the main band, most notably through collaboration with the highly touted S&M outfit Skin Two, this misstep of a side-project was the least satisfying of the three acts that the group's members launched (the others being Electronic and The Other Two) after the release of Technique. In the summer of 1989 after an extensive tour for that album, perhaps with a desire to escape from chart success and return to his Joy Division roots, Hook got into the studio with musicians Chris Jones and David Hicks to begin writing the first lackluster material for the band. In January 1990, Revenge played their first live show with an expanded lineup featuring Ash and David Potts, the latter of whom became Hook's co-collaborator in the redeeming and poppier Monaco project. The five-piece band toured throughout the world in support of their 'One True Passion' album on Factory, and the recordings on this entirely unnecessary release are culled from two different performances from the touir in Manchester and Kawasaki, Japan respectively. The key issue I take with Revenge is that their original songs were never all that good to begin with, so logically a full disc of concert recordings cannot do much to change that. Having listened to the studio releases all the way through Revenge's final 'Gun World Porn' EP, the live versions are, on the whole, generally rockier versions of the album mixes. In Manchester, after a short "Intro Jam," the band goes into "Jesus... I Love You," a track full of guitar fuzz, irksomely placed handclaps and cowbells, and, of course, Hook's signature bass. Yet despite his brilliant playing throughout, the material leaves much to be desired and his bandmates do little to help in the process. "Cloud 9" cranks up the guitar considerably and basks in self-indulgent rockstar soloing. Hook's vocals, particularly in a live setting, are not his strongest asset, nor are his lyrics, as evident on the ridiculously penned "Deadbeat." Truth be told, if the group had continued in the funky, poppier direction of "State Of Shock" perhaps Revenge might not have been so wholly forgettable. The final cut from this show is their take on "Dreams Never End," and naturally Hook shines here while the band remains unsurprisingly true to the New Order original. The Kawasaki show, recorded several months earlier than the Manchester gig, features two additional covers, the Rolling Stone's "Citadel" and the Velvet Underground's classic "White Light/White Heat." Sadly, the latter comes across as unnatural and rather unlistenable, much like if it were performed by a band normally not heard outside their drummer's garage... and with good reason. Judging by the performances presented here, Hook was right to disband the group in 1992 and move on to other musical ventures. Unquestionably a mere vanity project, Revenge undeservedly rode on the coattails of New Order's great success and thanks to LTM's recent attention continues to do just that. - Gary Suarez
samples:
We know that our music picks may be somewhat challenging to find, which is why we have a community section which can be used to obtain nearly everything available on this site.
radio silence

Subject: brainwashed radio
Dear respectable DJ's and brainy-web-tech-psych out music freaks,
We're having a lot of problems with your streaming audio these days. We here in charlottesville va have been listenign to your radio station until suddenly it stopped streaming, currently we are using iTunes, but the stream will neither run in iTunes or Real Player. Whats the deal? We have a wireless broadband connection running strong and we are bored to tears because our brains need washing!
Last week's announcement was posted too soon. Unfortunately the new Brainwashed Radio machine is still having issues. It's out being repaired. Sorry.

Subject: I wrote a love poem to Brainwashed, and it goes like this:
<poem>
i love
brainwashed,
especially the
podcast.
thank
you brainwashed
for
existing.
</poem>

Aww. How sweet.

Subject: the eye
hello !
i'd be interested in purchasing some DVD-R items of the eye, but i'd like to be sure : as a french motherfucker, will i be able to read them on my motherfucking french computer ?
hope to read you soon
ps : i love my mother anyway...
We haven't heard any complaints from the French, surprisingly enough.

Subject: autechre
you guys should do an eye episode on Autechre because they are coming to Ameirica and they are very good and they would be closer it would be cool.
You should tell Warp they should send Brainwashed stuff to review. They seem to forget who we are.

Subject: podcasting
Hi.
Do you have an archive of older Podcasts? If not, do you know of a mirror for these? The current one is awesome so I felt I needed to dig a bit more.
Thanks.
Well, we did announce in many, many places when we launched the Podcast, so, we're sorry, but the old saying is "if you snooze, you lose,..."

Subject: the eye
hello. i'd LOVE to see "the eye" with david tibet (michael). is there any chance of this happening and when?
We would too. He's a bit camera shy, however.

Subject: Non
Hey, I've been a reader/listener of your site since your 2nd year ... I've never watched an installment of The Eye until this week with NON. I've been following Boyd Rice's work as a fan for 17+ years but never saw an interview with him until now ... saw him a couple of times at a bar in Denver around 1990 spinning some 45's from the 60's so looking forward to the podcast too. I'm glad you focused more on the art and music and not on what they may mean to people who like to get upset. Anyway thanks for the great site and I dropped some change in paypal today for the privilege.
Thanks for the note and the support.

Subject: Podcasts
Are there setlists available for any of these podcasts? I'm sitting here listening again to the UD podcast and realizing that I have no idea what I'm hearing and I'd like to own whatever it is. =)
Listen to the announcer, the songs get introduced.

Subject: The Eye
Hello.
I am from Belgrade ( Serbia, you know where its at ) and used to download your -The Eye- editions when i had phone modem. Now I changed to cable internet and it seems I can't download anymore. I wanted to know is that because of you decided so, or is it just because of the cable? Alright i dont know much about it, so I asked.
Your site, do i need to mention at all, is super. A lot of things to find out, and thats the primary goal. I know about it long time ago, and there were some changes I guess.
Ok. thanks for your quick reply in advance.
Keep on keep on keep on.
Try Firefox and make sure you've got the latest Quicktime plugin.