a weekly digest from the staff and contributors of brainwashed
V08I17 - 05012005
Click here for other issues
SITE
tg show revealed
The date and location of the Throbbing Gristle performance in Italy has been announced. TG are scheduled to play on Wednesday, June 29th at the Fonderie Teatrali Limone in Torino, Italy, as part of the Traffic Torino Free Festival. More details (brush up on your Italian) at trafficfestival.com.
CURRENT 93 AS SEEN FROM A GONDOLA
Current 93 has just announced three upcoming shows in Venice, Italy. Current 93 and "Friends" are scheduled to play December 2nd, 3rd and 4th at the Teatro Fondomenta Nuove. For information or to secure tickets, drop a line to Urgh at deathtripper at hotmail.com. In other Durtro news, some excellent back catalog items - the 2CD reissue of Thunder Perfect Mind, SixSixSix: SickSickSick and Halo - have been reissued and are available from the Durtro shop, as well as from Canada's Jnana Records, and hopefully also some fine independent record stores near you. Several new related items will be available for sale at the upcoming Toronto shows, including a re-recorded version of Current 93's Hypnagogue, a 2CD recording of last years performances in Toronto, the new Nurse With Wound album, a mini CD by Contreras (featuring Rose McDowall), CDEPs by Baby Dee, Simon Finn and Six Organs of Admittance, and a two-track CD by a mystery artist.
NURSE WITH WOUND RECITES POEME
Nurse With Wound is on the verge of releasing a new album entitled Echo Poeme: Sequence No. 2, which will be made available at the Current 93 shows in Toronto in June, as well as from the Durtro shop, Jnana Records, Colin Potter's ICR website, and many other sources. Also, the much sought-after Soliloquy for Lilith 3CD box set reissue, which was briefly available last year, has been reissued and is also available from the aforementioned sources.
windy and carl
Windy and Carl are awaking from a musical output slumber with some new releases in the horizon and concert dates down the road. Dedications To Flea is a limited CD EP, to be released on the new Brainwashed Handmade imprint of Brainwashed Recordings, printed in a letterpressed edition of 500 copies, a new split single is also due, and their long awaited full-length follow up to Consciousness on Kranky is being completed. Furthermore, European dates are being talked about for the fall including two festivals and a short romp. More details (although they're pretty sketchy at this stage) can be seen on their website.
THE EYE

ulrich schnauss


Although Ulrich Schnauss has two warmly received full length albums under his belt, he openly admits he's got some progress to make. So until his next album and tour, which will ideally include vocals, guitar, and visuals, we are happy to present this, recorded on a tour opening for M83 and interviewed at Brainwashed Central!
12 Minutes, Quicktime Streaming Video
TECH SPECS
Necessary:
A current web browser
A modern computer
The latest quicktime plugin for streaming media (hint: use the latest Mozilla if other browsers aren't working)
Recommended:
A fast connection
A willingness to learn
Unnecessary:
If you see a blank window without anything streaming, don't complain to us. You don't have the latest version of Quicktime for streaming media. Go download it. It's free.
MUSIC IN REVIEW
"Monika Force"
Monika


Monika is the label founded by Gudrun Gut, formerly of German post-punk noir quintet Malaria!, a group that enjoyed renewed interest lately, after Chicks on Speed turned their song "Kaltes Klares Wasser" into an electroclash anthem. And while Chicks may sometimes appear capable only of recycling the past, Gut's accomplishments with Monika place her among progressive artists never content to let nostalgia or past referentials guide their work. Hints of punk's subversive wit and DIY aesthetic enter the Monika sound, but the musicians seem less interested in countercultural rejection than in promoting reforms to a unifying pop language. Nearly all take advantage of the electronic medium, but never as an end in itself, the computer never more than an elaborate editing desk, a treatment for whispered vocals, amplifier of incidental melodies or siphon of city sounds. Monikans are almost uniformly female, urban and stylish without appealing to trends. All maintain a pop sensibility, though even the most twee (Figurine, Florida, Burka Band) are never so na´ve that ironical detachment is required for their enjoyment. The sleek and minimal German electronic code exists only as subtext for this music, its creators poised to tease out quietly overwhelming melody and sundry pop eccentrics with enough ease and regularity to suggest that perhaps Monika should head-up the Kompakt Pop Ambient series so the title might gain some meaning outside of signifying beat-less microhouse throwaways. This is new and vital pop music, relevant in both past and present contexts. The archetypal Monika group might be Contriva, a trio that began as a subtle and melodic post-rock unit but, by the time of their first record Tell Me When, had shifted within this basic structure to create a fragile and confident instrumental pop treasure, its musicianship still visible but finding transcendence from studied post-rock-isms through the arrangement of timeless and suggestive pop figures across an electronic song-line. Monika Force is the label's second budget-priced sampler, special not only because it is a great label introduction (compiled by Gut herself) but also because it compiles many of the marginally available remixes and vinyl-only tracks even a previous Monika enthusiast may not have on one disc. Some of the label's best tracks like Manuela Krause + Pole's "Mein Freund de Baum" and Barbara Morgenstern's "Aus heiterem Himmel" are included here in their 12" and 7" mixes alongside newer classics like Contriva bassist Masha Qrella's wonderful "I want you to know," also in a b-side mix. Morgenstern, my favorite Monika artist, even includes an admittedly weak bonus video for her song "We're all gonna fucking die." In absolute justification of its title, Force is the prefect place to begin submission to the new Monika world order. - Andrew Culler
samples:
"4 Women No Cry"
Monika


This is supposedly volume one of a series of CD/double-LP No New York-styled compilations from Monika, all featuring 4 new female artists, each allowed one-quarter of the running time, one vinyl side. I'm immediately doubtful that the label will be able to maintain this level of quality control over a larger series. Each of these women not only sounds like a brilliant new discovery, but each seems to both alongside the other three, but neatly within Monika's intimidating history. These are bedroom assemblages that beautifully support the title's rejection of the solitary woman as locus for sentimentality or dependence. All four operate through the synthetic rearrangement and augmentation of incredibly intimate recorded moments, be they hushed, after-hours vocals, noodled guitar or nocturnal street and room ambience. The result is a very global sound, borrowing folk tropes from several cultures (artists are Western and Eastern European and South American), weaving absurd post-modern fantasy tales, marshalling abstract political statements, and dragging tense emotional ballads into expansive geographic space. Each artist contributes four to six tracks, within which each oscillates between more abstract cut-and-paste selections and conventional hook-built songs, creating a successful dynamic between potent atmosphere or sketchy ambience and charged pop songs that rival some of Monika's best. Rosario BlÚfari and ╚glantine Gouzy show particular mastery for microtonal percussion programming capable of piercing the music's small spaces, introducing the sounds of the street into a song's rhythmic milieu, or skittering around a smooth vocal. Despite the wealth of surrounding matter, the vocals do become the focal point for each artist's contribution; their voices so unique and expressive that they demand center stage, at least two of them pulling off Spanish and French rapped lyrics after crooning with naked delicacy in the previous tracks. Gouzy shuffles from creeky, Bjorkian na´vetÚ in "Nurse Song" to a complementary, provocative and playful style in the obscure "Zone A." It's impossible to pick a favorite among these four artists, or to adequately represent even one of them in a sound sample. Each is at once a great melody-maker and uncompromised sculptor of diverse sounds, making this, my favorite compilation so far this year, a hard first volume for Monika to top. - Andrew Culler
samples:
DUNGEN, "1999-2001"
Subliminal Sounds


For the cross-generational group of indie psychedelic rock fans that I like to call the Terrascopers, last year's Ta Det Lungt by Swedish group Dungen was a revelation. This is not to suggest that many others before Dungen hadn't also explored the same general post-Beatles territory, but merely that no one had done it with quite as much aplomb and effectiveness as Dungen, at least not since the glory days of Elephant 6 groups like Olivia Tremor Control. Amidst their infectiously mannered vocal harmonies (all in Swedish) and backwards guitar symphonies, Dungen also interspersed unexpected passages of blistering acid guitar. Where Ta Det Lungt was a study in balance and dynamics, 1999-2001—Dungen's rarely heard first album, newly reissued on CD with bonus materials—is a far more untamed and problematic proposition. Made up of three lengthy tracks that each move through a number of jarring, Faust-style movements and rapid transitions, Dungen's debut is a mess, but a consistently enjoyable one at that. Marked by its patchwork tendency to crossfade into something quite different every few minutes, the album feels quite a bit hairier and proggier than its successors. In addition to the baroque psych-pop stylings familiar for the group, each track is also chock full of odd passages of Jethro Tull flute solos, effects-heavy experiments in psychedelic ambience, free-form folk meanderings, piano and slide-guitar duets and a myriad other musical gestures too varied in their approach to encapsulate here. The overall effect is of a group of talented musicians who couldn't decide how exactly to gel together and execute a single, coherent musical statement, so instead opted for maximum eclecticism, throwing everything at the wall to see what would stick. As such, it's far from a satisfyingly conceptual whole, but other than that, it hardly makes a wrong move for entire 50-minutes-plus length. The opening track starts with a recognizably Dungenesque vocal harmony backed by droning backwards guitar, before fading into an extended instrumental jazz-rock piece, a brief section of Comets On Fire-style synthesizer acrobatics, and a shimmering wall of drones with sampled birdsong. All of this before the song has reached the halfway mark. A comparison could be made with Xhol Caravan, who used similar tactics on their classic random radio-dial turning Motherfuckers GMBH. Like Xhol, Dungen don't seem to take themselves too seriously, juxtaposing breezy light psych-pop with third-eye sitar attacks, pausing every now and then for another sunshine pop chorus. 1999-2001 is the kind of album that could very easily have digressed into turgidity and tedium, but happily remains afloat as it coasts through a kaleidescopic variety of whimsical and hallucinogenic changes. - Jonathan Dean
samples:
Damien Jurado, "On My Way to Absence"
Secretly Canadian


Damien Jurado dabbles thoughtfully in Americana, making the whole of our country's midlands his playground. His songwriting has always been sharp (lauded and even appropriated by artists like Neil Halstead) and it loses none of it acuteness on these most recent twelve songs. As a prelude to this album, Jurado released "Just in Time For Something," an EP which featured five songs of the most lo-fi, scratchy recording quality possible. It was a beautiful listen, full of demo-quality brilliance and hearing it felt like being let into the songs at their synthetic moment of creation. Contrariwise, On My Way to Absence is further down the evolutionary scale for Jurado's songs. The arrangements are fuller, with pianos, drums, trumpets, strings, basses, and even a wandering glockenspiel. The recording is more technical, exhibiting none of the bedroom qualities so lush in the EP. If you listen carefully enough, though, you can still hear the nascent stages of the songs in their more mature versions here. Frustratingly, I find myself doing this through most listens of the album because I appreciate Jurado's songwriting without the adornment of added instruments around him and his guitar. For those with such low fidelity fidelity, Jurado rewards us with two songs ("Northbound" and "Fuel") of pure man and guitar (though not sounding particularly lo-fi). Curiously, most of Jurado's spare songs lyrically have something to do with automobiles, including songs from the EP (like "Engine Fire"). Perhaps this is symptomatic for the musician who tours widely without a decadent or decent tour bus. My pickiness aside, there are some fine songs with full-band treatment. "Night Out For the Downer" is the sinuous tendon which connects both this album and the EP, having the full-band version on the album and the acoustic version on the EP. The song actually succeeds here better than it does on the EP, which seems to contradict a lot of what I have offered so far but I say it's the exception which proves the rule. Honestly, it might be the glockenspiel which wins me over for the album version. The album's best effort is the opener "White Center." In the verses, Jurado's voice pleasantly and playfully mimics his guitar before giving way to the stringed choruses. The entire album is a mix of lullabies and gentle rockers, sometimes further hybridizing into Frankensteinian "rocking lullabies" like the infectious "Simple Hello." In the liner notes, Jurado thanks his producer/engineer/bandmate Eric Fisher and claims "without you my songs have no life." I would disagree. Jurado's songs do indeed have life without the complement of the studio. It's just a different life: smaller, more modest, and less apt to stumble with a torso too large for its feet. - Joshua David Mann
samples:
PREFUSE 73, "SURROUNDED BY SILENCE"
Warp Records


For Surrounded By Silence, the fourth full-length release as Prefuse 73, Scott Herren picks up the thread from where 2003's One Word Extinguisher left off in terms of pushing the envelope of musical beats forming into sublime compositions divided with interesting interludes. Having previously collaborated on some tracks with MCs, this time out Herren has invited a bevy of singers and MCs such as Beans, Aesop Rock, Masta Killa and the GZA, who turn up to further enrich a good deal of the disc's 21 tracks. The laid back, steady beats and charming sound swirls of "Hide Ya Face" are ignited by the spit-fire commentary from MCs Ghostface and El-P for some musical juxtaposition at its finest. Throbbing bass drum and downbeat handclaps support "Pastel Assassins" in its mix of sampled woodwinds and nylon string acoustic guitar all topped with the gorgeous vocals of NYC sisters Claudia and Alejandra Deheza. Machine beats and sampled harp-pluckings form the backing track of "Now You're Leaving," featuring the rhymes and soulful vocals of Brooklyn MC/producer Camu. Based on a brief relationship, Camu poignantly sums it all up with the chorus of "Now we met / We kissed / You're breaking up / Now that's it / Now you leaving / Now I'm gonna be miserable for the rest of my life." The full-length instrumental "Gratis" is the stand-out, deep groove and slick sample arrangement track that I've come to expect after hearing "Perverted Undertone" on ...Extinguisher. Herren skillfully blends trumpet and string section layers into the melodic element amidst treated Clavinet tones and beats for one of my many favorite tracks on this disc. Now based in Barcelona, Herren produced much of these tracks in NYC for the convenience of tapping the MC community for its talents, although hints of Spanish influence (i.e., nylon string guitar, ethereal female vocals) seep into the sprawling urban mix. What I love about Prefuse 73 is how Herren continually manages to pursue and re-invent all the interesting facets of his personal brand of hip hop without trying to re-do or out-do his previous discs. Currently touring North America, I'll be looking forward to seeing if Herren and company can pull off tracks from Surrounded By Silence with style and conviction. Although, based on past live experiences, I have no doubts about it. - Gord Fynes
samples:
Gang Gang Dance, "God's Money"
The Social Registry


This Brooklyn based quartet have hit their stride with their second proper full length release (not counting CD-Rs and higher-profile reissues of CD-Rs). Although the side-long explorations of disjointed rhythms and free form noise of their previous releases were enjoyable in their chaos, God's Money is the sound of a band that has found their strengths and discovered a way to present them in a more coherent fashion. The more structured sections many of these tracks feature is an improvement on their earlier approach. This does not mean that the group has lost their experimental tendencies altogether, rather they now use these freeform techniques to add depth and contrast to their new, more groove oriented direction. This practice is especially effective during "Egowar." After four minutes of trance-like rhythmic patterns with sparkly synthesizer flourishes, the song falls apart and the collective sound begins to resemble that of a volcano about to erupt. God's Money benefits from a mixture of technical proficiency and the sort of risk-taking normally associated with sound art. The group sounds like they've been inspired by the more rhythmic and angular pop music from the late seventies and early eighties, such as The Slits and Siouxsie and The Banshees, without sounding like a retro tribute band. They instead blend these influences with all sorts of ethnic rhythms and melodies to come up with a sound that is unique and also sounds refreshingly modern. Tim Dewitt's drumming is so solid and inventive that almost anything could sound good on top of it. His rhythms are so infectious that the simple synthesizer vamps played on dated equipment and Lizzi Bougatsos's often shrill vocals can be overlooked. Her voice is the element of Gang Gang Dance's sound that takes the most getting used to, and will understandably polarize opinion. While previously her vocals were exclusively used as another abstract sound, the almost traditional song structure of tracks like "Glory in Itself" allow her to take a more traditional lead singer role. Several short instrumentals (titled "God's Money" parts I, V, VII, and IX) are interspersed throughout the 40 minute set and add variety while providing thematic continuity. "God's Money I (Percussion)" sets the tone with tribal drumming. "God's Money V" provides a mid-album instrumental rhythmic interlude, while "God's Money VII" is an atmospheric piece that begins with clouds of keyboard swells and concludes with electronics and skeletal beats. "God's Money IX" finishes the album with loose drumming over similar keyboard washes. With God's Money Gang Gang Dance has proved that all the meandering and experimenting of their earlier work has paid off. - Jim Siegel
samples:
JAGA JAZZIST, "WHAT WE MUST"
Ninja Tune / Smalltown Supersound


Having spent the better part of the past ten years successfully fusing large ensemble jazz with electronic-based music(s) for a fresh and interesting take, Norwegian collective, Jaga Jazzist, have refined their chops and compositions for their fourth official release, What We Must. Noticeably absent is their triple digit BPM tempos and quirky, eclectic compositions which relied on the "programmer" element as an integral part. Instead, the group have crafted seven stunning pieces that follow a more straight-ahead instrumental rock feel, ridden with catchy hooks, radiant progressions, beautiful melodies and plenty of air-drumming fodder for those that choose to partake (myself included). From the first four bars of opener "All I Know is Tonight," the heroic rock element falls perfectly into place, nicely embroidered with sliding horns and snappy breaks that stop on a dime, leaving a twinkling xylophone to finish off melodic phrases. As with most great rock albums, the first cut is the set-up 1-2 punch for track two; in this case, the over-the-top "Stardust Hotel." Power chords that would make their death metal countrymen proud are banged out on tremolo guitar matched with snappy and polyrhythmic drumming kick the tune along as an overly-distorted trumpet runs the melody. Not to balls-to-the-wall it for the entire six minutes, a refreshing yet not so out-of-place turn with a more orchestral taste tapers the tune off nicely. Seeing the group on their brief North American tour last summer, a then new and unfamiliar track which stood out in performance has become the track that warrants repeat listens in succession. Keyboard player Andreas Hessen Schei's "Swedenborgske Rom" is a grandiose performance drawing heavily on the movements and arrangements of classical music scoring, all beautifully orchestrated. The full band's choir performance midway through is evocative and very touching, bordering on celestial. The musical chops of Jaga Jazzist's members quickly became apparent on previous releases amidst their unique compositions and inspiring performances. What We Must showcases the group's maturity as composers, arrangers and orchestrators, proving, once again, that the sum is greater than the individual parts. - Gord Fynes
samples:
The Exposures, "Lost Recordings 2000-2004"
Eastern Developments Music


Perhaps electronic music's most "obscure known" collective, The Exposures began their music careers in the late 1970s as anonymous television composers, creating uncredited background music for commercials and short films on a major German television station. Somehow the trio (known to the world as M. Cretu, N. Gratin and O. Grouton) gained the attention of Berliner Jan Jelinek. A joint tour ensued, which was noticed in turn by Prefuse 73, to whom we owe the existence of Lost Recordings 2000-2004. Each of the eight tracks here have a unique and interesting history: the somewhat salacious and slinky "Collage of Digital Passion" and the groovy downtempo "The Knack" were intended to accompany the television programs "Abenteuer Forschung" (Adventure Research) and "Extreme Travel," respectively; the maddeningly repetitive and mechanical loop called "A Machine Under Influence" was commissioned to be played at Volkswagen's Wolfsburg plant, with the thinking that such background music would increase productivity. Lost Recordings's greatest value is its novelty: The Exposures have a long history in making music in Germany—apparently it's heard on TV there all the time#151;and this is the only collection of their music available on an album. Lost Recordings are for the most part pleasant-sounding tunes, well-structured and formulated, and incorporating a variety of sounds, organic and incongruous alike. Still, The Exposures never rise above their jobs as background musicians on Lost Recordings. No one track is able to distinguish itself above the rest: most feel half-finished, only a vocal track or some creative sample away from being truly emotive or unique. The Lost Recordings are mostly blandly and boringly inoffensive, feeling purely functional rather than soulful or emotional. Sort of like a Volkswagen, really. - Chris Roberts
samples:
Sybarite, "Dolorous Echo/The Mast"
Brainwashed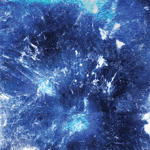 Xian Hawkins composes some of the most elegant and addicting music, but remains somewhat lost in the tidal wave of other electronic composers currently active. It's a shame because, as Sybarite, he manages to coerce soft, seductive, and contemplative songs out of his machinery and his music never gets old; it's never lost in an emphasis on production or artiness. "Dolorous Echo" is a ricocheting curve of metallic percussion and remarkable melodies built into and on top of one another. It's cascading mass seems to fall in slow motion as the beats slip and spin about, circling around the reversed and chiming synthetic tones that float slowly away at every turn. There's a dense layering of rhythmic and harmonic elements on each second of the song; the flute-like whistle that's somehow surrounded by all the other instruments may not be noticeable at first, but it carries a certain importance with it as it is pushed, pulled, and resituated in the mix throughout the song. It's like being led through a maze at high speed over and over again, until nuances and details become clear out of pure repetition. Only Hawkins is messing with me at every lap of the maze, changing the smallest details for the best effect. "The Mast" is a slowly pulsing array of telephone tones, wooden blocks, and smooth bass. Hawkins' arrangement makes the song feel as though it is vibrating in and out of existence, the extended metallic drones and the rhythms shimmering in unity so that the song feels like a flashing star of bass tones and rocking-chair keyboards. It's a relaxing little number that contrasts perfectly with "Dolorous Echo." It's a good thing that pre-orders of Otology came with a CD that included this release because within another week's time, I would've worn the grooves out of this 7" and have wanted a replacement desperately. This is an excellent place to start becoming familiar with Sybarite. - Lucas Schleicher
samples:
Jessica Bailiff, "Live on VPRO Radio"
Brainwashed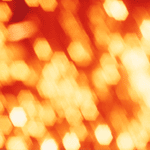 Recorded just shortly after the release of her last, self-titled album, this 7" is a rare document of Jessica Bailiff's sound away from the studio. Included are two songs available on her full-length recordings, a cover of "Come and Close My Eyes" by Flying Saucer Attack, and a version of "Shadow," which was previously available only on Disc A of the Brain in the Wire compilation. While her live sound is more bare compared to what she does inside the studio, Bailiff's siren-like voice and hypnotic guitar playing is enchanting, sounding as though it's coming through the ether from some far away, and sometimes sad, place. What this 7" release most exceptionally highlights is Bailiff's song-writing ability. She writes elegantly and fluidly, pacing her music perfectly, allowing her voice to melt into her rhythmic guitar melodies with ease. Her style is completely her own, but not without sympathetic and inviting tones. She can make me believe that she's in the room with me, whispering to me and relating stories pulled from all over the world. There's never an element out of place in her music and each one of these four recordings proves that she's one of the finest writers and performers around. - Lucas Schleicher
samples:
Aranos, "No Religion/Spitting Revivalist Dreams of Everlasting Pain"
Brainwashed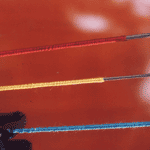 Of the three 7" records released by Brainwashed this month, Aranos' two songs stand out as shocking and strange, even with his already strange discography considered. "No Religion" gets straight to the point as a thumping bass drum and tambourine fade in, Aranos sings, "Oh, I've got no religion and I'm glad." Where many of his lyrical outings have been ethereal and surrealist in many ways, for this song Aranos has come down to earth with a definite and unmistakable message: religion, hate, and violence seem to go hand in hand. It's not a revolutionary thought, but Aranos is obviously pissed off. His delivery cannot be mistaken for sarcasm and there's no hint of metaphor nor a sign of symbolism anywhere in his words; this is a direct voice speaking exactly as its source feels. "No Religion" feels like it should belong at a party, too, the bouncing bass and drum rhythms are joyous sounding and Aranos' slash of violin playing is upbeat and bright, betraying the seriousness of the lyrics. I've found myself singing this on my way to work so as to pick my mood up, "I've got no religion and I'm glad, glad, glad, I'm so glad that I don't have to hate." "Spitting Revivalist Dreams of Everlasting Pain" picks up where "No Religion" leaves off. The mechanical, sputtering sound of dying industry that closed up side A are enhanced and pumped up a thousand-fold on side B. It's a noise track in every sense of the word, ringing with piercing shrieks, heavy metallic crashes, and buzzing electronics. Aranos processes these sounds, turning the volume up, along with intensity, at some points, and letting the sounds rumble on the horizon at others. It's like a sonic fit, tossing everything about the room in a sudden and fierce display of absolute frustration. The intensity, at some points, is frightening and, as the song continues to churn on, never giving up, it becomes quite clear why this was coupled with "No Religion." Sometimes talking or singing about a feeling or idea isn't enough, sometimes sound translates the ideas with such clarity that a word might spoil everything. - Lucas Schleicher
samples:
We know that our music picks may be somewhat challenging to find, which is why we have a community section which can be used to obtain nearly everything available on this site.
NEW RELEASES

WEEK OF MAY 1 - MAY 7
Bj÷rk - Med˙lla 2xDVD [features videos, documentary footage and the album in surround sound] (One Little Indian, UK)
Bj÷rk/Various - Army Of Me: Remixes & Covers CD [all proceeds to be donated to UNICEF] (One Little Indian, UK)
Blutengel - Live Lines DVD [initial copies include bonus live CD] (Out Of Line, Germany)
Bong-Ra - Grindkrusher 12" (Ad Noiseam, Germany)
Bong-Ra/Enduser/Shitmat - Monsters of Mashup CD/LP (Ad Noiseam, Germany)
Bronnt Industries Kapital - Virtute Et Industria CD (Static Caravan, UK)
Caribou - The Milk Of Human Kindness CD (Domino, US)
DJ Kose - t.b.a. CD/LP (Kompakt, Germany)
The Drift - Streets/Nozomi 12" (Temporary Residence Limited, US)
Dub Gabriel - Bass Jihad CD (Azra, US)
Flunk - All Day And All Of The Night CDEP (Beatservice, Norway)
Fog - 10th Avenue Freakout CD/LP (Lex, UK)
* Gina X Performance - Nice Mover CD [remastered reissue with bonus tracks] (LTM, UK)
* Gina X Performance - X-traordinaire CD [remastered reissue with bonus tracks] (LTM, UK)
Howard Hello - EP CDEP (Temporary Residence Limited, US)
Jaga - What We Must CD/LP [initial copies of CD include bonus disc of demos] (Ninja Tune, UK)
Lawrence - Swap 12" (novamute, UK)
* Lycia - Estrella CD [remastered reissue] (Silber Media, US)
Manual - Azure Vista CD (Darla, US)
Mind.In.A.Box - Certainty CDEP (Dependent, Germany)
Barbara Morgenstern & Robert Lippok - Tesri CD/LP (Monika, Germany)
Nine Inch Nails - With Teeth CD (Nothing/Interscope, US)
Jennifer O'Connor - The Color and the Light CD (Red Panda, US)
Oneida - The Wedding CD/LP (Jagjaguar, US)
Pleaseeasaur - Action Spectacular DVD (Imputor?, US)
Populous - Queue For Love CD/LP (Morr Music, Germany)
Quasimoto - The Further Adventures of Lord Quas CD/LP (Stones Throw, US)
The Russian Futurists - Our Thickness CD (Upper Class, Canada)
Chrystal Belle Scrodd - The Inevitable Chrystal Belle Scrodd Album CD (Klanggalerie, Austria)
Chrystal Belle Scrodd - Belle de Jour CD (Klanggalerie, Austria)
Various - Heroes Vol. 4 CD (Hydrogen Dukebox, UK)

This is simply this week's highlights from the NEW RELEASES provided by Greg and Feedback Monitor. For a more detailed schedule stretching into the future, please check out the page, since release dates can and will often change.
CONCERT REPORT
Garbage Island
April 30th, Eyedrum, Atlanta, GA US

Good, improvised noise music is a rare thing. I myself will run for the hills if I think I'm about to be subjected to hideously pretentious performance art or rehashed Zornist skronk, things usually associated with this loose genre. So, Garbage Island is indeed an island amid a stream of, ahem, garbage. Their trash is treasure—if my wife comes out of a "noise" show commenting how great it was, I must relate that something magnificent was accomplished. True moments of levitation occurred—swirling, dense, propulsive, and soothing in turns. Perhaps my favorite parts were when the two drummers built up intricate pummeling crescendos. Garbage Island is very tight, playing off each other extremely well. I asked one of the guys before the show if they have any idea of what they're going to play, and he indicated the negative. That's impressive, because few people would be able to guess it. I'm not sure what to compare the music to, although it would sit well right alongside spacey organic krautrockish jams or recent Boredoms. There is no performance art baggage with this band—no costumes, no microphone gagging / onstage masturbation ( you know who you are), no choreographed fist pumping—just a few musicians into what they are doing, creating accidents with great skill. - Jesse Nieminen
POLL
Results from last poll: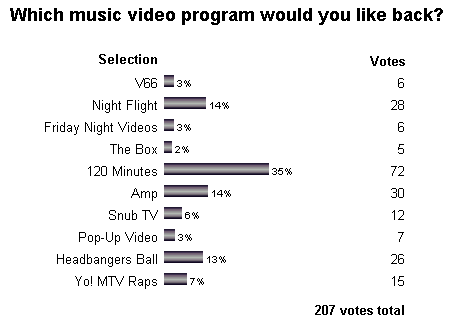 LINK OF THE WEEK
band to band
It's a relatively new site but a cool concept. It expands on the "Six Degrees of David Pajo" game we used to play years ago! Trace bands to other bands in a number of steps of musicians at bandtoband.com. Oh yeah, feel free to hound the developers to add more people. They have a long way to go!
FEEDBACK
you're so vain

Subject: The Eye
As usual another entertaining and intriguing edition of the Eye. I'm eager to hear what Davis, Vida, and Whitman will put out together in the future, since I sadly missed the tour. However what truly delighted me was that they mentioned their trip to my home town of Martha's Vineyard. Knowing that they played in the tiny little record store where I was a regular back in high school, ravenously picking through eveyrthing looking for music mentioned on brainwashed, gave me a warm fuzzy feeling.
Hopefully their late night recording session out there will allow the Vineyard to leave a greater mark on the musical world than as just the location of Carly Simon's summer home.
We'll see if a "Nightcrawlers" album ever materializes. You never know until it shows up.

Subject: Otology
Hi guys,
I have just received my otology and CDR over here in the UK. It's on now, sounds great I have to say.
Thank you for including '003' too, fantastic. Is there any copies left of Brain 001, 002 and 004 as I like what I have heard so much that I would like to buy these too.
Whose gonna be Brain 008? I notice that 009 is avaialble from June 1 but no eight.
Looking forward to hearing from you.
Cheers
The Otology CD-R is BRAIN008. 001 and 002 are sold out but the tracks appear on 008. 004 is Brain in The Wire. Hope that helps.

Subject: My cat hates Aranos
Holy shit! When I got to my house last night, I listened to the three seven inches. They sound great! I recorded them into my laptop so I don't have to wreck the vinyl to hear them... I listened to them in order. That really noisy Aranos song came on last and the cat went fucking nuts. I was standing with my back to my turntables and didn't know the cat was upset until I heard this ripping thud come from behind me and saw the cat SPRINTING away, all puffed up. The record didn't skip, so I was trying to figure out what happened. I thought maybe he tried to jump up there and missed or something. Then I saw that the foam that lines my coffin to protect the turntables was torn. One tear for each claw and then two punctures in the middle from his fangs. My cat hated that noisy Aranos track so much that HE ATTACKED THE TURNTABLE!
It was the weirdest thing!
Aranos replies: get a new cat.

Subject: calling the experts
This is a followup to a question I posed last year (V05I48 - 12152002). I was looking for the name of a band that did a song called "Darkness Still Calls". I found them. It's a group from Holland called The Thought. Now I want your crack research team to delve into who the hell these guys are. The internet has almost nothing about them. Anyone know if there is a CD? Does anyone even remember these guys? As far as I can tell, they had one single, the electric prunes' "Too much to dream last night."
Keep up the good work, this is still my favorite place to visit on the entire net, except for porn and weather conditions. You guys figure out a way to combine those two things on your site, then i wouldn't ever go anywhere else.
No ideas here. Maybe somebody reading this will know?

Subject: Chthulu Lives
Dear Brainwashed,
Quite by chance I happened to discover that you guys are serving MP3s of our copyrighted music. Case in point:
http://brainwashed.com/common/sounds/mp3/hplhs-shoggoth_prayer.mp3
We hereby respectfully request that you remove MP3s created by the HP Lovecraft Historical Society from your servers immediately. Thanks.
Sean Branney
HPLHS, Inc.
This was part of a review and is only a 60 second excerpt and falls within the fair usage laws of copyright. Please see the review at http://www.brainwashed.com/brain/brainv06i33.html - and notice that we do not give away the full recording.

Thank you for your concern but we are operating in full legality.

Subject: Otology
this morning otology arrived here in germany. the 7"es give me a feeling that a cd will never give me. and is there anything more beautiful than coloured vinyl? (ok, there are ore beautiful things, but very few only).
not to forget the music, a very good selection, especially jessica bailiff (sorry, i can't know each and every brainwashed artist).
please go on with your excellent work at brainwashed.
Thanks. You're a dying breed.

Subject: Animal Eye
Hi,
I recently saw the video file you have on the site about the Animal Collective, it was a very fun video, thank you for it.
My question is, the second song they perform in the video, what is it titled and/or on which album could i find it?
Once again we open this up to readers. The video is from Volume 7, issue 16. Best of luck.

Subject: Otology CD
Hi...sorry to ask....
I just received the box set of 7 inch records from you (4)....plus a cd-r...with a remix of coil's dark river on it....
my question...any chance of a track listing for the cd????
thnaks...sorry to ask
It's up at Brainwashed Recordings somewhere.

Subject: ear science
great job with those 7"s.
Very proud of you..they look fantastic and sound even better. The Sybarite is very nice on the headphones, and the bailiff was on repeat at work.
Thanks for throwing in the Greater than One as well. :)
gotta run.
Ziiiiiing!
Thanks!

Subject: So: how screwed up is this?
On the heals of terminating a manager and an hourly employee for the undocumented use of marijuana in the workplace, the CEO invites the remaining management team to a celebratory concert featuring:
The Doobie Brothers!
Yes, it's that bad...
Some people will never get it.

Subject: radio stream
will there ever come a brainwashed radion in a higher bitrate than 64kbps?
Yes I know, bandwith is expencive and all that.
64kbps just sound a bit canned to me.
Anyways, lovely radio one of my favorites after somafm's dronezone
Brainwashed Radio broadcasts from Brainwashed Central's consumer-end cable modem, so every stream we add knocks the upstream back in the house basically, on top of that we can't offer something that is close to CD-quality to basically protect our asses.

Subject: records
I got the Otology singles today. They sound really nice. Especially the Jessica Bailiff tracks. Thanks for putting out great music.
Thanks for your support. More great music on the way.

Subject: this week's Brainwashed Podcast
kicks ass - the forthcoming tunes by Four Tet, !!!, Luke Vibert, Meat Beat Manifesto are great, and those are just the ones I can remember. The Coil track from the Ambulance CD does indeed sound a lot better than the bootleg audio recording - which is still the only one I have. Grmbl. Anyway, thanks, Mr. Whitney!
Thanks for the feedback. Don't forget to remind your co-workers and family that their music sucks and you can offer this as proof! ;)

Subject: Podcast
Best part of the podcast, when someone plays a song you hate you can scrub past the song... :) I wish I could do that listening to the radio in the car.. :)
Oh zing!

Subject: WOW WHAT A REVIEW
But Please if your guy is going to crucify the album please let him get his facts right.
First dark ride, Baby food, Nasa Arab and Unearthly red WERE written by me, that is 99% composed and delivered to coil, the snow " was Geffs sole attempt at dance - I tried to dissuade him.
I hate it when so called coil fans have no idea where the material came from.
I haven't been an " engineer " for 20 years so his comments on " Being an engineer" are simple generalisation, facts please.
When somebody puts everything on hold and then goes out on a limb to not just do another drone and winge fest and then wrap it up in Psuedo pscyco bullshit, I wish the Reviewer could open his a mind a little, and realise - But fuck it.
What upset me was he has conceeded that he Liked my other work ( First dark ride was written the same way, delivered to the studio, for the coil boys to say "Great" and it was run to tape as I had made it), so for him to Say " This is how engineers always make albums" was a little unfair, and I feel that if he was aware of the material I had written in the past he would have approached this project from a different angle.
...
Using words such as " Stolen" for me, where the hell does he think the gamelin on first dark ride comes from- it is called sampling these days, not stealing, if I credited myself with the vocal maybe.
So I was a little Pissed at the cliched " Engineer makes album" diagnosis, that seemed like it had been lifted from other projects, especially as it was not based on facts.
...
Oh Yes and BTW Geffs vocal on Fj Nettlefold was constructed from 3 different takes( due to their mic busting) it was time stretched to fit and as always from geff it was full of passion, but it was as constructed as anything else, but Old J.D seems to be blinded by Celebrety and is 2nd guessing again
Best
Danny Hyde
Jonathan Dean replies: Danny, I reviewed your album, and wrote honestly about the music that I heard. It did not make me happy to give it a poor review, nor did it fulfill some personal vendetta.

If you have problems with the factual information in my review, in the future you should consider including more information on your sleeve notes, your website, or in a press sheet accompanying the promotional copy of the album.

Thanks for your added insight into the personnel and working methods of Coil, but it has very little bearing on the Aural Rage album, which is a separate entity. I don't like the suggestion that because I like the Coil tracks you were involved with I have to like the tracks on your solo album.

About the "stealing" comment: Sorry, but you cannot call that "sampling." In your song "A Nutter at Radio 3," you took two full, unedited tracks directly from Trunk Records' Dirty Fan Male without altering them in the slightest, and without giving credit in the sleeve notes. Call it what you want, but it seems like stealing to me.

Finally, I think you would do well to grow some thicker skin. My review only represents the opinion of one listener. I would encourage anyone reading this to seek out the album yourself, or listen to the sound samples provided, and make up their own mind about the album.

Subject: Jonathan Dean
"When the seal is removed, the stink hits you right in the face . . . I think Adult deserve some praise for so single-mindedly pursuing a sound so angular, ascetic and uncommercial that most will not even get all the way through a three-minute song."
Yet more proof, as if we needed more, that the Dean-machine has both the most astute and acerbic critical mind on the Brain and the writing talent to back it up. This passage nearly made me wet my pants. Jonathan Dean, you're the most American American I know, and I salute you.
Jonathan Dean replies: Thanks for reading, and thanks for the verbal blowjob.
GET INVOLVED
sponsor, donate, or buy from brainwashed
Click here to find out how you can help keep The Brain going. Every penny helps.
become a contributor
We're always looking for more writers and are welcoming applicants who meet the criteria. Have a look at our new section, Write for The Brain and don't be shy.
sign up for the announcement list
Do you want to be the first on your block to hear about special limited pressings and happenings of Brainwashed? An announcement list has been set up at www.hollyfeld.org/mailman/listinfo/brainwashed. It's not a forum and subscribers will be the first to hear about new releases on Brainwashed Recordings, a new Brainwashed Handmade imprint, the hopefully soon to launch Brainwashed Archives label, and any music fest(s) to coincide with Brainwashed's 10th Anniversary (which is only a year away). Thanks again for the support, it keeps us going.
join the audioscrobbling community
Share your playlists with other readers/fans at the Brainwashed Group at Audoscrobbler.
let us know what you think
Communicate with us, tell us what's in your player, tell us what you want more/less of, send recipes.
WHAT'S IN YOUR PLAYER?
is it the ether or just ethernet
Peter Gabriel: Us
The Black Heart Procession: Amore Del Tropico
SubArachnoid Space: These Things Take Time
Cyclobe: The Visitors
Andrew Deutsch: Electronic Garden
Tetsu Inoue + Andrew Deutsch: Field Tracker
Plastic People of The Universe: hovezi porazka
Franco Battio:Le Stagioni Del Nostro Amore 2
Jerome Noetinger & Lionel Marchetti: Marchetti_voice crack_Noetinger double_wash
International Harvester: Sov Gott Rose-Marie
Calexico: Feast of Wire

Arik, somewhere in cyberspace.