EXCEPTER, "THRONE"
Load


As the members of Adult reconfirmed in last week's episode of The Eye, New York City is excessively clique-driven, obsessed with scenes, exclusivity and over-categorization. Nowhere is this more obvious than in the current wave of so-called "Brooklyn Noise" artists, a group that is said to include bands as various and sundry as Black Dice, Gang Gang Dance, Animal Collective and Excepter, among others. As usual, the reductiveness with which these bands have been grouped together by the elite contingent of music critics thus far has led to a lot of generalization that is unfair to the artists involved. Instead of just talking about how the music actually sounds, we are expected only to talk about how this fits into a larger movement, or exploit the music and aesthetics for some political end. For bands like Excepter, this approach just doesn't fly. Not only do they sound significantly different, Excepter have a longer history than most of the other bands grouped under the "Brooklyn Noise" heading. Excepter is the brainchild of John Fell Ryan, a former member of the No Neck Blues Band, who brings with him from his former collective a canny sense of improvisational dynamics. Ryan and the four other members of Excepter create a unique brand of improvised electronics that does not depend upon laptops and preprogrammed, post-techno routines, but rather on a communal, ritualistic idea of music slowly coalescing and emerging from group play. Their live performances are truly unique events, throwing tense Throbbing Gristle energy together with Berliniamsburg electroclash posturing, extended krautrock jams with druggy shoegazer rock, beatific ambient washes of sound with eruptions of paint-peeling noise and clunky analog chatter. Their first full-length KA was a very impressive debut album, and their newly released follow-up Thrones shows that the band is not through tinkering with their sound. Where the first album was eclectic and mercurial from track to track, Thrones creates a mood and chases it to its conclusion, never straying too far from the path. As such, it's something more of a trudge than KA, and some will not have the patience for the full journey. But it is a rewarding listen, a trance-inducing combination of analog pulses, looped samples, fractured drum machines, swirling guitar noise, field recordings and echoplexed male and female vocal wails lost in a maelstrom of reverb. It's rather more insistently dark than its predecessor, in contrast to the bright ocean paradise pictured on the sleeve. The title is a Biblical reference to one of Daniel's more apocalyptic and prophetic dreams: "I beheld till the thrones were cast down, and the Ancient of days did sit, whose...throne [was like] the fiery flame, [and] his wheels [as] burning fire." The music does justice to this hallucinatory prophecy, creating an environment abuzz with eerie, cavernous echoes from a hazily envisaged future calamity, voices yawning back into the void, swirling and cracking apart in the brutal crashing sound waves. If Excepter continue to evidence the same willingness to experiment with and expand their soundworld, they could very well have as long and distinguished a career as the No Necks, and perhaps some day critics won't find it necessary to pigeonhole them along with their NYC contemporaries. - Jonathan Dean
samples:
Keith Fullerton Whitman, "Multiples"
Kranky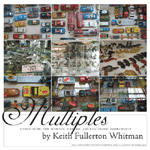 This is, by far, the best record Keith Fullerton Whitman has released. Playthroughs was an album of electronic, fuzzy bliss and his two most recent EPs were introductions to musical accomplishments Whitman had never shown before. They were searching, historical, and sometimes dark releases that showcased an ability to create excellent music on a number of levels. Multiples comes across as a merging of everything Whitman has done up to this point, but does not sound like a simple mingling of styles that have already been explored. Subtitled Stereo Music for Acoustic Electric and Electronic Instruments, the entire album fluctuates between manipulated live sounds, beautiful musical bits generated by experimental equipment, and dreamlike, unreal soundscapes. At times dark, at times wholly engrossing in its sleepy happiness, the album falls out of the speakers like a blanket; it envelops the world in a shadow and then slowly begins to vibrate, wave, and shake in a series of ghostly shudders and choral hums. By the time more recognizably musical elements come into play there's already a tangible mood in the room; it's not entirely comfortable, but the rolling clockwork of "Stereo Music for Yamaha Disklavier Prototype (5), Electric Guitar and Computer (3)" acts like a salve and begins to strip away the frightful anticipation that was building before it. Some of Whitman's most directly gorgeous work is on this disc. His use of melody and synthetic washes of sound is top notch—there's never a wasted moment or movement. One song will often wash into the next, confusing any sense of time or arrangement and focusing more on effect and feelings. Whitman's music may be intimidating on some levels; there's a certain amount of intellectual work behind every one of his releases, but that is not this album's most prominent feature. What he's managed to do is combine his relentless quest to produce new and interesting music via new (or old) and interesting technology with spirit. Not to say his previous records have been lacking life, but this record is so perfectly seamless, such an ear-catching, musical album that it outshines and, at least at first, covers up all the intricate work that went into making it. This is not an album to listen to solely because it was made in an interesting way or has some academic value (even though it may have such value); this is an album to listen to because it is unlike anything else in the world and because it is an outstanding and lovely cut of musical bliss. - Lucas Schleicher
samples:
Diana Rogerson, "The Inevitable Chrystal Belle Scrodd Record"
Klanggalerie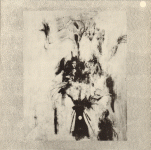 In the early 1980s, Diana Rogerson was peddling S&M gear at a shop in Kensington, creating her own films and performing in the performance art duo Fistfuck (sometimes referred to as the "female Whitehouse") along with Jill Westwood. The short films were described as extreme versions of their live performances with urination and humiliation as controlled by Jill and Diana. Soundtracks to these films created by Steven Stapleton of Nurse With Wound along with Diana and began to pop up on compilations, credited to Chrystal Belle Scrodd. By 1985, this debut album was released. While Chrystal Belle Scrodd is the vehicle of Diana and Steve, the "band" featured players like Trevor Reidy on drums (who's appeared on a number of early Nurse With Wound albums), Karl Blake of Lemon Kittens, the piano work of Robert Haigh of Sema, the voices of Ruby Wallis (daughter of Chris Wallis and Diana, but credited as Tathata Wallis), and a guy only credited as Matt on bass. While the music fluctuates—from a band on the opener "Cradle Your Snatch," to the swelling of instruments like accordion mixed in with a bunch of other things on "Scitzo" (as heard on other NWW tracks like "Lea Tantaaria") and the inclusion of sampled bits of other songs—the music parts way for Diana's words, whether they're chants, sung, or spoken. Having this record packaged on its own is fantastic, after dealing with the compilation Beastings for years. I have always loved the juxtapositioning of songs in this original running order. Side B begins with Diana screaming at the top of her lungs in "Reach for Your Gun" and is followed by the epic "Unknown" parts one and two, with droning voices and light piano contribution from Robert Haigh (fans of this track, should hunt down early Sema recordings). The packaging for The Inevitable is immaculate, with restored artwork and a booklet with rare photos, and, although attempts were clearly made, the recording hasn't been restored. It's clear that the master tapes were not used, as songs that appeared on the CD compilation Beastings are fairly clear while songs that have never appeared on CD before have audible vinyl crackles. "Scitzo," for example is missing a couple minutes from the original record, but culled from an edit used on Beastings. While "Unknown" was taken also taken from the Beastings CD—as "Young Model" plays over the space where part one ends and two begins (which isn't part of the original LP) and "The Demon Flower" plays over the drones towards the end—digital clicks and pops that were on the Beastings CD have been noticably cleaned up. The Inevitable Chrystam Belle Scrodd Record and Belle de Jour are clearly better than the attempt made on Beastings, but perhaps due to lost masters or lack of time and funding, it isn't a perfect CD reissue campaign. - Jon Whitney
samples:
Chrystal Belle Scrodd, "Belle de Jour"
Klanggalerie

Once again I'm impressed with the packaging of this reissue. Having the cover and inside photos restored on nice paper in a booklet is far better than the flimsy Beastings card and anything done in a chintzy digipack. While this is the second Chrystal Belle Scrodd record (originally released in 1986), it features music which pre-dates The Inevitable. The first three songs are brief, scratchy soundscapes, recorded with bowed cymbals and droning horns while the second three songs are far more melodic, and breathe horn and other droned sounds in the same, patient tempo. "Charlie Hosts a Pork Pie Parasite" and "Chair Improvisation #4," both featured on the Zamisdat Trade Journal #4 cassette, provided soundtracks to the films of Diana Rogerson. These songs were subsequently renamed to "Source" and "Muse," respectively, the first and second songs on the original LP of Belle de Jour. But, in the shuffle to Beastings, "Muse" got listed as "Immanence" while "Immanence" got listed as "Muse" and "Soup of the Day" got listed as "iDeath." While the reissue did a good job of straightening these side A tracks out and including "iDeath" on CD for the first time, it completely dropped the ball on the side B by listing "Riding the Red Rag" as "The Demon Flower" and including "Black Mother Mountain" (a song recorded in 1993 and named "Beetle Crawls Across My Back" in a remixed form on 50 Years of Sunshine compilation) but listing it as "Riding the Red Rag." While the side A tracks are very similar to each other and not terribly exciting, two masterpieces make up the majority of side B. "Dead Roads / A Gothic Western" opens with the inter-weaved samples of some obscure rock bands grooving riffs as Diana growls, sings, and screams out the surrealistic story, one day I might be able to sing along but it still sounds like an intricate stream of consciousness. By the end, it's mutated into a bright piano and drone piece which strangely sounds like it wouldn't be out of place on a later period Talk Talk record. It's hard to figure out what exactly has or could be done on the mastering of a song like this, as a number of the samples were pulled from old records to begin with, however, there is a noticable amount of digital-sounding clicks and volume issues which are most likely unintentional and unavoidable at this point. Those looking for the missing "The Demon Flower," you'll find it playing over the tail-end of "Unknown" on The Inevitable (see above) while the fantastic epic "Riding the Red Rag" closes the album with Diana's singing voice over what could easily by a Roland drum machine circa 1985, played live with tons of delay, combined with guitar and other instruments that drone. The almost genre-defying qualities of "Riding the Red Rag" lead me to believe it could have easily been recorded at the same sessions for Melchior with HNAS. "Black Mother Mountain" closes the CD with the prominent digeridoo playing of Pete Bog along a faint pulse and a healthy amount of delay on Diana's voice, and while I truly love this song, it's rather out of place to hear a song this modern (1993) on the end of an LP recorded in 1986. Inconsistent with the pre-release promises, there are no bonus recordings included here, so I've come up with my own collection to annex these two discs. It features the vocal version of "Soup of the Day," as appeared on the various artists release United Dairies tape UDT 018, the full version of "Schizo," "The Demon Flower" all alone by itself, "Split and Well Hung" from Ohrensausen, and "Beetle Crawls Across My Back" along with the live stuff (see Live at Bar Maldoror LP and L'Age d'Or) that's yet to be released on CD since it's so Diana-heavy. Maybe with enough persuasion and a letter campaign, Stapleton, Potter, and Klanggalerie can be convinced to clean up those recordings and make that package. Don't count on it, though. - Jon Whitney
samples:
Nudge, "Cached"
Kranky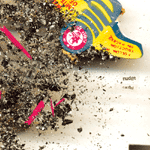 Honey Owens of Jackie-O Motherfucker, Paul Dickow of Strategy and Fontanelle, and Brian Foote, also of Fontanelle, form a bio-organic unit filled to the brim with all manner of exotic sounds and strange interactions. Combining sequenced and processed composition with live and acoustic elements, this trio flies back and forth between jazzy, dub-influenced sounds, punk attitude, and spacious, dark atmospheres highlighted by Owens' seductive voice. The slippery and secretive insertion of sounds recalls the allure of film noir, smoky environments spattered with characters whose lives are too dark to relate in any way other than knowing glances and sunken faces. The energy found in songs like "My New Youth" is bright and spastic, with guitars and keyboards wailing to the frantic pulse of a drummer who has just learned how to treat his feet and hands as separate entities. The soul beyond all of these songs speaks volumes about how this record feels: it's a free-for-all combining libido and force with silky curves, jarring juxtapositions, and the seedy feeling of walking through a red-light district. Listening to "Classic Mode," I was quite sure that I was going to be in for the electronic pop record of my life; Owens' singing is stunning when supported by this sort of wind-swept percussion and sparkling string work. This song is worth the album alone, but Nudge refuse to stay still, never giving in to their own charms and letting the life of the instruments move them instead of the opposite. It's hard to imagine any of these melodies being any different than they are, their force and persuasion is perfect in almost every aspect. I remember hearing that electronic music can't have any soul and that, at times, it was too robotic to be anything close to human. I know this album isn't entirely electronic, but the band's use of electronic trickery is so well applied to the entire album that Cached feels like a living testament that any such statement can't possibly be true. - Lucas Schleicher
samples:
Eric Malmberg, "Den gåtfulla människan"
Häpna


As much as I love the Hammond organ, there are few contexts in which I can enjoy it. The instrument is so singular, its timbre so unique and powerful, that I find it only works in positions of dominance, where the music's other parts are either entirely supplemental in nature or barely there at all. Eric Malmberg's first group, the late Sagor & Swing, featured his Hammond as a foundation instrument in their pop-length pastoral motifs, but I could never gain the access to the band's music that I wanted. The condensed nature of their songs, and the organ's drum-major role, always made Sagor, despite the music's accessibility-especially for an instrumental act, seem too decorative, too thin for my tastes. Den gåtfulla människan, Malmerg's first solo release, is, in contrast, all I could have hoped for: a wonderful organ-only record stretching Sagor's moody miniatures into spacey atmospheric tracks of retrograde sci-fi charm and confident filmic vision. The artist's organ settings look back to some of Popul Vuh's more sedentary moments and capture the same dreamy nostalgia and primordial quality through a similar mastery of subtle melody and mood suggestion. According to Häpna, every sound here is organ-generated, which must somehow include the metronomic drum-machine that grounds some of the longer tracks. I am more impressed by the ambient or incidental harmonies that Malmberg manages through lateral pilings of non-distinct organ haze and swirling phase effects. I'm reminded of Björn Olsson's solo works which also function organ-centrically and accomplish a similar retro aesthetic without granting it the full depth of the music. It's as if these musicians tap into universals of structure and mood existing as psychic constants, so as to always sound dated yet at the same time not. This music could as easily function as score to a Disney film as to a Herzog; it is as direct and as opaque completely, special and not just for organ-lovers. - Andrew Culler
samples:
THE MAGIC CARPATHIANS PROJECT, "SONIC SUICIDE: ETHNOISE #1"
Vivo


I wish more people knew about this group, as they are often brilliant, and far more consistent than a lot of bands who get way more press. The Magic Carpathians began as a side-project of Polish progressive band Atman, but since 1998 the group has become the primary outlet for the music of Anna Nacher and Marek Styczynski. Their releases as TMC have ranged in character from vocal-driven, subterranean avant-rock to experiments in instrumental ethno-drone, ritualistic tribal music and indigenous Easter European folk forms. The element that has remained consistent throughout all of the work is Anna and Marek's ceaseless quest for boundary-less, transcultural psychedelia; locating hidden connective currents of drone, rhythm and hypnotic melody in music drawn from strikingly disparate locales. I much prefer their drone-heavy Ethnocore series of albums to their more skeletal, song-driven work exemplified by albums like Ksiega Utopii and last year's Euscorpius Carpathicus; I really admire their songs, it's just that I prefer the dense, textural qualities of their ethnic drone work. In answer to my prayers, it seems, the Carpathians have inaugurated a new series of releases subtitled Ethnoise that seek to synthesize both of the group's approaches into a complex whole. Sonic Suicide matches Anna Nacher's possessed vocal workouts with long passages of thick, vibratory trance music, extended kraut-jazz freakouts and gentle Karpaty folk. Adding to this newfound eclecticism are several tracks revisiting the third-eye psychedelic guitar workouts familiar from Atman's heyday, and a few tracks that utilize a specially built synthesizer to create devastating squalls of analog noise and rippling waves of drone. This might be the best Magic Carpathians album yet, as its got something for everyone, and yet the whole album still feels very much of a piece. In "The Place I Come (Second Take)," Anna Nacher sings in English and Polish with a visceral energy that variously recalls Patty Waters, Yma Sumac and Renate Knaupt, against a tensely funky jazz-rock backdrop filled to bursting with chattering synths, vocal multitracking and swooping, psychedelic effects. Anna's vocals are intense, spitting out apocalyptic couplets which a Polish friend helped me translate: "Our palms are opening and we believe/Life is waiting for us/The broken glass/We believe in seven/I don't know anymore." The song fades out to a field recording of Moroccan street music. "Carpathian Herbs" is a descent into a dark tangle of lysergic noise, a nearly 15-minute track that journeys through deeply fucked-up mental corridors, layering all manner of loops and samples into a bubbling cauldron of noise that all makes some sort of terrible dream-sense. At times, the music is so filled with sonic detail and layers of samples, field recordings, synthesizers, backwards-tracked melody and a breathtaking array of instrumentation from around the globe, it's difficult to concentrate attention on one particular element. The net effect is frequently stunning, however, assuring this album an early spot on my year-end best list. - Jonathan Dean
samples:
Edan, "Beauty and the Beat"
Lewis Recordings


Boston beat nerd Edan's second full length Beauty and the Beat is, appropriately titled, a hip hop fairy tale, a record with b-boy credentials and otherworldly destinations. Before he heard Straight Outta Compton and converted to the church of rap, the former Berklee College of Music attendee wielded guitars and grooved to Woodstock-era rock, folk and psychedelic records. And it shows: the music on Beauty and the Beat is undeniably old-block hopping funky hip hop music, but comprised of mostly samples from trippy 60s and 70s space and acid rock and suchlike instead of the usual jazz and R&B blend: David Gilmour instead of David Axelrod. It works, in part, due to Edan's simplicity (or is it just ease?) when it comes to making music. Much of Beauty and the Beat is just a simple three-part loop with some shifty sampling stapled to a whimsical, rapidly and steadily cadenced and often esoteric rhyme flow. But something—be it the incredibly energetic pace (the 13 tracks speed by with Edan or a partner spitting nearly the whole time), the aforementioned unusual source-material or the contemporary George Martin-like freewheeling production—makes the music subtly sublime in a funky and bizarre way. Making a hip hop record while utilizing a scant number of percussive sounds is perhaps Edan's greatest triumph on Beauty. He raps over a barely-audible snare and drum line from what could be a Velvet Underground record, something that conventional bass-cannon-bred MCs could barely hear, let alone flow on. He loses the audience on occasion, but only with his obscure references and stream-of-consciousness attention span; bombastic b-boy couplets like "I work with the aesthetic of a brain medic/ Cutting up the reels with crystal shards to make a tape edit" work best, even when uttered over a strangely minimalist but downright "groovy, man" loop with barely a beat to rap on. It's as distinctive-sounding a hip hop record as I've heard lately and yet feels like its comprised of strangely familiar sounds, none of which I could never identify. It's far out, G. - Chris Roberts
samples:
JANDEK, "WHEN I TOOK THAT TRAIN"
Corwood Industries


It's no secret that 2004 was a banner year for the mysterious and prolific Texas artist who records as Jandek. Not only was it the first year that Corwood Industries released four albums in one year, the year also saw the release of Chad Freidrichs' documentary Jandek on Corwood, and the man himself made his first public appearance at a surprise gig at Glasgow's Instal Festival. As Jandek's public presence gradually increases, and more information comes to light that seems to suggest that he is pretty much a normal guy, and not a psychotic loner as many have suggested, the esotericism and mystique of Jandek seems to be slowly fading. In this post-Instal age, the kind of endless speculation, cover photo analysis and lyrical dissection that had been the favorite pastime of Jandek fans for more than 25 years now seems pointless. All that is left to consider now is the music itself, which is what I intend to do in inaugurating these regular Jandek reviews in The Brain. I find that a lot of Jandek reviews tend to recycle a lot of the same hyperbole, cliches and tired speculating, rather than just assess the music on its own terms, and I hope to rectify that situation. That brings me to Jandek's 40th studio album When I Took That Train, another entry in his recent series of albums returning to the simplicity of acoustic guitar and vocals. No electric bass or sidelong a cappella rantings here; just 11 tracks of relatively normal length. Since Jandek went digital, the albums have gradually reduced the muddiness and "room sound" that characterizes classic Corwood albums like Ready for the House and Six and Six, which to some may seem an unfortunate move. In place of the appealing nebulousness of reverb and tape noise, we hear each scrape and strum of his detuned guitar in sparkling fidelity, which makes the total lack of traditional musicality even more disturbing. The keyword on Train is the blues, but it's Jandek blues, which involves a spontaneous outpouring of improvised lyrics with impressionistic accompaniment on guitar. Jandek suggests the 12-bar blues with the barest skeleton of rhythm and melody, but his playing is ugly, dark and atonal, truly an acquired taste. Those who haven't acquired it will doubtless grow tired of When I Took That Train, as every track—I hesitate to call them songsuses the same exact guitar non-technique. Jandek's lyrics fixate obsessively upon a recent, still extant relationship. He seems so insecure that the relationship might not last that he pours over every detail, trying desperately to find fault with his partner, and resigning himself to the possibility that she might leave at any moment: "If there's any time you want to look at the exit door/Go ahead and do it/I've prepared for all that/I've been around." As he has gotten older, Jandek's voice has matured and deepened, but still retains its ponderous rhythms and lonesome graveyard wails. His vocals sound particularly strained and evocative when tackling abstruse mystico-religious lyrics, which he does here on "Angel Moves" and "Thing Called Me." Jandek says: "the goal of life is make a man feel like a God," and "don't come near me/I'm a human being." Along the way he evokes past failures and relationships gone sour, as well as employing the Holocaust as a metaphor for suffering. It's hard not to get all purist about Jandek and dismiss his newer work, but once I really listened to When I Took That Train, I found it to be a rewarding album from an artist who, well into his career, shows no signs of slowing down. - Jonathan Dean
samples:
JANDEK, "GLASGOW SUNDAY"
Corwood Industries


Only a couple of years ago, the mere suggestion that Jandek would ever come out of hiding to perform live at a series of festivals in Scotland would have seemed the height of absurdity. What a difference a day makes, and in this instance that day was October 17, 2004 at The Arches in Glasgow, Scotland, the place where the improbable became reality. As part of the Instal Festival, Jandek made an unannounced appearance, referred to only as "a representative from Corwood Industries," in front of a largely bewildered but enthusiastic audience that included David Tibet and a few others in the know. Glasgow Sunday is the official live recording (MP3s of the show have been circulating for months) of the performance, released on Corwood Industries in a typically nondescript jewel case. It seems that John and Nancy couldn't make it to Scotland, so in their stead Jandek played as an impromptu avant-rock trio with the amazing Richard Youngs and the equally great Alex Neilson. Youngs and Nielson have previously performed and released an album together called Ourselves, and since the early 90s, Youngs has been involved in more experimental projects than you could shake a stick at, most notably a series of ear-opening collaborations with Simon Wickham-Smith. Alexander Neilson is a drummer for Scatter as well as the terrific One Ensemble of Daniel Padden. Adding all this underground credibility and experimental musical heft to Jandek seemed a strange idea at first; I would have expected the performance to be a solo affair on acoustic guitar. The strategy pays off brilliantly, however, as Youngs and Neilson add an improvisational intensity to the man's skeletal guitar meanderings and tortured moans that seems a perfect fit. According to Youngs and Neilson, who had only one opportunity to rehearse the trio, Jandek categorized all of his songs thusly: "Ballads, blues and brutals." The performance captured on Glasgow Sunday leans heavily on the latter two categories, with eight lengthy tracks of blasted-out blues, atonal free-rock and confrontational lyrical intensity. Neilson's drums and Youngs' bass crash, ricochet and buffet against each other in senseless cacophony, rising to several crescendos with Jandek's spindly, impressionistic, detuned guitar punctuations. It's true improvisation in the sense that Youngs and Neilson seem to be completely in the dark as to Jandek's next move; and can only relentlessly follow his lead and respond in kind to the man's frighteningly explosive melancholia. Though it is unmistakably the same Jandek from the last 40 albums, there is also something wholly new and fascinating about his performance here that is unique in the Jandek oevre. Though he must be pushing 60 by now, his music is as tense and uncompromising as ever. Those that have accused Jandek over the years of being nothing more than a painfully untalented loser (I'm looking directly at you, Irwin Chusid) must stand back and reconsider their opinion in light of Glasgow Sunday. There are many ways to describe music as emotionally charged, chaotic and unstructured as the music here, but incompetent and unlistenable are not among them. - Jonathan Dean
samples:
"DOWN IN A MIRROR: A SECOND TRIBUTE TO JANDEK"
Summersteps


A few years ago, Summersteps Records released Naked in the Afternoon, which was billed as a tribute to Jandek, but was really just a collection of other artists covering his songs. It must have seemed like a pretty funny idea at the time, and for Summersteps, it was an opportunity to showcase their mostly unknown roster of artists. Cassie Rose and the Pickled Punks, anyone? How about Psychatrone Rhonedakk? A trio of contributions from well-known artists Low, Bright Eyes and Thurston Moore kept the record from being completely obscure, even though it was largely pointless and also somewhat tasteless. It must have worked out for Summersteps, however, as they have recently released a follow-up entitled Down in a Mirror, the title again drawn from Jandek's back catalog of mysterious song titles. This time around, Summersteps were able to recruit a few more big names—Jeff Tweedy, Six Organs of Admittance, The Mountain Goats and Kawabata Makoto, among others, to tackle their favorite Janky song. As critical and popular assessment of Jandek moves away from the "weirdo banging on untuned guitar" school of thought, into more well-considered and less hyperbolic territories, so too Jandek cover versions seem to become increasingly saner. For the most part, the artists on Down in a Mirror attempt to locate the songwriter that lies at the heart of the Corwood enigma, peeling away layers of muddy reverb and tape noise, simplifying and streamlining the often shambolic guitar work, to reveal the pop songs at the heart of Jandek's best songs. Sometimes this approach works, as in Okkervil River's version of the relentlessly miserable "Your Other Man" (from Blue Corpse), which turns the song into a chillingly effective alt-country excursion, singer Will Sheff retaining just enough of Jandek's haunted meander to remind me of the source. Six Organs of Admittance's Ben Chasny is well suited to cover "I'll Sit Alone and Think a Lot About You," his beautiful acoustic fingerstyle lending an emotional purity that remains true to the original. Much less successful are retarded retreads of Jandek novelties like "You Painted Your Teeth" and "European Jewel," which seem to have been performed and recorded mostly as a gag. AMT's Kawabata Makoto turns "Babe I Love You" (the rare instance of a poppy Jandek song) into a low-fidelity backwards Jajouka drone, which is interesting but utterly off-topic. Wilco's Jeff Tweedy and The Mountain Goats show more respect to the source material, but their contributions are unremarkable apart from their competence. Lewis & Clarke successfully remove almost everything from "Nancy Sings" that made the original so haunting and lovely, and other artists barely even register enough to talk about them. On the whole, Down in a Mirror is plagued with the same problems that most tribute albums suffer from; a dearth of ideas, and tepid interpretations that just make me want to dig out the originals and listen to them instead. - Jonathan Dean
samples:
Wolf Eyes, "Fuck the Old Miami"
Important


This limited vinyl release is actually a reissue of an even more limited live 3" CD-R. From start to finish it is relentless in its pursuit of deafness. Harsh digital noise is mixed with screeching and clangs. Vocals break through the sound but for the most part they are unintelligible as they are lost in the crushing mix. The A side is the concert in full and the B side is a bonus track with a catch. There is a massive etching of a bird being stabbed on the B side which cuts through most of the grooves making them unplayable to anyone who respects their needle. Some of the grooves were a pleasant surprise, as they were safe to play and consisted of high pitched feedback and low rumblings. For a fan of noise, I find it heard to find fault with this record. Fuck the Old Miami is much heavier than Wolf Eyes' studio output. My only problems are that the concert recording is only of good bootleg quality and that the quality of the vinyl used is quite poor. The poor quality of the vinyl is necessary for the etching so I'm conflicted on that aspect. Furthermore, I'm sure Wolf Eyes have as part of their mission statement that degradation from repeated playing will add more layers to the mix. The noise to fault ratio more than makes up for Fuck the Old Miami's minor foibles. - John Kealy
samples:
David Grubbs & Nikos Veliotis, "The Harmless Dust"
Headz

I've been a fan of David Grubbs' work for a long time. There's something undeniably unique and appealing about anything with his involvement, perhaps because his involvement always seems so total, not in the sense of out-shadowing his collaborators, but in the way everything he's done feels a concise and essential part in a distinctive language of expression. Reviews necessarily focus on the many divergences of Grubbs' musical life, and they are correct in noticing that an awareness of the many sides to this round figure is often the single best lens through which to view a new work. His output, however overwhelming, benefits from an audience willing and expecting the continuation, however sluggish, of a vocabulary of sound and image exposing a dramatically under-populated zone of Americana, a washed-out, post-modern collage of homemade minimalism, smart-boy punk wit, and veil of conceptual presentation. Expectations can be a bitch, though, and it's hard sometimes to reconcile looking for immediate contextual adherence and hearing something new with each release. The same is true in reverse, when the music allows no continuing communication, but only a reminder of past windfalls. The release I find myself returning to these days is a Loren Connors collab., Arborvitae, where Grubbs charged the guitarist's shrub desert of blues scavenges and feedback slivers with the plaintive, deliberate piano of a European modernist. In comparison Grubbs' new collab. with Nikos Veliotis, The Harmless Dust, doesn't offer anything new, at least within the first of its side-long tracks. Veliotis, the cellist during Grubbs' most recent tour, creates a tilting, layered drone of long notes, segmented by the returned piano, though Grubbs' playing seems lazy, even given the nature of the piece. His chords are dull; their procession does not take up any progressive interval; they are almost superfluous here, where with Connors they were brilliant counterpoint. For the other, longer track, Veliotis changes to E-bowed piano, Grubbs to Hammond organ, and this instrument might alone be capable of redeeming the record, at least for fans of the drone. I could listen to a Hammond organ drone on for hours; Grubbs gives 24 minutes of coaxed note-holds and releases: slabs of waxy warm noise to which Veliotis' very un-piano constancies occupy a background of enigmatic stillness. Grubbs' changes emerge now with clicking and shuddering physicality that surprises since the first track's anxious momentum has subsided. The music of this second part syncs well with Veliotis' beautiful sleeve design of oxidized and collaged old photos detailing a forgotten family history in middle America or someplace like it. Unfortunately, the gorgeous design, typical of the Headz label, can't compensate for the music's failure to open any new vistas in Grubbs' career, and though enjoyable, good drones are far too prevalent for me to be excited by this one. - Andrew Culler
samples:
Plumbline, "Pin Points"
Hydrogen Dukebox


The track listing for Pin Points was not impressive, as each bears titles like like map references (ie. "555 W24" and "56 E"). It annoyed me when nearly every second Warp release was named like this and it annoys me now. I was expecting some sort of bog-standard glitch and beat driven album. I was half right, Plumbline (Will Thomas) makes glitches and beats but most of the time he does it well. Plus, the sterile nature of this style of music is removed thanks to addition of cello by Julia Kent and vocals by Connie Petruk that are very reminiscent of Bilinda Butcher. While this could very easily go wrong and end up sounding like something played in the background of clothes shop, Plumbline keeps it on track for most of the album. Unfortunately, towards the end of Pin Points there is a noticeable drop in the quality of the music. Thomas seemed to have run out of ideas and instead of stopping the album at an earlier point he goes on to regurgitate the first few tracks and of course, regurgitation is too close to vomiting in terms of keeping up standards. The penultimate track "811 10A" with its amateurish and lazy structure pales in comparison to the beautifully crafted opener "11 E52" with its perfect programming supplemented with some equally perfect cello. I really have to wonder what went wrong. Luckily, the majority of the album pulls it back on to the side of listenable. Plumbline could have made a classic of an album but instead he has produced a good album with a few flawed tracks stuck onto the end. - John Kealy
samples:
We know that our music picks may be somewhat challenging to find, which is why we have a community section which can be used to obtain nearly everything available on this site.