a weekly digest from the staff and contributors of brainwashed
V08I21 - 06052005
Click here for other issues
SITE
brain lapse
Sorry about the lack of a Brain last week: one contributor's appendix burst, another quit, somebody's been fired, and another's going completely crazy. (It's not an excuse, it's an explanation.) We're still not back up-to-speed yet this week as you might be able to tell—feel free to point out all our editorial and technical blunders so we can make "adjustments,"—but there are some awesome changes we're hoping to implement imminently. Stay tuned!!!
meat beat explore the sun and space
In addition to the US tour, Meat Beat Manifesto now have two dates scheduled for Japan. Unfortunately, this will push back plans for a second-leg tour across North America, but those dates and European dates WILL happen, trust us. Dates and details are below and on the MBM website! ALSO! Check out the new space from Meat Beat Manifesto at Myspace! http://www.myspace.com/meatbeatmanifesto. Jack will be posting various things up there so check it out!
Dannys and Trannies and Thighs, Oh my!
Brainwashed artist, Daniel McKernan, presents... "Is Evolution Evil?: A Celebration of the Cult of Formlessness." An interactive video installation to be shown in Chelsea at The Visual Arts Gallery at 601 West 26th Street (@ 11th Avenue), Suite #1502, in New York City. Featuring an original soundtrack by Thighpaulsandra. Starring "The #1 Transsexual in the World," Amanda Lepore, digitally cloned into a sea of Amandas. This multimedia art experience is showing June 3-18, 2005. Opening Reception is Tuesday, June 7th, 6-8PM.
rest your legs on the ottoman
V/Vm and Charles Atlas are featured on the debut compilation on Chicago-based Couch Fort Records. Entitled The Ottoman Empire, the disc features bands under the V/Vm Test Records banner Solypsis, Jansky Noise, Machinist Noise Assault; a 20 year-old unreleased track by legendary Australian act Severed Heads; San Francisco break-core/mash-up goofball Mochipet; and Casino Versus Japan. Also included are "special guest-stars" hiding under various pseudonyms as well as other new discoveries from around the globe. Now on sale at www.couch-fort.com.
ARANOS AND OTHERS PAY TRIBUTE TO SCOTT WALKER
The Portuguese label Tranformadores has recently released a tribute disc to Scott Walker called Angel of Ashes that features songs by the British crooner being performed by Aranos, Rose McDowall, Backworld, Sword Volcano Complex and other artists that might be familiar to readers of The Brain. Right now, the only place to buy the disc seems to be at this Portugeuse commerce site, though this might change in the near future when the label finishes their currently under-construction homepage.
design an edward ka-spel cover contest!
Piehead Records will soon be releasing FRAGMENTS OF ILLUMINA, a full-length album of brand new solo material by Edward Ka-Spel. This album was originally planned to be part of Piehead's 2004 monthly limited edition CDR series, but had to be bumped from the roster due to some scheduling issues. The album will now be a one-off non-series release, still a limited edition on professionally pressed CDR, but the edition size will be larger than the originally planned 211 copies. The edition size and other details will be announced when the album goes on sale in mid-June. [Note that Piehead are NOT yet accepting pre-orders for this album, so please don't write asking to reserve a copy. An announcement will be made when Piehead are ready to receive orders.] To make this release more special, Piehead have decided to hold a design contest for the album cover. The image that Edward has in mind for the cover is "A floating rock in space, with a flag at half-mast" Any and all visual representations of this image are welcome. Once you have created an image, please send a small but clear JPEG or GIF of your artwork to kaspel at pieheadrecords.com (or post it somewhere and email a link). All submissions must be received by JUNE 15TH, 2005. The winner will be contacted as soon as we have reviewed all of the entries and chosen a favourite, at which point they must provide us with a higher quality image file that is suitable for printing. The winning submission will receive a signed copy of FRAGMENTS OF ILLUMINA, as well as a second unique CDR made for you personally by Edward himself. Thanks in advance to all contributors, Piehead looks forward to seeing your submissions!
THE EYE

Monade


While the first Monade recordings date back to the mid-1990s, this is the first time Laetitia Sadier (you know her as the singer for Stereolab) has taken Monade on the road. We sat in the playground and talked about inspirations, experiences, and, of course, Steven Stapleton of Nurse With Wound!
20 Minutes, Quicktime Streaming Video
TECH SPECS
Necessary:
A current web browser
A modern computer
The latest quicktime plugin for streaming media (hint: use the latest Mozilla if other browsers aren't working)
Recommended:
A fast connection
A willingness to learn
Unnecessary:
If you see a blank window without anything streaming, don't complain to us. You don't have the latest version of Quicktime for streaming media. Go download it. It's free.
MUSIC IN REVIEW
Rhythm & Sound, "See Mi Yah"
Burial Mix


Infamous among club DJs and producers for the deep tech-house style incubated and pushed forward by their still potent Basic Channel and Maurizio records, Germany's Mark Ernestus and Moritz Von Oswald took a most adventurous step when they departed from the dancefloor for the labor of love known as Rhythm & Sound. Since the project's inauguration,their sincere and passionate devotion to roots reggae has yielded a slew of exciting and highly sought-after 10" records, the bulk of which were subsequently compiled on 1998's Showcase and 2003's astounding pair of classics With The Artists and The Versions. While the "digital" dub sound has exploded into a feverish trend among elitist music geeks and wannabe techno-rastas, the duo managed to stay ahead of the gaggle of poseurs by undertaking a massive and ongoing reissue campaign of the Bronx-based Wackies Records catalog, and yet another imprint dubbed Basic Replay for the purpose of putting lost gems back into print. These latter efforts have afforded them a tremendous amount of credibility and well-deserved respect from the toasters they've now exposed to entirely new audiences, which undoubtedly explains how Rhythm & Sound manage to acquire such impressive singers for their releases. See Mi Yah, a collection of 11 tracks culled from their recent box set of 7" records, challenges and delights with a strong roster of vocal veterans and lesser known talents. The same spacey rhythm, with little variation, appears on every song, making for an occasionally tedious listen. Thankfully, the participants each contribute their own stylistic flairs, from the harmonic riffing and freestyle spoken word of Koki on "Rise And Praise" to Bobbo Shanti's infectious sing-song approach on "Poor People Must Work." The legendary Sugar Minott gives a stellar and memorable performance on "Love Is The Answer," smoothly lamenting the painfully sad state of our war-torn world while simultaneously calling for a positive personal and collective uprising in the spirit of human salvation. Frequent Rhythm & Sound collaborator Paul St. Hilaire, perhaps best known as Tikiman, comfortably settles into the penultimate "Free For All," a lyrically simplistic yet pleasantly repetitious groover. The album closes with a much-desired instrumental "version" of the "See Mi Yah" rhythm, leaving room for new performers to make their mark with it in Jamaican dancehalls and bedroom studios alike. - Gary Suarez
samples:
Jane, "Berserker"
Paw Tracks


Mistaking this band for nothing more than an Animal Collective side project would be silly; it is clear that this duo has a distinct purpose from the second "Berserker" begins: they're out to record the voice of ghosts and the sound of the underworld. I enjoy this record far more than anything else Noah Lennox (Panda Bear) has been associated with. It's the droning heart of Berserker that draws me in and the unstable flux that dominates the album's entire flow from start to finish—it's the way the album stops sounding like a musical piece and begins to sound more like an attempt to channel in thoughts and feelings through the environment of sound occurrences and strange voices that really sticks with me. Little babies babble away in the background, suffocated under a harsh wind of static and toy keyboards, beats trample away, providing an electric visual like a trance party as viewed through the eyes of a real child, and soft melodies repeat over and over again, providing a hypnotic audio-mandala on which to concentrate the restless mind. Lennox and NYC DJ Scott Mou don't rely on any of the silly conventions that bands like Animal Collective seem to draw their inspiration from; there are a couple of Grateful Dead-like symbols featured in the album's art, but instead of acting like some futuristic psyche-folk outfit, Jane come across as an inventive band filled with new ideas concerning where to go with all the electronic equipment they have at their hands. The four tracks on Berserker fill up 54 minutes, but never do any of the tracks become tiresome, they move with a sense of intent and this is what removes Jane from any drone or ambient tag that they might be stuck with. As tempting as it might be to let this music settle into the background, it is full of small details that wouldn't be caught unless the ear was really paying attention to all the movements floating underneath the synthesized and sustained buzzes or flutters that, at first listen, seem to stand above everything else on the record. Each song has distinct movements and each movement fits seamlessly with the next. Eventually the distinction of separate pieces of music slips away and Berserker begins to sound like something of a concept album, which it isn't. It's just the consistency and overall mood that this record exudes working its magic through repeated listens. - Lucas Schleicher
samples:
Why?, "Sanddollars"
Anticon


Sanddollars, serving as an extended teaser for Why?'s September full-length, is easily Anticon's most agreeable record of the year to date. In fact, so much of it is so poppy—and at times (gasp!) radio friendly—that it arouses suspicion. Is Sanddollars here just to move units, swelling label coffers and providing funding for the next worlds'-most -abrasive rap record? It's not that Anticon is forbidden from or incapable of releasing a pleasurable disc—13+God comes to mind, and that was just last month—but Sanddollars's eight tracks are so pleasantly arranged, breezily instrumentalized and playfully delivered that I can hardly be blamed for suspecting foul play. The likability does come at a cost: some substance seems to have been sacrificed along the way. Though Yoni Wolf and bandmates are masters of their sound—and a notable sound at that, coming to us via turntables, keys and keyboard effects, samplers, strings as well as stringed instruments and maybe even a medieval woodwind—Wolf's songwriting hardly reaches the heart of the matter, barely showing a hint of his poetic ability ("and they've been givin me a thousand bucks to sing my autobiography/ but they're not givin a flying fuck about my meloncholisty"). At times Wolf tends to drone on, singing aimlessly about arguing on Internet message boards and only being famous on the underground; accessible and inoffensive but coming very close to pedestrian. The title track is the best-constructed pop song and the most bubblegum friendly, with slick piano bridges, a "ooo-ooh" chorus and little intrinsic meaning. Fans of Oaklandazylum, despair not: Sanddollars is not all saccharine and polish. The dark and fast paced 500 Fingernails gets a little creepy; Vice Principal, anchored by vocals coming over a public-address-system delivering cliched adonishments, provides goofy comic relief. But shining through it all is Yoni Wolf's skill as a composer. Where his poetry borders on the bland or even frivolous his music is there to save the day, cancelling out all cliches or unimportant ramblings with sweet hooks and beautifully-phrased melodies and rescuing Sanddollars from irrelevance. On the whole, Sanddollars proves to be a delightfully-written miniature collection of tunes that will raise expectations and bolster anticipation for Why?'s upcoming full-length. - Chris Roberts
samples:
The Hafler Trio, "Being a Firefighter isn't Just About Squirting Water"
Important


The Hafler Trio's latest EP for Important is pretty much as expected of the series: one twenty minute piece of Andrew McKenzie's patented atmospherics. The piece starts off with some soft metallic harmonics, sounding like heavily treated guitar strings. As it progresses low frequency hums and whistle-like feedback enter the mix. None of this goes anywhere, the piece is stagnant and sounds more like someone impersonating McKenzie rather than the man himself. While I enjoy his work, he isn't making much progress with Being a Firefighter. Each of the previous releases from Important built on each other and had their own little quirks, however this EP doesn't cover as much new ground as the others. It sounds like the typical tinnitus and chimes of the earlier releases but Being a Firefighter never reaches the intensity of these earlier releases. While it works fine as ambience while pottering around the house, the other EPs from this series would are commanding enough to force an intense listening. Usually McKenzie's work makes better use of sound using phasing and volume as tools and it is here that Being a Firefighter falls down. There is nothing here to make me want to listen to it more than a couple of times. Of course the CD is beautifully packaged in the usual style, silk screened card sleeve and a 3" CD embedded in the clear plastic of a regular 5" CD. I expect little else but perfection from The Hafler Trio and Being a Firefighter falls just short of his high standard. - John Kealy
samples:
The Hafler Trio, "Exactly As I Do"
Important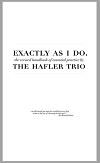 This is the second album in a series of three in which McKenzie collaborates with Jónsi Birgisson of Sigur Rós. The double CD comes in the same style of package as the other Hafler Trio voice series, each release consists of music made entirely from the voice of one individual (Blixa Bargeld and David Tibet being the other collaborations). The "sleeve notes" consist of a very dense abstract text printed with no discernable order or reason. The paper used seems a step down from the other releases (which were all released on different labels), it seems flimsy and cheap. Not to worry, the music itself is incredible. Shorter than Exactly As I Say, Exactly As I Do hits with a more powerful punch. There is far more going on here than on the first release. The first disc "ASIS" consists of dozens of Birgissons processed in various ways. A steady babble provides the backbone of the piece and as it progresses the babbling become much more synchronised and form a choir-like sound. Over this there are ghostly calls and sighs moving in and out. The second disc "SHAKTIPAT" is a different kettle of fish. It is much more slowly paced and breeds a menacing atmosphere. The first few minutes being a rumbling, echoing noise not unlike sound effects from Das Boot. As the piece progresses the rumble fades out and returns more intensely with a host of voices. Only at certain times can you actually recognise any of the voices as being Jónsi, quite an achievement considering how distinct his voice is. Following the instructions included with the album I played this at high volume and this is when it shined. The sound is richly textured and depending on your position compared to the speakers it has a different effect and undertones. On "ASIS" there is a deep low frequency hum inaudible at lower volumes but played loudly it fills out the mix perfectly. Played low it sounded a touch too heavy handed on the upper frequencies. On "SHAKTIPAT," at times the high volumes cause the room to shake, providing a beat as the furniture rattles. Elsewhere on the same disc the sound is so low that high volume is essential. This is the best release so far in the voice series and possibly the best Hafler Trio release from the surge of releases from the last year or so. - John Kealy
samples:
Hellfish, "One Man Sonic Attack Force"
Planet Mu


Any producer that samples dialogue from the film Fear And Loathing In Las Vegas scores big points in my book. The line in question, in which the journalist/protagonist Dr. Gonzo is ruminating on the joy and irony of "running a savage burn on one Las Vegas hotel and then just wheeling across town and checking into another" captures the spirit of Hellfish's hardcore techno perfectly. Hellfish has made a career out of wreaking havoc on classic rap tunes, often fusing entire vocal tracks with stomping, distorted four on the floor kick drums. A case in point is album opener "U Don't Quit," during which he presents an entirely unaltered old school hip-hop beat, only to transform it into a throbbing straight ahead 4/4 hardcore track at the 40 second mark. Transformations such as this are one of Hellfish's best tricks, as the sampled vocal that ties these two together makes the transition from early 80's to 2005 seem effortless, and ultimately places the music in a timeless dimension. One Man Sonic Attack Force benefits from being mostly comprised of new tracks and hard-to-find remixes, unlike his previous Planet Mu CDs which have been mostly made up of tracks released on his own Deathchant label. Any track that gets the Hellfish remix treatment, such as Manu Le Malin's "Big Bald Fuck" and The Speed Freak's "Iron Hand," instantly becomes of a piece with his original compositions, making the album a cohesive listen. While his tracks almost always feature sampled dialogue and other embellishments, his rapid-fire beat programming always remains the focus. The first minute of "Iron Hand" features a man recounting countless crimes over instantly recognizable chunks of Carl Douglas's "Kung Fu Fighting," but this is merely an intro. For the remaining four minutes Hellfish gets down to business, with bits of said disco hit used merely to accent beats that pound away at lightning speed. The samples are silly but his fierce, pummeling rhythms save the project from simply being an exercise in novelty. "Gettin' Paid 40r Doin' Shit" is brilliant in it's absurdity. Rumbling beats are interrupted by the voice of a man uttering the title in a way that sounds as if he is on the verge of falling asleep mid-sentence. The balance of ferociousness and fun is what makes this album such a pleasant listen. The rhythm-and-nonsense approach that Hellfish is an expert at is perfect for a futuristic dance party, albeit one at which the participants have boundless energy and are prepared to pogo all night at 180 BPM. - Jim Siegel
samples:
The Lucksmiths, "Warmer Corners"
Matinee


Seasons, lost loves, catch phrases and catchy melodies always seems to converge pleasantly on any given Lucksmiths' album. Warmer Corners reliably exhibits all of these things and more, featuring an additional member, thus augmenting the trio to a quartet for the better part of the album. This addition, which could potentially be a significant change in the band's evolution, never threatens to alter the genetics of the band's admittedly eugenic pop output. The Lucksmiths have always made efficient and economic use of their simple percussion, guitar, and bass trio. The same is true now with the only difference being that now there are horns, strings, and sometimes dual guitar lines to complement the already-full sound. Despite the cumbersome title, lead single "The Chapter in Your Life Entitled San Francisco" is a marvelous variation on the theme which Tony Bennett made famous (like-minded Lucksmiths' pals Ladybug Transistor used the same inspiration in their song "Massachusetts"). Right from the first line the song is brilliant and does much to confuse the hell out of any conscientious northern hemisphere dweller: "Is it April yet? I forget sometimes how slowly summer passes." For those who are antipathetic to the wordsmithing of the Lucksmiths', it would be best to avoid songs like "Great Lengths." The song plays on some clever rhymes (few bands are deft enough to rhyme "guessing" with "acquiescing") and some rhetorical tropes (check out the rarely heard/seen zeugma in the lyrics: "you had your father's charm and thus your mother's Volvo"). But it would be a shame to skip over "Great Lengths" even for those averse to such devices because the song is simply too catchy and tuneful to ignore, going beyond any wordplay which might scare you off. Furthermore, it's alright to listen to a band whose principal songwriter has a sharper pen than yours. There seems to be an inexplicable infusion of seventies sounds on this album, evidenced on songs like "A Hiccup in Your Happiness," "The Chapter in Your Life Entitled San Francisco," and "Young and Dumb." More to the point, one of the B-sides from the lead single was a cover of The Bee Gees "I Started a Joke." The song I keep coming back to is the subtle and understated "The Music Next Door." I passed it by the first few times and it actually took a live performance to relay the delicacy of the song to me. The song's gleeful cadence and dueling guitars are a strange accompaniment to the lovelorn lyrics. But, somehow, it works. The song is also a typical case-study for my experience with the entire album. At first, I denied that it was as good as 2003's Naturaliste. But subsequent and frequent listens have shaken my once sturdy resolve. My one complaint is that the album trails off a little in the second half and the songs are less memorable (at least at this point). Yet I don't trust myself entirely with this thought since I have already changed my mind regarding a number of songs. Just like the seasons they are so fond of elegizing, the Lucksmiths' songs have a certain vicissitude and mutability which makes generalizing an album quite hard. In other words, the seasons change in almost perfect harmony with my appreciation of particular Lucksmiths' songs, making the seasons a function of my appreciation and not the other way around. It's a theory, at least. While it gathers more data , Warmer Corners will reign as the first soundtrack to this summer. - Joshua David Mann
samples:
We know that our music picks may be somewhat challenging to find, which is why we have a community section which can be used to obtain nearly everything available on this site.
NEW RELEASES

MAY 29 - JUNE 4
Akumu - Magmas CD (Spider, Canada)
Alio Die & Jack or Jive - MEI-JYU CD (Projekt, US)
Audio Sauce - Freebird 12" (Exceptional, UK)
Autumn's Grey Solace - Riverine CD (Projekt, US)
Baby Dee - Made For Love CDEP (Jnana, Canada)
Björk/Various - Army Of Me: Remixes & Covers CD [all proceeds to be donated to UNICEF] (One Little Indian, US)
Blow Up Hollywood - Stars End CD (indie, US)
Brian Aneurysm - Das Element Des Menschen 12" (Spectral, US)
John Contreras - Untitled CDEP (Jnana, Canada)
Current 93 - How I Devoured Apocalypse Balloon 2xCD [recorded live in Toronto in June, 2004] (Jnana, Canada)
Current 93 - Hypnagogue I & Hypnagogue II CD (Jnana, Canada)
Dungen - Ta Det Lugnt CD (Memphis Industries, UK)
Simon Finn - Subjunctive Mood CDEP (Jnana, Canada)
Simon Finn - Magic Moments CD (Jnana, Canada)
Four Tet - Everything Ecstatic CD/LP (Domino, US)
Bebel Gilberto - Remixed CD [mixes by Thievery Corporation, Tom Middleton, Guy Sigsworth, DJ Spinna, Grant Nelson, Spiritual South, Yam Who? and Telefon Tel Aviv] (Six Degrees, US)
Hexes & Ohs - Goodbye Friend, Welcome Lover CD (Noise Factory, Canada)
Edward Ka-Spel - O Darkness! O Darkness! LP [limited edition in special packaging] (Beta-Lactam Ring, US)
LCD Soundsystem - Disco Infiltrator 12"/CDEP (DFA/EMI, UK)
Meat Beat Manifesto - Lovefingers/Radio Free Republic 7" (Brainwashed, US)
M.E.D. - Push Comes To Shove CD/LP (Stones Throw, US)
Moby - Spiders 7"/two CDEPs (Mute, UK)
Modey Lemon - The Curious City CD/LP (Mute, UK)
Nirobi & Barakas - Bungee Jump Against Racism 12" (Tru Thoughts, UK)
Nurse With Wound - Echo Poeme Sequence No. 2 CD (Jnana, Canada)
One Self - Bluebird 7"/12" (Ninja Tune, UK)
Port-Royal - Flares CD (Resonant, UK)
Pshouo Nmehpsaitshomte - Ntnau Nhôtp Mprê Ahenjêu Eukêm Ouem Tpe CDEP (Jnana, Canada)
Secede - Tryshasla CD (Sending Orbs, The Netherlands)
Silicone Soul - The Poisoner's Diary 12" (Soma, UK)
Trephine - Trephine CD (Public Guilt, US)
Trümmerwelten - Optimiertes Leiden CD (Out of Line, Germany)
Various - Breezy Beats & Sunny Breaks CD/sampler 12" (nice+smooth, Canada)
Various - Hazardous Materials CD [tracks/mixes by Miles Tilmann, Atom Heart, Made, Cepia, Mr. Projectile, Single Minded Pros, Tstewart, Innerstance Beatbox and more] (Consumers Research & Development, US)


JUNE 5 - JUNE 11


!!! - Take Ecstasy With Me/Get Up 12" (Touch & Go, US)
* Annie - Anniemal CD (Big Beat/Atlantic, US)
Antony and The Johnsons - Hope There's Someone 12"/CDEP (Secretly Canadian, US)
Ayria - My Revenge on the World CDEP (Alfa Matrix, Belgium)
Black Mountain - Druganaut CDEP (Jagjaguwar, US)
Bochum Welt - V.E.X. Colors CD (Fuzzy Box, US)
California Oranges - Souvenirs CD (Darla, US)
Nick Castro - Further From Grace CD (Strange Attractors, US)
Culture Kultür - Reborn CD (Out of Line, Germany)
Domotic - Ask For Tiger CD (Active Suspension, France)
Doormouse - Major Changes CD (Sublight, Canada)
El Poeta - Musically Speaking CDEP (Imputor?, US)
Epic45 - England Fallen Over CDEP (Make Mine Music, UK)
* Gene Loves Jezebel - Promise 2xCD [remastered reissue with 2nd disc of singles, b-sides & rarities] (Beggars Banquet, US)
* Gene Loves Jezebel - Immigrant 2xCD [remastered reissue with 2nd disc of singles, b-sides & rarities] (Beggars Banquet, US)
* Gene Loves Jezebel - Discover 2xCD [remastered reissue with 2nd disc of singles, b-sides & rarities] (Beggars Banquet, US)
Healamonster & Tarsier/Eoss - Cotton Sadness split 12" (Moonbunny, Germany)
Hanne Hukkelberg - Little Things CD/LP (Leaf, UK)
Kraftwerk - Minimum Maximum 2xCD [live] (Astralwerks, US)
Lo Fi Fnk - Change Channel 7" (Moshi Moshi. UK)
Low - Low In Europe DVD (Plexifilm, UK)
Oren Marshall - Introduction To The Story Of Spedy Sponda Part One: In A Silent Room CD (Slowfoot, UK)
Märtini Brös - Tracks From The Lab 12" (Poker Flat, Germany)
The Mutts ­ Blood From A Stone 7" (FatCat, UK)
Odawas - The Aether Eater CD (Jagjaguwar, US)
Odd Nosdam - Burner CD/2xLP (Anticon, US)
Olvis - The Blue Sound CD (Resonant, UK)
Portal - Waves & Echoes CD (Make Mine Music, UK)
Printers - Rhizomatic Baby CD (Statler & Waldorf, Denmark)
( r ) - Under The Cables, Into The Wind CD (Important, US)
* Racebannon - First There Was The Emptiness CD [reissue] (Secretly Canadian, US)
Rodamaal - Insomnia 12" (Buzzin' Fly, UK)
Charlie Schmidt - Xanthe Terre (Strange Attractors, US)
Sindri - Under An Attack, Waiting To Happen CD (Imputor?, US)
T. Raumschmiere - Sick Like Me 7"/12"/CDEP (novamute, UK)
Todd - V V i t c h 7" [ltd to 500 copies on grey vinyl] (Riot Season, UK)
Unter Null - Sick Fuck CDEP (Alfa Matrix, Belgium)
Various - 4 Women No Cry Vol. 1 CD/2xLP (Monika, Germany)
Various - The Association of Utopian Hologram Swallowers 2x7" (Polyvinyl, US)
Windy & Carl - Dedications to Flea CD [ltd to 500 copies in a letterpress sleeve] (Brainwashed, US)


This is simply this week's highlights from the NEW RELEASES provided by Greg and Feedback Monitor. For a more detailed schedule stretching into the future, please check out the page, since release dates can and will often change.
CONCERT REPORT
current 93 and friends
St. George-on-the-Martyr church, Toronto, Ontario

Night One: Thursday
Flew to Toronto for three days of Current 93 and friends at St. George-on-the-Martyr church in Toronto, even though I still haven't even removed the bandages from my appendectomy yet. I am surviving on pain pills and weed, skillfully stowed in my luggage.
The church is a beautiful place for a concert, excepting for the lack of air conditioning in a relatively hot season for Toronto. The show was small as only 100 tickets were sold per night. As they started letting folks in at about 7:30 PM we passed the merch table, where a bunch of new Durtro/Jnana stuff was for sale, including a new Current 93 double-live CD, a re-recorded Hypnagogue, a new Nurse With Would album, a new Simon Finn EP and full-length, a Rose MacDowall/John Contreras EP, new Baby Dee EP and an EP by some shadowy, mysterious act with a long, unpronounceable esoteric nonsense name.
Steven Stapleton was creeping around the church, as was Matt Waldron AKA irr.app.(ext.), who apparently just played a show last night in Toronto. Playing over speakers as people sat themselves in queues was the new NWW album, which sounded amazing. The crowd was a lively mix of radical faeries, old goths, TOPY veterans, young urban faggots, drag queens, music nerds, industrial scenester junkies and a newer contingent of beard-stroking Wire readers that I've never noticed at C93 concerts before. They might have come out because of the inclusion of Six Organs and Antony on the bill. One good thing about tickets that cost nearly $200, however, is that everyone who shows up REALLY wants to be there, is appreciative and respectful to the artists, and is not just looking to drink and score pussy.
First up was Simon Finn, who played a brief set of newer songs from his EP and album - "Subjunctive Mood" and "Magic Moments," among others. He also played "Walkie Talkie" off the Silent City Creep EP released last year. He sounded amazing, and I was so thrilled to see a guy that until very recently was a giant question mark in the minds of so many rare psych collectors. It's frankly shocking to hear the voice of the man who sang "Jerusalem" coming out of a real, live person. His performance was intense, and his songs are reminiscent of the best of Pearls Before Swine.
Next up was an unexpected solo set by Maja Elliott, David Late Tibet's frequent piano accompanist. Though her playing was very competent and her singing voice was also well-trained, her songs sounded very new-agey and Tori Amos-esque and she was completely out of place on this bill. When she started singing an a cappella song in Gaelic, I thought that I had somehow accidentally wandered into an Enya rehearsal. I hate to insult her, because she is obviously very talented, but this just wasn't my cup of tea. She should stick to playing with C93.
Next up was Ben Chasny AKA Six Organs of Admittance, who played a brief set, solo guitar and voice, material mostly drawn from School of the Flower. I've seen Six Organs play years ago at the Boston Terrastock festival, and he has improved by leaps and bounds since then. His fingerpicking technique is awe inspiring. It is absolutely amazing how much sound he pulls out of his intrument, and his sad, elegiac, hazy vocals are amazing too. A great little performance. David Michael (Tibet) could be seen off stage right enjoying Chasny's performance immensely, clapping louder than everyone else as each song finished.
Antony came out in a black wig and ripped punk sweater and played a suite of songs from I Am A Bird Now - "You Are My Sister," "My Lady Story," "For Today I Am a Boy" and "Hope There's Someone." He also played his great song "Man Is the Baby." He accompanied himself on grand piano and Joolie Wood played cello throughout his set. As always, he was beautiful and hypnotizing, and his performances of his album tracks made me love the songs even more than I did before. He got a standing ovation from a very homo-friendly crowd.
Pantaleimon AKA Andria Tibet came out next, playing dulcimer and harmonium with some accompaniment from a cellist and, briefly, Ben Chasny. She played "Change My World" and a few other things from her releases, very drone-y, drawn out Appalachain/British dark folk that at times resembled Marble Index-era Nico in a weird way. One of the songs appeared to be an adaptation of the Eden Ahbez-penned Nat King Cole standard "Nature Boy" (The greatest thing you'll ever learn/Is just to love and be loved in return). I haven't really loved the Pantaleimon releases, but she was a very credible live performer. Again David Michael cheered his wife on quite vociferously.
Baby Dee was on next, looking quite fetching with a bright red springy, curly hair and dangle earrings. She played a few songs I didn't recognize, accompanying herself on piano for a couple and then harp for a couple. Very beautiful and creepy stuff, just like the albums. There was a very anti-religious bent to her set, and she started out by saying: "This is me in a church. Ever heard the expression 'Ratshit in the sugar bowl'?" Then she played a couple songs with lyrics about hating God, and another about Jesus beating up her mom. Then she chided the audience for applauding such blasphemous songs while in a church.
Current 93 was the final act of the night, an ensemble including almost everyone who had played previously (with the exception of Antony), and the surprise inclusion of Hymaenus Beta/William Breeze on the viola. TAFKAT (The Artist Formerly Known as Tibet) even joked as the set began: "I'm a born- agin Christian fundamentalist, and tonight's show is sponsored by the O.T.O." Then he launched in to a ferocious run of three songs from the upcoming Black Ships Ate the Sky album. The material sounded amazing, by turns sad, melancholic, fiery and apocalyptic and just-plain loud and frightening, atonal noise accompanied by accusatory screams from David Michael. The promised low-key set drawn from Soft Black Stars was nowhere in site, though he did follow-up with "Antichrist and Barcodes" which unceremoniously broke into a cover of "Under the Moon at Night." Then came a marvelously rendered cover of Bill Fay's excellent epic eschatological song "Time of the Last Persecution." That was the end of the very brief set, but the audience demanded an encore, so the whole ensemble came back on to accompany Tibet in a very intense version of "Calling for Vanished Faces I" from All the Pretty Little Horses. At one point amidst Tibet's palsied, Ian Curtis shaking, he fell to the ground and pounded on the wooden floors - "There's a knock at the door!"
It was absolutely stunning, and this was just the first night. Kudos goes to the kind and generous Mark Logan of Jnana Records for helping to put this whole thing together. Everything ran very smoothly indeed.
Night Two: Friday
On day two of Current 93 and friends' residence at the Music Gallery at St. George-on-the-Martyr Church in downtown Toronto, my friends and I were graced with the surprise arrival of Jon Whitney, who drove up on a whim to see the show, and perhaps shoot an episode of The Eye on Current 93. No dice on The Eye as David Michael specifically requested that no filming of his set take place, even though I observed at least three people ignoring this rule. David Late Tibet seemed concerned about the fact that much of his set on all three nights was brand new material drawn from his forthcoming album, so I suppose he was concerned about bootlegging or some other such vague fear. Still, it was pretty disappointing to be refused permission to film his set.
In addition to Matt Waldron, also in attendance tonight was the bald, bearding indie folk superstar Will Oldham AKA Bonnie "Prince" Billy AKA Palace, who arrived with the owner of Drag City. Oldham apparently has a little guest spot on Current 93's next album, and he's also contributing to Jnana/ Durtro's triple-disc African AIDS benefit CD, so his appearance at the show was perhaps not as incongruous as it initially seemed. The rest of the audience was mostly the same as the first night. I was sitting in a pew next to a big, stocky, bald guy who looked a lot like Tony Wakeford, but wasn't.
Simon Finn opened the show with a longer set, drawn from all of his releases, old and new. In addition to the fine compliment of newer compositions such as "Magic Moments," "Golden Golden," "Eros" and "Wounded Tiger," he also sang four amazing songs from his legendary, storied, sought-after 1969 LP Pass the Distance - "Courtyard," "Big White Car," "Hiawatha" and as his final song, a soul-shredding version of "Jerusalem," truly one of my top 10 favorite songs of all time. He tore the house down with his performance on this, his most legendary song, an impassioned please to the "200 million hypocrites" who praise Christ's name, but "were he now to come down/those hypocrites would crucify him again." The song ends with Finn repeatedly screaming the song's title, as his throat-stripped cries become ever more bloodcurdling and emotionally draining. Amazing stuff.
Next up was an extended set by Baby Dee, who played songs on the harp, the grand piano, and one on the accordion. She was once again bubbly and effervescent, and the songs were once again by turns amusing and harrowing. She sang the lovely "Love's Small Song," "A Book of Songs for Anne-Marie" and "Black But Comely." She also sang a rollicking little novelty piano song about incontinence, gay cops and crackwhores. All in all, a funny and engaging set.
After Baby Dee was a short break during which I indulged photo opportunities with David Michael and Steven Stapleton, ducked around the corner and smoked a joint and swallowed more prescribed (nobody held up a pharmacy here) oxycontin in order to allay the pain from my appendectomy incision, which flared up after sitting in a hot, uncomfortable church pew for hours at a stretch.
Then it was Current 93 again, who somewhat disappointed me by virtually repeating their set from last night with a few additions to the setlist. It was great to hear the Black Ships Ate the Sky material again, as well as the Bill Fay cover, but to hear "Antichrist and Barcodes" and "Calling For Vanished Faces I" performed note for note, and voice crack for voice crack exactly the same way as last night was a little much for me. Perhaps I shouldn't complain, as for an encore Current 93 played a great version of "Oh Coal Black Smith" that sent shivers down my spine. TAKFAT mumbled on between songs about menstruation and the British royal lineage, Jehovah's Witness pamphlets, and then thanked his fans over the years for giving him the strength not to put a gun to his head. It was a bit of an odd confession for his to suddenly make, but it seemed heartfelt. The ensemble of Maja Elliott, Ben Chasny, Simon Finn, Bill Breeze, Baby Dee, Joolie Wood and John Contreras once again did a marvelous job backing up David Michael, provoking J. Whitney to comment that this was the finest live incarnation of Current 93 he has ever witnessed. Truly a treat for all who were there to witness it.
Night three
The third night began with a longer set from Six Organs of Admittance. Unlike his brief set on Friday, this time Ben Chasny included pieces that required to the use of loops, samplers and electric guitar. One particularly amazing piece had Chasny playing a brief fingerpicked melody on acoustic guitar, which was sampled and looped as he picked up a flying "V" Stratocoster and played gloriously shredded third-eye guitar improvisations over it. Some of the pieces performed were recognizable as being from Six Organs albums like School of the Flower and For Octavio Paz, but a few seemed like off-the-cuff improvisations. Chasny's albums and performances have just gotten better and better over the years, since that first show I witness at Boston's Terrastock. I was completely transfixed by tonight's show, and was utterly impressed by the amount of startlingly lovely noise made by one man and couple of guitars.
Next up was a surprise, unannounced set from Pantaleimon. For this set, Andria Tibet seemed a bit nervous and a lot less prepared than she had during the more informal set on Friday. The setlist was almost exactly the same, but it sounded far more tentative, with Mrs. David Michael frequently quavering and pausing during her own songs. Again she performed that long, hypnotic song where she accompanies herself on harmonium, but this time it came off as much less effective, even with the added boost of Ben Chasny and John Contreras. She still got wild applause from a supportive audience, but her set seemed superfluous on a schedule that already included three long sets.
Then it was a longer set from Antony, who played an almost entirely different set from the one on Friday, playing a series of long medleys that included such classics as "The Lake," Current 93's "Soft Black Stars," and "I Fell in Love With a Dead Boy." He surprised everyone by playing a haunting version of Lou Reed's "Candy Says," then he led the audience in a humming, clapping and stomping version of a beautiful Civil War ballad called "Dust and Mortar." Once again Antony was in fine form, his voice tying gossamer, fragile silk cords around susurrant syllables. Lyrics both sad and celebratory, and loose, impressionistic piano technique that matched perfectly with Joolie Wood's gorgeous cello. He thanked the audience and left to a thunderous standing ovation.
After three days my ass was getting very sore and my sweat glands very overworked by having to sit in the hot, humid church in such uncomfortable seats. Even the frequent breaks between sets filled with stretching, walking, smoking and pain medicating couldn't allay the long-term effects of such discomfort. So everyone was relieved when Current 93 took the stage for their final set on the final night. True to past form, David Michael was partially disrobed for this, his final set at the three-day mini-festival, wearing only some loose short pants and a jacket with no shirt underneath. This nakedness gave his final set a vulnerability that worked for the selection of songs chosen, which included the same Black Ships Ate the Sky songs performed on the previous two nights, as well as some surprises from the back catalog. "A Gothic Lovesong" and "The Blue Gates of Death (Before and Beyond)" were two that the crowd instantly recognized and applauded, as well as that little nursery rhyme thing from Swastikas for Noddy ("It isn't very good/in the dark, dark wood..."). Considered all together, tonight's set was the strongest of any of the three nights, with both David Michael and the rest of the fine ensemble in prime condition, taking nary a misstep for the entirety of the long set. The big event of the night was the performance of a song from the upcoming album performed on stage by Andria Tibet on harmonium and the not-so-surprise guest Will Oldham/Bonnie "Prince" Billy on guitar and vocals. Other than Oldham suddenly forgetting a few lines of the lyrics and frantically taking some crib notes from his shirt pocket, the performance was very good indeed, and the incongruity of the indie folk superstar singing with Current 93 worked much better than I might initially have guessed.
On the whole, this three days was an incredibly great showcase for the artists involved, and one which was well-organized and highly memorable. I met many fabulous people in Toronto, and Mark Logan and all others involved in putting these shows together deserve much credit for what must have been a daunting task. I'll be back on The Brain next week with some words about the new Current 93, Baby Dee and Simon Finn releases available for sale at the show. Thanks for reading. - Jonathan Dean
Autechre, SND, DJ Rob Hall
Variety Playhouse, Atlanta, GA
5/27/05
It's strange to think that I actually debated going to this show. Ten years ago I would have gotten on a plane to see Autechre if they were playing anywhere within a few hundred miles. Now, a handful of unmemorable albums and a live show devoid of any stage presence later, I wasn't so sure the venture was necessary.
Rob Hall turned in a fantastic pair of DJ sets that flowed seamlessly between squelchy acid revival and new school electro. When he got cheeky and dropped an old Autechre record, I couldn't help but think that the best Autechre of the night was going to be coming off of the wrong Rob's hard drive. SND followed Rob Hall with a scattershot set of hyperactive beats and sample cut ups that reminded me of someone pausing and restarting an old 808 State record hundreds of times per minute with a Nintendo controller. People tried to dance, and there were a few moments of solid, heavy groove amidst the clutter of broken rhythms, but the maniacal filter sweeps and buzz rolls and digital spasms were what elicited the most cheers.
Autechre took the stage with their usual discretion and launched into patterns of drums reminiscent of their newest record that just left me longing for the depth of the ancient Autechre track Rob Hall had played. The first ten minutes was all ping pong ball percussion and stabby kick drum thumping that seemed to go nowhere and promised a long night of fighting the doze-off effect of clinically abstracted techno. With the third track of their set, however, Brown and Booth decided to whip out some surprises including a massive synth swell and some gurgling, bubbly melodies that introduced a more robust and approachable sound than I had anticipated. Last time Autechre was in town, I got the impression that they were just stewards of a self-regulating process that was building music like techno-organic crystals growing and self-organizing into an infinitely complex lattice. It was nearly impossible to find a center, but it seemed to always be moving and changing. This time, the boys seemed to focus less on the construction process and more on the undeniable roots of their musical journey. Instead of the distant and insincere math noodling, the audience was treated to something akin to a time machine in an alternate universe where rave culture continued to grow and survive and evolve into future dance music rather than glowstick-theater.
Alternating between slower, bass-heavy numbers and hyper-kinetic techno, Autchre proved why they have always been the forerunners of the unabashedly digital dance culture. They flirted with jazz samples, touches of dark bass manipulation, time-signature warps and some of their own style of brooding minor-key melody, and it all built into an apocalyptic crescendo that demonstrated a willingness to reconnect with the audience that their records don't reflect. To my surprise, the best Autechre of the night did not come from an eight year old 12"; it came about 45 minutes into their engaging live set. Now if they could only put out a live album. - Matthew Jeanes
POLL
Results from last poll: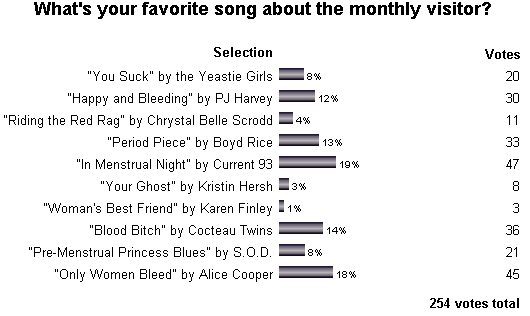 LINK OF THE WEEK
this day in music
It's not very exciting but it is sometimes "interesting" despite it being a very Brit-centric site. (But then again, when don't Brits think they're the centre of everything?)
thisdayinmusic.com
FEEDBACK
boydcast

Subject: non eye
Hello,
I visited the Boyd Rice website and watch a minor documentary about him that seemed to be from your website. If it is so is that documentary on any of the dvd-r that you offer?
No. There are no plans yet either.

Subject: pocasting - a new hope
FY and no criticism of your fantastic site and sounds I am finding that the podcast server drops out very badly and makes it iimpossible to get files :-( I am on a dial up but do not have this problem on similar download sites.
There is no "Podcast server." You should download it completely, then listen. In fact, thanks to your note, we're now zipping it up before we upload so you can do just that!

Subject: the pod strikes back
Hi Jon,
Just to let you know that offering the podcast as a zip doesn't go well with Ipodder on a pc. When unzipped there is also an extra mac folder being extracted don't know why you did that.
See the previous note. An extra folder you can deal with. Sorry about life's little road bumps. You'll live.

Subject: return of the pod
I cannot download any mp3 files from your link here
http://www.podcast.net/show/396
is this a technical or a legal problem?
Nope, you just missed them when they went up. Only the current one is up on the site now.

Subject: last week's poll
You forgot "Sunday Bloody Sunday."
That's just wrong.
GET INVOLVED
sponsor, donate, or buy from brainwashed
Click here to find out how you can help keep The Brain going. Every penny helps.
become a contributor
We're always looking for more writers and are welcoming applicants who meet the criteria. Have a look at our new section, Write for The Brain and don't be shy.
sign up for the announcement list
Do you want to be the first on your block to hear about special limited pressings and happenings of Brainwashed? An announcement list has been set up at www.hollyfeld.org/mailman/listinfo/brainwashed. It's not a forum and subscribers will be the first to hear about new releases on Brainwashed Recordings, a new Brainwashed Handmade imprint, the hopefully soon to launch Brainwashed Archives label, and any music fest(s) to coincide with Brainwashed's 10th Anniversary (which is only a year away). Thanks again for the support, it keeps us going.
get the rss feed

http://www.brainwashed.com/brainwashed_rss.xml

join the audioscrobbling community
Share your playlists with other readers/fans at the Brainwashed Group at Audoscrobbler.
let us know what you think
Communicate with us, tell us what's in your player, tell us what you want more/less of, send recipes.
WHAT'S IN YOUR PLAYER?
no compromise
MY OLD DUTCH by Albert Chevalier
POND by Tod Dockstader & David Lee Myers
REPLICAS by Tubeway Army
LIVE DUBLIN 7/5/05 Thighpaulsandra
YOUNG SAVAGE by Ultravox
THE BEAST BOX of Sid Redlin
MARLEISE by FischerZ
REMIENDRE by Ginnungagap
SATAN IS REAL by The Louvin Brothers
SONIC VISIONS OF MIDDLE EARTH by Various Artists
OUTLANDER by Meic Stevens
THOSE MAGNIFICENT MEN IN THEIR FLYING MACHINES by Ron Goodwin
MOTHER TEACHER DESTROYER by The Hidden Hand
FEEDING OF THE FIVE THOUSAND by Crass
WE'LL ALL GO RIDING ON A RAINBOW by The Caretaker
1ST by The Bee Gees (I make no apologies for this)
Big Fat Fex, London, UK