NEGATIVLAND, "NO BUSINESS"
Seeland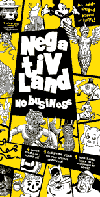 With the recent RIAA bust of Mondo Kim's in NYC and the news of Apple's move to Pentium D chips embedded with copyright-protection lockdown systems, it's pretty clear that the recording industry and Hollywood aren't planning on slowing down their draconian Gestapo tactics anytime soon. That's why Negativland's new album No Business could not have arrived at a better time. No Business is far more than an album: it's a multimedia essay and meditation on the concepts of public domain, fair use, copyright law and the ramifications of digital media filesharing on the music business as it has existed for the past several decades. In addition to advertised "EIGHT TRACKS of AUDIO on a ROUND CD," this generous package from Seeland also contains a 50-page essay entitled "Two relationships to a cultural public domain," a hilarious Quicktime video and a whoopee cushion toy emblazoned with the "circle c" copyright symbol. The essay itself is perhaps the best thing about the album, as it touches on many issues and possible trajectories for the current war between the mainstream music business and the internet-savvy consumer. Negativland make several modest proposals about the future of the music business in light of the digital revolution, some of which involve the very real possibility that making music may no longer be a viable way to make mountains of cash. This is not necessarily the end of popular music; but it may very mean the end of corporate music. As Negativland point out in their essay, they themselves have never made any kind of reasonable living off of their music, but they continue making it anyway, because they have a sincere desire to make music. Having been at the receiving end of several well-publicized lawsuits because of their plunderphonic audio collaging, which frequently took jabs at corporate-label music such as U2 and Michael Jackson, Negativland clearly know of whence they speak, and this makes for an engaging read, one of the best and most level-headed essays I have read on the topic. The accompanying CD may be the weakest link of the package, which though it does have several very amusing moments, is not nearly as strong as their last album, the fantastic Deathsentences of the Polished and Structurally Weak, an unsung masterpiece of noise. This CD is something of a first for Negativland, as it is entirely constructed from plunders and samples, with no additional voicework over top, as is the usual case for the albums derived from their Over the Edge radio broadcasts. Instead, it's a series of People Like Us and Evolution Control Committee-style gags, resplicing Ethel Merman until she's singing lyrics like: "There's no business like stealing/It's so appealing." Also in the audio blender are The Beatles, the soundtrack to Disney's The Little Mermaid, an RIAA spokesman's speech at the Grammy Awards, a vintage radio drama and other sources too various to mention. The oversized wallet that houses the album and essay is filled with so much corporate iconography and mythological characters, it looks like the dual wet dream of Joseph Campbell and Marshall McLuhan. All told it's an absolutely fantastic package from Negativland, and I'd suggest getting your hands on it before the RIAA shuts down its sale on account of all those pesky unauthorized samples. - Jonathan Dean
samples:
MICE PARADE, "BEM-VINDA VONTADE"
Bubble Core Records


NYC multi-instrumentalist Adam Pierce's Obrigado Saudade was one of my favorite discs of last year; a most splendid mixture of pop, jazz and Brazilian-inspired musics crafted with catchy hooks, memorable melodies and cool beats of various time signatures. What was even more impressive was that Pierce hadn't relied on many guests to pull off this recording, yet the performances are totally tight from start to finish. With Bem-Vinda Vontade, the latest release on his own Bubble Core Records label, Pierce has employed a full band on about half of the disc's nine tracks, including HiM bandleader and fellow drummer, Doug Scharin. Having seen Mice Parade in live performance just as this disc was being released, I can totally understand the appeal of inviting the live group to record on some of this disc; master-skilled classical and Flamenco guitars (though Pierce him is a great player), multi-faceted keyboards that more than fill in the gap of a non-existent bass player, and Scharin's sleek and polyrhythmic drumming. "Nights Wave" beautifully rings with nylon-stringed guitar chords and vibes over slinky beats which set the foundation for a heartfelt vocal exchange of loss between Pierce and Múm's Kristin Anna Valtysdóttir, who also lends her accordion chops. This one still has me hitting the repeat button. The novelly titled "The Days Before Fiction" starts from a wall of plucked guitars, keys and vibes driven by turnaround beats only to transform into traditional Tropicallia for a spell and shift back again without disturbing a hair of the groove. Distorted, upper-register guitar chugs away against Valtysdóttir's vocals and the bombastic, yet laid-back drums on "The Boat Room" which gradually becomes complimented with intertwining vibraphone. One of those discs where you hear something new with each listen, Bem-Vida Vontade has far too many salient points to describe in one review. One noteworthy element about this disc is Pierce and company incorporating vocals on a good chunk of this disc. With these new zealous compositions, Mice Parade appears to be leaning more towards an edgier style of the experimental pop music that came about in the late 1960s, but without any pressure to defy the mainstream. - Gord Fynes
samples:
Nacht Plank, "Septs Vents"
Lampse


Everything on this record screams of biological energy; the music casts a shadow over the room the second it begins and, as it continues, strange flora begins to bloom from it left and right. Lee Norris' work in Metamatics has little to do with this more abstract moniker and it's of little surprise that the Lampse label has decided to make Septs Vents its inaugural release. First and foremost, it's a beautiful album crawling with night life; fire flies, crickets, owls, and the ominous crunch of dead limbs and old leaves populate every corner of each of these 11 tracks and though it is inviting at times, the majority of this nocturnal beast overflows with an ambient horror. When the hissing and ephemeral life becomes to dense, like a plague of locusts or any insect buzzing over a continent mindlessly, Norris loosens his approach up and allows some sunlight to creep through the dark curtains his monumental sounds can cast. Guitars of near-Spanish descent part the canopy and wooden percussion stroll along underneath creating small oases of comfort and liquid relief. Listened to as background music, Sept Vents acquires a strange flow that twists and turns uncomfortably; it's never allowed me to keep my attention elsewhere for very long and often the shifts in tempo and demeanor will draw me away from my books or from my computer. Close listens bring out a strange logic of indiscernible organic samples and immediately recognizable electronic pulses; the album doesn't exactly play itself out as a strictly electronic album, but it doesn't revel in the realm of field recording, either. The sounds are heavily processed, but remain identifiable enough to feel wholesome, frightening, familiar, or alien (sometimes simultaneously). Lampse may be another label to watch closely, if this record is any indication of its musical platform and commitment to good music, then it's likely that there will be plenty more strange worlds coming from this camp. - Lucas Schleicher
samples:
bearsuit, "cat spectacular"
microindie (US) / Fortuna Pop! (UK)


They wear silly costumes onstage, are unabashedly sweet and sugary, utilize an arsenal of childish instruments (recorders, xylophones, possibly a Flintstone Phone), and basically make any of their fuzz pop forebears look like Mayhem. Bearsuit have a lot stacked against them, so it's surprising that Cat Spectacular manages to succeed when it is so tempting to simply call them twee-pop opportunists and move on. Part of what makes Bearsuit's debut album so enjoyable is easily summed up in the 2:57 of "Cookie Oh Jesus," where loud, fuzzy guitars and drums take the stage only to be whisked aside by shaky trumpets, insistent tambourines, and the intertwining male-female vocals of Iain Ross and Lisa Horton. It's a sugar rush that doesn't induce tummy aches or diabetes. Elsewhere, the band let the tempos and the noise slacken, such as on the awkward shuffle of "Cherryade" and "On Your Special Day," a song about life after the machines have turned on their masters that contains the best vocal performance from Horton who wonders "Why, why are the machines so sad?/Why must they exact such terrible revenge upon the small?" on top of Ross' yearning voice and a bed of gently plucked guitars and recorders. Bearsuit are not poised to break any new sonic ground to be sure, but that hardly matters. They have enthusiasm and charm, and while they have a few checks they need to write for Boyracer, Henry's Dress, and Unrest, Cat Spectacular manages to be exactly what it should be for its 29 minute duration: a fun, noisy pop record. - Nicholas Feeley
samples:
Gruntsplatter, "Pest Maiden"
Troniks/PACrec


Recorded way back in 1999, Gruntsplatter's Pest Maiden 7" and cassette release may not have made much of an impact on the noise-loving public (perhaps due the limited nature of its release), but it is a fine album deserving of attention. Thus, Troniks/PACrec has made the split-up release one monstrous album and Scott E. Candey has remixed the material especially for the occasion. The album consists of three long pieces and two shorter, these serving more as setup compositions for the giants that follow them. "Permeating Tissue" is a strange beginning; a vacuous low-end loop cycles over a series of atmospheric bubbles and gasps for roughly thirteen minutes- the result isn't boredom, but a strange trance ensues that covers the rest of the album in a blackness only a subject like the plague could evoke. In fact, the rest of the album seems to issue a blackness that chokes every sound Candey decided to use. "The Watchman, The Visited, and The Under-Sexton" might have been a medieval chant culled from an old monastery still sitting in the mountains of France, but instead is sounds like possession, an incendiary demon ripping apart every holy symbol and fracturing the physical body until the soul begins to bleed from the bones. Five minutes may not register as much time for a noise-maker to establish such a vivid mood in a piece, but Candey pulls it off with grace. The sounds on the album all feel old, the static and hissing producing the effect of being in a library at times. This could very well have been a recording of the plague years, though the frequent spacious elements used on the record give it a mystical air, as though a Masonic library would be far more appropriate. "Finally Silent" is the 25 minute closer and, true to its name, squelches the previous four tracks in its size and stature. Screaming, scraping, and absolutely dying to be released from the terror the album emanates, "Finally Silent" emasculates and devours everything, leaving a tiny quiet place in its wake that feels less like relief and more like desperate loneliness, a tiny figure waiting to die. - Lucas Schleicher
samples:
GREEN MILK FROM THE PLANET ORANGE, "CITY CALLS REVOLUTION"
Beta-Lactam Ring


This is the second Beta-Lactam Ring release for the Japanese psychedelic rock group with possibly the worst band name in modern music (outside of emo atrocities like Alongside Magenta and A Month of Somedays). It might be a good idea for the trio of dead k, T and A to change their name to something a little more marketable, as the music isn't bad, really. City Calls Revolution is better recorded and the performances far more energetic and memorable than those on last year's He's Crying 'Look', though the band is still mining the same post-progressive rock territory, all breathless guitar dynamics, virtuosic drumming and histrionic, shrieking vocals. Opening track "Concrete City Breakdown" unashamedly begins with a sprinkling of spacey Korg synths and T's heavily phased Fender Jazz bass, before opening out into a Hawkwind-meets-Zappa thing, which continues for perhaps longer than it ought to, but is never boring. dead k's broken English squawking is grating until he really starts bellowing and screaming, and then it's a perfect match for the group's tireless stop-start, adrenaline-pumped metal meanderings. Luckily, GMFTPO isn't the sort of progressive band that pauses for five-minute solos on bass or drums, so things keep moving at a breakneck clip, which is good. "OMGS" and "Demagog" [sic] are two shorter tracks sandwiched between the album's behemoth sidelong tracks, and serve as excellent showcases for the group's concise, efficient songwriting efforts, which I actually quite prefer to their more long-winded tracks. The trio effortlessly changes key and tempo, barreling through endless corridors of seething rock dynamism, T and A's interplay on "Demagog" at times resembling the stunning opening sequence of Yes' "Heart of the Sunrise." (I admit it, I'm a huge fan of Yes. So sue me.) Ending things off on a post-Floydian note of building, churning splendor is the 38 minutes of "A Day in the Planet Orange," which creates a cyclical architecture of blistering guitar soloing, intense drumming and complex bass acrobatics. My patience did wear a bit thin by the time the group geared up for their final ascent into the stratosphere, but if I had been on just a little bit of kind bud, I'm sure it would all have seemed a lot more exciting. Not that you need drugs for GMFTPO's hairy psych-prog showstoppers to make an impression, but it doesn't hurt. It doesn't hurt at all. - Jonathan Dean
samples:
Art of Fighting, "Second Storey"
Bella Union


The first time I put on this CD I turned it off shortly after. I believe I grumbled something along the lines of "Radiohead tribute band." Listening back to it over the last few days I realise I was sorely mistaken, Second Storey is a lovely piece of work. Art of Fighting may not be breaking new musical ground but they do know a good melody when they hear one. The opening track "Along the Run" is a beautiful little song, its shimmering guitars are very much in tribute to Johnny Marr and Ollie Brown's vocals cut through the song clearly and powerfully. Songs like "Break for Me" and "Sing Song" are great examples of a band playing to each other and adding only what is necessary to the piece. "Where Trouble Lived" in particular is stunning, Peggy Frew's vocals suiting the music perfectly to make a song that Low are probably kicking themselves for not writing it first. If the album could keep this pace I'd be ranting and raving about it but Art of Fighting have an odd habit of sticking some very weak tracks in between some very nice songs. The first half of the album is a hodgepodge of good and bad. "Your Easy Part" completely destroys the mood that "Along the Run" creates. "Two Rivers" is at first awkward, it fumbles along until all of a sudden it erupts into a thick wall of guitars and Brown's singing soars. At this point the band seems to have found their feet and the rest of the album is solid. Second Storey is a charming album but you have to be prepared for the couple of sore thumbs that mar the first few tracks. - John Kealy
samples:
Richard Ramirez & Skin Crime, "Pleasure, Commerce, & Disease"
Troniks/PACrec


Harsh noise can be fairly boring stuff, but when done properly, the kind of destruction it can unleash (especially live) is impressive, perhaps reaching that apocalyptic level so many reach for. Both Richard Ramirez and Skin Crime are seasoned veterans but they've both found their way to the Troniks/PACrec label for this effort in obliteration and, sadly, the results are a bit mixed. With such a provocative title, I was hoping for something a tad more thematic to come from these two. Some variation is in order here and its still unclear to me what any of these songs have to do with the theme presented in the artwork and song titles. "The Smell of Hospitals" and "Some Sedatives" could've been a great opportunity to revel in the drugged up hallucinations of hospital patients and the perpetual discomfort of visitors, but instead they are simply two grinding pieces of static and whirlpool noise jammed up the rear end of a sick man and left there for maximum evisceration. One is loud, the other is soft, but both feel as though they are composed of various ingredients recorded through the remixing properties of a household blender. The excellently titled "This is the Body I Once Occupied," on the other hand, wraps up the album on a positive note. While it still sounds as though it was recorded with the help of a washing machine or maybe an industrial wood cutter, there's a bit more space within the stereo and a little more variation pops up on this track than anywhere else on the album. It makes for a more interesting, though slightly less intense listen. Pleasure, Commerce, and Disease isn't the most varied record ever, which doesn't surprise me: it's been made to chew on flesh and bone, not scatter the mind with any amount of mental trickery. Whatever shortcomings it has in the way of creative exploration, it attempts to make up for that in sheer volume and gusto. If having bad hearing for a few days isn't bothersome, then Ramirez and Skin Crime have crafted quite a killer worthy of its overpowering ambition. - Lucas Schleicher
samples:
EARTH, "LIVING IN THE GLEAM OF AN UNSHEATHED SWORD"
Troubleman Unlimited


One of a recent clutch of new(er) releases by Earth, Living in the Gleam of an Unsheathed Sword contains two live tracks, both recorded in 2002 as Dylan Carlson and Adrienne Davis reunited in for a series of live shows in the US and Europe. Earth's music has become something of an obsession for those tuning into the current wave of imitators — Sunn O))), Black Boned Angel, Boris, etc. — but for those who were listening to Earth back during early 1990s Sub Pop years, recordings like this seem anachronistic and retrograde. Earth's sound was certainly determined in part by the Seattle grunge scene of which they were peripherally a part, and also by the overcast, gloomy weather, epidemic heroin addiction and economic disenfranchisement of their Olympia, Washington home. Inspired, it seems, by Ozzy Osbourne and Tony Iommi's musical response to similar conditions, Earth not only adopted the original name for Black Sabbath, they also copped the heavy, oppressive, resonant blues riffing, bringing it to an entirely new level of purity and abstraction, dispensing with vocals and pushing the distortion, feedback, and subharmonic drone into the red. I had hoped that Earth's reunion might produce some new vital new music that could blow all of the current imitators out of the water, but so far all of their releases have been live recordings, reissues or remixes, none as remarkable as classic efforts like Earth 2 or Pentastar: In the Style of Demons. The first track on this disc is a 14-minute solo performance by Carlson recorded live on the air at WNYU, playing in his trademarked slow-motion dirge style, allowing plenty of sludge to spray off each downbeat minor chord. Though the performance is certainly competent enough (at least by Earth standards), it lacks any sort of interest or development that would keep up interest for its entire length. This problem is even more apparent with the hour-long behemoth title track, recorded live in NYC on the same day as the first track. Engaging drumming by Davis keeps things afloat for longer than they might have, but Carlson's improvisations frequently derail and wander too long through repetitive chord progressions, or get too caught up in masturbatory bouts of aimlessness. As is always there in Earth recordings, those thick, vibratory, third-eye guitar drones make many welcome appearances, but are never given enough free reign, and Dylan's tortured acrobatics become a distraction. When Carlson and Davis are on, they are really on, but the off moments are far more frequent than they should be. The recording itself also leaves a bit to be desired, sometimes resulting in a confused mix and weird audio dropouts. Since it seems that Earth are back now, if not for good than at least for a little while, I wish they would consider recording a new studio album, as Living in the Gleam just isn't doing it for me. - Jonathan Dean
samples:
Sensational, "Speaks for Itself"
Quatermass


Veteran MC and onetime Jungle Brother Sensational's Speaks for Itself gave me pause when I first heard it. It's so bad that there just HAS to be more than meets the ear. Is it all a big joke, a hip hop farce, taken to an unlistenable extreme? Is it a deliberate ploy to shed listeners or to get dropped from his label, a la Bob Dylan's Self Portrait? Or has Sensational really been a geek off the street with no ear for the beat or knowledge of recording all this time (since 1993!) and he's been fooling us all along? In any case, Speaks for Itself won't fool anybody. It's just plain awful. To his credit, in the past Sensational has made a name for himself by being lyrically idiosyncratic (muffled and mumbled vocals delivered at a frenetic pace) and uncompromisingly lo-fi musically (usually making tunes with nothing more than a four track recorder and a Fat Boys-era drum machine). The formula has worked before (this is his sixth solo album) and his indie cred is unquestionable, but Speaks for Itself falls flat on its face from the first rhyme ("I always rock it right/ I always rock it right/Yea, I'm just so cool/ Yea, check my ice/ Blind ya sight"), and from there it just keeps on falling. For starters, the production is so criminally terrible that it's a wonder Quatermass bothered to release it. The beats are plain weak, uninspired at best but mostly just intolerable. Worse, the levels are all over the place. Sometimes they're so high as to strain the speakers and drown out the lyrics, which is a blessing: after all this time in the game, Sensational hasn't learned how to speak into a mic. He's either so close that his words are smothered in sibilance and popped Ps or he's about ten feet away, drowned out in room echo. It might all be worth it if Sensational were some unheralded musical mastermind who just happened to be using his apartment's lobby as a studio, but he's far from it. Sensational's poetic range consists of exhausted (and exhausting) self-aggrandizement that, delivered in his clownish offhand way, come off as absurdly corny and about as convincing as Warren Beatty's hip-hop turn in Bullworth. Just when it couldn't get worse, it does: Sensational drops the line "I was high when I wrote this" about twice per track, unwittingly making himself a Nancy Reaganesque poster boy for the war on drugs. Such buffoonish lyrical effrontery would be acceptable if it were part of a collection of freestyles. You can be forgiven for being repetitive or bland or even offensive when there's no prior preparation. But, stunningly, Speaks for Itself is indeed a studio recording - meaning that not only was the material "written" (more likely Sensational wiped his ass with the lyric sheet), but that someone laid these trainwrecks down on tape, listened to them, and pronounced it good. Who's fooling who here? The rapper or the label? Sensational isn't in a position where he can move 100,000 units of filler shite just through use of his name, and Quatermass is no Def Jux. Even so, with a decent producer and a mixing board technician who wasn't AWOL, Speaks for Itself could have been salvageable. Sensational is a technically competent rapper with a decent flow but apparently he just can't be bothered, and neither should the listening public. - Chris Roberts
samples:
We know that our music picks may be somewhat challenging to find, which is why we have a community section which can be used to obtain nearly everything available on this site.
dream a little dream...

Subject: a brainwashed dream
I dreamt I had been communicating with our own Mr. Whitney online, and he opened a Brainwashed store here in my area selling books on mysticism and the occult as well as CDs. I bought a couple of things but most of the people who were there were confused by the stuff the store sold and began complaining. Bunch of savages in this town :-P Anyway, as the customer unrest was beginning, I finally met Jon. He said he had been looking at my ass and waiting for me to notice he was there O.o I'm not sure I've ever seen a picture of Mr. Whitney, but in my dream he looked quite a bit like my brother-in-law but not as tall, maybe about 5'9", dark hair, thin face, blue eyes. He was wearing an oddly patterned green suit with matching shirt and tie. We hugged a lot and ended up making out by the cash register O.o We talked about music and books and I said I was sorry the store wasn't working out, and that there isn't any place around here to buy Coil and similar music (if there is I haven't found it). By this time the customers had all left in irritation and the other workers in the store were busy packing up the inventory to close down. Another guy showed up and made Jon leave. I was walking off somewhere barefoot down a hallway that was carpeted with thick grass and looked back at Jon and the other guy but they were gone, and then I woke up. BTW, I take the max dose of Lexapro which is known to cause vivid dreams and makes mine (which were already vivid and weird) extremely convoluted and complex. I have no plans to stalk you Jon ;-) I'm crazy but harmless.
The only thing you got right was the brown hair. I hope your husband didn't mind...

Subject: I had a dream last night.
I was driving around and ended up at Best Buy... I wasn't sure what I was looking for but I ended up looking for that Belle and Sebastian EP on 2-cd thing because I treat my CD's horribly and my B&S EP's are all fucked up. Well, I found the CD and right next to it was a DVD copy of The Eye featuring Belle and Sebastian. It was about 18.99 if I remember correctly. It made me laugh today thinking about it. It's not a premonition though, I once had a dream that Coil's last album would be called "Musick Destroyed" and have one track 11:47 long. That didn't happen.
It's funny people are having brainwashed type dreams. I for one had a dream I just took off and was roaming around the country, can't remember if I was driving or taking busses but I ended up in Chicago and one of the Kranky bosses was kind enough to pick me up and give me a floor to crash on. I never quite made it to the west coast and think I felt obliged to return to the east.

Subject: Animal Eye
Hello, I was wondering if you guys were still selling the Animal Collective footage on DVD and how much it would cost? Thanks for your time
We never sold the Animal Collective segment on any DVD.

Subject: no subject
I'm young actress and a singer. I'm looking for somebody that would see my talent and potential and would help me develop my career, couse all I need is a professional studio and some people that are in the industry. I'm sending my pictures. If this is not the right address please let me know which way I should go as it is very difficult to choose the right one. Especially if your not as rich as Paris Hilton or so. It's a pity that a lot of talented people can't develop their skills nowadays.
I would like to send you my CD.
Anyway I wish you all the best and looking forward to hearing from you.
You can probably stop looking forward to hearing from us.

Subject: brainwashed radio
fantastically cool shame its only on the net.
Yeah, well nobody asks Brainwashed to DJ, program a satellite FM radio station, "curate" a festival, or anything else like that. Write to your congressional representative.

Subject: This is regarding your podcasts.
Is there any way to listen to a podcast without owning an Ipod?
Download it and listen on your computer.

Subject: body lovers and haters
Tell John Kealy that The Body Haters was a mashed up remix of parts of The Body Lovers and was never meant to be the second part of the series. Part 3 did not become Angels of Light, that was always a separate project. The second and third albums in the series never got made.
Otherwise a fine review.
John Kealy replies: Upon further inspection you are correct. I had looked for more info on the Body Lovers series and never saw this. This particular information is hidden away in a review on the original release of The Body Lovers on Gira's site. I apologise for the mistake. However I am still of the opinion that The Body Lovers/The Body Haters marks a transition in Gira's work from the Swans to his current output.

Subject: the brain
Omfg! Jonathan Dean took over The Brainwashed Brain!
Keep up the good work chap! ;-)
Not quite yet he didn't!

Subject: podcast
Okay my work is suffering, after many attempts I finally managed to get the pod cast thing working, sweet (always brillaent by the way), but nothing for several week and now work has become boring again how the living hell do i get my pod cast back, i know youve changed the way it works so please point this thicko brit in the correct direction after all we did invent the damm interweb thing!!
All apologies but there have been some major lightning storms and power outages at Brainwashed HQ. If you see the Brainwashed Radio down, that's a good sign that something's wrong (since the Brainwashed Radio comes from the HQ while the server's got some fantastic Universal Power Supply stuff goin on!) Sorry, but hopefully sometime this week.

Subject: the brain
Dear Brainwashed Brain,
I wanted to thank you for the consistent quality of the writing in your reviews. Too many music review sites (yes I'm thinking in particular of Pitchfork) seem to operate under the impression that "clever" concepts, strained metaphors and as many polysyllabic synonyms as possible make a good music review. Sometimes I find myself gagging at their precocious overblown verbal swill and their constant eagerness to announce to the world that yes, they went to college. Yet Brainwashed reviews are always pithy and descriptive, with a minimum of pretension and a clearly delivered verdict, so that readers can actually glean an idea of what the album's like without having to witness the AWE-INSPIRING verbal pyrotechnics of the reviewer.
Thanks.
Thank you very very much for 1. the kind words and 2. GETTING IT! This is our goal 100% Other writers for other publications often write with clear ulterior motives in mind: most want to write a book or get into grad school or something, which, basically is a complete exploitation and insult to anybody making the music, selling the music, or buying the music. If more people gave the music the respect it deserves, perhaps musicians wouldn't hate "the music press" so much. Thank you again and I hope anybody reading this who's planning on starting a forum to review music is reading this and paying attention.