Musicalische Kürbs Hütte
David Tibet & Steven Stapleton
Details
1996 12" UK United Durtro UDOR1
1000 Clear vinyl copies in regular sleeve
Track Listing
Personnel
Nick Saloman
David Kenny
Trevor Reidy
Nora Duus
Cyke Bancroft
David Cohen
Adrian Teasdale
Matt Purcell
Tim Hodgkinson
Sleeve Notes
Steven Stapleton : everything else;
David Tibet : Hallucinatory Paltripassianist Vocals, guitars, drones;
Nick Saloman: bass and analogue synthesizer;
David Kenny: guitar;
Trevor Reidy: drums;
Nora Duus: low and sexy vocals and breathing;
Cyke Bancroft: alto saxophone on The Dead Side of the Moon;
David Cohen: soprano saxophone on Bubblehead;
Adrian Teasdale: bass.

All titles David Tibet & Steven Stapleton , 1996.
Mixed by Steven Stapleton
Engineered by David Kenny, Matt Purcell and Tim Hodgkinson.
Lyrics for The Dead Side of the Moon by David Tibet ; for Bubblehead by Steven Stapleton and David Tibet.
Notes
Includes lyrics, not reproduced here
The LP and CD versions differ sufficiently that they could be considered as two separate releases under a similar catalogue number.
This release is more David Tibet than Steven Stapleton
Related Items
Musicalische Kürbs Hütte
David Tibet & Steven Stapleton
Details
2004 12" UK United Durtro UDOR1
16 Black vinyl test pressings in hand drawn sleeve
Drawn by David Tibet
Signed by David Tibet and Steven Stapleton
Track Listing
Personnel
Nick Saloman
David Kenny
Trevor Reidy
Nora Duus
Cyke Bancroft
David Cohen
Adrian Teasdale
Matt Purcell
Tim Hodgkinson
Sleeve Notes
None
Notes
The LP and CD versions differ sufficiently that they could be considered as two separate releases under a similar catalogue number.
This release is more David Tibet than Steven Stapleton
Related Items
Musicalische Kürbs Hütte
David Tibet & Steven Stapleton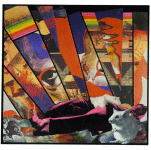 Details
2017 January 12" UK United Durtro UDOR1
1 test pressing of earlier release
hand-made sleeve by Steven Stapleton
Track Listing