a weekly digest from the staff and contributors of brainwashed
V05I23 - 06162002
Click here for other issues
SITE
LATE BREAKING LPD NEWS!
Special box set commissioned by Caciocavallo and made by Beta-Lactam Ring's Chris McBeth to commemorate the completion of the reissuing of ten CDs originally released by Play It Again Sam. Made of varnished pine and two pieces of sheet metal. Limited and numbered hand-made edition of 24, of which 12 were given away to the band and friends, leaving 12 sets available to the general public. Six will be sold at Soleilmoon.com, and six will be sold on eBay. The auctions will not take place until after the sets being offered at Soleilmoon are sold out. CDs included in this set: CAD 14 The Lovers, CAD 15 Asylum, CAD 16 Island of Jewels, CAD 17 Any Day Now, CAD 18 The Golden Age, CAD 19 The Legendary Pink Box (2xCD), CAD 20 The Crushed Velvet Apocalypse, CAD 21 The Maria Dimension, CAD 22 Shadow Weaver, and CAD 23 Malachai (Shadow Weaver part 2).
RRR in the sun
Today's edition of the Lowell Sun, located in Historic Lowell, MA, USA, features a big article on RRRecords and owner, Ron Lessard. If you can find the coveted newspaper in your local shop, it's front page of the business section. If not, it might eventually be published at lowellsun.com. [Comment: when the hell will Brainwashed get any -local- press??? Will we have to wait 18 years too?]
richard h. kirk explores science
'Scientific Exploitation' is the brand new 12" single taken from the 'Chant to Jah' album by Sandoz. The single features two brand new re-mixes, both by Richard H. Kirk himself and are newly recorded for Soul Jazz Records, purveyors in recycled entertainment.
more new live coil stuff
In addition to Coil playing an upcoming show in Italy, there are now MP3 sounds from live concerts available for download. Check the site for all the goodies.
MUSIC IN REVIEW
NIELS VAN HOORN & MARK SPYBEY PRESENT, "DE KLAVERLAND KLOMPEN VOETBAL CLUB"
Soleilmoon Recordings


The Legendary Pink Dots' horn player Niels Van Hoorn and Mark Spybey of Dead Voices On Air have been collaborating for a few years now. Neils has contributed to DVOA live sets, the 'Frankie Pett' album and the Spybey / Mick Harris disc 'Bad Roads, Young Drivers' disc. But this project, created while Spybey was a resident of the Van Hoorn household in The Netherlands, puts the focus almost entirely upon Niels - his horn playing as well as the various sounds to be found and made amongst the pastoral riverside setting he calls home. All of this is, of course, thoroughly digitally processed by Spybey, so much so that half of the 54 minutes passes before a sound typical of a horn is heard. But the atypical is just as welcome here as the possibilities of the horn playing are explored. After a few listens, I've become as fascinated as Spybey is with the sounds he has gathered and shaped. In the extensive liner notes he explains the process involved for each track, how exactly he recorded Niels or what exactly we're hearing, such as mice scurrying about the barn, a power generator, Niels welding, river boats, distorted raindrops, an old jazz record, etc. Most of the tracks simply, slowly, quietly flow - presumably like the nearby river Waal - the music being something pleasantly in-between melodic and abstract. "South Side Style", "Empress of the Blues" and "Stockyard Strut" are little more than beautifully melancholy flute, tenor and baritone sax phrases, respectively. A couple of tracks are a bit more mischievous. "Jelly Lord" is a backwards, overdriven horn anthem for the Land of Clover, darkly underpinned by nearing thunderstorms. And "Scrapper Boy" erupts into a buzzing machine drone akin to Mika Vainio's solo work. Spybey and Van Hoorn have created not only a souvenir of a time and place of their friendship, but a really lovely soundtrack for others to share in. 'Klaverland' might just end up on my best of 2002 list. - Mark Weddle
samples:
THE SILVERMAN, "REQUIEM SETTINGS"
Soleilmoon Recordings


The Silverman is keyboardist Phil Knight, a founding and current member of The Legendary Pink Dots. This is his third solo album following up on 1995's 'Dream Cell' for Terminal Kaleidoscope and 1998's 'Silvermandalas', also for Soleilmoon. Like the latter, this disc is simply comprised of numbered parts, in this case six interconnected tracks ranging from two to nearly 13 minutes in length. The title is perfect as the album was motivated by the death of his father and the places Knight lived and visited while working upon it. Each setting is unique and incorporates found as well as synthesized sounds. Part one features ghostly metallic bell tones amidst a dense, shifting fog. Two moves into a more electronic territory as a sequence of synth notes, waves and background bass bumps plays out. Three glistens as a dulcimer and subdued electronics dance with an elegant array of winter sounds such as crumpled snow, cracked ice and water. It's really something how it gracefully slips in and out of consciousness. Four and five are brief interludes of mechanical whirrings, swooping tones, more bells, rain (or maybe fire) and birdsong. And six is the requiem itself. Steady synth voices become masked by wind and the sounds of trains, evoking cross country movement as well as sorrow. Much like David Tibet's homage to his departed father, Current 93's 'Sleep Has His House', The Silverman has respectfully paid tribute to his own father with a very lovely album, his best yet. - Mark Weddle
samples:
PHILIP JECK, "STOKE"
Touch


Philip Jeck always seems to surprise and surpass expectation every time I hear him perform. I've heard him spin out haunting loops for avant garde dancers to strut about to in art spaces. I've heard him spin stickered platters alongside guitarist Vergil Sharkya and fractal videographer Gerd Willschvetz in an underground car park in Liverpool. I've heard his scaffolded ranks of old car boot turntables mash up crackly memory traces from worn needles bumping into wires and stickers in a London gallery. I've heard him go walkabout at a festival opening, cutting up dictaphone recordings with the pause button. After his ambitious quartet of lengthily (r)evolving 'Vinyl Codas' released by the Intermedium label, he returns to Touch with seven shorter live excerpts from performances in Liverpool, Manchester, Osaka, Tokyo and Vienna. With only a single sample Casio keyboard to aid the junkyard turntables spinning varispeed deteriorating vinyl, he necessarily limits his options but unlocks endless potentials from abundant alternate histories coded in the grooves. When he loops records at low speed, worn old cliches morph into haunting new textures. A phantasmal keyboard hoot that forms the bedrock of "Pax" sounds like it might've morphed slowly from a cheesy old J. Geils Band charity shop hit. "Above" cuts scratchy old vinyl into train chug clunks and chicken squawk with some slowed speech narration to explain what exactly isn't going on. "Lambing" is a home recording, soundtracking a film by Lucy Baldwyn, and wouldn't sound out of place on his previous Touch CD 'Surf,' with groaning ghost vox repeating an eerie refrain over the crackle'n'drone spin, until slowly a sunrise glow cracks dawn beneath the locked groove rhythm faultlines. "Vienna Faults" waltz around like a music box in a tumble dryer. There's some crazily mangled sitar "Below," reversing into hollow metal hammering, cut dead by a sudden descending blues guitar riff. "Open" seems to rework familiar noises from 'Surf' into a noisier delayed clatter. "Close" does just that, with some more sitar loops, more meditative but just as playful as before. Stray starry plucked fragments drop in at odd angles until a loop locks and deteriorates to a stutter as a single piano note bashes to infinity. A ghost choir of Hamaiian folk singers emerges from the vinyl crackle fog to bid a fond farewell. If you haven't heard Philip Jeck before, this is not his most immediate recording and 'Surf' or the 'Vinyl Coda' series might be better ports of entry. He has not yet left the building. Graeme Rowland
samples:
Pallin, "A One Bedroom Apartment"
Uru


Swedish group Pallin has chosen a very difficult path for themselves in the modern age of Swedish music. A market and genre that usually includes fairly horrible bands with grating pop sensibilities has no use for Pallin, who create guitar-and-strings-based simple compositions that are perfect background music for your Saturday afternoon fishing trip. "A One Bedroom Apartment," then, is a decidedly quiet affair, but not without moments of jarring efficiency. The first release I've heard by the band, this collection is assured, playful, yet not entirely stunning. The only thing I felt throughout my listening to this CD that troubled me was the overwhelming feeling that I'd heard it all before, just by some other band. Some tracks were reminiscent of Eric Bachmann's work with Crooked Fingers and Barry Black, others sounded vaguely like structures on a gybe! record. But if you're going to remind people of other bands, you can't go wrong with those two. And Pallin rarely goes wrong. This music is soothing without pretense, gorgeous without effort, and memorable without complete originality. It is a "yawner" in areas: the first moments of the title track left me close to the longest sleep since Rip Van Winkle, and most tracks do take a few moments to build to their true happy hunting ground. However, the musicians are confident in their abilities, and do hold command over their instruments. I haven't heard twang like this on most country records of recent memory, and that's precisely where it should be found. I could have done without the few moments of field recording, but, ultimately, it doesn't really matter by the final track, which is just plain lovely while entirely too short. Easily my pick of the week. - Rob Devlin
samples:
San Agustin with Suzanne Langille, "Passing Song"
Family Vineyard


Anytime I read about a band that creates "post-rock soundscapes" these days, I tend to cringe. It's a pretty generic term that usually implies "Try this next time you have trouble sleeping." Long, drawn-out, sprawling epics that top the ten minute mark are also not unheard of with this description. Nevertheless, sometimes a band slips through that fine veil of half mediocrity/half meandering to create some beautiful music. On previous records, both artists involved on "Passing Song" have created music that suggests they are capable of breaking through, but need more time to develop. Working together on this release hasn't helped them one bit: they're still both stuck in that realm. This release is worth listening to, but I doubt you'll take anything away from it that will change your life. It is what it is: simple song structures with a capable voice attached that ultimately go nowhere new or special. They don't touch a nerve. They don't even scratch the surface of the skin. They hang there, in the air, waiting for that defining moment that will separate the wheat from the chaff. And it never comes. Having said that, a few of the tracks do have incredible potential, and I see some great things coming from this pairing down the road. The opening track, 'Only When You Sleep', smolders in its languid drawl, and the just plain scary 'Snow Sunrise' purports to decimate us all even though it never manages to. A good set by two powerful creative forces that deserve more notice. Maybe with another set like this one, they will get it. - Rob Devlin
samples:
Rope, "Fever"
Family Vineyard


'Imagination of Rhythm' and 'Unknown Source of Egoism' are not exactly favorable track titles for a band's debut release. And given what the members of Rope have been through, it almost seems like high time for another slap in the face to go with their hardships. "Fever" was recorded in 2000 in the band's native Poland, after which they sold all their belongings and moved to America. Land of opportunity or not, America may not be quite ready for Rope. Slow to build, almost cacaphonous in places, and even a little bit irritating, their music is that of an unskilled child: unsure, monotonous, repetitive and amateur. It's not altogether unpleasing, though. As first recordings go, "Fever" is pretty good. You can definitely hear the influences on their music, and you can tell that they're searching for that sound of their own. It's all pretty eerie, as each track jars and thumps, but soars with sharp sounds, escalating towards God knows what. 'Liquid Courage' is actually the most complete track, and the most calm for the first 3 minutes or so. Then it descends into the same noise that mars the other tracks. Fortunately, there is room for improvement. Since Chris Drazek and Robert Iwanik are now living in Chicago, they'll have plenty to hear that will affect their pallette. I predict the next Rope record will sound nothing like this. And I look forward to hearing it. This one was just a bit too much for me. - Rob Devlin
samples:
STEINBRÜCHEL, "ZWISCHEN.RAUM"
Domizil


Steinbrüchel zooms in from Zurich weaving unique cyclical digital hisscapes. On this 3" CD he repeatedly unwinds a coiled wire of immersive hi-tone ambience in exponentially swelling chunks. Between each are short silent gaps which have been given their own track ID. The first track is seconds of silence and each odd numbered track lops a couple of seconds off its silent spell. Each time round more is revealed, until track 18 the full eight minute masterpiece unfurls. This might seem a bit of a pointlessly conceptual approach, but it works brilliantly, as each new track paints in a little more detail. About halfway through it's evolution, a bass drone undertow bolsters the meticulous circling scatter-glitch'n'sinewave. Steinbrüchel is raising the stakes for anyone trying their hand at 21st century ambient computer music, and my powers of description seem utterly inadequte to convey the mysterious alien beauty of 'zwischen.raum.' The short duration of the 3" disc works in his favour, leaving me curious to hear more. This CD will probably appeal to those who enjoy the fine honed tones of Fennesz, Thomas Köner, Ryoji Ikeda, Mika Vainio and Oren Ambarchi. Words are not much use here, I've been trying and failing for weeks now to do this CD justice. Just try the sound samples.Graeme Rowland
samples:
Visions Of Excess, "Sensitive Disruption"
Minus Habens


VOE is the new project of Paul Browse (ex-Clock DVA, T.A.G.C.) with Nirto Karsten Fischer, composer and producer of successful commercial film scores and modern choreographies. Therefore, it's not too surprising that the whole album leaves me with the impression of having listened to a soundtrack. The songs mostly flow into each other but the name Visions of Excess could be misleading, as the trance, techno-resemblant mood more closely resembles Clock DVA's 'Buried Dreams' phase. The rhythms are updated breakbeats, but the general feeling of an urban late night / early morning Metropolis is evoked by metallic edged electronic sounds with loads of delay, reverb and an occasional isolated human voice lost in a cyberspace wasteland (a seemingly stylistic trademark unexclusive to Adi Newton). If you've never been into DVA you might remember the much over-hyped drum-and-bass act Photek (where is he now?) and his first releases, if not try the samples. A special guest featured in three tracks (among them, "Transvaluation") is Robert Anton Wilson who met VOE in their studio. But sadly only a few snippets appear, not a whole reading like when Paul Browse's early 90's project System O1 featured Dr. Timothy Leary. Paul Browse himself takes over vocals successfully on four other tracks including, "The Hibernation Man" most notably. I've got somewhat mixed emotions about this album as I do like the style and the mood here a lot, but I actually had hoped for something more well-developed and can't get rid of the feeling they're playing more safe than neccessary. - carsten s.
samples:
We know that sometimes these CDs are somewhat challenging to find, which is why we have a community section which can be used to obtain nearly everything available on this site.
NEW RELEASES
WEEK OF JUNE 16 - JUNE 22
Mitchell Akiyama - Meridial 12" (Eat This, The Netherlands)
As One - To See Tomorrow/Contours 12" [with Ian O'Brien mix] (Ubiquity, US)
Astrobotnia - Part 1 CD/LP (Rephlex, UK)
Beequeen - Ownliness CD (Infraction, US)
John Beltran - Americano CD/2xLP (Exceptional, UK)
Jeff Bennett - Detonation 12" (Audio Beyond, Sweden)
Black Dog - Invisible Things 2x7" (Hydrogen Dukebox, UK)
Terry Brookes - Breaking Cycles 12" (Deepart, UK)
Cursor Miner - Explosive Piece Of Mind CD/LP (Lo Recordings, UK)
Dom & Roland - Back For The Future CD/4xLP (Moving Shadow, UK)
Domotic - Bye Bye CD/LP (Active Suspension, France)
The Electones - Summercloud 12" (Inertia, UK)
Fatboy Slim - Talkin' Bout My Baby 12" (Skint, UK)
Fog - Check Fraud 7" [with Kid Koala mix] (Ninja Tune, UK)
G Man - Avanti CD/2xLP (Force Inc., Germany)
Guided By Voices - Universal Truths And Cycles CD (Matador, US)
Hu Vibrational - Boonghee Music 1 12" (Eastern Developments, US)
Inkblot - Love Your Mother CD (Audio Dregs, US)
Jazzanova - That Night 12" (Compost, Germany)
Looper - The Snare CD/LP (Mute, US)
Lovespirals - Windblown Kiss CD (Projekt, US)
MCMLXV - Sequence 7" (MCMLXV, UK)
Metamatics - Remixes 10" [mixes by Sense, LGB, Setzer & Xela] (Delikatessen, Germany)
Mind Over MIDI with Tikiman - Champion 10" (Beatservice, Norway)
Mitte Karaoke - Erster Aufschlag 12" (WMF, Germany)
M>O>S> featuring Aroy Dee - Electronic music created in ordinary bedrooms and other household spaces 12" (Delsin, Netherlands)
Mr. Velcro Fastener - Otherside CD (Statra, US)
Niederflur - ND4 CD (Minus, Canada)
Ogurusu Norihide - Humour CD (Carpark, US)
Parsley Sound - Platonic Rate 7"/CDEP (Mo Wax, UK)
Peace Orchestra - Reset CD/3xLP [remix album with mixes by Gotan Project, Beanfield, Zero DB, Truby Trio and more] (K7, Germany)
Stephen Philips - Reflections In Water CD (Dark Duck, US)
Swayzak vs. Roger 23 - Out Of The Planet 12" (Voltmusik/Swayzak, UK)
Rednose Distrikt - N.Y. Boom 12" (Rush Hour, The Netherlands)
The Rip Off Artist - Copper Blue 12" (Palette, US)
Savath+Savalas - The Rolls And Waves 12"/CDEP (Hefty, US)
Peel Seamus - Artemis 12" (Delsin, Netherlands)
Sian - Rhino Flower CD (Cooking/Good Looking, UK)
Supersprite - Color Mixing CD (Audio Dregs, US)
* David Sylvian - Camphor 2xCD [anthology of instrumental tracks and collaborations with many new mixes] (Virgin, US)
* David Sylvian/Robert Fripp - Damage CD [reissue of this out-of-print live album in a remixed form] (Virgin, US)
Theorem - THX: Experiments In Synchronicity CD [collaborations with Sutekh, Stewart Walker & Swayzak] (Minus, Canada)
Unitone - All Or Nothing 7" (Tru Thoughts, UK)
Upland - Upland CD (Jester, Norway)
Various - American Breakbeat Rebuilt 2xCD [tracks by David Kristian, Matmos, Kid 606, Cex, Jake Mandell, Timeblind, Multicast, Marumari, Lesser and more remixed by Fibla, Leafcutter John, Pimmon, Donnacha Costello, Andreas Tilliander, Somatic Responses, Com.A, Panacea and more] (Klangkreig, Germany)
Various - Blisscent I CD [with Skywave, Alcian Blue, Lovespirals and more] (Blisscent, US)
Various - Sub-Session CD [with Gridlock, Savak, The Inseminoid, Mara's Torment and more] (Sub-Session, Canada)
Stewart Walker - MOR of The Same 12" (Persona, US)
When - Sunshine Superhead CDEP (Jester, Norway)

This is simply this week's highlights from the NEW RELEASES provided by Greg and Feedback Monitor.
For a more detailed schedule stretching into the future, please check out the site,
since release dates can and will often change.
CONCERT REPORT
Damo Suzuki
Wednesday, June 12, 2002, Manchester, UK
A legend rolled into town and proved the metal of it's legacy. Funny how every second, third band will namedrop Can at a hat drop, yet when Japanese singer Damo Suzuki played last week, the gig was far from over populated. Perhaps people underestimate Damo's importance in the Can scheme - I know until this night I did. Violin droned and two guitars pinned it. Damo sauntered on cool as a moustachioed ice fish and stood relaxed behind the mike stand. A short pause, then his consciousness streamed as the drummer picked up a beat or seven all at once and we were flying. After a few minutes I turned to a friend and remarked that I couldn't believe what was happening. Imagine if Damo hadn't reached his 'Future Days' stop when he travelled 'Up the Bakerloo Line with Annie' and Can, but instead just picked up the flow where he'd left it in the hippy dippy daze. It was hard to believe Can had been any better! There were two guitars and no keyboard, and the bassist switched to droning violin every so often, and maybe this gave it more density than Can, but the band were weaving starry voids around the endless scat flow from the diamond jabbergob of Suzuki San. The skittering multidextrous drummer, who is reputedly an able jazz man, seemed to effortlessly fill the shoes of two Liebezeits. It was light but heavy, dark but light and eventually the omniverse opened and my legs buckled from the immense transdimensional overflow flooding the senses. Damo's Network locked and flowed and flowed, gently down the stream, over the wall and out the window. From the ground I lifted up my dazzled eyes to see Damo still in full flow, cool as a cucumber or even a juicy red tomato, the calm in the eye of the provivalist kosmische soundtracks. But my okra was shot, my yasi was ege bammed and I was losing my Vitamin C. Damo melted joyfully into the voidniverse. Afterwards I just sat dazed and oblivious. People spoke but I heard no words. (Brain readers chorus: "Admit it, you were drunk!") I staggered out into the night and went on home in a cosmic ambience. - Graeme Rowland
BOOK REPORT
JAN FRIEDMAN, "ECCENTRIC AMERICA"
Bradt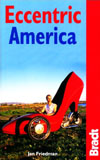 When I graduated college I embarked on a cross-country road trip, stopping at numerous well-known sites that numerous people from all over the world experience: The Grand Canyon, Graceland, the Hoover Dam, Niagara Falls, Devil's Mountain, Mount Rushmore, etc,... In retrospect, yeah, that was an awesome experience but now my taste buds yearn for something more, something compltely off the wall, some things I've heard of and some that I've never even dreamed of. Take Carhenge for example, located in nowheresville Nebraska, replicating Stonehenge but with cars. The Corn Palace, with a new design every year made entirely out of corn. I want to swim with dolphins in Florida, I want to go potato wrestling in South Dakota, I want to visit the 24-hour Elvis Museum in Portland, Oregon and NOW I HAVE MY GUIDE!!! Lookout, because the next summer when I have a video camera, money saved and can convince Rob Devlin to jump in the car with me and two more unnamed travellers, this will be our book. From the Central Maine Egg Festival to Cow Pasture Golf in Arizona and oodles of weird places and festivals in between, this book provides an amazing beginner's list of some of the most bizarre places and events completely unimaginable. If anything, at least this book provides some interesting factoids about this weird country for the Nordic wanderer or armchair traveller in all of us. - Jon Whitney
Achim Wollscheid, "Resolving Interactions"
Selektion


Wollscheid might be best known for his musical work with P16.D4, Merzbow, or Asmus Tietchens, but in fact this is already the his third book, presented both in English and German. With this attractively-designed 100 page paperback, he draws a resume from 7 years work on an interactive computer-light installation piece in an public space; the district court in Frankfurt am Main. Everything is documented, from the original concept up to the final realization in a different building, all the technical difficulties, concluding with the writing of the book. Plenty of photographs are included (10 color, 43 blue-on-white), from a ceiling light piece to a light-flooded floor. In addition, explanations are thoroughly presented in a very understandable manner, both technically and conceptually.
Wollscheid says, "I'm convinced that contemporary artistic work which includes electronic data-processing has to be interactive, it should at least implicitly employ the repertoire of interactive processes and concepts." As with any good experimental art, questions are raised. What I'm wondering now is what practical use could develop out of the human / data-processing interface and where will it lead to ? - carsten s.
LINKS OF THE WEEK
blessed be that shitty attorney general
US Attorney General John Ashcroft has been known to be a singer and writer. Thankfully he didn't pursue that as a full-time career. The Smoking Gun has obtained a recording and lyric sheet of one of his tunes and has it shamefully on display at http://www.thesmokinggun.com/archive/ashpic1.shtml.
that's a well-hung shirt there
Bill Van Rooy demanded not only a special color of the brainwashed shirt (hot pink) but he also was so proud of it he sent a link to a picture of him in it. Urhm, where's your pants, Bill? http://www.chemicalwire.net/images/myroom/brainwashed.jpg
FEEDBACK
who was that masked man?

Subject: who can i turn to whitney?
A little snippet of information for you to add to your NWW site if you want: as well as the people you already list, Colin Potter is pictured on the 'Who can I turn to stereo' CD sleeve, hiding behind some kind of wind instrument.
Oooh, thanks!

Subject: poetry publishing question..
Greetings, would you be able to refer me where I can turn to for publishing my poetry, Its definitely writing that doesnt fall into these normal categories that I'm coming up with when I search. I'm totally confused about this shit.
Thanks
No clue.

Subject: Desperately Seeking Maurice
I'm trying to find an email address for Maurice Underwood, a sometime-contributor of yours. The email link you provide isn't in use anymore. I'm sure you have better things to do, but I'd appreciate a little help. Thanks alot.
It's not that we have better things to do, we just respect each contributor's privacy. Your note has been forwarded.
WHAT'S IN YOUR PLAYER?
it sounds like this inside the smurf house...
jaga jazzist - a livingroom hush - sts
wechsel garland - liberation von history - kk
the breeders - title tk - 4ad (hmmm...)
smokey and miho
phonophani - genetic engineering - rune gr.
the fall - walking tower of adidas crap-ah
pro bono publico - vertical form
the notwist - neon golden - city slang
gossip - arkansas heat - kill rock stars
skip james - complete early... - yazoo

greetings from stumptown... it's still raining...
zug thompson, portland OR