a weekly digest from the staff and contributors of brainwashed
V05I28 - 07212002
Click here for other issues
SITE
mbm r o k, r u?
Meat Beat Manifesto has announced the new album is going to be released later this year, although many details have yet to be publicized. There's a sign-up list on the page to be added to their own mailing list (don't worry, there's no spam on it) in order to receive updates and tour dates when they're available.
windy & carl & paik & landing
Windy & Carl have joined up with a drummer named Paik and have some upcoming shows. The trio plays together in Detroit on Friday, while the group join Landing's tour already in progress during August. Tour dates are on their website and Landing tour dates are available at www.landingsite.net.
cyclobe facelift
The Cyclobe web site has gone through a major facelift and is now ready to be presented. The site has been updated with a new gallery of old and new, rare and archived photos from the duo as well as some more details about their external involvements with various other bands, updated biographies and some new sections.
kranky to reissue stars of the lid
Kranky are reissuing 'Avec Laudenum' from Stars of the Lid on October 21st. Surprisingly poor distribution made this disc amazingly difficult to find during its first run on Sub Rosa out of Belgium. The disc will now be readily available in North America for all the good boys and girls. A tour is shaping up for SOTL with tentative dates now listed on the website. Venues are to be announced.
electrically induced vibrations
Cyclobe, Silverman, and Edward Ka-Spel all have exclusive tracks on the limited LP of 'Electrically Induced Vibrations,' now available from Anomalous. Limited to 414 copies, the record also includes tracks from Colin Potter, Steve Thomsen, Arkkon, and others. According to the press release:
this is a collection of music created with electronic means by artists residing in Luxembourg, United Kingdom, United States, New Zealand and The Netherlands. most of these people have been making music for 20 years or more, and have diverse history. their music as collected here is varied, but arranged into a cohesive flow. by all means experimental to the general population, the first side consists of what might be consider the more musical contributions, while the second explores more abstract and ambient territory.
For more detailed information, check out the Anomalous site and their very own page for the release.
exclusive coil mp3 sample now available for consumption
Coil now have a track available for preview at Beta-Lactam Rings Records as part of their 10" series. "The Restitution of Decayed Intelligence" can be heard in the MP3 section of the website. Further news about the release are still yet to come.
MUSIC IN REVIEW
CALLA, "CUSTOM" & "INSOUND TOUR SUPPORT SERIES NO. 22"
Quatermass & Insound



Calla's next studio album 'Televized' is due September 24th via Arena Rock Recordings. In the meantime here's a couple catch-all discs. 'Custom' is a remix album with two live tracks tacked on the end. I-Sound, Tarwater, Metrotech, Datach'i, Couch, Pan American, Dan Matz and Calla themselves all take a turn. Most of them with the same approach: add more stuff. Extraneous beats, electronics and effects are used to putty in and over cracks that didn't need filling. More is done to selfishly apply a sonic signature than to preserve the certain something of the originals. On the other hand, Couch don't do much of anything to "Fear of Fireflies" while Pan American reduces an unidentified track into an appendum to his latest album. Part of Dan Matz's two-fer serves up a slowed down cover of Steve Miller's "Dear Mary", giving the simple love ode a creepy stalker vibe. "Trinidad / I Shall Be Released" (the latter by Bob Dylan) and "Only Drowning Men" are the live ones and they prove that Calla do occasionally swell their slow and sultry sound up into a powerful din. But altogether, "Custom" reinforces my general attitude that most remix albums just aren't necessary. I'd rather the originals. Or this next disc.
Now this is a great idea. Every month Insound release a limited edition CD by an artist/band while they're on tour, 500 available through the site and 500 at their shows. For a mere $6.50 you get a lot for your money: four home recordings, a dozen live songs and half a dozen amusing audio postcards from around the world, nearly 72 minutes in all. If the homemade stuff is a precursor of the new album, it's going to be fantastic. "Astral" especially ... how many times have I listened to that song this past week alone? So simple yet so beautifully understated. Like everything they do, really. A woman in "Sassari, Italy" apologetically mistakes the Calla trio for Sonic Youth. Not quite. Of the live songs, there's five apiece from the s/t debut album and the follow-up 'Scavengers' plus two classic covers. I recently saw Calla play for a rather indifferent Nick Cave crowd in an Austin open-air amphitheatre. It sounds like these tracks were recorded in small clubs (or a radio station) where the intimate atmosphere is much more suitable for Calla's quieter moments. All of their drama is captured nicely here. The last two are tender tributes to George Harrison with "Long, Long, Long" and Neil Young with "Harvest Moon". For the latter, the chatty Tel Aviv audience sweetly joins in on the chorus and is impressively silenced by the end, then erupts in appreciation. Of the two discs, this is the one to get. - Mark Weddle
samples:
samples:
Various Artists, "The Best Bootlegs in the World Ever"
No Label


Let's pretend that the copyright infringement/artists' rights debate about these bootlegs doesn't exist here; we all have our opinions on that issue, so let's get past it and talk about whether or not these mixes are any good. The general theme of this mash-up mix is the pairing of an a capella hip-hop/r&b track with music from a seemingly incongruous rock song (or another distant genre). The most famous of these 17 tracks is probably Freelance Hellraiser's "A Stroke of Genius," the pairing of the Strokes' "Hard to Explain" with the a capella version of "Genie in a Bottle." Popular opinion is that the mix improves both original songs, and I tend to agree. Freelance Hellraiser is the most consistent DJ on the disc; his songs are the most seamless and flow more naturally than most, particularly the Nirvana-meets-Destiny's Child "Smells Like Booty. Pairing Eminem's D 12 with Depeche Mode is pretty clever too. The cleverness of all these songs becomes the double-edged sword with this CD - do we like these songs for the skill and creativity that went into mixing them, or for their eye-rolling cleverness? If it's the latter, then at least you can regard this disc as a guilty pleasure. There are some decided duds - pairing "Satisfaction" with Fatboy Slim does absolutely nothing for me, and layering Public Enemy with Herb Alpert is too cutesy and doesn't always sync up. But for every stinker there's a nice surprise, like DJ French Bloke's bonding the Dead Kennedys' "California Uber Alles" with Destiny Child's "Jumpin Jumpin," which comes across more eerie then clever, giving it more of an edge. Girls On Top have two tracks on the disc that distinguish themselves from the rest by making more interesting musical choices, namely Gary Numan ("Are Friends Electric?" with Adina Howard's "Freak," I think) and Human League ("Being Boiled" with TLC's "No Scrubs"). An interesting note - mixing Celine Dion with Sigur Ros sounds horrifically flawless. I don't think I'd realize it was a mix if I didn't know any better, I'd just assume it was a bad adult-contemporary hit. - Nate Smith
samples:
Jason Loewenstein, "At Sixes and Sevens"
Sub Pop


Is it just me, or is indie rock losing all of its edge these days? It seems in recent months that the indie rock being released lately is suffering from the same illness that affects most genres over time: lack of inspiration. New albums from indie rock bands sound like other bands from five years ago, but with a different singer, or with a little more energy on the drums or guitar. They're running out of fresh ideas, and we all feel it. This new release on Sub Pop, the solo debut of Jason Loewenstein, former drummer of Sebadoh, has it all. The album is original material, Loewenstein rights jangly, affecting rock, plays almost all of the instruments, and has a capable voice. It's unfortunate that it's so goddamned mediocre. It sounds like it was all recorded with the exact same setup in the exact same room over a week five months ago. The guitars sound almost identical on every track, the vocals are at the same level with just a little reverb, and all the songs rollick right along. But none of it stays with you past the first few listens. Nothing here is entirely memorable. Even the "fun tracks" - one is called 'Crazy Santana', and, yes, listening to it produces that exact response - is stale and not even all that amusing. I remember five or six years ago when bands like Devilhead were making music that was altogether quirky and odd and had strange subject matter, and it was funny and just a little brilliant. You knew everyone involved had taken loads of drugs, but dammit it was good music. This is like Devilhead mellowing out, making most songs coherent (read: not singing about gay affairs or covering 'Chocolate Bus' ever again), and just basically becoming lame. 'I'm a Shit' doesn't even touch the glory other bands have perfected when it comes to self deprecation. And the token '80s hair metal moment on 'Metal' is carbon copy perfect from bands like Helloween and Heathen (why did most of those bands start with H or W?), but it goes nowhere, so it isn't even good filler. It's unfortunate, because Loewenstein is incredibly capable and has a lot of potential. And the Sebadoh influence is felt here, but I want him to get out from under its shadow. Maybe next time he can bring something fresh to the genre and surprise us all. - Rob Devlin
samples:
DESORMAIS, "CLIMATE VARIATIONS"
intr_version


Giant green cyborg squelching through swampland suddenly soars skyward. Distant echoes of sad cornfields fluttering in late summer breeze. The aftermath of destruction "World Remains" revolve in forlorn beauty. "Ruin Her Slowly" pumps a chuggging fat mutant bassbeat for wistful piano chops to chime into the haunted night. Then again maybe its a music box merry go round drowning slowly in molasses. If you haven't yet got Bored of Canada and get a kick out of the Fennesz guitar / laptop interface, then the duo called Désormais are definitely making the kind of noise you should hear. Yes, I'm harping on the Fennesz comparisons again, but those abstracted My Bloody Valentine noiseloops via laptop glitchscrapes are hard to place without reference to him these days. This has the same heart tug melodic pull that 'Endless Summer' had, but with a maybe more desolate and mournful feel, perhaps an endless autumn for leaves to flutter down from now on? Based in Montreal, Mitchell Akiyama began making this album with Cincinnati resident Joshua Treble in the fall of 2001 and it seems that part of the year had at least a partial influence over the luscious sculptings of their sound file exchanges. Most tracks spin revolving loops and slowly let more distorted melodic waves and dense static sheets unfurl, although occasionally a quick shift in pace occurs. Some of the titles seem to imply a connection with restless internal states - "Violent Feelings Often Pass" starts out calm but a tense heartbeat pulses and pumps the track to its ultimate escape. There's also a few nods to failure, as if contemplative regret is the mood they were trying to capture. "Just in Case We Lose" seems like a head on collision between the classic abstraction of Stockhausen's 'Kontakte' and the aforementioned Fennesz, but it's over pretty fast. The following "Suspense de Vent" has a windblown oriental feel. "As Though" has a distant vinyl crackle atmosphere through which ghostly hymnal voices call, as if Philip Jeck was in the house but the tape machines were on the roof and a light rain was falling. It drops out drainwards, but then crunches back in a faster echotechno canyon. 'Climate Variations' is a fine disc for all weathers as the title implies. Cranked up loud it rocks in a sublimely mind altering futurist fashion. Low level listening allows total immersion in endless imaginative loops, a lovely way to drift away. Each listen reveals more detail in the crackling ether variations, and each time the disc spins it just gets better. My radar will certainly now be tracking Akiyama, who runs intr_version and has released an album on Alien 8 sublabel Substractif, and Treble, who runs aii and has previously released an album on Pitchcadet. The intr_version website had a bubble movie that goes well with the music, but was bereft of information last time I looked. - Graeme Rowland
samples:
Silkworm, "Italian Platinum"
Touch and Go


Over the past 10 years, Silkworm has released some pretty unique albums. Always abrasive while catchy, with odd lyrics and situations to read between the lines, they always bring it across with fervor and passion. 'Italian Platinum' was again recorded with Steve Albini, and the results are certainly Silkworm, but after ten years, the chinks in the armor, or at least in this style, are starting to show. Yes, it's a good record. Yes, it would make your mother cover her ears (my mother, anyway). Yes, it's got great songs. But it's classic Silkworm. There's less slower material this time out, and the guest vocals by Bloodshot artist Kelly Hogan add this album's freshness. But is it the best Silkworm CD ever? Nope. Would you listen to it more than other releases? Nope. Would you love it just the same? Absolutely. The album starts of with '(I Hope U) Don't Survive', a song with the catchiest chorus I've heard in recent history ("And 'I love you' means 'I hope you don't survive' tonight"). And I dare say that's what's most striking here, in that Silkworm is their catchiest on more than one song, which could equate to them being more ((shudder)) "accessible." 'The Brain', 'The Third', 'Dirty Air' and 'A Cockfight of Feelings' are pure pop splendor. 'Is She a Sign' and 'Young' are fantastic songs, ones that could easily cement the band's reputation as love song balladeers, if this were any other band than Silkworm. They never let it get that sappy, letting the guest vocalist shred the end of the song like Marcy Mays on an Afghan Whigs number. And the ever-present stories of drunkery are here again on 'White Lightning' and the fantastic 'Bourbon Beard'. But overall, it's just another great Silkworm album. That's not a bad thing, but I keep waiting for something new to come out of them. Something avant garde and noisy. Something defining. And it's not here. But something tells me it's coming. - Rob Devlin
samples:
Kallabris, "Shanghai Dortmund"
Genesungswerk


This EP is one of my favorite releases of 2002 so far. "Shanghai" is a monster shanty with a hypnotic desert groove. Heavy bass-lines are paired with dead-pan vocals in a timeless electronic frame. The lyrics are about sailors without pity, capturing the innocent, lonely and lost while the harbor theme is omnipresent the whole duration of this release. The title track is featured twice - over 9 minutes long on the A Side and in a shorter version which differs only slightly. The track "Valse Brute" is actually an instrumental waltz, pushing the seaman's atmosphere with an massive accordion melody even further while "Pasteuse Elegiaque" is more a chill-out ambient piece for the very early morning hours after a night out when all else are asleep. Kallabris have musical craftsmanship, artistic vision and a sense of finding the balance between humor, entertainment and melancholy that makes them rather unique. As the first release I heard by them I think they're definitively one of the most outstanding acts of current German music and not to miss. - carsten s.
samples:
Various Artists, "A Room Full of Tuneful"
Melodic


The Melodic label started in 1998 after hearing a demo tape from James Rutledge, and releasing his Pedro EP in June of 1999. Over the past three years, they have released a dozen vinyl EPs and singles, and a few full-lengths on vinyl and CD. This is their first compilation release, and it's a collection of songs from artists with releases on the label, and artists that they have received tracks from these past three years. Designed to be a cohesive listening experience - very similar sounding and feeling tracks from all artists - you're supposed to just put this on at a party or in your house and experience it. And most of it is pretty even and worth listening to. All tracks have elements of electronics, and move along at a medium pace. And even though they're very similar, there is a diversity here underneath it all when you consider that these bands are from different backgrounds. Pedro is the only artist featured twice, and since he was the label's first signing, it makes sense. But he is not the most enchanting artist this CD features. Minotaur Shock, whose track 'Lady Came From Baltic Wharf' is gorgeous and moving, is a consistently worthwhile listen, and there is great anticipation for the Lucky Pierre full-length later this year. But I was most impressed by the Empire State track, who are on Warm in the US. Having never heard them before, I liked the grooves and beats from three guys in Athens, GA. The sampled strings and xylophones make it sound like one of those Dolby test discs at one point, with noise coming from places that almost scare the shit out of you. Then, at the end, it just breaks into a fast-paced sound collage. Good stuff here from Melodic, worth listening to if you're not familiar with any of the artists, as it's a low-priced introduction to them all. - Rob Devlin
samples:
pixies
spinArt


Reviewing something like this is almost completely pointless, as the fans will have jumped at the opportunity to buy this while the people on the fence probably couldn't care less. I, personally was a big Pixies fan during their heyday and am completely thankful to them for helping end the reign of hair bands with makeup. This CD is the much passed around untitled 'purple tape' which includes nine songs from their demo cassette not appearing on the eight-song album 'Come on Pilgrim,' first released by 4AD back in 1987. The recordings match up perfectly together and the songs present a fine archive, released here in stunning demo tape glory without the wear of a cassette passed around for over a decade. Much of the tunes are in an embryonic stage, just as raw as 'Come on Pilgrim' and more ballsy than anything Frank Black Francis has ever recorded since their split. This may be the downfall, however, as all of these songs (with the exception of one exclusive: "Rock My Soul") were recorded and improved upon and released much later. In addition, the 18 minutes of music contained herein almost doesn't justify the $12 sticker price, so I say give it a while before it pops up in the used bins. It's not going anywhere fast. - Jon Whitney
samples:
We know that sometimes these CDs are somewhat challenging to find, which is why we have a community section which can be used to obtain nearly everything available on this site.
VIDEO REVIEWS
lightning bolt, "the power of salad"
Load Records


Peter Glantz and Nick Noe have managed to brilliantly document the worlds most phenomenal hardcore drum and bass duo on a brief 2001 streak across the USA. Providence, Rhode Island's Lightning Bolt have been playing and touring for only a few years but have built up a thunderous steam simply because their shows are beyond intense and their style is void of rock star attitudes and similarly retarted bullshit. Between songs and sets, this 75-minute film shows a window on the world of the smelly, loud, but charming and sincere world of the travelling Brians, playing in various rock venues, houses, and even somebody's kitchen in the sweltering heat of Lubbox, Texas nearly inside a refrigerator! If you're unfamiliar with Lightning Bolt's vicious onslaught, Brian Gibson's drums are fast and furious with a ratta-tatta-tap only matched by the precise execution of the heavily amplified three-string bass guitar by Brian Chippendale. A superb editing job by Nick and Peter effectively keep up with their ferver and make me long for the chance to see them again rather than sitting on my couch in front of the TV! I will even go as far as to say this documentary is miles better than a ton of things I've seen on the Sundance Channel, IFC, or the MTVs. Rockumentaries are not for the rich and famous any more thanks to the competitive digital video and DVD markets these days, and after seeing this, I'm completely surprised more indie labels aren't doing similar projects. I wholeheartedly welcome more adventurous labels and artists that want to share their personalities with their fans. With any luck, others will be smart and contact Peter and Nick to do the work... For a preview, check out Load's website. - Jon Whitney
"made in sheffield"
Sheffield Vision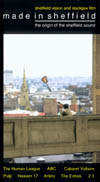 This documentary chronicles a time in Sheffield, UK between 1977 and 1982, the time when adventurous bands like Cabaret Voltaire, Human League, and ABC were making local names for themselves, creating their own noise machines, twisting and turning sounds into ordered chaotic electro punk. While this only focuses on the time between most bands inceptions until the time when all of them seem to break big in the mainstream, there's a certain lack of material collected to really make this really complete. Appropriate 25 year-old city footage is absent. In it's place is current footage of a cosmopolitan town completely unlike the Sheffield described by a number of the interviewed musicians. In addition, only a small handful of people were actually interviewed: quite noticably missing are Sheffield resident Richard H. Kirk and any member of Def Leppard! Die-hard fans of these bands would probably want something like this for their collections, but for the moderates on the fence, I honestly feel this film really could be a lot more than a 52-minute VH1 Behind the Music-esque short. - Jon Whitney
NEW RELEASES
WEEK OF JULY 21 - JULY 26
1 Giant Leap - Braided Hair 12"/CDEP [mixes by Rae & Christian] (Palm Pictures, UK)
1-Speed Bike - I am a Pretzel on a Stealth Mission to Kill the President 7" (Broklyn Beats, US)
Aquanote - The Pearl CD (Astralwerks, US)
Atjazz - Lab Samples 12" (Mantis, UK)
Blame - Music Takes You two 12"s/CDEP (Moving Shadow, UK)
Broklyn Beast - The Vampire Strikes Back/March of the Oil Barons 7" (Broklyn Beats, US)
Brooks - You Me & Us CD (Mantis, UK)
Mark Broom - Lessons Learnt 12" (Pure Plastic, UK)
Dempsey - Dempsey CD (Output, UK)
DJ Vadim - Up To Jah 7" (Ninja Tune, UK)
Dubblestandart - Streets Of Dub CD (Select Cuts, Germany)
Dubblestandart with Dillinger - 10 Tons Of Dope 12" (Select Cuts, Germany)
FLR [Ken Ishii] - Easy Filters CD (Reel Musiq, UK)
G.D.Luxxe - 21st Door Rmxd 12" [mixes by Pulsinger, Ectomorph, DMX Krew & Adult.] (Interdimensional Transmissions, UK)
Gorillaz - Lil' Dub Chefin 10"/CDEP (Virgin, UK)
The Hacker - Cabaret Futura 12" (Feis, Germany)
Hellfish & Producer - Non Standard Procedure 12" (Deathchant, UK)
Matthew Herbert/Karin Krog - Meaning Of Love 12" (Crippled Dick Hot Wax, Germany)
Klimek - Milk & Honey 12" (Kompakt, Germany)
Koop - Waltz For Koop (Patife mixes) 12" (Stimulus, UK)
Krust - Kloakin' King 12" (Full Cycle, UK)
Anton Kubikov & Maxim Miltenko - Music For Currydoors Vol 2 12" (Traum, Germany)
Laub - Fileshaving 12" (Kitty Yo, Germany)
Midwest Product - Specifics CD (Ghostly International, US)
Mos Def, Diverse & Prefuse 73 - Wylin Out 12"/CDEP (Chocolate Industries, UK)
MRI - Blue 12" (Force Tracks, Germany)
Panacea - Underground Superstar CD (Position Chrome, Germany)
Kieron Phelan/David Sheppard - O, Little Stars CD (Rocket Girl, UK)
Pilote - Manana EP 01 12" (Certificate 18, UK)
Portable - Futuristic Experiments #005 CD/2xLP (Background, Germany)
Primal Scream - Miss Lucifer 12"/CDEP (Sony, UK)
Programme - Une Vie 7" (Fat Cat, UK)
Jeff Samuel - Digital Self 12" (Tektite, US)
Scion/Basic Channel - Arrange and Process Basic Channel Tracks CD (Tresor, Germany)
Seelenluft - Out Of The Woods CD/2xLP (Klein, Austria)
System 7/Derrick May - Mysterious Traveller CD (A-Wave, UK)
John Tejada - Backstock CD (Palette, US)
Various - Electrically Induced Vibrations LP [with Edward Ka-Spel, Cyclobe, Arkkon, The Silverman and more] (Anomalous, US)
Various - Konstantin Raudive: The Voices Of The Dead CD [with Scanner, Paul D. Miller, Calla, Lee Ranaldo, Ensemble, Random Inc., David Toop, Carl Michael Von Hausswolff and Brett Dean] (Sub Rosa, Belgium)
Andy Votel - Lenica 12" [ltd single-sided record] (Twisted Nerve. UK)

This is simply this week's highlights from the NEW RELEASES provided by Greg and Feedback Monitor.
For a more detailed schedule stretching into the future, please check out the site,
since release dates can and will often change.
CONCERT REPORT
The Locust/Arab on Radar/Lightning Bolt/Orthrelm/Wolf Eyes
Worcester, MA, July 16
Well thank god that "Oops The Tour" came to lovely Worcester, Massachusetts. I was already pissed off before I walked into the show due to the enormously large number of haggardly indie chicks with dyed black mop tops, novelty t-shirts, studded belts, and backpacks. Seriously, what are you bringing into a show that you need a backpack for? Leave it in your car. Also prevalent was the latest fashion to rear it's ugly head in the indie world, Trucker Chic.
The first band to hit the stage was Orthrelm. Basically the only thing I have to say about this math duo is, "The Dillinger Escape Plan released 'Calculating Infinity' years ago, there is nothing original about taking out the bass and vocals jackass." Their set would have been decent if it was only about 5 minutes long, but they dragged it out far beyond necessary. I guess they're a little respectable since I'm pretty sure that their guitarist had a mullet, the bona-fide lifeblood haircut of true metal heads. The next ensemble was Wolf Eyes with their "The Grey Wolves did it, so why can't we?" attitude. They rank up their as one of the worst noise groups I've ever seen in my life, right next to Einleitungszeit not lighting their heads on fire. Their set consisted of some 80 pound waif yelling into a mic having his vocals processed, while his salty baldino buddy bumped his head to his phat cracker beats. I think they had a guitarist too or some other musician; in the end it doesn't matter because he wasn't "noise" enough to get my attention. It's really unfortunate that I wasn't able to understand what the little Ogre wannabe was growling about, because if I could had deciphered his ramblings I'm sure it would have added some more comedic value on top of watching him flex his manly biceps. At one point baldy picked up a real instrument and started wailing on a saxophone, but they still sounded like shit, but apparently the Providence indie socialite crowd loved it. Basically, bands that put out split 12"s with Andrew WK eat shit (http://cgi.ebay.com/ws/eBayISAPI.dll?ViewItem&item=894004350).
Following these imitation krauts was Arab On Radar, yet another group from Providence. I guess their music is noise rock with falsetto vocals or something close to that. It's too bad that I was unable to enjoy their set due to the insurgence of morons for their set. Basically Arab On Radar fans are really into snapping their fingers like beatniks and walking around like robots. Personally, I think attending these concerts does nothing but reinforce my beleifs that the US should issue breeding licenses. Lightning Bolt followed Arab On Radar. I never saw Lightning Bolt. The hipsters swallowed them up in a mass of ironic novelty t-shirts before I had a chance. I think there were two members: a bassist and drummer, but then again thanks to the hipsters I can't be sure. Their set was pretty good, but I found it awkward just having to stare at the hipsters antics instead of watching the band play. With Lightning Bolt started the dancing fingers dance. Apparently if you are one of the many Providence noise rock gurus who attended, you're not cool unless you pretend that your hand is trying to kill you. Needless to say I made a mental note of who these people were for when Locust came on so I could smash their horn rimms.
Finally The Locust came on stage as a four-piece, donned in army green body suits with black mesh holes for the eyes and mouth. Their set was great, fast, intense, and completely bereft of social banter with the crowd. They included their smash hits "Anything Jesus Can Do I Can Do Better" and "Get Off The Cross, The Wood Is Needed" which made my day. The pinnacle of The Locust experience was being called a "mosh pit badass" by some moron. A word to the wise, if you're an indie hipster who wants to go to a show by a 60 second thrash band, remember that you can go ahead and do your stupid praying mantis and snapping fingers dances, but at least 5 post-hardcore kids are going to show up, and when they see your idiocy they are going to spinkick you, and mulekick you, and backhand you in the face in the hope that in the end you won't be able to breed, and smash your horn rimms so you can't drive home (most likely you don't even need corrective lenses, you just want to conform to the indie norm). So if you want to see The Locust on tour, I recommend you show up right before their set, any more idiocy from the attendees and you'll leave in a rage like I did. - Ed Andrews
POLL
Results from last week's poll: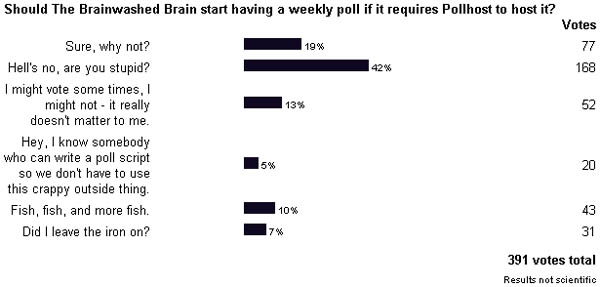 LINKS OF THE WEEK
home star runner!
So we had that really infectious song a couple weeks ago. But if you actually go to www.homestarrunner.com you get to see a load of other bitchin' cartoons and Strong Bad even answers your emails! Genius!
Def Leppard turns up at Wal-Mart
Well, here's the answer to why the group didn't do any interviews for that Made in Sheffield flick. They're too busy playing Wal-Mart according to this article in the Fayettville Observer!
porn clerk stories
I suppose they're fun if you have a lot of time on your hand to do a lot of reading. Just be thankful for what you do for work some times. http://www.improvisation.ws/mb/showthread.php?s=&threadid=4475
FEEDBACK
too much information


Subject: writers

You should tell some of your writers to stop writing so much.

Some of those reviews are too long.

I've told them, it's only the Brits who don't listen to a damned suggestion given.

Subject: Thrill Jockey
I tried emailing Thrill Jockey directly but the email address i recieved was not correct and I could not get a response so I was hoping that you could possibly give me an answer.
I'm trying to figure out who distributes Tortoise and other Thrill Jockey artists in Canada. If you can supply me with this information it would be much appreciated, if not I apologise for wasting your time.
Pretty sure Touch & Go distributes them throughout North America, but you'd be best off asking at thrilljockey.com.

Subject: samples
i can't play the mp3 samples of MAPSTATION, "A Way to Find the Day"...what kind of mp3's are these?
(i don't use winamp, but i'm not able to decode it even wtih profesional fraunhoffer mpeglayer3 decoder in sound forge...so something might be wrong i think)
You're not the only one having problems with those samples. We'll try and get them fixed...

Subject: !!!
I am a !!! fan. When are you guys going to update the site with new news and stuff?
When there's new news and stuff.

Subject: sell out
Is Brainwashed in the Wire sold out. The splash page says it's available and the catalog says it isn't. If available is it still the limited edition version advertised in the Wire with the poster, booklet, special packaging, etc or has it gone into the second pressing? Thanks. You people do great work.
Sorry, there was a time it wasn't available between February 14th and April 16th, but it's available again. It will never go to re-press however, so buy any copy you want now.

Subject: About contributing..
So are you willing to receive reviews from new people (previously unknown contributors) and publish them on the Brainwashed Brain (assuming the reviews are written well enough, of course)? Didn't find any specific info on the matter from the site, and don't remember if it was discussed on some earlier feedback on the BW Brain.
If so, how is that accomplished (where should the reviews be sent, what info should be provided, etc.) and do you accept reviews of older discs (released in 2001 for example but not covered by BW Brain before)? And is any album fine, as long as it's not on a major label and as long as it's experimental?
Well, the reason why it's kinda vague is that we really want people who want to take the initiative themselves to write. Step one is to write and submit. If things are good enough to be published, we'll consider making you a part of the team. From then you might go to a show and say "hey I wrote that review on brainwashed" and the band might say back "hey, cool, thanks man!" or something...
WHAT'S IN YOUR PLAYER?
i'm on fire
bourne identity soundtrack
flaming lips - yoshimi vs. the pink robots
sun city girls - kaliflower
calixeco - scraping
kid606 - the action packed mentalist brings you the fucking jams
bran van 3000 - discosis

Liam Brucker, Denver, CO