a weekly digest from the staff and contributors of brainwashed
V06I17 - 05042003
Click here for other issues
SITE

the brain introduces the eye
The Eye is the new section of The Brain which will be a weekly video feature on an artist. This week's premiere episode is a mini-documentary on Emil Beaulieau: America's Greatest Living Noise Artist. You will need the latest version of Quicktime's streaming plugin and a very good connection to watch it. Enjoy!
brainwashed radio week v/vm
Although technically it's only week IV, this week on Brainwashed Radio is week V/VM. It will include new and recent releases from V/Vm Test Records. The week begins with the 2xCD compilation It's Fan-Dabi-Dozi, a tribute of sorts that only Stockport's finest could assemble, continues on with the most recent Caretaker and Host albums, and finishes up with The Missing Symphony by Dimitry Shostakovich and the latest release (4.0) in the campaign to Help Aphex Twin.
methodology revealed
The tracklist for the 3xCD set, Methodology '74/'78: The Attic Tapes from Cabaret Voltaire has appeared on various retail sites. Although, according to Mute the set isn't due for release until June 9, the following tracklist has been revealed:
Disc 1 : 1. Exhaust 2. Synthi Aks Piece One 3. Synthi Aks Piece Two 4. Jet Passing Over 5. Sad Synth 6. Treated Guitar 7. Treated Clarinet 8. Treated Drum Machine 9. Possibility Of A Bum Trip 10. Space Patrol 11. Jack Stereo Unit 12. Magnet 13. Counter Reaction 14. Capsules Version 15. Makes Your Mouth Go Funny 16. Dream Sequence Number Three Short Version 17. Reverse Piece One 18. Stolen From Spectra 19. Shes Back Part One 20. Jive 21. The Single 22. Speed Kills 23. Fascist Police State

Disc 2 : 1. Synthi Aks Piece Three 2. Data Processing Instructions 3. Fuse Mountain 4. Calling Moscow 5. Dream Sequence Number Two Ethel's Voice 6. The Attic Tapes 7. Treated Speech 8. Dream Sequence Number Three Long Version 9. Henderson Reveresed Piece Two 10. Bed Time Stories 11. Loves In Vein 12. Do The Mussolini (Head Kick) They Kill Him Dub 13. Shes Back Part Two

Disc 3 : 1. It's Not Music 2. Slo Change 3. Original Voice Of America 4. Heaven And Hell 5. Do The Mussolini (Head Kick) 6. There She Comes Now 7. Capsules 8. Oh Roger 9. Havoc 10. Talkover 11. No Escape 12. Photophobia 13. The Set Up 14. A Minute Is A Life Time 15. Baader Meinhof 16. Nag Nag Nag 17. It's About Now
In other CV-related news, The War Against Terror (TWAT) has been pushed back to May 12th.
coil releases live two
Live Two by Coil is due to be out this month from Threshold House. This is the third in the four CD live series and was recorded in Moscow, September of 2001. Songs include "Something/Higher Beings Command," "Amethyst Deceivers," "What Kind of Animal Are You," "Blood from the Air," "The Green Child," and "Constant Shallowness Leads to Evil."
THE EYE
EMIL BEAULIEAU: america's greatest living noise artist


This mini-documentary was filmed over the course of four live shows in January, 2003 from Emil Beaulieau of RRRecords. Beaulieau resides in Lowell, MA (USA) and has been titled America's Greatest Living Noise Artist and we hope this mini-documentary will help illustrate why in a brief audio-visual snapshot. Interviewees include Twisted Angela, Chris Goudreau, Howard Stelzer, Jay Sullivan, and Walter Wright.
Cameras by Sean Graham and Jon Whitney
Interviews and editing by Jon Whitney
35 Minutes, Quicktime Streaming Video
TECH SPECS
Necessary:
A current web browser
A modern computer
The latest quicktime plugin for streaming media
Recommended:
A fast connection
A willingness to learn
Unnecessary:
If you see a blank window without anything streaming, don't complain to us. You don't have the latest version of Quicktime for streaming media. Go download it. It's free.
MUSIC IN REVIEW
NOXAGT, "TUNING IT DOWN SINCE 2001"
Load


Noxagt are a drastic brutalist Norwegian trio who play hardcore metal stripped to the rawest basic uncompromising sludged out skullfuck. Forget all that emotoyboy shouting and cod-operatic yodeling that gets in the way of many an act, these dudes have binned that along with all those silly posturing guitar solos. Actually they've binned the whole damn guitar, with Kjetil D. Brandsdal's black-as-winter-molasses downtuned bass taking centre stage in a thick distorted viola bolstered droning stew of head banging inebriation. They call it Nor-Wave and you can too if you need to pin a fairly meaningless hook in it. If you have even the barest basest interest in hardcore that pushes back the boundaries of instrumentation and density then Noxagt will make you one happy brain-melted monkey. They've been perhaps curiously compared to Shellac and while the two bands have very different modes of onslaught, there is perhaps a similar questing intelligence underlying their push and shove. Viola player Nils Erga does also manage to coax some neat squeals and screeching scrunch-noise from his four-strings that might bring a smile to Steve Albini's face. Maybe a better comparison would be Flying Luttenbachers slowed down and buried alive? Drummer Jan Kyvik keeps the rhythms hard, pounding and unrelenting, like some disgruntled elephant with a bee on its tail, only a lot more precise. They up the adrenalin levels a little towards the end, with buried screams pulling "Swarm" buzzing and babbling to cathartic abandon. The final track "Web of Sin" is so relentlessly ominous it could bring on a whole shedload of apocalyptic aping. Noxagt have just begun a tour of the UK and the dates are at the Load site, as is an MP3 of the second track "Cupid Shot Me," which paints a fairly representative picture of the album overall. If you come to the Manchester gig on Wednesday 7th say hello as I'll probably be on the door. - Graeme Rowland
samples:
four tet, "rounds"
Domino


The age of easily downloadable software and cheap replication of CDs has its downsides: music is much easier to create and distribute (leaving the task of finding something good much more difficult). It keeps getting easier for any computer-abled person to assemble a bunch of sounds, toss them together and sound like pretty much whatever they want—either an excessive group or a solo noise "artist" with an arsenal of effects. Surely musician and composer (and re-composer) Kieran Hebden understands this, which is probably why for his third full-length release as Four Tet, he has exercised a refined sense of restraint. Here, he has taken a conscious step back from the maximalistic tendencies on his last album, Pause, patiently letting the songs play out more often than cutting a tune to a short sound-byte-style radio hit. It's almost as if he has re-tooled his thinking into making Four Tet sound like an actual group of a fixed amount of musicians. While the substance is still being created from pre-existing material, this fictitious ensemble now seemingly use as many sources as they can all play together. The result isn't a mindblowing extravaganza, but a cool, subdued treat. "Hands" serves as a perfect album introduction with shuffling drum beats while the first single, "She Moves She" delicately marries sampled guitar riffs with a steady drum beat. Somewhat expected Four Tet instrumentation springs up like the harp sounds on various tunes including "My Angel Rocks Back and Forth," which has got to be one of the most hypnotic songs I have fallen in love with this year, and the hurried fast-forward sounding digitized samples, which rear their head on "Spirit Fingers." I appreciate the chance to hear songs played to their natural demise and many of the album's 10 tracks thankfully stretch over the five minute mark, with slow builders like the 9+ minute "Unspoken" and the album's closer, "Slow Jam," which is oddly remeniscent of some of the finer Fridge guitar-driven album closers. For those with good connections, a video of "She Moves She" is available here. Hebden will be on tour as Four Tet with Prefuse 73 and Manitoba starting this month. All the dates are listed also at the Domino site. - Jon Whitney
samples:
Arab Strap, "Monday at the Hug & Pint"
Matador


The Monday night crowd at any bar is probably an interesting bunch. On their latest album, Arab Strap gives us their rendition of that crowd as thirteen songs comprised of their gloomy, downtrodden, and defeated thoughts. Amid drunken hazes and empty hookups, the pub patrons reveal the conflicts and regrets that led them to their early week retreat. "The Shy Retirer" kicks things off with a quick, programmed drumbeat and a bouncy acoustic accompaniment. Were it not for the lyrics, this could almost be an upbeat song. Instead, the speaker mourns his lack of social skills and longs for any kind of connection but finds himself incapable of doing what he needs to start one. The introspective bent continues with the stumbling, yet delicate "Meanwhile, at the Bar, a Drunkard Muses." The shots must start to kick in on "Fucking Little Bastards," as a furiously primal drum beat and a swirling noise-fest of guitar engulfs bitter words about the speaker's fake friends. The outburst fades quickly however, and the songs return to the somber mulling. "Loch Leven" continues Arab Strap's exercise in local color, beginning with ambient rain and a bagpipe introduction, setting the scene for yet another missed connection in the foggy streets of Scotland. The longing, lovelorn "Act of War" is a beautiful ode to a careless lover, with a straining violin counterpointing the speaker's world-weary attitude as he intones "you've always been clumsy / be it with tables at your work / or with my heart." Following that track is the far less poignant "Serenade," which spills out a leering advance over Casio keyboard drum beats. "You're the kind of girl I want to bathe and dance with" probably isn't going to score any points. Still, the song is an interesting character study, and musically intriguing. Monday at the Hug & Pint is a perfect album at three in the morning, after another unsuccessful night at a favorite club or bar (against better judgment). While the concept is a bit of a downer (we could have used just a little break from melancholy), Arab Strap captures it very well, from the articulate musings on love to the base, lecherous impulses that invade our minds in our weakest moments. - Michael Patrick Brady
samples:
INVOLUTION, DOWNLOAD, "III STEPS FORWARD", PLATEAU, "ICEOLATOR"
Flesh Eating Ants
Following up Flesh Eating Ants' 2002 debut—an extraordinary double LP re-issue of Edward Ka-Spel's Tanith and the Lion Tree—are a trio of Cevin Key-related projects. Each has received the same aesthetically pleasing transition to analog: the audio direct-metal mastered to colorful 220 gram audiophile vinyl and the artwork altered and expanded to gatefold sleeves. Knowing those specs and just simply inspecting them, it's clear that it doesn't get any better than this. Each is well worth their price.

Involution was a 1997-98 collaboration with Bree and Paris (Christian Death, Shadow Project, EXP), the last to be recorded at the then Vancouver based Subconscious Studios. Key apparently served primarily as producer rather than a composer of the album. Regardless, it certainly sounds like Key-inspired minimalism as abstract electronics tangle with oddly timed blips and beats. As it did then, this disc still strikes me the same. Several tracks seem underdeveloped and/or lacking in depth, similar to Key's 1997 solo debut Music For Cats. Each side has two definite standouts. "Clairaudience" kicks into gear in the third minute as noise passes the passive beat like motorcycles on a highway constructed of synth pads. "Trapheezeeoh" nonchalantly switches from pleasant future funk to theremin ambiance and back, the latter third of the track stripped down to a taut bass figure. "Acid Clambake" is the lengthiest track at seven minutes and probably the moodiest. It begins and ends noisily but the mid-section eventually relies solely on the gentle strains of strings and tiny twirls of sound. "Blind Timefold" has Key's signature subtle melodies flirting about in the background and that makes the track. Fortunately, the CD's hideous artwork has been cast aside in favor of new collages and an alluring masked and silver body painted female on the back. This one is limited to 200 hand-numbered copies and the vinyl is translucent purple with light pink streaks.
samples:

III Steps Forward was volume three of last year's Subconscious Communications "From the Vault" limited series. Key and Phil Western compiled unused and re-worked tracks spanning 1996's to 2000's Effector and beyond. Stylistically they combine the harder edged rhythms of pre and post-III work with touches of III's sleek ambiance and minimalism. "Sticky Glandstin" and "Walking, Talking" splatter percussion, sound effects, squelches and wide-sweeping synth waves to great effect. They're great reminders that no one else sounds quite like Download. "Dakota" methodically pumps along until it unexpectedly gives way to lush ambient billows. "Resilient" and "Ratail Comb" are lesser tracks more concerned with battling beats than progressive song structures. "The Itch of Trepanning" boldly staggers a mid-tempo groove while the driving bass line of "Manmade" is laced with Download style drum 'n bass. "Nor" is the lengthiest at six minutes and most atmospheric of the bunch, the rhythm taking a back seat to thick whorls of synth pad and a distant animal howl. It's a showcase in Download's gentler side and would have fit in nicely on III. "D.O.G." and "P.U.P." are loving tributes to Key's dearly departed cats, both tracks tamer and imbued with an appropriate sense of sadness. After some silence the brief but melodically cute hidden track "Bolantinis Pivoli" pleasantly caps the album off—and that's just what it feels like: an album (despite being a compilation). It's the perfect companion to III and Effector. New and improved artwork here as well with photos of a Buchla Electric Music Box modular synthesizer, presumably Download's and presumably used on these tracks. This one is limited to 420 hand-numbered copies and the vinyl is translucent blue with dark purple streaks.
samples:

Plateau is Key and Western's project geared more towards the chill-out scenes of the dance floor or grass bars. Over the years the clear cut line between it and Download has been smudged some, but generally Plateau tracks are centered around hypnotic minimal grooves. Iceolator was volume four of "From the Vault" and it collects outtakes from 1996 to 2001. It was just begging for a vinyl release—the first Plateau to hit vinyl since 1997's Dutch Flowers. The album is split about half and half between ethereal and melodic tracks and harder and weirder tracks. The severe rhythms of "Manali Cream," "Peacemaker," "Great White Shark," "Sunburst," and "Sweet Tooth" might harsh your mellow some man. But then again, maybe not, depending on how much you've already smoked. My favorites are the title track, "Champagne," and "Nevilles Haze," which have milder rhythms and are sprinkled with pretty sound potpourri. "Buddahs Sister," "Kali Mist," and "Greenguy" are on the lighter side too, lighting up a variety of ganja-toking trances. Dance or chill, they work (I've happily done both). This one is limited to 420 hand-numbered copies and the vinyl is white with light green streaks.

samples:


- Mark Weddle

broadcast, "pendulum"
Warp


It's been over two years since we last heard from Broadcast, but they've finally graced us with a new 6-song EP, to be followed later this year by their second full-length album. Pendulum, which will have to tide fans over until then, is a formidable taster of things to come. The overall aesthetic is similar to that of their previous work: moody psychedelia sweetened by Trish Keenan's airy, hypnotic vocals. What's different is an evolution of the band's use of percussion and synthesizers. The title track shows a definite expansion on the sometimes trippy, sometimes icy melodic themes found on their last album. Even on minimal tracks like "Small Song IV" and "Still Feels Like Tears," the complex, yet adeptly handled drum rustles and angular patches of synths leap out amongst the atmospheric "aaah aaaah"s. "One Hour Empire" sounds as if it were culled from the jazz-tinged score of a 1970s crime film. Pendulum is an exciting step forward for Broadcast, and is a sure sign of a promising follow-up to The Noise Made By People. - Jessica Tibbits
samples:
Opiate, "Sometimes"
Morr


After two releases on the April label, Thomas Knak (who has recorded music as part of the Future 3 collective as well as under his own name) brings his unique style as Opiate to Morr for this EP, and the output bears hope for future releases. The music is classic Opiate, with glitch beats, string samples, and simple repeated melodies. Knak has always had great fidelity on his releases, with the ear-piercing treble attacks and the wall-shaking bass rumbles. This release is no different, as the stuttered swirl/scratch/beep beat starts on "Perdot." Keyboard swells join in after a few seconds, and as the song builds more pieces are added to the aural puzzle, making for a very laidback but head-trippy start. "Show Story" begins and ends with a wash of noise, with a loud creak as the closer, but in the middle is a pretty mix of strings and clicks. It ultimately seems to go nowhere, though, which is a bit of a letdown. "Amstel," though, is anything but as the centerpiece of the release. Faded keys and distorted low end start things off, but soon a maze of click beats fill the speakers, almost completely obscuring the melody before the piece fades out the same way it came in five minutes later. Loud squelches make up most of "For Brian Alfred," but it also features sampled drums and the same key sound. "STP!" has the best beat of the bunch, which stutters and bloops while very simple piano plays below. "OpiTTT" finishes the EP on a semi-fun note, as it's very playful with lighthearted beeps and frequencies and a uptempo beat. For a very limited palette, Knak shows some versatility, though he seems a bit obsessed with similar key sounds on this release. I'd love to hear him completely rip out with something off the wall and confuse everyone while they can't help dancing. Until then, more of the same will have to suffice. - Rob Devlin
samples:
Pale Horse and Rider, "These Are the New Good Times"
Darla


Apparently, Jon DeRosa has a great sense of humor, as the New Good Times hides the true nature of his debut full-length with a promise of lighter fare. Not that it's a bad thing that the album contains many somber moments, as well, but Pale Horse and Rider do not intend to show you a good time. DeRosa is better known to most as electronic artist Aarktica, as PHaR first showed up on last year's Alcohol EPs. Already, though, he shows that his new name shows a lot of promise in its style and delivery. Pale Horse is mostly DeRosa alone, but he brought along some heavy-hitters to join him in the proceedings, from Alan Sparhawk's recording and guitar duties to Nathan Amundson on backing vocals. Jessica Bailiff even handled the photography. Any amount of guests wouldn't help matters if the songs were substandard, so it's fortunate that DeRosa is as talented in this realm as he is in the electronic department. Good Times is a fine continuation of the PHaR sound, and the songs mostly cry out for some kind of resolution to the strife regular people suffer through. Acoustic guitar and vocals make up the main palette, and it's really easy to screw that up, but DeRosa never does. Anyone who can record something as haunting and beautiful as "I Told Jesus Christ How Much I Love Her" deserves any acclaim he's given, as it broke my heart the first time I heard it. "Will We Be Blessed Someday" is a lighter number, and on "Sunday Matinee" DeRosa tries on the piano to great success; so there is variation of sound and subject matter, as well. The record is a bit short, but only because I craved for more at its end. DeRosa's voice is simple and unaffected, making everything he sings sound honest and true, but there is a greater voice in these songs that he channels. It's difficult to take simple stories and elevate them in this way, but with Pale Horse and Rider it sounds so easy. That it sounds this polished is truly an accomplishment. - Rob Devlin
samples:
DUB TRACTOR, "MORE OR LESS MONO"
City Centre Offices


Dub Tractor is the solo artist alias for Danish musician/electronic-based artist Anders Remmer (Future 3) under which he blends laid back, machine-generated grooves that carry a smidgen of glitch, various synth patches, the odd vocal track, bass guitar and other low-end frequencies for results which are very pleasing to the ear. For his latest full-length release, Remmer offers up nine individual tracks, all of which tend to convey an overall relaxing and subtly melodic panorama of sound to varying degrees. The tremolo effect applied to the keyboards on "I Don't Care" not only perpetuates the tune more than the scratchy drum machine rhythms, but also takes the focus from the underlying chord progressions which then blend together almost seamlessly. Delicate vocals drift in and out to melodically repeat the track title to some upper register bass guitar lines. "Pep" opens to a quiet synth burbling which is then set to a minimal machine groove which conveys the low end bass drum pattern that anchors the tune while additional keyboard patches drift around to fill out the space. The lullaby feel of "Wait" again provides some nice upper register bass lines that with multi-tracking provide some almost counter melodies over glistening keyboards. The disc's longest track at six minutes, the sneakily titled "50 Hz Guitar" moves along to a laid back, heavily reverbed drum machine, faux upright bass and synth stabs while heavily treated keyboard takes the drawn out melody through a few repetitions. Dub Tractor has created a soundscape that is very relaxed and attentive to musical detail. At only just over 38 minutes, repeated listenings are inevitable. - gord fynes
samples:
Haley Bonar, "The Size of Planets"
Chairkickers'


At 19, Haley Bonar has already released two CDs on her own and gained a small bit of credibility for her songwriting at such a tender age. The Size of Planets, her first release on Chairkickers', gives all the impression that Haley is wise beyond her years, and her music speaks to this without sounding forced. The songs are simply arranged, with no flashy production or pretentious flourishes. Bonar is a talented multi-instrumentalist, as well, playing guitar and piano, so most songs are just her. A little drums, bass, cello, or slide guitar from guest musicians here and there add flavor and urgency where it's needed, but for the most part she needs no assistance. Recorded in the Sacred Heart Church, where Low and others have recorded recently, the record also has a very full sound with very distinct acoustics. The expansive sound serves her songs well, conveying the emptiness she sings of with an appropriate, though not overwhelming, hand. She sings better of drinking on the album than the vets in the local VFW, better of cowboys than a hundred country or Paula Cole songs, better of car wrecks than J. Frank Wilson or Pearl Jam could ever muster. Tying it all together is her vocals, with a clear and untainted and unharmed beauty, though still conveying the damage done. There's not a bad moment on the record, and though she revisits some of the same subject matter it never gets old. Haley Bonar has a great deal of faith, it seems, and because of that, I have a great deal of faith she'll go far. It is the truest music that reaches the masses, and with her songs Bonar is set to woo the world. - Rob Devlin
samples:
JAGA JAZZIST, "ANIMAL CHIN" EP
Gold Standard Laboratories


Having been quite active on the European music scene over the last few years, receiving some notable praises that include a Grammy nomination in their homeland, Norwegian music collective Jaga Jazzist appear to be gaining deserved recognition across the Atlantic for their unique combination of jazzy instrumental and electronic based music. Recently released in North America, the Animal Chin EP is comprised of three tracks from their debut release A Livingroom Hush, two remixes of tunes from said release and a sneak preview track from the soon-to-be-released full length disc The Stix. The rhythmically busy "Animal Chin" provides a whirlwind backing of interlacing guitar, keyboard and xylophone as a nice contrast for a small woodwind section of saxophones and bass clarinet to play out a melody that moves gracefully with each progression. From the upcoming release, the more electronic-styled "Toxic Dart" snaps along to a blender mix of live and electronic percussion, bass and multiple keyboard tweakings that gradually become less abstract with the addition of woodwinds and some great surf guitar lines that jut out of the mix now and again. Drummer Martin Horntveth remixes "Lithuania" from its original relaxed standing of Rhodes piano, twangy guitar and dramatic woodwinds into a cut and paste version of its former self that at times comes off as a frenetic videogame soundtrack. Yet another bonus not available on either of the full length releases, the 70s soundtrack-inspired "Tristar" highlights some great arrangements for wah-wah guitar, harmonica and trombone. The Animal Chin EP is a great introduction to the band's musical direction and remix workings, and at the same time gives some insight of what more to expect shortly. - Gord Fynes
samples:
We know that sometimes these CDs are somewhat challenging to find, which is why we have a community section which can be used to obtain nearly everything available on this site.
NEW RELEASES

WEEK OF MAY 4 - MAY 10
AFX - Smojphace 12"/CDEP (Men/Rephlex, UK)
Alterations - Viola Enough CD (Atavistic, US)
Ars Moriendi - Live at Maschinenfest 2002 CD (Pflichtkauf, Germany)
Biting Tongues - After The Click CD [anthology of singles, album tracks and rarities] (LTM, UK)
Bonobo - Pick Up/Nothing Owed 10"/CDEP (Ninja Tune, UK)
Broadcast - Pendulum 12"/CDEP (Warp, UK)
Cabaret Voltaire - Yashar 12" [new remixes by All Seeing I and Alter Ego] (Novamute, UK)
Cex - Being Ridden CD/2xLP (Temporary Residence, US)
Cex - Being Ridden Instrumentals CD (Temporary Residence, US)
The Cinematic Orchestra - Man With A Movie Camera CD/DVD/2xLP (Ninja Tune, Canada/US)
Client - Price Of Love 12"/CDEP (Mute, US)
Dead Can Dance - Wake 2xCD ["best of" anthology] (4AD, UK/Canada)
DK7 - The Difference 12" (Output, UK)
Electrocute - Tribute to Your Taste CDEP (Emperor Norton, US)
Eluvium - Lambent Material CD (Temporary Residence, US)
Roger Eno/Peter Hammill - The Appointed Hour CD (Tone Casualties, US)
Erasure - Make Me Smile (Come Up And See Me) CDEP (Mute, US)
Flare - Hung CD (Le Grand Magistery, US)
Fog - Ether Teeth CD/LP (Ninja Tune, Canada/US)
Four Tet - Rounds CD/LP (Domino, UK)
Frogpocket - Fir Faas 7" (Planet µ, UK)
Front 242 - Pulse CD (Metropolis, US)
The Gas Man - Remidial CD (Planet µ, UK)
Gold Chains - Young Miss America CD/LP (PIAS, US)
Goldfrapp - Black Cherry CD/LP (Mute, US)
Greyboy - Genevieve 12" (Ubiquity, US)
George Gruntz - Mental Cruelty CD (Atavistic, US)
Hint - Portacabin Fever CD/2xLP (Hombre/Ninja Tune, UK)
Igloo - t.b.a. CDEP (Bubble Core, US)
Iszoloscope - Seuil du Neant 2xCD (Ant-Zen, Germany)
Iszoloscope - This Monstrosity is Part of My Fibric LP (Ant-Zen, Germany)
Jaga Jazzist - The Stix CD/2xLP (Ninja Tune, UK)
Andrey Kiritchenko - Kniga Skazok CD (Ad Noiseam, Germany)
Lazarus - Songs for the Unborn Sun CD (Temporary Residence, US)
Lotek HiFi - Ram Dancehall 7" (Big Dada/Ninja Tune, UK)
Stephen Malkmus - Dark Wave 10"/CDEP (Domino, UK)
Giorgio Marauder - To Hell With Everyone 7" (Mirex, Germany)
Various - Ikebana: Merzbow's Amlux Rebuilt, Reused And Recycled 2xCD [with DJ Spooky, Jack Dangers, Plug, Mouse On Mars, KK Null, Alec Empire, Kawabata Makoto, Cornelius, Kid 606, Negativland, Nobukazu Takemura, Atom TM, Chicks On Speed, Experimental Audio Research, Bola, Kim Hiorthoy, Staalplaat Sound System, Lasse Marhaug, Kim Cascone, Freiband, Nau-Zee-Aun, Abstinence, Kurt Weisman, Raub Roy, Instavoid, Custom Drummer, John Wiese and DJ Rupture] (Important, US)
Mystic - The Life 12" (Imputor?, US)
Ergo Phizmiz - Music of Ergo Phizmiz CD (Mukow, UK)
Pink Grease - All Over You CD/LP (Horseglue/Mute, UK)
Plastiq Phantom - 492 Cups To China 12" (Imputor?, US)
Prefuse 73 - One Word Extinguisher CD/LP (Warp, UK)
P'taah - The Oldest Story 12" (Ubiquity, US)
The Sea And Cake - Glass CD/LP [new tracks plus mixes by Carl Craig, Broadcast and Stereolab] (Thrill Jockey, US)
Senor Coconut - Smoke on the Water 12"/CDEP [mixes by Sieg Über die Sonne, King Britt & Swayzak] (MultiColor, Germany - New State, UK)
Shitmat - Shopliftin' Gabba 7" (Planet µ, UK)
Tomahawk - Mit Gas CD (Ipecac, US)
Treva Whateva - Dance Class 12" (Ninja Tune, Canada/US)
Scott Tuma - The River 1 2 3 4 CD (Atavistic, US)
Uniform - Not a Word CD (Ad Noiseam, Germany)
* Tes - x2 CD/2xLP (Lex/Warp, US/Canada)
Tarmvred & Iszoloscope - Do America CDEP (Ad Noiseam, Germany)
Ugliness Man - Interim CD3" [ltd to 211 copies] (Piehead, Canada)
Various - Grounded Sound CD (Grounded Sound, US)
Various - The Sound of Warhammer 40.000 Chapter 2 CD [with Silicon Scally, Rude Solo, Bandulu, Disx3, Christian Morgenstern, Heiko Laux, Alter Ego, Codec & Flexor, Thomas Brinkmann, Solar, Sikora] (Art of Perception, Germany)
:wumpscut: - Preferential Legacy/Music for a German Tribe 2xCD (Metropolis, US)

This is simply this week's highlights from the NEW RELEASES provided by Greg and Feedback Monitor.
For a more detailed schedule stretching into the future, please check out the site,
since release dates can and will often change.
CONCERT REPORT
Wire
April 24, 2003, Hoxton, UK
Walking into an East London pub and seeing Wire on stage soundchecking is a good sight for these eyes! Bassist Graham Lewis had informed me that there would be a secret warm up gig for their Flag Burning event at the Barbican two days later. There, the plan was to play the entire iconic Pink Flag album and then after an interval play some of their current material much of which found its way spitting and snarling onto the new album Send. Rhodes had been billed as support to Klang, but didn't show, although Wire in their stead was more than adequate recompense for just about every alien on board. They'd been billed on the venue's website as The Pink Flags so it might've been so obvious. The amusement factor of Wire playing "Three Girl Rhumba" whilst supporting a former Elastica guitarist's new band was not lost on any who could spot the connection. Besides the few who'd sauntered in early and heard them play "Reuters" and "Ex Lion Tamer" for soundcheck, I only knew around twenty people who were aware that they were about to hear the most interesting band of the punk-rock-77 era play the best version of their first album from points A to B (again avoiding C, D and E where you play the blues). However I'm sure there were a few more than that in the know and there was much excited dancing towards the low stagefront and a real party atmosphere in one of the hottest gigs I've been to in a long time. In fact it was so hot that my friend Aneeta and I left before Klang even played, but were later told by Wire fans that we hadn't missed much. Lets face it, when your favourite band play one of the most special gigs you've ever been invited to, not much is going to seem like a worthy follow up. Aside from Bruce Gilbert fluffing the second chord of "Mannequin," no doubt muttering too-many-chord curses, the band were in fine shape and played the album very faithfully. Some songs had more venom and precision, especially "Surgeon's Girl" with the hilarious Lewis nonsense back up shouting at the end. "First Fast" seemed to have bled back into that one. "Pink Flag" was pretty much returned to its original drum rolling shape but with less jovial vocals from Colin Newman than on the album it seemed harder and more compacted. "Reuters" on the other hand had an extended intro and some added updates on the mythical weapons of mass destruction from Lewis. "Champs" had lost the splanging guitar overthrubs. Colin Newman downed guitar on several numbers and seemed to be really getting into singing the odd old songs. They might've even lopped a few seconds off those songs that are short because they aren't long like "Field Day For the Sundays" and "Different To Me." What was very apparent when they played "Lowdown," "Strange" and "12XU" was how much they've improved as a live band since the first retrospective at the Royal Festival Hall back in 2000. I was double glad to have witnessed this unique event as the sound at the Barbican was just not loud enough and the experience was so much more of a rush and roar in an intimate sweaty pub. After by far the best live version of "12XU" I've ever heard them pull off, some monkeying heckler couldn't help but shout, "You Can't Leave Now!" but of course they were gone. - Graeme Rowland
SUNDAY FILM CLUB
Spike & Mike's Sick and Twisted Festival of Animation 2003


Spike & Mike's Sick and Twisted Festival of Animation seems to have been going downhill the past few years, and this year really sealed the deal for me. I don't think I am going to bother attending next year's screening. The simple problem is this: there isn't enough new stuff for me to continue to send my ticket money their way. This year's flyer advertised "28 New Films! Now With 75% More Than Last Year!" The problem is that with the advent of the Internet, I had already seen the more clever shorts, and the ones that I hadn't seen were lackluster at best.
I don't expect high brow humor when I sit down at a Sick & Twisted screening, but this year shorts like "The Inbreds," "Coco the Junkie Pimp 3: Revenge of the Junki", and "Five Fucking Fables" tried to "raise the bar" but simply ended up falling flat (at least with this reviewer). While the "Happy Tree Friends" shorts were mostly funny, it seemed that Spike and Mike knew the show was weak this year and jammed 6 of their shorts into the Festival this year to carry the deadweight. That's not to say that the show was universally bad. The two "Nougat" shorts had me rolling, and "Roofsex" was great. Bill Plympton produced a few funny shorts, although I remember one or two being ho-hum. "Pickles Day Out" seemed to be universally approved by the audience and "1300cc," which was a bit long in my opinion was still pretty well done. Proving that some people still know how to make a funny short involving "fuck" jokes, "A Father and Son Chat" was great and the Spumco produced video for Tenacious D's "Fuck Her Gently" is funny every time I see it.
I would rather see more original work at the festival, and one would think that with the advent of the Internet and more advanced computer animation tools Spike and Mike would start to feature some of the good products of the net cartoon generation, but they seem content to re-screen favorites that made the crowd laugh the year before (or for the past several years, in some cases). I would rather save my money and see the Future Animators of the Future show twice next time (which has been more consistent, even if they have the same "re-screening" problem to a smaller extent). - Sean Graham
POLL
Results from last poll: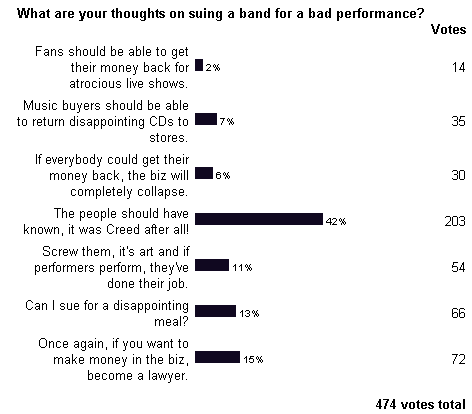 LINK OF THE WEEK
another flash site to waste loads of time at
Augenblick Studios might not be as rip-roaringly hilarious as reading Strong Bad's email every week, but for those who want something more surreal, this might very well be your kinda place.
FEEDBACK
somebody's bored (and lame)

Subject: brainwashed
How did I get Brainwashed? Is there such thing of Brainwashing? a person memory against his will and wishes. I tryed to Hitchhike for Real nobody seem to stop and ask me for a ride I might have gun.
I want them to kidnap me and make disppear face of the earth.
I am Unhappy and I 've lost my job and I am going to lose my apt. I want to runaway.
Iam 40 yr old Man.
I live in South Orange County Cal.
I get busted and Voilated and my family don't love me anymore! I like to runaway.
If a stranger stops and picks me up I'll use my gun against him and ask to follow my direction.
E-mail me .
no

Subject: Fook You
Critics don't buy records...
There's the old saying "everybody's a critic." If that's true, then nobody buys records according to your statement.

Subject: (no subject)
I like your site very much and just have one tiny question: I made a search on your site for a particular record released last month, called Connections by artist Formatt from a new Finnish label Abflug. The title came up but when I followed it through there was nothing on the releases page...what gives? Has it somehow been removed and yet the search engine is still bringing it up, or am I just totally blind?
The new releases page gets modified all the time, so if it was released (or the release date has passed) then it has been removed from the new releases page and the search engine is just pulling up a cache'd version of the page.

Subject: (no subject)
were sat again enjoying the tunes you play
if you wany any changes try not to change
Sure
HELP OUT THE BRAIN
sponsor, donate, or buy from brainwashed
Click here to find out how you can help keep The Brain going. Every penny helps.
WHAT'S IN YOUR PLAYER?
music to enjoy the pretty spring colors to
Ulrich Schnauss - A Strangely Isolated Place
Kate Bush - This Woman's Work comps I & II
Manitoba - Up In Flames
Four Tet - Rounds
The Sea and Cake - Glass
Tyondai Braxton - History That Has No Effect
Mono - One Step More and You Die


Jon Whitney, Arlington MA, USA, out and about on his bicycle with camera (pictures due soon).