The Silver Mt. Zion Memorial Orchestra and Tra-la-la Band with Choir, "This Is Our Punk Rock, Thee Rusted Satellites Gather + Sing"
Constellation


On their last album, A Silver Mt. Zion grew to the Memorial Orchestra and Tra-la-la Band. This time around the players are the same six stalwarts, and they've added a choir for some extra flavor. As the name and roster grows for Efrim's ever necessary ensemble so also does the music become more and more powerful and damaging. Their songs seem to be getting closer and closer to the gy!be motif, with delicate, fluid, and lovely passages that explode into pounding earthquake-threatening dirges of grandeur. The only main difference is the increasingly awkward Efrim vocals, though it feels like at least he is more comfortable with them on each song, even if they're not any easier to listen to. This is Our Punk Rock sounds exactly like what the title implies: the DIY philosophy applied to the usual Silver Mt. Zion routine with just the right mix of aggression and social commentary. The choir has just the right effect, chilling and soaring at the perfect moments, and spilling out whenever possible. It is not an organized choir by any means, and that's what makes it all the more endearing when paired with the clumsy Efrim lead. In fact, there are areas where the whole ensemble sounds dangerously close to Cerberus Shoal, with the theatrical firmly in place. There's an overwhelming feeling of complete remorse and decay in these songs, from the pained wail on "Babylon was Built on Fire/Stars No Stars" and the elegy of "Goodbye Desolate Railyard," a song expressing the band's remorse for the artistic death around their homebase in favor of an increased commercialism. There are some odd lyrics ("pus-capped mountains"?), but it's all delivered with the same calm resolute stance. Finally, there appears to be a cohesive and plaintive acceptance of their place in the world with the Silver Mt. Zion crew, with songs that blend into each other and work together as a whole. No stumbling, no slipping off the beam, just plain grace, even though it's a grace in the destruction of everything they hold dear. - Rob Devlin
samples:
rhys chatham, "An Angel Moves Too Fast to See: Select Works 1971-1989"
Table of the Elements


Some time ago, while sending out Rhys Chatham's "Die Donnergotter" over the college airwaves, I got a call. I had expected another barely contained "WHAT IS THIS?? IT'S...AWESOME!," which had become the regular response (maybe I played the song too much). Instead, my "Hello?" received the sleepyheaded reply, "Is this, uh, Trans Am?" Aside from the fact that a first-time Chatham listener will have been exposed to legions of his influenced before hearing the man himself (most hear even Branca before his mentor), Chatham's work sounds a bit old-fashioned, ironically, because of what it has accomplished. His fusion of post-modern art music ("contemporary classical," "new-music," whatever) with rock music sounds great, but it does not create works that enjoy unlimited movement between their poles of origin. Chatham writes extensively about the critical climate of the '70s and '80s in the 140-page book that accompanies An Angel Moves Too Fast to See, describing in detail the newfound flexibility and freedom along genre lines that composers enjoyed at the time. And while this all makes sense, explaining how he came to write the music and perform this new music, it does not change the fact that Chatham's music will always belong to the classical tradition. This is not to say that the composer had not gone to great lengths to separate his music from the university sound lab, the ivory tower of academicism threatening art music through the late '60s. If anything, Chatham's music is not challenging enough. Still, despite his enlisting New York rock scene players (Thurston Moore and Lee Renaldo among others) to perform his music and choosing to perform in many popular NY rock clubs, Chatham remains a "composer." The length and scope of his works contrast rock composition, especially punk rock composition; likewise, the spectacle and performer/audience dynamic of a Chatham piece is necessarily different than that of a Ramones show. Whether this would or would not be the case in a perfect world cannot change Chatham's place as an "art-music composer" (who, yes, utilized rock instrumentation and technique). As such, its impossible to approach his work without any preconceptions about the performative aspect of the music or without imagining its place within a lineage, however ill-conceived, of "important" 20th century compositions.
The merits of this box have not gone unappreciated; the least of which, behind the sheer unavailability of many of these legendary Chatham compositions and the beautiful package (decorated with Robert Longo's photography), is, surprisingly, the earliest of the compositions included. "Two Gongs," an hour-long piece from 1971 that takes up the entire first disc of the box, is a gem of minimalist composition, and is reason enough to sing Chatham's praises. Performed by the composer and Yoshimasa Wada on two large Chinese gongs, the music swells and clangs, an ocean of squirming metal capable of simulating heroin stupor and root canal in equal measure. Should you remain convinced that nothing will top Branca's guitar symphonies and wary that this box set may prove you wrong, Table of the Elements has kindly released A Rhys Chatham Compendium, a single-disc sampler for the box that contains much of Chatham's best work, including "Die Donnergotter" and an excerpt from "Two Gongs." - Andrew Culler
samples:
nudge, "elaborate devices for filtering crisis"
Tigerbeat6


Brian Foote has been operating the Outward Music Company out of Portland, Oregon for a few years. Their small number of releases have included some singles and full-length releases by Signaldrift, Solenoid, Pulse Programming, and Strategy. Nudge is the result of Foote's collaborations with members of those bands along with people from other Portland-based groups like Fontanelle, Jackie-O Motherfucker, and Nice Nice. While I have to admit that my impression of the outputs by the aforementioned artists and groups have always been rather lukewarm, the combination assembled here far supersedes any expectations. I'm always a big fan of crosssing musical styles, and here, electronic software-based sounds are combined with the musicianship and direction of experienced improvisationalists. The ten songs each exhibit new directions in songcraft, dismissing expectations of how voice, rhythm, and basic instrumentation interact. In a similar move like breakthrough albums by Lamb and Dntel, vocal tracks, like the opener, "Blue Screen," have a very progressive pop sensability, without ever being abrasive, noisy, or too busy. The sweet sounds of Honey Owens voice appropriately match guitar-like distorted delays and less rigid tracks elsewhere on the disc. Instrumental tracks make up the bulk of the record, infrequently utilizing guitar, trumpet, bass, vibes, drums and percussion. Songs like "'Til the Sun Expands" are subdued and subtle, while others like "Love-In Accident" are modern grooves primed for cinematic theme music, never stepping over the top to sound like a music college school jam band. There's plenty of abstract noise and unconventional slightly arrhythmic patterns to keep the humanity intact. One of the things I have actually liked about Outward's output has always been the artwork, and the diagram inside which illustrates the players on each song I must admit is quite clever — with geometric shapes, color coded with letters correspondent to the instruments used. - Jon Whitney
samples:
CURRENT 93, "A LITTLE MENSTRUAL NIGHT MUSIC"
United Durtro / Anomalous


The English esoteric artists Current 93, Nurse With Wound and Coil — recently canonized in David Keenan's England's Hidden Reverse — are obviously intelligent, always creative, and often revolutionary. If anything bad could be said about these artists, it would be that they suffer from a kind of record release diarrhea. Their absurdly prolific release schedules litter the world with pointless EPs, singles and limited-edition releases that are immediately snatched up by collectors, but often suffer from a dearth of worthwhile musical content. Recent flagrant examples have been Current 93's The Great in the Small CD and the Maldoror is Dead EP. Both of these CDs contained no new musical content, and left me scratching my head wondering how I was hoodwinked into purchasing them. This new little artifact, one of a pair of discs released as a partnership between United Durtro and Anomalous, contains two lengthy tracks of sound material from 1985's In Mentrual Night, recently given a remix treatment by Steven Stapleton. In Mentrual Night was one of David Tibet's final works from Current 93's "spooky loop" period, and also one of the best. The atmospheric mixture of chanting, operatic scales, chain-rattling and musique concrete' tape tricks was a superior final chapter to Current 93's noisescape phase. Why revisit this material almost 20 years later? These remixes were commissioned to be used as opening music to Current 93's recent shows in San Fransisco. Because these pieces were to be used primarily for background music, Stapleton has decided to muddy the mix, making it impossible to distinguish the voice and noise elements, turning the music into murky, nebulous ambient soundscapes that fill the room with atmosphere, but don't share the unfolding, jarring drama of the original music. The sounds share the same kind of distant, dreamlike uneasiness of earlier Current 93 tracks like "The Dreammoves of the Sleeping King," with half-remembered audible fragments of sound that trigger strange feelings of nostalgia and/or deja vu' in the listener. Both tracks are quite good, but whether or not they are worth the price of admission depends upon your level of Current 93 obsessiveness. - Jonathan Dean
samples:
NURSE WITH WOUND, "CHANCE MEETING OF A DEFECTIVE TAPE MACHINE AND MIGRAINE"
United Durtro / Anomalous


The second of the Anomalous co-releases is an oddly indefinable, "accidental" remix of Nurse With Wound's first album Chance Meeting on a Dissecting Table of a Sewing Machine and an Umbrella by Matt Waldron of irr.(app.)ext. Chance Meeting is a landmark record of deranged psychedelic proto-industrial experimentation. Matt Waldron's irr.(app.)ext. has produced some of the most exciting audio surrealism to come along in recent years. However, this disc is not the meeting of these two great minds that one might expect. As the story goes, Waldron was making a tape-to-tape dupe of the original United Dairies cassette, when his dysfunctional tape recorder began to warp and mutate the source material, producing its own interpolation of the Nurse classic. This kind of accidentally deteriorating tape idea has recently been used to much more subtle and ingenius effect on William Basinski's Disintegration Loops series. Although I can imagine that the warbles and mutations caused by this tape recorder mishap might have appealed to Matt Waldron and Steven Stapleton, its pleasures are truly ephemeral. All the CD boils down to is an inferior, hiss-heavy transfer of the original album, with some random time-stretching, glitches and wobbles that do very little to increase interest for the listener. Although I admire the love for accident and synchronicity that led Stapleton and Waldron to release this material, I don't think that it will hold much interest for the average listener. This review certainly won't discourage those who obsessively collect everything issued from the Nurse With Wound camp. But for those who are just a little more selective about this stuff, I think I can safely suggest that you steer clear of this unique but ultimately inane piece of conceptual audio. - Jonathan Dean
samples:
Rollerball, "Real Hair"
Silber


This album is staggering in its creativity, even though it's probably the most pop-focused of Rollerball's releases. They bring the funk influence, which has always been lurking, closer to the fore quite tastefully, with propulsive drums and full-bodied bass inspiring movement, but the highlight of their music is definitely the super-catchy lyrics and melodies. Stabbing, anthemic horn leads and smoky piano lines accompany their vaguely dadaist cabaret vocals, singing seemingly lighthearted verses about clarinet samples and our forefathers wearing drag, but the sense of tension that their dramatic presentation inspires is remarkable. Rollerball's little details of organic experimentation and everything-including-the-kitchen-sink noisemaking are still present in some form, but they're more tightly woven into the songs themselves, such that the album is full of interesting sounds throughout, but free from gratuitously tacked on elements. Still, this is a far cry from the extended free-noise of their earlier works. Tracks like "66 Deadhead Spies" and "Starling" play up the loungey aspects—shared male/female vocals and slick piano instrumentation; while a steady bassline anchors "Mike's Hind," the sole instrumental piece, as various sound effects and improvised phrases float through the mix. "Spine Delay" seems to be a shout out to all dudes in the audience with its deranged, at times hyper-falsetto, singing, until the horror-movie organ emerges and the band settles on a mellow groove. The album ends with a suitably incomprehensible spoken word piece about nature. Rollerball are an entertaining and interesting band, and it's great to hear further development of their refreshingly unique pop music. - Steve Smith
samples:
Rebel Powers, "Not One Star Will Stand the Night"
Strange Attractors


In the office where I worked this summer, the main lobby featured an enormous piece by artist Frank Stella. The piece was large, probably twenty feet tall, and consisted of a series of colored boxes, enclosed in a thick orange boarded and symmetrically mirrored on the opposite side. These are the kind of works, abstract shapes and colors, that made Stella and his minimalist style known in the art world. Every morning I would step off the elevators and be cast in the imaginary shadow of this walled piece, unable to ignore it, and think to myself, "Is it me, or is this a total fraud?" I'm no art critic, but for me the piece did nothing. It evoked no feelings and no deep thoughts, only the confusion that a crayola palette and attention to straight lines could to some extent, make one renowned. So excuse me for being somewhat wary when Rebel Powers was described to me as minimalist. Rebel Powers is a collaboration between Acid Mothers Temple's Kawabata Makoto, Cotton Casino, Koizumi Hajime and Telstar Ponies' David Keenan. These musicians came together to perform two long instrumental tracks, with only incidental overdubbing to create what they identify as minimalist excursions. "We Are For the Dark" is the first volley, and quickly dispelled my initial fears. Guitars drone against each other as ghastly moans supplied by a sarangi, a classical Indian bowed instrument. Percussion drips in and out of the shambling piece as it oozes forward. The darkness Rebel Powers aims to provide is very apparent, and "We Are For the Dark" lays out in its patient tones a spooky, malevolent atmosphere that only builds in intensty and effectiveness as the track continues. The instruments seem to grind against one another like the rusty components of a machine lurching to life and slowly gaining back its momentum and force. Errant shards of noise shoot out into the stew before disappearing beneath it. In the tail end of its long duration, the improvisation reaches a more insistent peak before petering out in a collision of clangs and dwindling washes. The track is not spare or sparse, and never does it feel overly repetitive (though in essence it treads the same core for twenty five minutes) or boring. It has a depth and body that draws you in and wraps you up in the imagery; it doesn't leave you staring at it confounded. Unfortunately, the next track is not nearly as successful. "Our God is A Mighty Fortress" mills about aimlessly over a repetitive pattern for far too long. While the first track transported me to dark forests, rain soaked dirt roads and lurking unknowns in the brush just behind, the second track brings me right back to my office, staring up at the Stella and wondering to myself what the big deal is. As the track progresses, it does improve slightly, with a more clean, more relaxed attitude than the first, but the loss of energy and excitement that the first ten minutes or so is a devastating hit to the whole. Had the tracks been reversed in order, I may have been more forgiving, but the ideas as presented took the wind out of my enthusiasm. Such is the risk with improvised music. Sometimes ideas don't pan out and paths taken more often lead to dead ends than explosions of brilliance, but when they do the trip is entirely worth it. As demonstrated by Rebel Powers, minimalism can mean more than economy, and bleak can be busy, but that asceticism is a trap that is difficult to escape. - Michael Patrick Brady
samples:
Sciflyer, "Fair Weather Karma"
Clairecords


It used to be that when a band was called shoegazer music it was descriptive enough to illustrate exactly what someone would hear when they put the album on. These days, there are so many bands recording music that passes as shoegazer that it's almost evolved into another genre entirely, and none of it really resembles the original sound. Unfortunately, most of the bands in this genre possess little originality and more than their fair share of mediocrity. Sciflyer, hot off two self-released EPs, prove on their debut that there is still a chance for this kind of music while also displaying everything that's wrong with the psychedelic rock scene. Their formula and ingredients are exactly the same as many other bands: record on vintage equipment with phaser effects and lots of delay, then fade the vocals in the mix so they're almost unintelligible. Voices are only there as a hook, to draw the listener in and make them listen to the music more in an effort to decipher the words. What seems like a good idea doesn't work as a tool to hold interest, though, just as it doesn't work from an aesthetic level. Beyond that, however, Sciflyer is passing fair, with enough of a gift for melody to see some of the tracks through. Here and there are songs that sound like modern surf guitar, where elsewhere there's a heavy Cure or Smiths influence feeding through the bass and vocals. There also seems to be a preoccupation with fire and self-immolation, with two songs having "burn" in the title, and another featuring the lyric "we'll blow ourselves apart." Sadly, the chord structure is repetitive all over the place, with the same old guitar line looping again and again. "Like an Ion" is the worst offender in this area, with no real chorus or verse to speak of, just one part repeated into oblivion. Immediately following it on the album is "Alpha Centauri," easily the best track, but it's too short to make much of a difference. That's just the problem with most of these bands: a lot of the same echoed mess but a few moments of brilliance. If Sciflyer can make a whole record like the two-minute glory of "Alpha Centauri" we might be getting somewhere. Until then, the boredom will continue. - Rob Devlin
samples:
Victor Chorobik, "Desert of Clouds"
Iris Light


Combining cultural (i.e., traditional) instrumentation and phrasing with more contemporary music always ends up producing something far too new age and cheesey. It's a shame, especially when left as seperate entities, each can be quite gorgeous and ear-opening. Victor Chorobik and company have attempted to fuse various Tibetan sounds with those of jazz and classical descent. The results are, at best, mixed and self-limiting. Exotic flutes are mixed with soprano and tenor saxophones and each makes the other stand out like a sore thumb: the two simply don't fuse as well as the musicians would like to think. Lengthy tracks are accompanied by endlessly repeating drum patterns while easy-going and laid back melodies shine over them, only the melodies aren't all that exciting or attention-grabbing. When the traditional instrumentation and structures are left to themselves the results are a little different. Chants, spoken-word passages, wooden flutes, and various guitars all mix to form something that borders on the spiritual; they at least sound as if they are of a religious background. Repeated listens will reveal that the native instruments are never truly left alone, however. There's always a keyboard of some kind attempting to add to the mystery and awe that native (or just plain alien) music, when completely naked, so often has the power of evoking. The result is a pure stinking cheese that sucks the life out of the source material. This is nowhere more evident than on "Mantra of Guru Rinpoche." A lone chant is performed only to be interrupted by a completely pointless combination of shimmering keyboard sounds and low bass throbbings. I've never been a big fan of these kinds of cultural crossings precisely because they rob the uniqueness out of eachother. That's not to say that every single one of them are doomed to failure, but hearing the original stuff as documented in the field always ends up inspiring me more than what is meticulously calculated and considered within the studio. There is some beauty to be found here, but be prepared to be offended along the way. - Lucas Schleicher
samples:
stafrĆn hÁkon, "...skvettir eŢik Á ref"
Resonant


Journalists invent music sub-genres when they get tired of comparing musical artists to another musical act. While Icelander Olafur Josephsson is once again showcasing his amazing playing, arrangement, and compositional talents for his second full-length disc as Stafrćn Hákon, it's painfully difficult to escape the comparisons to Mogwai. (In addition, it's rather ironic than Josephsson now makes Glasgow his home.) All of his music is instrumental once again on this, his first release to be put out through somebody other than himself. For ten songs, the guitar and effects-driven melodies are a blissful wash of drifting audio landscapes. It's quite easy to get completely lost in the music's beauty. Numerous songs like "Tćtir rćkju" pulse with a subtle beat and move within somewhat predictable, and enjoyable while beat-less tunes like "Grifflur" are chilling and turbulent like the bright moonlight reflecting off of cold, icy waters. With the addition of organic drum work and chiming sounds, however, songs like the closer "Safi" are unmistakably resemblant of Mogwai's tunes from their EP + release. There's nothing unpleasant about any of the songs, but what's lacking perhaps is an element of the unexpected, the unpredictabile, or chaos. There's so much that can be done with this music, but Josephsson chooses a route which leaves most of the music completely as is. While it may reduce the chances of being accused of being gimmicky, it does sound derivative. Skvettir EŢik Á Ref is a good second album and will surely please a ton of fans of the more gentle side of instrumental guitar music. There is a load of potential for Stefrćn Hákon to be amazing but it's just not quite at that level yet. - Jon Whitney
samples:
BUSDRIVER AND RADIOINACTIVE WITH DAEDELUS, "THE WEATHER"
Mush Records/Dirty Loop Music


As the Weather, Los Angeles MCs Busdriver and Radioinactive dispense quick cut, weaving and rapid-fire rhymes with free-association styled content ranging from humorous to brilliant. Along with sample-based compositions and production from studio ace Daedelus, the trio have collaborated on The Weather for sixty minutes of blistering rhymes and hip hop meets clever musical arrangements, wierdness and satire. "Pen's Oil" opens with a 50's inspired orchestration set to funky drums and laid-back piano riffing that shifts to double time to keep up with the speedy vocal dispatching. The playfully titled "Carl Weathers" consists of a full backing that includes machine beats, percussion and upright bass with a chorus that sings a line from a typical weather report while the duo convey simultaneous rhymes and break away for individual segments. A sampled audience clapping out syncopated rhythms sets "Fine For A Robot" in motion for a soulful track when Busdriver, tongue in cheek, beautifully sings a loving ode to a machine. It then switches to drums and piano flourishes when Radioinactive gets the sassy rhymes going for the robot girl. Daedelus' production on "Raffle Ticket Blues" employs dark, minor key jazz piano, bass and brushed drums segments with tinny machine beats for Radioinactive's wordplay in which the piece's sections are clearly marked off based on the words per minute. The Weather's interesting lyrics and vocal talents of leaving no space unfilled are equally matched by their ability to let lines breathe by leaving space between words; all complemented nicely by Daedelus' rhythmic sound manipulation. - Gord Fynes
samples:
Crescent, "By the Roads and the Fields"
Fat Cat


Comprised of members of both Movietone and Flying Saucer Attack, Crescent was born of the spacy post-rock scene that arose from Bristol in the mid-1990s. Vastly less interesting than either of those bands, Crescent has released a small handful of recordings since its inception. Their latest, and first for Fat Cat, recalls the playful organ melodies and percussion of Pram; the slightly trippy, moody brass inflections of Legendary Pink Dots; and the mournful, jarring vocals of Joy Division. This may sound like a great formula, but somehow Crescent just doesn't pull it off. Overall, the raw, rough sound of By the Roads and the Fields makes for a thought-provoking atmosphere, but ultimately does not contribute anything to make the album compelling. The vocals of Matt Jones in particular tend to drag the music down. His monotone, sullen presentation of the ponderous lyrics makes them far too heavy for the album's strong point, the sparse instrumentation. "Mica," the best track, seems to be so largely due to the fact that it doesn't have vocals on it. Devotees of Flying Saucer Attack and the subsequent projects it spawned would be wise to wait for this fall's forthcoming Movietone record rather than pick up Crescent's latest offering. - Jessica Tibbits
samples:
JENNIFER GENTLE, "ECTOPLASMIC GARDEN PARTY"
Lexicon Devil


Italian music listeners seem to have an enduring interest in rare psychedelic, progressive and kosmische music from the late 60's and 70's. There is a clutch of Italian labels like Akarma, Comet and Horizon that tirelessly pump out deluxe reissues of obscure chestnuts from America and Europe's recent rock past. Not surprisingly, a number of new groups have come out of Italy in the last few years that owe a tremendous debt to this tradition of psychedelic esoterica. Jennifer Gentle are a four-piece, fronted by a head named Marco Fasolo, who writes all of the music and lyrics. Jennifer Gentle's sound shows an obvious fascination with bands like The Residents, Captain Beefheart, as well as lesser-known progressive acts like the Third Ear Band and The Edgar Broughton Band. I like to imagine that Fasolo owns the entire back catalog of Harvest Records. Predictably, the music is very derivative of these musical fetishes, but that doesn't necessarily make it completely worthless. Jennifer Gentle have personalized their influences and arrived at a somewhat unique freaked-out combination of cartoon noises, toy percussion, Neanderthal guitar solos and inarticulately screamed lead vocals. Ectoplasmic Garden Party is a two-disc set collecting Jennifer Gentle's first two full-length albums - released separately as I Am You Are and Funny Creatures Lane. The first disc is weak. A series of questionable stylistic exercises, I Am You Are is the sound of a band trying to find their footing, and failing to coalesce. On the opening track "Sound-Check", the band launches into a loping, primitive rhythm section with stupid guitar licks and distorted helium vocals, sounding like The Chipmunks covering a Shaggs song. While it's funny at first, it soon becomes obvious that The Residents did this nearly 30 years ago with more interesting results on albums like Third Reich and Roll. The only salvageable song on the first disc is "Bring Them", a dark, trance-inducing riff reminiscent of The Velvet Underground's "Sister Ray". The riff keeps cycling around as Jennifer Gentle add layers of fuzzy, hypnotic melodies, guitar feedback and drone. After this track, though, the band makes a sudden, inexplicable left turn into Incredible String Band territory, trying their hand at a couple of psychedelic folk ballads with male-female "call and response" vocals. This is a bad idea, as the lyrics are mostly inaudible, and the whole thing stinks of a bunch of unbathed longhairs, sitting by the campfire on acid, trying to channel Pentangle with an out-of-tune guitar. The second disc, Funny Creatures Lane shows exponential improvement over the first album. The band has learned to play their instruments a little better, and the production is more polished. Jennifer Gentle have also narrowed their musical focus, and are able to deliver a set of twelve twisted psych-pop songs that are redolent of something out of a dimly remembered past. Their new emphasis on the "pop" in psych-pop brings with it an increased interest in singsong-y vocals and bright, catchy melodies, not unlike The Electric Prunes' first two albums of paisley garage-pop. These songs are enhanced by Jennifer Gentle's odd instrumentation, purposely low-fi production and insistence on perversely mutated cartoon-character vocals. They have also chosen better musical ideas to imitate this time, with interludes that randomly and deliriously quote (or steal) from classic krautrock, garage rock and progressive. They also frequently reference Ennio Morricone and Goblin, with their dense, experimental soundtracks to the horror, spaghetti western and trash films that have played a significant role in Italy's artistic heritage. While none of the songs on Funny Creatures Lane stand out from the rest, the album is a consistently engaging trip through the weird record collections of four crazed Italian hippies. - Jonathan Dean
samples:
JENNIFER GENTLE AND KAWABATA MAKOTO, "THE WRONG CAGE"
Sillyboy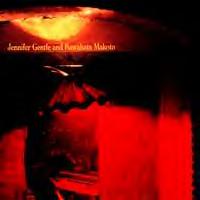 Jennifer Gentle's newest release is a live disc documenting a 2002 show in their native Italy during which they were joined on stage by the irrepressible Kawabata Makoto of Acid Mothers Temple. I'm not sure what, if anything, Makoto's monolithic acid-guitar stylings have in common with Jennifer Gentle's eclectic psych-pop. Perhaps nothing, but once the opening drones begin all such questions melt away. This disc is far better than any of Jennifer Gentle's albums, a stunning performance that left me wondering why they haven't applied some of the musical tactics on display here to their studio output. Kawabata Makoto joined Jennifer Gentle on stage without any rehearsal and with no previous knowledge of the band's songs. He simply invents impromptu solos on his electric guitar, weaving in and out of the long-form improvisations of Marco Fasolo and company. The first track is a nearly 15-minute extended jam on the song "Bring Them", which was perhaps the only worthwhile song on Jennifer Gentle's debut album I Am You Are. The repetitive guitar and organ melodies compete with Makoto's acid-fried soloing and cyclical feedback, building to a massive explosion of cosmic rock n' roll nirvana. Jennifer Gentle should consider recording these lengthy, improvised jams in the studio, rather than the three-minute song fragments that fill their first two albums. Track two is a five-minute solo by Kawabata Makoto entitled "Man From Mu", basically an extended improvisation on the sarongi. The AMT ringleader pulls some beautifully unhinged sounds from the strange, stringed instrument. Track three is another extended jam, this time from Jennifer Gentle's Funny Creatures Lane album, "Couple in Bed by a Green Flashing Light". It's a stone groove, a terrific freakout that utilizes the full potential of the players and ascends to some serious third-eye territory. Although The Wrong Cage is very short at only about 30 minutes, it fills out its entire length with some delicious ear candy. I would highly recommend that fans of Acid Mothers Temple waste no time in seeking it out. Having never seen Jennifer Gentle live, it's hard to say whether this is a typical performance for the band. But I can definitely recommend that they waste no time in trying to harness some of their ecstatic live energy onto their next studio recording. - Jonathan Dean
samples:
We know that our music picks may be somewhat challenging to find, which is why we have a community section which can be used to obtain nearly everything available on this site.
"MAYBE LOGIC: THE LIVES AND IDEAS OF ROBERT ANTON WILSON"
Deepleaf


For the last 40 years of consensus space-time, the entity known as Robert Anton Wilson - author, philosopher, neuroscientist, psychedelic comedian, mystic, shaman and Pope - has been tirelessly exploring the tantalizing, puzzling, enigmatic, bizarre, mind-bending and funny metaphysical mysteries of human existence. Now comes Maybe Logic, a definitive documentary about Pope Bob, in the form of an independently released two-DVD set from Deepleaf Productions. In 1977, Robert Anton Wilson published Cosmic Trigger, an unparalleled epic adventure of deliberately induced brain change, interstellar revelations and mystical initiation. Cosmic Trigger uniquely accounted Wilson's mind-expanding voyage from an atheist, ex-Catholic skeptic to a Buddhist, a Sufi, a Gnostic, a Witch, a Thelemic Magician and a Discordian Pope. Interwoven into this singularly electrifying narrative were ruminations on the Illuminati, synchronicity, conspiracy theory, Finnegan's Wake, Timothy Leary's eight-circuit model of human consciousness, Aleister Crowley, quantum physics and transactional psychology. Robert Anton Wilson had tapped into a current of thought about the universe that has existed since the dawn of man, and was able to make a linkage between all of the various "solutions" to the impossibly enigmatic nature of the universe - scientific theories, philosophies, religious dogmas and cult doctrines - and in the process, he mapped the interior of our belief-derived reality tunnels. While there are dozens of other futurists, mystics and new-age philosophers who have written about such ideas, no one could ever match the engaging humor, the inherent rationalism and the contagious adventurousness of Robert Anton Wilson's more than 30 books, plays and novels. Pope Bob's unique convergence of ideas has served as the basis for the Church of the Subgenius, The Temple of Psychick Youth and the current of occultism known as Chaos Magick. The main attraction of this DVD set is the one-and-a-half hour video documentary Maybe Logic. This documentary is obviously a labor of love, combining old footage with abundant new interviews with Wilson himself, as well as a host of colleagues, admirers and disciples. We see Pope Bob as an old man - an eccentrically cherubic, white-bearded cross between Confucius, Siddhartha and Mr. Natural. Sadly, he is in the advanced stages of post-polio syndrome, and is confined to a wheelchair, in acute pain for most of his waking hours. Always a libertarian thinker, his recent illness has led him to become an ardent supporter of medicinal marijuana, which he claims is the only analgesic for his constant, intense pain. But despite these tragedies, one cannot help but be impressed by Robert Anton Wilson's unshakable optimism, his creativity, and his unending inquisitiveness. These interviews are edited together with aplomb, the director using a myriad of cutting-edge, mind-bending digital video effects to further intensify the cosmic revelations in Wilson's monologues. The soundtrack is equally superb, with suitably thought-provoking contributions from Boards of Canada, Matt Elliott, The Cinematic Orchestra, Tarantel, Funki Porcini and Amon Tobin. The second DVD includes supplemental interviews and lectures about various subjects, from James Joyce's Finnegan's Wake to the allegorical BBC television series The Prisoner, as well as some exercises designed to awaken your own internal neurological warrior. If you were hazy about quantum physics, mysticism, magick, conspiracy theories and existentialism before, watching this DVD could truly trigger a Kundalini-like awakening of your dormant consciousness. As a bonus, the simple act of watching this DVD will officially ordain you, the viewer as a Discordian Pope. Wilson's final message is that the universe is "plural and mutable" - a vast, un-simultaneously comprehended confluence of subjectively created belief systems and reality tunnels. If you can properly understand Pope Bob's universe, there can be no room for intolerance or misunderstanding, only a constantly renewed sense of vigour, optimism and adventure in discovering the staggering creative potential of the human nervous system. - Jonathan Dean