KILLING JOKE
Zuma


No longer can any man look me in the eye and call himself a rock fan until he has heard this masterpiece of magical changes. This is no mere rock performance, but a curse upon the Bush clan and their corporate cronies, a fiery invocation to hasten the inevitable fall of the US Empire. For the opening attack the hardcases gather around the table and the game is big picture. "The Death and Resurrection Show" sets the scene with an irresistably thunderous tribal dance beat from hardcore skinbeating primitive Dave Grohl, a simply devastating give up ultimatum to false metal guitarists from Geordie and some of the most important imagery to ever be transmitted via the rock medium from the much maligned and misunderstood genius Jaz Coleman. Next, a hesitant woman of liberty asks how we can go up against the government and decides we must all rise at once. Jaz is up for trying to inspire us to do so, and "Total Invasion" lays it on the line for the liars who blaspheme our names in the infinitely cancerous pursuit of profit. Fireblast riffs and collapsing skyscraper drums lumber asunder as Jaz strangles lizards from his throat to exorcise the Bush-pig demons and lay them in the dirt to perish of thirst as revenge for the third of the world they are slowly, meanly, inhumanly killing to keep the cold blood gurgling through their hardened arteries with seconds to go. Next, Jaz assumes the form of an "Asteroid" which crashes into the ocean, flooding and laying waste to the proliferating homogenous technocracy. It recalls "Whiteout" amped up a zillion volts. Redefining cyber-punk, "Implant" questions the morality of techno-genetic hybrids and mourns the inevitable loss of diversity that is plunging the race towards eternal DOOM. Like "Asteroid," the entire song grinds to a halt several times for Jaz to scream his rage at the cold science fools and their deathsucking paymasters — "You just want to FUCKING CONTROL!" Then the headlong rush of "Blood On Your Hands" orders them to atone for their crimes and paints a picture of a world laid waste by their idiotic short sighted greed. It would really be a swell single, and not just for the blessed inspiration of hearing the lyric, "Poison the water so only your GM crops grow," infiltrating wishy washy MTV land. This is far beyond mere MALICIOUS DAMAGE. This is the most precisely directed and accurately targeted distillation of molten rage I have ever experienced. And I've heard a lot of so called hardcore over the years. The second half briefly drops a rung into more personal head space. The arm waving wasteland zombie bop "Loose Cannon" recalls imagery from the dreams that inspired their seminal debut album and the circle is completed. Both this rather odd choice for a single and the next track reclaim and embellish the "Eighties" chug that poor Cursed Cobain filched in admiration. This is the only band on the planet who could get away with a lighters in the air ballad like "You'll Never Get To Me" probably because they have torches. Shame they didn't replace it with the rabid "Inferno" which closes UK copies, but has been left off in other regions for obvious reasons. The next single is out this week and is rock perfected to sum up the personal anger and despair at falsely mediated visions of a world gone mad. Your mission is to buy "Seeing Red" from a chart return shop NOW and shake up the fake money-love kiddypops charts with something of substance, a song up there with such classics as "The Wait" and "Pssyche." What feeling, loving, angry human could resist the joy of hearing a tune open with the line, "They're dropping bombs again, and they're doing it in your name," and continue with the ultimate condemnation of limited small town England tedium and ignorance. Grohl's drums shine, reverting more to Scream patterns than Nirvana. Geordie rips the burning sky to shreds with the greatest one note guitar spears and the bass line is a massive descending roll of thunder. The most harrowing trip is the eerie and desolate "Dark Forces" in which Jaz trawls the mind of a desecrating corporate ogre and survives to report the megalomaniac creep churnings. I wouldn't like to spend an hour locked inside those heads but Jaz is a sterner being than I. The final report the megalomaniac creep churnings. I wouldn't like to spend an hour locked inside those heads but Jaz is a sterner being than I. The final battle sees the fall of "The House That Pain Built" as Zeppelin's "Kashmir" is ripped apart and rendered a mere grunt. After pain we WILL have JOY. This is one band to empower the will like no other. Our Rubicon approaches. Lets all go to the Fire Dances once again. So be it! - Graeme Rowland
samples:
"AN ANTHOLOGY OF NOISE & ELECTRONIC MUSIC/FIRST A-CHRONOLOGY 1921-2001 VOLUME #1"
Sub Rosa


Belgium's Sub Rosa label presents the first in a threatened 10-part series of double-disc anthologies documenting more than 80 years of developments in electronically derived music. The hopelessly pedantic liner notes try to justify the inclusions and omissions, and attempt both to delimit and enlarge the definitions of "noise," but these just seem like a complex series of overwritten excuses for what is basically an unstructured assortment of tracks — mostly rare or previously unreleased — that are not truly unified by an inclusive theme. The compilers have cleverly dubbed this an "a-chronology" to rationalize the illogical continuity of the sequencing — an Einsturzende Neubauten agro-industrial track from 1998 rubs shoulders with Konrad Boehmer's compositional avant-garde piece dating from 1966. There is no rhyme or reason to the songs chosen for this compilation, or their sequencing, which is actually somewhat refreshing in the wake of so many compilations professing to be authoritative history lessons on a genre or time period. Sub Rosa's absurd decade-jumping and too-wide definitions allow a lot of room for some fascinating pieces to co-exist, whether or not they all make sense together. Listening to this double-disc anthology, I am reminded of a cerebral late-night college radio DJ programming a fantasy set of his favorite abstract electronic pieces. The compiler's choices run the gamut from early compositions for electronic instruments, to modern laptop-based experiments, but with an ear towards largely rhythmless, non-traditionally structured music. I guess that's where the "noise" bit comes in. A listener who is not familiar with the originators and revolutionaries of electronic music and theory might find this an excellent starting point for study. The long, academic liner notes should have been researched more meticulously as there are several oversights and mistakes, and plenty of typos, but nothing so bad that it negates the value of the anthology itself. Musique concrete' is here represented by future Nazi propagandist Walter Ruttman's cinematic tape-collage "Wochende" (1930), a truly impressive, picaresque audio narrative that presages the later classics of the form such as John Cage's Fontana Mix and the more recent post-industrial dream narratives of Roger Doyle's Rapid Eye Movements. The atonal, sculptured minimalism of Gordon Mumma's "The Dresden Interleaf 13 February 1945" (1965) sounds strikingly modern, and should appeal to fans of Soliloquy for Lilith-era Nurse With Wound. Three giants of the scene come together spectacularly in Angus MacLise, Tony Conrad and John Cale's "Trance #2" (1965), a haunted, devotional drone piece that transcends its low-fidelity recording. The often fascinating Phillip Jeck collaborates with Otomo Yoshihide and Martin Tetreault on an untitled live excerpt that is richly detailed and endlessly compelling. The more provocative, political agitants of noise music are here represented by a pair of tracks from Survival Research Laboratories and Einsturzende Neubauten, both previously unreleased, and both stirring exorcisms of jarring brutality. As one might expect, the contributions from classic innovators Iannis Xenakis and Edgar Varese are typically outstanding. John Cage's incredible cut-and-splice piece "Rozart Mix" contains some of the same microcosmic drama of The Beatles "Revolution #9," as well as one of the earliest recorded instances of record scratching. Sonic Youth's "Audience" (1983) is an interesting experiment in the live manipulation of sounds: in this case the applause the band received after a performance is slowed down and stretched to sound like a room full of monstrous demons rhythmically banging their heads against the floor. The only really bad inclusion comes in the form of a pointless ambient space excursion by DJ Spooky That Submental Prick. Japanese composer Ryoji Ikeda ends the compilation with the brief but exciting mental tones of "One Minute" (1997). Considered as a whole, or considered in part, Sub Rosa's first volume of Anthology of Noise and Electronic Music is a noteworthy assemblage of easily digestible bites of ear-opening sonic explorations. - Jonathan Dean
samples:
"AN ANTHOLOGY OF NOISE & ELECTRONIC MUSIC/SECOND A-CHRONOLOGY 1936-2003 VOLUME #2"
Sub Rosa


For the second volume of these doctrinaire anthologies, Sub Rosa has widened its already absurdly large scope even further, now also attempting to encompass movements in early 90's techno, 60's free jazz and early 80's industrial in addition to the already expansive universe of classic and modern avant-garde and minimalist composers that dominated the first compilation. While I admire the tracks chosen — many of them are indeed rare and unreleased — curator Guy Marc Hinant's thesis is getting ever more tenuous. The compilation opens with "Incantation for Tape" (1953), a brief tape composition by concrete music innovators Vladimir Ussachevsky and Otto Luening, which segues into a longer tape collage by Luc Ferrari, certainly a master of the form. Listening to "Visage V" (1958-9), you may notice intense similarities to Jim O'Rourke's recent laptop-based work. This is not a coincidence, as parts of O'Rourke's I'm Happy, And I'm Singing, And a 1, 2, 3, 4 seem to have been a direct, unacknowledged "homage" to Ferrari's work. Tod Dockstader's epic "Aerial>Song" (2002) is a glorious continuation of the groundbreaking work he composed in the 1960's — amazingly elaborate soundscapes like "Apocalypse" and "Water Music". Morton Subotnick's pre-Silver Apples of the Moon "Mandolin" (1962) is a lovely, subtle piece combining bells, windchimes and warmly complex electronic oscillations. My favorite track by far on this collection is "Space travel w/changing choral textures" (1983), a brief soundpiece by the incomparable Alan R. Splet. Splet famously designed the sound for many of filmmaker David Lynch's best works, including Eraserhead. Anyone familiar with Lynch's films understands the indispensable impact of the densely surreal, dark and spacious soundtracks created by the nearly-blind Splet. The second disc opens with "Bronchus One.1" (1991), an early sketch of an Autechre track destined for their classic first album Incunabula. It's enjoyable to hear Sean Booth and Rob Brown flash back to the days when their music was still fresh, relevant and listenable. The disc also includes relatively rare contributions from the early days of experimental techno, with Choose's "Purzuit ov Noize" (1994) and Woody McBride's "Pulp" (1993) — both darkly pulsating slabs of analog minimalism. The compilation takes a nose dive into the gutters of early industrial with rare tracks from Laibach and SPK. Laibach's "Industrial Ambients" (1980-82) is a collage of field recordings of actual factory machinery, complete with the murky klingklang and coldly rhythmic atmosphere of Deutschland's industrial world leadership. After the brief, inscrutable tangent to a theremin piece from 1936, the collection ends with a couple of off-topic contributions by Sun Ra and Don Van Vliet aka Captain Beefheart. It's truly difficult to understand how Sun Ra's cosmic free jazz or Beefheart's primitivist blues fit into the scheme, as neither of these tracks contain significant electronic instrumentation. The disc also contains a Quicktime video clip of Beefheart performing the track circa 1969, which is interesting, but ultimately irrelevant. I wholeheartedly recommend volume two of Sub Rosa's Anthology of Noise and Electronic Music not for its thematic coherence, which is nonexistent, but for the rare and unreleased tracks, which make the compilation worth the price of admission. - Jonathan Dean
samples:
All India Radio
Inevitable Records


Three excellent musicians from Australia plus three guests have officially crafted one of the most elegant and simple instrumental rock albums I've ever heard. Warm waves of synthesizer tones, sunny melodies, and a glowing aura all around mix, mash, and breathe as if a natural part of the air and form what can only be described as a heavenly cloud of radiance that is simply not of the material world. Keyboards, drums, and relaxed guitar strumming all intertwine, switching emphasis here and there but never losing sight of an overall picture that must have taken shape in the mind of every musician involved: a beach, memories of home, or nighttime in a familiar and warm place. Every note and every second of sound effortlessly evokes feeling after feeling. All India Radio mix sound sculptures void of definite rhythms and certain melodies with more traditional song structures and they do it so well that each second comes as a surprise. On "Voodoo Instrumental," a whistling drone underscores the open and reflective sound of a piano chiming in wandering and circular movements until the reversed tones and guitars of "Moon Rise 1989" segue into the melancholy guitar playing of "Waukaringa." The movement of one song into the next is almost cinematic and is certainly epic in scope, but the content of each track is completely individual and unique. Featured with the CD is a DVD of various movies. Though not all of them are great, the video for "Tijuana Dream" is fantastic. It might seem a little simple at first, but the ending makes watching the whole thing worth it. I really can't say enough about this album and I hope to hear more from All India Radio. There's not one dull moment anywhere on the album and songs like "Evening Star" and "10:58" should not be missed. It's simple, almost child-like, and suffused with such an awesome mood of relaxation and inquisitiveness. This is their third album and based on its merits I can't wait to hear more. - Lucas Schleicher
samples:
Paula Kelley, "The Trouble With Success or How You Fit Into The World"
Kimchee


There's something about the picture of Paula Kelley on the back of her new release. She's staring out at you with deep, dark eyes, her hand obscuring the rest of her face but revealing a coy, coquettish nature to her. I can't help but think of this image as the trailer poster for some grand Broadway production, especially with the album's title with subtitle. The music within only deepens the imaginary conceit, as it is replete with lush orchestration and soaring vocals. Ladies and gentlemen, Paula Kelley, spotlights please. She's ready for her close up, so everybody quiet down. "A New Time" begins with a clipping acoustic guitar and Kelley laying down the exposition of love like "warm August breezes" and starlight filling her face with possibility. But there is also another side to the story, one of doubt and miscommunication that threatens to bring the strings out of their gentle harmony, all-crashing down in dissonant cacophony. Luckily, the song never falls apart, but rather perseveres through its delightful duration. "Could There Be Another World" comes on in a full Burt Bacharach attack, with a full orchestra of strings, horns, harp and a ten-person choir to accompany Kelley's majestic voice that slips over every lyric in warm, breathy tones. "I will take myself more seriously this time," she declares, as we all should. I see Kelley as the female lead, who's relentless struggle to succeed through adversity and resolve the bonds of a lost love has still not dampened the bright-eyed, glorious optimism that lies beneath the stormy head, and comes out in the immense walls of sound that her players (yes, it's her orchestra as denoted in the liner) weave along her world-weary yet passionate words. When Paula sings the chorus to "I'll Fall In Love With Anyone" and the band pauses for a series of drawn out staccato notes, the heart just breaks right in half from how gorgeous it sounds. The tune pushes the emotion to its climax and delves deep inside for a personally affecting performance. "How Many Times" takes the big band aspect to the background letting Paula showcase her own abilities. This is the true spotlight song, as the house lights can almost be seen dimming as the pit fades to black and the singer becomes ringed by the bright, white bulb. Her raw vocal capabilities are wonderful on their own, and coupled with an impeccable knack for phrasing and really casting feeling and power into those words, she has the potential to be amazingly uplifting or evocatively devastating. She sounds like a modern Dusty Springfield on the end of "The Rest of You," modulating those notes with remarkable song craft. It's a blend of original talent and musical appreciation. Of all the tracks, "My Finest Hour" appears as the most straightforward rock song, though it is still supported by dueling trumpets and choral background vocals that give tremendous weight to the speed and impact of the song. Enough cannot be said of how well this album achieves its goals, with every piece of this large undertaking finding their roles and relishing in them. The Trouble With Success is an absolutely stunning display of musicianship and ambitious concept done right, reaching as high as can be reached and pushing it even higher. Paula Kelley's the star of this show, and I'm starting to think that underneath that hand, she's hiding a little smile. - Michael Patrick Brady
samples:
DAVID BYRNE, "LEAD US NOT INTO TEMPTATION"
Thrill Jockey


There's a certain art in scoring an effective soundtrack; enhancing the visual drama by heightening tension and emotions to set the overall tone of a scene. At best, it's either a standout composition or else it's blending so effectively with the visual that you wouldn't recall the music specifically. You just knew it was there. Unfortunately, as with most original score soundtracks, you tend to hear more on the disc than you would in the film. For Scottish director David MacKenzie's upcoming film, Young Adam, David Byrne has composed fourteen semi-brief pieces of cinematic based music to complement the visual. For Lead Us Not Into Temptation, Byrne kept with the film's background by recording the soundtrack in Scotland using members of Belle and Sebastian, Mogwai and Appendix Out to help convey a Glaswegian vibe. In hearing the music prior to seeing the film, track titles such as "Body in a River," "Seaside Smokes," and "Warm Sheets" automatically conjure up their appropriate scenes, played by nicely arranged strings, plucked upright bass and wispy drums. The eerie piece "Mnemonic Discordance" is based around treated guitar sweeps which feature the clang of tuned metals and sampled screeches of the New York City L-train's brakes. The classically-influenced "Inexorable" moves along to rhythmic intervals, weaving piano and swooping, melancholic strings which dramatically build in intensity. Going in a totally different direction that the rest of the disc, the Hung Drawn Quartet of saxophones are recruited to bop and swing through Charles Mingus' punchy "Haitian Fight Song." The musicianship is great, although I'd have to see the film to truly appreciate the piece's context. For the longer pieces "Speechless" and "The Great Western Road" Byrne adds his distinct voice to the mix of laid back grooves, distant strings and keyboards to wind down the disc. Although very effective in conveying emotions, Lead Us Not Into Temptation tends to focus a fair bit on the use of strings, which nowadays tends to unfairly and automatically be associated with being cinematic. However, for Byrne's compositions and their context, anything else wouldn't do them justice. - Gord Fynes
samples:
Consonant, "Love and Affliction"
Fenway


In the Pantheon of independent music, few individuals carry the kind of mythic cachet that Clint Conley does. As a member of the jarringly fierce Mission of Burma in the early 1980s, Conley established himself as a thoughtful, powerful songwriter, crafting some of the most enduring and seminal pieces of independent rock. The reach of Conley's compositions like "Academy Fight Song" and "That's When I Reach For My Revolver" can be seen as direct inspirations to a number of musicians all over the spectrum, from Sonic Youth's Thurston Moore to pop-techno purveyor Moby. After Burma split in 1983, Conley took an extended absence (nineteen years!) from music and in this time started a family and a new career as a producer for Boston's local WCVB-TV program 'Chronicle.' It wasn't until two years ago that this epic writer's block lifted and Conley again felt the desire to step onto the stage. From these seeds of desire grew Consonant. Consonant is by no means the Clint Conley show, however. Much like in Burma, Conley is surrounded by several accomplished musicians in their own right: guitarist Chris Brokaw formerly of Come and Codeine, Matt Kadane formerly of Bedhead (and Brokaw band mate in The New Year), and Winston Braman formerly of Fuzzy. Also on board is poet Holly Anderson, who along with Conley writes the bulk of the lyrics for their second album, "Love and Affliction." Each of these members brings their own contributions to the sound, and upon listening it becomes apparent that Consonant is an extremely apt name. The different influences and additions all come together marvelously; never is a song lopsided or unbalanced. The album's opener, "Little Murders" kicks in with a riff that is at once imposing and yet delicately melodic. It is a deep sounding riff that seems to fall over itself, perfectly contrasting the clear, reedy vocals. It is a remarkably full song, crashing down with a wave of sound that rushes through the speakers. Throughout the album, the lyrics touch on relationships in impressionistic language, never through narrative but rather in brief imagery that affects sensually with talk of shooting stars and "heat lightning fingers" like the track 'Lost Together.' 'Night For Love,' a country-like homage, finds the subjects locked in an embrace, giving us glimpses of the passion in such a scene, where the moon and sky are spectators to "love and affection," opposing the album's title. The band gets more literal on 'Mysteries of the Holiday Camp,' a speedy track that captures the essence of traveling on a tour, especially as it is experienced through the eyes of someone who's been off the road for quite some time. 'She's Driving Fast' eschews the deep sound of the other tracks for a sparse, lilting melody that mostly sits on its own, save the vocals. It nicely captures the sentimental air of the track, the feeling of early morning evoked by the thinness and pitch of the music. From there, Consonant delves into the intense 'Cauldron,' with a surging chug of chords and squalling guitar lines that are somewhat reminiscent of Burma at their fiery peak. A climax of cymbals ends the song's quick consumption. "Love and Affliction" is the sound of a collection of seasoned professionals who are capable of creating passionate, artistic rock music that can shake you into an enthusiastic pogo and still find its way to touching the hearts and minds of the listeners, taking them along to show them the forms rendered by the words and music. The band's repitoire is stunningly versatile, cathartic and thoughtful. Intensity, poignancy; these are the elements of Consonant, and the synthesis of these things is a beautiful expression that befits their name. - Michael Patrick Brady
samples:
THE RIP OFF ARTIST, "PET SOUNDS"
Vertical Form


Matt Haines AKA The Rip Off Artist shows incredible nerve by naming his new outing Pet Sounds. The Beach Boys album of the same name probably enjoys the best reputation of any single record in all pop music history. This should come as no surprise, as previous ROA releases have similarly aped classic rock album titles such as The Kids are Alright, Pump and Brain Salad Surgery. The Who, Aerosmith and ELP are miles away from the pure pop mastery of Brian Wilson's opus, however. Pet Sounds just isn't an appropriate title for an album unless the artist can either back it up with incredible musical content or, alternately, produce some kind post-ironic funny satire in keeping with such an absurdly grandiose moniker. Matt Haines does neither. ROA's Pet Sounds is such an aggressively average, militantly unfunny album, it just pisses me off that he has saddled it with such an incredibly ballsy title. These 15 tracks of boring, overprocessed electro-funk should have been named after Pretzel Logic or Rumours, or some other shitty, overrated 70's-era blockbuster album. ROA's musical technique is boring and overused. He begins with excruciatingly ubiquitous house and funk rhythms, and using the standard Powerbook software, edits and processes them into IDM oblivion. The end product is something in the neighborhood of the cut-up funk-house of The Soft Pink Truth, without any of the wit, intelligence or groove. Tracks such as "Meat Shall We Eat" and "Bear Down" are generic, soulless cut n' splice house tracks that somehow end up seeming overlong even though they rarely exceed the four-minute mark. Vocals appear on some tracks, and do nothing to warm up the hackneyed mess. This sort of faceless streamlining of soul and funk influenced house music has already been done long ago and better on Thomas Brinkmann's Soul Center albums. This will definitely appeal to all of the IDM fanboys who never seem to get enough of this kind of trite, unexceptional laptop annoyance. Matt Haines has invented an absurd biography for himself, and named this dreary album Pet Sounds in a bid to garner attention to what would otherwise be seen as another boring entrée into an overpopulated genre. Don't fall for this cynical ruse. - Jonathan Dean
samples:
Maus, "Musick"
Smekkleysa


Put simply, this is a confusing mix of popular rock radio in the US and 80's pop music that somehow proves mostly irresistible. The first few songs have an undeniable rock feel to them that just seem a bit flat. When I first heard it I couldn't help but compare it to some US radio staples but there is something extra that makes such a comparison just a little unfair: the song-writing is very strong and doesn't become old after just a few listens plus careful attention has been given to atmospherics and particulars. The smallest sounds make all the difference as they are given the chance to rise above the anthem-like choruses and drilling guitars. After the first two tracks and swam by, "How Far Is Too Far?" sweeps and dives into the air by way of chugging bass playing and symphonic string arrangements. It's a catchy and addictive tune and I'd be cheating it out if I didn't mention how pretty it is. Maus are very good at marrying the catchy with the substantial and for the most part, they strike a good balance between the two on each track. The lyrics are a nice cross between the dramatic, the romantic, and the inquistive: though many of the words seem to revolve around a significant other, emotional revolt, or personal identity, there's a nice smattering of the surreal and strange here and there. Though I can't listen to the album multiple times in a row without getting a little bored, there are times when the melodies, rhythms, and lyrics are all stuck in my head and simply won't leave until I listen to the music. And so I must obey and jam out to Musick until it becomes just a little too sweet for me. I find that listening to the first half of the album and coming back to the second half later is helpful. This music isn't what I typically listen to but I can't deny that small doses of it here and there are a lot of fun. - Lucas Schleicher
samples:
Sophie Rimheden, "Hi-Fi"
Mitek


It's a good thing that Sophie Rimheden is involved in several other projects at the moment because this unlistenable solo album is even more disposable than the pop music it pretends to be. The opening minute of the first song honestly sounds like the effort of a teenager in 1990 trying to recreate Depeche Mode with a casio keyboard and a drum loop on cassette. It doesn't get much better from there, as the second track is a faux-mash up (are we already to that?!) of "Cruel Summer" and the worst elements of 80's electro pop. The fact that the track derails and skips with the glitch aesthetic of an obvious 2003 production is no salvation for the utterly redundant music being fucked with. Rimheden's vocal style borders on a passable — if uninspiring — Samantha Fox impression, but even that is marred with effects that don't know when to quit and the worst misuse of a vocoder since Cher. I would guess that this album falls squarely into the realm of electro-clash/80's retro-cool, and it should be the number one example looked to when people want to know what's wrong with this forced genre. Every note of this album seems completely plastic, regrettably recalling a decade of music that was made with much more heart and integrity than this. While there is more noise and production trickery here than your typical 80's electro-diva suite, even the experimental aspects of the recording are not unique, novel, or even interesting in juxtaposition with the tired beats and Casiotone synths. Everything sounds thin and forgettable, and there's not a track on this record that I didn't skip through while trying to listen a second time. If Rimheden is trying to make 'happy music,' she's not hit on it here. V/VM bends and warps this kind of stuff into a scathing commentary on pop culture, and some of the electroclash scensters can at least turn a decent tune and recall the excess and vapid fashion of 1983 with some charm, but Hi-Fi is presented as an object of pop culture itself, with nothing to say and no where to go. It's an impressively complete failure.- Matthew Jeanes
samples:
DANIEL MENCHE, "INVOKER"
Antifrost


The continuing spiritual decline of the Western World and the Kharmic Repercussions of Tory B. Liar and his deathsucking corporate lap-poodle trips into repressive homogeneity spell one thing for the un-United Kingdom. DOOM. However, two hundred years ago many would have called the fact that a shining disc with the power to summon demons had flown all the way from Deutschland to help me out MAGIC. Daniel Menche is obviously on a path far out from the vapid mediocrity of the pathetic drivel that passes for much of Western Culture. He styles himself as an Eastern Warrior living in the West. I will now style him the Ultimate Grand Master of Noise. This one disc is worth a million Merboxes. The purpose of Invoker is to summon demons and it works. Beware that this is a dangerous trip and unless you can call on powerful spirits to guide you, you might unleash horrific consequences for your soul. Luckily I had the help and guidance of the Eternal Spirit of William S. Burroughs to show me how to fold the demons into a New Reality. You might not be so fortunate and this is no path for the weak willed or trendy dabbler in noise. It makes Coil's Themes for Hellraiser sound like the bleedin' Theme for the Magic Roundabout in comparison and that's not a put down delivered lightly. Do not even think about listening to this unless you are able to direct Total Nightmare Encounters and use them to your advantage, and the greater advantage of the struggle to stop the farcical tragedy that the megalomaniac fools who think they can crush and control the human will are intent on provoking. All hell is breaking loose. - Graeme Rowland
samples:
"SONIC MOOK 3: HOT SHIT"
Mute


I leant an ear to the previous Sonic Mook compilation mostly because Colin Newman plugged it on a radio show for Resonance FM during his fascination with the 'return to rock' which he felt was happening. Rock never really went away though. There were a few good tracks amongst the inevitable mediocrity and Liars turned out to be a great live band. This third Sonic Mook compilation is mostly so dire it's tragic. Most of these bands seem to be making utterly botched attempts to filter punk rock, disco, glam and electro pop through inept lo-fi lobe strainers. The gist seems to be that even if you have little talent, even so little as to be comedic, but have plenty of attitude then you should feel free to waste everyone's time with your puerile mash up antics. Unfortunately for some of these clowns, some of us have an incling of just how fast time is running out. Each of the twenty-four bands has been saddled with a patronising little self-belief soubriquet, as if their rehashed audio-stew isn't enough in itself to justify their existance. The turgid Big Two Hundred have the memo 'Persistance and determination alone are ominipotent.' Not if this is the best they could do - watch them disappear. The funniest band might be Bane Overlord, whose singer has stolen his entire shtick from Liars but lost the essential fraction (weird lyrics, a small dose of originality and experimentation), and their drummer makes a go of wooden funk. At least they're so bad they're funny, unlike the fey synthpopper Ed Laliq who redefines boundaries of dated tedium. !!! suck due to a crap annoying singer and get my vote as the most over-rated band with a Brainwashed website [Owch! —Ed.]. Radio 4 want to be Gang of 4 so much they couldn't even change the number even though there are more than four of them, and at least they can play even if they are a bit dull and worthy. Valerie can probably hardly play and couldn't be called dull live, but "Popstar" shows a brash lack of ambition with a song about getting a review in the eNMEy. They are being ironic and are a spit in the face of every serious muso wannabe band. I'd like to think irony is at the wooden heart of the painfully awful Pink Grease, a comedy glam racket who aren't even funny. Chrome Hoof at least don't bother with annoying vocals and are content to try out being a third rate Add N to (X) rip off. Kings Have Long Arms are Donna Summer reimagined by a Sheffield beer belly, but much less interesting than that might seem. The incredibly over-rated Erase Errata, who are like a less spiky Dogfaced Hermans, contribute a listenable yet forgettable track. This is infinitely preferable to the weak and putrid Lamaque-yoof fodder spewed up by the new wave of new wave of new wave of new wave of diminishing reruns heralded by the soulless mundanity of Klang and Mommy and Daddy. A few bands transcend the line of mediocrity below which the tepid diahorrea stirs. The Yeah Yeahs Yeahs "Machine" is an old song you probably already heard, and it kicks a small bit of wild west ass; Ex Models might be OK if this tight wound strut is one of their weaker tracks, and like The Martini Henry Rifles at least summon some energy; and Part Chimp seem out of place by being a band who actually rock hard, but their guitarist Tim Cedar's been kicking out the jams for ages now in bands such as Loveblobs, Ligament and Penthouse, so that's no big surprise. If you find this in the bargain bin for a dollar or two like I did, then this is worth getting for the Part Chimp track, but you might as well just buy their album instead and cut out all the dated jokes without punchlines.- Graeme Rowland
samples:
"OR MD COMP."
OR


Go download audiomulch from www.audiomulch.com. Fuck about with it for half an hour or so and you could almost certainly come up with something more interesting than all but two of the tracks on this mediocre compilation. When Merbox II has taken total noise to the top of the hip hops courtesy of the Gay Area of EMI, then there is only one place to hide for the diminishing returns of the audio sadist. That place is sheer monotony. Mr Bow (don't call him Merz he hasn't the bass to deserve it since he started conveniance laptopping) drizzles guzzly over the eager upturned noise gob of Mr Karkowski until Mr Karkowski walks out with his dustbin lid in eternal boredom at a completely un-shocking display of mouldy old dough. That's nothing compared to the study in repeat loop tedium provided by Francisco Lopez. There is help at hand in the form of Gescom who are out of place by actually seeming to give a fuck. How their fellow mentalist experimenters in noise and repetition must have laughed when they played their electroacoustic homage that actually had some shape and form and did more than merely exist! A whole album of such nice whooshing would be welcome, even if they pale next to the best composers on the Empreintes Digitales label, who I will be writing about very soon. Hecker recorded some austere almost annoying tones in a few seconds, like crap watch alarms, but do you really want to hear them more than once? If so you are probably the kind who'll lap up the boring high pitched drivel of Shirt Trax. Incapacitants hold a routine full on screaming grinding onslaught for tough loving pigs everywhere. This seems to be a compilation of the most throw away tracks almost all of the contributing artists have ever recorded. Originally it was going to be released on mini-disc, presumably because most of the tracks seem like mere building blocks. Farmersmanual pull some context from the mess, on two counts. First their opening track is a minor beauty. Later they play some fairly bland laptop improvisation that I suspect they'd probably like to think is more abstract than it is, whilst some ravers fail to get angry and just request nicely that they drop a bass line so they can dance their tits off. Farmersmanual don't oblige and just keep chunkling in Sheffield. It seems the days when noise could incite riots are gone, or at least lost in the summer lovin' ecstacy of the mundane offcut freakshow that OR, the Damien Hirst of record labels, has compiled here. Even Russell Haswell's mum loves a bit of OR very now and again. "Lovely, lovely dear, sounds just like me fridge!" - Graeme Rowland
samples:
SILKWORM "YOU ARE DIGNIFIED"
12XU (UK) / Touch & Go (US)


Silkworm are one of those bands who have never really clicked for me, even though lots of cool people including Chris Brokaw and Steve Albini seem to like them. Shellac are a band whose kick ass originality and humourous spiky guitar antics have me rushing out to the record shop to buy each new record on the week of release. A cover of Shellac song is a rare thing. So when Silkworm pay homage with the most obviously coverable Shellac song, "Prayer to God," based as it seems to be on the Kettle Well murder ballad that Steve Albini and Zeni Geva had previously thrashed out, it might just be a way into their world. "Prayer to God" (otherwise known as The-Fucking-Kill-Him-Song) opens Shellac's most recent album 1000 Hurts and always seemed to me to be ripe for a reinterpretation by that blackly flapping murder balladeer Nick Cave. I guess Silkworm will do, even if the royalty payments to the Electrical Audio Recordists and the thin hair care products warehouse manager who drums on his days off won't buy them quite as much record shampoo. Well of course it doesn't come close to the original and since there's no way to out-rock Shellac, especially with no drums, Silkworm take the only sensible route and quieten it all down with loose acoustic hillbilly threats. The big rock explosion of the original when Steve screams, "Him just fuckin' kill him," is taken down to an ominous whisper. The way they sing the final amen is almost as if they don't actually care about all this revenge murder so much. Then they toss off a fairly uneventful campfire mandolin strum at a Pavement B-side that was originally mooted as an aborted A-side, and completely ruin a great atmospheric Bedhead song. There's something about the vocal limitations of the theree Silkworm singers that loses all the warm vulnerability of the Kadane brothers. The best track here is their cover of Robbie Fulks' "Lets Kill Saturday Night," on which they nail the world weary smalltown escapism of people who don't set themselves on fire with kerosene, but probably talk about it from time to time. One of them does this really neat high pitched hoedown backing vocal on the chorus that makes the whole damn EP. Appropriately the last song asks "Is That All There Is" and shows what a desolated inspiration Nina Nastasia has been to their lost dreams. - Graeme Rowland
samples:
hirsche nicht aufs sofa (reissues part one)
Dom Elchklang
Something happened first when in Aachen, Germany, in the year 1886, in the shadow of Aachen Cathedral (aka the Dom!), one of the most legendary Gothic pilgrimage churches, Mies van der Rohe, modern architecture's wunderkind, was born. Almost a century later, the next generation of Aachen art royalty was birthed through the collaboration of Christoph Heemann and Achim P. Li Khan. In the shadows itself, of the Dom's pointed arches and Miesian glass-box skyscrapers, Heeman and Khan's Hirsche Nicht Aufs Sofa was a group on the cusp of contemporary experimentation and one possessing, in equal bounty, an almost Gothic, grotesque quality. This rare hybrid, present also in the likes of Nurse With Wound (to which H.N.A.S. is often compared), produced music that effortlessly resists sounding "dated," and is in many cases some of the best likely to be heard. The Dom Elchklang and G. Gonge labels are set to reissue a brand new batch of H.N.A.S. (and related) recordings. These first five, however, are considered by many to be the group's "classic" albums.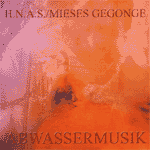 Abwassermusik of 1985 was the first H.N.A.S. LP and was culled from the duo's earlier cassette works. Credited to H.N.A.S. and Mieses Gegonge, the record is the most raw of these first five, relying heavily on the manipulated loops and cut-ups that ground the H.N.A.S. sound, and less on the unique instrumentation that dominates the next three records. A rudimentary industrial sound carries over most tracks, but here elements of kraut-rock and tinges of surrealism do emerge. The album's long centerpiece recalls Throbbing Gristle at first, though evolves into a chorus of tribal drums, chirps, and theremin flourishes. As on most all of these Dom reissues, an album's length of bonus tracks has been added here, most very early, very sparse tape works. Exceptions and highlights include a pummeling live track from Mieses Gegonge, sounding something like 50 drug-addled Faust-ians grooving in the bottom of a lake, and the first H.N.A.S. vinyl release, an early showcase for Heemann's elegant drones.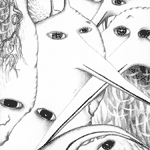 Melchior, released by United Dairies and featuring Steven Stapleton and wife Diana Rogerson, is the first in the great trilogy of early H.N.A.S. albums. The increased influence of surrealism is notable from the start in a brilliant faux-lounge number complete with Rogerson's twisted croon. The record is indulgently theatrical in many places; humorous shouting bits and guitar flourishes fill the gaps between more overt kraut-rock borrowing (surprisingly Achim has said at the time the band "knew nothing about Faust, Neu! and all the OHR/Kraut bands...") and handclap-ful post punk jogs. The whole mess is beautifully paced with soothing guitar lines and Heemann's incomparable drones rescuing each moment of acid-headed confusion. Bonus tracks are mainly '85/'86 era H.N.A.S. tunes, including one of the first (and best) songs recorded by the Melchior line-up, a gnarled landscape of trumpet squeal and organ pulse with the spoken refrain, "Listen to the sun rise, hear the birds scream." Experimentation with a variety of unlikely instruments is at a high among these tracks, creating an atmosphere so difficult to place that it belongs solely to the ageless obscurity of the Dadaists.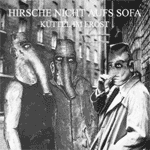 Recorded around the same time as Melchior, Küttel Im Frost is often described as the most pop of H.N.A.S. records. According to Achim, its primary influence was early Chrome, but where it is at all similar, Küttel towers above its peers. Rogerson's vocals return, but they've gone from surreal chanteuse to psych screamer. The astounding title track marks a peak in kraut-rock similarity without giving an inch; it's quickly and artfully unclear how much of a mockery Küttel's mish-mash of raucous pop and noise-burst is supposed to be. Bonus tracks all come from H.N.A.S.' first of only two live appearances. The concert is an excellent addition to this disc as much of the performance comes from the Küttel album.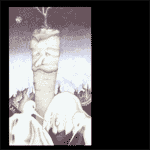 Im Schatten Der Möhre, the third of the truly amazing early H.N.A.S. works and the only one Heemann has felt necessary to reissue on his Streamline label, combines the tenuous, staged beauty of Melchior and the twisted jubilation of Küttel to glorious effect. More dense and cohesive than its predecessors, Im Schatten is also less humorous and more demanding. As such, the album could be the group's most substantial. Bonus tracks here continue on Im Schatten's more abstract bent, fore-grounding Heemann's future work in Mimir and Mirror. Most are compilation tracks or studio outtakes from the '89-'91 period, samples, tape loops, and guitar licks (courtesy of Heeman and brother Andreas Martin) have never been harder to peel apart or label.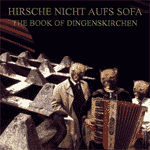 The release that should be the least substantial, 1988's The Book of Deingenskirchen, comprised of the group's unaltered '86 - '88 studio leftovers, is oddly one of the most entertaining. Understandably more choppy and raw than Aberwassermusik, Book features a bare-bones industrial sound with elegant, even playful interludes and spoken female vocals throughout. Despite its being essentially a trash heap, Book is the most soothing of all early H.N.A.S.; comparable to falling in and out of sleep during an old German art film. The bonus material here is by far the most various, collecting obscure compilation tracks from '85 to '92. Bizarre Melchior-ian swing tunes line up next to driving kraut grooves, pseudo-surf tracks, alien drones and absurd found sounds, all effortlessly pieced together in the way only H.N.A.S. can, or would. - Andrew Culler
samples:
We know that our music picks may be somewhat challenging to find, which is why we have a community section which can be used to obtain nearly everything available on this site.