G. GONGE RE-ISSUES
G. Gonge
The recordings made by Christoph Heeman and Achim Flaam as Hirsche Nichts Auf Sofa has an appealingly built-in obsolescence. The bulk of the original catalog was released in small cassette and vinyl editions on Germany's DOM records, and with the exception of the five LPs recently re-released in deluxe CD editions, most of the music remains extremely scarce, making it great fodder for obsessive collectors. Unfortunately, many HNAS-related satellite projects such as Mieses Gegonge, Duka Bass Band and Speck Nusseck have remained unreleased and largely ignored. Recently G. Gonge Produktionen released this series of CD-Rs, issuing six of the rarest DOM cassettes. Be warned: these discs are unofficial bootlegs, the original recordings have not been digitally remastered, there are no bonus tracks and the packaging consists of xeroxes of the original tape sleeves. Despite these limitations, it's great to be able to hear the music again for the first time. Listening to these recordings 20 years after makes me nostalgic for a lost age when esoteric and experimental underground DIY cassette labels flourished, not yet having been rendered obsolete by the digital revolution. Creeping into this world of throwaway musique concrete, off-kilter improvisation and drug-addled musical in-jokes is like rummaging through the dusty attic of a 90-year-old schizophrenic who obsessively saves everything; it's a series of clues with no solution, flashes of momentary inspiration and frustratingly stillborn ideas. In short, the stuff of life. - Jonathan Dean
MIESES GEGONGE, "LIVE"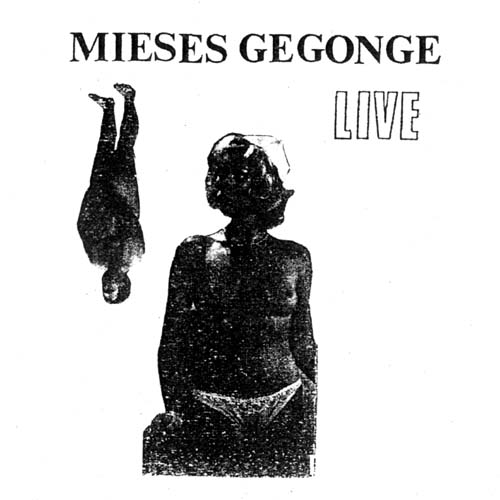 Mieses Gegonge are something of a mystery, but they appear to be a sister group to HNAS, having shared the credit for the first HNAS album Abwassermusik. The material on this CD is culled from two live performances in 1985. The sound is very strange indeed: a twisted combination of arrhythmic percussion together with horribly phased and distorted vocals. The treated voices and drums are immediately reminiscent of the "psych-out" sections of classic Can constructions like "Halleluwah" and "Aumgn." However, Mieses Gegonge is all psych-out with no breaks for coherence. Bizarre chants and ululations quaver and ripple across layers of randomly beaten skins and gongs, reverbed and warped into oblivion. If anyone attending these performances wasn't on at least three hits of fine Dusseldorf acid, I feel sorry for them. The recording is shitty and wracked with distortion, which adds interesting bursts of high-frequency noise that contribute to the lunacy. Imagine a post-lobotomy 23 Skidoo trying to cover The Master Musicians of Jajouka with nothing but a saw and a zither and William Bennett playing one room over, and you might begin to approximate the experience of Live. It's a uniquely fucked sound that will appeal to jaded listeners looking for a surreal thrill.
samples:
DUKA BASS BAND, "FRAULEIN CASANOVA"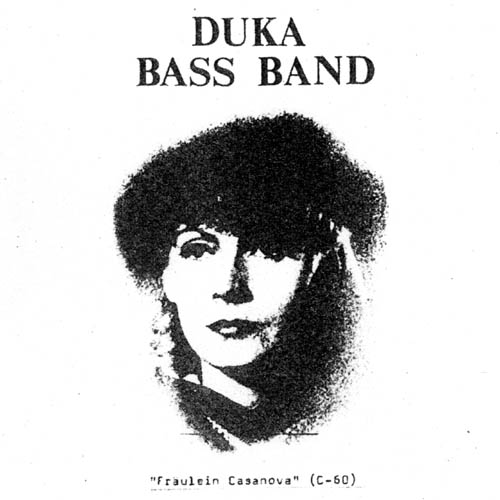 Duka Bass Band appears to be a trio consisting of Lasse Laudrup, Martin B. Klaeren and Sven Nykvist. On Fraulein Casanova, they are joined on a few tracks by Christoph Heeman and Achim P. Li Khan of HNAS, and Heeman also produced the album. The Duka Bass Band's sound is a fuzzy, primitive clamor of clueless post-jazz improvisations that meander aimlessly and appear to fly in several different directions at once. It has a certain amateurish quality and a creepy subterranean feel that appeals to me, although I couldn't say exactly why. In the exclusively German liner notes, Heeman muses "Fraulein Casanova is for me a jerking step forward into the natural alreadyness of music." Perhaps this dodgy AltaVista translation should not be trusted, but it's as good an explanation as any for the oddly surreal free playing on display here. The opening track is the seven-minute "Zauberformeln," which means 'magical formulas.' It's an apt description for the mysterious forces that transform the sound of deficiently played clarinet, organs and drums into a strange alchemical gold that is more than the sum of its components. There are moments throughout Fraulein Casanova that touch on elements of fire music improvs, belabored Shaggs-style guitar, and in the case of the last track (whose title loosely translates to "For God, 1000 Years Is Like a Day"), a ramshackle psych-folk jam not dissimilar from the recent work of Sunburned Hand of the Man. This is my personal favorite of the six bootlegs, and I look forward to further recordings by this mysterious post-industrial jazz trio materializing at some future point.
samples:
SPECK NUSSECK & DIE LEGENDAREN FETTBOYS, "DANCEMUSIC FUR DICKE BACKER"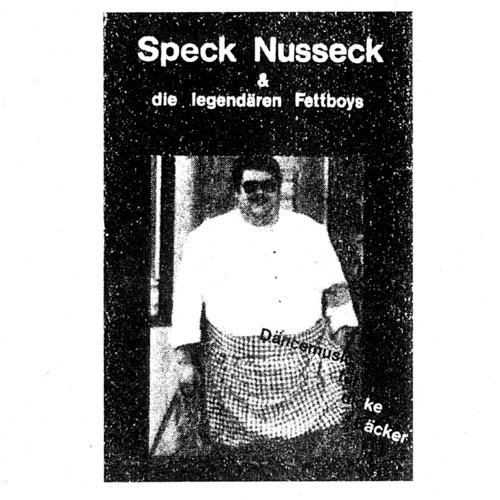 It's anyone's guess who the hell Speck Nusseck or The Legendary Fat Boys are, or where they come from, or what masochistic weirdo encouraged them to record Dancemusic Fur Dicke Backer. The answers to these questions are not readily apparent, and they may never become clear. The only thing we have to go on are the seven songs comprising Dancemusic, for which the word "annoying" seems woefully inadequate. Plodding drum machine rhythms and randomly plucked bass compete with vocals shouted into a megaphone backed by lame keyboard effects which underscore the mess. I'm tempted to call this outsider music, but that would suggest that it is charmingly sincere and/or amateurish music that has worthwhile elements. Unfortunately, Speck Nusseck are neither charming nor sincere, and they are not worth anyone's time. They appear to be influenced by the edgy post-punk of Section 25, the noisy effrontery of Throbbing Gristle and even the motorik beats of Neu!, but they are terribly unequal to the job of paying homage to their heroes. The best thing that can be said about this album is that it is mercifully short, and would likely make an excellent way to get rid of the last few people still hanging out in your living room after the party is over.
samples:
HNAS, "ICH KANNTE EINEN GUMMIBAUM"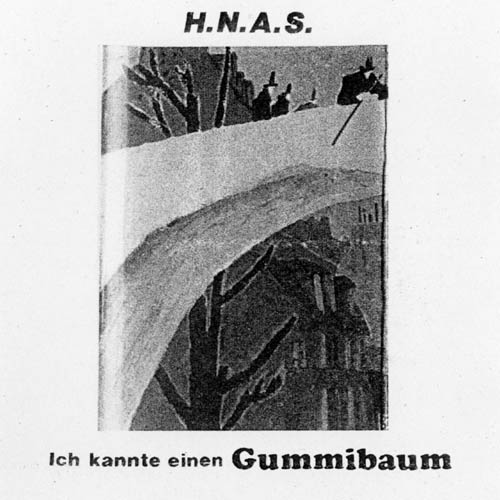 HNAS are invariably compared to Nurse With Wound, and more often than not to the detriment of Heeman and company. It seems that they are forever doomed, relegated to an obscure footnote in the NWW story by writers and critics, who seem unable to realize that HNAS use their own unique strategies to portray their particular brand of audio surrealism. HNAS does not revel in the exaggerated psychedelic grotesqueries of Steven Stapleton's work — their tactics are sloppier, less calculated, and in many cases even stranger. The seminal krautrock band Faust is a much more analogous comparison. Heeman and Khan's path was paved by Faust's willfully messy LPs that cycled through disparate half-formed musical ideas and random piss-takes. Ich Kannte Einen Gummibaum is a good demonstration of their distinct sound. The first track creates a creeping quasi-rhythmic industrial atmosphere, recalling the early work of Laibach, but Heeman's deliberately muddy production and muffled sounds of voices, distant guitar solos and graveyard organs add a nebulous mystery belonging to HNAS alone. The second track, "Kill Den Achim" is culled from a live performance, and finds the band in a gloriously anarchic phase. A woman screams violent provocations backed by oblivious, repetitive electric guitar licks and sheets of live noise and distortion. On "Ich bin ja besser," a disco record is obscured by layers of cacophonous whalesong. Track five loosely translates to "A Winter Without Skin Problems," in which a disintegrating chamber orchestra fights against encroaching electronic squalls. The last track is an extended 25-minute construction combining silly-cum-sinister vocal mutations alongside nonsense percussion. The lunacy segues into a lengthy section of concrete tape edits, combining impressionistic piano pieces with field recordings and samples drawn from German television and radio.
samples:
HNAS, "THE UNCOLLECTED ULTRA RARE & UNRELEASED"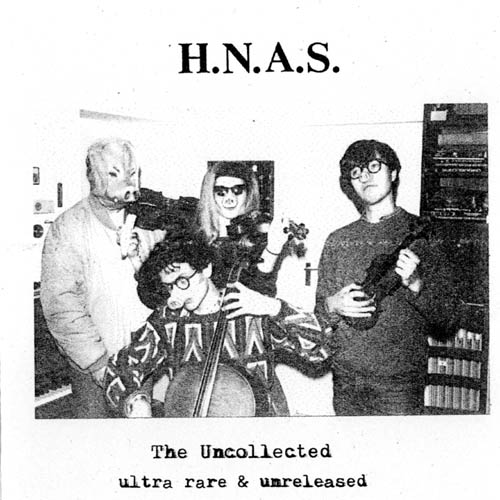 Another in a trilogy of rare HNAS cassette titles issued by G. Gonge, The Uncollected is an odds-and-sods anthology, collecting tracks from out-of-print compilations and rare cassettes, as well as some previously unreleased material. As such it is an uneven and incoherent listen, but with a band as unorthodox as HNAS, that's hardly a problem. Most of the tracks are in the jagged cut-and-splice style recognizable from mid-80's HNAS albums. It feels a bit like an audio version of the absurdist photo and text collages found in early punk zines. More than once these pieces digress into the stoned chatter and laughter of a group of young Germans, who I can only assume to be Christoph, Achim, and friends. Recording and including this unseemly screwing-about on their albums takes the music out of the realm of the dryly conceptual or avant-garde, and into the "anything goes" realm of DIY home experimentalism. That said, there is also much that is musically impressive among these songs, as in the noir queasiness of "Dem Petermann zu Ehren," a dark piano dirge. "Was wir von Cassetten halten 4" is a phased electronic piece with looped sing-song vocals recalls early Current 93. "Wie ein Bock am Michekstag" is similar to the work People Like Us, juxtaposing dialogue samples from a "Learn to Speak Swedish" tape with a kitschy exotica loop. The final song is a rare and lovely track by Duka Bass Band: more demented post-jazz with sinister undertones.
samples:
HNAS, "DIE DREHORGEL ALS FEUERSPRITZE"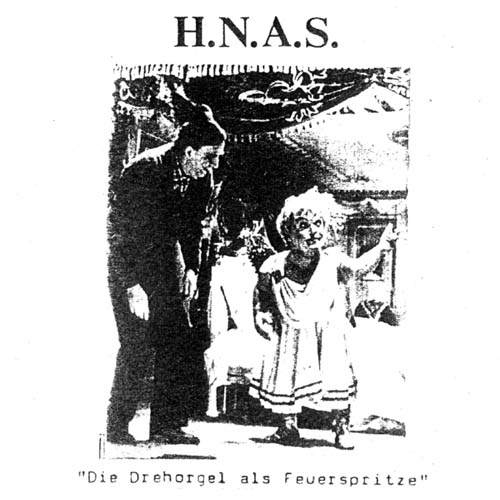 The first track of Die Drehorgel Als Feuerspritze was recorded live in 1984, the title roughly translating to "The Paradoxes and Secret Sciences of the World." It's one of the best pieces I've heard HNAS' prolific oevre, a murky sound sculpture comprising long-form synth drones and gothic organ swells. The sticky, shapeless drones and burbling moogs converge into caverns filled with floating stone obelisks that chisel strange patterns into the listener's consciousness. The piece develops using an interior logic, a dreamlike coherence that slowly asserts itself over the course of half an hour. "Barenklammer" was recorded for an as-yet-unreleased HNAS video, and contains some of the same source material as the first track, quite reminiscent of the synthesizer arpeggiations and avant-rock noise that characterized Tangerine Dream's Electronic Meditation album. The third track pushes my PANIC buttons: a manipulative noise piece that plays like Bernard Herrmann's string tribute to Whitehouse. The layered voices and random bass slaps of the last track evokes Crass covering a Hildegaard von Bingen chant while tripping on mushrooms. This is a concentrated effort by HNAS, and its single-minded absurdity makes it the most consistent of the three HNAS CD-Rs reissued by G. Gonge. As more of these rare recordings come to light, perhaps HNAS can finally crawl out of the long shadow cast by Nurse With Wound and reveal themselves to be every bit as unique, talented and vital.
samples:
Animal Collective, "Spirit They've Gone, Spirit They've Vanished/Danse Manatee"
Fat Cat


Fat Cat's reissue of the first two Animal Collective releases on one double-disc should not only come as a pleasant surprise to those who discovered the group with this year's excellent Here Comes The Indian, but should also raise the question why it took almost 4 years for the Brooklyn-based project to be courted by a large label. Created by and originally credited to only two Animal Collective members, Spirit They've Gone, Spirit They've Vanished was self-released on Animal Records in 2000. The record stands as an entirely cohesive and mature statement from an act with a truly unique sensibility. Avey Tare and Panda Bear, as the duo calls themselves, concoct a potent blend of yesterday-and-today pop, primitive avant-garde-isms and accomplished electronic trickery, with a range of influences almost as surprising as the fact that it all works. The disc begins with "Spirit They've Vanished," an early taste of the extremes to which the Collective travels. The track is organized around a loop of electronic squeal, glitch-laden and slowly modulated as the song progresses. Avey Tare's high, quasi-theatrical singing carves its way through the irregular backing, resulting in something like Bowie singing over a Fennesz track. The second song, "April and the Phantom," introduces the sound that will dominate the majority of Spirit in which the vocals' deceptively simple pop hooks (still sounding Bowie or Barrett) are augmented by viciously strummed acoustic lines, psychedelic synth bits, and tight, sometimes tribal snaring. The song also foregrounds a degree of unpredictability that will continue throughout the disc. Noise bursts frequently interrupt the melody and the seductive vocals often turn to piercing screams; the song's structure is also deceptive with established hooks or rhythms mutating swiftly into rich new song-forms without warning. While listening, I was often pleasantly surprised to find that the same six-minute song was still playing when I was sure two more had already passed. A thoroughly psychedelic atmosphere exists throughout all Animal Collective music, however bound by a pop sensibility and the healthy abandon of noise-rock's influence. Comparisons could be made to the pastoral skronk of friends Black Dice, though the Collective's palpable pop conviction sets them apart. Spirit's closer, the epic "Alvin Row," provides ample evidence, as all screaming and noisy electronic tweaking is kept to drastic low, leaving gorgeous organ and piano lines to fill the spaces between Tare's vocals, at their best here. Still somewhat in the Bowie/Barrett vein, the singing begins to carve its own niche in these final seven minutes, to assert itself as a voice that is uniquely frightening, endearing, and melancholic, a bit like a forest creature. Sadly, Danse Manatee is not as cohesive or as instantly appealing as its predecessor, though it does show the Collective moving in new directions, later brought to maturity on Here Comes the Indian. Most songs feature a fragmented, increasingly electronic foundation, some sounding more like studio experiments than arranged pieces. Remnants of Spirit's psychedelic pop are present in the blissful "Essplode," and the droning "Ahhh Good Country," but most songs are obscured by experimental leanings that will be better integrated in later efforts. Regardless, this double-disc is a welcome introduction for new fans (if only for Spirit), and is a must-have for anyone indoctrinated by this prolific act's recent output. - Andrew Culler
samples:
Do Make Say Think, "Winter Hymn Country Hymn Secret Hymn"
Constellation


On previous albums, Do Make Say Think played their own blend of psych-rock with jazz influence in an effort to explore the stars and planets, drifting off into their own orbit. Occasionally, as on their last album, they got so close to the stars that they brought back some dust here and there, or they gathered sunlight and a planet's atmosphere through which to project their instrumental structures, resulting in a fluid and pleasant listen. For their fourth album, however, they've created a work of true beauty, as though they've landed on a new planet they can finally call their own. Winter Hymn Country Hymn Secret Hymn is best listened to as a whole, or on vinyl where it is split into three thematic parts. Overall the album is a step more towards cohesion, with every song blending into the next and creating an immersive feel. Structurally, the parts of the record are separated by their slight differences, with the first area covering blending guitar work, the second infusing more horns for flavor, and the last section bleeding into sliced structures with effects and dischordant cacaphony. Ultimately, it all gives way to the hymnal "Hooray! Hooray! Hooray!," with full organ computer glitch wonder and western guitar with after school chorale. It's as though the experience and different sides of the band—sometimes warring for control before or finding their way out only here and there#151;are now one, omniscient and comfortable, allowing for a full, varied, and complex sound that covers a lot of ground and never sounds disjointed. Every song tells a story, turns page after page, building to a truly bright and vibrant climax that when finally reached makes the whole journey seem all the more worthwhile. Do Make Say Think are growing into themselves with every release, and their latest shows a comfort and complacence that can only serve them well in the future. - Rob Devlin
samples:
BLACK DICE, "CONE TOASTER"
DFA


Black Dice is an entirely different proposition from the legions of retro-disco and post-punk derivatives, and it is tempting to wonder just what they're doing on a label like DFA. The easy answer is that they are excellent, and Murphy and Goldsworthy are able to recognize brilliance, even when it comes in a package as noisy and uncommercial as Black Dice's Beaches and Canyons. "Cone Toaster" is decidedly more rhythmic than much of the material on that LP, but it still can't qualify as dance music, unless we're talking about free-PCP night at the Mindfuck Discoteque. Black Dice's heavy, psychedelic abrasiveness is informed by the krautrock of Can, the tribal Japanoise of The Boredoms and the punk-metal bombast of Big Black. "Cone Toaster" is a mind-scraping gallery of atonal scrapings, polyrhythms, echo-chambered chanting and gloriously unhinged accidents of improvisation. The b-side is a remix of the album track "Endless Happiness" by Yamatsuka Eye (from The Boredoms) which remakes the song into a hyperspeed hallucinogenic tribal-house track that wouldn't sound out of place of Eye's terrifically odd DJ Pica Pica Pica Planetary Love Gas mix CD. Eye takes the strange tactic of adding a more-or-less danceable beat, sonically perverting the guitar and basslines into a cacophony of shimmering protoplasm while adding the usual galaxy of chimes, whistles and birdcalls that define his singularly whimsical and chaotic punk-psych. This 12" is one of the most consistently enjoyable platters of avant-garde lunacy released this year. - Jonathan Dean
samples:
THE JUAN MACLEAN/THE RAPTURE, "GIVE ME EVERY LITTLE THING/ KILLING"
DFA


DFA's newest release is a split 12" single. The Juan Maclean's track is a seamlessly realized disco-house anthem that sounds every bit as good as one of the circa-1980 Larry Levan and Arthur Russell classic Paradise Garage bangers. "Give Me Every Little Thing" is perfect music for a crowded Brooklyn nighspot on a hot summer night, with its sophisticated downtown grooves and an r&b-inflected chorus. The Rapture's side is an energetic slab of raw punk-funk with the typically strained vocal delivery, this time ring-modulated and covered up with a dense production that includes atmospheric keyboard swells and a ticking time-bomb beat. "1, 2, 3, 4, Kick that fucker out the door!" screams Jenner, as the song kicks into electro-house gear. This track is taken from The Rapture's forthcoming full-length LP Echoes, and their sound is gradually becoming more unique and tough to pin down; a confoundingly addictive combination of post-punk, goth, disco and funk elements. - Jonathan Dean
samples:
Loren Connors & David Grubbs, "Arborvitae"
Häpna


The late morning autumn sky is grey, at least as much of it that can be seen past the tops of the tall buildings. People walk by in slow motion. A bird hangs in what looks like suspended animation, waiting to pounce on the next piece of bread somebody drops or a knish that falls from a moving cart. The collaborative record between Connors and Grubbs isn't a pretty walk in the fields, it's the sound of a dark, urban cityscape. It's also a bit of a juxtaposition. While there's certainly no rules either collaborator always follow, I'm typically used to dissonance from David Grubbs' solo work and soft flowing motions from Loren (MazzaCane) Connors. The instrumental live in the studio recording of Arborvitae opens with soft, flowing piano chord progressions provided by David and harsh guitar tones from Loren. (Additionally, the titles suggest a springtime theme, but I get a completely different feeling.) As the daylight comes to an early end, so reflects the mood of the album. Bit by bit, the brightness fades. Half-way through the disc, on "The Ghost of Exquisite," both are playing guitars and feeding off each other's bleak tonality. By the end of the album, the cold night has fallen. "The Highest Point in Brooklyn" features the return of Grubbs on piano, this time, with a much more uneasy, uncomfortable rush, played up against the distorted abrasive notes of Connors' guitar, restless and dirty. In fact, at some points, Connors sounds like he doesn't even care if the instrument cords even come loose from his guitar. The room sounds, probably picked up by the piano microphone, are those of two people getting a little antsy in their chairs. Intentional or not, it's a subtle hint at a tension, yet by the end of the piece (and the album), the calmness has returned. The night has grown as quiet as it's going to get in a city that doesn't sleep. - Jon Whitney
samples:
The Sick Lipstick, "Sting Sting Sting"
Tiger Style


It's not as easy as it seems to be noisy. There's more to it than just yelling and banging on an instrument. It takes some real premeditation and skill to be able to pull together a rush of ear-piercing sound into something that is abrasive while still inspiring curiosity in the listener to delve into the depth of the sound. The Sick Lipstick find themselves on the right side of the line between trash and treasure, dropping an album that is assaulting in its style and modus operandi but is more likely to make the listener flail about with reckless abandon than hide under the bed. Lead vocalist Lindsay Gillard pouts and struts throughout, hurling deliciously shrill invectives of nonsensical, stream-of-conscious lyrics into the band's swirl of noise and atonality. She sounds like the spoiled girl who didn't get her way for once and unleashes a level of anger and psychological torture well beyond her years. She's got a knack for turning a phrase and catching the attention with lyrics like "I want / to have / your baby! / So you have / to come / inside me!" from "Pretend I'm Sleeping," delivered in her elementary schoolgirl tone. Even when the song's subject matter isn't explicitly nasty or violent, Dillard's phrasing and tone are very pointed, and at time disturbing like the macabre, playground taunts of a budding sociopath who just won't stop knocking the other kids around during an otherwise pleasant game of kickball. Musically, The Sick Lipstick slug it out with razorblade guitar licks that jerk and squeal recklessly. These licks often skid out of control into waves of white noise that undulate wildly, creating a harsh auditory burnout. Backed with a chunky, fuzzy keyboard they create a remarkably consistent sound for a band whose aesthetic is so rooted in chaotic intensity. The percussion maintains a pleasant bi-polarity, at once both relentlessly noisy and eagerly danceable. "Mommy's at the Grocery Store" benefits from a modulating riff that repeats rhythmically with the backbeat and makes it a positively brutal earworm, and the cascading, declarative chorus of "Zombie Cookie" seems destined to be some kind of alternate reality cheerleading cheer. "Thigh Master, I'm Yr Master" is the surrealist-feminist rant that Kathleen Hanna wishes she wrote, jumping from image to image in a jittery pounce. While their sound is interesting and decidedly catchy, they rarely emerge from the boundaries established in the first few songs. Their tightness and control keeps them from losing shape. Gillard never outright screams in a wordless fury, and the accompaniment never explodes into the free-rock explosion that the building tension on Sting, Sting, Sting seems to foreshadow. That might be a difficult goal for the band to reach however, since every song on the album already kicks off at full power and never lets up. While the fervor this conveys is exhilarating and exciting, a foray into more noticeable dynamics and counterpoints might make those peaks even higher. In spite of these unfulfilled desires, what The Sick Lipstick does present us with is a screeching banshee punk rock record with provocative personality and loads of dark fun. - Michael Patrick Brady
samples:
Six Organs of Admittance, "Compathia"
Holy Mountain


Ben Chasny, aka Six Organs of Admittance, has been crafting his brand of acoustic rock for the past five years, winning some over with his psychedelic ruminations and earthy tones. For his latest release, the pop song structure is on full display, as Chasny keeps it short and sweet for the most part, and lays on the space rock undertone with a very thin brush. As always, Chasny plays pretty much everything himself, with Ethan Miller adding the most influential contributions. There seems to be a more Indian influence on these songs than there ever was before, from the opening track to the sitar on "Somewhere Between," though Chasny's guitar work is everywhere and as impressive as always. Six Organs' infamous lack of production values are also on every track, with the whole album possessing a muted, dirty, and quirky quality, where tempos speed up and slow down here and there, and sounds swell in and out. Chasny's multi-tracked vocals have a spooky effect, like a ghost choir with little to live for, and as each track progresses, he takes greater chances and reaches to new highs and lows with his voice. Altogether this means it's more of the same from Chasny for the most part, with nothing really shocking or new to speak of. That's not necessarily a bad thing, as the songs are among the best he's written, including the "reworked and finalized" version of "Somewhere Between;" but it still leaves me with that overwhelming feeling of "What if he...?" Someday, maybe Six Organs will branch out into new territory. Until then, there's still a lot to appreciate, as acoustic psychedelia doesn't get much better than this. - Rob Devlin
samples:
Jim Haynes, "Magnetic North"
The Helen Scarsdale Agency


Jim Haynes is a San Francisco-based musician who has made a name for himself through work in the duo Coelacanth and in his travels as a solo sound-artist. The rich SF scene has no doubt provided Haynes with many opportunities to expand his listener-ship, and recently he has ventured eastward with an installation called Magnetic North appearing in Nashville and San Jose. This disc, the first release from The Helen Scarsdale Agency and limited to 300 copies, contains the audio portion of the installation, culled from performances of the last two years. The most striking quality of the music herein can inadequately be described as its organic nature. Haynes has produced four lengthy tracks, each composed entirely of beautiful drones, but drones with a distinctly homespun feel. Contained bell tones and gentle, metallic overtones leak into otherwise hollow, spacious drones that recall the oceanic spaces of Coelacanth's music. At times the listener feels outside, or underground, in a large breathing space, or in the same land that produced Walter Marchetti's cavernous recordings. Haynes has a way, however, of bringing his listener back to reality, back to the tool shed so to speak, as he introduces subtle incidental sounds into the mix. Evocative, even representative of everyday things that clatter, scrape, and squeak, the sound sources remain obscured, the sounds themselves never harsh or even disorienting. Not having seen the Magnetic North installation, I can only guess that it deals with issues of space and the unique transparencies between large and small environments. Haynes' music is accessible in a way that suggests his installation provides a womb-like atmosphere, comfortably merged with wider, harrowing spaces in an examination of the consistencies between the two. His music has neither the stoicism of Marchetti nor the bombast of drone guru Phil Niblock, but feels just right for Haynes' purposes. Though his work with Coelacanth may see him drifting to the outer limits, here Haynes keeps the windswept barrens just outside the door. - Andrew Culler
samples:
Coelacanth, "the glass sponge"
23five


23five came into the public eye as the label vehicle for sound artist-types, peddling the kind of stuff I'd see in the MoMA gift shop and pass by thinking it just wouldn't be the same outside an austere gallery space. Now only 6 releases into stride, the label has proved me wrong several times over. One needs only to hear Furudate & Zbigniew's World As Will II to see why. The opening minutes of Coelacanth's sophomore release, however, left me with second, or rather third, thoughts. The Glass Sponge begins with a sparse scraping, thumping, and clanging that seems on the brink the ever-arty black hole of inaccessibility. After a few minutes, droning bell tones and tempered feedback ease their way in, making the piece more substantial before, as quickly as it began, the music fades into silence. Those opening bits were merely a prelude to the real meat of track, a sort of second act comprised of layered static and an enriched texture of lulling feedback and prolonged bell tones. Stuttering vocal utterings rise from drone and static layers that sound truly oceanic. Song titles like "The Leaden Sea" and "The Violet Shell and Its Raft" lend a marine theme to The Glass Sponge that feels apt in relation to the music. (The name Coelacanth, also, refers to a prehistoric fish recently discovered to still exist). All four tracks exhibit an approach to drone music that is both texturally rich and emotionally resonant. Tracks range from gentle, inviting trips across static that gurgles and glimmers like actual liquid to eerie passages where hollow drones and squealing feedback rise from the depths. The Glass Sponge is host to a multitude of bizarre, untraceable sounds as well. Various throbbings, tinkerings, and knockings find comfortable home in Coelacanth's sound world, given overture in the album's first moments, making it increasingly hard to believe that any of this was gathered from public performance as the notes describe. This is beautiful, thoroughly engaging, and unique music, no doubt more appropriate headphone music for pretending your bed is a liferaft than for strolling the museum floor. - Andrew Culler
samples:
Casey Meehan, "Violet"
Tense Forms

The air is thick, muggy, and full of nervous chatter. The congregation finds their seats with the help of ushers dressed in black suits, polite in their assistance and insistence that the growing crowd find their seats. The tent is makeshift at best, made from old bed sheets and a few cracks in the seams are visible to those who look above. No one is sure what to expect. They've heard the tales of this new minister and his new gospel, but they are apprehensive, perhaps even a little frightened at the prospect. Then, suddenly, the lights dim, and the stage explodes with horns, guitar, bass, and heavy percussion. As the lights restore the minister sings, no, howls the sermon with a boogie that is just shy of satanic, and the congregation can't help but rise to their feet and join in with the minimal choir that accompanies him. Casey Meehan is that minister, and his songs aren't the old or new testament, but they are lessons for the weak nonetheless. He sings of being baptised, of being born again, and with titles like "Who Will Be Saved?" and "Do Right" his mission is clear. He may not be of a formal religion, but he is here to shepherd the meek through the valley, and he will do so with a bit of Dixie, a bit of Storyville, New Orleans, and a lot of moxy and sensual vocal prowess reminiscent of Mark Sandman and Greg Dulli. These songs are the lessons of a man who has been through it all, who sees the masks we all put on and who wants to shatter them, hurling a reality with the force of a fastball; and like any good evangelist he has sinned as much as those he tries to save. His band, the Delta Still, are a tight, fierce ensemble, and the songs are punishing in places and delicate in others: whatever it takes to get the message out right. The instrumentals are massive, and through it all Meehan carries the weight with ease, sexing the microphone for all its worth. For his first record, Meehan is shooting out of the gate, heading down the track at full speed. Catch him if you can. - Rob Devlin
samples:
Elixir, "Don't Be Scared"
Quatermass


Here is another electronic, beat-based album that plays the game of "I love it/I hate it." The atmosphere is mostly dark, the beats thick and chugging, and the melodies somehow buried inside walls of static noise and time-warped samples. There's the first problem: sometimes the melodies never get a chance to come out and play. As a result, I'm left listening to a somewhat boring, somewhat repetitive drum track that doesn't have the power to carry the song by itself. Unfortunately, the album is produced in such a way that each song inevitably has some incredible sounds on it but they're completely attenuated by the way they're thrown into the backgroud and lost beneath a plethora of effects. But then, amazingly, all that wishy-washy noise comes together for a few brief moments and gives birth to an explosion that comes close to relieving the tension and weariness of the first few minutes of the song. This is how "Flesh Wound" opens up the album and it segues into the infinitely more entertaining "Gargantuan." I imagine one of those dolls that has a slinky for a neck bopping around to this rubbery and dynamic wall of beats only to have a stick of dynamite send it into the great beyond. "Gargantuan" has nearly the same production style as "Flesh Wound," but manages to pull it off by allowing the repeating drum and melody patterns to weave a bit more intricate and diverse body of sound. "Boiled In Blood" is a bit more low-key than anything else on the album and it provides a nice break from the havoc of the first two tracks. It unfortunately gives way to more standard four-on-the-floor dance music that sounds horribly distorted and only covers up what seems to be the most interesting elements dying in the background. And so this process continues throughout the duration of Don't Be Scared. I either love it or I hate it. Not much changes in terms of production: it's all pretty muddy and eventually this makes the entire album feel far too homogenous. The formula either works for some of the songs or it doesn't. This up and down experience ends up making the whole album feel dull; it's just hard to sit down and listen to the whole thing all the way through. - Lucas Schleicher
samples:
We know that our music picks may be somewhat challenging to find, which is why we have a community section which can be used to obtain nearly everything available on this site.