Gridlock, "Formless"
Hymen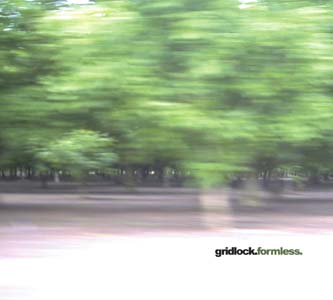 From meager beginnings can emerge potentially fantastic results. As such, Gridlock started out rather simply as a Skinny Puppy-influenced industrial band, releasing their first album The Synthetic Form on the now defunct Pendragon label. Since that debut, however, the duo of Wells and Cadoo have moved their sound further and further away from that scene as well as that style. While never giving up an appreciation for crunchy distorted drumwork, Gridlock has definately progressed from the inherent ugliness of that former sound, as displayed here on Formless, their most beautiful album to date. Many times a reviewer will throw that term around carelessly (beautiful), but I'm not fucking around here. The tracks that make up this album are lovingly unearthed bits of overdriven percussion fragments and processed digital signals from the land that Autechre forgot. Anyone who recalls the days when that aforementioned British duo were still creating marvelous musical works of note (Incunabula and Amber, for example) will appreciate the damaged textures found on Formless (Check out the junkyard sonics of the opener "Pallid," or "Chronometaphor" for example.) Going further, "Displacement" borders on the tribal, with its ritualistic rhythms supporting the contrasting cascades of violence and melody. A standout among the bunch, "Return" begins with fractured rhythms taking a subtle backseat to entrancing ambient glimmers for the first two minutes, before a booming bass drum blasts through in true Gridlock sneak-attack fashion. On top of that, the inclusion of some breathy female vocals proved to be the real surprise here, making a brief appearance as more of an instrument than a true human element. Recognizing that the end is near, Atomontage exudes desparation by crackling, beeping, roaring, and, inevitably, whimpering its way towards the inevitable closer, the lengthy and aptly named "Done Processing." Like most of Gridlock's albums, this one proves difficult to interpret and enjoy if heard as individual songs instead of as the urban apocalyptic soundtrack it really is. Equally devastating and uplifting, Formless offers up a proposed future for post-industrial and experimental electronic music that demands to be heard. - Gary Suarez
samples:
Sun Kil Moon, "Ghosts of the Great Highway"
Jetset


I've got to wonder sometimes why Mark Kozelek still tries at all. Always the bridesmaid and never the bride, his critically acclaimed albums with Red House Painters never quite hit the commercial glory that was almost guaranteed with that kind of press. Relegated to indie darling, he's had quite his issues with record labels, but still continued to churn out album after album of heartfelt and memorable songs that leave an indelible mark felt long after the record is finished playing through the speakers. After the turmoil surrounding the release of Old Ramon I would expect anyone to hang it up, or at least take some time off from it all. Perhaps that's what Sun Kil Moon is: Kozelek's hanging up of the Red House Painters for good or time off. Either way, the aesthetic has not changed much and that's fine by me. This debut release by the band is a phoenix rising from the ashes, proclaiming a reign of glory that has potential to last eons. "Glenn Tipton" is a continuation of the familiar acoustic Painters sound, with fanciful lyrics about Sonny Lister and old movies. When the bass kicks in the whole thing just gets lovely, evoking a gentle bouncing sway from even the tightest individual. Then the lyrics turn dark, about burying victims and digging through their pockets, but the performance is still so honest and bear that the heart reaches out anyway, like when people send love letters to prisoners. "Carry Me Ohio" is the same level of stunning, a tale of not being able to love someone back and the emptiness that can sometimes come as a result, and Kozelek just shines on "Last Tide" and "Floating," which bleed together effortlessly. There's crunch, too, in "Lily and Parrots" and "Salvador Sanchez," all distortion in guitar and vocals that could never detract. The epic "Duk Koo Kim" is the album's keynote address, though, which some may have heard but not in this fourteen-minute incarnation that buries itself in effects and changes and some gorgeous guitar work mixed in with mandolin and xylophones. With every record, Kozelek seems to get more and more mired in his own psyche, exploring different synapses and pockets of memories to dredge up just the right mixture. "Pancho Villa," an acoustic revisiting of "Salvador Sanchez," shows this exploration and experimentation wonderfully, as the meaning of the song completing changes with the new presentation and vocal inflection. This ranks up there as my favorite record of Kozelek's, surpassing any Painters work, and it's for this reason that I hope Sun Kil Moon sticks around for awhile, even if just for a few tracks here and there. It's been worth the wait. - Rob Devlin
samples:
Subterranean Source, "Vivid Circles"
Desolation House


The debut release from this Italian artist is a fine CD of minimal, dark music constructed from electronic drones that is alluringly bleak from start to finish. From the beginning I'm transported below the surface of some bustling city, the distant rumbling and grinding of machines and life filtered by miles of rock before it echoes through a cavernous chamber. The sense of space is tangible; the sounds are cold and distant, contributing to the overall sense of isolation and loneliness, but the presentation is captivating. Though somewhat gloomy and definitely evocative of shadowy places, these wonderful sounds are far from stifling. Layers upon layers of audio constantly shift and expand, the steady wind-like howling becoming far-off wailing and reverberated clatter. In the third track the persistent noises take on a more musical character, with a glistening, almost organ-like tone, and the patient progression, slowly revealing beautiful new elements only to put them aside, make this a fascinating piece. "Spiritual Darkness" also features a great looped "melody" hidden underneath the recordings of dripping water and low rumbling. The concluding track mixes in some tribal-sounding drumming over the drones for a different, but fitting, result. Although I find myself longing for something lighter and more open sounding by the album's end, I feel like I've just taken part in an amazing experience. - Steve Smith
samples:
Larvae, "Fashion Victim"
Ad Noiseam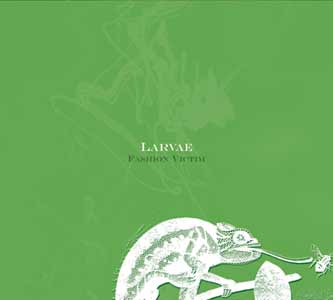 ATTENTION BLUNT SMOKERS AND BASS AFICIONADOS: Put down that spliff and take notice! Larvae has come to warp your minds and clutter your eardrums with some low-frequency sonics. Clocking in at an understated 46 minutes, Fashion Victim, the project's debut album, provides a somewhat noisy take on the bong-worthy dark urban sound (formerly known as illbient) produced by acts like Scorn, DJ Spooky, and Witchman. Taking equal parts Scott Herren and Mick Harris, "Refuse" opens this album with stuttering samples, bold bass tones, and head-nodding drum loops. The cheekily titled "Tonystark" ('YO, that be some a dat Iron Man shit, ya heard?') follows a similar model while maintaining a sparser and more airy feel. Keeping with that mood, the title track spills from the speakers and wraps itself around the room much like the essence billowing from the glass blown pipe in front of you now, and actually reminds me of some of the tracks on the little-heard Wordsound Records album from The Weakener (Yes, I know this is the third Mick Harris reference! I call them as I see them!) Going in a slightly more experimental direction, "Redline Version" begins with a distinctly Asian woodwind sound before dropping a diabolical breakbeat. The soft and synthy bed that comprise the first minute-and-a-half of "Philistine" serves as a hypnotic pillar for the smooth rhythms and aquatic AFX-like melodies that enter into the mix. There are occasional moments where the exquisitely mental drum n bass sound of Larvae's Monster Music EP presents itself ('I Owe You' and 'Crazyeye', for example), but for the most part the mood stays slow and remains relatively deep and mellow throughout. On a final note, I have to thank Larvae for letting the beats speak for themselves, as opposed to including mediocre rappers or other guest vocalists over their grinding hip hop grooves (cough Pole cough cough). I have no knowledge whether or not Mr. Jeanes and company are aware of this, but Larvae is music for post-industrial kids who like to smoke pot... and that's the best compliment I've given all day. - Gary Suarez
samples:
Hoahio, "Peek-Ara-Boo"
Tzadik


Who knew that getting rid of Sachiko M's piercing sine waves and adding a percussionist to the group could actually result in an album that's less catchy than the last one? That's not to say that Peek-Ara-Boo is bad, because it definitely isn't, but beyond the first track (think garage rock guitar line played on koto), there isn't a lot on the disc that will provoke huge idiot grins. What is found is a quiet collection of lullabies, twangy folk songs, clattering percussion, and Haco's piercing sine waves, which are really only distinguishable from Sachiko M's in that they're generally busier. For such an odd mix of ingredients, the recipe turns out well more often than not: some will think the sounds occupy a space a bit too close to Enya/Loreena McKennitt/Kim Robertson territory, but then it shifts out of dreamland and into loud-tuneless-improv gear for a while, soiling the pants of the Quinlan Road crowd in the process. It's not a particularly cohesive album by any means (writing credits are all over the map, with some tracks being credited to the group as a whole and others to individual members, and it shows... er... sounds... whatever...), but as an interesting grab-bag of sounds, it was worth my fourteen bucks. - Taylor McLaren
samples:
Seekonk, "For Barbara Lee"
Kimchee

There's something to be said for a slow burn in a song: not letting it all go to start with but to let it build slowly, adding kindling or whatever fuels it to satisfaction, then unleashing the full controlled burn on whatever suits the fancy. For such a young band to have mastered that art as skillfully as Seekonk is amazing, but this Portland, Maine ensemble has done just that. Formed about a year and a half ago, these multi-instrumentalists concoct heavy slow rock that waits a perceived eternity before letting loose, and it's aggravating in that special way. When it does release, this music has the ease of a bird taking flight, gliding through the air with efficiency and majesty. Album opener "Move" fools right away, sounding almost plodding and lackluster, but when the last third of the song kicks in and vocalist Shana Barry lets loose with "I was born in the sky above," I get it. "Swim Again" impresses with laboring beat and chiming guitar, while Patrick Corrigan and Dave Noyes blend beautifully with Barry's rasp to create a delicate hypnotism until the hammer falls. Then Babylon, as all voices sing as one, and the song is a wonderous thunderstorm of noise and melody. Two tracks in and I'm already needing a rest. So one comes in the form of "Hate the Sun," which doesn't explode with energy like the others even though it is quite pretty. The album slows down a bit, but then picks up again in the middle of "20 Degrees" and stretches its legs, trying out some different sounds and tempos. "You Got What Was Coming to You" is perfect scary, and the lyrics are sardonic and dismissive, the climax of the record, before two more relatively solid tracks that hit all the right switches. Only one concern: Barry left after recording was completed and has since been replaced by Danielle Hylen. Only the live show will tell for sure, but I hope she can carry these tunes and then some. Otherwise, this debut is too amazing a high note to have it wasted away. - Rob Devlin
samples:
Guilty Connector Und Tabata
Even Stilte Records


A friend of mine used to claim that a few CDs in his collection "contain every frequency." Whether this somewhat meaningless statement was intended as an endorsement of quality was never clear; perhaps they were just useful for testing audio equipment. This CD certainly fits that category, with the duo of Japanese musicians playing over 20 instruments, exploring improvised, outer-space textures and abstract melodies blanketed under shimmering waves of power electronics. The occasionally harsh assault isn't surprising given Guilty Connector's collaborations with the likes of MSBR, but in the context of this duo, the noise serves as a backdrop and counterpoint to Tabata's guitar and synthesizer rather than the brutal focal point. Though their aesthetic is similar to fellow psychedelic groups like Acid Mothers Temple, this CD steers clear of the over-the-top rock freakout, instead exploring primarily rhythmless, atmospheric pieces more rooted in free improvisation and noise. Tabata does throw in some backward guitar riffing on "Le Schiaue Esistono Ancora," amid the continuous clatter of cymbals that grow progressively more distorted; it's a mysteriously emotive and vaguely Eastern sounding track. Another standout is "Tempus est quaedam pars aeternitatis," which begins with a heavily processed guitar sound that blends perfectly with the filtered electronic noise as it is delayed and continues ringing. It's certainly not easy listening, but there's so much going on throughout this disc, both above and below the surface, that it's definitely interesting. The personalities and styles of the two players fit well together making this an excellent recording. - Steve Smith
samples:
Hans Joachim Irmler, "LifeLike"
Staubgold


As the first solo record from any member of Faust, a band heralded as one of the great "collectives" in rock history, LifeLike is worth the wait not because it offers a glimpse back in time or even a fuller understanding of how Irmler's organ fit the Faustian puzzle. While the trained ear might recognize some of his distorted stabs and flourishes rising from the depths, LifeLike keeps any evidence of Faust's shambled pastures to a minimum, focusing instead on Irmler's sprawling textural achievements. He plays organ and keyboard through most of the disc, blending gritty, droning waves through slight passages of clean melodic playing and more impressive flights of erupting noise. To his already beautiful playing, Irmler adds a wealth of field recordings, often perfectly accompanying or mimicking his synthetic textures. The effect is close to a fusion of the vintage progressive synth sound of early Tangerine Dream with the more streamlined collage techniques of today. Pieces of rolling thunder, muffled conversation, city noise, and even tribal chanting add to the mystery of these sound vistas but never in a way that is alarming or disorienting. Everything inches back to Irmler's comfortable keyboard and treated organ swells, creating music that only becomes absorbing if allowed. Several motifs are repeated throughout, giving LifeLike a definite cinematic quality, especially recalling old science fiction soundtracks, something reinforced by the warm gloss coating the record. The occasional hammered pattern or distorted uprising is enough to bring the music back to the surface, but for the most part, LifeLike serves most effectively as the background to bouts of lucid daydreaming. I feel a smug pleasure that my experience with Irmler's work runs counter to that of Ralf Bei der Kellen whose indulgent essay makes up the liner notes to LifeLike. Der Kellen describes the music as a kind of aural biography that, through the act of documentation, helps listeners to hear ordinary sounds in new ways. For me, there is nothing so consciousness-grabbing or life-affirming in LifeLike; but, I did not ask for such things. Irmler has made a beautiful, consistent, and highly visual record that will hopefully not be his last. - Andrew Culler
samples:
Reynols, "Pacalirte Sorban Cumanos"
Beta-lactam Ring


Having heard a bit about this band in the positive, I was expecting something exciting and spaced-out. I certainly received the second half of that deal with this disc, but whether or not it's exciting depends entirely on tolerance for strange vocals. Pacalirte Sorban Cumanos features a duo of guitarists that weave spiral nausea out of thing air, a fairly straightforward but pounding drummer, and the most annoying singer I think I've ever heard. Perhaps within a different context the lyrics and delivery would somehow fit and make for a mind-bending ride, but the chanting and headless meander of half-words simply don't work with the tuneless and perpetual descent that the guitars create. Case in point: "7 Apoloca Baluba" is a childlike combo of simple chord strumming, what could be a flute but is actually a very cleverly played guitar, and plodding drums. The effect is enchanting as long as those moans and groans coming from the singer are ignored. They sound as if they don't belong or are inserted at a later time without the singer even listening to what was composed prior to his contribution. "Trilo Pampeho" would be a hellish delivery of tribal drumming and machinery drone, but again the vocals (which sound as if they are trying to imitate a certain song from The Police) cut into the mix and end up making everything wash away in a feeling of confusion and foolery. "Fincoll (que norar)" is the one place where the singer truly stands out and delivers a performance worth checking out. It sounds as though it may all be coming from a dilapidated church in the middle of a desert: very faint organ wanders away in the background while the mumbling and passion-esque warble of the vocalists (invoking "Ave Maria" here and there?) raise to the sky in a stream of smoke and sizzling ash. Some of the cosmic sounds pulled out of the guitars for this record are truly amazing. It's certainly a unique release, but those vocals need to fit into the mix: when they do, it sounds outstanding, but otherwise it's a mess that difficult to sit through. - Lucas Schleicher
samples:
Ward 21, "U Know How We Roll"
Greensleeves


A few weeks back, I tried to describe the new Swollen Members disc by calling it "juvenile", and the word applies to the latest effort by Kingston dancehall psychos Ward 21, too, but not in the same way at all: where Swollen Members sound so earnest about their high-school pimpin' fantasies that you really have to cringe, the lyrics to a Ward 21 song like "Coochie Zone", which should be offensive, end up being balanced off by production and a public image so completely off its gourd that you just sort of have to cackle and nod your head to the beat. "But Taylor," my Inner Liberal Arts Major chides, "aren't you just belittling the efforts of hardworking Jamaican musicians to keep the world from noticing your microscopic oppressor's wee-wee?" "Shut the hell up, Inner Liberal Arts Major," I reply, more than a bit self-conscious about how cold it is in here, "These nutcases use the word 'cocky' as a noun about every third track; how seriously do you really think they want to be taken?" My Inner Arts Major slinks off to wonder exactly what a "cocky" is, and I spend the next 70 minutes digging the fact that it's possible to make a dancehall record with bagpipe noises, tacky '80s dance-pop riffs, and lyrics about Michael Jackson's flaming Pepsi hair. Plenty of other, more traditional sounds are put to use on U Know..., too, and I tired of the constant falsetto squawking of the album's title whenever the mix got thin, but the lunatic elements are hard to dislike, and they're definitely the focus of the group's sound, so until Ween one-ups them by locking themselves in King Jammy's studio and making a brilliant album out of reverb-soaked farting noises, this is going to be my Crazy Jamaican Album of choice. - Taylor McLaren
samples:
Sudden Ensemble, "AM 11"
Angelika Koehlermann
Lo-fi guitar feedback, monotone lyrical chatter, and bland instrumental (amateur at best) cycles do not make for a good record. As best as I can tell, Doreen Kirchner and Wayne Garcia really want to be as hip as they can be; instead they end up sounding like a couple of confused kids with nothing to sing about and no melody to drive their music forward. I don't need a melody to be interested in the music, but AM 11 doesn't have anything going for it otherwise. There's no interesting production, no involved guitar work, and Animal for the Muppet Show would've been a much better drummer for this band; at least he's a wild and crazy guy. The drumming on this record can only be compared to the sound of a beginning drummer in grade school: sloppy, awkward, and somewhat confused about how to use the bass pedal and the snare at the same time. And they both sound so damned emotionless: "The Drop off Process" (their opening tune, no less!) feels as if it could be the soundtrack to some twenty-somethings getting messed up on heroin. There's no emphasis on anything, their voices sound dim and faded out, and everything meshes into one big and milky haze of dirty public restrooms. None of the tunes really sound different from each other, either. After a little bit I became confused as to what track I was listening to, but I was too damned lazy to get up and check what the CD player was telling me. The pale and dismal delivery of everything on this record had seeped into my bones all I wanted to do was lay around and die in a pit of my own waste. There's probably a grand total of thirty seconds on this record where a combination of drums and guitar come together to make something nice happen and then my eyes get all red and puffy and I realize it's damn near the same song as before. Put a needle in the old vein, grab a few bottles of cheap beer, break out the cigarettes and prepare to die slowly with Sudden Ensemble; if the drugs aren't lethal, they're absolutely dull attitude will be. - Lucas Schleicher
samples:
We know that our music picks may be somewhat challenging to find, which is why we have a community section which can be used to obtain nearly everything available on this site.