THE RED KRAYOLA, "SINGLES"
Drag City


This compilation neatly fills in some gaps for collectors of the long and varied career of Mayo Thomspon and his mercurial, on-again/off-again rock outfit The Red Krayola. Comprising 21 tracks drawn from twelve 7", 12" and CD singles released from 1970 to 2002, most songs are credited to the various lineups of The Red Krayola, with a couple bearing the name of Mayo Thompson solo, the short-lived side group Saddlesore, and a few sharing credit with conceptual art group Art & Language. Anyone versed in the career of The Red Krayola understands that the primary watchword is eclecticism. From their beginnings in Texas garage psychedelia, Thompson has taken his project through avant-garde Residents-style insanity, country-rock, punk-disco, No Wave and post-rock. Along the way, Thompson has remained the only anchor of the band, which at various times has included hundreds of others, including members of Pere Ubu, X-Ray Spex, Essential Logic, Raincoats and Swell Maps, as well as contemporary indie mainstays Jim O'Rourke, David Grubbs and John McEntire. If one thing has stayed the same throughout the 36 years of the band's existence, it is the adventurousness and intelligence with which Thompson and company approach these myriad styles, and their continuing, nervous dialogue with pop music and other commercially viable forms. Though the single is, by its nature, the most commercial face of music, The Red Krayola have used this carrier as a way to keep in touch with the pop world, even as they held it at an arm's length, with their deconstructions and commentaries on rock. It's hard to detect this stance in the album's first three tracks, dating from 1970, which utilize country-influenced psych-rock to capable but ultimately head-scratching effect. From there, a 1976 single "Wives in Orbit/Yik Yak" demonstrated Thompson's growing interest in the stripped-down aesthetic of punk rock, with a pair of cleverly rendered art-punk songs that rival the best of the original punk singles era. Tracks 6-13 represent my favorite period of Red Krayola's manifestation: his flirtations with No Wave, working with a band that included members of the aforementioned post-punk groups. "Micro-chips and Fish" is an idiosyncratic reggae-punk song featuring the saxophone blasts of Lora "Oh Bondage, Up Yours" Logic. Successive tracks tackle the atonal skronk of No Wave, with Thompson's lyrics dealing with abstruse linguistic philosophy, or narratives about Muslim swordfighters operating as allegories for the destructive power of religion. The "Rattenmensch" single, released on an obscure German label in 1981, features a musical take on Freud's famous "rat man" case study, using German lyrics taken from Freud's writings, incorporated into an angular New Wave framework. The rest of the singles collected on the disc document Thompson's 1993-2002 work released on Drag City, his most experimental period, characterized by highly idiosyncratic compositions combining unorthodox rhythms with jagged guitar improvisations, unexpected samples, synthesizers and surrealistic lyrical routines. "Come on Down" is a good example of the artsier Krayola, originally a bonus single included with the first pressing of the Fingerpainting LP, is an oddly dislocated ballad that bounces along with a galaxy of stunted electronics and sudden tangents into free-form noise. Taken together, these 21 songs construct a stunning collage-portrait of an artist in constant flux, never failing through four decades to find new methods of expression and the transmission of new ideas. - Jonathan Dean
samples:
mouse on mars, "radical connector"
Thrill Jockey (US) / Sonig (DE)


The first full length album of all new Mouse On Mars music in three years is easily one of the most fun records of the year. Andi and Jan are once again joined in the studio by vocalist Dodo Nkishi and, along with female vocalist Niobe, for the first time, the entire Mouse On Mars record is covered with vocals. The strong points are very strong: the undeniably most bombastic jam of the year is "Blood Comes," which, along with tracks like the opener "Mine Is Yours," and "Wipe That Sound," are excellent homages to bottom-heavy retro-funk put through a digital mindwarp that Mouse On Mars excel at. "Blood Comes" plays in my head to images of urban roller skaters in San Francisco, speeding down the hills backwards with a ghetto blaster on one shoulder. It's a perfect balance of punchy beats, hot riffs, and noise. "Mine Is Yours" is a brilliant opener with guitars adding more human colors and textures to the music, which is historically quite alien. However, I'm not quite sure if I'm ready for the vocals from Niobe, as the songs "The End," "Send Me Shivers," and "Evoke an Object" are somewhat tepid attempts at a kind of generic easily digestible coffee house techno. While they do work as good resting points between the relentless energy of the other songs, they're rather underdeveloped and lacking in excellent hooks. It almost doesn't matter, though, as the memories of the high points are good enough to leave the important lasting impressions and warrant repeated listens. - Jon Whitney
samples:
"The Conet Project: Recordings of short-wave Numbers Stations"
Irdial


While it's hard to speculate about the influence that this reissue will have on even the smallest of fringe interest groups, without sounding like a geeky sound-art fetishist or conspiracy nut myself, I will admit at least that after three years delay, The Conet Project repress has me more excited than any record to receive reissue treatment in 2004. This is not to say that I have really enjoyed listening to most of these recordings, at least not for any extended period, the reason being that the four-disc set is absolutely the most intense piece of media I've encountered since its initial release in 1998. "Numbers stations," for those who ignored this colossus the first time around, are short-wave radio broadcasts appearing (still) around the clock, transmitting a variety of encoded messages, next to impossible to source, decode, or trace to a recipient. The messages come via human voices reading numbers and phonetic letters, series of Morse-coded letters and numbers, or longer "noise" transmissions, producing different strains of noise and occasionally snippets of music. This collection (the first ever) is not intense within conventional or, in these days, fashionable "noise" definitions. Rather, the effect must be traced deeper, beyond any surface appeal and into the unrelenting atmosphere these recordings produce. Better yet, in a contradictory reading that would support the paranoid "sourceless-ness" that is certainly a theme here, the intensity in the mood of The Conet Project might also be linked to the sounds' unique existence at the surface only, as purely utilitarian noises of unknown, or at least inconceivable context. Recently, numbers stations entered the popular mind via a sample (from disc 1) that became the haunting invocation "Yankee...Hotel...Foxtrot" in a song from the Wilco album of the same name. The fact that the band selected such a bizarre find for both prominent placement within one their most powerful songs, and for the title of an album epic in its look at emotional isolationism, should be evidence of the captivating power latent in many of these recordings, regardless of their association with the government intelligence groups and espionage agents that are their most likely sources. While it can be thrilling to sit and imagine the global impact of one particular series of stuttered, Slavic letters or static-laden Sousa loop, these discs become most effective when the frequencies are allowed to slowly populate the airspace, to become, in this archival format, like the ghostly remnants of human activity twice removed, a census of black shadows against the sky's gray analog. The warped, muddied sound of the broadcasts grants each a discomforting distance, less paranoia-inducing than simply numbing. To listen is to confront a vast field of inhuman babble, coated in the noisy resonances of antique equipment, long-distance signaling, and extra-mechanical production. These are marginally human transmissions, meant to appear timeless, to miss your ears, transmissions largely forgotten, or remembered only in the log-books of an anonymous conglomerate. This is the true cyber-punk sound, "music" which predicts a future of annihilation, replacement, and empty language. It is especially apt that The Conet Project is being marketed to the experimental electronic crowd, as the mood here seems a virtual compendium of the accomplishments of labels like Raster-Noton, 12k, Fällt et al. These labels' pursuit of a reduction or a microscoping of musical forms through delineated digital language often threatens the same blank stare that I receive from Conet, intended or not. Here is proof that our music has evolved and left us behind, in futile struggle to decode it, to connect its makers with ourselves, to reach inside it and come up with something other than evidence of our own growing insignificance. - Andrew Culler
samples:
radian, "juxtaposition"
Thrill Jockey


Radian's third full-length album is an unexpected (and excellent) surprise, appearing only months after the releases of Ballroom by Trapist (Martin Brandlmayr with Martin Siewert and Joe Williamson) and Die Instabilität der Symmetrie (the collaboration of Brandlmayr and Siewert with Werner Dafeldecker and Stefan Németh) and mere months before Jealousy and Diamond, the Kranky debut of the band Autistic Daughters (Brandlmayr and Dafeldecker with Dean Roberts). Juxtaposition is a seemingly appropriate name for the album as the recordings were completed in a process which is nearly backwards to what would seem most logical: beginning with the synths and electronics (in Vienna) and completed with the recording of live drums and bass guitar (by John McEntire in Chicago). Unsurprisingly with two drummers (Brandlmayer and McEntire) having so much influence on the album, it's a very rhythmically charged record. "Shift" opens the album with an aggressive tune of driving percussion over chopped up electronics. Even here on the first track, the brushes of cymbals and thud of the real bass guitar combined with the forward melodic motion are sounds I've wanted to hear come out of this scene for years. These are the elements that make the perfect use of the last ten years of laptopery. Sure, those Mego and Raster-Noton acts had good sound patches but the picture was always incomplete without good composition and variety. Juxtaposition is more of a pop record than the other releases in this blossoming scene, as it's comprised of nine approximately five-minute songs instead of four-five 10-20 minute long pieces like some of the aforementioned records. The instrumentation remains a consistent well-balanced interplay between the three musical elements (drums, bass guitar, and electronics) while the variants from song to song are of tempo and structure. While the sounds themselves aren't completely natural, it's not an alien pop concept to have an upbeat tune (like "Transistor") followed by the downbeat song ("Helix") and a subsequent droning bit ("Ontario") before launching into another upbeat jam ("Tester"). I'm now even more eager to hear the upcoming Autistic Daughters release and am increasingly anxious to see some of these people live but whether or not this blossoming scene has caught on well enough to bring them over is yet to be seen. - Jon Whitney
samples:
CHARLES HAYWARD, "SWITCH ON WAR"
Sub Rosa


Conceived as a response to the worldwide media coverage of the first Gulf War in 1991, Switch On War was Charles Hayward's attempt to create a harsh, anti-musical statement that would serve as an antidote to the barrage of media distortion and disturbingly hypocrisies being promulgated by the government and military. Binaurally recorded live in a deserted London morgue, Hayward never expected the album to last longer than a year, as it was intended to reflect the anger and sadness over those then-current events. Paradoxically, some 13 years on, this music seems more topical than ever, with George W. Bush's bloodier sequel to the Gulf War still raging on and the media ever more complacent and contradictory. Switch On War is subtitled Music for the Ongoing Theatre of War, a name that seems like it could have been lifted directly from the politically charged, anti-government lyrical screeds of This Heat, the seminal post-punk experimental group that Charles Hayward co-founded in 1978. Hayward uses pretty much the same arsenal here as he did with This Heat (and Gong, Quiet Sun, Camberwell Now and Coil); live and synthetic percussion, augmented by layers of distortion and harsh tape loops. The sound is immediately reminiscent of the industrial agitations of Throbbing Gristle, SPK and Einstürzende Neubauten, guaranteeing that it will be an extremely trying listen for most. Sheets of unpleasant distortion and ear-canal vibrating drones shift subtly along with Hayward's mechanical rhythms, scrupulously avoiding melody in favor of abstract dot-matrix patterns that emerge over extended periods of time. At the start of "Crying Shame," Hayward shrieks a series of razor-sharp provocations: "Drive a sadman insane/Need a badman to blame/Oceans of flame/Reign of terror/Bone-dry terrain." His harshly synthetic soundworld evokes the arid dessert as seen through ultramodern infrared night-vision cameras, the landscape reduced to muddled electron midnight-greens and blues. Sudden swoops of reverberating mechanical rhythms and ear-ringing treble tones signal the dropping of bombs from aircraft, with fiber-optic cameras on the end of missiles tracing their descent down through the night sky and into aspirin factories and impoverished public housing buildings. Hayward frequently utilizes the electronic bleeptones and repetitive, simplistic melodies reminiscent of video arcade games, drawing a parallel between spotty teenagers playing out shoot-'em-up fantasies with their joysticks, and post-pubescent soldiers destroying the world with their high-tech gadgets and weaponry. Switch On War is a powerful aesthetic statement of brutally urgent relevance. - Jonathan Dean
samples:
Jonathan Coleclough, "Makruna Minya"
ICR


The electrified gong that radiates through the beginning moments of "Makruna" and continues through its 38 minute duration marks a phantom presence that galvanizes the whole of these recordings. The track "Minya" was originally recorded as a solo live performance in 1999, but it used elements of sound that had been previously recorded by both Colin Potter and Andrew Chalk. Only 111 copies of this performance were made, but now a reworked version—along with two new tracks—has been released in an edition of 500 copies. Makruna Minya is a quiet and carefully paced record. "Makruna" reverberates with the humming and quiet pulse of gong, but also bubbles over with the sound of a small creek, the voices of individuals on the street or on the television, stone plates scratching over each other in circular patterns, and the uneasy sound of steam passing complacently through small pipes. The palette of sounds is very natural and, as a whole, the track progresses uniformly with changes taking place on a subconscious level. As the slate rubbing together becomes louder, children laugh and yell very low in the mix, and marbles jumble together in a bag. As soon as the commotion dies away, the sound of the gong has become clearer, the distinct shuffle-and-crack of walking on grass or leaves becomes audible and bird calls shift and stutter in the mix. All of this sounds relaxing on paper, but Jonathan Coleclough has a way with sounds that make them feel positively unsettling. The gong strikes illuminate the surrounding environment and fill the sky up with a dark oil that blocks out the sun and gives the world a blue tint. The children no longer laugh, but sound as if they're crying and the television reports sound frightened, almost paranoid in their delivery. Whatever it is that is happening feels consumingly hopeless. "Makruna" fades away into the orchestral "Minya," a piece composed of synthetic tones, oceans crashing onto the shore, and the strange distortion of radio signals. The tones on "Minya" are all descending and are, at times, reminiscent of human wails or sorrowful moans. The sounds continuously wash out with each other, each sound following the movement of another until a chorus of whispers and pseudo-screams crash down and reset the pattern. "Minya" is a more physical composition than "Makruna" and it circulates with a heaviness that is almost tangible. "Minya" moves so ferociously that it shakes itself towards its own destruction and by song's end it is reduced to a deep and growling bass tone that has been stripped naked of its previously chaotic glory. One final screech gets away before "Makruna Coda" hushes the album towards its end. The final sounds are from "Makruna" but are not washed away in a sea of processing. What I thought was a gong is now just a bell and the mysterious voices now sound as though they are being yelled down a tunnel flowing with water. The sounds fade away and leave a deep impression of the last sixty tumultuous minutes that does not dissolve. After the music has stopped churning, Coleclough's compositions will thrive and remain in the mind like a residue that grows and grows. - Lucas Schleicher
samples:
DAVID GRUBBS, "A GUESS AT THE RIDDLE"
Drag City


The true test of the heavily layered, over-produced combo pop song is usually whether it can be played out in a solo performance, say at the ubiquitous open stage café or around the campfire, and still be strongly maintained. The singer/songwriter performance augmented with one or two other instrumentalists, preferably none of whom are playing the same instrument, usually has a raw and unique group charm, especially when performance is more the focus than production. For a good chunk of his latest disc, A Guess at The Riddle, the literary and very musical David Grubbs pulls off a lot of very catchy, jangling guitar-driven pop songs in which the only other instrumentalist is drummer Adam Pierce (Mice Parade/The Dylan Group). Although Grubbs does some bass guitar overdubbing, on tracks such as "Knight Errant," "A Cold Apple," and "One Way Out of the Maze," it's so low in the mix and masked by his guitar; the positive outcome, perhaps intended, is that it then feels like listening to a very tight and dynamic duo riffing off of each other. Greek cellist Nikos Veliotis (featured in Grubbs' recent live performances) adds his swooping harmonics, which, along with the electronic augmentation of Matmos, turns "Hurricane Season" into a brewing and ominous piece worthy of its title. The snappy and extremely catchy "Pangolin" tears along to powerful yet unamplified electric guitar and broken bass lines which pack a lot of intensity into a brevity of under two minutes; no fancy guitar solos required. Although no recording equals that of live performance, there are a lot of moments on A Guess at The Riddle where it feels like I'm in a small club, listening intently at the edge of the stage. - Gord Fynes
samples:
Metalux, "Waiting for Armadillo"
Load


M.V. Carbon and J. Gräf make noise that is slow, consumptive, and jello-thick and their method of ear-shattering is unique enough to make them stand out among a sea of amateur feedback wankers. Keyboards stretch and rattle like whale blubber waving in the wind and sonic whines break the sound barrier in an attempt to reach light and break it, too, but through all the chaos and unchecked sludge is that hint of intention and arrangement that helps everything make sense. Metalux might have one foot in the out-of-control world of schizophrenic sound construction, but the other is firmly planted in the calm and cool realm of careful preparation. After turning up their aggression they consider the variety they've presented, look it over like some hellish Frankenstein made from the bones of destroyed drum kits and nuclear guitars, and they craft it into rolling lines of synthetic bubbles and purring sex kittens. Carbon and Gräf open up noise and reveal under it the comedy of failing sounds; there are bloody llamas and pliant animals to be found on this record. There's always a strange kind of beauty here that reminds me of why noise can be so great. Take the overdriven guitar of "Splinter and Shimmer" for example: distortion, super-indulgence, and complete disregard for listener health has never sounded so lovely. The witch-like moan and screech of the vocals on this track slip around the pure fucking animalistic drive of the guitar and the painful screech of electronics so perfectly, it's a surprise that more individuals haven't tried this approach (it seems ripe for theft and overuse). Metalux let it carry on for just long enough and don't bother using it again—it's an addictive piece of songwriting that only increases with each listen. In other places the record is almost danceable as drum machines pound away steady rhythms, alternating between bass hits and persistent snare crunching. The noise that moves over it and the sometimes fascist ramblings of the vocalist create the kind of fear that only an epileptic thrust suddenly into a disco bash could feel. "Airplane" and "Flexi-Armadillo" fit this bill well, but there aren't just a few styles on this album. Nearly every song is unique and still Waiting for Armadillo sticks together more cohesively than rock opera. "Rode West" sounds like it belongs in some world filled with secretly perverted clowns and "Mexico" might as well be put in every raver's CD player as a means of terminally destroying their ability to dance and think. Both of them sound as though they were crafted from the same twisted brain and both serve the greater purpose of lifting Waiting for Armadillo far above the usual onslaught of pummeling sound and into another dimension occupied only by itself. - Lucas Schleicher
samples:
Venetian Snares, "Huge Chrome Cylinder Box Unfolding"
Planet µ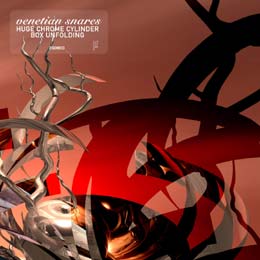 Despite his efforts to write a melodic album distanced from the beat-driven erraticism and pop culture plunderphonics that have defined much of his work to date, Aaron Funk's eleventh album as Venetian Snares sounds like something Richard D. James saved to diskette and threw in a corner. In all honesty if I had received this CD without any artwork or indication of artist name, I would have written it off as another Aphex Twin/Autechre/Mu-Ziq wannabe and thrown it in the pile to be forgotten. The greatest fault of Huge Chrome Cylinder Box Unfolding lies in its lack of the mix of eccentric charms and sinister overtones found on previous releases like Horse and Goat, Find Candace, and the now-classic Doll Doll Doll. The sameness of the material makes the majority of the songs practically indistinguishable from eachother, making it difficult to latch on to any one in particular. Gurgling MOS6581 sound chip melodies and spastic percussion litter tracks like "Bonivital," "Coke Ajax," and "Nineteen1319" with little variation to speak of. "Keek" employs Speak N Math equation gibberish to accent its tinny atmospheres while "Vida" fuses together Commodore 64 tones and glitchy hip hop with spotty results. OK, Aaron, we get it. You like oldschool video game sounds. Thanks for clarifying. From reading my descriptions here, some readers might be confused as to why I have such a negative view of this release. To them I would say that good intentions and seemingly clever ideas are often far less enjoyable when implemented musically, as is the case here. To be clear, Huge Chrome Cylinder Box Unfolding is not an unlistenable affair, and without a doubt stands as Funk's most accessible release to date. Still, after making a name for himself with music that is equally challenging and entertaining, this derivative release ranks as an unmemorable entry in his relatively strong catalog. - Gary Suarez
samples:
m83, "Dead Cities, Red Seas & Lost Ghosts"
Mute


The most popular electronic French duo since Air have finally had their internationally acclaimed album issued in North America through Mute. Unfortunately, hearing this after the extended period of hype, I was expecting something more. Rather than hearing the masterpiece as so many have exploded about, my ears tell me this could easily be the most overrated album I can recall in a long, long time. It's like very bad New Age, except that it's packaged for the hip kids rather than the boring yuppies. For 12 tracks, this band pushes all the right emotional buttons: making grand climactic wooshes—like the most masturbatory Alan Parsons or Emerson, Lake and Palmer moments—but the six minute long crescendos never go anywhere. Each song is a buildup and buildup with absolutely no payoff. By the halfway mark, I feel as if I've heard six intros in a row and no songs. Just like Air, I find M83 completely onanistic and dull. Maybe we can blame this one on classical French playwriting, expressed in something like Waiting for Godot, where there was no climax, and the whole time was spent anticipating something that never comes. However, the writing on Dead Cities is amateurish, as the songs are incomplete, with directionless meandering. By the end of the album, my time has been robbed and I've got even less respect for the critics and fans who have inexplicably gushed over this sad excuse for music. For existing M83 fans, it's worth noting that this US edition comes with a bonus disc of five audio tracks and two music videos. - Jon Whitney
samples:
We know that our music picks may be somewhat challenging to find, which is why we have a community section which can be used to obtain nearly everything available on this site.