a weekly digest from the staff and contributors of brainwashed
V07I36 - 09122004
Click here for other issues
SITE
tg vs. atp
As of this week, the ATP Foundation has announced that there will be no Throbbing Gristle-curated event at Camber Sands in the UK for 2005. In other words, RE~TG has been cancelled. All non-TG performers originally scheduled to perform in this festival are no longer going to play. Instead, Throbbing Gristle is now scheduled to perform at The Nightmare Before Christmas in December at Camber Sands as part of All Tomorrow's Parties. Other performers scheduled include Mercury Rev, Shellac, Peaches, The Fall, Violent Femmes, The Minutemen, Carl Craig, Wolf Eyes, and Lightning Bolt. For more information see www.atpfestival.com. Purchased tickets will be honored, dropped bands have been dishonored.
mute north america recalls diamanda
Mute North America regretfully encountered problems with the production of Diamanda Galás' new album La Serpenta Canta. If you purchased one of these copies, Mute North America would like to replace this copy with a proper version of the release. If you're unsure if you own one of these tainted copies, please check the following points, and please refer to the visuals posted on this site:
http://www.diamandagalas.com/tainted_design.htm


The numbers in the barcode on the back of the tainted CD should read: 724596925522. If this is not the barcode on the back of your copy, you've purchased an import piece which contains the correct artwork.
The track listing located on the back of the CD is in a simple, thin Helvetica font.
The front cover and back cover photos look bit-mapped.
Please send your tainted copy to:
Mute Records
attention: Jeanne Klafin
140 West 22nd Street, Suite 10A
New York, NY 10011
and it will be replaced immediately upon receipt.
Mute North America apologizes for any inconvenience this situation has caused to the artist, her team and her fans.
brain in the wire bits back in stock
Disc A and Disc B are available again directly from brainwashed, now at a reduced cost. Some copies of Disc A have returned home from being on tour and Disc B is now available as a CD-R with the original sleeve. They're all available with Disc X at the Brainwashed Commerce page.
MATMOS MAKES CONTACT WITH SAGAN
Vague Terran, a small record label operated by Matmos, is releasing its first album by another group. Unseen Forces is the new CD/DVD album by San Francisco group Sagan, a group comprised of Blevin Blectum, J. Lesser, Wobbly and filmmaker Ryan Junnell. The album is due out September 25th.
colin potter to play upcoming gigs with jonathan coleclough
Colin Potter is currently finishing up the recordings for a double CD of Nurse With Wound recordings from the Shipwreck Radio sessions off the coast of Norway in the Arctic Ocean. According to Potter, "All the music is mastered & Steve is now finishing the cover." Upcoming events with Colin include performances with Andrew Liles, Karl Blake, and Stimulus at the end of this month, with Jonathan Coleclough at the beginning of October, and two mid-October dates with Rapoon in Vienna and Brno (Czech Republic). Look below in the Events section for more details.
adem gears up for a great fall
Fridge bassist Adem is a busy man. September the 13th sees the release of his newest single from Homesongs. "Ringing in My Ear" will be released in both CD and 7" format, the CD containing two b-sides and the 7" featuring a track called "I Can Give You a Reason." In addition, Adem is putting together his own two-day music event called HOMEFIRES. Eat Your Own Ears, Bigdipper, and Adem have put together a two day festival that will be held at Conway Hall in Holborn, London on the 18th and 19th of September. Alan Sparhawk of Low was supposed to perform at this show, but unfortunately he won't be able to make it in time. For more info on dates and tickets, see www.adem.tv.
bailiff on the horizon
Jessica Bailiff has a ton of music due soon, including releases with David Odd Nosdam (formerly of cLOUDDEAD), Rachel Staggs from Experimental Aircraft, and a couple of EPs with Rivulets. The big news, however, is that Rachel and Jessica have finally found a label to release their Eau Claire EP. After searching for a label and running into various other problems, the EP was finally picked up by Clairerecords and is set to be released this fall. Jessica can also be found on the latest Flashpaper record. The Northern Song Dynasty album with Jesse Edwards is going to be re-released, soon, and The Red Morning Chorus album is nearing completion. Clear Horizon (Jessica and Dave Pearce from Flying Saucer Attack) have a second album under way as well and Jessica reports that a fourth solo album is in the works. See her website for information about ordering and release dates.
COIL PULL A NEW RELEASE OUT OF THEIR ANS
This week Coil has begun to ship out orders of the long-promised triple-CD/DVD set ANS, an album made entirely with the unique Russian ANS synthesizer. This release is an expansion of a limited-edition single-disc album released last year, and it's only available from the Threshold House site at www.thresholdhouse.com.
THIGHPAULSANDRA DOUBLES YOUR VULGARITY
Thighpaulsandra's new album Double Vulgar 2 is due out soon on LP and CD on Portland's Beta-Lactam Ring Records. The first volume of Double Vulgar was released on Thighpaul's own Retractor label, but manufactured and distributed through the now-defunct World Serpent.
THE EYE

Lockgroove


After playing around Boston for a number of years, Lockgroove have built a reputation with fans of psych-rock and space-rock to the blurrier side of dreampop. The group has appropriately been found sharing bills with groups like Acid Mothers Temple and playing at the Boston-hosted Terrastock festival. Named after a Stereolab song, the band was formed by twin brothers Martin and Randy Rex. Four years after their last release, the band has finally released their second full-length album. We talked about noise, being twins, and where the heart lies in the art.
19 Minutes, Quicktime Streaming Video
TECH SPECS
Necessary:
A current web browser
A modern computer
The latest quicktime plugin for streaming media (hint: use the latest Mozilla if other browsers aren't working)
Recommended:
A fast connection
A willingness to learn
Unnecessary:
If you see a blank window without anything streaming, don't complain to us. You don't have the latest version of Quicktime for streaming media. Go download it. It's free.
MUSIC IN REVIEW
Six Organs of Admittance, "The Manifestation"
Strange Attractors


Six Organs of Admittance released The Manifestation as a one-sided 12" on the BaDaBing label in 2000, limiting the pressing to 500. Strange Attractors they have appended another nearly 23 minute exploration hitherto unreleased, thereby doubling the music. The CD version makes the 12" seem scrawny now in retrospect, especially since the new song ("The Six Stations") surpasses its companion piece ("The Manifestation") by a few nylon guitar strings. "The Six Stations" endeavors to be more than just a song, though. Chasny intends it as an aural experiment complete with lab report. He employs an antiquated astrophysics equation (the Titius-Bode law which approximates the spacing between the planets; look it up) to create modes for a six-movement piece. Each movement corresponds to the first six planets from the sun and is in a different key dependent on the mode. There is plenty of literature in the packaging which tries to explain the method in Chasny's madness, but it comes off at first glance as the scribbling of a deranged astrologer. Yet I like the madness, even if it is just the appearance of madness. To unify the two songs on the CD, Chasny has recorded the sound of a needle playing the side of the original clear vinyl which was etched with a picture of the sun. This sound plays underneath the entirety of "The Six Stations." And now you begin to see all the motifs bending into each other: Six organs for six planets for six stations; celestial bodies connected by an equation which influences the modes of the song's movements, with an underlying physical connection of raw crackliness. Even without the theory, the music itself is sublime. The crackling needle is hypnotic, uniting the intricacies of all six movements with its subtle dissonance. The one planet which is perhaps least admirably represented is our own mother planet. Apparently, in Chasny's reasoning, Earth has no mode and thus no music to accompany it. Instead, David Tibet of Current 93 reads some awkward poetry over the crackling needle. The song suffers from this segment insofar as I bristled uncomfortably with each stanza. Yet the other 5/6 of elegant guitar plucking more than makes up for Earth's unfortunate (but perhaps apt) tribute. The title track begins with drones and chants, eventually coalescing into a coherent melody, sometimes with male and female vocals dancing around the guitars. Three-quarters of the way through, the song breaks down again into a restrained and tempered improvisational session, only to pick itself up by the bootstraps in the last 4 minutes and recollect itself into once again coherent guitar melodies. The sounds on both songs are commensurate with other Six Organs of Admittance records, arranging the well-paired avant-folk and psych drone in this couplet of songs. In fact, both suites are like medleys or samplers of Chasny's unique repertoire of sounds. I don't mean to say that it all sounds the same. On the contrary, the movements in these suites are indispensable for fans of Chasny's work, as essential as stars in any respectable constellation. - Joshua David Mann
samples:
LE FLY PAN AM, "N'ECOUTEZ PAS"
Constellation


What I appreciate most about the latest full length release from Montreal's Fly Pan Am is their ability to crank out layered drones and punchy rhythms which form the solid foundation for near guitar and keyboard thrashings to play off and still keep it generally interesting. The ten tracks on N'Ecoutez Pas vary from straight ahead arrangements heavy with distortion to more drawn out freeform pursuits that teeter on the brink of chaos, at times involving spoken word tape splicing and other assorted noises. The more structured tracks "Brûlez suivant, suivante!", "Pas à pas step until" and "Vos rêves revers" include the expected stacked guitars with cool chord voicing and quirky syncopated drumming that I've come to appreciate. At times, I think my ears trick me into hearing brief bits of Motown soul in some of the bass lines. Still, it adds to the constant underlying musical tension that's heightened by whispered vocals, which although in French, are just as effective in creating a sense of anxiety regardless of the lyrics. The lengthy "Très très 'retro' " builds on the repetition of steady rhythms and distorted keyboard stabs with slight variation for what seems like the group's entire arsenal of guitar pedals, patch effects and the kitchen sink to play off. At eleven minutes, including a break for what sounds like popping balloons and distant organ drones, the less-is-more approach may have been a lot more effective and held my undivided attention. At the other end of the spectrum, the brief and sparse composition "Ex éleveur de renards argentes" left me wanting to hear more of its twitchy guitar, eerie piano, highway sounds and spoken word layering, all presented with a very musique concrête touch. Again in the brevity department, "Le faux pas aimer vous souhaite d'être follement ami" is the trashy rocker complete with cheerleading chants that ran its course before I could translate the title based on my poor retention of high school French. With the exception of some lengthy guitar explorations, N'Ecoutez Pas has Le Fly Pan Am broadening the musical pallet and honing their skills of pulling off modern compositions within traditional rock instrumentation. - Gord Fynes
samples:
"COOL AS ICE: THE BE MUSIC PRODUCTIONS"
LTM


Cool As Ice sweeps up the scattered remains of the influential dance singles produced by Be Music, a catch-all name that denoted productions by various members of New Order. Most of these tracks were produced by Bernard Sumner, often working alongside DoJo (Donald Johnson of A Certain Ratio); with a few tracks produced by Peter Hook, Steve Morris and Gillian Gilbert. It's a fantastic collection of rarely heard electro and dance classics from the early years of British club culture. The twelve tracks collected on Cool As Ice were originally released in a particularly fertile creative period of 1983-4. 52nd Street's "Can't Afford To Let You Go" is a classic slab of across-the-Atlantic electro: throbbing analog sequences and stunning Roland 808 programming alongside soulful R&B vocals. It's a thick, delicious concoction of post-Disco dance every bit as good as Detroit mainstays like Rhythm is Rhythm, but with an ear for clean-edged, spartan production familiar from classic New Order tracks like the ubiquitous "Blue Monday." "Looking From a Hilltop (Megamix)," painstakingly reworked from a track by Section 25, rates among the greatest all-time techno singles; a lush urban sprawl illuminated by the glistening surfaces of newly constructed high-rise apartment buildings. Marcel King's "Reach For Love" is a gloriously overwrought gay-club anthem that never was, bearing more than a passing resemblance to my beloved Bronski Beat. Cool As Ice would be worth the price for the first three tracks alone, but luckily there are nine more tracks, filling out the disc's running time to the 74-minute limit. Other tracks by obscure acts like Quando Quango, Thick Pigeon and Josef K frontman Paul Haig outline that unique mid-80's intersection of post-punk, new wave, Big Beat and the emerging dance scenes. The quality of the songs varies from average to better, but most of them have held up remarkably well, due in no small to the smart production by New Order members. It's strange, considering the long-running notoriety and success of New Order, that no one thought to compile this stuff before now. But that's LTM's specialty: fulfilling needs we didn't even know we had. - Jonathan Dean
samples:
"TWICE AS NICE"
LTM


The appropriately named sequel to last year's Cool As Ice, Twice As Nice continues the job of compiling lost dance singles from Factory and Crepscule. This time, the compilers stretch out a bit, including not only productions credited to New Order's Be Music, but also a few related producers. Among the other producers represented on the compilation are NYC luminaries Arthur Baker and Mark Kamins, as well as three 52nd Street tracks produced by DoJo without the help of Bernard Sumner. Consequently, the songs on Twice As Nice aren't as thematically linked as those on the first volume. There is a also a noticeable drop in the quality of many of these singles, a few of which would have been better left to history's dustbin. I'm thinking specifically of Arthur Baker's shiny happy remix of Anna Domino's "Summer," which clocks in at a laborious seven minutes, and never rises above the level of "Walking on Sunshine" 80s pop trash. Mark Kamins was a popular NYC producer and DJ at the legendary Danceteria, but he will probably forever be known as one of the "little people" that Madonna Ciccone climbed over on her way to world domination. His production on Cheyne's "Call Me Mr. Telephone" highlights some of the problems inherent in white producers co-opting early HipHop, but demonstrating a fundamental lack of understanding as to what made HipHop good. The 52nd Street tracks fare much better, especially "Express" and "Look Into My Eyes," soulful R&B grooves expanded by DoJo into synth-heavy, polyrhythmic disco-funk classics. Quando Quango appear on a pair of Latin-influenced new wave dance sides with remarkably outre' production, incorporating varispeed vocals and dub trickery. Marcel King's "Keep On Dancing" doesn't repeat the unparalleled greatness of "Reach For Love," but he gives it the old college try anyway, with another high-energy, anthemic gay classic. Shark Vegas were an obscure German electro-disco group, and their "You Hurt Me (Version)" plays like a step-by-step primer in early-80s, by-the-book Euro-techno. A rare edit of New Order's "Video 5-8-6" will be a major attraction to many, an early experiment in creating a track entirely with electronic sequencers. This track, along with Section 25's "Sakura," both display Bernard Sumner's nascent experimentation with his new gadgets, and evidence a remarkable sort of "beginner's luck" that manifests in a pair of stunning low-fi electronic tracks that belong in the same company as early Human League. The vocoderized technopop of "Motherland (Remix)," by cult Factory oddballs The Royal Family and the Poor, is pretty atypical of their sound, but pleasant nonetheless. Twice As Nice is nothing if not inconsistent, and does not hold the easy appeal of its predecessor, but contains enough worthwhile nuggets to warrant a few spins. - Jonathan Dean
samples:
Mark Lanegan Band, "Bubblegum"
Beggar's Banquet


After the supposedly appetite-whetting Here Comes That Weird Chill left me cold, I had doubts about the latest Mark Lanegan direction, marked by the Band credit added to his name. Luckily, the latest record is a realization of the best parts of that release, also making it a full-fledged rebirth for Lanegan as a solo artist. I heard some Screaming Trees songs not too long ago, and I remembered thinking that it was great to hear his voice, since he used to sing in that band. Lately, his performances had almost become a parody of themselves, with the broken-glass-embedded-in-the-throat routine becoming the height of his regimen. Now, though, he's like a chameleon, changing his skin and styles on nearly every track, and he's singing from places I haven't heard in years. Sure, the broken glass routine is still about, but it's also tempered with a beauty and an earnestness in the middle of all the shifts of fancy. The backing band is still disparate, with Josh Homme and Nick Oliveri on a few tracks, Greg Dulli here and there, and even Polly Jean Harvey on the swaggering "Hit the City." It works big time, and the whole package is a wild ride through the psyche of a man who is finally hitting a new stride. "One Hundred Days" is the track that brings it all together, with Lanegan's plaintive vocal and gentle guitars loping into view to start. When the rest of the band joins in, the song takes the money and runs, and the harmonies are pure sweetness. There are great moments of somber like this throughout the record, like the opening "When Your Number Isn't Up" and "Strange Religion," and they're never faked or rushed. What really picks it up and gets the blood going is the bombast, like on "Sideways in Reverse," where the banging drums and energy are in full force, or the breakbeat weirdness of "Can't Come Down." It's a great mix of the high and low, and maybe it's the fact that Lanegan sounds free or released that makes the passion or honesty more palpable. He's on the next level finally, after struggling a little bit, and ready to wow again. - Rob Devlin
samples:
Paul Westerberg, "Folker"
Vagrant


On his fifth album in two years, Paul Westerberg should be getting to that point where he's becoming a parody of himself, sounding out the same old business in his traditional way. Strangely, though, he sounds more fresh than ever, opening up and having fun in a way that's almost more revealing than any songs he's ever released. It's known that Westerberg has a large stockpile of material that he's been recording in his home for years, but there hasn't been a dud yet as he sloughs off years of age to bring this music to life. No, he doesn't sound like he's in the Mats again, but it makes little difference when he's still cooking up magic. The album opens with "Jingle," Paul's attempt to get mainstream commercials to buy one of his songs and make him the next corporate shill like Lenny Kravitz, but it's obvious why it never worked: his snide sense of humor is in full effect, and any intelligent buyer would know he's crossing his fingers behind his back as he sings "Buy it now." It's catchy enough for an album opener, and after that it's pretty much a fitting title for what's inside. The honesty and directness is what flavors all the songs with such import, almost like Paul is taking a stand like Joan Baez or Bob Dylan, but only on what's important to him, not the masses. This is a folk album that speaks from the heart, but about the heart and what flies around the head instead of about ideas that are projected on to those who listen. "My Dad" doesn't need much explanation, but feels like a song that represents a conversation that should have taken place and didn't. "Now I Wonder" is the quest everyone goes on, and it's got that classic Westerberg sneer with Jesus Christ references, poetry on wheels. Again Paul plays all the instruments, and doesn't care about clean takes or crisp playing. With all these ingredients, the cake should be tasty, and it is, even though it's got no frosting or sprinkles. If he keeps it up at this pace, Paul might have thirty records out by 2015, and not a one of them will be lackluster. - Rob Devlin
samples:
Slow Six, "Private Times in Public Places"
Habit of Creation


An orchestral band with an interesting twist, Slow Six have compiled this debut album from tracks they've recorded over the last four years, though none of it sounds in the least dated. The twist is the use of an active computer that takes in the sounds the members make and interprets them into what it will, used mainly in a live setting but put to slight use on these recordings, as well. Though they work with other artists when they perform as sort of a rule, there is no missing component when listening to these songs, as they're certainly dynamic enough to hold attention. Sometimes they take a while to warm up, or to get to that next shift, but there's never a moment of absolute staggering boredom that attacked me. What also struck me is the care in the packaging, like it was an art project all its own, as the cover photo has so much meaning, like the Empire State Building is a great unknown forbidden to those who live behind the fence. The liner notes are actually a photograph of the walls in their rehearsal space, where guitarist Peter Cressy actually wrote the words on the wall in a very elegant style. It's a small gesture, but it shows the commitment and care of these artists to and for their work. The songs number three, with the shortest clocking it at almost nineteen minutes, and they represent a full range of emotions as well as variations in what the band is capable of. Each has its own breath and life, and moves with a spirit that feels like a wise and aged soul. To break these massive passages down to "the violin sounds great" is almost an insult to their beauty, but the instruments are played with great skill and passion, and the music becomes more lovely with every replay. Violin, viola, and cello are joined with guitars and Rhodes piano and the aforementioned computer instruments — no percussion. It's not missed or even needed, and the sounds all swirl together in an artful embrace. I hope the band tours outside their native New York so I can see this first hand, and that there's more to come from these practitioners of the slow and somber. - Rob Devlin
samples:
Carl Douglas, "Kung-Fu Fighting"
Echo Beach


A decade or so ago, I worked part-time in a CD shop that specialized mainly in strange and obscure imports. One of our favorite pastimes was scouring the catalogues from distributors in places like Germany and Japan to find the most unlikely reissues and greatest hits collections, and at one point, we had a list posted in the stock room of the "Top 10 Greatest Hits albums that should be a CD single." Number one with a bullet was a German anthology of tracks by Carl Douglas, the Jamaican-born singer behind the 70s pop-disco classic "Kung-Fu Fighting" and, well, a lot of other songs that no-one cared about. Released in the UK in 1974 at the height of the craze for chop-socky kung-fu flicks, the song spent weeks on the charts, and had similar success in North America the following year. 30 years later, the folks at German neo-dub label Echo Beach decided that it would be a good idea to have a bunch of people remix this slice of 70s cheese, and given the current popularity for reconstructed & deconstructed kung-fu films like Kill Bill and Hero, the release has a perverse sense of the "expert timing" mentioned in the lyrics. The big question, though, is whether or not the world really needs 16 new versions of what is essentially a novelty record by a long gone one-hit wonder. After forcing myself to listen to the entire 78 minutes of 30 seconds of the album, I'd have to say that the answer is a powerful and resounding NO. It doesn't start off too badly, as the opening mix by Noiseshaper turns the track into a surprisingly enjoyable chilled-out reggae number. But as the album moves on through one dub-based variation after another by Dreadzone, Kid Loco & Rob Smith, it doesn't take long for the novelty of the project to wear off. Seeing Adrian Sherwood listed in the credits offered some promise, given his reputation as an adventurous producer who often pushes the limits of dub techniques, but his mix is sadly one of the weakest in a generally weak bunch. The only bits that stand out are the Pole mix, which drops a handful of vocal samples into a downtempo composition that is one of his best works in quite some time; and G-Rizo's version which completely reworks the track into a mellow broken beat number with breathy female vocals. If this had been a 4-track EP, it would've been a fun release worth grabbing to add some humour to the dance floor at your next house party, but as an album, it's really quite excruciating. Given that this isn't the first time Echo Beach has done this sort of thing— they released a similar album a couple of years ago featuring a multitude of mixes of their namesake song by Martha & The Muffins—I can only shudder to think what mouldy oldie will be next in line for this treatment. - Greg Clow
samples:
We know that our music picks may be somewhat challenging to find, which is why we have a community section which can be used to obtain nearly everything available on this site.
NEW RELEASES

WEEK OF SEPTEMBER 12 - SEPTEMBER 18
As One - Believer 12" (Ubiquity, US)
* Attrition - Dante's Kitchen CD (Big Blue, Poland)
Aural Planet - Reworked CD (Vivo, Poland)
Amir Baghiri - Love & Pain CD (Vivo, Poland)
Beyer and Lenk feat. Tiga - Heartbreak/Ananda 12" (novamute, UK)
Blues Explosion - Burn It Off 7"/CDEP (Mute, UK)
Tim Bowness - My Hotel Year CD (One Little Indian, UK)
Clan of Xymox - The Best of Clan of Xymox CD (Metropolis, US)
The Czars - Paint the Moon CDEP (Bella Union, UK)
Dizzee Rascal - Showtime CD/LP (XL Recordings/Beggars Group, US)
Dosh - Naoise 12" (Anticon, US)
Duran Duran - Singles Box 2: 1986-1995 14xCDEP (EMI, UK)
dZihan & Kamien Orchestra - Live in Vienna CD (Six Degrees, US)
The Ex - Turn 2xCD (Touch & Go, US)
The Faint - Wet From Birth CD/LP (Saddle Creek, US)
Fatboy Slim - Slash Dot Dash 12"/CDEP (Skint, UK)
The Go Find - Miami CD/LP (Morr Music, Germany)
Stafraenn Hakon - Ventill/Poki CD/2xLP (Resonant, UK)
Grillhaus - Grillhaus LP (PsychForm, US)
Infrastructure - Salt the Earth CD (Fire in the Hole, US)
Interpol - Slow Hands 7"/CDEP (Matador Europe, UK)
Laibach - Das Spiel Ist Aus 12"/CDEP (Mute, UK)
Mindless Faith - Momentum CD (Metropolis, US)
* Minny Pops - Drastic Measures, Drastic Movement CD [remastered with bonus tracks & video content] (LTM, UK)
Juana Molina - Tres Cosas (Three Things) CD/LP (Domino, UK)
Momma Gravy - Adios CD (Different Drummer, UK)
Mr Scruff/Various - Keep It Solid Steel Vol. 1 CD (Ninja Tune, UK)
New Order - 808 State Acid House Mixes 12" [rare mixes of Blue Monday & Confusion] (Rephlex, UK)
Noah23 - Chicken Pox 12" (2.nd rec, Germany)
The Prodigy - Always Outnumbered Never Outgunned CD (Maverick, US)
Psyche - Legacy CD (Metropolis, US)
Radio 4 - Stealing Of The Nation CD/LP (City Slang/Labels, Europe)
Rammstein - Mein Teil two 7"s/CDEP [mixes by Pet Shop Boys & Arthur Baker] (Universal, UK)
Steve Roach, Byron Metcalf, Mark Seelig - Mantram CD (Projekt, US)
Shitmat - Full English Breakfest Vol. 3 12" (Planet µ, UK)
Silkworm - It'll Be Cool CD (Touch & Go, US)
Smartypants - Soup 12" (Zero G Sounds, US)
Spark - Super Robot Battle Deluxe CD (n5MD, US)
Swayzak - Loops from the Bergerie CD/LP (!K7, Germany)
Sally Timms - In The World of Him CD (Touch & Go, US)

This is simply this week's highlights from the NEW RELEASES provided by Greg and Feedback Monitor. For a more detailed schedule stretching into the future, please check out the page, since release dates can and will often change.
HOME THEATER
THE BARBARIAN INVASIONS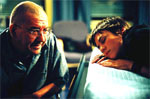 It's no surprise that French-Canadian writer/director Denys Archand (Jesus of Montreal, Stardom) received critical acclaim for his social commentary masterpiece, The Barbarian Invasions, including some spotlight time at this year's Academy Awards. The film's major theme, a father's deathbed enlightenment, is set in post-September 11 Quebec, complete with its ailing medicare system and social infrastructure. The plot revolves around the story of Rémy, a father dying of cancer and Sébastien, the successful yet bitter son, making amends before the inevitable occurs. Though an all too familiar scenario, Archand takes a unique approach by having it play out as a reunion of the highly intellectual characters from his 1986 film, The Decline of the American Empire. A younger Rémy, as a brilliant university history professor, had boasted of his philandering lifestyle. With The Barbarian Invasions, this has now destroyed his marriage and set the tone of the relationship with his resentful son. Upon learning from his mother of the love and devotion his father paid him as a child, Sébastien has a change of heart. He decides to use his plentiful finances to bribe hospital staff and union officials into creating a private tier of healthcare on the premises to ensure Rémy's final days are spent in greater comfort. This now includes the use of heroin as medication, prescribed and administered by Nathalie, a childhood friend of Sébastien's turned junkie. The gathering of old friends and lovers turns into a bedside roast for their ailing colleague and has them recalling philosophies of life, love, sex and politics from their earlier days, some of which they still appear to practice. While I found a lot of these discussions to be intriguing and quite profound, there were times when the themes become overstated, almost to the point of becoming pedestrian. The film's title is introduced and interpreted during the group's discussions on world views and cultures, to which television images in the background recall the scene of the plane hitting the second tower in NYC to strengthen one meaning; the most obvious meaning being the central character's battle with cancer. Archand also shows the church, perhaps the most powerful body in Quebec, doing business with Gaëlle, Rémy's art dealing fiancée, in an attempt to sell off some its precious and plentiful artifacts in order to raise funds after its legal problems of late. The film's title takes on the most powerful of meanings when she informs them that they are now worthless on the world market; the most sacred of values pillaged by the society that held them. An emotionally powerful and thought-provoking film, The Barbarian Invasions had me reflecting on my relationships with family and friends and at the same time question and compare my present personal values in certain areas of society with that of my own youth. - Gord Fynes
POLL
Results from last poll:

LINK OF THE WEEK
stranger than fiction
Respectable news satirists The Onion ran an article back in January 2001 when George W. Bush took office. The article was all about the misery that was in store for the United States and the world. Somebody as gone through the article recently and has provided links to numerous points on how many of these fictitious things have now more or less come true. See and decide for yourself.
http://chak.org/pages/onion/bush_nightmare.html
THIS WEEK'S CROSSWORD
where are you?
Test your knowledge of Brainwashed bands and history with this week's puzzle: Where Are You?. It's not just the name of a Coil and Meat Beat song or Hafler Trio and Current 93 collaboration, it's a quiz on the locations of some of our Artists and Archives.
It's a PDF file. Print it up, pass it around the office, pester your cubicle neighbor.
FEEDBACK
the feral stench lingers

Subject: think stink
At last a poll I know I have my answer 100% right ;)
That is soooo funny... a *stinky* poll !
Nice to see those latest DRONE 7 inches reviewed! I'm very happy that Drone is getting more exposure. I have these and they are great not to mention the beauty of them (their artwork) - something many labels had tossed away.
Indeed.

Subject: polls
two polls in a row with phish jokes in them?
you guys must really hate phish!
:D
Maybe, but look how many polls with Bjórk, Venetian Snares or Motorhead in them...
GET INVOLVED
sponsor, donate, or buy from brainwashed
Click here to find out how you can help keep The Brain going. Every penny helps.
become a contributor
We're always looking for more writers and are welcoming applicants who meet the criteria. Have a look at our new section, Write for The Brain and don't be shy.
submit a crossword
Go here, fill out some answers and clues! Don't forget to send us the links to the puzzles and solutions and tell us who you are and where you're from. Come up with clever titles or themes. It could be fun!
let us know what you think
Communicate with us, tell us what's in your player, tell us what you want more/less of, send recipes.
WHAT'S IN YOUR PLAYER?
rigor mortis
Stiffs, Inc. - Electric Chair Theatre
Danzig- Circle of Snakes
HIV11- Fuck Compilation
Estrogenocide-I Like to Cuddle
GG Allin- Doctrine of Mayhem

Stefan, Dallas TX, USA