Dean Roberts, "And The Black Moths Play The Grand Cinema"
Staubgold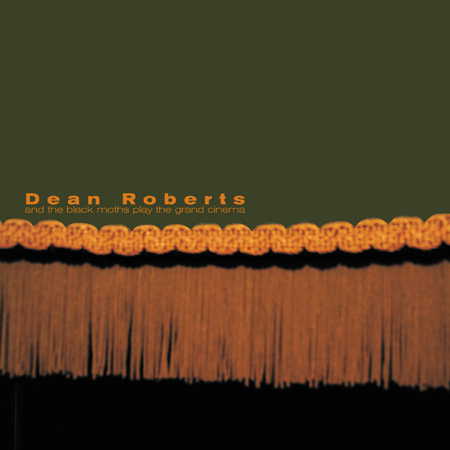 As the dust of Mille Plateaux's collapse settles, it's easy to forget about the number of great releases from the label's more experimental off-shoot Ritornell that will also be lost. And though I'm not sure that Staubgold is game for a larger reissue series of that label's lost gems, they have certainly chosen one of the best for this single repress, complete with redone artwork. Black Moths was Roberts' last "solo" record before 2003's beautiful Be Mine Tonight. It was recorded shortly after a couple rather computer-centric discs (All Cracked Medias and Moth Park) which found Roberts exploring his usual set-up of prepared guitar, hi-hat-heavy percussion, and plunked piano to alienating extremes, instruments deftly chopped and pasted into mock mini-explosions, a coalescence of chiming, shredded sound bits with instrumental identities and roles filled only at a bare minimum and movements within a piece arriving in anxious, feigned, and too-often meaningless succession. The "meta-language" Roberts describes himself as creating on these releases, while unique, can also be frustrating as it provides no easy information about the direction of a particular piece. Often a song's entire progression consists of repetitious, segmented bursts in which the interaction and improvisation of the instruments are boxed within simple, stunted meditations on a single tonal or textural idea. Roberts' smoky, even ragged playing style, steeped in years of droning improv with his first group Thela, seems an immediate signifier of lonely and fragile territories, but the religious structuring of these earlier releases makes for a bizarre conflict of interest as any tangible mood is erased by the calculated and incessant playings off-of or into a cryptic formal diagram. For Black Moths, Roberts has not given up on the high-concept of his early works; rather, he chooses to up the ante by forcing more elements of traditional rock or "song"-styled composition into his already idea-heavy mix. The "Black Moths," consisting of Matt Valentine, Tim Barnes (of Tower Recordings) and cellist Charles Curtis are not a support band assembled to indulge any new-found sweetness in Roberts' sensibility. They appear as if in the imagined realm of the Spiders from Mars, brought together at Roberts' whim to carry his ideas into rock (or at least free-folk) parody. The "grand cinema" of the title puts the players on stage, weaving rock moves into the reams of static glitch, cello groan, and billowing guitar squall that unfold out and out, in increasingly foreign structure over the 40 minutes. Roberts sings over a few of the track divisions (marking only pauses along a solid body of shifting and cycling sounds), one time breaking desperately into Eno's "Cindy Tells Me," another bursting with the glammy refrain, "How they adoooore you!" Barnes' percussion and Valentine's bass manage also to sound almost manic, amazing given the album's formal restraints, which struggle to guide everything toward a sprawling digital submergence where "natural" cracks and pauses are prematurely filled, and new, unsuspected gaps opened. Black Moth's theatrical component does little more than add another layer to Roberts' unique sonic amalgam, but it is enough to make this disc one of his most accessible and most complex, preparing well for Be Mine Tonight where the artist's bizarre compositional structures find just the right counterpoint in fragile song-craft and production detailed enough to make the music sound truly otherworldly. - Andrew Culler
samples:
Anaal Nathrakh, "Domine Non Es Dignus"
Season of Mist


While the land of their Scandinavian contemporaries slowly creeps towards weeks of complete and unrelenting natural darkness, Britain's Anaal Nathrakh seem set to unleash a similar fate upon the world with the release of their second full length. Picking up right where they left off 3 years ago with their wildly successful and critically acclaimed debut, The Codex Necro, the duo bring more of what they have termed to be "the soundtrack for armageddon, the [audile] essence of evil, hatred and violence, the true spirit of necro taken to its musical extremes." While obviously this is typical black metal hyperbole, they've historically done a pretty solid job of backing it up with their cold, mechanistic precision and merciless velocity. However, Domine Non Es Dignus, as shocking as it may be, sees them progressing beyond classic "grim" schlock and entering a territory where they can truly do some damage. An immediately noticeable departure from their previous work is the inclusion of cleanly sung, mildly operatic vocals that bring immediate and unavoidable comparisons to Garm's late Ulver/early Borknagar work. While this aspect of their sound is still in its formative stages and is used sparingly, it shows promise. Nowhere is this more evident than the album's standout track, "Do Not Speak," on which vocalist V.I.T.R.I.O.L. ascends, albeit for only a short time, above the catchy breakneck guitar harmonies for a surprising and, hopefully, revealing glimpse at what is to come. Compare that to "Procreation of the Wretched" in all of its howling, noisy, and all-around old-school glory, and you'll get a pretty good idea of the astounding range these guys are capable of covering in the course of ten short songs. They even take a stab at death metal dynamics with the relatively slow groove of "This is the End," another forward thinking gem on an album not lacking novel ideas and more than adequate execution. - Drew Wright
samples:
Wiley, "Treddin' on Thin Ice"
XL


While Dizzee Rascal has been grabbing all the attention on these and his home shores, another act and acquaintance of his has been waiting patiently in the wings, ready to unleash his sound on the masses. Wiley has finally arrived on the scene, though it seems almost like he's come to the party late, when the UK underground scene already feels ancient and waning. With Mike Skinner getting his lauds and Dizzee pulling the rest of the fans, it hardly seems like there's room for Wiley unless he's got something original to push. Luckily, he does have that, and enough creative subject matter to keep the ears glued to the speakers and the feet on the dancefloor. Wiley and Dizzee were both members of the Roll Deep Crew — both even throw shout outs to them on their records — so like influence produces like stylings; though where the latter is after the minds and hearts, the former is definitely after the rumps and booties. Wiley is a producer, not just a rapper, and his production values are excellent, with clean bass, beats, little or no samples, and double-tracked vocals with echoes and repeats in odd tones. Plus, his delivery is a bit clearer, making him easier to understand through the cockney slant, which also makes him a bit more likeable. It's to be expected that rhymes will be about the same old schtick that street hoods chat about, but Wiley's got another message about making things work, working through the problems, and succeeding on one's own steam. He raps and speaks with a super smooth flow, and even when he tells the tale about pies that are missing it doesn't sound ridiculous, just a regular occurrence in his world. That's perhaps the most glaring trait that makes Wiley excel: he doesn't take himself too seriously, willing to joke and jar but do it all with the same skill and respect as his more driven material. There are guest rappers that add some variety and camaraderie, and some interludes that are pleasant enough but would have been so much better if he'd completed them as finished tracks or integrated them more. If there's a medal to give for this game these days, though, I'd give it to this cat over the others. He's obviously put the work in, the years in, taken some hits here and there, but his sound is all his and ultra-original, ready to take on the world or help it along if needs be. - Rob Devlin
samples:
LARS HORNTVETH, "POOKA"
Smalltown Supersound


One of several definitions of the word "pooka" is "a shape shifting magical being from Celtic folklore." It's somewhat a fitting title for Jaga Jazzist member Lars Horntveth's debut solo recording, seeing as defining his style of music would be difficult. Pooka's strong compositions draw from the cinematic to jazz to modern classical, all with the underpinning of electronic-based elements and, at times, a slight edge. Employing a prominent and lush string section, Horntveth's intricate and challenging charts provide quite the workout, rather than just having them playing "eggs" to color in the spaces around his performances on bass clarinet, saxophones, guitars and a host of other instruments. For his twenty-four years in age, it's mind-blowing to hear such strong musicianship on a plethora of instruments paired with the maturity of his compositions, delicate arrangements and orchestration; or at any age, for that matter. After repeated and very enjoyable listenings (my four-year-old asking it be played in the car), it only became apparent when taking more of a critical approach in preparing to review this disc that Horntveth may, at times, have a formula for changing keys when he's got a truly amazing motif playing out. Yup, that's truly the only offending element I could find. The more upbeat and driving tracks, such as "The Joker" and "1. Lesson In Violin" rely more on the poppy, electronic side of things and less on the backing orchestra; the syncopation of the latter track having Jaga Jazzist written all over it. Then again, with the majority of their tunes either written or co-written by Horntveth, comparisons and similarities are inevitable. The greatest track this year, "Tics" builds from plucked strings and minimal glitch beats underneath haunting soprano saxophone to a grandiose chorus of odd time signature strings playing out an intricately woven, middle-Eastern tinged melody. Having witnessed Horntveth's musical abilities first-hand and enjoyed his solo recording several times over, he is a musical genius-in-waiting and an important modern composer of his or any other generation. - Gord Fynes
samples:
The Delgados, "Universal Audio"
Transdreamer


The Delgados are done with confrontation and hate at least musically—a modus operandi their last two albums were laden with—and want to show off a lighter side, concentrating on harmonies and jangly guitars to get the point across and cause the spirits to rise. Universal Audio, then is the Delgados turned firm pop outfit, having fun and enjoying every moment, even in the most somber of tempos and dourest of keys. Recorded with Tony Doogan at their own Chem19 studios, these songs are full of little treats of fancy as Alun Woodward and Emma Pollock trade off singing duties and fill it out with whatever strikes their fancy. Starting off is what may sound like fighting words drowned in bright guitars, but is actually a question of faith and what gets people into their situations. A little keys touch the point, and then the heavy drums return with perfect syncopation. At the chorus the song takes flight, and then the next verse takes it towards the sun, with distorted madness accompanying a secondary vocal, harmonies, and the rest of the instruments. Suddenly it's the indie rock wall-of-sound, though with the same intent of warming up the entire world with a little bit of sunshine through a thick and layered pop sound. Even though the lyrics seem full of questions or self doubt, the band sounds as confident as ever in this sugar sweet head bob of a joy parade, until the fourth track, "Come Undone," a piano-led dirge with Pollock's most plaintive and gorgeous vocal wailing "this is how it feels to drown, this is how we come undone." Brave and unrelenting, the album continues, the songs an adventurous and captivating walk on new ground, the kind of record the Delgados have been threatening to make for a long time with only one song crossing the five minute mark. There are no missteps or faltering moments to be found, no paltry fallacies or facades of indie cred. It's just one solid block of good music with the best of intentions. Others may talk of how it rates with the rest of their catalog, but it just plain doesn't. It transcends it all, and though I may miss the direct assault of other records, this one does the trick just fine. - Rob Devlin
samples:
Doerner/Kelley/Neumann/Rainey, "Thanks, Cash"
Sedimental


Here at last is a collection of recordings from the 2001 stateside tour of this foursome, all like-minds and prolifics within the vibrant improv communities of Berlin and Boston. Bhob Rainey and Axel Doerner in particular have emerged as leaders in the extended technique of breathy brass playing, where each surface of their horns becomes available as an amplified textural playground, as easily hollowed out for rustling, gaseous overflows as transformed into a turbine of magnified industrial clang. Their approach to improvisation means a more acute interaction with the instrument, an inward expansion on the part of each player that few have been able to jive successfully against the responsibilities of the ensemble setting. Too often the immaterial (or ultra-material) nature of the style creates barriers between musicians, who are tempted into layers of colorless ambience or dispassionate exchanges in noise. Even Doerner and Rainey, who maintain astonishing levels of quality in both solo and group play, sometimes walk into the occasional critique of their work as too thin or minimal in its concerns, its dynamics too hidden. These criticisms have no bearing on Thanks, Cash, a disc as sonically dense as anything I've heard from these players, full of patient, attuned interactions and rich, dark detail. Rainey's Nmperign bandmate Greg Kelley borrows from the bristly, stunted half-blurts of that group's tenser moments, laying down colored accents and squealing feedback takeovers atop Doerner's closely percussive breathing exercises and minimal electronic accompaniment. The pure tones and static waves of his computer mesh with the ghostlike hover of Andrea Neumann's innenklavier, producing a painted backdrop of throbbing and electric earth tones, a synthetic and darkly green atmosphere where Rainey's horn hobbles like a wind-tricked door. He moves with thrilling impulse from grand, industrial hollows to the claustrophobic frenzy of spit-soaked insects in the bell of his sax, each sensation delivered with an anticipated and appropriate magnitude. Greater than any one contribution, however, is the ambience of the whole. The players are less interested in reaction or embellishment as with a thick textural weave, often achieved as the three horns blend a breathing feedback pattern over Neumann's detached string tangles. At times the sound is overpowering and anxious, certainly busier, and touching harsher extremes than the Nmperign records, but reaching for a new kind of lushness, a forest of electrical fields and buried energy. The four have created a writhing lifeform, nuanced and surprising all at once, and something I can barely imagine witnessing live. - Andrew Culler
samples:
Bitcrush, "Enarc"
Component

Bitcrush, the latest solo endeavor from Mike Cadoo, takes both the melodic and gritty elements from his prior work in Gridlock and the now-defunct Dryft and splices them with an urban sensibility. More coherant and accessible than anything Cadoo has done previously, Enarc is a logical musical progression that retains a filmic nature while embracing the notion of traditional song structure. Fans of his work might find themselves caught off guard by this at first, but the results are, to quote the soon-to-be-ousted President Bush, superb. The opening cut "Engale" starts off as expected, with a growing hyponotic drone peppered with punchy, crunchy percussion. Yet despite the present familiarity, it quickly becomes clear that Bitcrush is not just another abstract experimental soundscape act, as the pleasant introduction of traditional instrumentation on "Untilted" reveals. Moaning with digital noise, "Arjon Tenpher" dazzles with dubbed out drum loops and creeping synthesized melodies. "Habitual" shifts gears from its relatively straightforward hip hop groove by climaxing with disjointed junglism and an acid teaser lead line. The stunning and irrepressibly head-nodding "Eye Koto" blows the roof off the motherfucker with a Bristol inspired jam of plucked twangy guitar, huge beats, and DSP manipulation. "Frebasyc" rocks a Peter Hook-style riff over sharp stuttering drums, with the only missing desired addition being vocals, which apparently will be incorporated into future Bitcrush tracks. "Carbon" locks itself in the echo chamber for something somewhat resembling the recent 303-obsessed Wagon Christ album without the kitsch. Conversely, the untitled hidden bonus track does a 180 degree turn as a straight-up shoegazing indie rock song that could easily wind up on college radio station playlists. Standing defiant before the blown out hull of IDM, Enarc is an aurally arresting affair that stays captivating throughout and raises the bar for Warp noodlers, Ninja Tune wannabes, Planet µ wankers, and the rest of their ilk. - Gary Suarez
samples:
Laibach, "Anthems"
Mute


Essentially a formulaic, gimmicky act that only occasionally impresses, Laibach's long career has largely been defined, as well as hindered, by what the New York Times once called a "crypto-totalitarianism" that pervades its work. The project's dubious perceived politics, often simultaneously inferred and contradicted by the collective's murky artistic ethos and unbelievable over-the-top theatrics, injected a dose of controversy into their overblown music, guaranteeing them attention from listeners on both sides of the ideological spectrum. Anthems, a dual disc retrospective of the Slovenian band's two decades of work, chronologically works backwards, beginning with a bouncy, danceable remix of "Das Spiel Ist Aus," the second single off last year's surprising and impressive 'WAT' album. Also from that album, "Tanz Mit Laibach", arguably the best track ever to come from the band, finally gets the blend of pounding techno and bombastic eurocentricism right, after years of prior attempts with largely sketchy results. Continuing on, forgettable numbers like "Alle Gegen Alle" and "Wirtschaft Ist Tot" set the tone for the overall mediocrity that pervades the rest of this disc. "God Is God" indulges in tiresome KMFDM-styled guitar riffs over repetitive beats and an all-too-familiar male chorus, while the quirky former club staple "Geburt Einer Nation" brings back vivid memories of New York City goth/industrial nightclubs with its populist march. Of course, a handful of their notorious and downright laughable cover songs (The Beatles' "Get Back" and Europe's "Final Countdown", among others) made the cut and those Germanic Cookie Monster vocals that are so undeniably Laibach only intensify just how embarassing these tracks truly are. Fortunately, Laibach sheds some of the hokey stigma when scales back its excessive use of orchestral elements, as displayed by the inclusion of earlier tracks such as "Die Liebe" and "Brat Moj". The second disc, comprised of previously available as well as unreleased remixes of Laibach material, is largely unimpressive, though there are a couple of notable exceptions. "Wir Tanzen Ado Hinkel", the Zeta Reticula remix of "Tanz Mit Laibach", strips back the intensity of the original, treating the vocals with a robotic-sounding effect and laying down beats of an equally mechanical quality. Juno Reactor actually makes "Final Countdown" remarkably listenable with an invigorating floorfiller akin to his mid-nineties material and should certainly please anyone familiar with his pre-"Pistolero" work. All in all, Anthems is a fair, but ultimately unsuccessful, attempt by Mute to hype up and glorify the backcatalog of a largely mediocre, self-indulgent act. This new entry in the probably EMI-influenced pillaging of the Mute industrial archives of the 1990s fails to meet the mark set by the recent projects set forth for infinitely more worthy acts like Throbbing Gristle and Cabaret Voltaire. - Gary Suarez
samples:
Solvent, "Apples & Synthesizers"
Ghostly International


Jason Amm wants me to believe that there is some heart to be found left behind in the 1980s and that it can be transformed and shaped into a potent stew of consistent and modern excellence. I don't believe him entirely. There's plenty of good music to be found on Amm's latest; a few tracks stand head and shoulders above the rest, though, and this makes it an uneven album. The bad that comes with the good is annoyingly bad. The worst tracks are a reminder of how stale and mechanical music can be. Paradoxically, the same mechanical processes that make certain tracks dull and lifeless are responsible for making others irresistibly addictive. The first three songs are steeped in the shimmer and cleanliness of trumpet-like keyboards and rumbling bass lines that stutter along like the white lines on a highway. "Operating Ease" and "My Radio" are catchy and they stand the test of repeated listens without fail. Unfortunately the next five and a half minutes suck all the vigor and propulsion right out of what the previous two songs had worked so hard to cultivate. It isn't until the darkly attractive "Think Like Us" kicks in that the album retains any amount of momentum. The grey area in between is a bit too sterile to be worthwhile and when a track such as "Think Like Us" kicks in; it only emphasizes the failings of other, lesser tracks on the album. "Remote Control" and "Instrucograph" just sound like variations on a theme and they take away from the massive piles of funk and groove that are built up and let go of far too quickly. The amorphous "Science with Synthesizers" is the next song on Apples & Synthesizers to evoke any real sense of awe or wonder once "Think Like Us" has ended, but it's the closer that truly comes as a knockout. "Steve Strange" echoes and buzzes steadily under the sirens of various keyboards and interrupting rhythmic textures and does so with no lack of tension. Various synthesizers reverberate and bounce off each other into a myriad of patterns and melodies that make the flat parts of this record seem like bad dreams. I'm a sucker for a good melody, so when Solvent successfully lays out a great song, I'm as hooked as I can be by his songs. The filler material, however, leaves a lot to be desired and at times it simply kills the evocative aura that the great songs produce. - Lucas Schleicher
samples:
We know that our music picks may be somewhat challenging to find, which is why we have a community section which can be used to obtain nearly everything available on this site.

WEEK OF OCTOBER 17 - OCTOBER 23
Bitcrush - Enarc CD (Component, US)
Blockhead feat. Aesop Rock - Sunday Seance/Jet Son 12" (Ninja Tune, UK/Canada/US)
Cinque Cento - Lake Shore Drive CD (Beatservice, Norway)
Client - Radio 12"/CDEP (Mute, US)
Greg Davis - Somnia CD (Kranky, US)
Depeche Mode - Enjoy The Silence 12" [mixes by Timo Maas & Ewan Pearson] (Mute, UK)
Depeche Mode - Enjoy The Silence/Halo CDEP [mixes by Mike Shinoda & Goldfrapp] (Mute, UK)
Depeche Mode - Enjoy The Silence/Something To Do CDEP [ltd edition - mixes by Timo Maas, Ewan Pearson & Black Strobe] (Mute, UK)
Detroit Grand Pubahs - The Galactic Ass Creatures From Uranus remixes 12" (Poker Flat, Germany)
The Go Find - Over The Edge vs. What I Want 12"/CDEP (Morr Music, Germany)
Goldfrapp - Wonderful Electric 2xDVD (Mute, US)
Growing - The Soul of the Rainbow and the Harmony of Light CD (Kranky, US)
Gys - Lon 12" (Zero G Sounds, US)
Franz Hautzinger's Oriental Space - Franz Hautzinger's Oriental Space CD (aRtonal, Austria)
The Hidden Cameras - I Believe In The Good Of Life 7"/CDEP (Rough Trade, UK)
Isis - Panopticon CD (Ipecac, US)
* Jarboe & Larry Seven - Beautiful People Ltd. CD [reissue with bonus tracks] (Atavistic, US)
J-Vox - Adress Unknown CD (Component, US)
Jukes - I Wasn't Even Looking 12"/CDEP (Twisted Nerve, UK)
Marsen Jules - Herbstlaub CD/LP (City Centre Offices, Germany/UK)
Lazarus - untitled 7" [ltd to 300 copies] (Temporary Residence Limited, US)
Wes Mcdonald - The Guest CD (Skybucket, US)
Melodium - Anaemia CD (Audio Dregs, US)
* Mono - One Step More and You Die LP [ltd edition reissue] (Temporary Residence Limited, US)
* Mono - New York Soundtracks LP [ltd edition reissue] (Temporary Residence Limited, US)
Nine Black Alps - Cosmopolitan 7" (Melodic, UK)
Plastiq Phantom - Plastiq Phantom CD (Imputor?, US)
Shur-I-Kan - Waypoints CD/LP (Freerange, UK)
Simple Minds - Silver Box 5xCD [demos, live tracks, radio session & other rare recordings] (Virgin, UK)
Sixtoo - Body Ache Summer 10" (Ninja Tune, UK/Canada/US)
* Songs: Ohia - Songs: Ohia LP [reissue] (Secretly Canadian, US)
* Songs: Ohia - Axxess & Ace LP [reissue] (Secretly Canadian, US)
* Songs: Ohia - The Lioness LP [reissue] (Secretly Canadian, US)
State River Widening - Cottonhead CD/LP (Vertical Form, UK)
Subtle - A New White CD/LP (Lex/Warp, US)
* Swell Maps - Trip To Marineville CD [remastered with bonus tracks] (Secretly Canadian, US)
* Swell Maps - Jane From Occupied Europe CD [remastered with bonus tracks] (Secretly Canadian, US)
Various - Low Dose Exposure 2xCD (Skybucket, US)
* Richard Youngs - Advent CD [reissue] (Jagjaguwar, US)

This is simply this week's highlights from the NEW RELEASES provided by Greg and Feedback Monitor. For a more detailed schedule stretching into the future, please check out the page, since release dates can and will often change.