Growing, "The Soul of the Rainbow and the Harmony of Light"
Kranky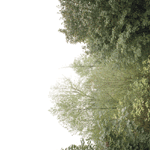 Kevin Doria and Joe Denardo obliterate sense perceptions and blur them together. The Sky's Run Into the Sea harmonized elements of melody, noise, and stasis and produced a record that lilted in and out of consciousness, almost as though it were designed to be a meditative piece for self pursuit. Growing's newest record, however, is only interested in destruction or defragmentation and though it allows for moments of recognizable movement and melody, it more often than not rearranges music so that it will erase memory and allow for genuine and direct communication with the soul. The Soul of the Rainbow and the Harmony of Light is a name taken from an essay that is concerned with how colors and sounds relate, but I'm rarely reminded of colors on any of these songs. If nothing else, this record slowly transcends visual representation and drifts off into the purity of the blinding sun by the closing seconds. "Onement" opens with the suggestion that something familiar is going to happen. Just as The Sky's Run... opened with trilled guitar notes fluttering about freely, The Soul of the Rainbow... begins with a glimmer: a last impression of the earthly terrain and then slowly progresses into the non-distinct, the absolutely impossible, and the pure. By the end it has become a circulating rumble of metallic warmth and uneasy hum—and it does not resolve itself into something relieving. "Anaheim II" is a torrential assault of guitar noise that boils at a thousand degrees and always feels as though it is about to break down and fall apart altogether. At the same time it feels amazingly still and in its persistence it comes to represent a pure white nothingness that burns as it exists. This incredible burning gives way to the more tangible "Epochal Reminiscence." The first several minutes make it seem as though this is simply going to be a slightly less confrontational moment of clarity, but then guitars begin to slide and move and create melodies and the song takes on an entirely distinct identity. It's an astounding compression of the ugly and the beautiful; the buzzing alone would be unbearable if it weren't for the soft and subtle shifts in harmonic emphasis. The sound of birds chirping and water running open the final track and despite any reference to the familiar and gentle that this might invoke, the waves of sound present are everything but simple. There's a low hum of aggression buried in the throbbing moans of guitar that fade in and out like a bell on "Primitive Associations/Great Mass Above." The song feels almost deceptively calm. It's as though something intense and devestating is to be expected after all the chaos that has come before it. As the track proceeds it becomes brighter and brighter, until it becomes virtually invisble/inaudible and it breaks away into the realm of ghosts and speculation. - Lucas Schleicher
samples:
Scorn, "List of Takers"
Vivo


From out of nowhere, the Polish label Vivo has released the newest Scorn record, a live set recorded for the radio and presented here as one long track. Those looking for an introductory Scorn record or something with some new Scorn tunes that you can be added to an mp3 player playlist will probably not find it here. I was initially taken aback by the format, as discs that are comprised of a single, enormous track are usually hard to listen to repeatedly. They take a certain amount of dedication. However, having just seen a Scorn live set in Berlin, I can honestly say that List of Takers is an indespensible document of how the project works live. The live version of Scorn doesn't include strictly definied songs, starts and stops. It flows from the drones and spooky detuned pianos into the head nodding beats and immense bass that are Mick Harris' signature. For stiff, electronic beat music, it's actually quite organic live as Harris performs a live dub mix with effects and knob-twiddling that gives the sounds life and depth and movement not always found on the static albums. Since the sound set is fairly basic—distorted bass warps, atonal electro-acoustic drones, heavy electro drumbeats and the occassional piano riff—it's easy to think of List of Takers as an extended jam on a theme that manages to stay rough, compelling, and unflinching for 70 minutes. That's where this album in fact wins me over: it's a completely uncompromising document from an artist who has a body of work that's so influential at this point that he needs answer to no one. There are identifiable songs here, but none are listed or named individually, and none stand out but serve to make up the extended whole. The tempo slowly creeps up across the disc to ramp up the tension so that by the end the groove is less of a friendly bump and more of a diabolical grinding, but the record never loses the ability to make heads bob and hips sway. List of Takers is at times a challenge to the listener to keep up, but the rewards for zoning out and getting lost in the throb are worth it. - Matthew Jeanes
samples:
Z'EV, "HEADPHONE MUSICS 1 TO 6 / AS IS AS"
Touch


For this latest release, Z'ev entirely forgoes his familiar percussive experimentation in favor of a six-part cycle of tape music. It's entitled Headphone Musics, and Z'ev seems pretty serious about the title, as he includes a rather petulant warning for reviewers: "If you can't be bothered to listen to this music using headphones, please don't bother to write about it." Okay, point taken. I'm not one to disobey a direct order, so I made sure to listen on my most expensive pair of headphones. The six pieces are all between seven and nine minutes long, each one a dense architecture of multilayered sound drawn from Z'ev's vast archive of tapes amassed over the last 30 years. Z'ev's website (http://www.rhythmajik.com/) gives extensive details on the source recordings and other elements that went into the making of each track, and while it's all very interesting, I'm not sure it changes the listening experience in any profound way. Many of these sounds have been slowed-down and sped-up, rendering them unrecognizable in the densely populated mixdown of each track. What comes through on each of these pieces is Z'ev's unique ear for harmonics and atmosphere, deftly combining disparate elements into walls of amorphously beautiful sound. For those who can stand this sort of thing, Headphone Musics is one of the better albums of tape manipulation to see release in recent years, from the standpoint of the average, non-academically minded listener. Though most musique concrête composers have begun to incorporate digital production techniques into their repertoire, Z'ev chooses to retain the purity of classic tape editing techniques, which gives the music a warmer analog feel, with plenty of hiss and distortion. Track one utilizes various recordings of dripping and running water to create a dark, immersive environment that envelops the listener. The time-stretched croaks of Balinese tree frogs are layered to hypnotic effect on the second track, which plays like a field recording from an as-yet-undiscovered subterranean jungle. Track four was my favorite, drawn from various obscure sources, most notably the singing of a shaman from a now-extinct tribe of Malaccan Indians. Z'ev uses layers of distortion and complex phase shifts to transform the track into a regressive mind-trip back through the genetic memory of previous evolutionary phases. Tacked onto the end of the album is a seven-minute recording from 1976 entitled "As Is As," a tape-heavy fragment from a live sound poetry performance. The performance involved the simultaneous live manipulation of several vintage reel-to-reel tape players playing indecipherable vocal loops. It's a fascinating piece of vintage Z'ev arcana, and underscores just how long he's been doing this kind of thing; a true veteran of mind-blowing Industrial-strength experimentalism. - Jonathan Dean
samples:
Dosh, "Pure Trash"
Anticon


Fog drummer and Minneapolis native Martin Dosh invites us in for yet another foray into his personal life on Pure Trash, the followup to 2003's Dosh (both on Anticon). Using the same formula that made Dosh so inviting—a drum kit, a deliberately broken Fender Rhodes and an army of samples, some chaotic, some organic, others adulterated by effects pedals, all filtered onto a basic eight track recorder—Dosh waxes instrumental over twelve tracks about marriage, childbirth and the larceny of the aforementioned beloved electric piano. The only vocalizations are the occasional sample from Dosh's wife and co-procreationist (whose assertion that "being pregnant and having a baby is not weird" opens up the album), his new son Naoise (who lends his name to the ninth track and a more or less complementary EP), or the gaggle of schoolchildren that Dosh teaches at his day job. Dosh's music, emotional as it is, thrives on a blend of subtlety and order over spontaneity, using his careful choice of instrumentation to convey emotion, whether it is mourning for his stolen Fender Rhodes (the fifth track, "Bye Rhodsy," is such an elegy) or dwelling upon marriage (the surprisingly mournful but eventually uplifting sixth track, appropriately titled "I think I'm getting married"). Through his music, one can almost see and feel Dosh worry, love, laugh and cry. The result is genuinely touching and thoughtful, without ever bordering on triteness or over-sentimentality, quite a feat with such personal material. - Chris Roberts
samples:
Dosh, "Naoise EP"
Anticon


Pure Trash's one flaw as an album is its lack of continuity. Despite attempts to reel it in, Dosh does let his emotions ebb and flow spontaneously, and the result is that his music takes an almost Joycian, stream of consciousness feel in their meanderings. Dosh keeps better focus on the outpouring of emotion that serves as his response to Bill Cosby's Fatherhood, the EP Naoise. Named after Dosh's newborn son and created as a response to his conception, time in the womb and eventual birth, the seven track disc includes remixes of "Naoise" and "Rock it to the next episode," two of the highlights from Pure Trash, as well as two live performances. One of which, "Contractions," is a delightful gem (though this reviewer allows it might not have been so for Dosh's wife) that is as good as anything that Dosh has done. - Chris Roberts
samples:
Black Lung "The Grand Chessboard"
Ant-Zen


In a just world David Thrussell would be one of Hollywood's top paid film score composers. In our world, however, he remains confined to relative obscurity, although he has several musical projects operating concurrently. His latest solo album as Black Lung, The Grand Chessboard, could easily be the soundtrack to a science fiction film. Although he often addresses social and political topics directly in his lyrics, this time Thrussell has chosen to present political issues only in the liner notes (in the form of several quotations dealing with America's place in the overall global structure, from the book "The Grand Chessboard" by Zbigniew Brzezinski). By making an instrumental album, he has allowed the music to be timeless. It would have been easy to use samples of speeches made by world leaders, or other obvious reference points. Thrussell seems to understand that issues he has addressed in the past, such as Capitalism and vegetarianism, are ongoing issues, and therefore music which deals with these topics directly won't sound dated ten years from its creation. However, if he had referenced the problems in today's global structure within the music directly, it may have reduced the life span of the album. Musically, most of the album is based around repetitive, heavy, danceable rhythms, although there are abstract, beat-less sections, such as the last two minutes of "Despotic Heroic Diversion." Thrussell holds my interest, however, with the multitude of sounds and textures that he places on top of the beats. The music sounds linear in structure, yet it is constantly changing. During "Sickly Seratonin Squeeze," patterns shift and electronic sounds ooze out from all places within the stereo field, while a constant 4/4 techno beat propels the track forward. The male and female choir voices used on "Neither Dominion Nor Exclusion" reveal that Thrussell has a wider range of influences than most electronic producers. These voices bring to mind both Greek theatre productions and the exotica of Les Baxter and Martin Denny. After almost five minutes of industrial techno beats, the last 30 seconds of "The Multiple Contest" give way to percussion samples that recall Jerry Goldsmith's soundtrack to "Planet of the Apes". At 51 minutes, The Grand Chessboard is just the right length to hold my interest for its entire duration. Thrussell resists the temptation to fill the compact disc's 80 minute capacity. Instead he has presented his ideas in a concise ten tracks which are at once forward-thinking and highly enjoyable to listen to. - Jim Siegel
samples:
Hecate, "Seven Veils of Silence"
Hymen


The fact that there are disproportionately few female artists making hard electronic (or any electronic) music is both a blessing and a curse for Rachel Kozak, aka Hecate. She gets to stand alone in a room full of boys on most occassions as the only woman ready to rip up the decks and bring the noise, but I have a feeling that too often her work is judged on a different scale or with different rules because she is such an anomaly. To be fair, Hecate plays directly into the interest in her feminity by referencing cruel and powerful women in her work, and by sampling what sound like evil witches who fly out from the speakers at 180 degrees from dark music's normal horror samples of women screaming at their own impending doom. In fact, the "I WILL kiss your mouth" sample in "Nest of Vipers" is downright chilling, and a bit like listening to a role-reversed rapist threatening her victim. It's this kind of play on gender roles and worship of the power of women in the occult that gives Seven Veils of Silence its unnerving power. As the album rolls on, it begins to feel like a horrific and sadistic feminist manifesto played out with exotic middle eastern and Indian loops and spastic distorted beat programming. Hecate dials down the danceability for Seven Veils in favor of atmospherics and the frantic, nervous rhythms of ritual. The beats sound more like the pounding drums of blood rites than the breakbeats of her previous work, and while there's still a firm root in the world of manipulated and cut-up breakbeat music, the goal here is surely miles away from the dancefloor. Ambient interlude tracks combine monsterous growling and the squall of back-masked demons set to throbbing bass synths, but serve only as moody segues to the tunes where Hecate does her real damage. This kind of focus on bleak soundscapes, anguished samples, and tortured drum beats isn't going to be for everyone, and repeated listenings have burnt the images of scorpion nests and poisons and black angels in my mind enough that I won't be seeking out similar material for a while. However, this is an accomplished and well-rounded disc that makes a perfect Halloween soundtrack to scare the kiddies, and a good album for those times when you feel like exploring your evil, seductive, corrupted, and ultimately powerful feminine side.- Matthew Jeanes/a>
samples:
Neotropic, "White Rabbits"
Mush


Up next for Mush Records is a curve ball for the label and the artist providing the release that begs the question in my mind: "did Mush know ahead of time that the new Neotropic record would be a radical stylistic departure?" Neotropic's Riz Maslen is responsible for some of the best and most overlooked electronica releases of the last decade on labels like NTone and Bip-Hop, and she's ever flirted with the intersection of the acoustic and synthetic in a way that gives her records depth and repeated playability. Still, I've been an off-and-on fan, loving 15 Levels of Magnification, being a little less enthused about Mr. Brubaker's Strawberry Alarm Clock but then being reeled back in for the beautiful ambience and found sound of La Prochaine Fois. I naturally expected that a Neotropic release on Mush, the current US equivalent to the once-dominant Ninja Tune would be an exquisite slice of mellow beats and organic electronica. How wrong I was! I experienced the new record first in a live setting, which was entirely unsettling as Maslen was joined onstage by a full band playing a kind of psychadelic jam-bandy sort of trip-rock. It was groovy and fun, but not at all what I or anyone really expected in the midst of the Mush show, and from an artist best known for her subtle digital work. As it turns out, the record is a much richer and more layered document of the kind of pastoral psych-folk that Neotropic was playing out live. The album is full of highly produced instrumentation, drums filtered and massaged through the machines that Maslen commands, and is every bit the live and organic experience that the concert provided, but with the added depth of careful studio work to give everything more character. There are subtle bubbling synths, location recordings and acoustic guitar all serving to back the playful, free-floating singing and humming that characterizes parts of the record. I never expected to hear harmonica solos on a Neotropic record, and yet it works with a kind of funky ease that is vaguely spiritual, certainly trippy, and just far enough left of center to keep it interesting. The album ends with a quiet track of noodling, then a large space of silence followed by a hidden track of space rock that would almost make fans of desert music proud. The guitars are fuzzed out and sitting high in the mix, with a groovy backbeat and swarms of acid-washed noise and digital artifacts as accompaniment. It's not the way I would have imagined the new Neotropic winding down, but it's a momentary diversion and release and it works despite the context.- Matthew Jeanes/a>
samples:
Empty House Cooperative, "Painted Plane"
Sedimental


EHC started, essentially, as a casual outlet for an undefined number of active, Boston-area musicians. Boasting current and former members of the Thalia Zedek band, Willard Grant Conspiracy, The New Year, Molasses, and even Godspeed You Black Emperor, EHC enjoyed a humble genesis, organizing around brunch dates at the home of central member David Michael Curry. Since 1997, the group has attracted over 30 contributors in the creation of moody, improvisational music that bridges the gap between the potent emotional directness of its parent groups and the recklessness and vulnerability of the live setting. This session, selected from the many hours of EHC tape archives, is a particularly melancholic trio performance from 2000 featuring Boston guitar-champion Chris Brokaw, cellist Jonah Sacks, and Curry, who plays primarily viola, but contributes splashes of horn, guitar and live sampling to round out what is still a rather sparse affair. Curry's viola owns each of these six extended pieces, and his style will be familiar to fans of The Dirty Three or Godspeed, with enough of a studied, melodic base to cover for his frequent drifts into trance oblivion. He sets himself apart by rarely locking into a repeating structure or calling on too "easy" or explicitly emotive phrases. Brokaw's and Sacks' strings make up a grounding layer of droning interplay, a seamless shuffle between quietly plucked harmonics, tempered feedback, and swooning runs that rise to match Curry's more exultant moments. The songs borrow from the drifting, autumnal chamber style of Willard Grant, and from Godspeed's anthemic surging, but any references are never more than suggestions in the music, its intimate character leading always back to an unpredictable present. EHC's improvised doctrine places them in a territory as complex and difficult-to-reduce as anything I've heard from their closest comparisons. The feeling, throughout this disc, is an ultimate trust in the players' intuition, and when a track ends, miles away from where it began, never does a certain section feel neglected or the song led through aimless motions. This is a record for the new winter mornings, a treasure of golden amplification, rich string resonance, and playing that is powerful without wearing out its welcome; my hope is only that this debut signals more to come from what is surely an impressive stockpile of recordings. - Andrew Culler
samples:
Haggard, "Eppur Si Muove"
Drakkar


Despite a rich history dictating otherwise, the average music listener is likely to express shock or, depending on the snobbery of said listener, outrage at the idea that classical compositions and traditional metal are perfect compliments to each other. For nearly two decades, most of metal's finest have at one time or another employed the services of forward thinking conductors (and vice versa, anyone remember the ballet scored by Entombed?) or, at the very least, brought a keyboardist on board in the attempt to simulate a string section. And then there is Haggard, one of the largest "bands" on the planet clocking in at just fewer than 20 full-time, classically trained members and a vast roster of recurrent guest musicians assembled to bring the two worlds together like no other. On Eppur Si Muove, the collective's fourth full-length in ten years, founder and mastermind Asis Nasseri and company have once again managed to combine conventional Northern European folk, galloping melodic metal, and operatic themes to extraordinary effect. To accommodate the Galilean motif (which almost explains the absurd art), Italian imagery and baroque orchestration are prevalent throughout the album. Their dedication to this is such that some pieces are sung in Italian, bringing the languages represented to four, including the group's native German, Latin, and English. While logic might dictate that the extensive ground which Haggard traverse over the course of one album would sacrifice cohesion, this couldn't be more from the truth considering this is a band that has made a career out of it. The first track, "All´inizio è La Morte," is as good a demonstration of this as any. Opening with a Latin choral/classical arrangement and gruff German vocals, the song explores more placid territory before crunchy electric guitars and Asis' menacing growl are introduced, only to give way to a soaring Soprano and lush strings, all of which are brought back into the mix for a climax rarely found in single eight minute tracks. While it would take far more space than provided here to explore the intricacies of each of the other eight tracks, suffice it to say the same level of complexity exists throughout this juggernaut. - Drew Wright
samples:
Shark Quest, "Gods and Devils"
Merge


It's rare that a group of musicians can start crafting a score for a movie about a famed clay animator, braving new territory musically in the process, and end up with an album that transcends every move they've made in the past. That it comes from Shark Quest is no real surprise, as they've been wowing audiences in/outside of their native North Carolina towns for almost a decade. The resulting music is an amalgamation of styles and features the band's first use with piano, synthesizers, and various types of unique percussion. It's a particularly interesting ride as the album progresses, and the new choices bolster their typically schizophrenic shifts with new languages to draw from. This near-Faustian music experience started as songs for a documentary about Bruce Bickford by some other Carolina natives, and the band re-worked their sketches to fit into timed segments in the film. The songs stand on their own just fine, but listening to them it is easy to envision the master hard at work on his clay creations, and then see the lifeforms themselves come to life off the table and go to play in a whole new universe created just for them. Guitars frolic and roll over playful melodies, the percussion breathes a rhythm that summons all to follow like a monarch, and suddenly it's a world music festival better than any ever imagined. The seven-minute opener "The Rosetta Barrage" is perfect: showing a taste of the licks and chops while shifting style and rhythm internally for a mandolin break, then re-coagulating for the climactic conclusion. "Sin the Moon" heads into surf guitar territory with a gentle progression, and retreats for the same kind of reprieve with dueling guitars. Before long the mix is full of so many sounds you could almost go for a swim in the air. There's somber moments, livelier moments, and a touch of bombast, but for the most part these songs are just right, with variety in spades and a high listen again quotient. As much an adventure as it was to make comes through in the speakers, and takes anyone who listens along for the ride. - Rob Devlin
samples:
I'm Not a Gun, "Our Lives on Wednesdays"
City Centre Offices


On their debut album, John Tejada and Takeshi Nishimoto displayed a clever grasp of electronic-tinged instrumental music, virtuoso-style, with tasty guitar and bass flourishes layered over real drums and whatever the laptop pushed out as the master controlled it. They've continued their regular regimen of playing and recording together on Wednesdays, no matter what their schedules had in store, and the fruits of that labor, their second record, receives its title from the very process that produced it. With these songs, it seems the laptop-produced elements have become more of a basis for the songs, rather than skeletal remains that were thrown in for flavor. The opening track, "Walk Through Walls," starts with a manipulated and glitched sample that provides a basic beat, then "real" instruments take it over, guitar/bass/drums in full lock-on mode with gorgeous solo-like flourishes. Every once in a while that sample or another returns, just as a reminder that it was the catalyst, but it's mostly business as usual. The two pile on the processed guitars, various guitar tracks, and the slapped bass, add some delay and echo effects, and stride comfortably towards the finish line, knowing full well they're ahead. "Every Moment is Ours" begins much in the same regard, with computer magic and deep bass followed by gentle guitar, then hypnotizing bass chords and that familiar guitar tone join the fun. Halfway through, live drums kick in briefly, only to relent to their more processed brethren. Ultimately, the process is slightly different on this record, but the music is very much the same, which is to say clearly produced and recorded and excellently played. The songwriting is a bit limited to the aforementioned format, however, and though the chill-out lounge style form bursts into jazz-like improvisations, the basic structure is very much consistent with most songs, as is the tone and presentation. That's the only complaint, however, and it's not much of one, as the songs are still pleasant enough to listen to. It would just help to hear a bit more variety in this art, and not have to wait until the next day in the week to get it. - Rob Devlin
samples:
VIRGIN PRUNES, "HERESIE"
Mute


Heresie was originally released in 1982 on the L'Invitation au Suicide label as two 10" singles packaged together in a box which also contained several booklets illustrating the perverse marriage of aesthetics, insanity and filth which characterized the Virgin Prunes at this artistic phase. Mute's reissue does a flawless job of presenting the music, which is digitally restored and remastered, both parts presented together on a single disc. However, they have chosen not to reprint the art booklets originally included with the set, which is unfortunate for a band as visually oriented as the Prunes. With or without the visual context, Heresie is probably the least essential disc in Mute's reissue series, but is not without its share of interesting moments. Part one consists of seven studio tracks, most brief sketches, only three which could be described as songs. The emphasis is very much on the aesthetics of insanity, the band utilizing strategies of French playwright/madman Antonin Artaud. It was Artaud who created the concept of the Theater of Cruelty, in which actors hurl words at the audience, deliberately altering and twisting their voices to ratchet up the visceral intensity of the confrontational dialogue. Throughout this too-brief recording, Gavin and Guggi regress into infancy, uttering childlike phrases like idiot man-children, suddenly lapsing into inarticulate mumbling, or raising their voices to bone-chilling shrieks and stomach-churning growls. The record is framed by a pair of spoken-work sketches about someone named "Deirdre," whom the lunatic Prunes very much want to play with, it seems. "Rhetoric" is the centerpiece of part one, a seven-minute noise-rock maelstrom that bears an unmistakable resemblance to Looney Runes-era Current 93. Lupine howls and eardrum-piercing shrieks are pulled through an echo chamber as metronomic industrial rhythms and crunching noise guitar chug relentlessly forward. Just to enforce the pure insanity of it all, "Down the Memory Lane" follows closely on its heels, a wickedly brutal satire of Irish pub sing-a-longs, with the whole band adopting nasally voices for an inebriated paean to the "good ole days." Seeing as this is the only time the Prunes explicitly acknowledged their Irish heritage, it seems pretty clear they had nothing but contempt for everything that lay outside their Lypton Village bubble. Part two of Heresie is a live recording from a 1982 performance in Paris, a set of Prunes songs drawn from A New Form of Beauty and ...If I Die, I Die. Classic tracks like "Pagan Lovesong" and "Walls of Jericho" are given appropriately maniacal live renditions, the band falling all over one another in gales of perverse glee. It's less essential than the others, perhaps, but no less entertaining. - Jonathan Dean
samples:
Killing Joke, "For Beginners"
Caroline


If I was making a compilation to introduce a friend to the work of Killing Joke, it's track listing would overlap with that of For Beginners by only three tracks, "Fun & Games", "The Wait" and "Night Time". Never before have I encountered such a willfully obscure selection masquerading as a perfect entry point to a band's back catalog. Although compilers were possibly trying to avoid including tracks that appeared on the 1992 compilation Laugh? I Nearly Bought One!, which collected the band's UK singles, they could have used a title that better reflected the material included. The classic debut album, 1980's Killing Joke is represented by "Primitive" and "The Wait". I have a suspicion that the latter opens this collection due to the fact that it was covered by Metallica. While it is certainly a track worthy of inclusion, and one of the best on the 16 track compilation, Killing Joke does not need to use the Metallica reference as a way to gain new fans. By including stronger material, such as "Requiem", "Wardance", or "Complication" this early period would have been better represented. Had they included the excellent "Change", a UK single from 1980 (which was also included on the US version of Killing Joke), they could have drawn parallels with the "dance/punk" revival that is a current trend. What's THIS For...!, the band's 1981 second LP, is represented by a live version of "The Fall of Because" and "Butcher", a second-rate album track as compared with "Unspeakable" and "Follow the Leaders", also from that LP. It is baffling why no tracks from 1982's amazing live 10" "Ha" Killing Joke Live were chosen. That set was my introduction to the band in the late 1980's, and from the opening blast of "Pssyche" through to the end of the driving "Wardance" those six tracks of Killing Joke at their most energetic are still some of my favorites. The middle period of 1983-1985 is given better treatment here, with the inclusion of "Fun and Games", one of the best tracks on 1983's Fire Dances and the title track from 1985's Night Time. The reason why the same album's "Eighties", "Love Like Blood" and "Kings and Queens" are nowhere to be found is a mystery. The latter two tracks were each originally issued in the UK on two different 12" singles. It is hard to understand why tracks on which so much importance was placed do not qualify as recommended listening "for beginners". The compilation ends with two tracks each from 1986's Brighter than a Thousand Suns and 1988's Outside the Gate. The former was a mediocre version of past glories, and the latter, intended as a Jaz Coleman solo album, was only released under the Killing Joke name to fulfill contractual obligations. Skipping the inclusion of tracks from these two albums would have made room for some of the singles to be included. While For Beginners does introduce listeners to the band's sound, it does not include many examples of their best songwriting. I can only imagine what they might include on a compilation for "advanced listeners" (excerpts from The Courtauld Talks anyone?) -Jim Siegel
samples:
ACTIVE INGREDIENTS, "TITRATION"
Delmark


After several years as a member of the Chicago Underground Duo/Trio/Quartet/Orchestra, along with several recordings as a competent and inventive sideman, drummer Chad Taylor has penned and recorded a disc's worth of tunes under the name Active Ingredients. At times a sextet featuring Underground partner Rob Mazurek on cornet and Steve Swell (William Parker/Baron Down) on trombone, it's easy to viewTitration as a free jazz recording due to the lack of any chordal instruments outlining progressions and form. As a leader, Taylor's unique, polyrhythmic drive and fluid performance are central, although this is not your stereotypical drummer record. His approach and output on the kit is dynamic and very musical, which is not surprising as he'd been a classical guitarist in his youth; the same musical sensibility comes through in his compositions. "Song For Dyani" opens with blistering latin rhythms and busy, staccato upright bass laying the foundation for unison horns to state the sweet and slurring melody before breaking off for both individual and simultaneous soloing. The lightning fast cross stick and tom fills kicking off "Slate" are augmented by percussionist Avreeayl Ra's fills to convey a true African ensemble feel for saxophone shrills and trills play off. Bassist Tom Abbs' melodic lines set things in motion off the top of "Modern Mythology" which in turn supports a brief big band ensemble motif before stripping down for sax soloing an unison crazy-go-nuts explorations. Taylor's use of bare hands, mallets and sticks on his solo performance "Dependent Origination" convey several different tones and textures. Having spent a great deal of time listening to him on several recordings and seeing him in performance on several occasions, it's safe to say that although spontaneity figures heavily in such a situation, his ability to convey melodic ideas and structure is uncanny. The group assembled on Titration are all competent musicians and soloists that give strong direction to Taylor's sometimes minimal motifs. The excitement generated in performance for this recording has them coloring outside the lines with a free jazz approach, but without going completely off the page into cacophony. - Gord Fynes
samples:
Thieves, "You Hold the World like a Gun"
Lowatt


You Hold the World Like a Gun is Texan Greg Reynaud's self described "actualization of maximum potential." Loosely translated, that means it's the results of his first solo foray into the studio after doing beats as a part of electropop outfit Lovetron and spacey boombap minstrels The Town Drunks. So, now that his potential is actualized—and Reynaud has already proven he does indeed hold promising potential as a producer—he presents a dense, mysterious five track, nineteen-minute EP that thumps and pounds its way from track to track, occasionally pausing to reflect but nevertheless holding a boot to your throat and not letting go until it's done. Among the slick break beats and crashing hi hats Reynaud flawlessly slips in the obligatory otherwise-out-of-place sample, whether it be a few guitar chords, a piano key, a jazz break or even a Darth Vader inhale/exhale. Ostensibly, the EP is a concept album concerning the current American political situation, a fact that isn't necessarily clear with a listen and not much clearer when perusing the liner notes. Still, what is a known known (thank you, Department of Defense) is that Reynaud knows what he's doing, and perhaps there is some truth to that whole "actualization of potential" line. Released from the bounds that come with working with other musicians, Reynaud is able to let his multitalented production skills roam free, with compelling results. Most impressive, however, is his ability to tread the thin line between improvisation and complete anarchy. His music wanders, but never aimlessly. He is able to make out of what might be an unrecognizable mishmash with another producer into a thrilling blend of surprisingly orchestrated adrenaline-laced sound. - Chris Roberts
samples:
Hard Sleeper, "'Rain' / A Leaf Spiral"
Sub Rosa


It's important to pace a record properly so that it doesn't become stiff and monotonous. Peter Maybury begins his twenty-three minute opener with a steady, meandering, and almost viscous series of sounds all seperated from eachother and mostly melodic. The charm of the piano playing and the babbling computer-speak all hint that this is going to be a slow ride through electronic composition; everything will depend on how well the sounds are arranged in relation to eachother. Not much happens though and the sounds don't interact with eachother in any interesting manner. There are moments of unattenuated beauty, but the album simply never changes. To make matters worse, I tend to think that open-ended albums like this need some kind of unique palette, something akin to a unique signature. Many of the songs on these five songs sound far too familiar, as though they've become parts of an electronic bank available to everyone who has a computer and a desire to move various samples around eachother. After about ten minutes of listening to "Rain" a second time, I was feeling quite anxious to move on. The four-part "A Leaf Spiral" doesn't provide anything in the way of relief, though. They're very much a "more of the same" series of songs and don't manage to make anything sound or feel any more exciting. I love lush soundscapes and I enjoy relaxing to very minimal-type music, but this just doesn't cut it. The sounds that were picked for utilization are lame at times and there's no emotional or visual content. In some ways the rather dull album art says everythig that needs to be said about this album. - Lucas Schleicher
samples:
VIDNA OBMANA, "ANTHOLOGY 1984-2004"
Projekt


I find it odd that this collection is named Anthology, even though it consists of previously unreleased tracks. The only tracks on this disc that were previously released surfaced on long-deleted cassettes issued on obscure European labels. To me, the term "anthology" denotes a representative collection documenting an artist's career, drawn from works previously available. I am perplexed at the claim that this collection of outtakes, live tracks and other marginalia might constitute a proper documentation of the artist's career. Not nearly as perplexed, though, as when I attempt to ponder who could possibly be interested enough in Vidna Obmana's music to have kept this artist afloat for the past two decades. Mr. Obmana ascribes to that common viewpoint that the term "ambient" must be synonymous with "boring," creating album after unremarkable album filled to the brim with dull New Age keyboards, drones and loops, with the occasional foray into insulting ethnic plagiarism. This collection was recently released on the eternally lame Projekt, whose only standards for deciding what their label will release appears to be directly dependant on how utterly, excruciatingly dull the music is. The tracks on this anthology run the gamut from a mildly uninteresting retread of Throbbing Gristle ("Ecstasy") to a violently uninteresting rip-off of Coil ("Soul Dislocation"). In between is lots of fodder for NPR's Hearts of Space, Vidna Obmana thoughtfully providing crossfaded transitions from each track to the next, so that the whole 72 minutes feels like one long, homogenized puddle of rancid fairy spooge. This music might work quite well as a soundtrack for your local coven's next drawing down of the moon ceremony, or it might be perfect muzak for the waiting room of your local aura-reading and colonics center, but it fails in every other sense. It blunts and smooths the edges off any sound that might jar the listener out of sleepy complacence, leaving only an undifferentiated, quivering mass of odorless, flavorless gelatin in its wake. Suspended inside the unappetizing Jell-O mold are inedible chunks of musical ideas that might have been interesting had they not been trapped inside this mess. - Jonathan Dean
samples:
We know that our music picks may be somewhat challenging to find, which is why we have a community section which can be used to obtain nearly everything available on this site.