Noam Chomsky, "War Crimes and Imperial Fantasies"
Important


Chomsky himself should require no introduction. He's the father of modern linguistics, a widely-quoted and thoroughly published critic, historian, scholar, and all that, so what is a label with records from King Missle, Merzbow, and Kimya Dawson doing releasing a Chomsky disc? It's just doing what we all should do: putting its money where its heart is and trying to let Chomsky drop the science on a whole new audience. The record in question is actually a two disc set from Important Records that captures a two-hour interview with Chomsky in his MIT office from earlier this year. Unsurprisingly, the topic of conversation steers towards the US invasion of Iraq and the historical perspective that the US Military action sorely lacks in common discourse. Like most of Chomsky's work that I've read or other interviews I've heard, he presents the listener with a kind of fact-checking decathalon challenge in the way he casually spits out detailed accounts of this or that international situation, military coup, or assassination scheme. It can be intimidating to take in, and following up on his strings of references and commentaries about historical events that have either been largely overlooked or spun into something else by the mainstream media is a task that few of us seem up to. It helps to know that Chomsky is a genius of a man who has devoted his life to studying and analyzing these events and the way they are presented in the media, and that he knows more about language than most of us know about anything. So, to the extent that he has read and understands these situations, I feel safe trusting at least the general gist of what he's on about. In the two-part interview, he talks about quotes from Errol Morris' fascinating documentary about Robert McNamara, The Fog of War and about the notion that US military leaders would be brought up on war crimes trials if they had lost the war. Chomsky calls this "a truism" and with his casual, deadpan way of speaking he suddenly makes what seemed like one of the most relevatory ideas in Fog of War seem like an obvious fact we should all have been aware of and working from for decades: that the victors of war get to write the rules about what is or isn't appropriate leads to an unsettling analysis of the war in Iraq as it exists as part of a larger quest of Imperialism by the most powerful nation on the globe. Anyone with even a passing interest in politics, US foreign policy, media analysis, or the war in Iraq will certainly find a lot to think about from Chomsky's discussion. For a two-hour interview, it flies by and I found myself wanting even more detail and an even deeper look into the subjects when it was over. Prong once put the album covers of old Sony big band records in their liner notes with the cheeky slogan "If you like Prong, you may enjoy these other Sony records," but in fact as different as this release is from the rest of the material on Important, it should feel no less at home in the collections of Jack Dangers, Acid Mothers Temple, and Muslimgauze records. After all, the issues Chomsky discusses are universal and the logic he uses to make his arguments applies to anyone thinking about these things rationally. The record is both inspiring and devastating as it peels back the layers of media deception and government propaganda to reveal an even more complicated and devious US foreign policy agenda. This is a perfect introduction to Chomsky for those who are uninitiated, and a great and insightful analysis for anyone. - Matthew Jeanes
samples:
ANTONY AND THE JOHNSONS, "THE LAKE"
Secretly Canadian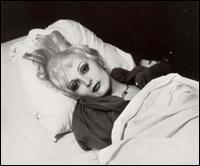 This brief, three-song EP is being released as a spacer to tide fans over until the new Antony and the Johnsons full-length album I Am A Bird Now is released February of next year. New material from NYC's premiere torch-song singing androgyne is long overdue, the artist not having released any new material since 2002's I Fell In Love With A Dead Boy EP, and no full-length since his superlative 1999 debut on Durtro. In these intervening years, Antony's cult of adoration has grown considerably, with established NYC artists Lou Reed and his wife Laurie Anderson promoting the artist, playing a number of shows together. Antony has made guest vocal appearances on two of Lou Reed's recent albums, and he contributes vocals to campy queer troubadour Rufus Wainwright's most recent album Want Two. It seems that success has agreed with Antony, as the songs and lyrics on The Lake evidence a decidedly more positive outlook than the depressing song suite of his first album. According to Antony, "The Horror Has Gone," "That terror was not fright/but a tremulous delight," and "I feel that heat/And I know it's love." There are no more rivers of sorrow or Hitlers in his heart, I suppose. Even despite my usual preference for melancholy, The Lake EP is a terrific little taster, all three songs showcasing the singer/songwriter/arranger at the very height of his craft. The title track will be recognizable to those who have heard the Current 93/Antony split Live at St. Olave's Church EP, a moving adaptation of Edgar Allan Poe's mysterious lyric poem. I'm not sure if it's a coincidence that Lou Reed's The Raven, a dire concept album about the decadent author, coincided with Antony's fascination with Poe, but either way it's a beautiful song, though I prefer slightly the simpler arrangement and vocal style of the earlier live recording. "Fistful of Love" is the EP's centerpiece: an upbeat, jazzy number about the fear of admitting you're in love in someone. Lou Reed does a guest vocal spot on the EP, contributing some terse spoken lyrics and electric guitar. It's one of Antony's busiest arrangements, with a full brass section and a distinct rock vibe, but he pulls it off brilliantly. The final track is the brief, delicate "The Horror Has Gone," in which Antony celebrates the passing of a deep depression, playing the piano, accompanied by Julia Kent's beautiful cello. I've been enjoying this EP thoroughly, and it affirms what many people already know: Antony's voice is one of the most amazingly expressive instruments around. Those who don't get it, never will; those who love it, will always come back for more. - Jonathan Dean
samples:
Jack Dangers, "Loudness Clarifies/Electronic Music From Tapelab"
Important


Jack Dangers has increased his musical output in recent years, spitting out a string of records under his own name, Meat Beat Manifesto, and Tino Corp, pushing his style into heretofore unheard directions. With Loundness Clarifies, Dangers essentially bridges the gap between the comfortable, groove-oriented material that everyone associates with Meat Beat Manifesto, and his more experimental, offbeat tendencies when working without the expectations of the "Meat Beat brand." Of course, Meat Beat records have always had a touch of the obscure and absurd in them, but after listening to the last few albums and comparing them to the early work, some of the daring experimentation seemed to be missing in favor of tighter grooves. Here, Dangers seems to be going for the logical connection between the grooves and beats for which he is so well known, and the studio antics and manipulation of sound that is close to his heart. Loudness Clarifies plays more with distortion and strange frequencies than anything heard from Jack in a long time. The beats are crunchy electro wiggles, breaks-overdriven and run along with a warbly bass that at times consumes them. Dangers' typical analog synth fascination is in full effect, but the tones are all slightly detuned, bent, filtered, or otherwise molested into something a bit darker and less accessible than might be expected. This is not to say that the record is a full-on excursion into DSP-noodle-land. In fact, far from it, the album sounds more akin to the kind of records Dangers was making over a decade ago as it's full of the warm hum of tubes and transistors and tapeloops whizzing by. Not Breathing's Dave Wright plays the flange on the opening track (the first time I've ever seen flange credited as a performance) and bass on another, while The Bass Kittens' Jon Drukman has a go with some crispy fried electro rhythms on "Super Hit 9" that give the album some of its best and weirdest moments. As if a new and style-stretching release from Dangers wasn't enough, the package also includes some of Dangers' electro-acoustic and found-sound collage work entitled Electronic Music From Tapelab. Fans of Dangers' work won't be surprised by the weird, disembodied voices and radio static and analog squiggles that poke out from the speakers in this collection of ten studio tracks recorded for film, radio, and television, but they may not be overwhelmed by the disc either. As music concr?e records go, it is an impeccible studio effort and showcases Dangers' uncanny use of space and ability to isolate the best parts of sounds. However, as music written for film, radio, and TV, it tends to lack a narrative center that might be provided by visuals or some other accompanying context. Take the audio accompaniment and sound design out of its narrative environment, and it tends to be hit or miss based on the quality of the sounds alone. This is, of course, the point of such a record, but like looking through the portfolio of your favorite designer, there are going to be pieces that grab you, moments that speak to you, and others that are easily skipped. Electronic Music From Tapelab is a fun sound design experience, but I'm not liable to spin it as frequently as its more structured, song-based younger brother. Important packages both discs in a nice cardboard double pack, and taken as a whole, it's impossible not to like. - Matthew Jeanes
samples:
ARANOS, "TANGOMANGO"
Pieros

Aranos is a master of the stringed instrument, a frequent collaborator with fellow Irish countryside dweller Steven Stapleton, and the creator of a string of idiosyncratic experimental albums that, like most great works of art, defy categorization. This solo full-length is the follow-up to 2001's Magnificent! Magnificent! No One Knows the Final Word, an album unique not only for its unconventional musical content and homegrown organic packaging, but also for its "experimental anarchy distribution," a sort of honor system where Aranos shipped the album at his expense to anyone who wanted it, asking each listener to decide how much the album was worth. Tangomango continues down the same path as Magnificent, but somehow manages to be even more willfully eccentric. Lovely passages of emotively played strings are overdubbed with shambolic percussion, occasional forays into electronics of uncertain origin and Aranos' gravelly vocals, free-associating long strings of unhinged Dadaesque lyrical couplets. Aranos creates a one-man chamber quartet, overdubbing layers of plucked and bowed violin, viola and double bass, his melodies fondly recalling the Eastern European gypsy music idioms of his heritage. Sometimes the effect is a sort of avant-garde chamber pop, as on "Julio Cruz," which sounds not entirely unlike mid-1970s John Cale. Other times, Aranos' techniques are so unorthodox that the music sounds like nothing else, as with the strange organic kaleidescope created on "All The Lost Turbans Will Be On That Speaker," which utilizes musique concr?e effects to create an unsettling piece of psychedelic tape music. On "Worryism," the album's only guest player, Jon Whitney (editor of this rag), contributes a series of distended bleats on a didgeridoo, forming the foundation for a distinctly ritualistic excursion that ends Tangomango on a somber note. Halfway through the oddly named "69 Walton's Yamamoto Noodles," Aranos strikes the gong and unleashes a series of mindbending electronic pulses. "Broken Eights" is a fractured military ode constructed from martial drums and layers of vacillated vocal overdubs. The album's title could not be more appropriate, as Aranos is able to reference the improvisatory feel of Can's masterpiece, while impregnating it with his own organic sense of rhythm. It's a little bit fun, and a little bit fruity. The album comes packaged in a lovely handmade royal purple silk purse with a beaded clasp and a lyric booklet adorned with many beautiful photographs. Tangomango is a rare album that truly feels like a pure, unmediated foray into one man's peculiar and joyful vision of music, and it's a rewarding trip at that. - Jonathan Dean
samples:
Autistic Daughters, "Jealousy and Diamond"
Kranky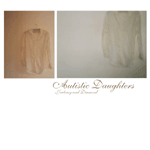 A record like this always sounds as though it belongs to a room full of neon lights, smoke, and half-faded memories. There's always something lingering just beneath the surface and it's never quite pretty, but it's always engaging: just like a dirty secret. These are the first images that come to mind when I hear the slinky guitars, winding percussion, and the organic production. Having an organic sound is the best way to describe each track on Jealousy and Diamond: guitars fade into and out of each other, strange and warm hums permeate each instance of every sound, and the percussion more or less blurs the line between melodic and completely percussive instruments. The names Martin Brandlmayer, Werner Dafeldecker, and Dean Roberts have been popping up quite a lot, lately. They are names I have come to associate with excellent music and while they haveve been playing together in various forms for some time now, this is the first record where they've come together as true trio. Their time together has obviously benefitted them as a band. The vocals are, for the most part, submerged in the radiation of the music; they are present but almost entirely indistinct. The sound of Roberts' voice only adds to the ghostly signature written all over the album. A track like "In Your Absence from the Street" illustrates the way sounds become more like wisps of smoke with Autistic Daughters than anything else. The drums quietly pop and rustle beneath the rumble of the bass and the ceaseless rolling of strings buzzing and guitars lighting themselves on fire and burning in slow motion. The album is deceptively diverse and doesn't rely on any one formula to carry itself from beginning to end. "The Glasshouse and the Gift-Horse" sounds as though it's going to slide by without a hint of resistance before a wind picks up and sends the whole song tumbling through the air, moaning and turning at the will of shaking guitars and stuttering drums. All the music sounds drunk. It's as though it's rumbling backwards through time in an attempt to find out how the hell everything went so long. It's depressing and forlorn, but not desperate. The contemplative edge it exhibits is almost disturbing in and of itself - the essence of each song is voyeuristic and careful. Perhaps Roberts has some demons he wants to exercise without letting everyone see them. Whatever the case, the trance-like glow surrounding this album (it being a result of the excellent music within) is addicting. The slow pace and easy resignation that sits at its heart sound beautiful, if not just slightly uneasy and sad. - Lucas Schleicher
samples:
Her Space Holiday, "The Young Machines REMIXED"
Mush


This collection of reworked versions of Marc Bianchi's 2003 album includes remixes that stay close to his original versions as well as adventurous deconstructions. By keeping the same running order as the original LP, the set is much more listenable than many remix projects, as there is only one version of each track. By selecting a group of remixers that are likeminded, he has ensured that the album won't stray too far from various combinations of pop music and electronica. This works to the advantage and disadvantage of the set. The Album Leaf does away with the chaotic beat programming of "The Young Machines" and instead offers a pleasant, but ultimately uneventful melodic electronic version. Arab Strap's take on "Something To Do With My Hands" is the best example of a new version that keeps the structure of the original song intact, while improving upon its arrangement. The beat they have used in place of the original's is simply much better, placing the song in a more contemporary setting. Interestingly, Arab Strap vocalist Aidan Moffat has resisted the temptation to add his own vocals to this remix, as he has done to others in the past. The Stereolab version of "Girl Problem" is the most deconstructed, recontextualized track of the set. It's hard to tell if they've used any sounds from the original track at all. They have added what sounds like organ, drums, and all manner of strange analog keyboard sounds, and in the process have made a better track than anything on their own last few albums. The juxtaposition of Bianchi's lyrics "I've got a girl problem; I've got a drug problem..." against this absurdist backdrop of bleeps and organ bursts goes miles toward downplaying his often overly emotional leanings. Super Furry Animals take on "Sleepy California" is a case in which a similar juxtaposition is less successful, as they have set depressing lyrics about a dying grandmother to silly, bouncy music. Six of the ten remixers have kept the original's vocals intact, highlighting the importance of storytelling in Her Space Holiday songs. To their credit, none of the remixers have used repeated vocal fragments, which are often annoying. Matmos and Blockhead have completely removed the vocals from their respective remixes of "Tech Romance" and "Meet The Pressure." They both offer excellent, highly deconstructed pieces based on a few elements from the original. The beautiful, weepy strings which Matmos have used as a key element in their instrumental version of "Tech Romance" prove that Bianchi doesn't always need to rely on direct lyrics to strike an emotional chord in his listeners. While it may have been interesting to hear a few acts less familiar than these pop/electronica sympathizers try to remix tracks, it may have disrupted the flow of the album. By choosing a reliable, if slightly conservative, group of remixers, this album has turned out to be a highly enjoyable companion piece to The Young Machines. - Jim Siegel
samples:
Michael J. Schumacher, "Stories"
Quecksilver


Schumacher is an artist for whom the passage between sound installation, performance pieces, and isolated recorded works has been an increasingly fluid process. His first release since last year?s lauded Room Pieces, Stories covers much of the same thematic ground, confusing concepts of atmospheric, incidental sound ?events? with the markers of a scripted, real-time performance. Here, Schumacher?s interest is an exploration of the narrative urges latent in musical composition and the expansion of these urges, as both the context in which a piece emerges, and the way a piece is constructed, are shown to be fragmented, multifarious. Making the artist?s job easier is a new lushness, previously unavailable in his music and not the result of an increased density of the stereo field but, rather, of an exploded range of sounds. String and horn sections, multiple percussionists, vocalists, guitarists, even a bass clarinetist join Schumacher?s typically synthesized piano and guitar mastery, all to be subsumed, like most of Room Pieces, by a computer?s ?random? fragmentation and regeneration functions. The results are four lengthy fields or towers (to use the cover?s analogy) of sounds, grouped at a staggered, stuttered, and loosely over-lapping pace. The true randomness of the pieces? construction becomes doubtful as bits of playing or tone color get accentuated and repeated to establish the relationships responsible for any kind of ?story? that develops. The computer?s presence does allow for a juxtaposition of context, however, in that it submits a reorganization or restructuring of real-time, often improvised instrumentation. Also, the machine?s flattening-out and stratification of such a large, presumably interactive ensemble of musicians removes traces of any original intent, player dynamics, or acoustic relationship within a performed piece. Narrative is not developed explicitly through the additive layering process (nearly obscured by so much digital splicing) but through a series of abstract visitations: chirping, sunny static augmented by the sound of a violin struggling to get up; a synthetic tap-drip turning to labored footsteps, then to a guitar?s white noise drawl; Schumacher?s stately piano intoning over dim hospital noise, a fake heart?s pulse. The cast of story-tellers produce a kind of flowery, electrical ambience that reminds me Tod Dockstader?s early work or recent pieces by Olivia Block. The same buzzing, life-seeking atmosphere fills Schumacher?s rooms and creates, in shuffled panoramic, his stories. There is something that feels melancholic or even a little old-fashioned about the moodiest moments here, constructs of disembodied female croons, floated piano chords, distant radiophonic voices, and disappearing drones. I feel as if wandering a lost city corner, among half-abandoned high-rises and century-old shacks, their inhabitants and technology ringing in a song of life and existence where no story rises above the rest, and hidden stories of the past speak out. Schumacher?s compositions are like electric bubbles of experience, fused in molecular netting and thick in the air of any room. To witness such music in an installation setting might even be harmful, producing only sensory overload or a reluctant linkage to visual media. Regardless, Stories is an example of Schumacher?s talent as telling as any I?ve heard, a strong addition to the catalogs of both artist and label. - Andrew Culler
samples:
Arsis, "A Celebration of Guilt"
Willowtip


It's pretty much impossible these days to spit in any direction at a North American metal/hardcore festival and miss some band for whom At The Gates' Slaughter of the Soul forms the backbone of their sound. While a well-intentioned and, while being disturbingly over-rated, solid album, most of the unlistenable trash that has been spewed forth as melodic death metal over the past decade can be traced back to this one blip on the musical landscape. Thankfully, the merry men in Arsis have emerged from four years of relative obscurity in Virginia spent crafting their debut album and what could easily be considered the first melodic death masterpiece of the 21st century. Gone are the clich? that have plagued all but a handful of bands, for they have been replaced by this amazing razor sharp, ultra catchy, simply wonderful collection of tunes that will have even the most modest of people longing to grow their hair out, throw up the horns, and have a great time trying to keep up. Setting the pace right out of the gate with the ferocious "The Face of My Innocence," it becomes immediately clear that this isn't your older brother's death metal, but something completely original and without equal on the modern metal landscape. There is not one single recycled riff, not one slightly uninteresting passage, not one second where you might doubt that you are hearing something that hasn't been done before with this type of precision and raw power. They even manage to make the usually snore-inducing verse-chorus-verse song structure work on "Maddening Disdain" with Malone tapping out a playful melody over drummer Michael VanDyne's ever-steady double bass onslaught. A true original toeing the line between vicious and mischievous with an authoritative expertise that concedes to neither, "A Celebration of Guilt" truly is the definition of essential. - Drew Wright
samples:
Seth Cluett, "My Own Thousand Shatterings"
Sedimental


The title comes from poet and mescaline-prophet Henri Michaux; it is his vision of standing in a rainstorm, its persistent torrents, rather than enacting cleansing or comfort, are instead divisive, penetrating the body towards a thunderous disintegration. ?I was, and was not, I was caught yet I was lost, I was in a state of complete ubiquity. The thousands upon thousands of rustlings were my own thousand shatterings.? Three recordings make up sound artist Seth Cluett?s own homage to rain, one a field recording taken during a storm, the preceding two consecutive reworkings of the resulting master tape. Cluett presents the three parts in ?reverse? order: the first was created last as a reinterpretation or a remembering of the second, which was performed as a live manipulation of the original tape, a performance guided by the artist?s recollections of the experience of recording the source material, presented unchanged in the third section. I think some of the reasoning behind this sequence traces back to Cluett?s continuing interest in the factor of the human presence, however passive, within an auditory environment. In its initial representation, the rainstorm comes twice removed from its physical or natural circumstance, so that by the end of the three sections an ultra-gradual transformation has occurred as the sound moves slowly back toward a presumably ?pure,? or actual manifestation. The artist?s emphasis is on the way his own perception (as a physical presence acting within a space), or even the memory of his perceiving, come to effect his reactions to, or processing of, particular phenomena. Cluett uses Michaux?s words to bring out the powerful and disarming qualities of rainfall, its infinite variety and its Zen-like totality, how it maps every surface with a thousand all-reaching arms, while in the same instant performing a complete white-out of the landscape, a wall of coagulated sound and blurry, impressionist vision. The glancing blows and shatterings that Michaux felt in the rain Cluett has obviously shared, and his ?response? pieces try to simulate the water?s dual personality. The artist establishes the rain?s blanketing, everywhere-at-once quality in his use of the drone, a blank constancy slow to rise and fall but one which opens onto an inner world of speeding detail. The manipulated rainfall becomes a rich, organ-esque heaviness given the illusion of speed by the layering of purer sounding tones in slowly climactic modulation. Cluett describes being inspired by the excited movement of a glacier in Pakistan: ?a very fast slow.? The saturating effect of the disc?s first two tracks is remarkable given the artist?s limited resources and deliberate monotony; when played loud the outwardly placid drones ease into streaming patterns, relentless and pummeling, though also comforting in the way they hold the body and the room in edgeless reverberation. While the first section is the more dramatic, its tones breaking several times into peaks of throbbing feedback, the second segment is longer, slower and eventually more successful in recreating the rain?s effect as an immersive soundworld of both dizzying speed and suspended landscape. This makes sense given the track sequence, as the second piece should theoretically be closer to the original experience of the rainstorm. When in the third section the rain and thunder arrive as originally captured, the recording interestingly fails to do justice to the captivating power explained by the first two. The familiarity of the sounds comes almost as a comfort after such intense precedents; however I will say that after sitting through all 15 min. of this rain, by the end I did feel a lot nearer to an open window, and wincing at the thunder for sure. - Andrew Culler
samples:
ARTHUR RUSSELL, "WORLD OF ECHO"
Audika


I think that the year 2004 might be remembered as the Year of Arthur Russell. Though the artist died of AIDS more than a decade ago, leaving behind a large and varied body of work, he lived and died in an unintelligible fog of near-total obscurity. Kicked off by The World of Arthur Russell, the Soul Jazz label's compilation of the artist's crucial disco productions, the year also saw the release of Calling Out of Context, the debut release for Audika Records, a label devoted to releasing Arthur Russell's works for posterity. Now comes Audika's deluxe, remastered, expanded reissue of World of Echo, which in my opinion, stands as Arthur Russell's most fully realized masterpiece. Originally released in 1986 to very little fanfare, World of Echo is an inscrutably brilliant album of minimalist pop, Russell showcasing his unique method of singing and playing the cello simultaneously, a skill that he developed over years of private rehearsal. The album consists of 14 tracks of Russell playing and singing in his remarkably unique style, every track coated with gorgeous layers of feedback and reverb, with subtle undercurrents of electronic ambience forming an eerie, dislocated cushion of air, upon which the melodies float. Rather than using drum machines or live percussion as he had done in the past, Russell opted for a nearly rhythm-less environment, the time signatures instead provided by a subtle implication in the pulls of his bow and the vacillations of his voice. The rhythm is never missed, though, because it's still there, living in the margins of Russell's distinct phrasing, his uncanny ability to suggest layers of complexity and harmony in deceptively simple melodies. The artist's unique use of echo reached its absolute zenith on this album, with the subtle play of delay joining each successive vocal phrase or plucked note to the next, creating an amorphous current of sound that answers each call like a quickly decaying chorus. Though most of the lyrics on World of Echo can be discerned, it seems clear that Russell was more interested in the shapes and sounds of words than creating a meaningful lyric, an intention that is made clear is Russell's brief liner notes. The artist connects with his dance music past with the inclusion of several songs which revisit his best disco sides—"Wax the Van," "Treehouse," and "Let's Go Swimming"—transforming them into painfully intimate echoes of his personal history. There are ripples and eddies and snaking jet streams on World of Echo, there are moments of an intensely confessional sexual nature, moments of sadness and of joy. In addition to the remastered CD, which includes four bonus tracks from the same sessions as the original album, Audika has also included a bonus DVD containing two films by Phil Niblock - "Terrace of Unintelligibility" and "Some Imaginary Far Away Type Things." These films both showcase Arthur Russell performing material from the album in a series of tight close-ups, the camera traveling freely up and down the length of the cello, or across Russell's face, or onto the colored light-boxes that form the studio backdrop. It's a very appropriate visual accompaniment to Russell's music, giving glimpses at intriguing fragments, but never revealing the whole. Audika also deserves credit for a great packaging job, with both discs housed in a glossy foldout DVD case containing a beautiful color photo booklet. Taken together, album and film, the effect of World of Echo is narcotic, a hypnotic work of breathtakingly unique music that only grows in its otherworldly appeal as I gradually learn to negotiate its strange new lexicon of mysteriously unintelligible syllables and trancelike, resonant echoes. - Jonathan Dean
samples:
The Nels Cline Singers, "The Giant Pin"
CryptoGramophone


Nels Cline has played on more records than most people own, so when he has a new record out under his own name, I'm immediately interested in what he'll be doing. Cline is chameleon-like with his playing, shifting into roles and styles with a fluid ease that is a testament not only to his skill with the guitar, but to his work ethic. His latest project under the name "The Nels Cline Singers" is a collection of songs that shows off his jazz riffing as well as his melancholic rock stylings in equal doses. The album begins with a pair of tracks that would seem to fit well into the CryptoGramophone catalog of noodling improvisation and experimental if not totally off-the-wall jazz. But I'm more a fan of Cline's work with a distortion pedal, and beginning with "He Still Carries A Torch for Her", there's plenty of that too. Cline's guitar must be one of the saddest sounding instruments in the world, as if the the very neck and body and strings of it were crafted from heartache distilled into resin and wood and steel. The beautifully slow and aching "Something About David H." recalls Cline's best moments from the wonderful and underappreciated Scarnella record, and it brings along some of the droning spaciousness of his more avant ambient recordings. "A Boy Needs a Door" is a workout of loops and effects and distant, unrecognizable tones that creep around the stereo field, playing tag with Cline's clean melodic plucking. By the ninth track, Cline and his "singers" (there aren't really any vocalists) have aired it out and are going for the all out fuzz rock assault that must seem like a jarring change of pace for regular CryptoGramophone listeners, but kind of makes sense here as just another dimension to an artist who isn't limited by expectations and pre-determined style cues. Cline is now a much-publicized member of Wilco, something that will add to his indie cred, (not that he needs it) but records like this one show off another dimension to his work; something beyond the typical 'plays well with others'. Here's to hoping Wilco and session work don't dominate his creative time. The world needs more Nels Cline records. - Matthew Jeanes
samples:
Hecq, "Scatterheart"
Hymen


This album is a fine addition to the Hymen catalog. As the label doesn't issue new albums all the time, it is obvious that they are selective with regards to what they release. Having a high level of standards has paid off with Scatterheart, Benny Boysen's second release as Hecq. His sense of dynamics is a key element to his music's success. During "Doraccle" the shifts between loud and quiet are extreme, and help to sustain a level of tension within the music. At 61 minutes the album is long, but the variety of sounds and textures keeps the set interesting. The way Egyptian percussion and pizzicato strings are used on "Flood Me" make it a highlight of the album. His use of these unusual textures shows that his influences are more varied than those of many electronic producers. Although Boysen is technically proficient at programming intricate beats, he doesn't let the process become the focus of the music. Instead the set retains an emotional feel, although it often sounds cold and mechanical. There is always an underlying drone or atmospheric texture that keeps the tracks grounded in human emotion. The opening track "FDK" begins with over a minute of droning, whirling tones before the beat kicks in. From this point on, the percussive patterns are juxtaposed with the atmospheric elements. By focusing on one element or the other, there is the possibility to listen with a different focus each time. The inclusion of several short interludes consisting of sampled dialogue also helps the set to retain a human quality. This seems to be a direct reference to the "skits" often featured between the songs on hip hop albums. While many electronic acts talk of the influence hip hop has had on their work, Boysen has addressed this subtly within the configuration of the album itself. The fact that the dialogue is from films also emphasizes Scatterheart's cinematic quality. Although there is a great amount of variance of sounds between these tracks, they work well together as a whole and flow well into one another. Although there are many short tracks among the 23 featured, each seems to last long enough to effectively present an idea, without sounding unfinished. The running order is well organized, with "TBE," the loudest, most chaotic track, placed at the halfway point. This short track's noisy barrage of percussion balances the set perfectly. It's refreshing to find that although there are so many people producing instrumental electronic music today, there is still the possibility to create an album as fresh sounding as Scatterheart. - Jim Siegel
samples:
We know that our music picks may be somewhat challenging to find, which is why we have a community section which can be used to obtain nearly everything available on this site.